Just want the recipes and none of that other wordy nonsense? Click the links below!
Granita au Melon – Melon Granita
Meal the Thirty-first
As we continue on to week two in the Sephardi section of The Book of Jewish Food, we are reminded more and more that these recipes originate from a warmer region of the world. This extreme change from the apple and cabbage meals of Northern Europe provides for more ingredients and cooking styles than we have been eating the last nine months. One of the great benefits this difference is that we now get to make street food, which (this week) means savory hand-pies and kebabs.
Whether you call it protein-on-the-go, meat on a stick, or street meat, the idea remains the same – cheap cuts of meat that are fast to cook, savory and salty, and are easily transportable. Most warm weather countries have some version of street food of the protein strain, and Gary and I love to explore an area through its food-on-the-go offerings. From hotdogs with Japanese seasonings to mystery meat-on-a-stick at Asian night markets, sampling street food is often a quick insight into a region's eating habits. Today we delve both into a new protein as well as a new form of cookery (to the blog), so pull up a seat and dive in, we have the grill all warmed up for you!
Born in the kibbutz (a communal farm-like settlement in Israel), this recipe is a staple to Sephardi mid-morning meals. True to their communal setting, the salad ingredients would be laid out and it would be up to each individual to chop and dress their greens to their own personal and artful preference. Because Israel is a land of immigrants, each family's recipe is slightly different and is chopped in a slightly different manner, which gave us the opportunity to make this green side dish our own.
Mixed Israeli Salad consists of Bibb lettuce, tomatoes (from our garden), cucumber, pepper (from our garden), radishes, green onions (from our garden), and parsley (from our garden). It is simply dressed with olive oil, lemon juice, salt, and pepper. Just as a reminder, Gary is not a fan of salads. But! This salad won him over! Crunchy, a little spicy from the pepper and radishes, and slightly sweet from our rosy heirloom tomatoes, we both enjoyed this bright side dish. We would highly recommend this salad, which also kept well to be enjoyed at lunch the following day.
There is a huge variety of savory pies in the Sephardi community, ranging from cheese-based Turkish pies to the meat pies of Greece to the meat "cigars" of North Africa. Because of the time and skill needed to make pie, they are considered a celebratory dish, made for weddings, bar mitzvahs, religious holidays, and the Sabbath. Smaller hand-pies were also often made en-masse by families and sold on the street to help support the household. Dating back beyond the sixteenth century, doughs, fillings, and shapes varied by family and region, and have evolved over several hundred years. These cheesy potato pies are now considered fast food in Israel and are still mass produced today for ease of consumption.
The first batch of pies we are tackling is "borekas", which are Turkish, Greek, and Balkan in origin.  Boerek means pie in Turkish and has crusts resembling those of empanadas from Spain and Portugal. Instead of making 16 small pies, we opted to make one large pie (lazy? efficient? Feel free to judge us as you will), which is called a "Tapada" and has a buttery, flaky crust. The dough was made by mixing grape-seed oil with butter, water, salt, and flour in a heated pan until it held together in a ball. The dough was handled as little as possible, both due to the high-fat content (it would get all goopy if overly warmed) and so that the dough does not become tough. The dough rested for 20 minutes while we put together the filling.
We boiled then mashed potatoes and mixed them with feta, parmesan cheese, eggs, salt, and pepper to taste. The dough was *very* carefully rolled out as thin as possible into two rounds and then *very* carefully moved into a pie pan. The cheesy filling was *carefully* spooned into its thin, doughy hug and then covered with its buttery top. The pie was egg-washed and cooked at 300 degrees for 45 minutes until golden.
The pie was a great side to balance out a lighter meal. The dough was flaky and buttery and tender, with just enough salt to differentiate it from its cheesy filling. The potato and cheese duo innards were savory and smooth and tasty, without being overly heavy. We quite enjoyed this side dish and are looking forward to more upcoming iterations of savory pies!
There are very few breads in the Sephardi section and there is no widespread shared bread, like the hallah in the Ashkenazi world. The most common bread would have to be the Arab flatbread, the pita. Pita bread is now easily found in most grocery stores, made with a variety of flours and flavorings. This recipe relies on a mixture of flours, which makes it a bit more toothy.
We proofed the yeast and then added white bread flour, whole-wheat flour, and white all-purpose flour with a touch of salt and kneaded for 10 minutes until smooth and elastic. The dough rested for an hour and a half, then was punched down and divided into 7 rounds. Each little dough blob was rolled out to about a thickness of 1/4 inch and allowed to rise again for 30 minutes.
While the rounds were rising, we preheated the oven, along with our pizza stone and two baking trays to 425 degrees. Once everything was hot and toasty, the rounds were oh-so-carefully placed on the stone and pans and turned halfway through their 10 minute bake time. These were eaten golden brown and hot out of the oven. They were chewy and toothy and just sturdy enough to sop up kebab juice. The mixture of flours provided for a savory taste, which was a nice change from the white flour pitas that we usually enjoy. And as an added bonus, they all even formed their own perfect pockets, without any extra baking elbow grease needed at all!
Mutton and lamb were the preferred meats in North African Sephardi communities. Mutton has fallen out of favor for the majority of regions, so lamb is usually the traditional meat used for kebabs. North African kebabs are usually tiny cubes, versus the larger inch-sized cubes found in Turkey and the Balkans. There are just as many marinade variations as there are stars in the sky, so we chose to go with the North African Harissa blend – a paste of dried red peppers, garlic, coriander seeds, caraway seeds, salt, and olive oil.
Gary heated up our trusty grill and threaded our skewers with inch-sized-harissa-marinated pieces of lamb, which were evenly spaced with onion. These were grilled for seven minutes per side and served very hot along with pita to sop up their juices. The kebabs were excellent and the lamb was tender and juicy from its rendered fat. The harissa was spicy and savory and wonderfully complimented the lamb. Hunting down lamb at our local grocery store was certainly worth the time because we would definitely grill these again!
We thought that perhaps we cheated the granita section last week with our oh-so-tasty but stupidly-simple mango granita, so we opted to try the slightly more complex melon granita. The melons were cubed and then blended with rose-blossom water, a tablespoon of sugar, the juice of one lemon, and then frozen for six hours. The end result was a light, just sweet enough dessert which was the perfect finish to our savory meal. We also thought that this would make as a great palate cleanser, as it perfectly cleared us of our very garlicky breath which we had brought upon us during our kebab feast.
AND IN THE END, THE FOOD YOU MAKE IS EQUAL TO THE CARE YOU TAKE…
So how was Made In Marrow's meal number 31? As a reminder, our rating system is based on sticks of butter (because butter is best!), with 1 being the absolute worst and 5 being out of this world. Sticks of butter are assigned to Difficulty (how many kitchen fights were needed to complete the meal?), Tasty Goodness (was it a palate poor or did it make our mouths merry?), and Repeat Customer (how likely are we to return to the recipe?).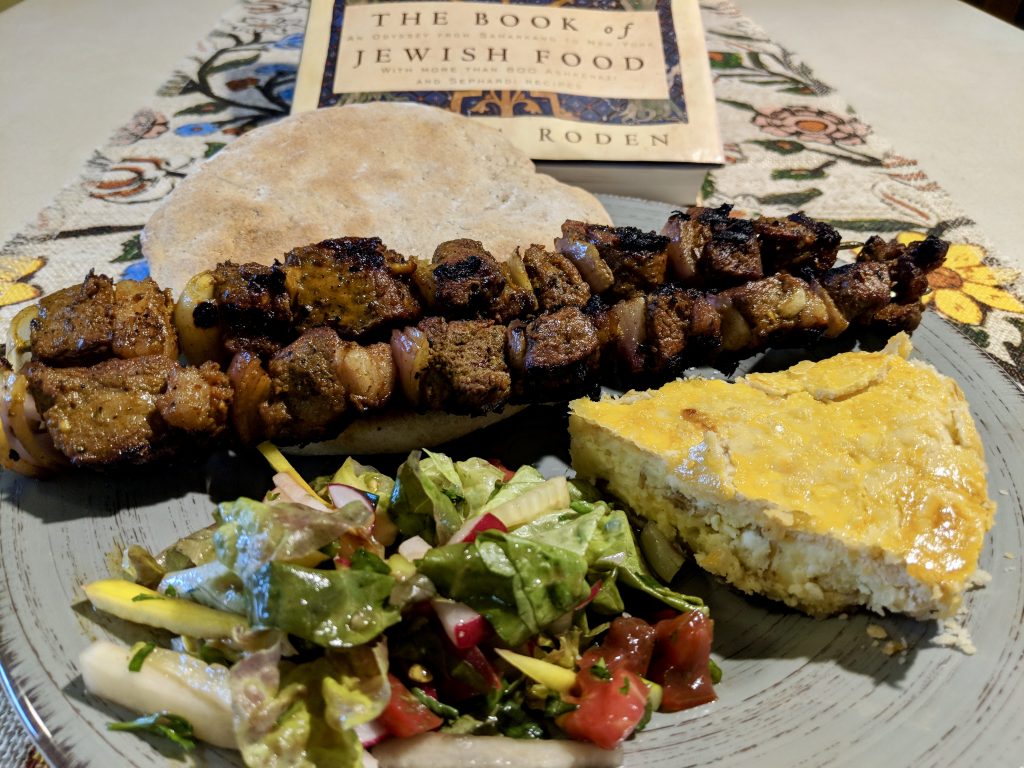 Difficulty[][][] 3/5
This week required an expedition to find a less-common protein in Santa Fe, as well as a lot of chopping, rolling, and multiple forms of cookery. While not overly difficult, time management was important this week which caused us to bump up the difficulty scale just a bit.
Tasty Goodness
[][][][] 4/5 Mixed Israeli Salad – "Shockingly good" proclaims Gary Dinh
[][][][] 4/5 Borekas de Keso – Cheese Pies – A nice savory side
[][][][] 4/5 Pita – A pocket full of goodness!
[][][][][] 5/5 Lamb Kebabs – Gary gives these a six, but our scale does not work like that…
[][][][] 4/5 Melon Granita – A very, very light dessert
Repeat Customer
[][][][][] 5/5 Mixed Israeli Salad – Even Gary would eat this salad again!
[][][] 3/5 Borekas de Keso – Cheese Pies – A bit of work, but is a hearty side that we will keep in mind for future meals.
[][][][][] 5/5 Pita – We have new go-to pita recipe!
[][][][][] 5/5 Lamb Kebabs – Most definitely.
[][][] 3/5 Melon Granita – This would make for a nice, light summer dessert.
The variety of both ingredients and forms of cookery have got the juices flowing so we are greatly anticipating next week's meal!
Sip, sup, and savor all you can, you curious cooks,
Elais & Gary