Just want the recipes and none of that other wordy nonsense? Click the links below!
Tarte Feuilletée aux Épinards – Spinach Pie
Kofta bil Karaz – Meatballs with a Sour Cherry Sauce
Kofta Mishmisheya – Meatballs in Apricot Sauce
Meal the Seventy-Third
Hello all! Thank you so much for returning to read about our kitchen capers, especially after our longer than expected break. The end of 2019 and the beginning of 2020 proved to be hectic (to put it lightly), but we are excited to get back on track with our big bad blog. We actually have tried to make this meal several times over the last month and a half, but only got so far as completing the spinach pie (which we are not complaining about, as it is pretty tasty!). But just because we have not been actively blogging for the last while does not mean that we have not been enjoying food. We have still been active in the kitchen as well as managed to squeeze in a quick jaunt to Las Vegas, where we enjoyed some wonderful charcuterie and great izakaya.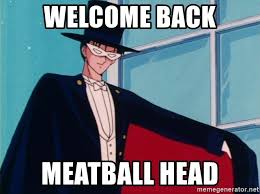 But now we are back in the kitchen with this week's blog, "Meatball Heads", which is titled in part due to the duo of meatball recipes in tonight's menu as well as in homage to a childhood favorite cartoon of Gary and mine, Sailor Moon (whose nickname is "Meatball Head" due to the iconic buns she sports as a hairdo). So gather around nerds and non-nerds, and join us for Made In Marrow's first feast of 2020!
We are not going to lie, when we finally got our acts together to make our first Made In Marrow dinner of the year, we had already made this recipe at least 4 times. We were just too excited about finally being able to make spanakopita, which was already a favorite of ours. As Claudia Roden informs us in The Book of Jewish Food, this wonderful spinach pie was brought to Egypt by the Salonika Jews in the early part of the twentieth century. This dish is similar to other flaky pastry pies, especially those of Turkish descent, but can also be tracked as a favorite in Greece for the last 400 years. The base recipe is fairly simple but can tolerate a number of variations (including the addition of ground beef), which we have tried over the past several weeks.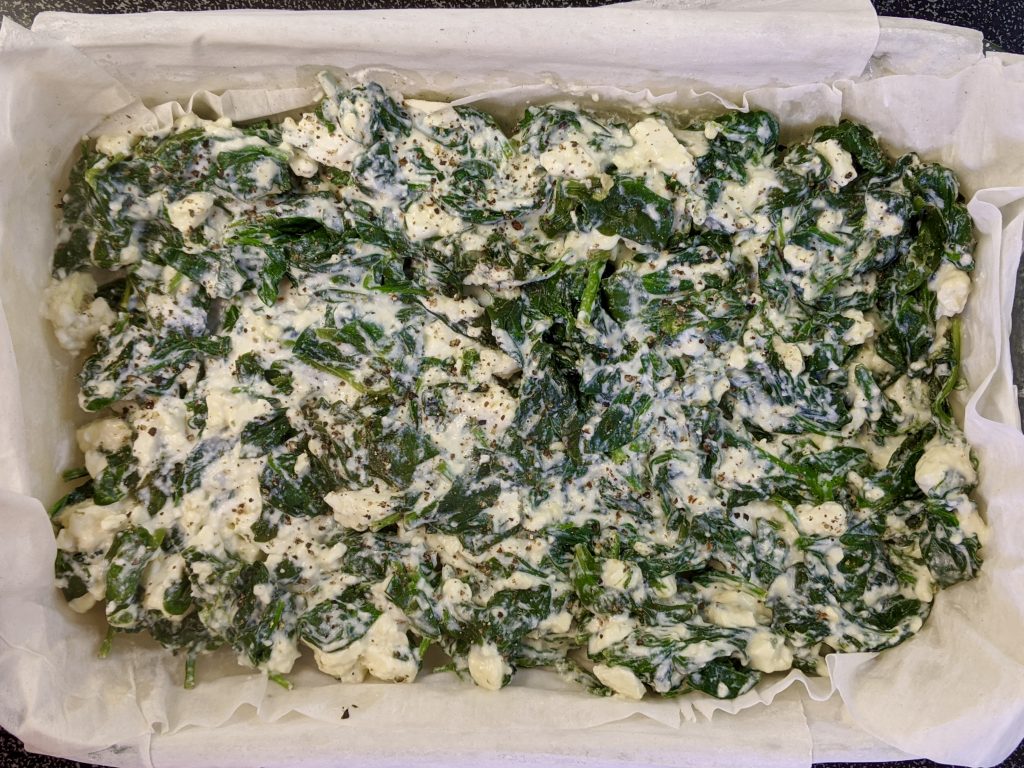 To start the pie, we cooked down a pound of fresh spinach and then added ricotta, feta, salt, pepper, and a pinch of nutmeg. While this cooled slightly, layers of filo were carefully placed in a baking dish, each sheet lovingly brushed with melted butter. After 7-ish sheets were layered in the dish, the spinach mix was spooned in, and 7-ish more butter-brushed layers of filo topped off the pie. This was baked at 350F for 45 minutes until golden.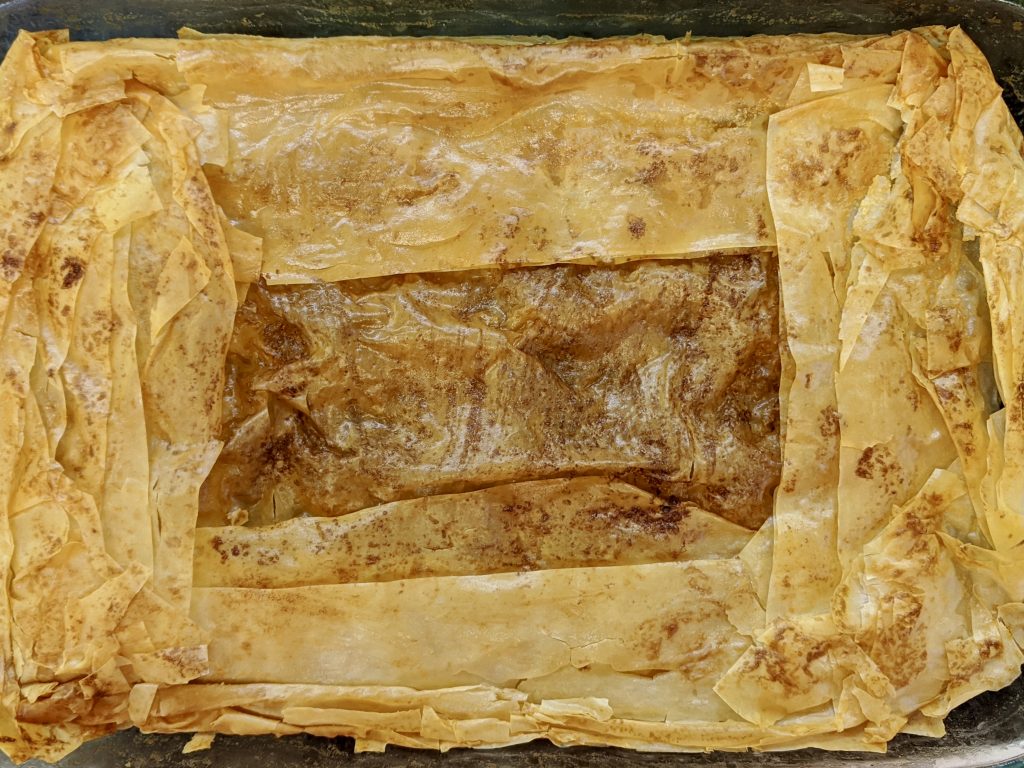 As per the last several iterations, this pie proved to yet again be wonderfully tasty. Salty, creamy, and crunchy, the sharp feta is perfectly balanced by the creamy ricotta and earthy spinach. This pie is truly fool-proof and we yet to have an issue with it!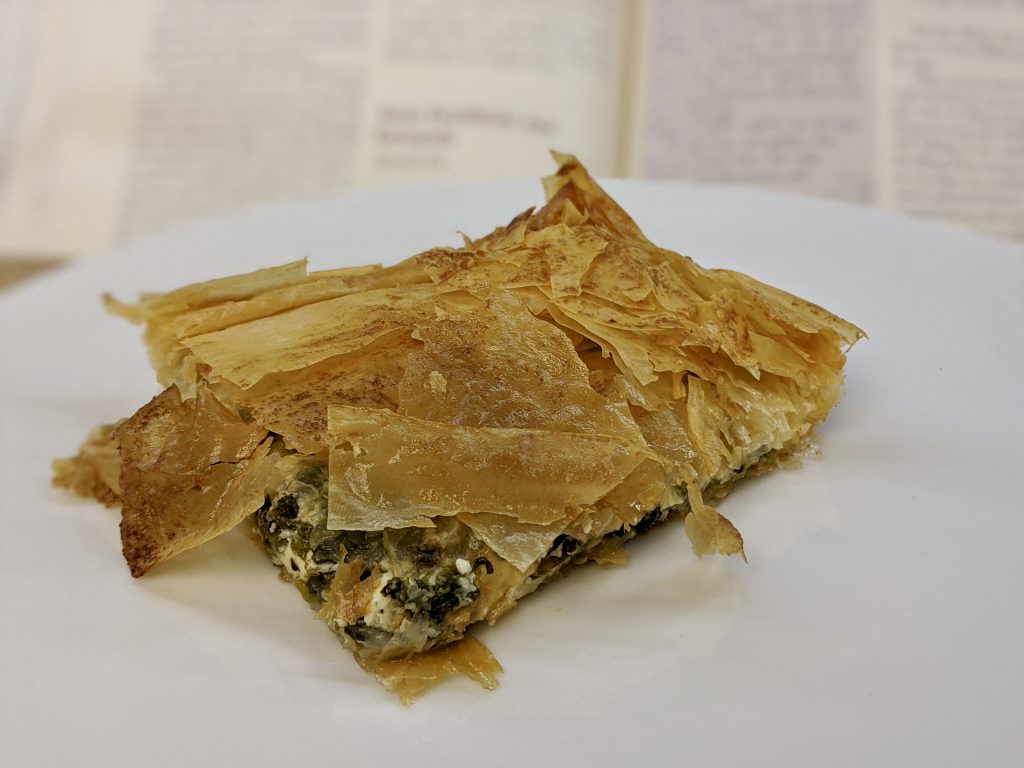 This Syrian kofta dish (as a quick reminder, "kofta" is the Persian word referring to ground meat shaped into balls) is often served as apart of elegant dinners. The cherry component in this dish creates a sweet and sour flavor, which is a favorite flavor profile of many Jews in the Middle East. This aspect is the key flavor of both of our meatball recipes featured tonight, but are very different due to the different fruit in each recipe.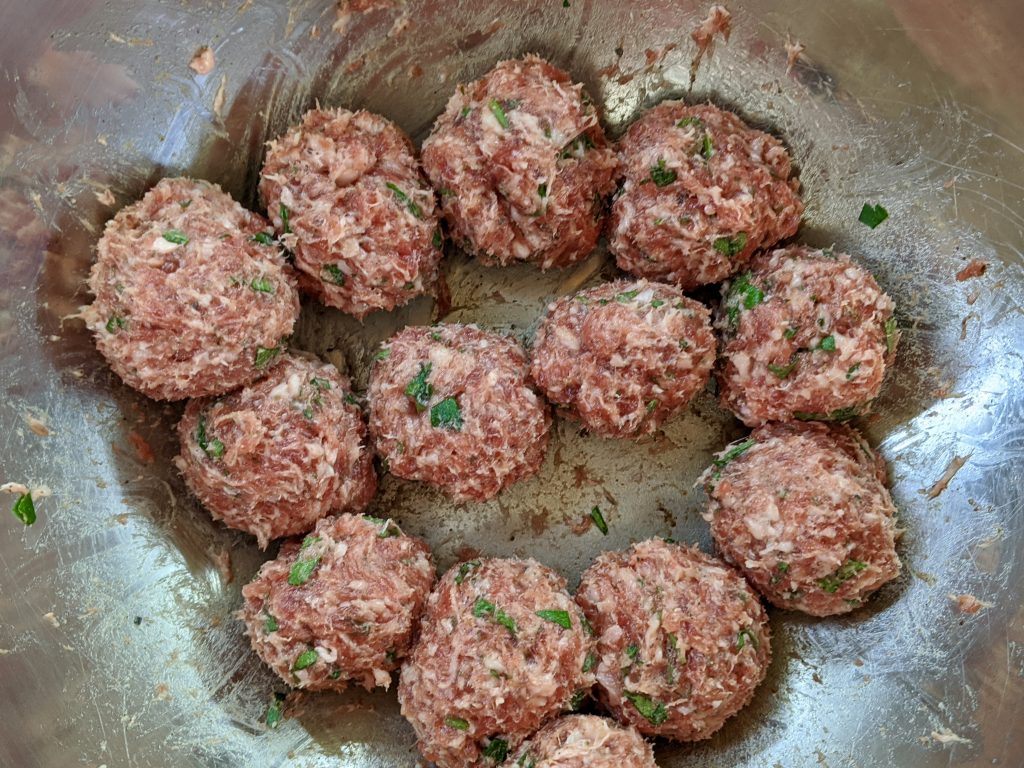 For our cherry meatball dish, ground meat was mixed with salt, pepper, cinnamon, allspice, and parsley, then shaped into walnut-sized balls. These were browned in a pan while the cherry sauce was made.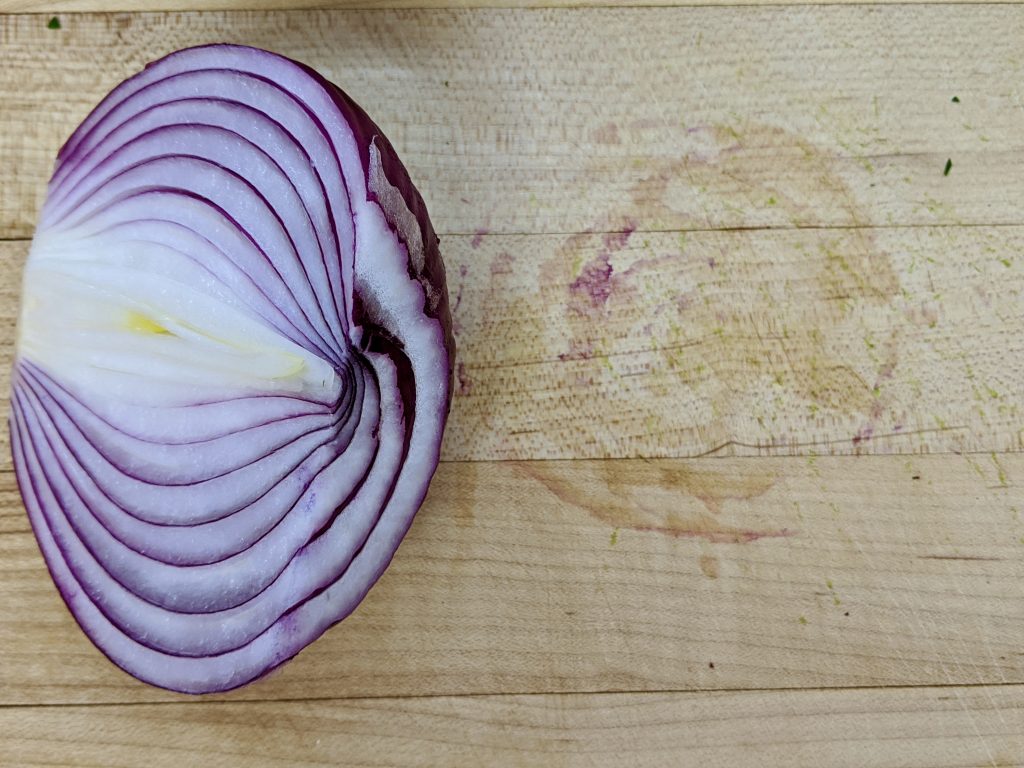 The fruit sauce was started by frying onion until soft. The cherries were then added to the pan – funny story, we were using the rest of the frozen cherries from our tree (which you may remember from 2019's Lamb Shoulder recipe). However, we did not label the bag of cherries, and, thinking the chosen bag was cherries, added the red frozen mass *briefly* to the pan. Gary attentively noticed that the mass did not look quite right, and saved us from having chicken liver sauce (which surprisingly looks similar to frozen cherries). TLDR? Label your frozen food, lest you confuse fruit with innards! So, crisis averted, we carried on – simmering the onions and cherries with a little water, lemon juice, and sugar. The meatballs were added to the sauce and bathed in them for five minutes on low heat until we were ready to eat.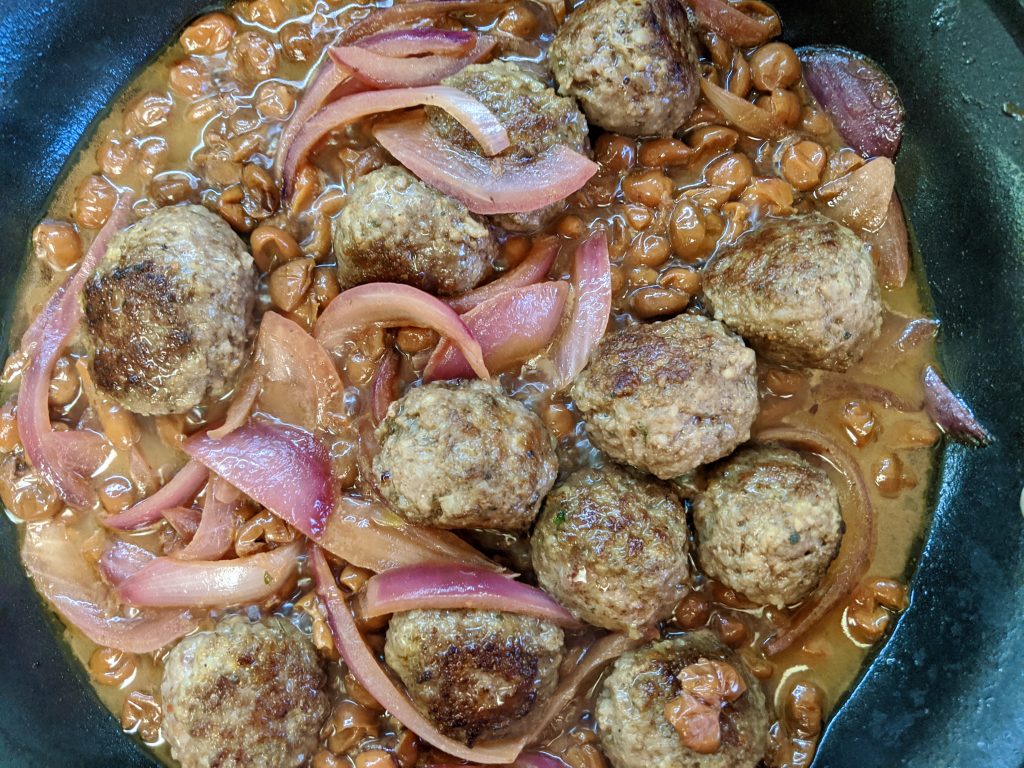 This dish was truly sweet and sour, however, we have to say that we enjoyed the cherries far more with the lamb shoulder. This dish would pair well with rice or toast (as recommended by Roden) to help balance out the intensity of the cherries a bit, as their flavor was quite strong.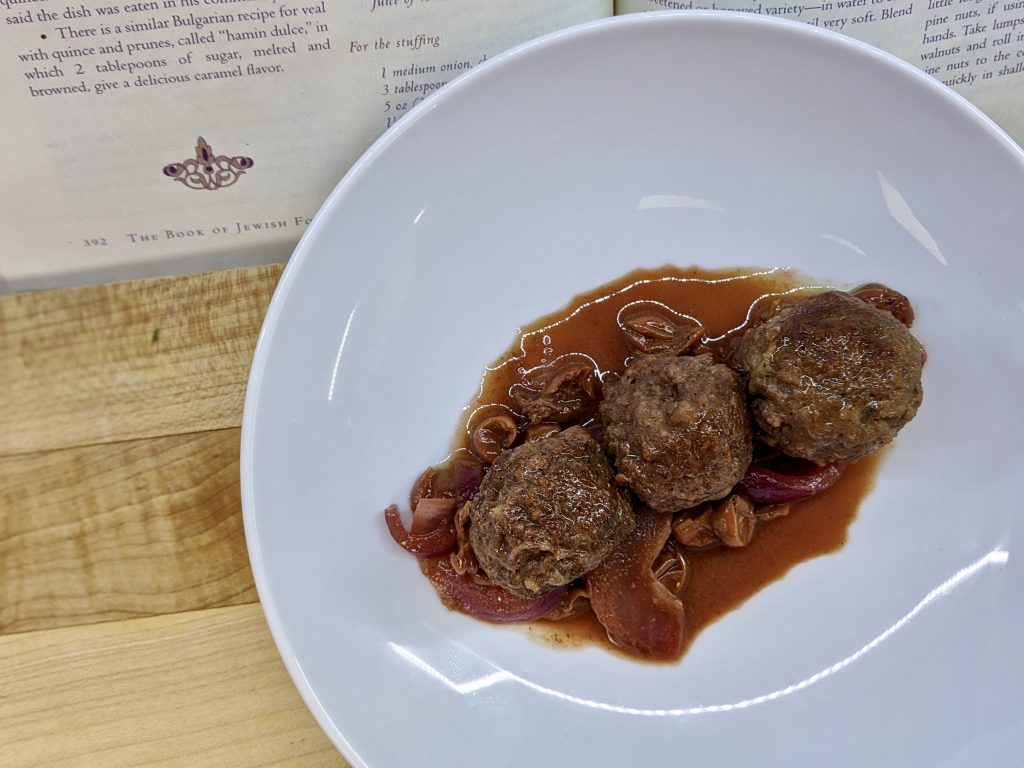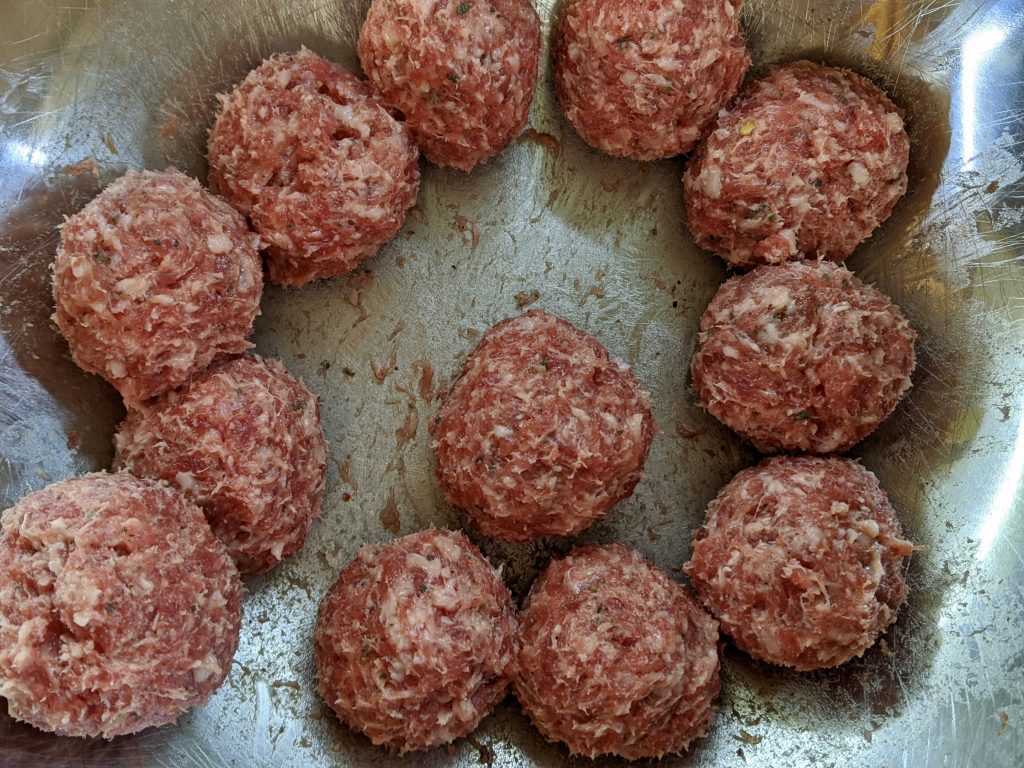 We jump from Syria to Iraq for our second meatball dish of the evening. This dish can trace its roots to a thirteenth-century Baghdad cookbook and features dried lime, for which we had to substitute fresh lime, as the dried version was nowhere to be found.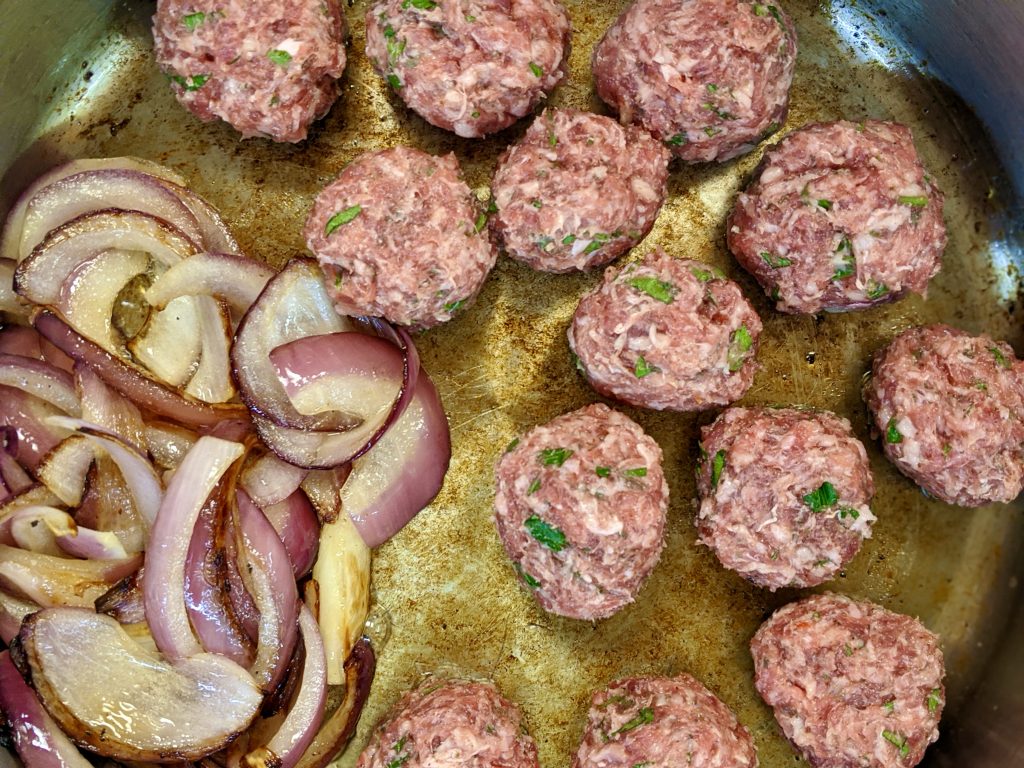 As opposed to the previous recipe, these meatballs started with the sauce. While onion was fried until golden, ground meat was mixed with cloves, allspice, salt, and pepper then shaped into walnut-sized meatballs. These were then added to the pan along with tomato paste, dried and soaked apricots, dates (we didn't have currants and Gary hates raisins), and a bit of water. This was simmered for 25 minutes until the meatballs were cooked through and tender.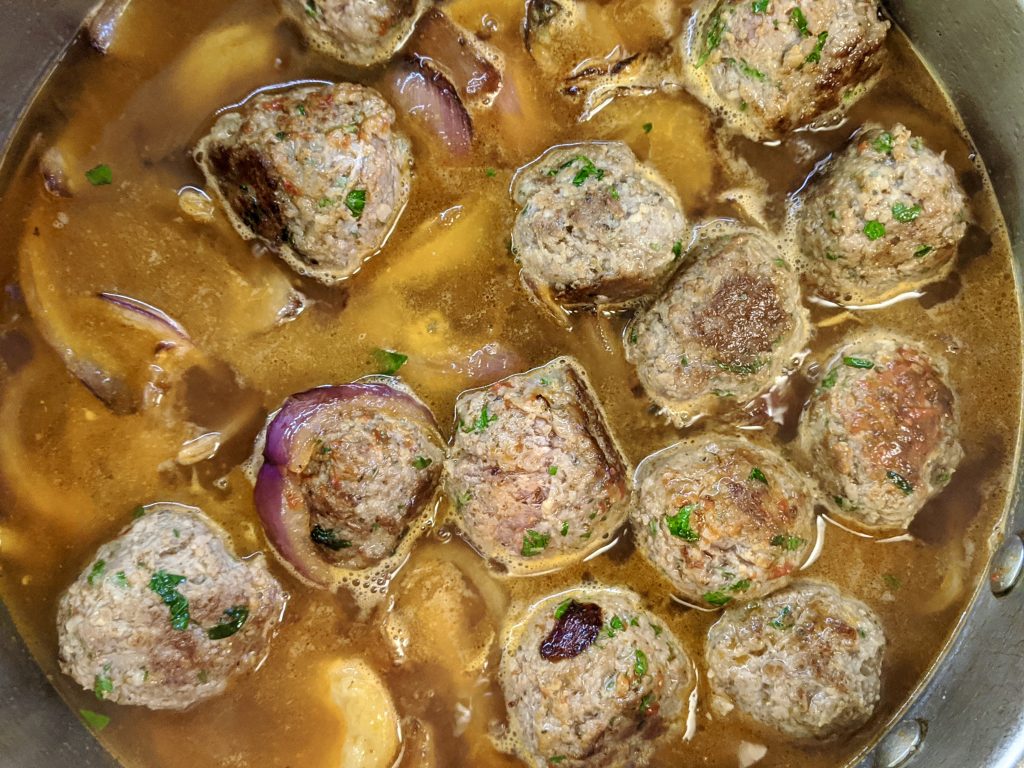 Prior to serving, the apricots were crushed with a fork and lemon and lime juice were added to the sauce. These meatballs were tender and moist and a nice salty compliment to the sweet and sour apricot sauce. The sauce had thickened slightly, which had a nicer texture than the more thin cherry sauce in the above recipe. These apricot meatballs were our favorite of the two protein recipes as the flavors were a bit more balanced and just a little less sharp in the sour flavor profile.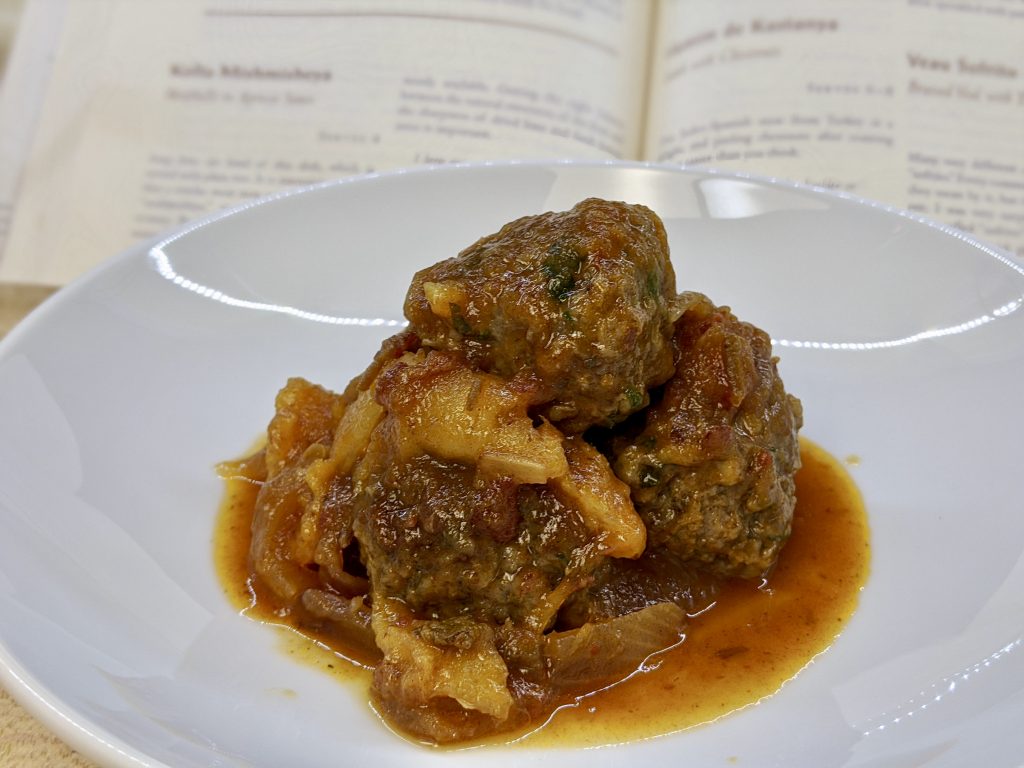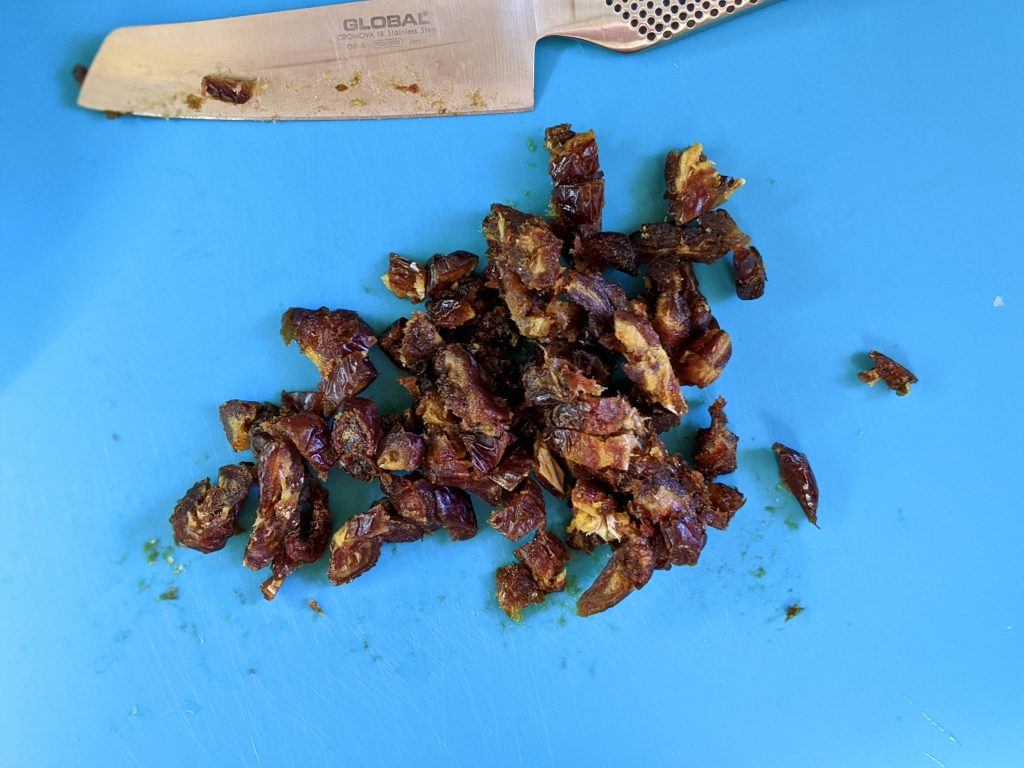 Our dessert for this evening hails from Italy but has a touch of Tunisian influence. It is a fairly simple cake, consisting of only 5 ingredients (and the eggs don't even need to be separated!). Pitted and chopped dates were mixed with sugar, chopped almonds, and four lightly beaten eggs. This mix was poured into a springform pan and baked at 350F for 45 minutes until golden.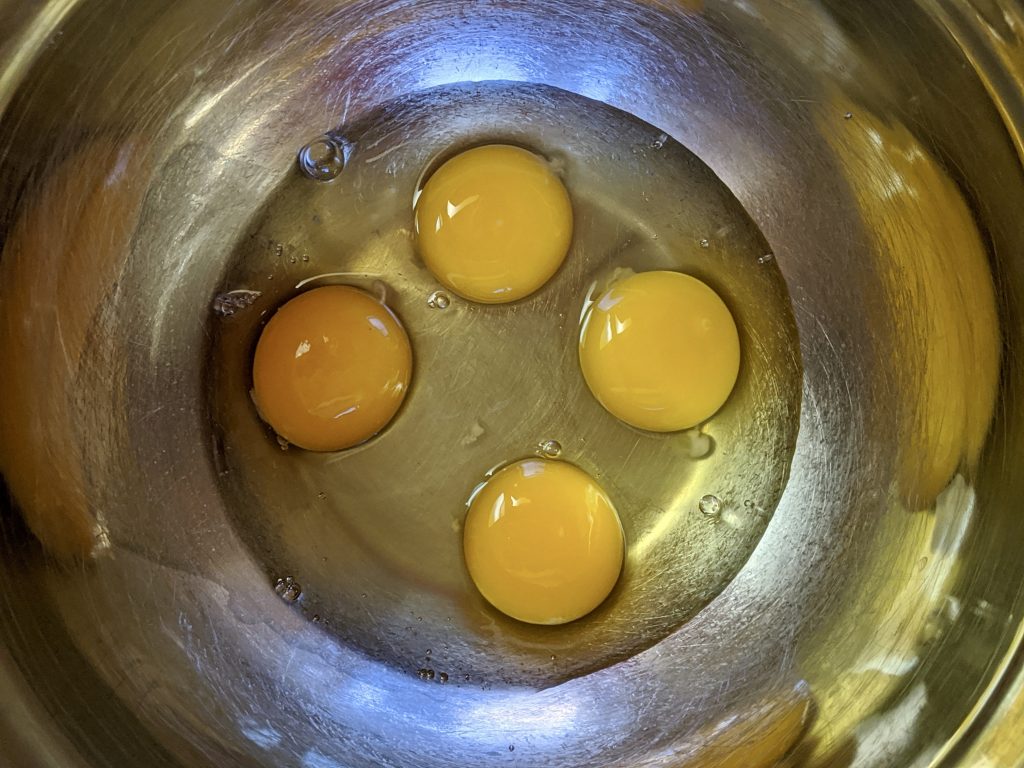 As there was not a rising agent in this cake, it only puffed up a bit but held its shape when it came out of the oven. It was more of a bread and less of a cake – it was moist enough but a bit dense (but not unpleasantly so). It was a bit sweet and the dates were tasty, but really not sweet enough to qualify (in our books at least) as a cake. As you can tell, we are still a bit confused about this recipe and did not dislike it, but are still not sure whether we liked it…had it been called date bread perhaps we would have felt differently!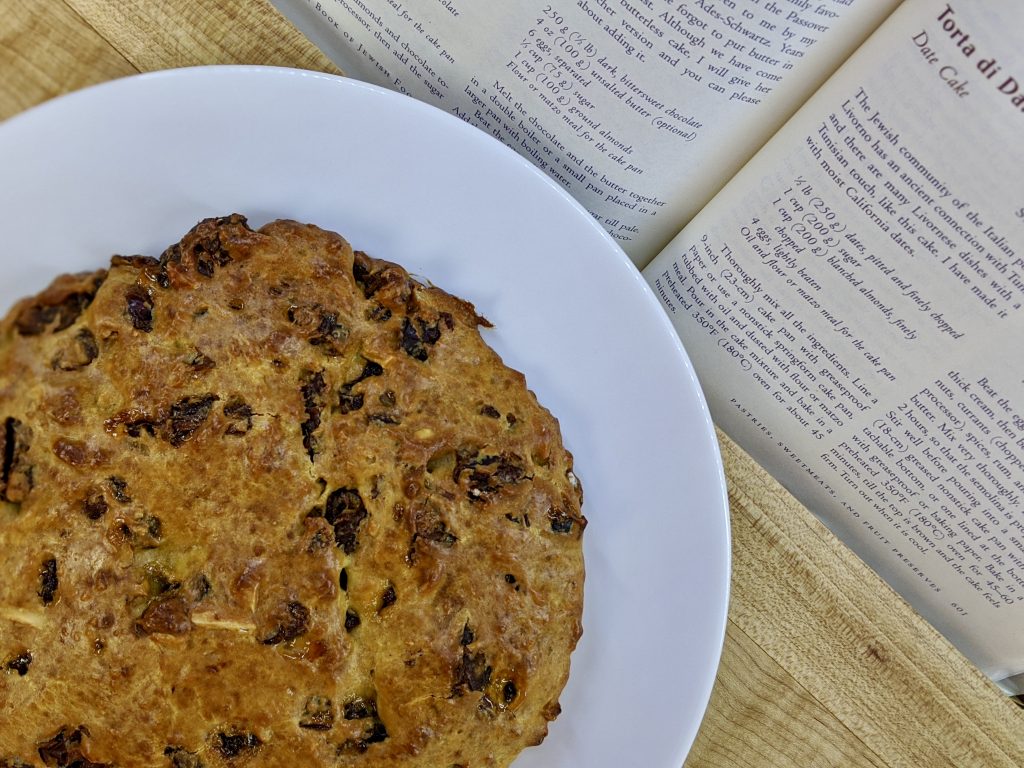 AND IN THE END, THE FOOD YOU MAKE IS EQUAL TO THE CARE YOU TAKE…
So how was Made In Marrow's meal number 73? As a reminder, our rating system is based on sticks of butter (because butter is best!), with 1 being the absolute worst and 5 being out of this world. Sticks of butter are assigned to Difficulty (how many kitchen fights were needed to complete the meal?), Tasty Goodness (was it a palate poor or did it make our mouths merry?), and Repeat Customer (how likely are we to return to the recipe?).
Difficulty  [][] 2/5
Tonight's dinner only took an hour to make everything from the spinach pie to the date cake, and all the dishes were fairly simple to make, start to end.
Tasty Goodness
[][][][][] 5/5 Tarte Feuilletée aux Épinards – Spinach Pie – So easy, so tasty, so perfect!
[][][] 3/5 Kofta bil Karaz – Meatballs with a Sour Cherry Sauce – Certainly sweet and sour, but perhaps just a touch too sour?
[][][][] 4/5 Kofta Mishmisheya – Meatballs in Apricot Sauce – A velvety sauce paired with nicely spiced meatballs 
[][] 2/5 Torta di Datteri – Date Cake – A touch too dense for a cake…
Repeat Customer
[][][][][] 5/5 Tarte Feuilletée aux Épinards – Spinach Pie – We already are repeat customers of this recipe!
[][] 2/5 Kofta bil Karaz – Meatballs with a Sour Cherry Sauce – Perhaps with different cherries, this could be a different dish
[][][] 3/5 Kofta Mishmisheya – Meatballs in Apricot Sauce – A simple meatball dish to make!
[][] 2/5 Torta di Datteri – Date Cake – Edible but not our favorite
A not too challenging dinner provided some tasty leftovers as well as a great way to ease back into blogging – we are looking forward to the meals that 2020 will bring us!
Sip, sup, and savor all you can, you curious cooks,
Elais & Gary