Just want the recipes and none of that other wordy nonsense? Click the links below!
Matzah – Unleavened Passover Bread
Mina de Carne – Passover Meat Pie with Matzos
Mina de Espinaka – Matzo and Spinach Pie
Pommes de Terre Douces – Sweet Potatoes
Sfongo – Spinach and Potato Pie
Massapan – Pâte d'Amande – Judeo-Spanish Marzipan
Meal the Seventy-Ninth
As we settle into almost a full month of isolation and limited outings, we are trying to stretch our meals and their subsequent leftovers as long as we can, in order to help decrease our grocery store visits. This week we finished the "Pie" section of The Book of Jewish Food and in the process, we made our own matzah to satisfy an ingredient in two of the pies which also helped to cut out an unnecessary shopping run. Our household, not unlike many others across the world right now, is working to be a bit more ingenious with our limited supplies, which, while it has served our isolation needs well, perhaps did not work out so well for this week's recipe outcomes. As we have learned from previous week's dinners, some things are just best left to the professionals (read on to find out if it was the matzah or the marzipan, no spoilers here!), and while we are glad we tried, we probably will not tackle again.
So join us tonight for a few failures and several successes in a dinner that somehow manages to even out the good and the bad!
Not unlike a variety of other communities around the world, most Jewish neighborhoods had and have very active bakeries. One of the focal recipes is matzah, which features flour whose processing was monitored and whose final product was blessed by a rabbi. Matzah (or matzo, if you are Sephardic) is typically produced in large round thin, and crispy sheets. This religiously affiliated bread was not just relegated to local bakeries – families also make this recipe at home, using special hard wheat bread flour and spring water.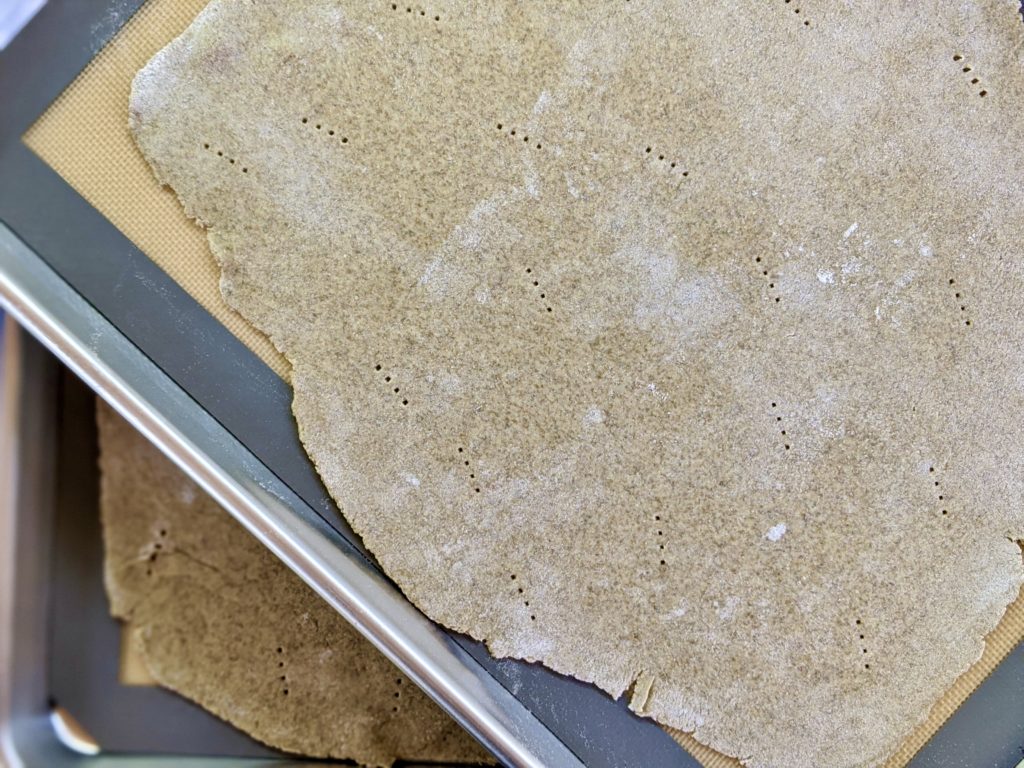 We decided to make matzah tonight since two of our recipes are pies that feature matzo as a crust. Claudia Roden recommended a recipe of two cups flour to one cup of water, which needed to be kneaded (lol, needed to be kneaded) for five minutes until no longer sticky. According to Roden, Jewish Law states that no more than 18 minutes can elapse from the time ingredients are mixed to the moment they are baked in order to avoid the risk of fermentation. I'm not sure I got this into the oven under the 18-minute mark, as the dough was pretty sticky and fairly difficult to roll out, but I tried my best! Instead of circles, we chose to roll them out into rectangles as they were going into rectangular baking dishes. Our rye/all-purpose flour matzahs were baked at 475F for 8 minutes until slightly darkened.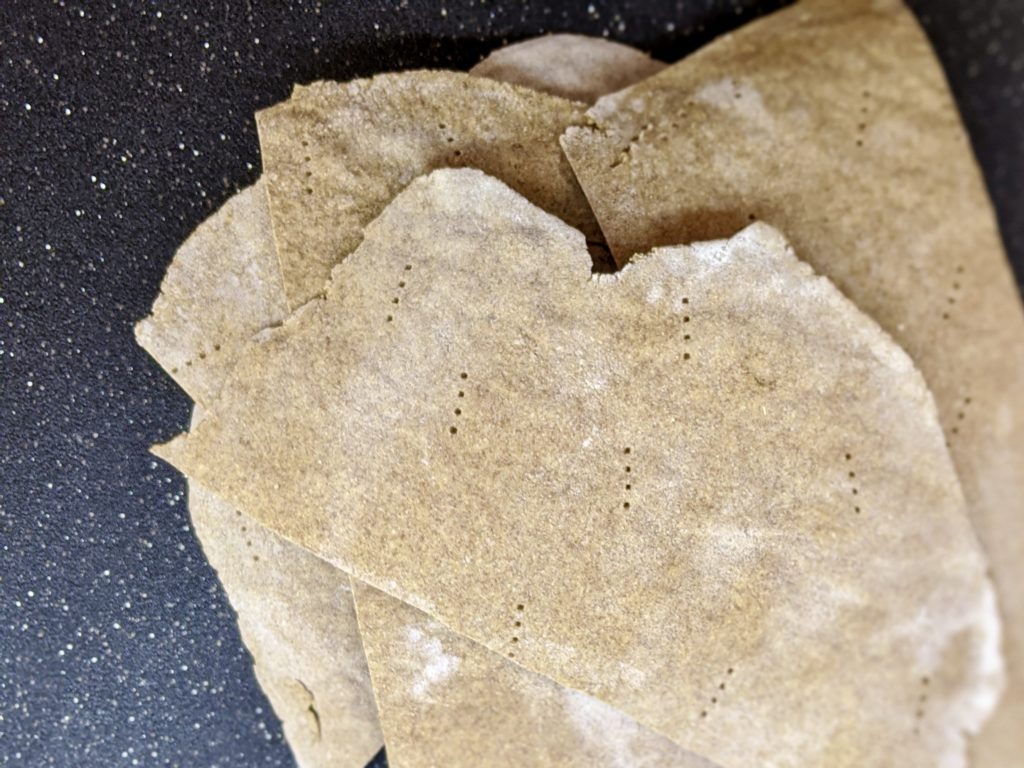 These crispy breads were fairly bland, as there was no salt in the recipe and it truly was simply flour and water. While we rolled them out as thin as we possibly could, they probably could have been a bit thinner as they were crisp but still had a bit of a chew. While we were glad we made these for tonight's meal, this is not our preferred style of bread, as we will probably stick to challah in the future!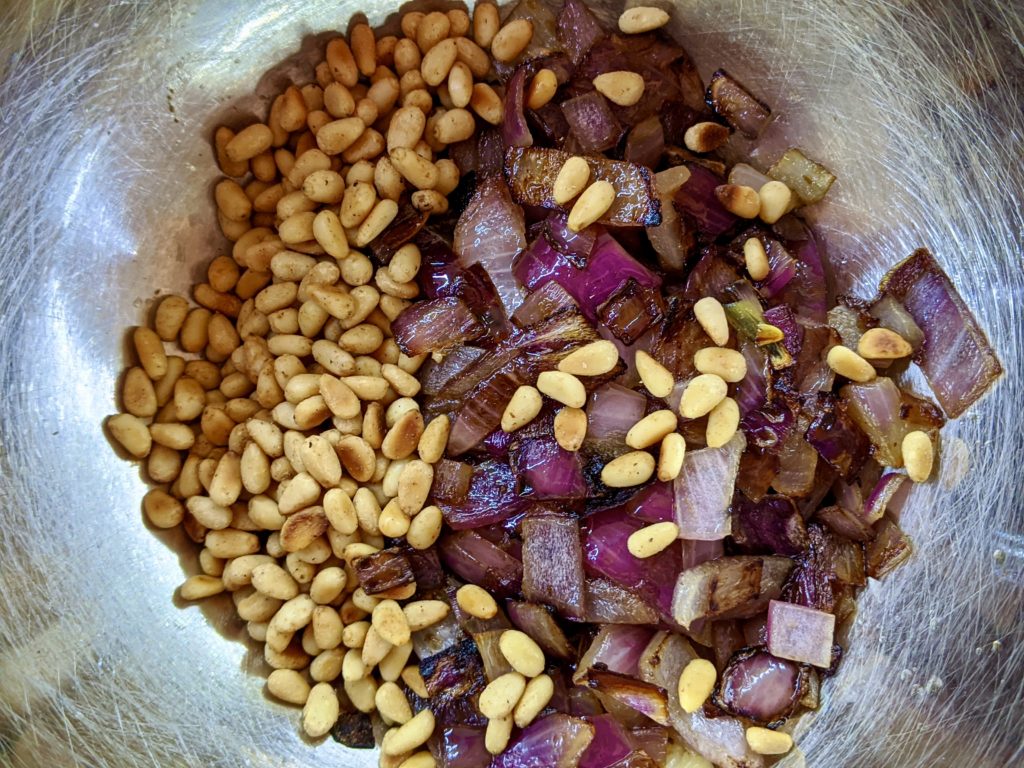 As some sources state, matzo pies are the Sephardic version of the Ashkenazi kugel (which we made quite a few of while traversing the first section of The Book of Jewish Food). Sephardic matzo pies utilize "the bread of affliction" almost like the noodles in lasagna. Quite often these matzo pies repurpose Seder leftovers (the ritual feast that marks the beginning of Passover). This turned out to be seasonally appropriate dish and this week's flurry of recipes also helped to break up the doldrums of isolation meal making.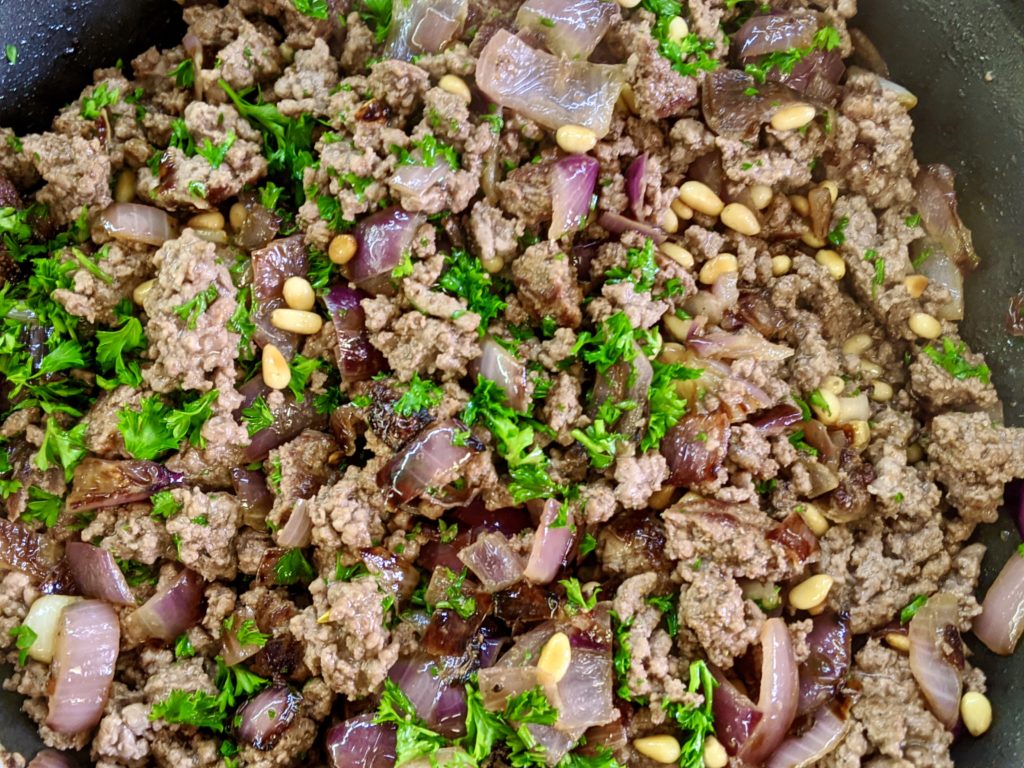 Our first matzo pie began with frying onions along with ground beef which was seasoned with salt, pepper, cinnamon, and allspice. Once the meat was browned, parsley was added to the mix along with pine nuts, after which it was allowed to cool slightly. Once cooled, 3 beaten eggs were thoroughly mixed into the meat.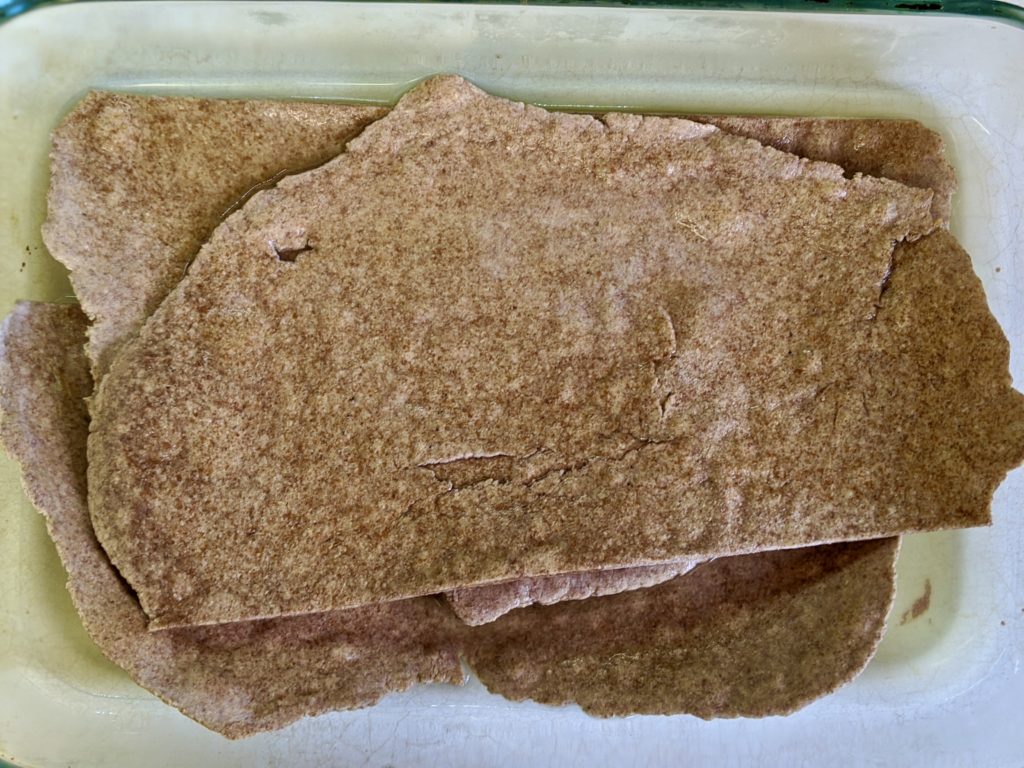 While the meat was cooling, our freshly made matzo was soaked in warmed chicken stock for 5 minutes until soft. They were then placed in the bottom of a baking pan then topped with the meat mixture, which was then topped with the remaining softened matzos. The remaining chicken stock was poured over all, after which 2 more beaten eggs were poured over the entire mixture. The dish was baked at 350F for 45 minutes until set.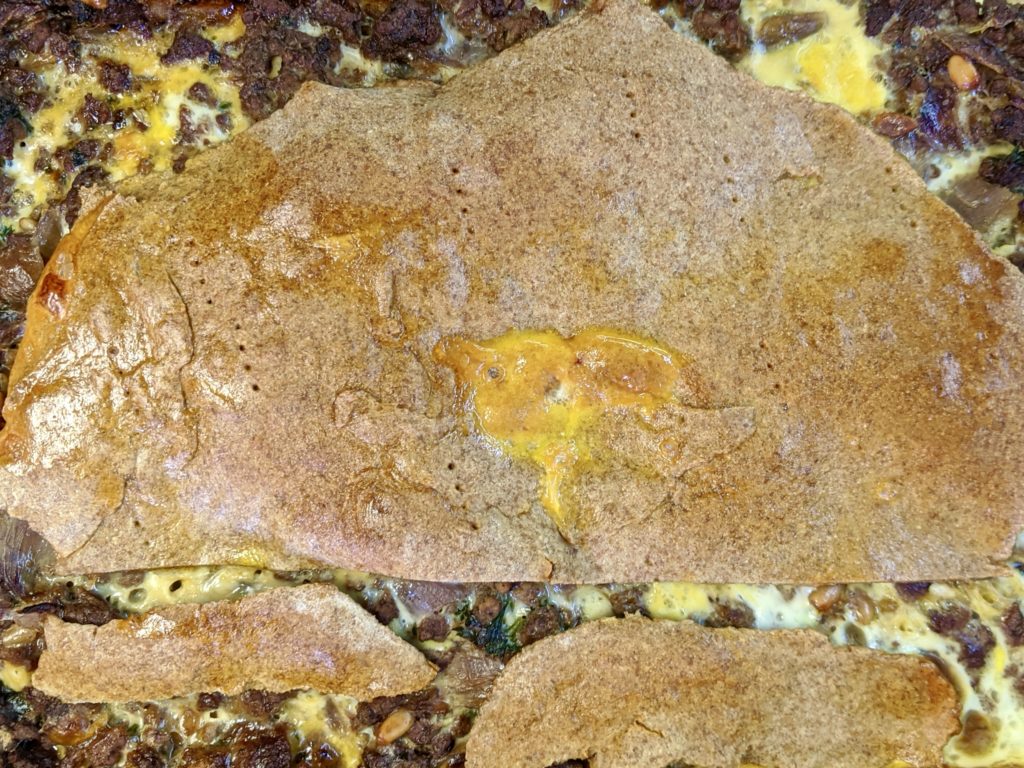 The meat was nicely seasoned, but unfortunately, that was about all we liked about this dish. The matzo, although saturated and softened, was very tough after baking and needed to be sawed through just to put our portions on the plate. Perhaps with a thinner matzo, this dish would have been more successful, but we could not really see how the bland bread would have added much to this meaty main course.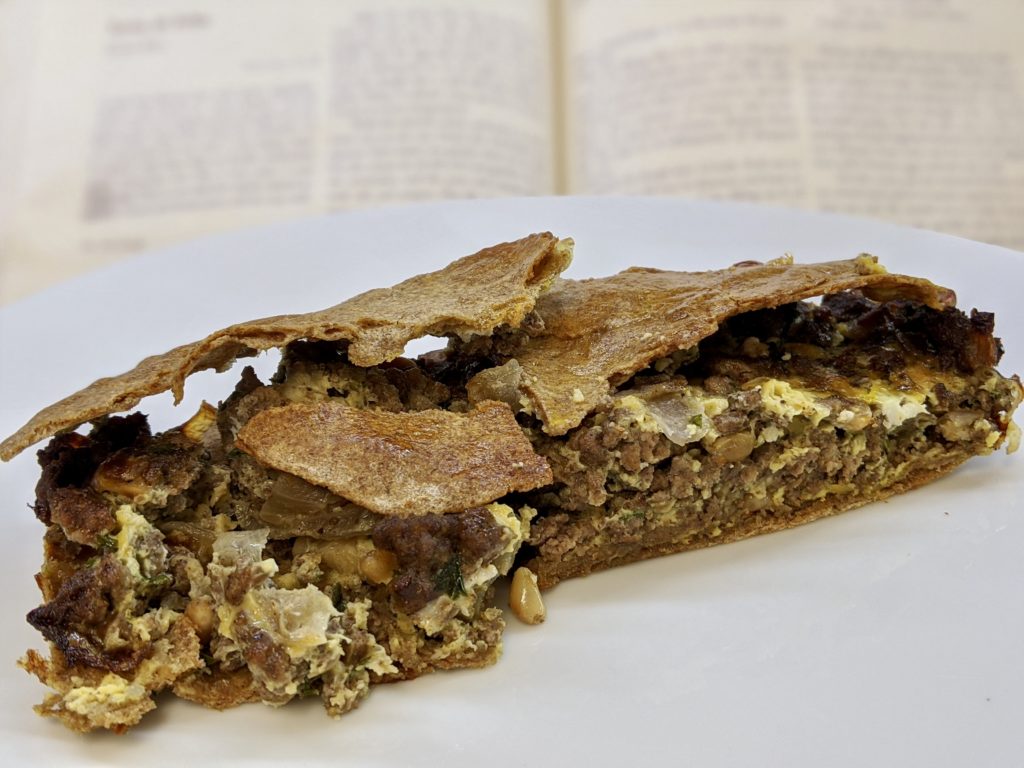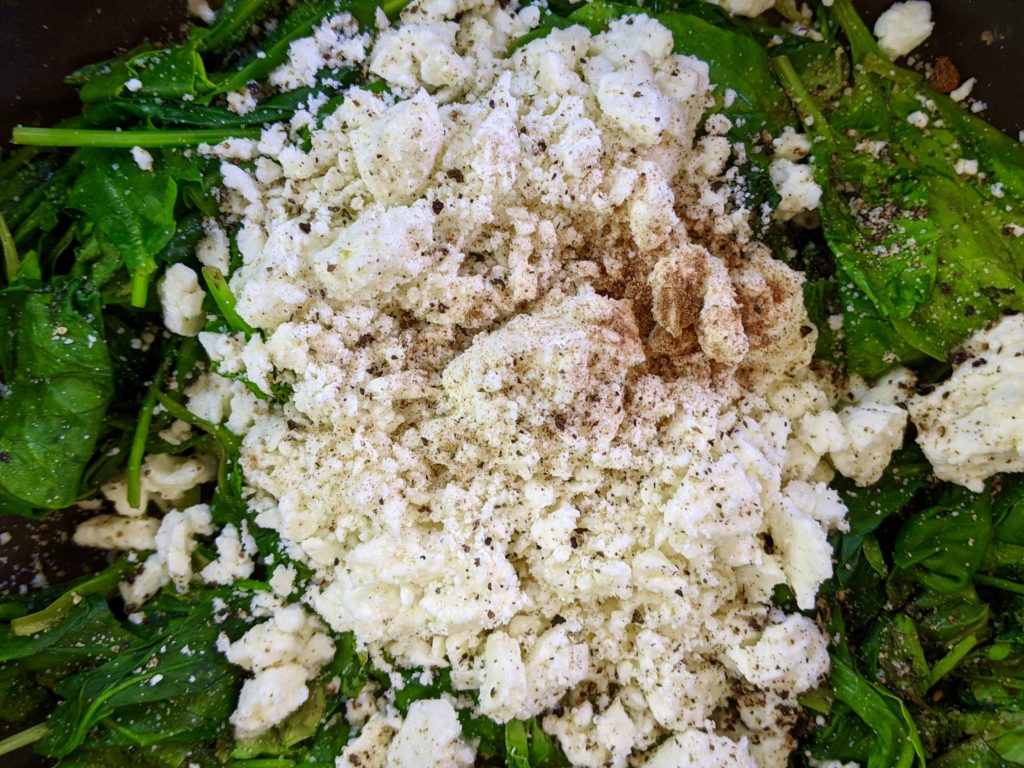 Our second matzo pie of the evening is typically eaten during Passover week in the Judeo-Spanish Ottoman world. Spinach was steamed until soft and then mixed with 3 beaten eggs, feta, salt, pepper, and nutmeg. While the mixture was being created, matzo soaked in milk for five minutes until softened, which was then placed in the bottom of a baking dish. The spinach filling was spooned in over the milk-softened matzo, which was then topped with the remaining milky matzo. Eggs beaten with the remaining milk were poured over the top of the pie and the dish baked at 350F for 45 minutes until the eggs were set.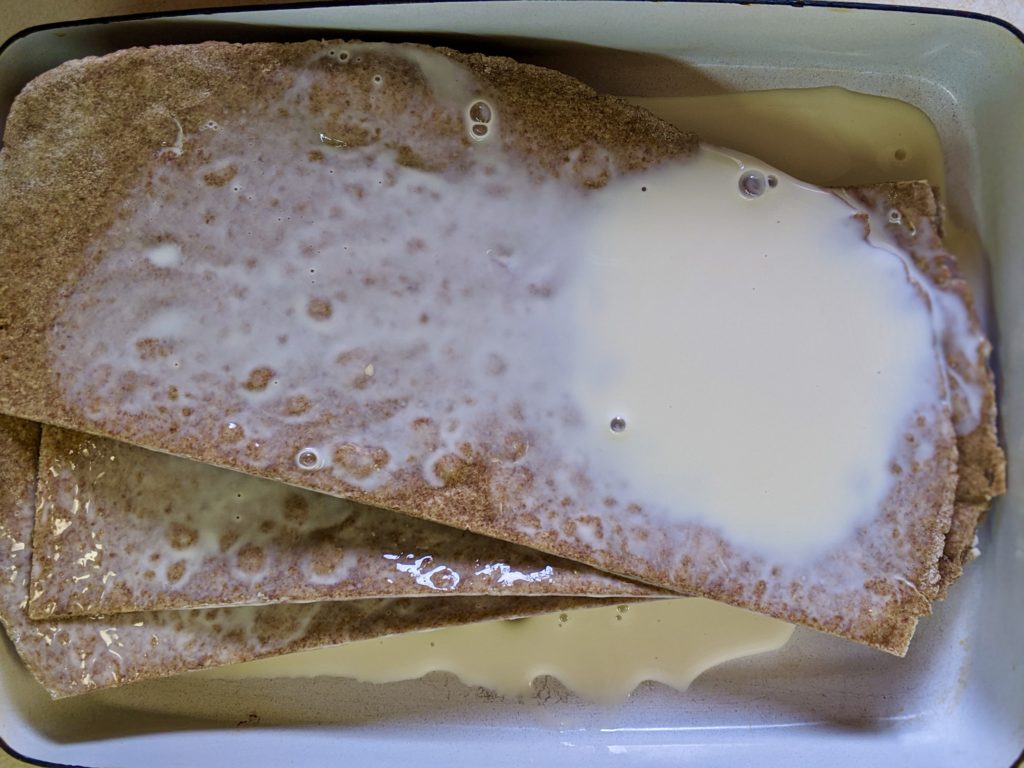 While we thought the meat mixture in the above pie was okay, unfortunately, this entire dish fell flat. It was more of a spinach soufflé wedged between two tough noodles with not enough seasoning. Truth be told, we actually deconstructed both of tonight's pies and mixed the innards together to create a tasty casserole later in the week, so no leftovers were lost in the making of tonight's dinner!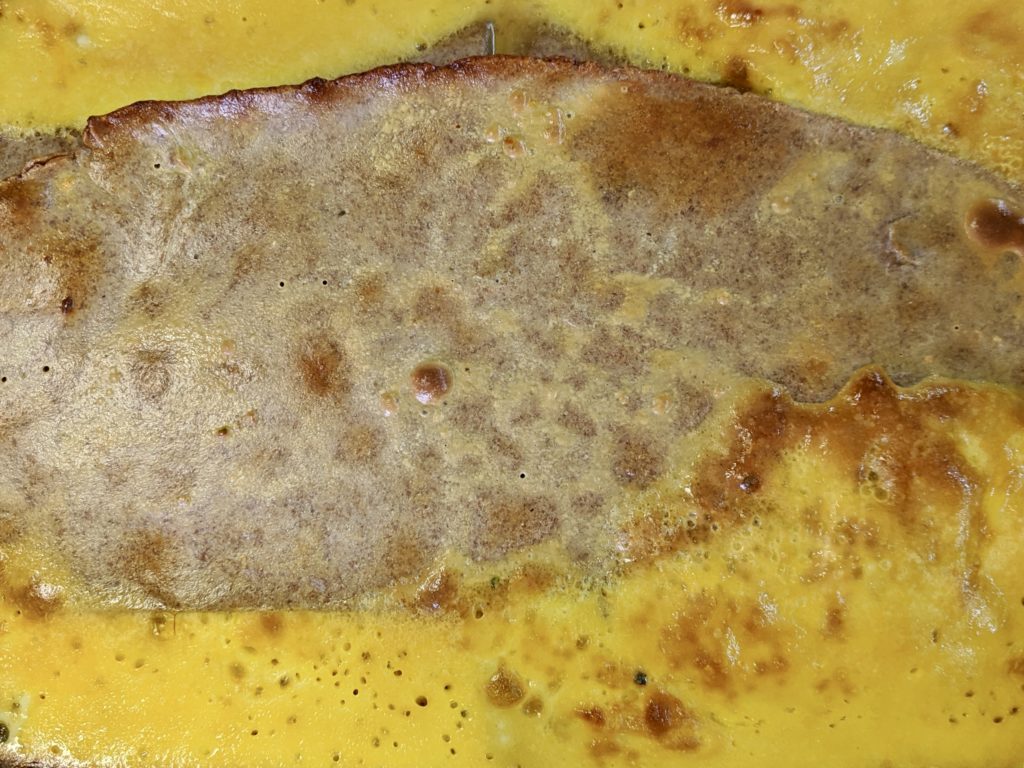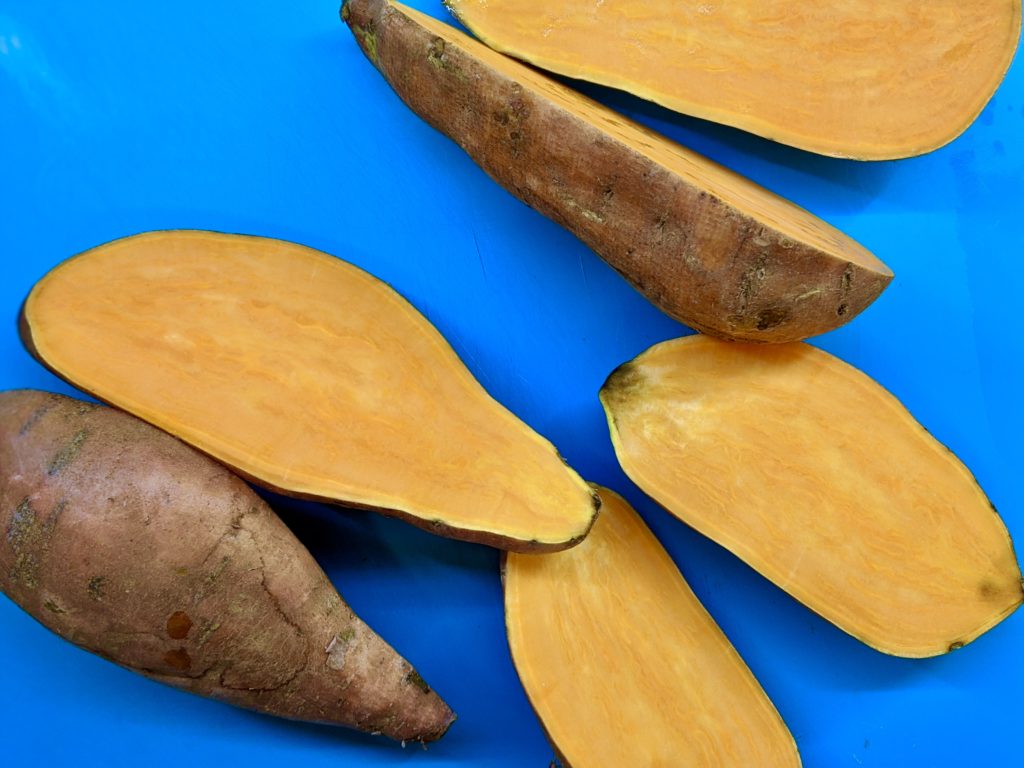 This Moroccan recipe is simple and straightforward and as will be this description! Sweet potatoes were peeled and boiled in salted water, after which they were mashed with butter and milk until smooth. Our mashed tubers were seasoned with cinnamon, salt, and pepper and topped with fried onions.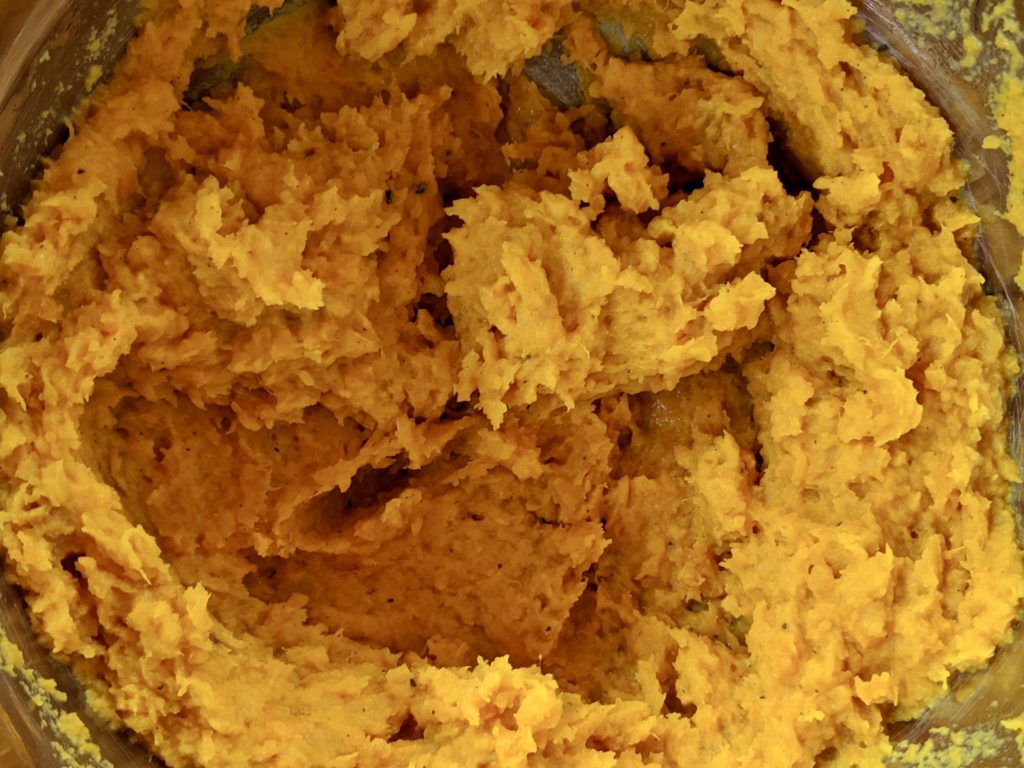 Our household is a fan of mashed yams, so this recipe was not novel, but it was well-received! The mash was sweet, earthy, and wonderfully complemented by the fried purple onions. We will definitely be making this recipe again as it already is apart of our culinary repertoire!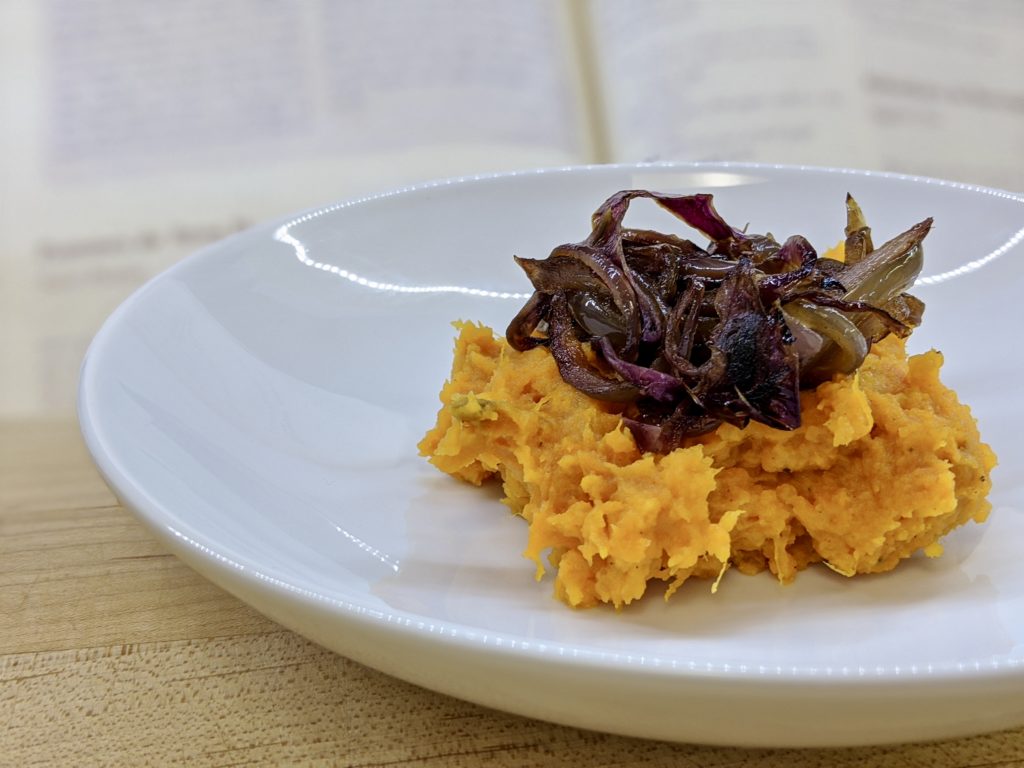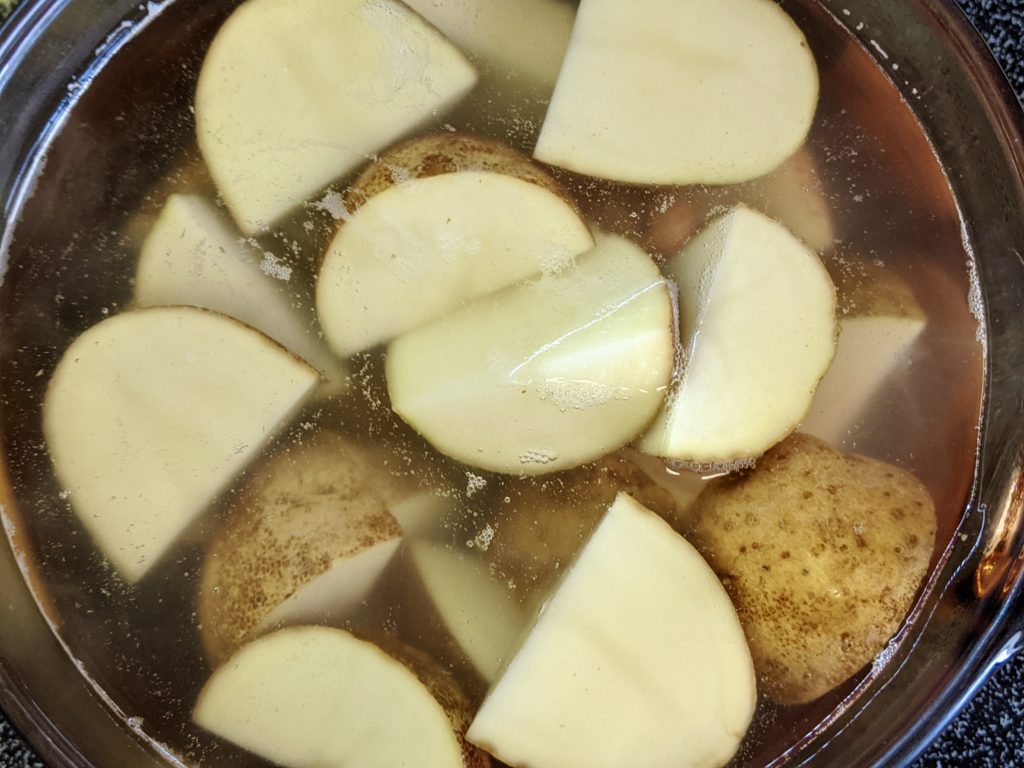 Vegetable crustless pies are quite popular in Turkey and this is the first of several to made over the upcoming weeks. This dish is typically served alongside a dairy dish, so it fits well with our above Matzo and Spinach Pie.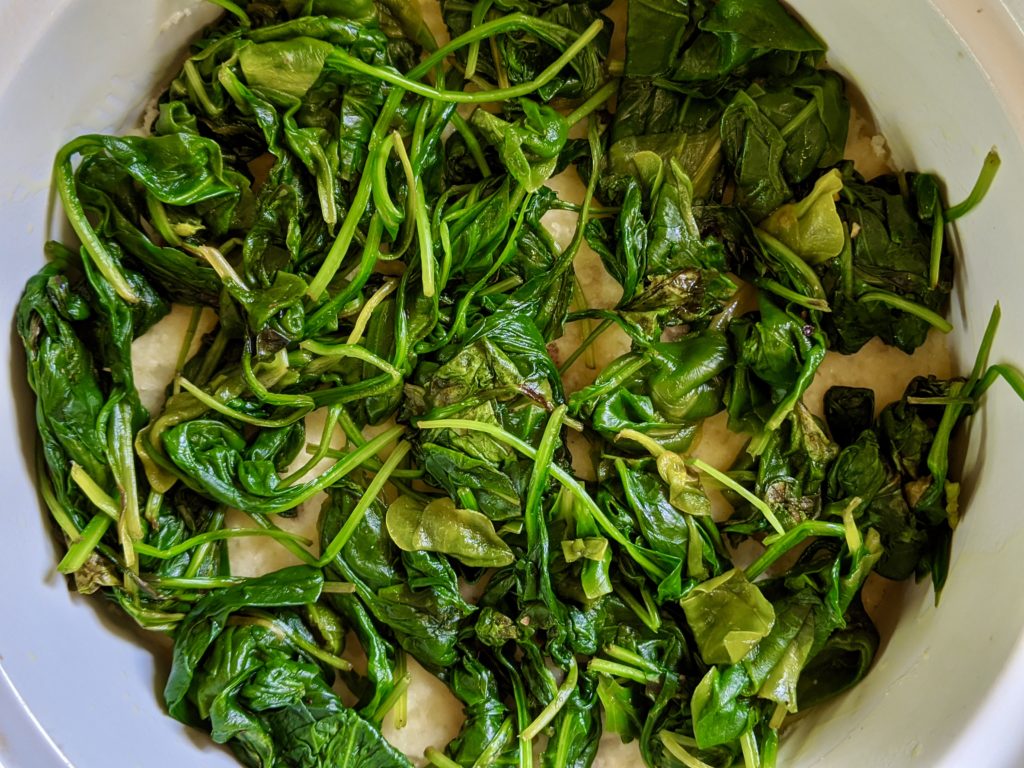 To start, potatoes were boiled until soft and then mashed with milk, butter, salt, a beaten egg, and parmesan cheese. Next, spinach was steamed until soft and then seasoned with salt, pepper, and nutmeg. Half of the mashed potatoes were spread into an oiled baking dish, which was then covered with the spinach, which was then topped with the remaining mashed potatoes. This was sprinkled with parmesan cheese and a small amount of olive oil and baked at 400F for 40 minutes until lightly covered.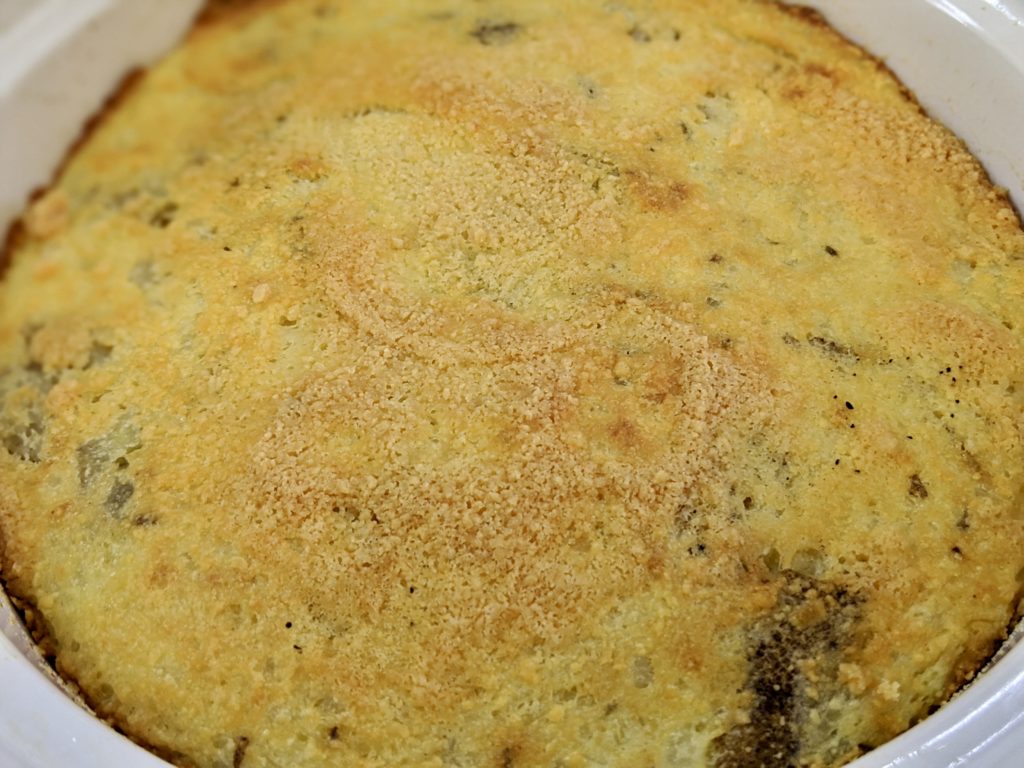 This dish was an excellent way to elevate your average mashed potatoes – creamy and salty as well as earthy from the seasoned spinach, it was a surprisingly light accompaniment to tonight's other dishes. This would make for a great little dinner party dish, as the spinach offers a little surprise as the hidden interior of this mashed potato pie.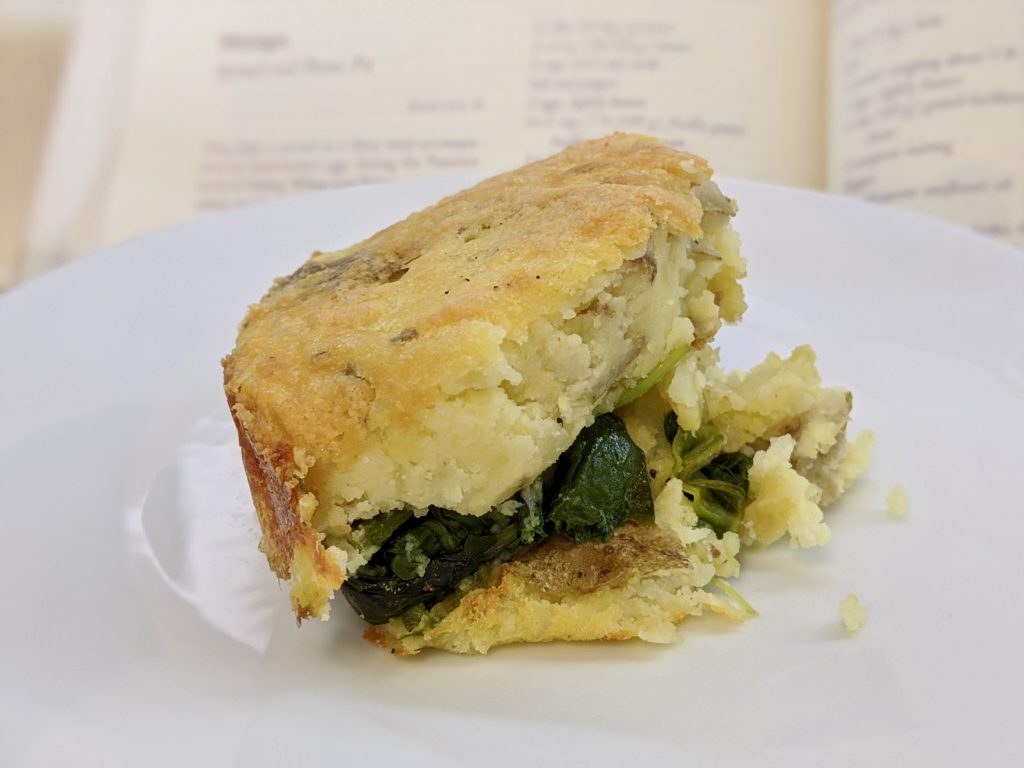 After a recipe heavy meal, it was a bit of a relief to have a fairly simple dish for dessert. This is the classic way of making Judeo-Spanish style marzipan, which a dessert commonly eaten around December holidays in Spain, Portugal, Italy, Belgium, Britain, Denmark, Sweden, and a variety of other European countries. In Iran, Marzipan is a Passover treat and in Latin America, it is eaten at Christmastime. Variations on the recipe can also be found in India and the Philippines (due to Portuguese and Spanish influences), but it was believed (not without controversy) that marzipan was introduced to Europe through the Turks. Regardless of origin, it appears that early recipes date back to around 800AD, with variations being few and simple, as the recipe does not consist of many ingredients, regardless!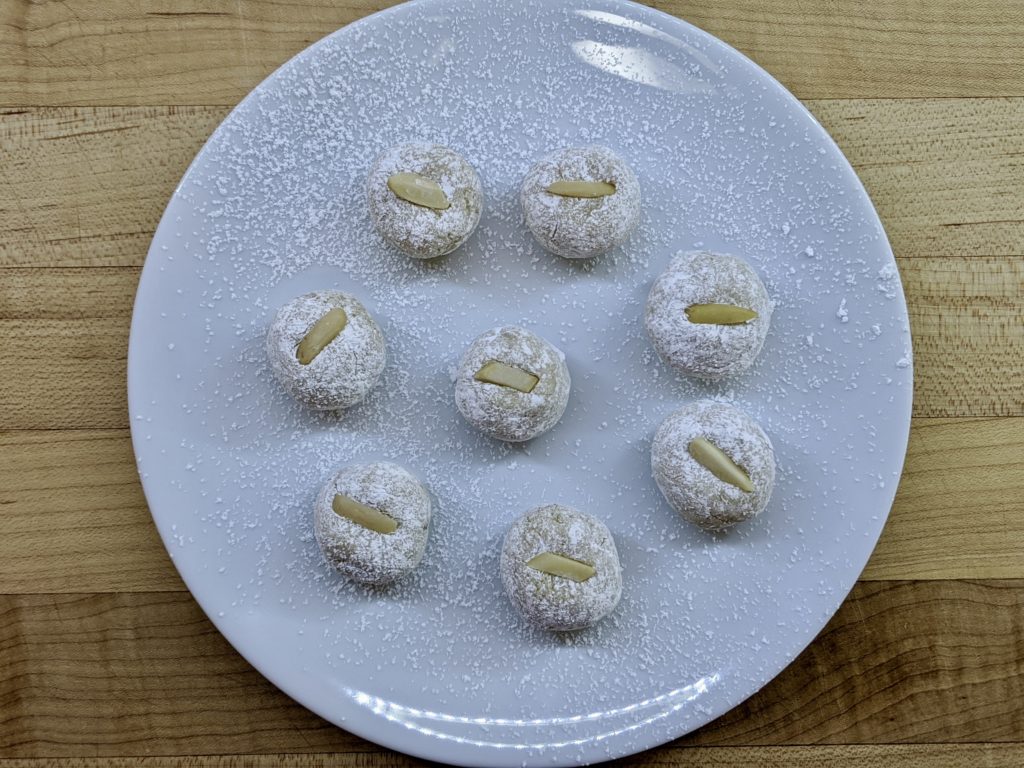 After a hefty introduction for such a small bite, we finally get to the dish itself – sugar, water, and lemon juice were boiled for about ten minutes to create a syrup, after which ground almonds and almond extract were added to the pot. This was stirred vigorously over low heat for 3 minutes until the paste was no longer sticky. This was allowed to cool slightly and then Elais (with her asbestos hands) rolled the paste into 1 inch sized balls, which were then rolled in powdered sugar and topped with an almond slice.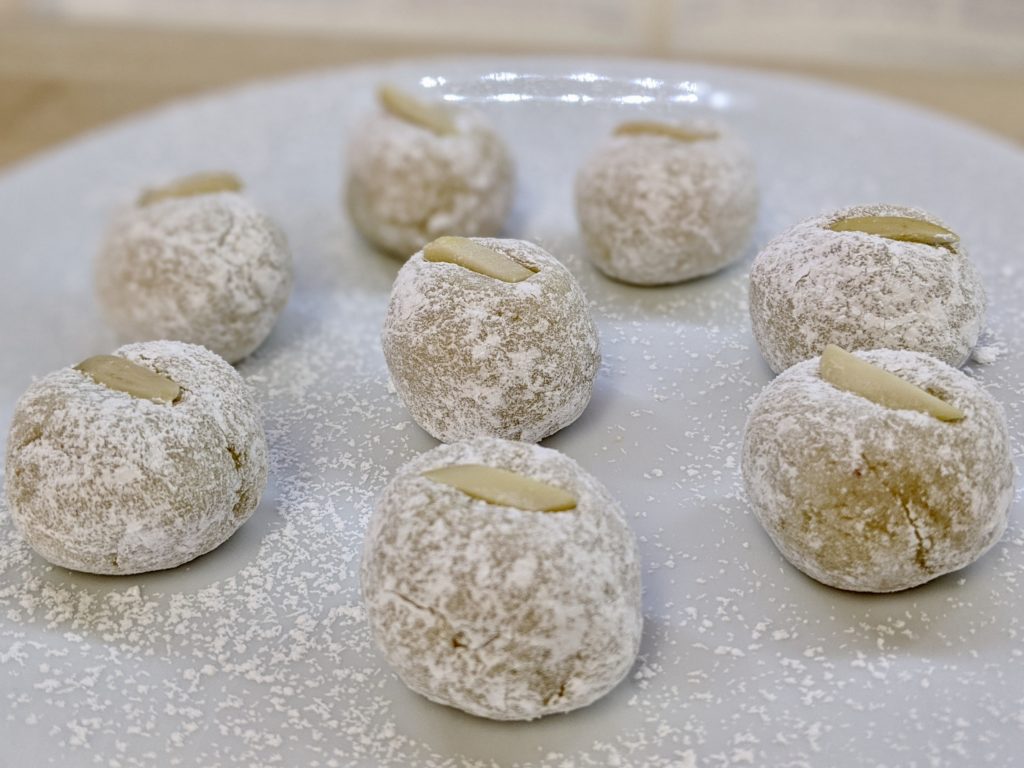 The marzipan was wonderful – tender and slightly sweet. Their texture did improve after sitting overnight, so these easily can be made ahead of time and stored for later. However, they did not last long in our house, so we cannot attest to their longevity!
AND IN THE END, THE FOOD YOU MAKE IS EQUAL TO THE CARE YOU TAKE…
So how was Made In Marrow's meal number 79? As a reminder, our rating system is based on sticks of butter (because butter is best!), with 1 being the absolute worst and 5 being out of this world. Sticks of butter are assigned to Difficulty (how many kitchen fights were needed to complete the meal?), Tasty Goodness (was it a palate poor or did it make our mouths merry?), and Repeat Customer (how likely are we to return to the recipe?).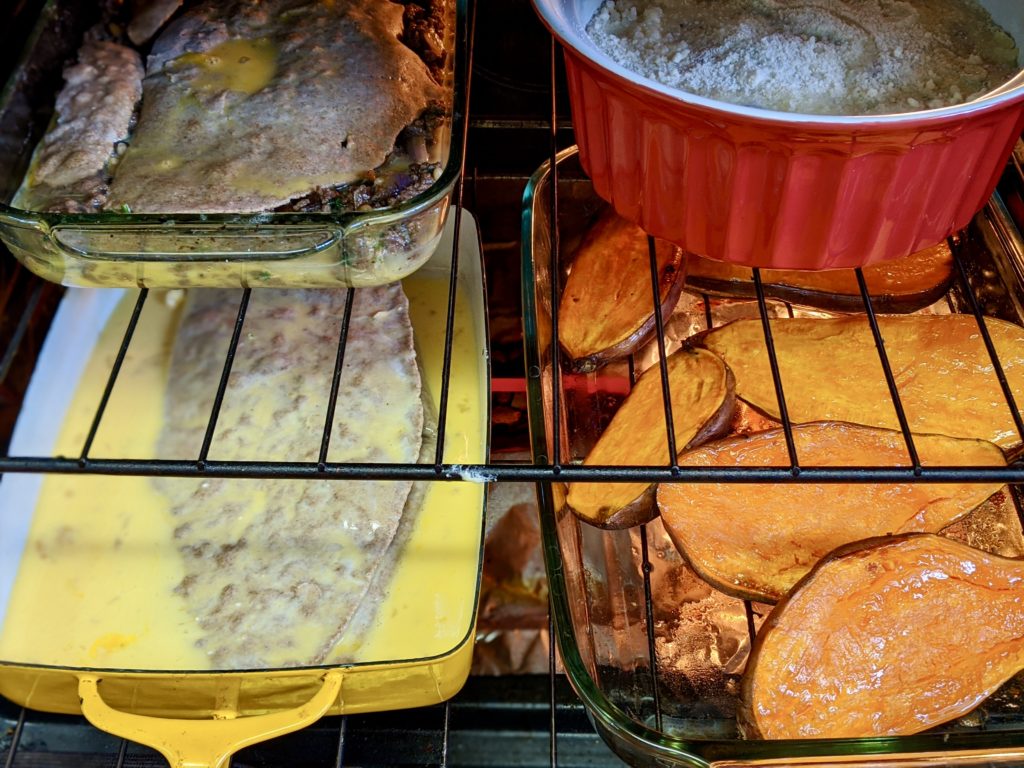 Difficulty [][][] 3/5
The only thing difficult about tonight's meal was that we took on too many recipes, so we had to work hard to get them all timed right and into the oven on time!
Tasty Goodness
[] 1/5 Matzah – Unleavened Passover Bread – Tough and tasteless, unfortunately
[][][] 3/5 Mina de Carne – Passover Meat Pie with Matzos – The flavoring was good, but the texture was all wrong
[][] 2/5 Mina de Espinaka – Matzo and Spinach Pie – The flavoring was okay AND the texture was all wrong
[][][][] 4/5 Pommes de Terre Douces – Sweet Potatoes – Hearty and tasty
[][][][] 4/5 Sfongo – Spinach and Potato Pie – A nice little spinach surprise!
[][][][] 4/5 Massapan – Pâte d'Amande – Judeo-Spanish Marzipan – Sweet and simple little bites
Repeat Customer
[] 1/5 Matzah – Unleavened Passover Bread – That's a no from us
[] 1/5 Mina de Carne – Passover Meat Pie with Matzos – That's a no from us
[] 1/5 Mina de Espinaka – Matzo and Spinach Pie – Another big no from us
[][][][][] 5/5 Pommes de Terre Douces – Sweet Potatoes – Already in our recipe rotation!
[][][][][] 5/5 Sfongo – Spinach and Potato Pie – An easy and elevated side dish
[][][][] 4/5 Massapan – Pâte d'Amande – Judeo-Spanish Marzipan – An easy dessert to impress your guests
This week we managed to make a feast of a few failures, but such is life, c'est la vie, that's mud in your eye, and next week is a new adventure!
Sip, sup, and savor all you can, you curious cooks,
Elais & Gary