Just want the recipes and none of that other wordy nonsense? Click the links below!
Pita au Poulet – Chicken Pies with Bread Dough
Pommes de Terre aux Olives – Potatoes with Black Olives
Brinjal Albaras – Layered Eggplant Dish
Semolina and Coconut Sabbath Cake of the Bene Israel
Meal the Seventy-Seventh
Probably the best description for how our last week of COVID state-shutdown is that we have settled into the unsettledness. This new normal has resulted in quieter neighborhoods and weird grocery shopping, both of which have a new level of wary observation from all involved. Grocery stores in Santa Fe are not unlike those in the rest of the country, being stocked one day and barren the next, but we did manage to snag the last eggplant on the shelf for tonight's meal. While we did not participate in the senseless hoarding, we will admit that we did inadvertently end up with an excess of canned black olives, due to a miscommunication between our electronic shopping lists resulting in both Gary and I both buying a flat on separate outings, but those were quickly put to use in tonight's meal.
We continue to cook to maintain a sense of stability and as things continue to change over the next period of time we hope that you join us with your own adventures in the kitchen. So let's take a small break from the outbreak and get to tonight's meal!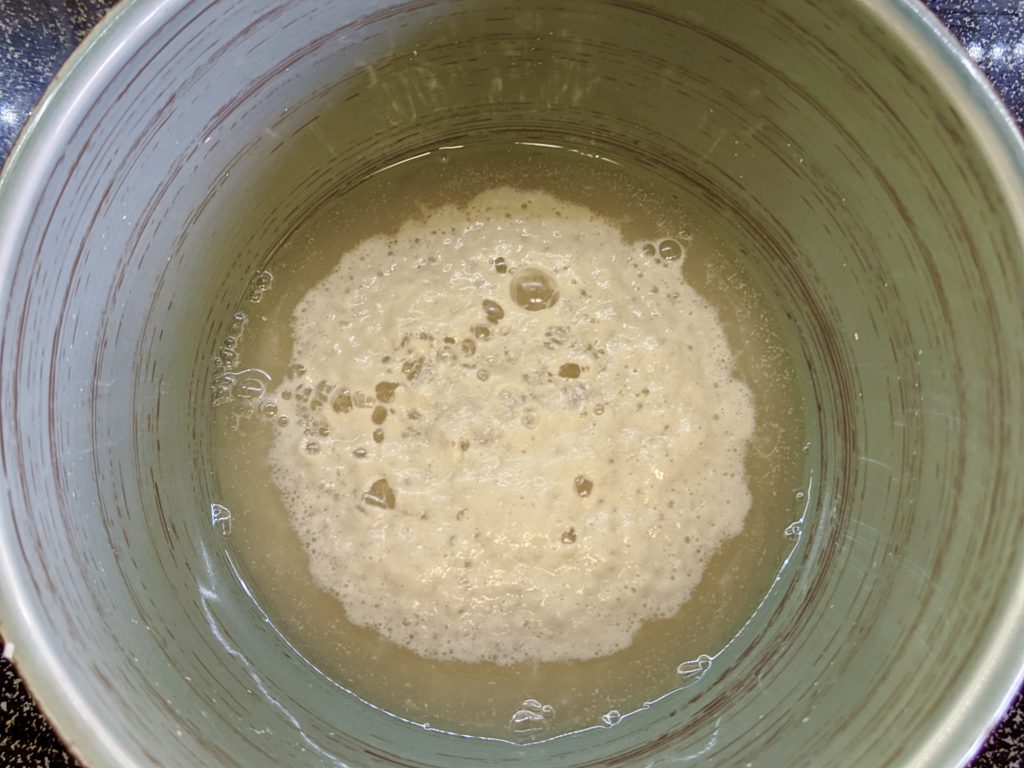 This recipe is the third to last dish in the "Savory Pie" section of The Book of Jewish Food and it appears that Claudia Roden may have been a bit tired by this point. The recipe is less of a step-by-step recipe and more like "here are some things to try…", with no description of the end dish or its origins. For an example of the brevity of this recipe, to start Roden directed us to the pita bread recipe we made so many ages ago. So, off to page 550, to combine yeast, water, flour, and salt to make a soft dough which then rested for an hour.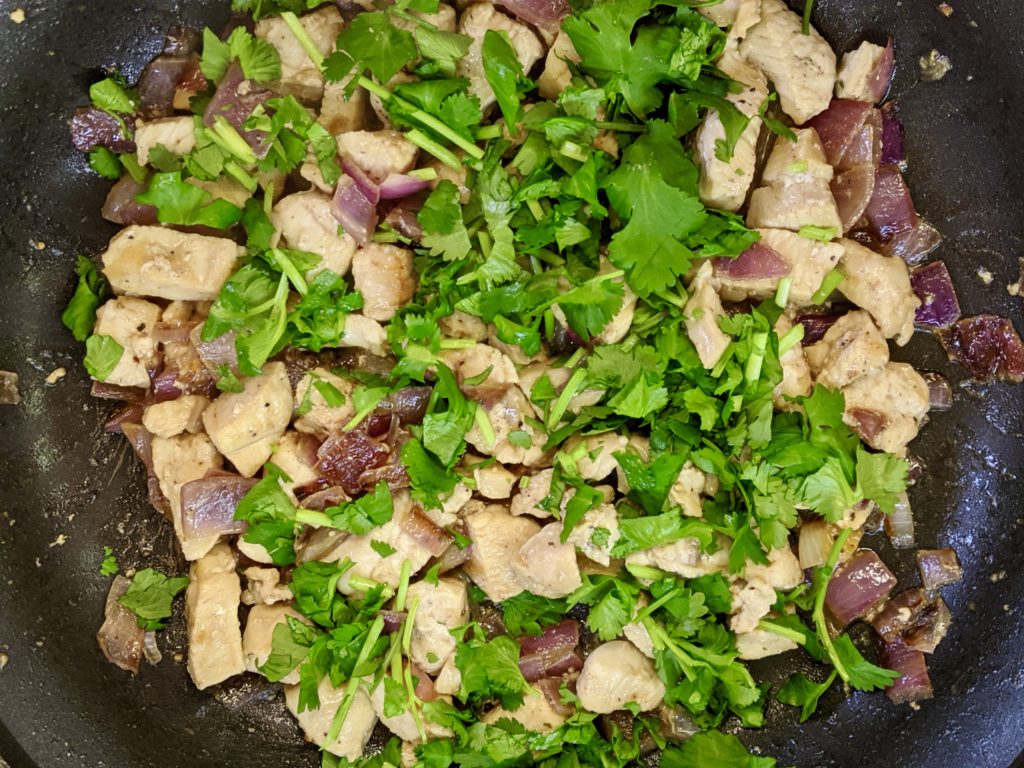 While the dough relaxed and rose, the filling was made, which started with frying onions until golden. Chopped up chicken breast was added to this along with salt, pepper, and lemon juice, all of which was sautéed until cooked through, after which it was sprinkled with cilantro.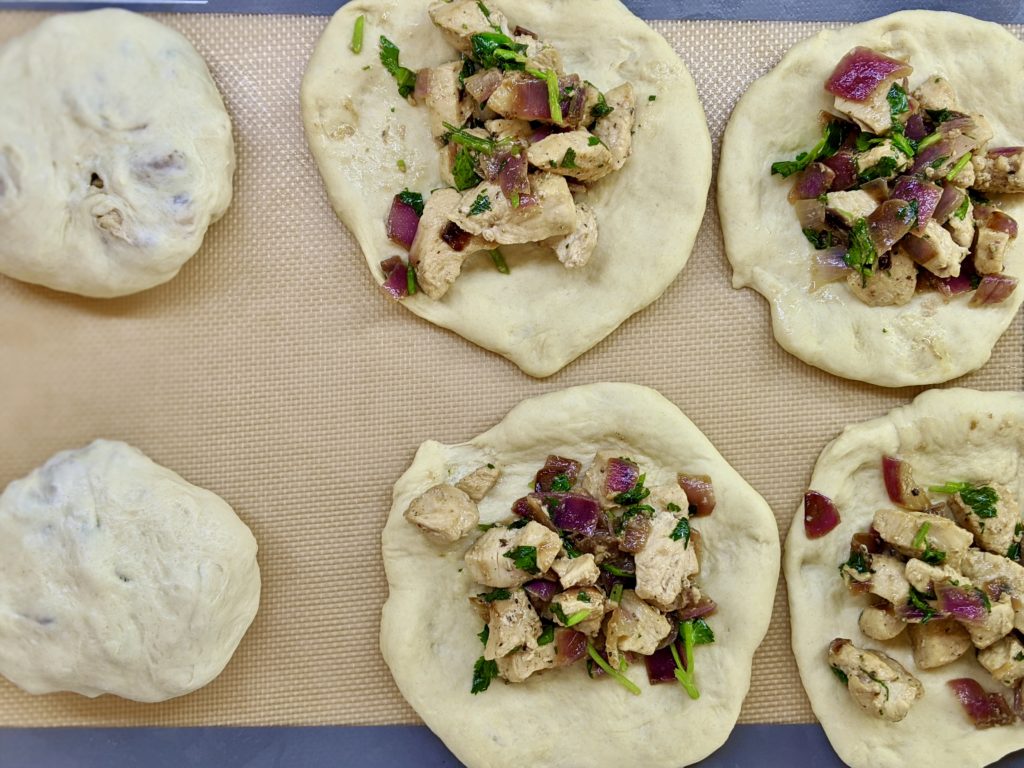 While the filling cooled, the dough was divided into 6 portions and rolled out into rounds approximately 4 inches in diameter. Each round was topped with filling and then the sides were pinched together and placed seam side down on a baking tray. Each ball was brushed with egg yolk and baked at 375F for 30 minutes until golden.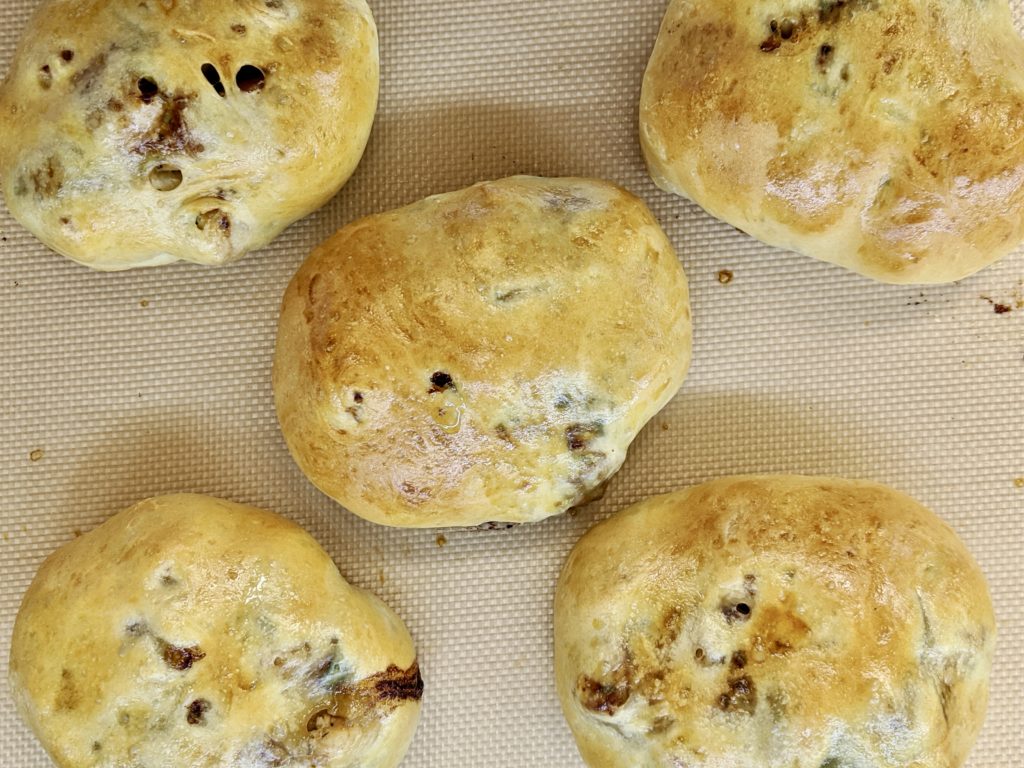 While the recipe may have been lacking in description, it was certainly not lacking in flavor! The bread was chewy and tasty, not unlike our previous pitas, and just reinforced that this is a versatile and foolproof bread recipe. We were both concerned that the filling would be too dry (as chicken breast can sometimes be), but that turned out to not be the case. The filling was savory and bright with just enough earthiness added by the cilantro. All in all, this was a great dish and not as complicated as your average hand-pie.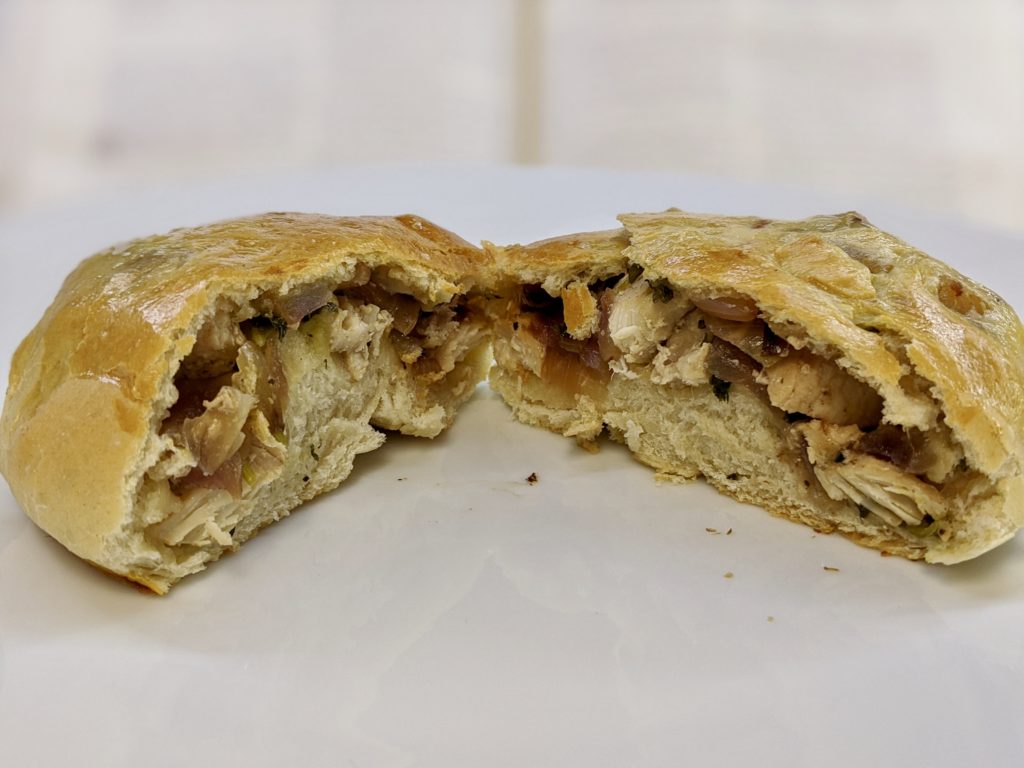 The main ingredients in this dish are potatoes and olives, which we luckily currently have in abundance in our kitchen! This is yet another Moroccan salad seasoned with turmeric, all of which we have been fans of so far, so we were looking forward to this savory side dish. Ever since starting the Sephardic section of The Book of Jewish Food, we have had to do battle with turmeric stains in the kitchen, which seem to happen by just thinking about the use of the spice. When not permanently marring our kitchen, turmeric is also intentionally used to give that golden hue to curries as well as what gives American mustard its bright color.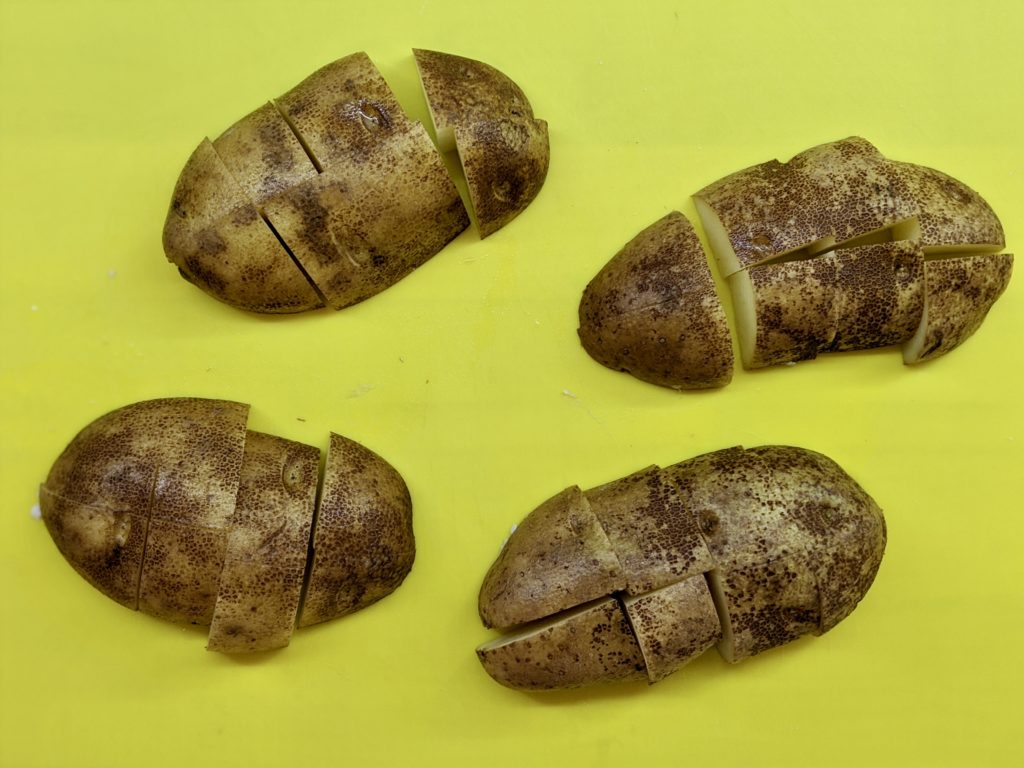 To start our salad, potatoes were simmered until soft in salted water along with a good shake of turmeric until tender. The potatoes were then carefully strained of their yellow boiling water, ensuring that the fluid went directly down the drain and not splashing onto our white countertop and sink. These were then mixed in a baking dish with minced garlic, black olives, a little olive oil, and salt and pepper. The colorful dish was then baked at 350F for 30 minutes and served sprinkled with cilantro.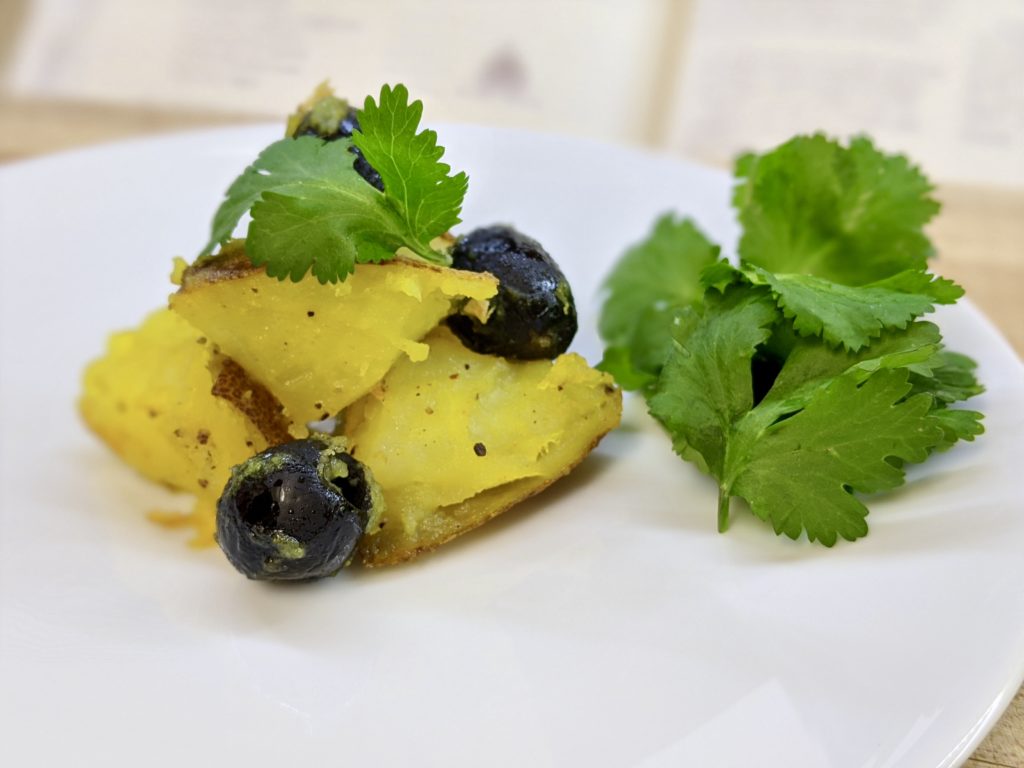 Though simple, this side packed a punch of flavor – the briny olives provided brightness and saltiness to help punch up the spiced potatoes. Baking the tender potatoes also yielded a pleasantly crispy exterior, which added another level of texture to the dish. This was great both hot and cold and a bit like an elevated potato salad, which we will definitely be enjoying again!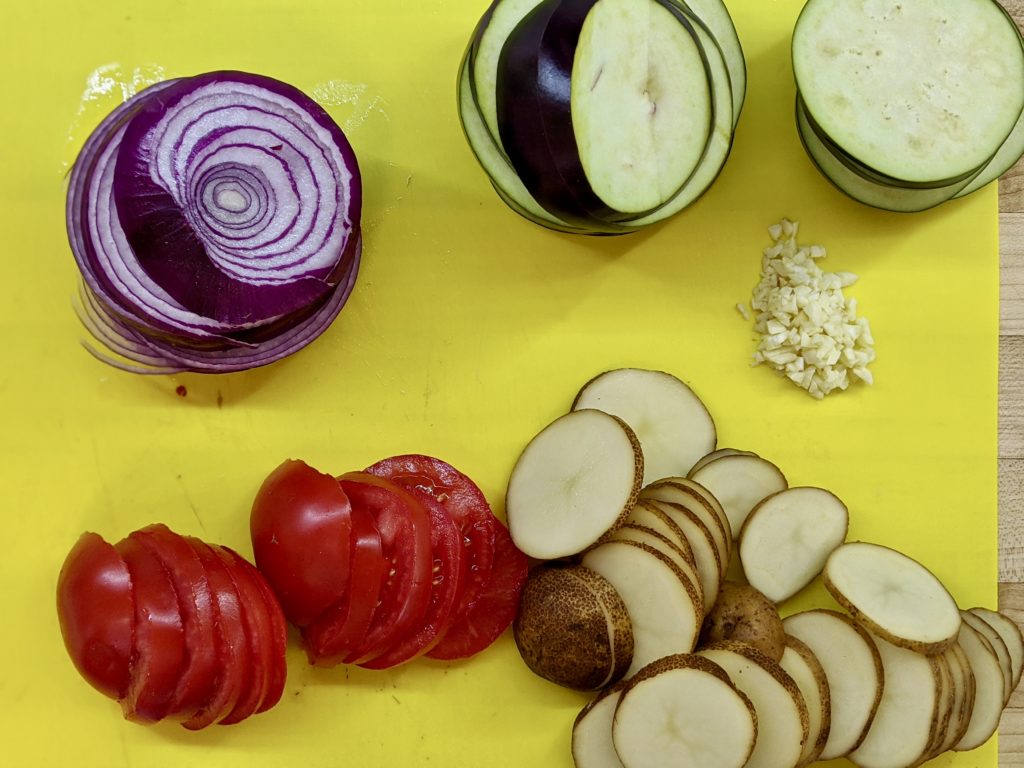 From Morocco, we jump to a dish of the Bene Israel community of India. This eggplant casserole consists of layers of veggies and spices which is a bit labor-intensive, but worth the effort when it comes to flavors and longevity of leftovers (of which there were many). The recipe starts with slicing onions, potatoes, eggplant, and tomato into rounds.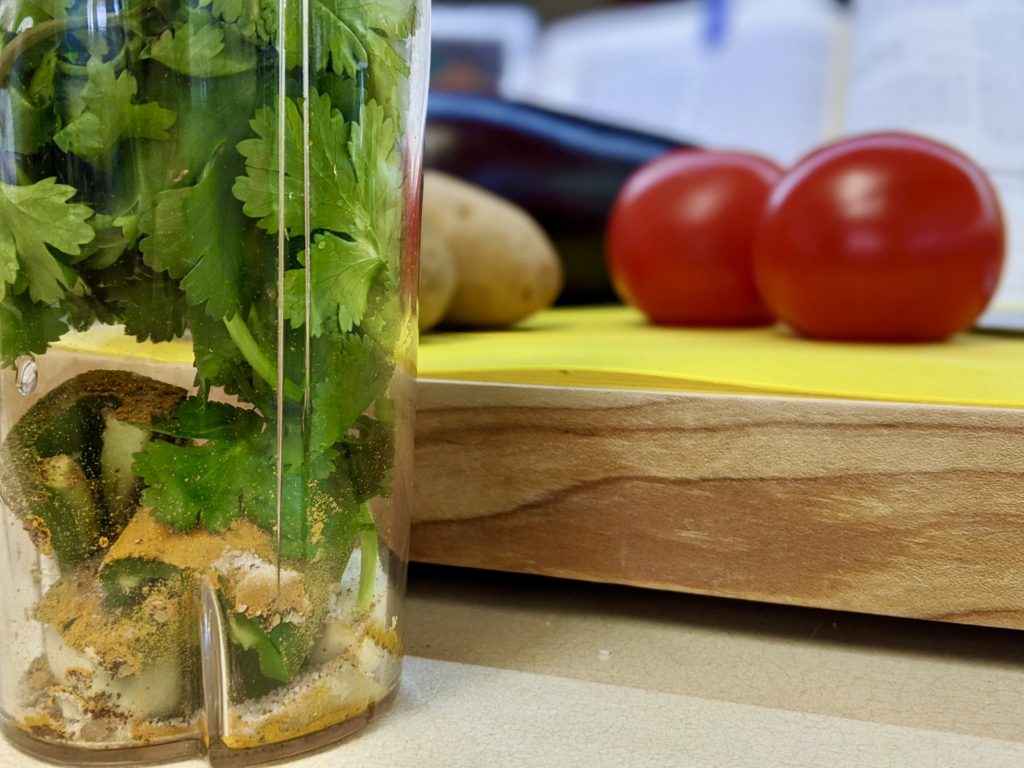 To make the sauce, coconut milk was blended with garlic, jalapeno, ginger, cloves, cinnamon, turmeric (which stained the plastic blender container), cilantro, salt, and pepper. This pasty sauce was poured into a bowl so each of the vegetable components could be dipped into it before they began to cook. A large pan was heated with a bit of oil, after which the dipped veggies were layered into the pan starting with onions, then potatoes, which were covered with eggplant, and topped off with the tomatoes.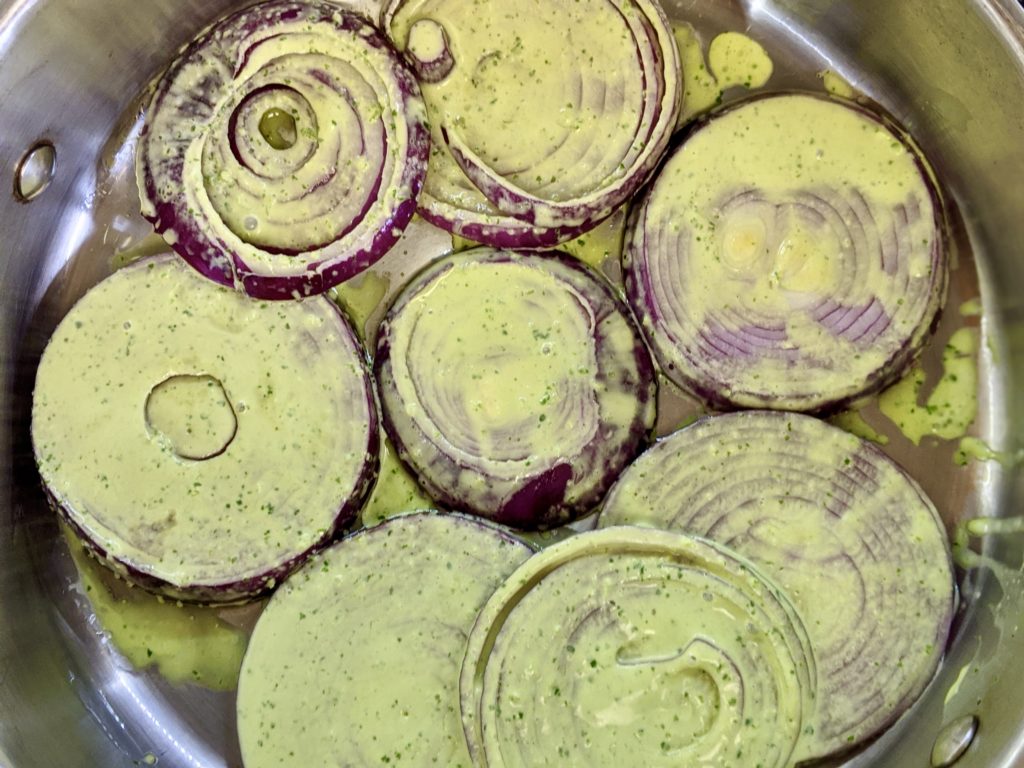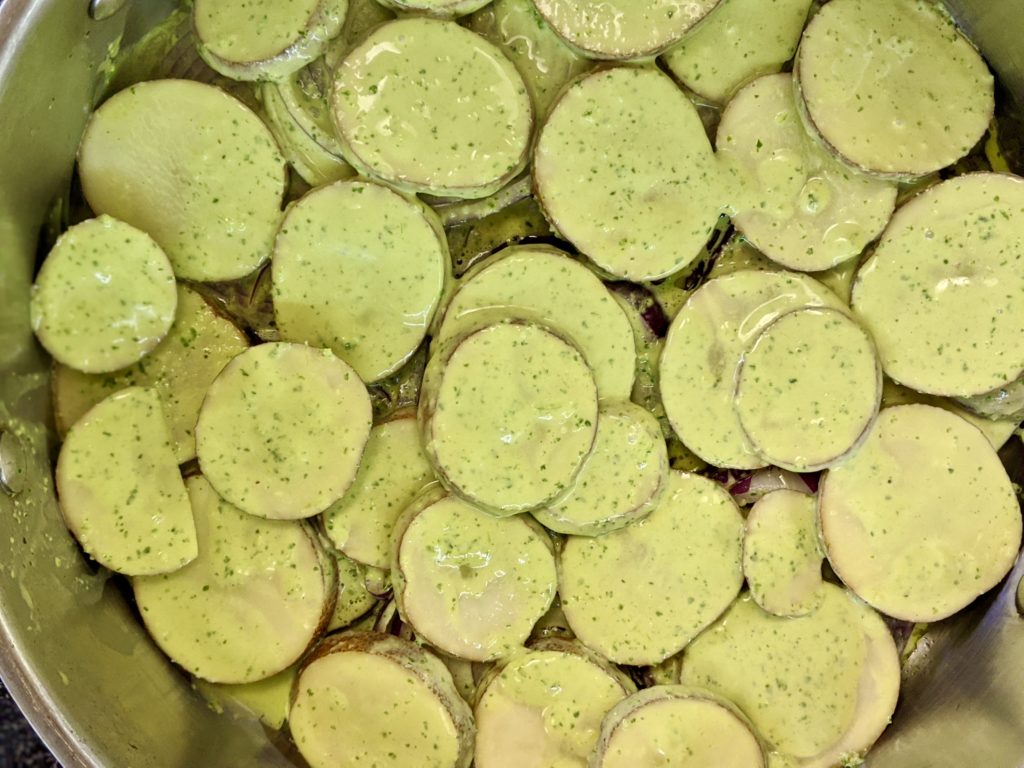 This was all cooked with the lid on for an hour until the vegetables were soft, with the lid being removed for the last 15 minutes to allow the sauce to cook down a bit. The dish is meant to be served with bread and was a perfect pairing with tonight's chicken pies.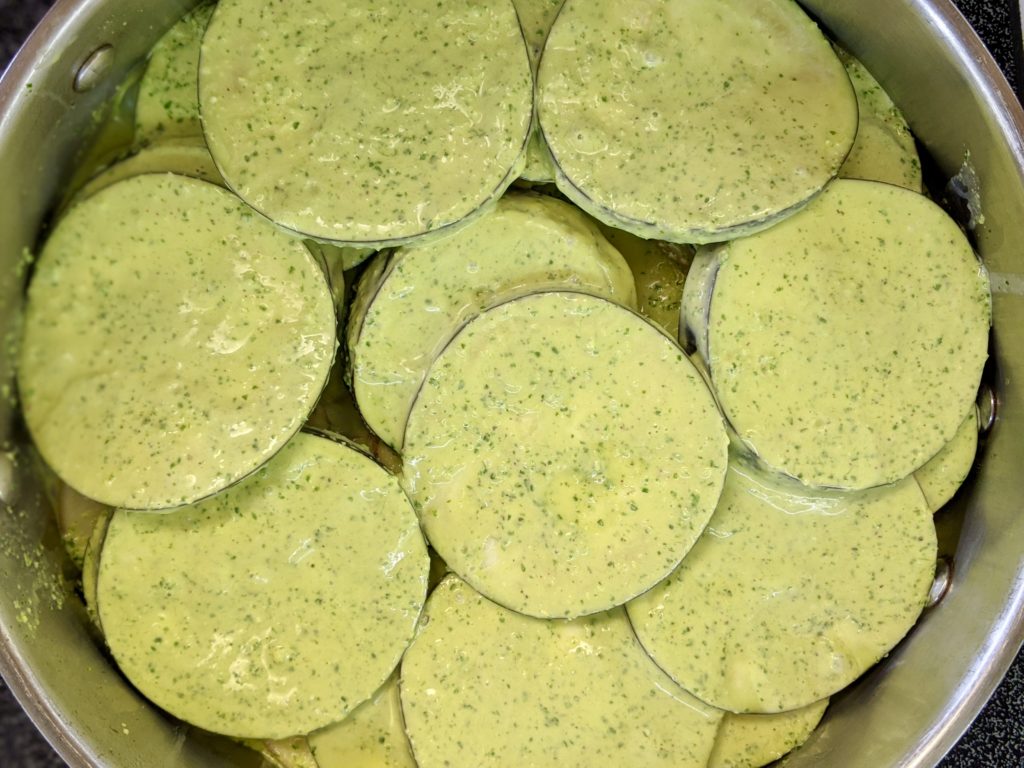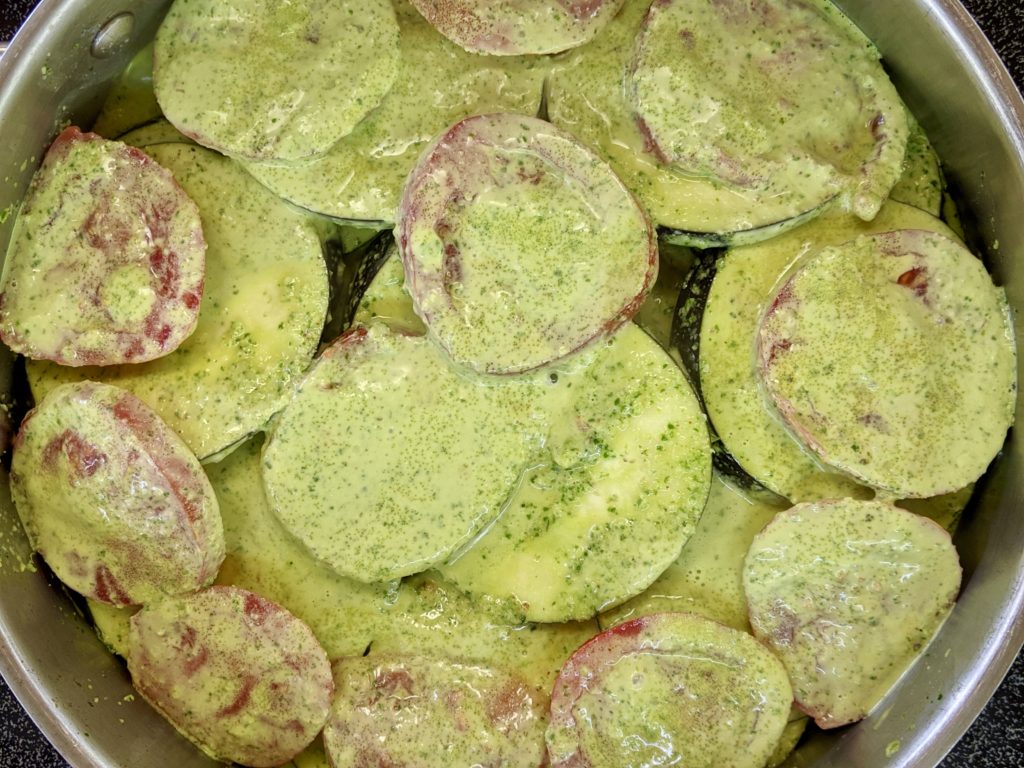 Despite the vegetables typically requiring all different cook times, each component was actually cooked perfectly, without anything becoming too overdone and mushy. Eggplant and potato turned out to be a nice pairing and the tomatoes and onions still had some bite despite cooking for an hour. But it was the sauce that was the star of this dish, being spicy and creamy and savory, and was sopped up wonderfully by the chicken hand pies. It did take an hour and a half to create this dish, but it was well worth the effort and the leftovers over the next few days.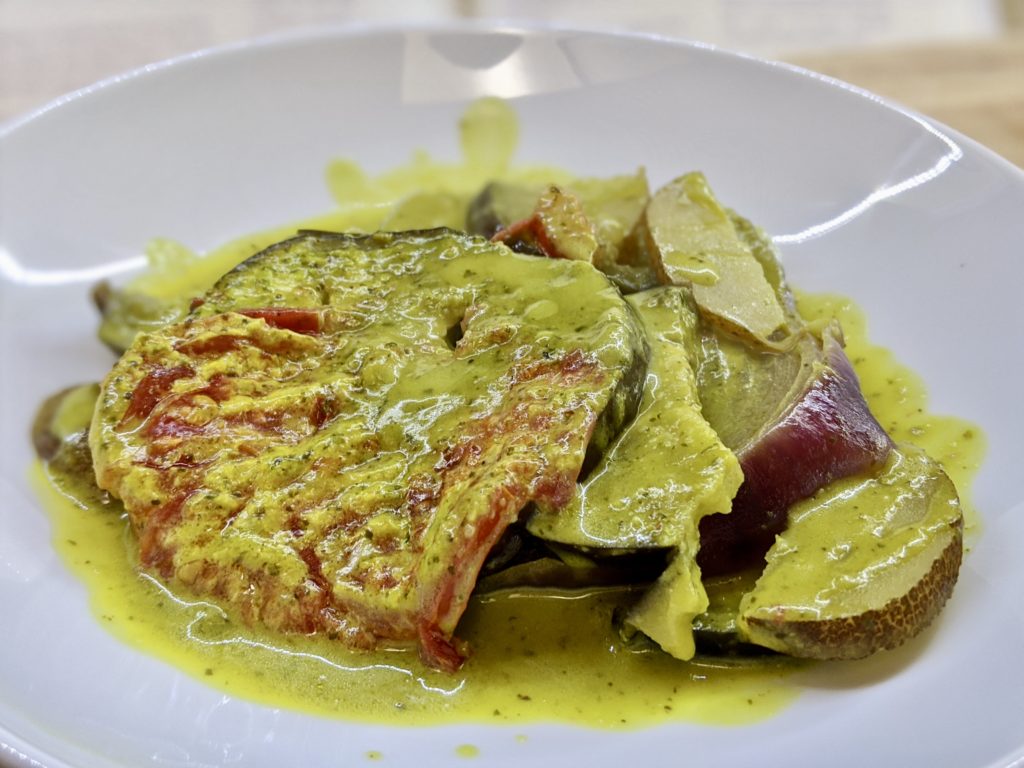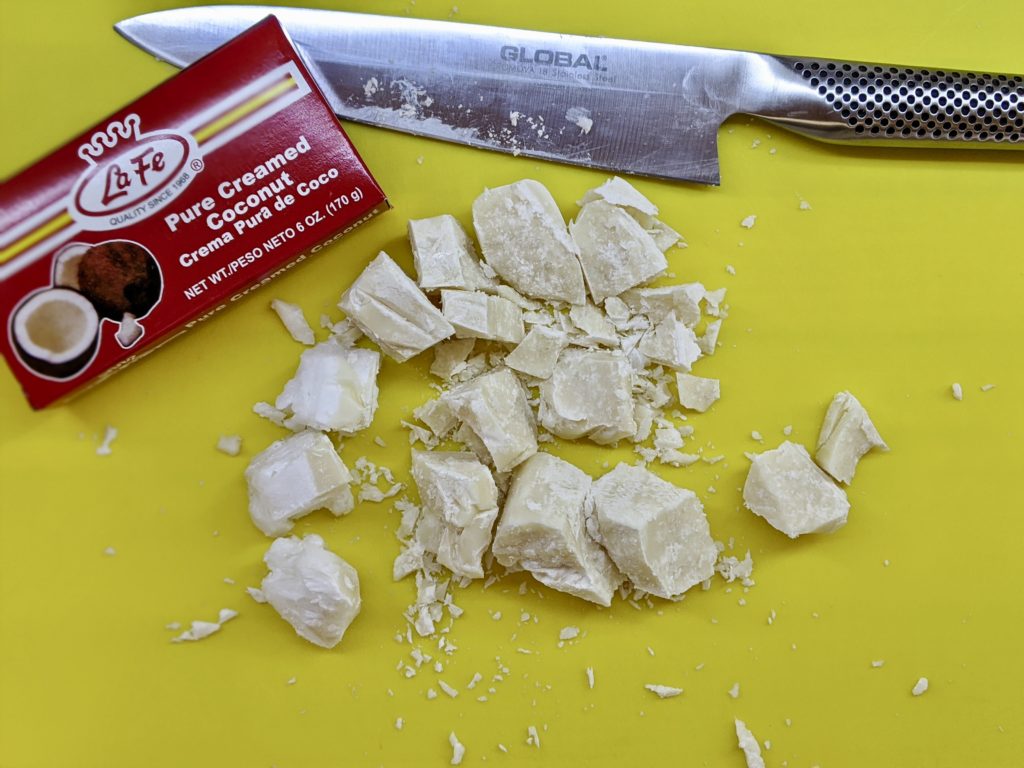 Our dessert of the evening also has origins with the Bene Israel community in India and is typically eaten for breakfast on Saturday mornings. This recipe facilitates our cubes of solid creamed coconut, or coconut milk if you were not able to place your order for this hard to find ingredient on Amazon pre-COVID. Coconut milk (in all of its various forms) is often used in the cooking of the Jewish communities in India and the hardened blocks of creamed coconut are a great way to condense and store unseated coconut milk.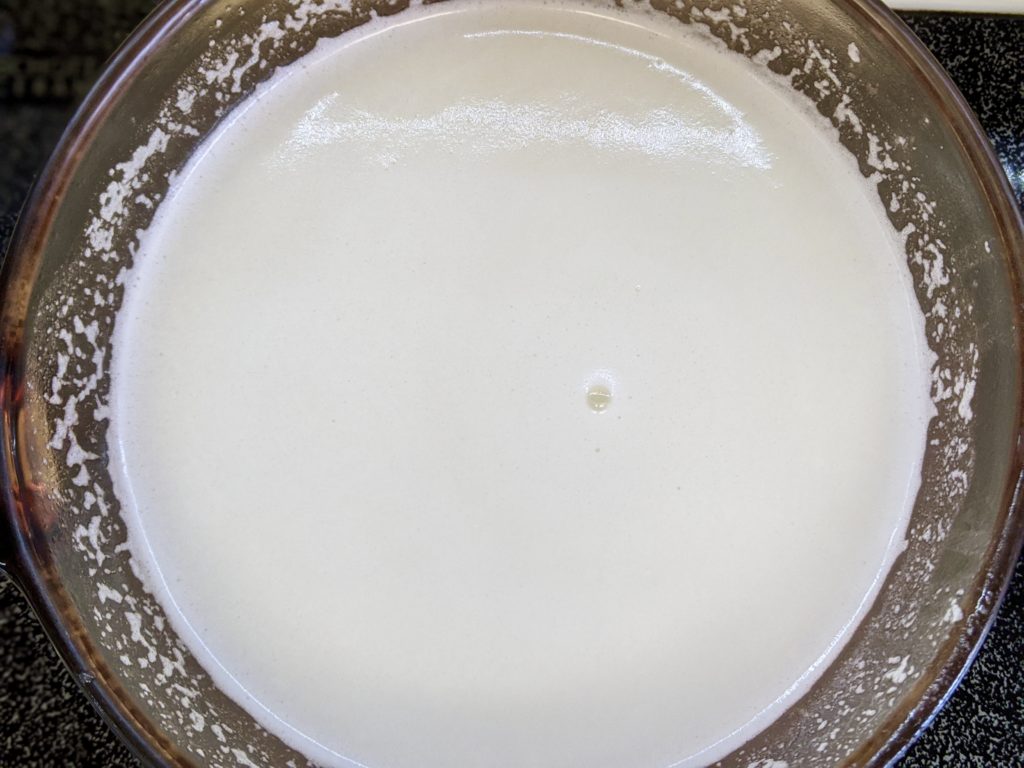 While the coconut cubes are an efficient way to keep coconut milk, they do require processing prior to use. So to start, the creamed coconut was placed in 4 cups of boiling water, which was stirred until melted. In another pot, butter was melted after which the semolina flour was added and stirred over low heat for 8 minutes. Sugar and salt were then added to the cooked flour and the coconut fluid was poured over all, creating a thick, dry paste.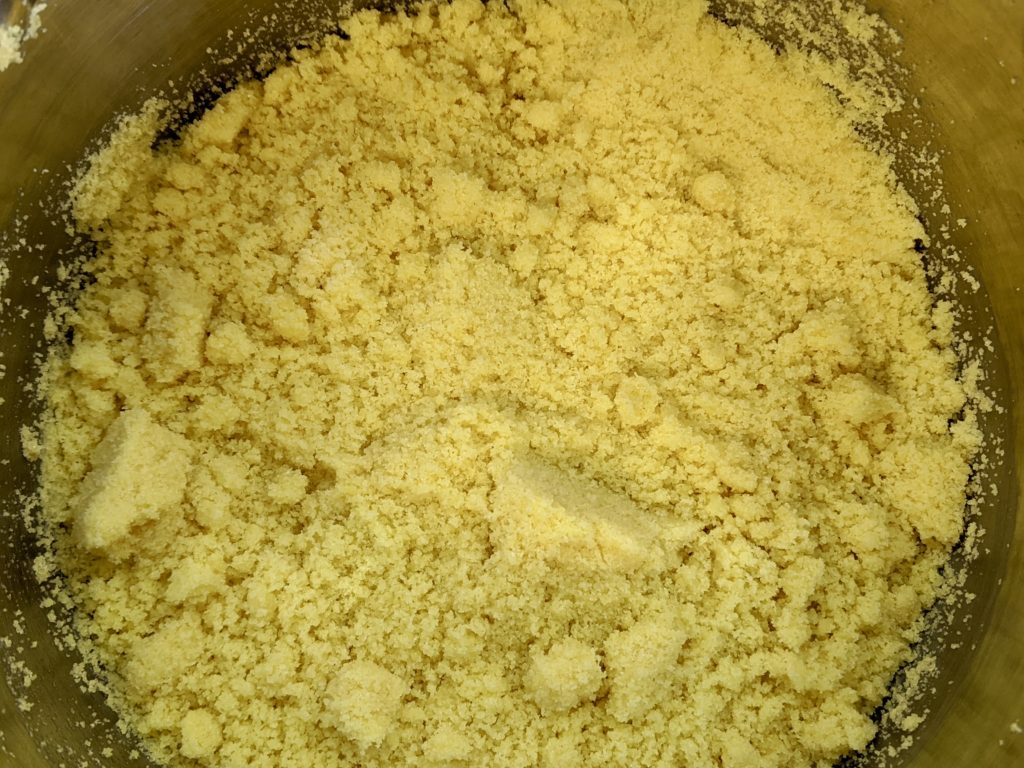 Almonds, dates, and cardamom were mixed into the stiff cake batter which was then pressed into a buttered cake pan and cooked at 350F for one hour. The cake did not really darken, but it did firm up more, so it was easily released from the cake pan. This cooled and then was cut into slices for serving.
The cake was more like a very dense pudding than a light and airy cake. It was not very sweet, but it was lightly spiced, which makes sense that it is served as a breakfast dish, as it is also very hearty. To make it a bit more dessert-y, we will admit that we served it with vanilla ice cream, which just so happened to compliment it quite nicely!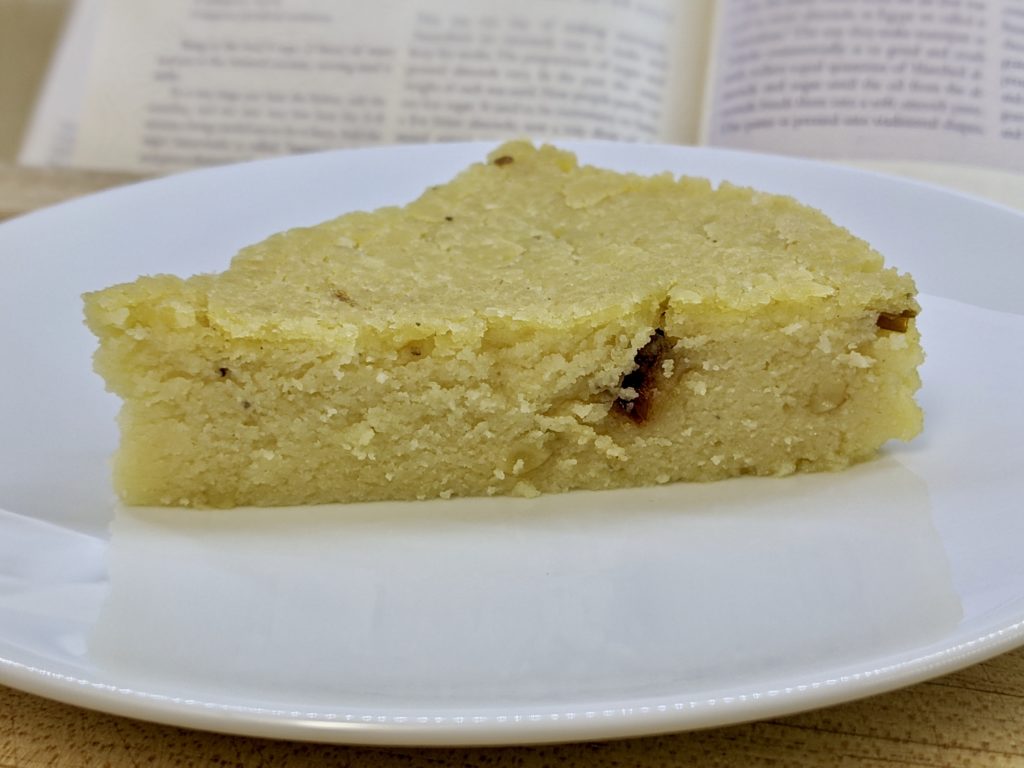 AND IN THE END, THE FOOD YOU MAKE IS EQUAL TO THE CARE YOU TAKE…
So how was Made In Marrow's meal number 77? As a reminder, our rating system is based on sticks of butter (because butter is best!), with 1 being the absolute worst and 5 being out of this world. Sticks of butter are assigned to Difficulty (how many kitchen fights were needed to complete the meal?), Tasty Goodness (was it a palate poor or did it make our mouths merry?), and Repeat Customer (how likely are we to return to the recipe?).
Difficulty  [][][] 3/5
Doughs, layering, and multiple cooking methods were needed for tonight's meal, so while not difficult, it was certainly time-consuming!
Tasty Goodness
[][][][][] 5/5 Pita au Poulet – Chicken Pies with Bread Dough – All we have to say is mmmmmmmmmmm…
[][][][][] 5/5 Pommes de Terre aux Olives – Potatoes with Black Olives – Salty and soft and crispy
[][][][] 4/5 Brinjal Albaras – Layered Eggplant Dish – Vegetable bliss
[][][] 3/5 Semolina and Coconut Sabbath Cake of the Bene Israel – A cake that is more savory than sweet
Repeat Customer
[][][][][] 5/5 Pita au Poulet – Chicken Pies with Bread Dough – Definitely will make these again and are looking forward to trying different variations in fillings!
[][][][][] 5/5 Pommes de Terre aux Olives – Potatoes with Black Olives – An easy and tasty side dish 
[][][][] 4/5 Brinjal Albaras – Layered Eggplant Dish – Worth the effort and would be a good idea to add a protein, like ground beef
[][] 2/5 Semolina and Coconut Sabbath Cake of the Bene Israel – Maybe with a bit more sugar next time…
Week 2 of weirdness has not stopped us from our kitchen capers and we are looking forward to finding out what our community is cooking during this unprecedented time as well!
Sip, sup, and savor all you can, you curious cooks,
Elais & Gary