Just want the recipes and none of that other wordy nonsense? Click the links below!
Kamfounata – Moroccan Ratatouille
Gebna Beida – Keso Blanco – White Cheese
Mattar Paneer – Peas and Cheese Curry
Poulet aux Pois Chiches – Chicken with Chickpeas
Sansaticos – Nut-Filled Filo Triangles in Syrup
Meal the Fifty-Fourth
Cheese. How could there ever be a more perfect ingredient, sauce, dip, or food on the planet? Sufficed to say, Gary and I like cheese (well, me much more-so) and we actually do not keep much cheese in the house because of this, lest we gobble it up like two starving church-mice. My favorite dish is poutine – crispy french fries topped with squeaky cheese curds and covered with hot gravy, the cheese melting and stretching to create a wonderfully savory not-diet-friendly dish. So given all of this, we were pretty excited when we saw that cheese making was coming up in the big Book of Jewish Food. 
Surprisingly enough, we have never made cheese before, in part because it is just so easy to buy, as well as the concern that if we started to make cheese, would it be so easy that we would make it all the time (bread making, pie making, and generally dessert making has all followed this fattening train of thought)? Nevertheless, Roden has directed us to make cheese for this week's (and the following) recipes, so we will dutifully obey her command. Join us for a little cheese, a ton of veggies, and a new dessert in tonight's meal!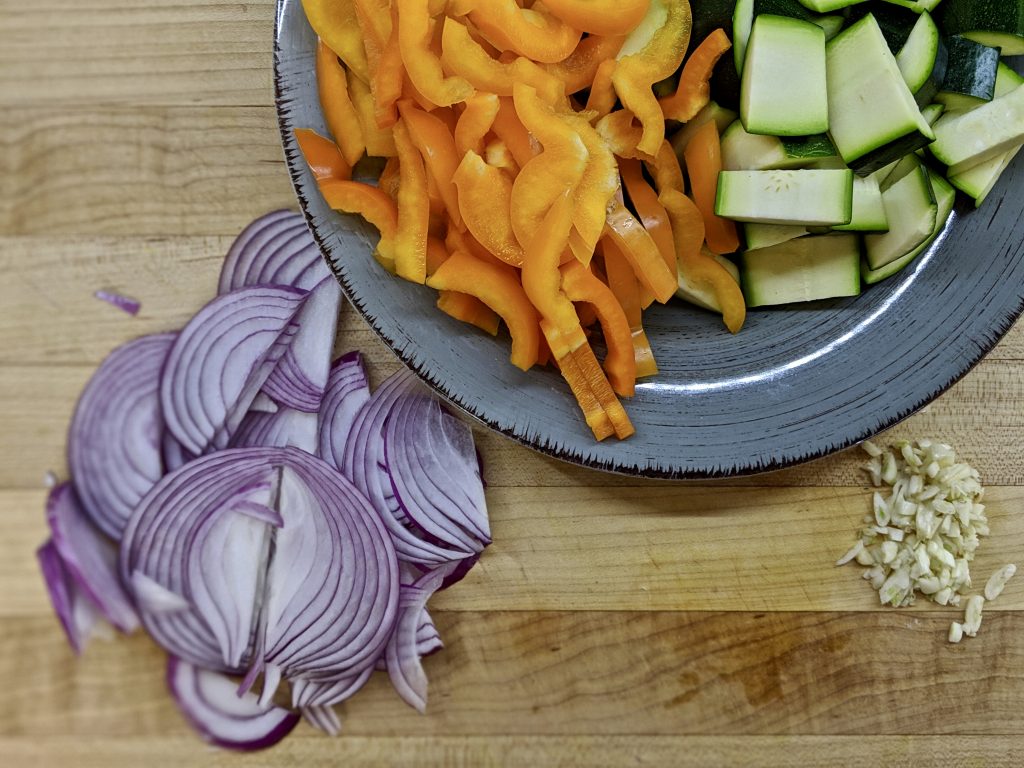 Ratatouille originates in Nice and means "to stir up" in French. It actually is a fairly new recipe compared to many of the others from previous weeks (i.e. from the 18th century versus the 15th) and this Mediterranean version is a lovely little spin on this bright tomato-y dish. This will also be our last eggplant dish for a while (well, at least a week), so it will be nice to have a bit of a break from this nightshade. Eggplant was cubed, zucchini, bell peppers, and onions were sliced, and garlic and cilantro were chopped for this vegetable heavy dish. Because we are just getting into spring, we chose to use canned tomatoes instead of the flavorless winter tomatoes currently to be found in our local grocery store.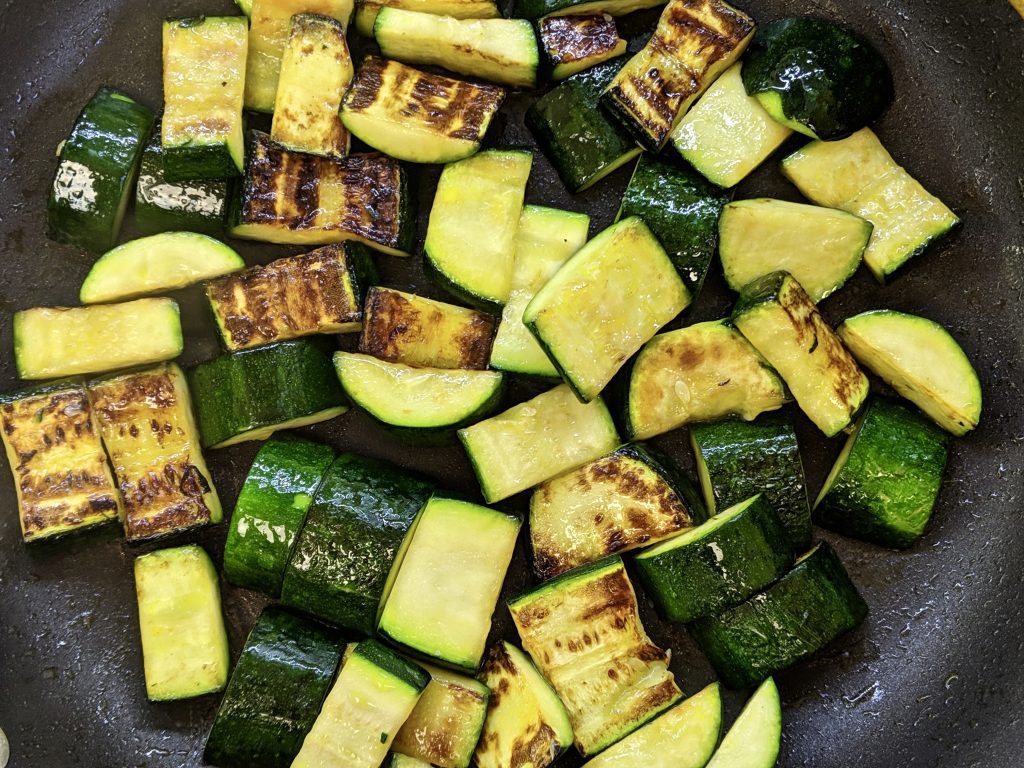 The eggplants were salted and left for an hour to draw out the moisture. Once these were ready, the were fried in batches, followed by the zucchini and then the onion and peppers. While all of the vegetables were being fried separately (this was a fairly time-consuming dish), the tomato sauce simmered until reduced (which was simply fried garlic, tomatoes, salt, pepper, and sugar). Once the sauce had reduced and the vegetables had all been fried, all was combined together.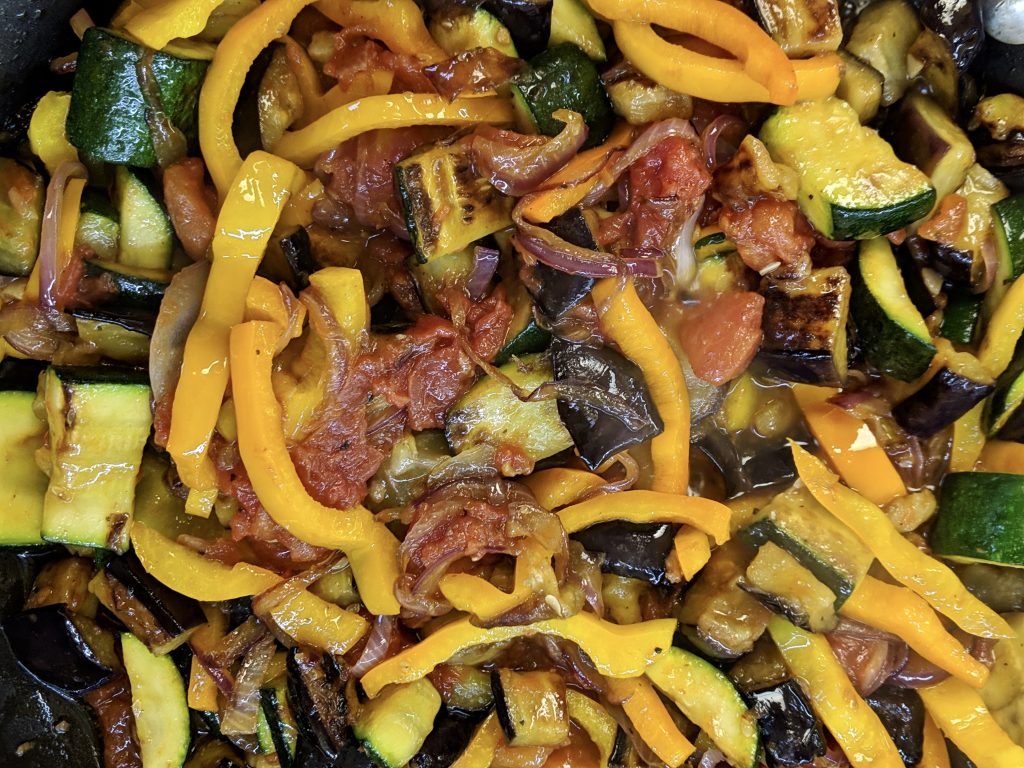 The ratatouille was excellent – creamy and salty and savory. Frying all of the vegetables separately really paid off, as each component could be tasted and enjoyed. This only got better as leftovers and went quite well with fried ground beef and penne pasta the following night.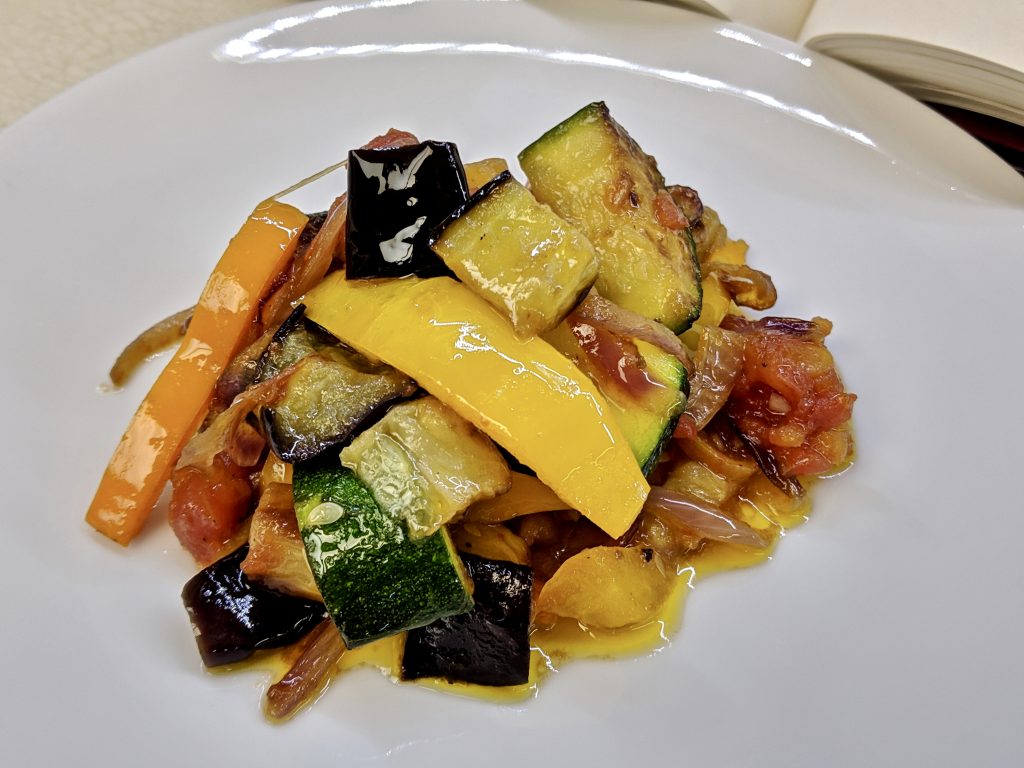 As Claudia Roden writes, cheese is commonly found on Sephardic menus, being served at any point in the meal, as a starter with olives to being a sweet and savory dessert paired with watermelon. There are also many different types of cheese used by the Sephardic Jews, from the sharp and crumbly feta to the chewy and creamy halumi. Tonight's cheese is a soft and creamy light concoction, which is versatile and can be paired with a variety of ingredients.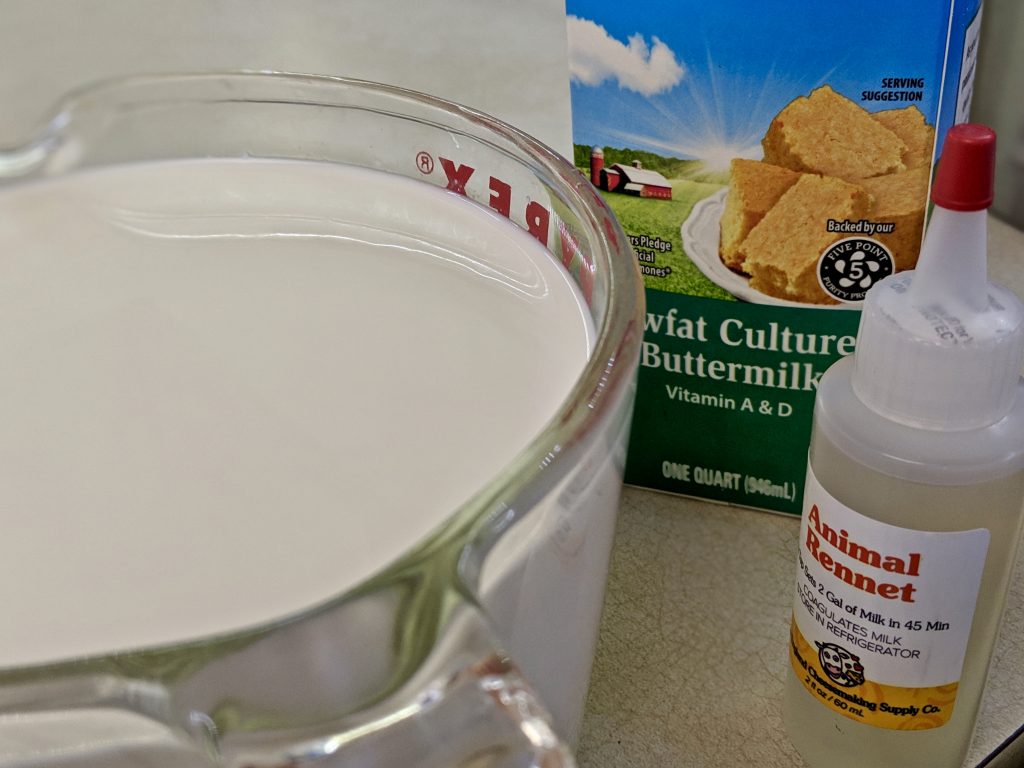 Since we knew we had several cheese recipes approaching, we planned ahead and consulted Amazon for the more difficult-to-find ingredient, rennet. Rennet is produced in the stomachs of ruminant mammals (i.e. animals that chew plants, which are fermented in a special stomach prior to digestion, like cows, goats, sheep, and giraffes). The key component in rennet in which we desire is chymosin, which acts to curdle the casein in milk. This causes the milk to separate into solid curds and liquid whey (remember Miss Moffat?), which is the beginning process of making cheese.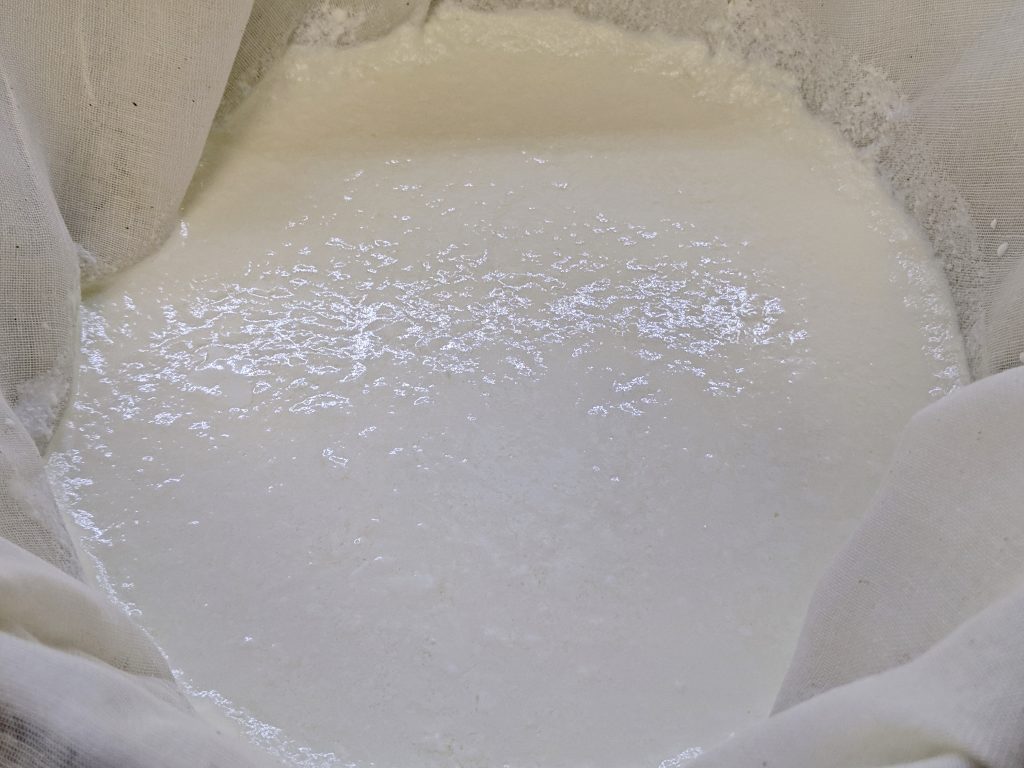 Rennet is not the only special ingredient needed for our queso blanco – distilled water and buttermilk were required as well. The water acts as a diluting agent to help it disperse more easily – this must be distilled as the chlorine in tap water can deactivate the rennet, making it just a really expensive animal digestive byproduct. Buttermilk is also used for the same reason – because milk is pasteurized, buttermilk offers a higher level of starter culture to interact with the rennet.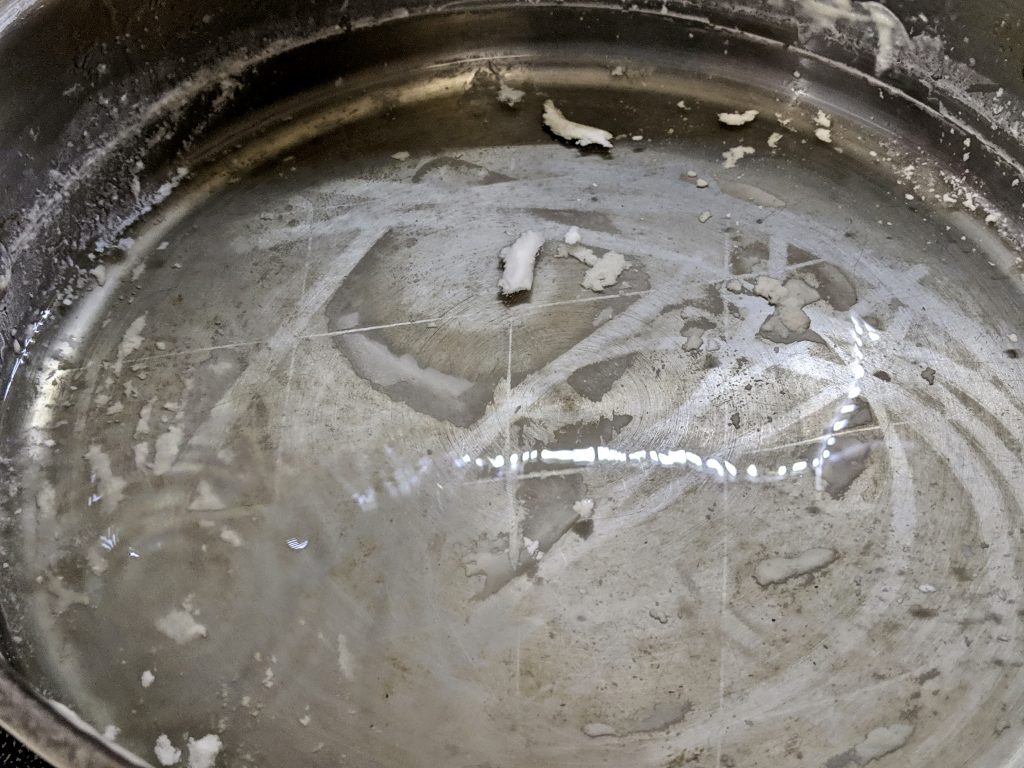 Long story short (too late!), we gathered our supplies: our tiny bottle of rennet (animal not specified, but probably not giraffe), our gallon of distilled water, our half a gallon of buttermilk, and our gallon of milk to make our very first cheese. 10 cups of milk were poured into a large saucepan and seasoned with a teaspoon of salt. The milk was heated to lukewarm and 1 tablespoon of buttermilk was beat into the tepid liquid, then allowed to sit in our slightly warmed oven for an hour and a half.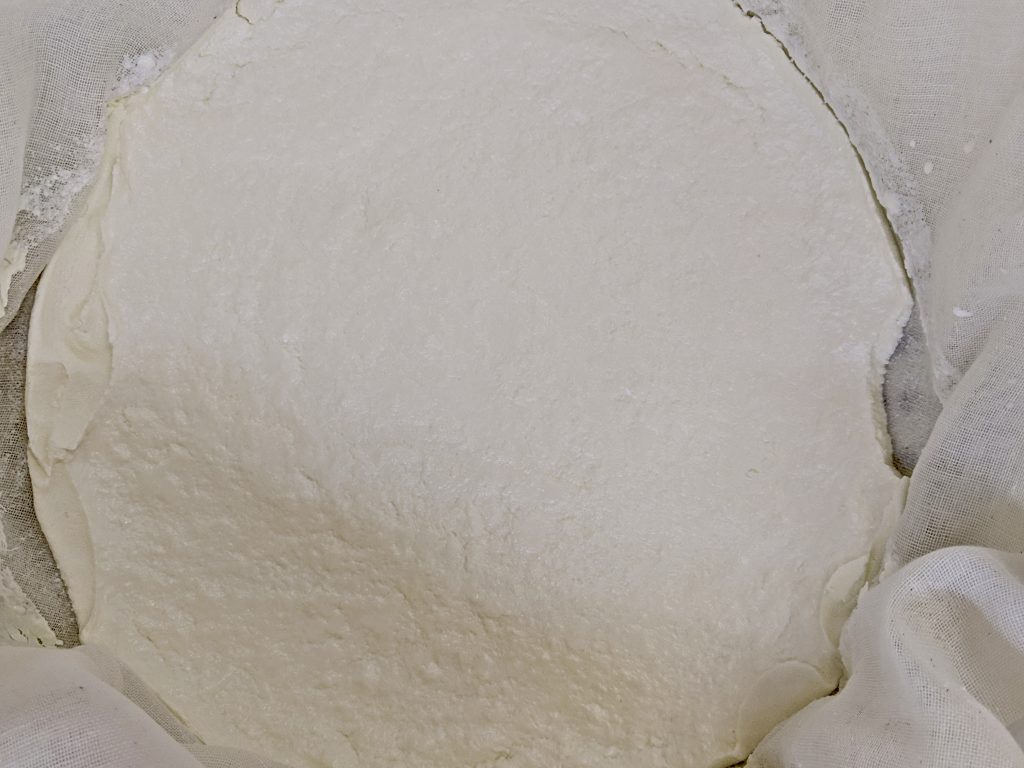 20 drops of animal rennet was diluted into 10 times its volume in distilled water (this was very much a guess because we were not going to count 200 drops of distilled water) and then this was stirred into the warm milk. This sat for an hour, then two, then three and we came to the conclusion that the mixture was just not going to set. So, throwing caution to the wind, we put 20 more drops of rennet into the mix and let set for another hour. Our reckless abandon with enzymes worked, and the mixture finally set and separated into curds and whey. This was spooned into a colander lined with cheesecloth and allowed to drain for 24 hours in the fridge.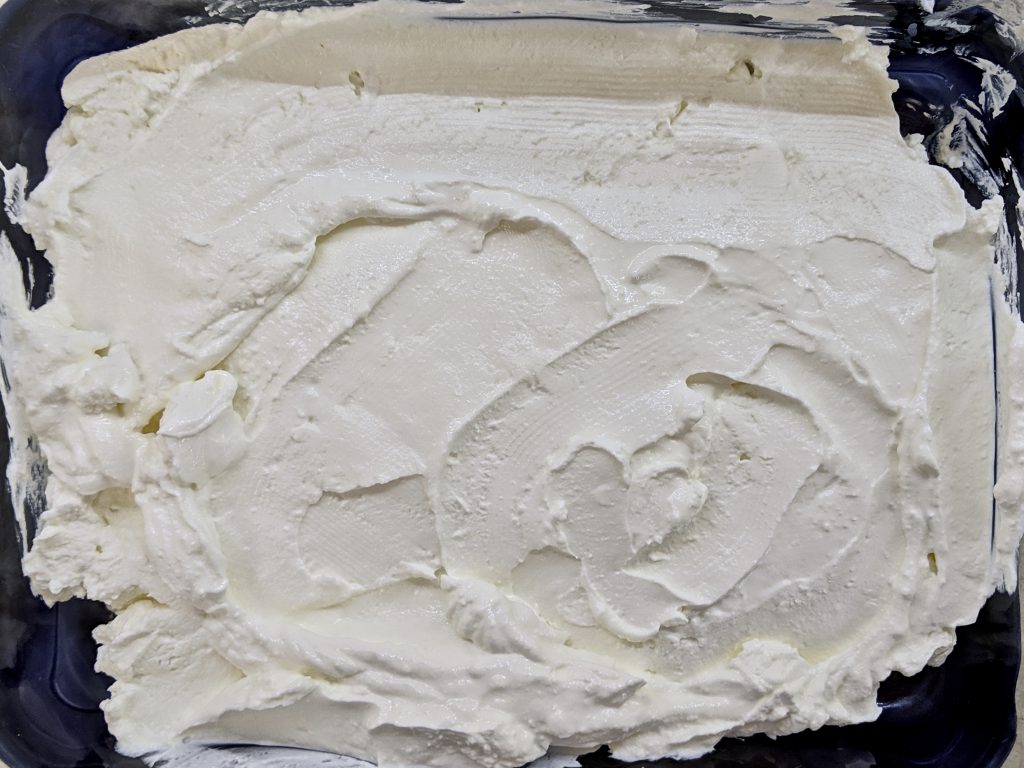 For our first try at cheese we were pleasantly surprised – this was light and creamy, like a very soft cream cheese. A little extra salt really accentuated the flavor, and it was quite good when added to our pea dish below, as well as in several other recipes which we will feature next week.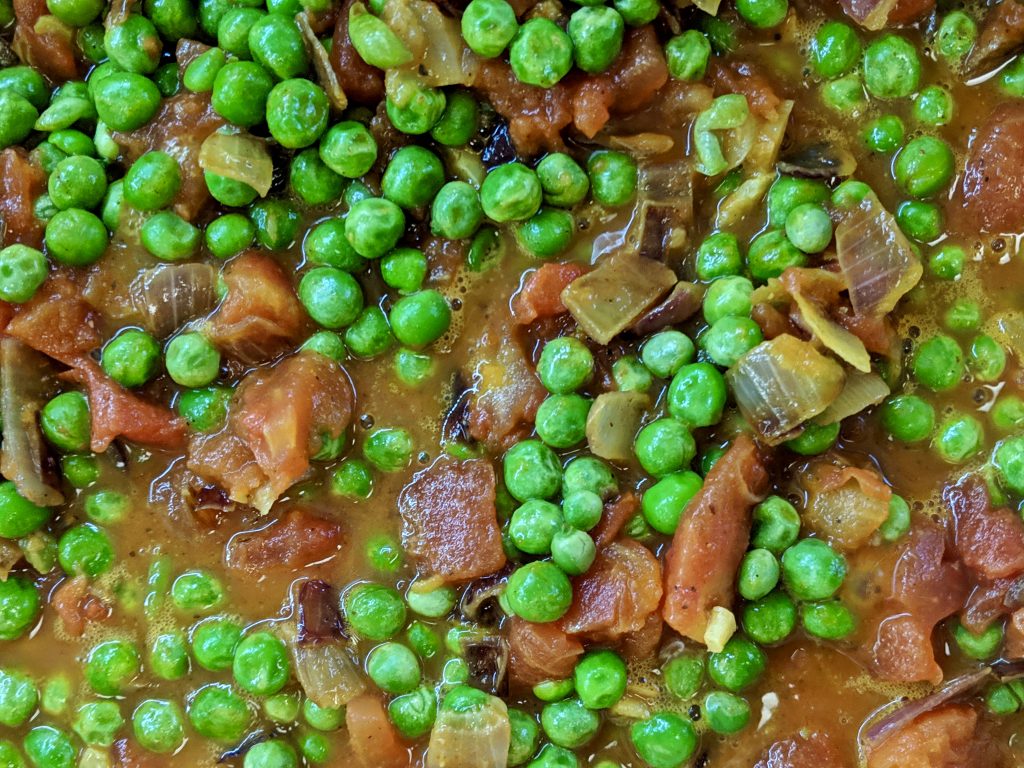 This Indian Jewish dish was often paired with plain white rice to sop up the cheesy goodness, which made it a great pairing with our main course. A chopped onion was fried in butter until golden after which garlic, turmeric, coriander, chili powder, and ginger were added. Once this was wonderfully fragrant, tomatoes and peas were added and covered with a cup of water. Cinnamon, cardamom, salt, and pepper were added to this fluid and the whole pan happily simmered for about 10 minutes. Our freshly made cheese was added to the pan and cooked for about 8 minutes until soft.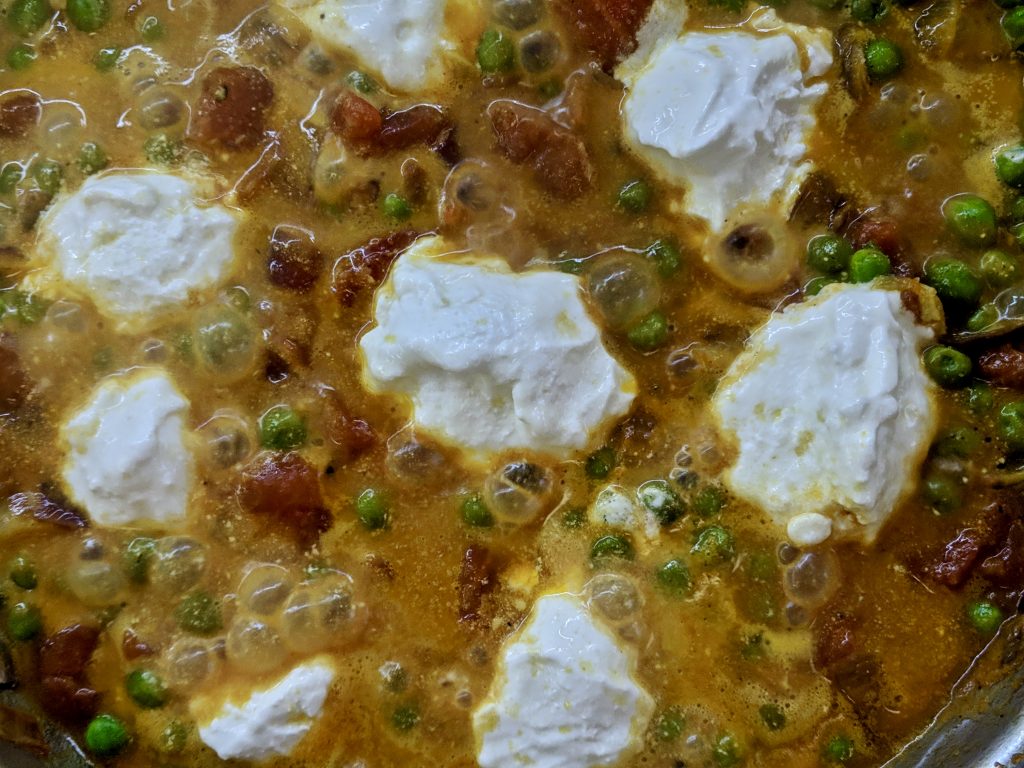 This was an interesting and very acidic side dish. The tomatoes were bright and it was very seasoning heavy, with the cinnamon, turmeric, and cardamom all fighting for flavor profiles. The cheese also added to the acidity, with the end result being enjoyable for a couple of bites, but a bit overwhelming after that – which makes sense for the reasoning behind its white rice pairing.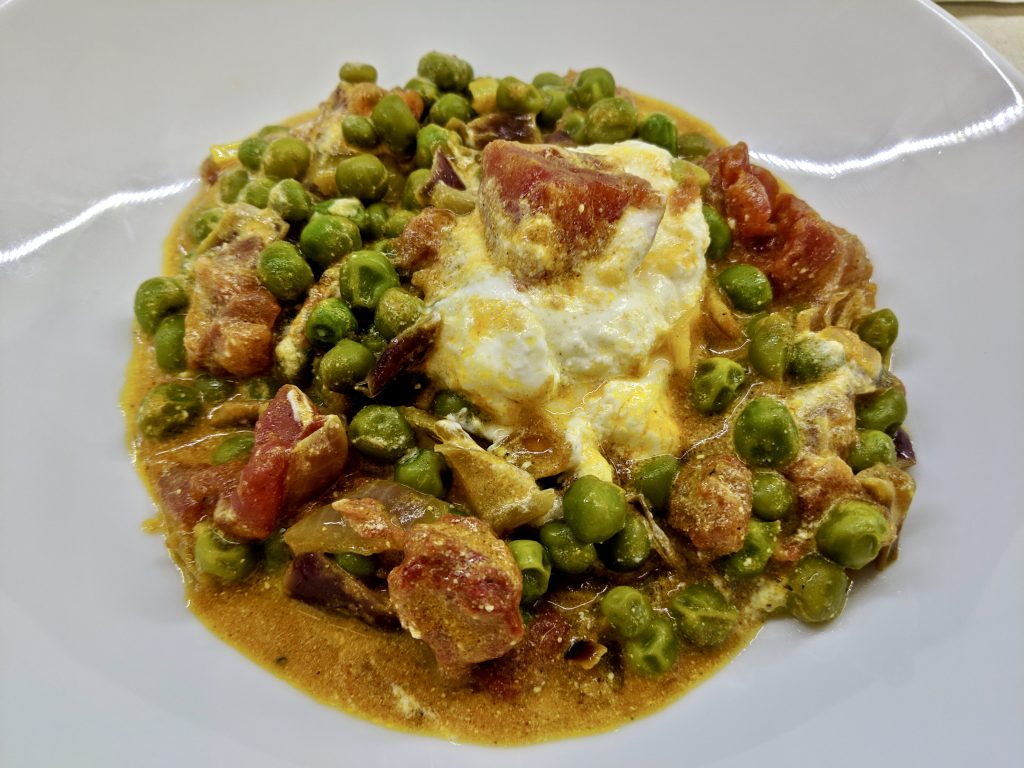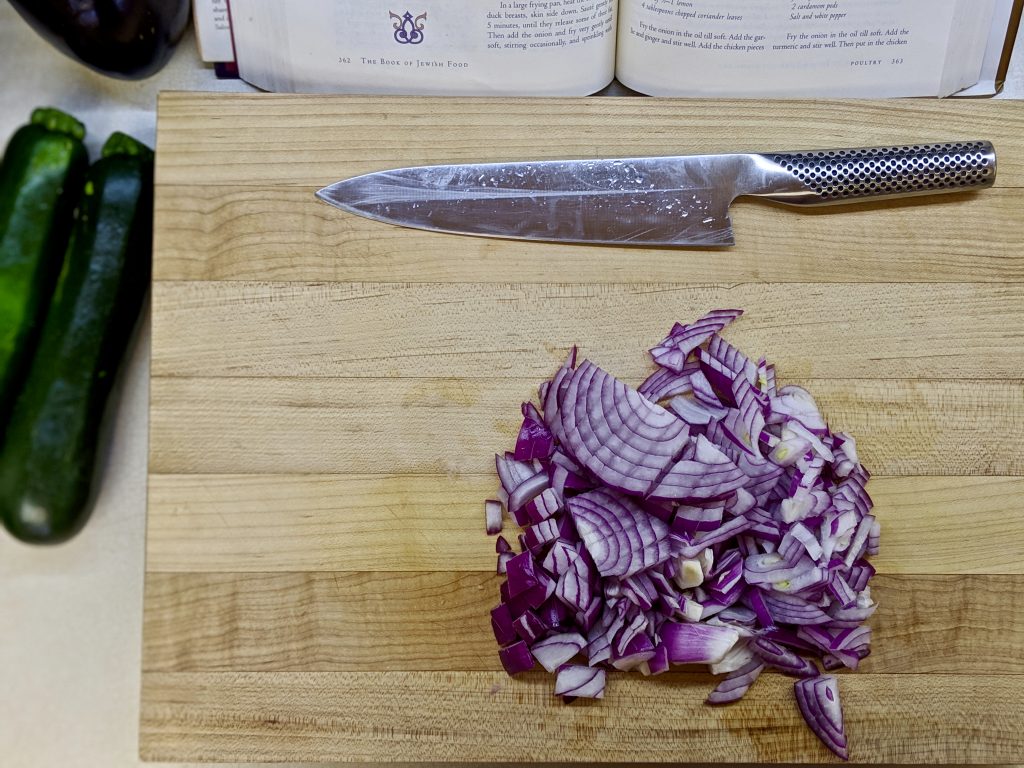 This simple dish turned out to be surprisingly good, so don't let the lack of ingredients fool you! Onion was fried in oil until golden after which turmeric was added and cooked until fragrant. A quartered chicken was added to the pan and seared, after which soaked chickpeas were added and the whole concoction was covered with water. Cracked cardamom pods were added to the yellow liquid, along with lemon juice and salt and pepper. This all simmered for an hour until the chicken was cooked through and the sauce was reduced.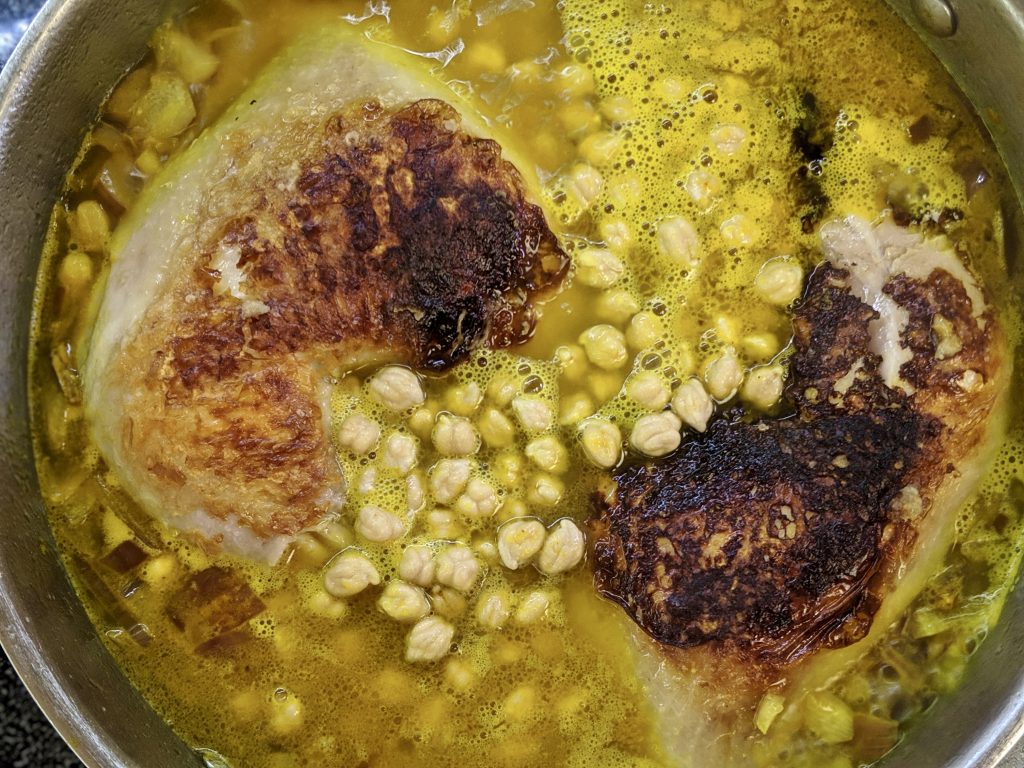 Besides making a huge mess (warning: turmeric can really stain a white countertop), this dish was wonderfully tasty. Served with plain white rice to sop up the savory sauce, the chicken was tender, the chickpeas were creamy, and the whole dish was quite bright. We would definitely enjoy this again, but keep a better eye on the spattering turmeric sauce.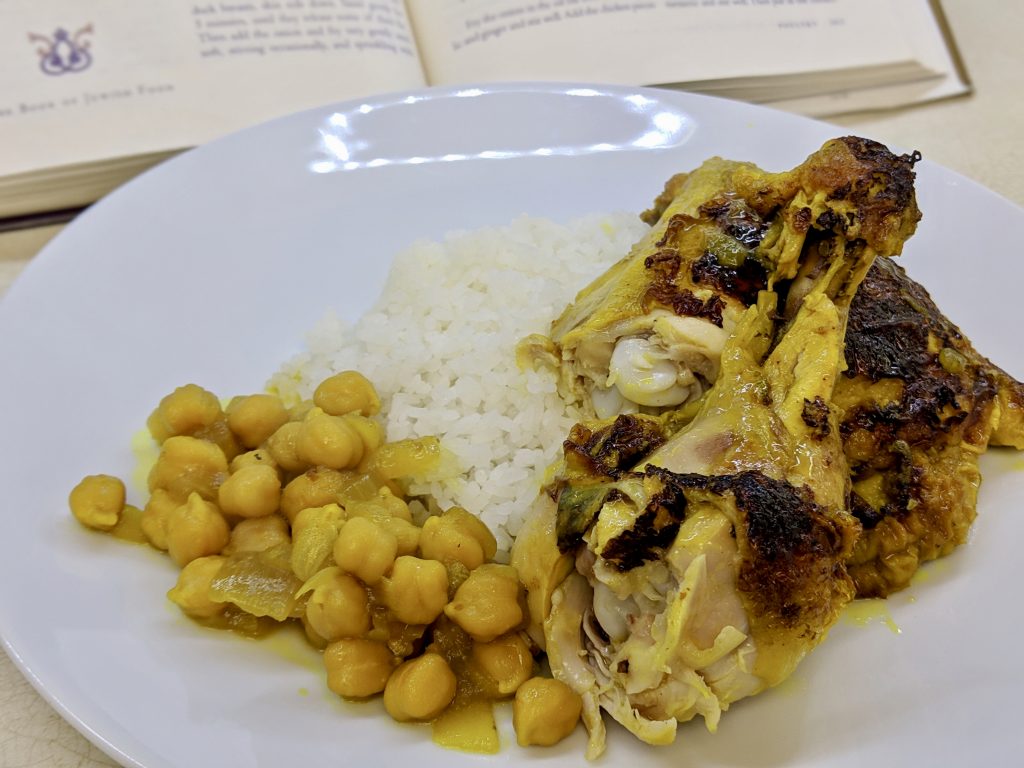 This dessert was fairly similar to the baklava from a few weeks past and provided a couple of options for fillings, so we chose to go with the almond filling, as those were the ingredients we had on hand. To start the dish, a simple syrup was made by boiling sugar and water for 10 minutes until thick, after which honey and rose water were added. This cooled on the stovetop while the filling and pastries were put together.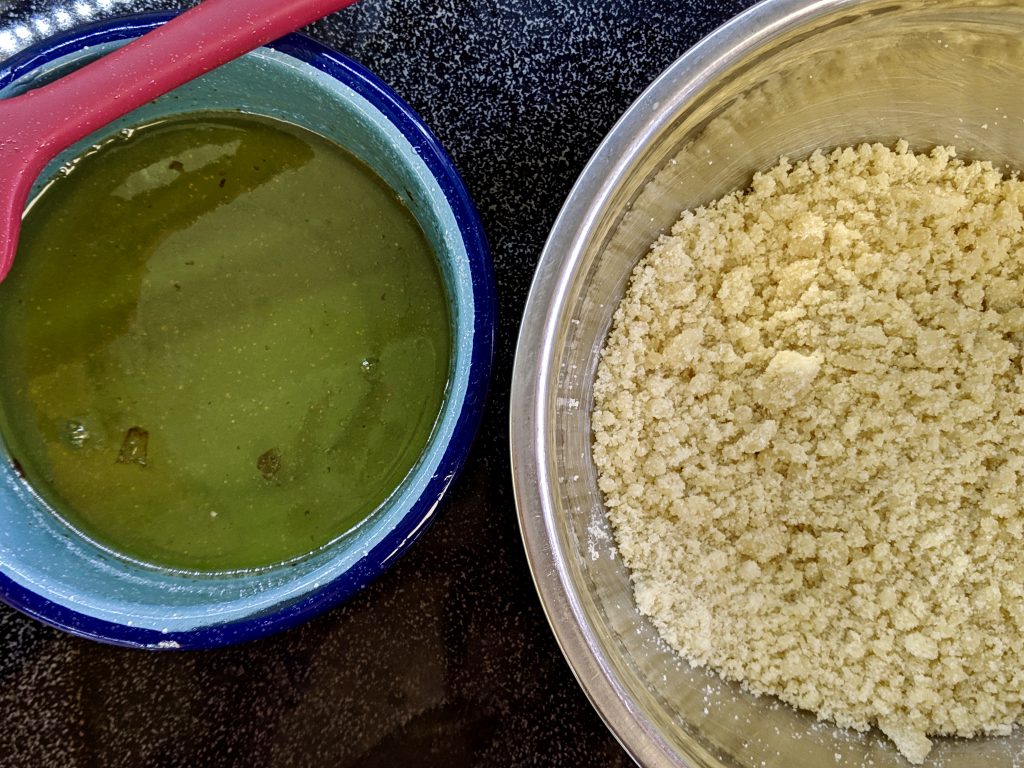 The filling was made by combining ground almonds, sugar, orange-blossom water, and rose water to make a loose paste. Filo sheets were brushed with oil and then one tablespoon of the almond filling was placed in the corner of one sheet. This was folded diagonally to create a triangular package (well, some were more triangular than others). Once these were more or less folded into recognizable shapes, the tops were brushed with oil and then baked at 350 degrees for 30 minutes until golden. After they came out of the oven they were drizzled with syrup and eaten with very sticky fingers.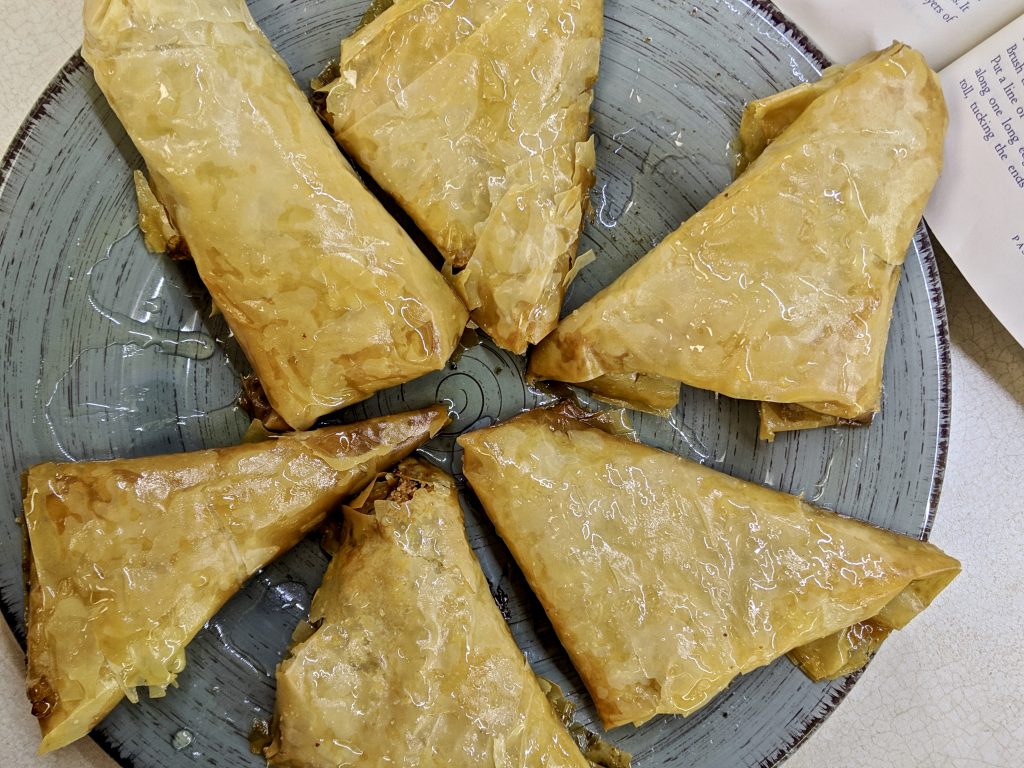 Unlike the baklava, I did not set these on fire, so that alone made them a huge success. They were light and bright and sweet, with just enough fragrance and flavor from the orange and rose waters to perfectly accentuate the ground almonds. We greatly enjoyed this lovely dessert and would probably enjoy it again for a special occasion.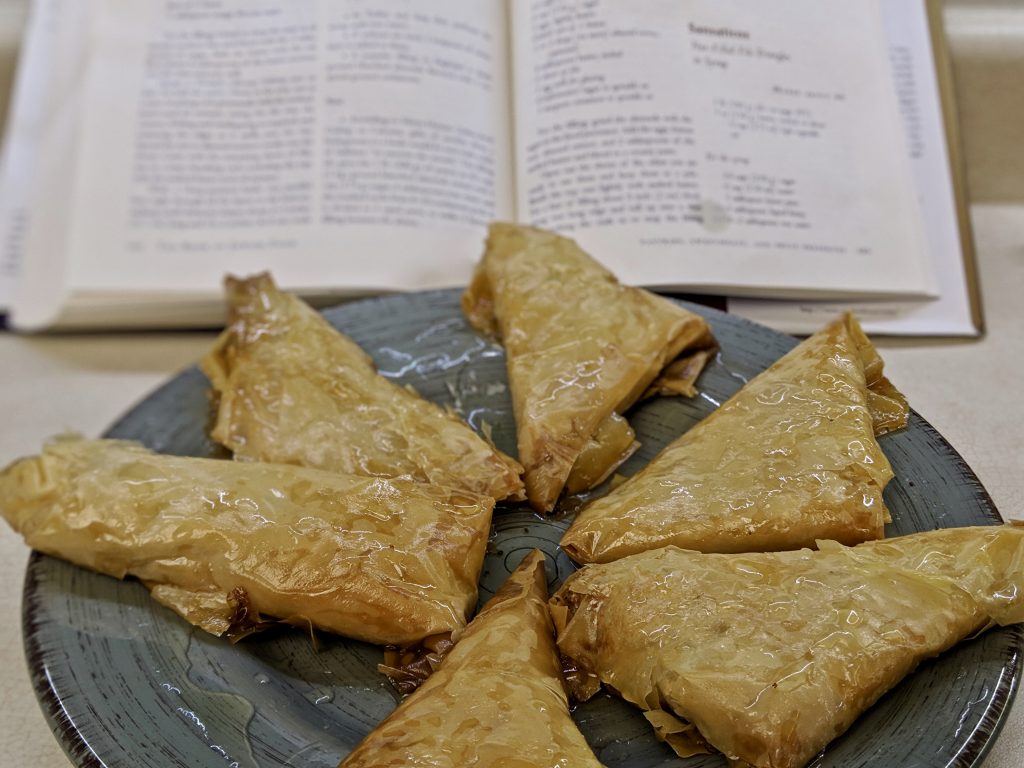 AND IN THE END, THE FOOD YOU MAKE IS EQUAL TO THE CARE YOU TAKE…
So how was Made In Marrow's meal number 54? As a reminder, our rating system is based on sticks of butter (because butter is best!), with 1 being the absolute worst and 5 being out of this world. Sticks of butter are assigned to Difficulty (how many kitchen fights were needed to complete the meal?), Tasty Goodness (was it a palate poor or did it make our mouths merry?), and Repeat Customer (how likely are we to return to the recipe?).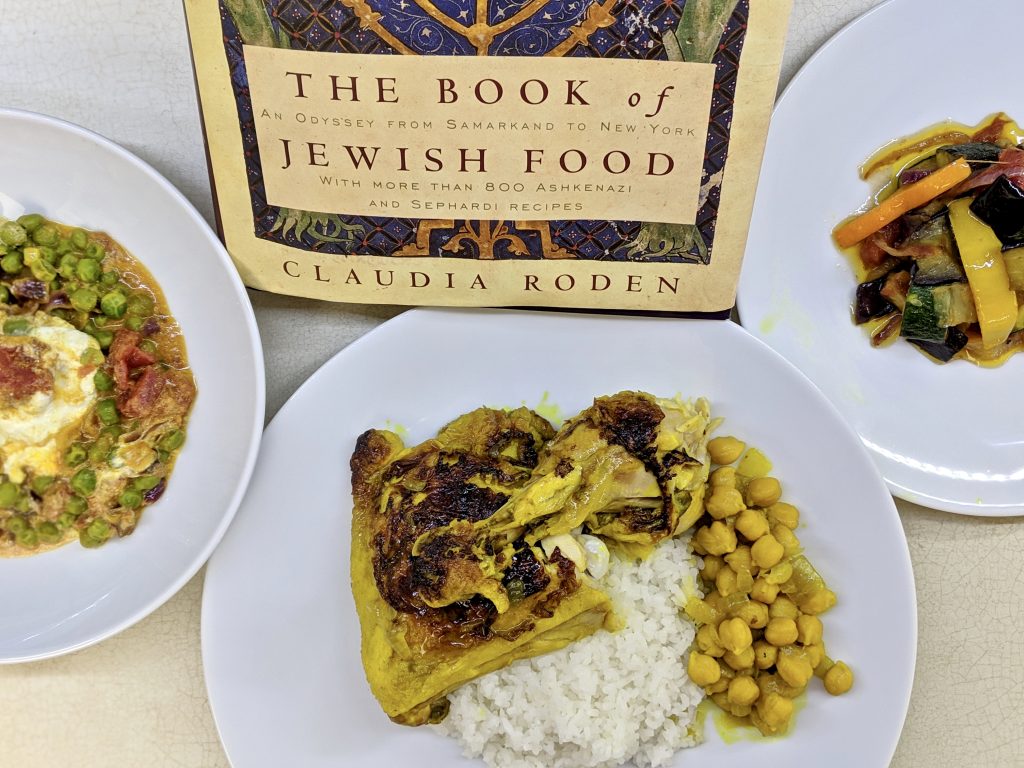 Difficulty  [][][][]4/5
From hunting down enzymes to separating curds to frying veggies and folding triangular -ish desserts, tonight's meal proved to be quite a time-consuming and technical effort!
Tasty Goodness
[][][][][] 5/5 Kamfounata – Moroccan Ratatouille – The only thing that would have made this better was "meat" (Gary's words)
[][][]3/5 Gebna Beida – Keso Blanco – White Cheese – Creamy, but a bit on the acidic side
[][][] 3/5 Mattar Paneer – Peas and Cheese Curry – Tasty, but a little competitive between flavors
[][][][]4/5 Poulet aux Pois Chiches – Chicken with Chickpeas – Savory and saucy
[][][][] 4/5 Sansaticos – Nut-Filled Filo Triangles in Syrup – A little sweet and a little savory
Repeat Customer
[][][][][] 5/5 Kamfounata – Moroccan Ratatouille – Worth the chopping and frying effort!
[][]2/5 Gebna Beida – Keso Blanco – White Cheese – Not really worth all the effort…
[][] 2/5 Mattar Paneer – Peas and Cheese Curry – Needs one less spice
[][][][] 4/5 Poulet aux Pois Chiches – Chicken with Chickpeas – A great chicken main course
[][][][]4/5 Sansaticos – Nut-Filled Filo Triangles in Syrup – Definitely worth the effort!
Despite the multiple hours spent in the kitchen to create tonight's dinner, we actually really enjoyed most everything and now have a few new skills under our culinary belts!

Sip, sup, and savor all you can, you curious cooks,
Elais & Gary