Just want the recipes and none of that other wordy nonsense? Click the links below!
Salade d'Oignons – Onion Salad with Capers
Fesenjan – Duck with Pomegranate and Walnut Sauce
Zucca Disfatta – Pumpkin Puree
Apam – Bread Pudding with Coconut Milk
Meal the Forty-Fifth
Tonight's meal from The Book of Jewish Food features a vegetable that does not normally get a plate of its own and a fruit that is fairly rarely found in our kitchen. The former ingredient refers to onions, which we go through quite a bit in our house, and latter is the lovely pomegranate, and we can't even remember the last time we bought one of these juicy red spheres.
It is interesting what is a staple on the weekly grocery list and what is not – we quite enjoy pomegranate but because of cost (both monetarily and time to prepare), this has not been on our grocery list for years. Contrarily, onions are on the list every week as they make up the foundation for practically every dinner (and sometimes lunch and breakfast as well). We go through at least 7 large, red onions per week, being perhaps the ingredient which we consistently buy in the highest volume (thank goodness they are fairly cheap!). Because of that, I think we take the onion for granted, which is unfortunate because it is a staple that would make a marked difference if it left our grocery list.
That being said, there are supporting characters and then there are leads, and we think that tonight's meal shows that while onions make a great support for a dish, but maybe should not be a lead. Let us know if you agree or disagree after you join us for this Sunday's group of interesting recipes!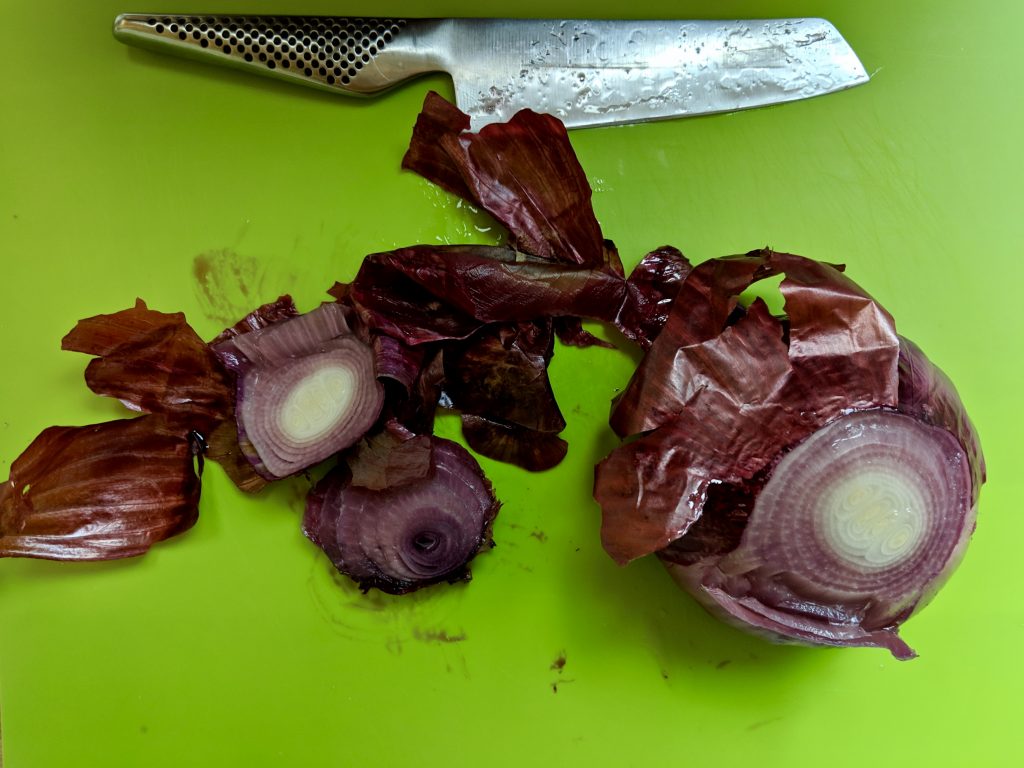 Not much could be found on the history of this salad (Claudia Roden did not have any notes about this odd dish) but it does appear to have French and Moroccan ties. Regardless of origin, it is extremely simple – put an onion in the oven and roast it until soft (about an hour and a half, depending on the size of your Allium). Peel off the outer dry husk, slice into quarters and dress with olive oil, vinegar, and capers.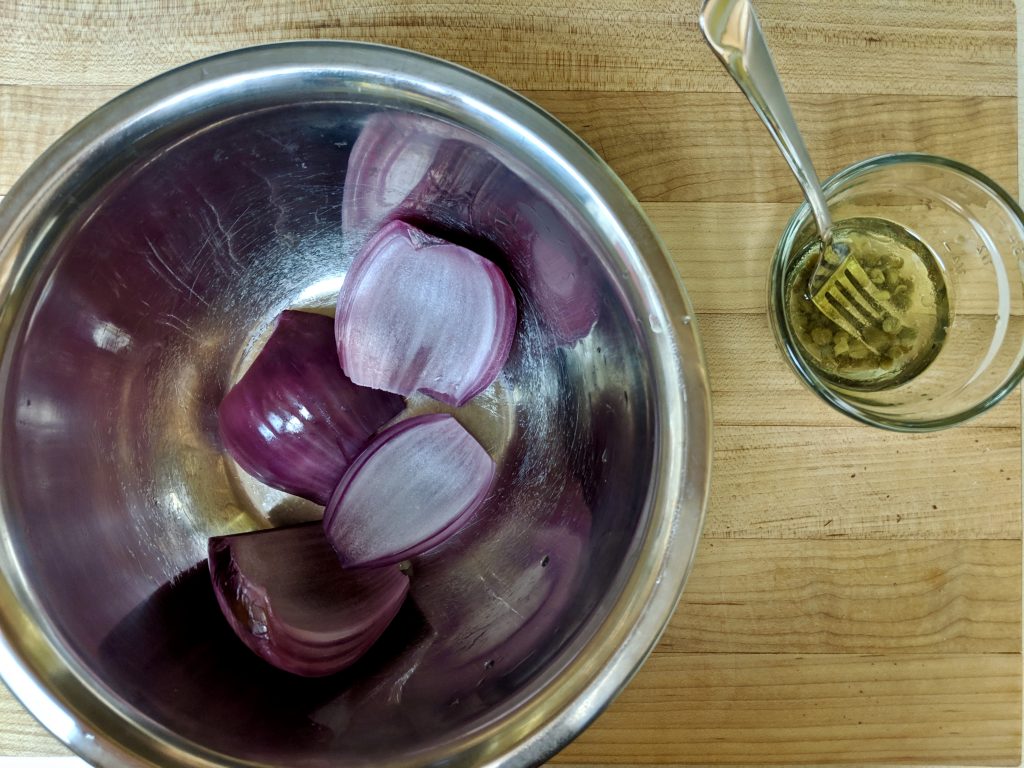 If you like onions, then you will like this dish. And if you don't like onions, well…onion salad is probably not the plate for you. I enjoyed a bite, being bright and tangy and a little spicy, but did not really need more than that. Gary enjoyed the brininess and did use it to dress other meals, but by itself it is a little overwhelming.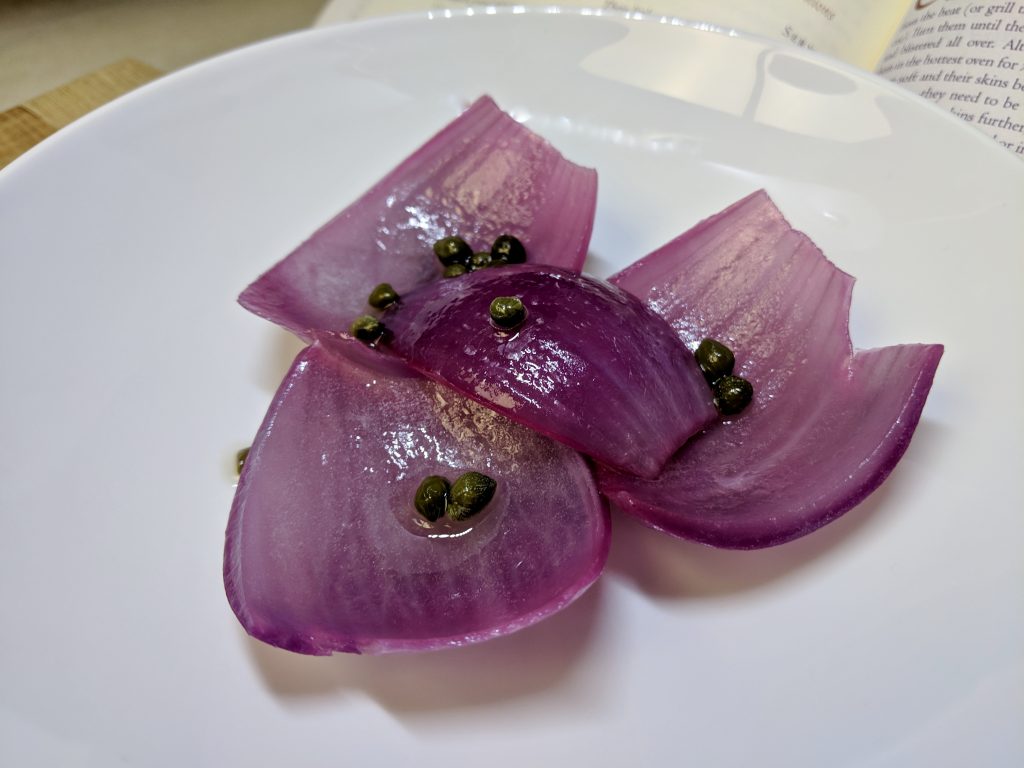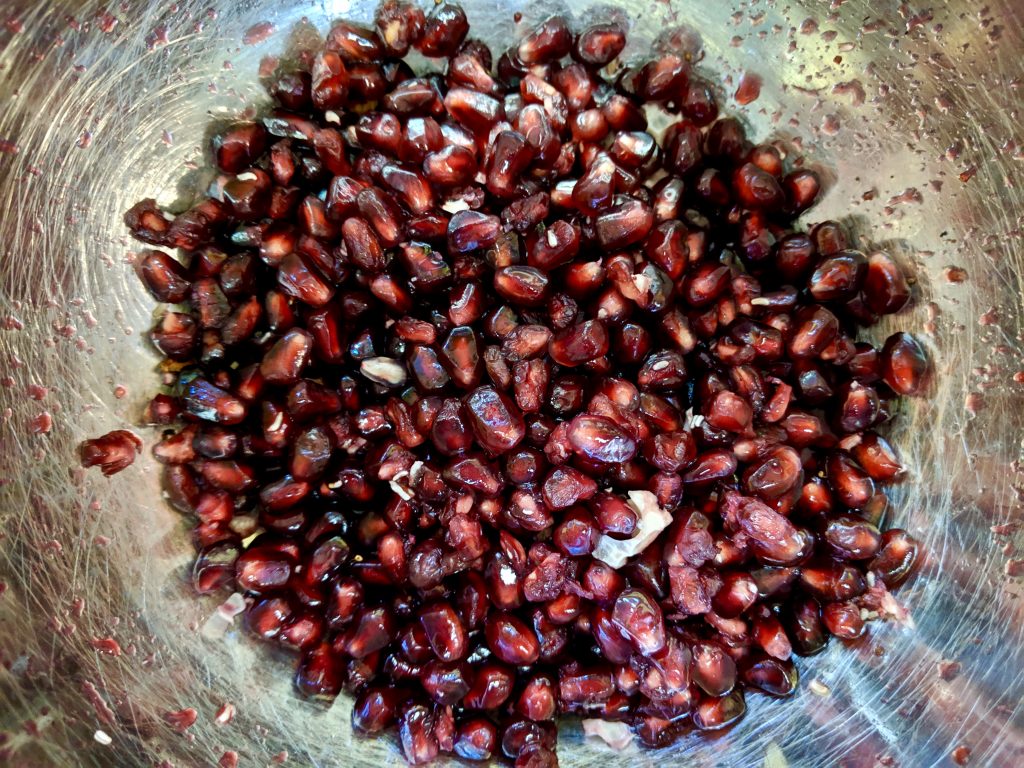 Pomegranate sauce is popular with the Jews of Iraq, Iran, and Syria and was traditionally made by drying the seeds and then boiling them until a sour, concentrated liquid is created. Pomegranates were originally cultivated in the area spanning from Northern India to modern-day Iran, eventually traveling to California with Spanish settlers in the late 1700s. Pomegranates have been found in the tombs of Egyptian queens, amongst ivory and gold on ship's logs carrying luxury goods to Turkey, and on ancient artwork depicting Greek mythology. It was the perfect time of year to cook this recipe since pomegranates are available in the Northern Hemisphere from September to February.
We prepared for this Iranian dish by slicing our pomegranate and using the "spoon technique" (hitting the back of the pomegranate hull with the curved side of the spoon) to remove the seeds from the tough rind. After this, we briefly blended the seeds and then strained the juice from the fibrous innards.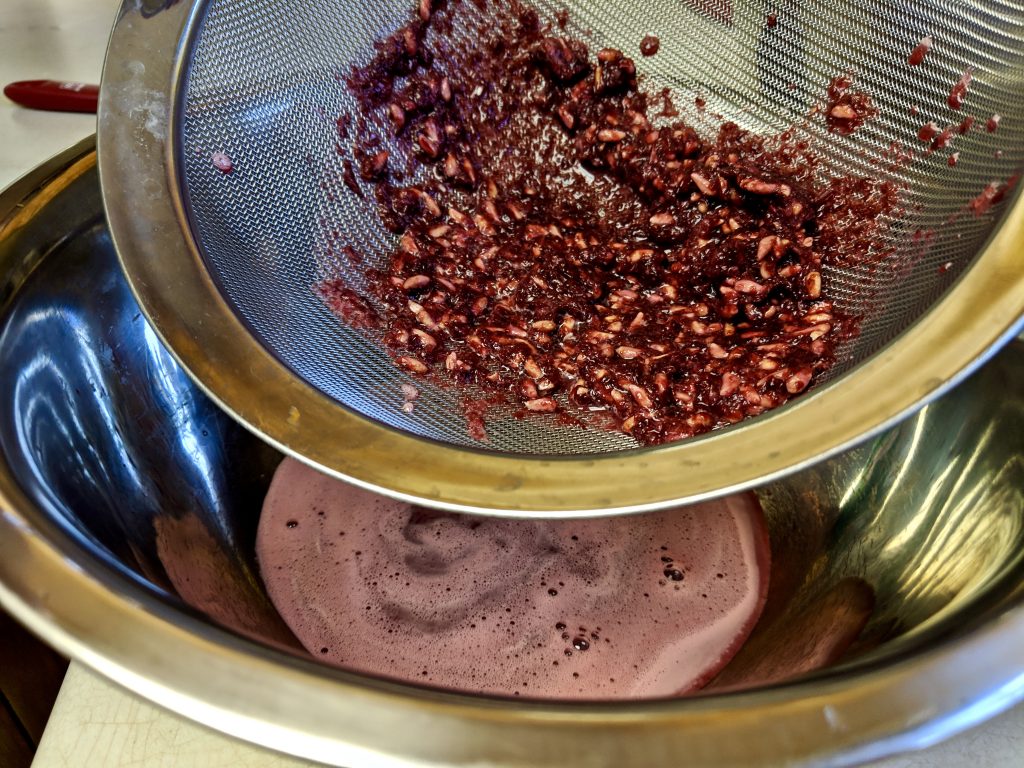 Since duck breasts are a little expensive and hard to come by, we chose to use chicken breasts and browned these in a pan with a small amount of oil. Sliced onion was added along with the pomegranate juice and the mixture simmered until the chicken was cooked through and the sauce had thickened. Before serving, chopped walnuts were added to the pan and the chicken was served in its aromatic burgundy colored sauce.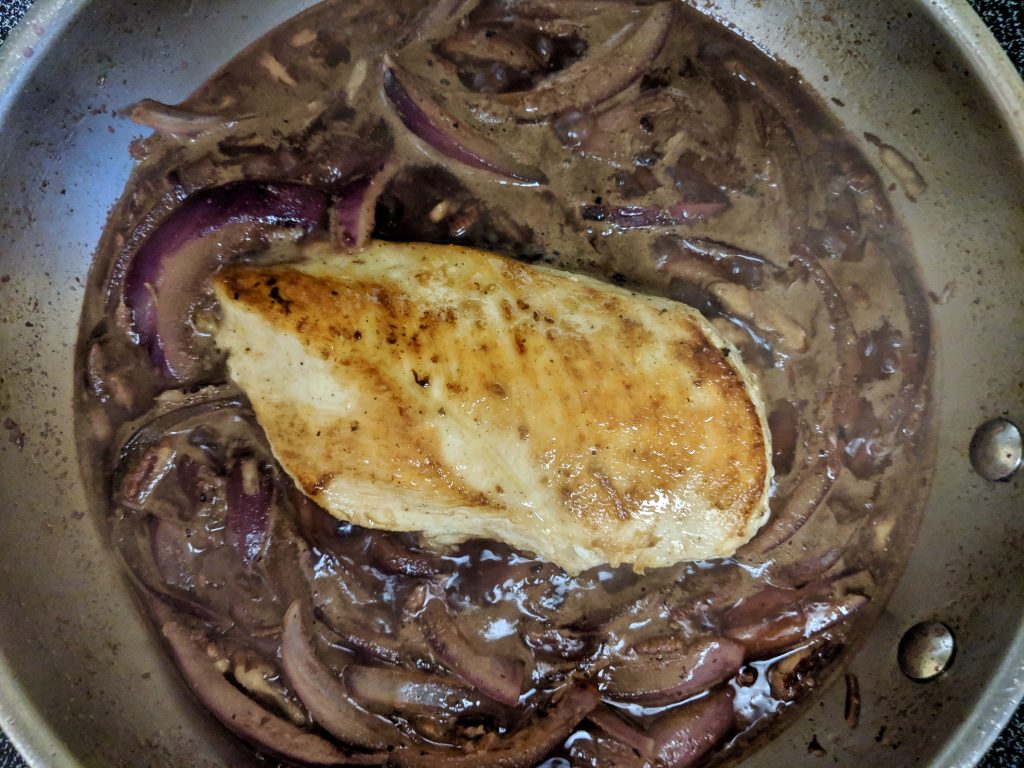 This poultry dish was excellent – not too sweet and not too sour – we were shocked because the sauce required no added sugar. The walnuts added a nice savory flavor along with a bit of texture, and the caramelized onions nicely rounded out the dish. If we decide to splurge on duck in the future, we will definitely give this recipe another try!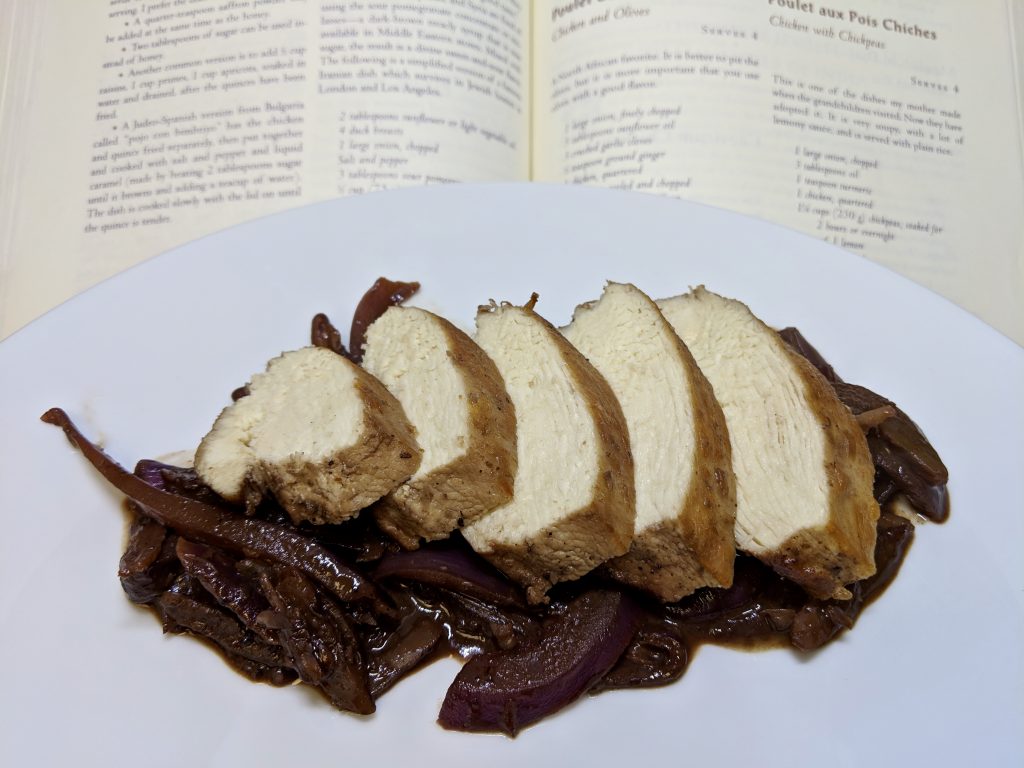 This orange side dish was often prepared to end the fast Yom Kippur, especially for those Jews living in Italy. Two weeks ago we had prepped one of the larger pumpkins from our garden and had reserved a small amount especially for this dish. Had we not done this, we would have started out by peeling the pumpkin, removing the seeds, and cubing it. But as our pumpkin was already prepared, we threw the pumpkin cubes into a pan with a little oil and fried it until golden. Once nicely browned, it was mashed with a fork, seasoned with a small amount of salt and sugar, and eaten steaming hot.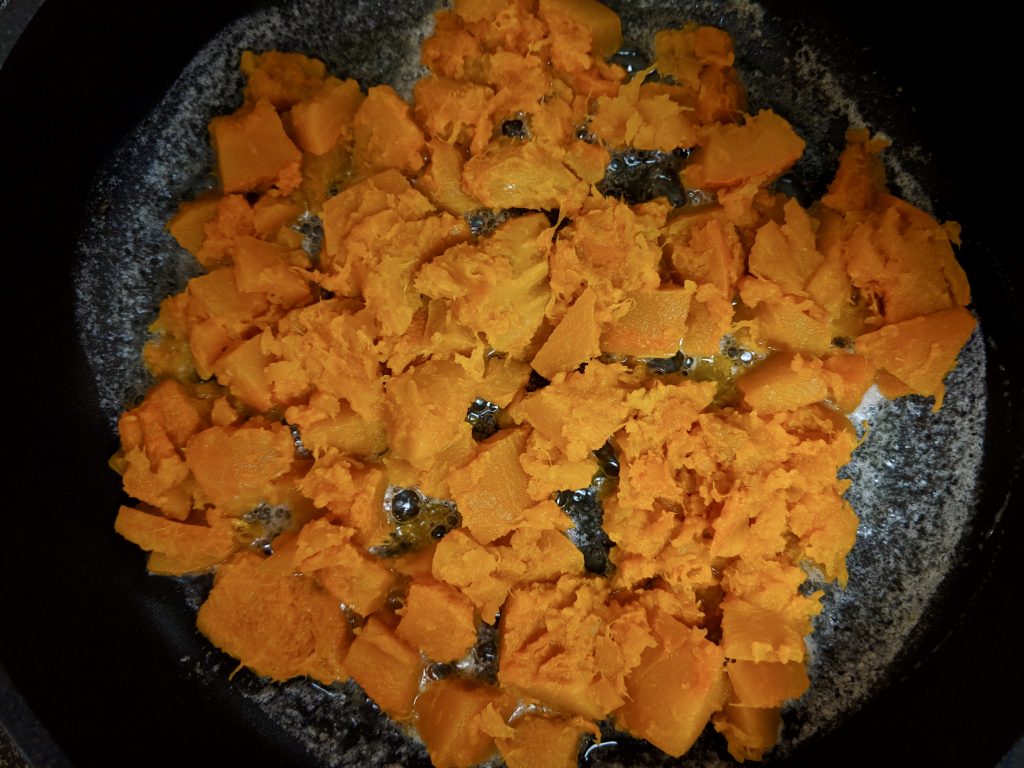 Yet again, for an exceedingly simple dish, this was quite tasty. The puree was bright and squashy, with just enough salt and sugar to compliment the garden-fresh pumpkin. This puree was a nice surprise and a colorful addition to our plates!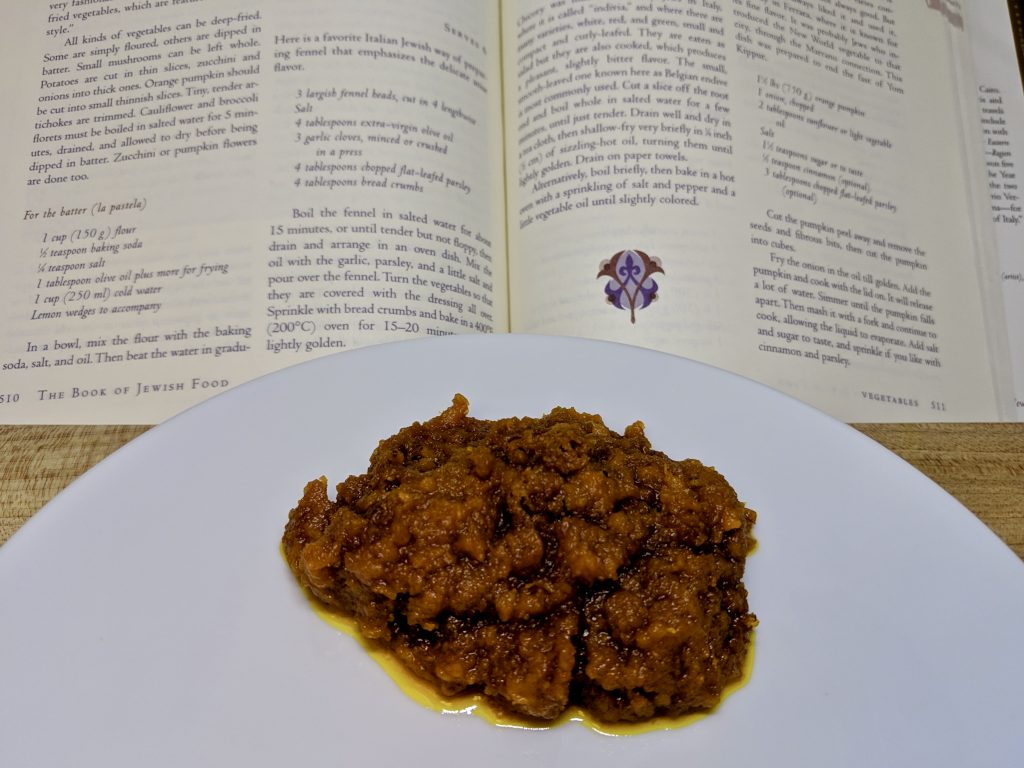 We visit the Bene Israel community again with this Sabbath side dish. Coconut milk was brought to a boil with cracked cardamom pods and turmeric after which basmati rice was simmered until tender.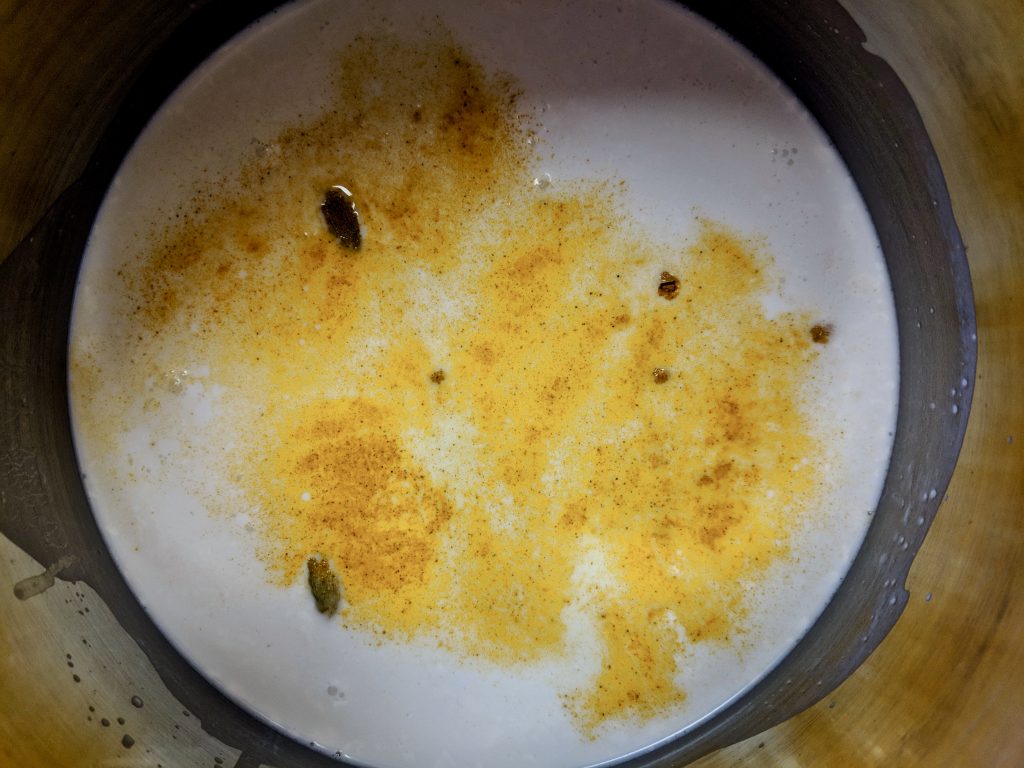 This rice dish was spectacularly bright, both in flavor and in color. The cardamom and turmeric added just enough spice to be flavorful but not overwhelming and the coconut milk added a nice creaminess and fattiness to the dish. Even though we cut the recipe in half, it still made a fantastic amount, so we plan to make fried rice cakes with the leftovers – stay tuned to our Instagram feed for those results!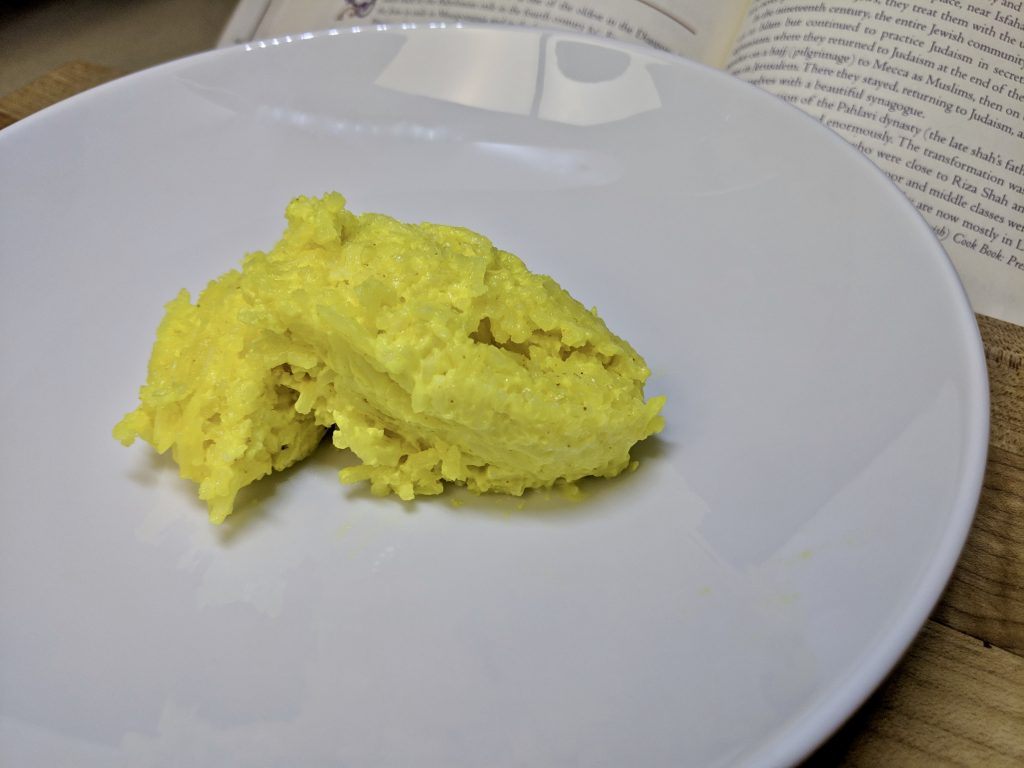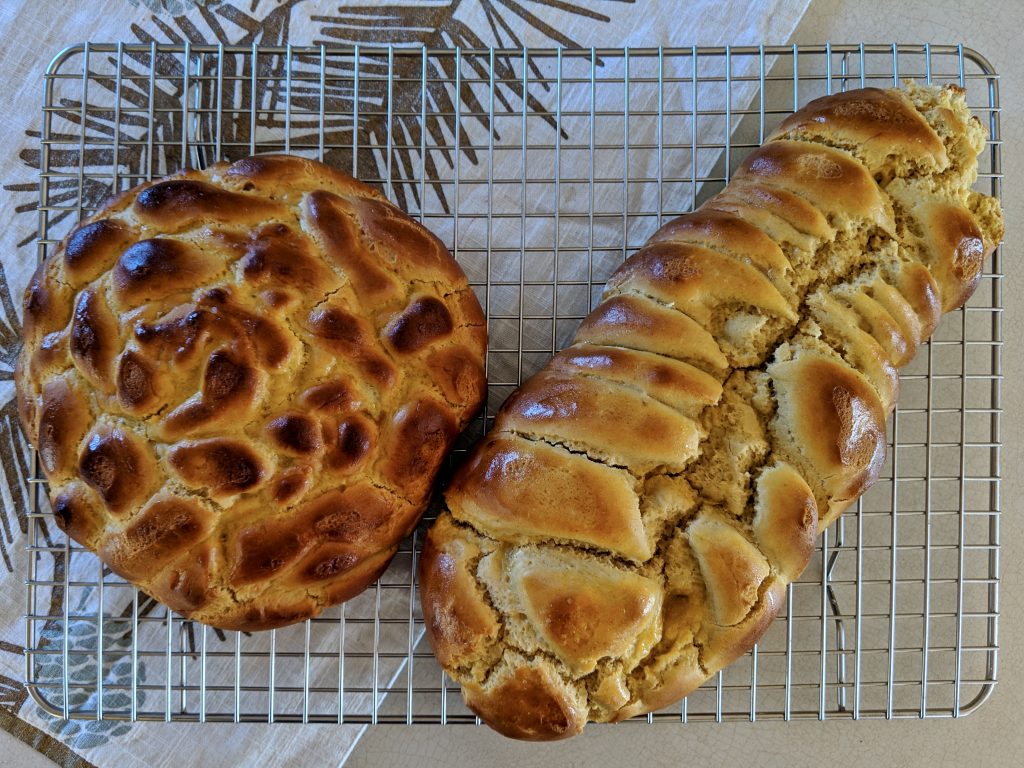 A little British shines through in this dessert from Calcutta, which was the capital of the British Raj until 1911. Representing both the favored flavors of the reigning empire and kosher values of the locals, this dessert is an interesting bite of history. Instead of dairy, coconut milk is used to abide by the Jewish tradition of not having meat along with milk in any other dish during a meal.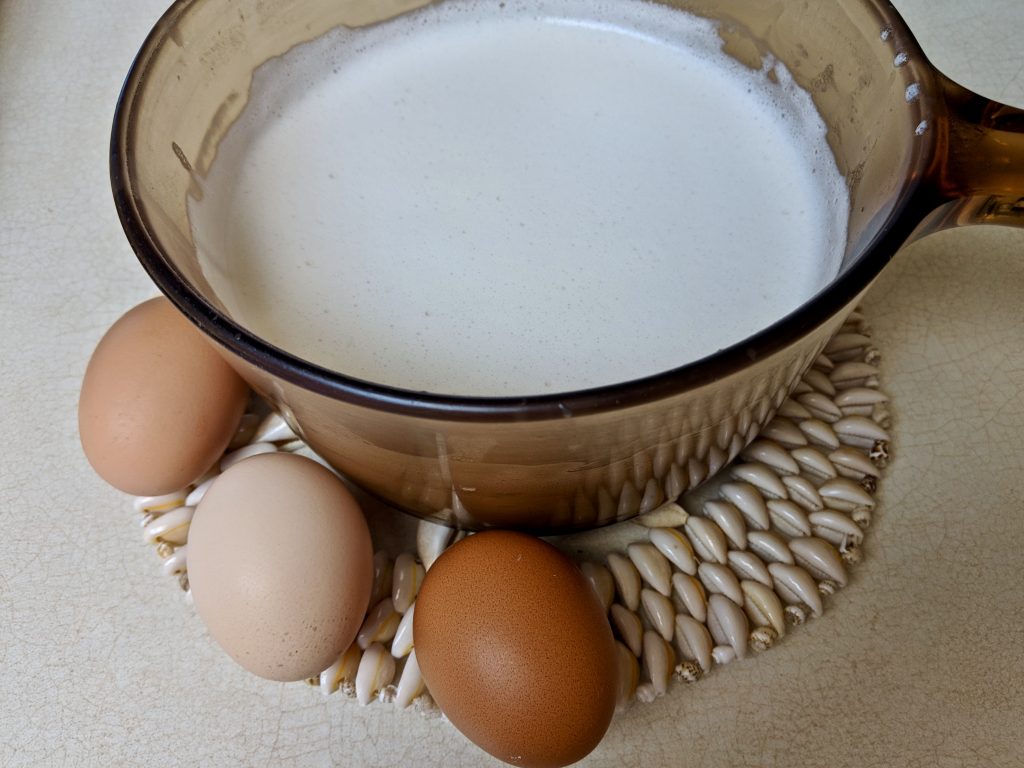 For the bread component of this pudding, I tried my hand at making gluten-free challah bread, which proved to be a mild success (read: good flavor, but some tweaking with the texture is still needed)! As the bread cooled, we mixed together the pudding component in a pot. Coconut milk was brought to a boil along with sugar, after which a small amount of vanilla extract was added. This mixture cooled a bit and three eggs were beaten in to slightly thicken the fluid. This was poured over our slices of challah and topped with slivered almonds. The bread pudding cooked at 350 degrees for 45 minutes until browned.
This recipe made for a moist and surprisingly light bread pudding. The slivered almonds added a nice textural touch, along with a little savoriness to round out the dish, which was just the right amount of sweetness. True to my British roots, I could not help but make a little rum sauce to accompany the bread pudding, but it was tasty and moist enough without it (which is often why rum sauce accompanies dried out bread pudding!).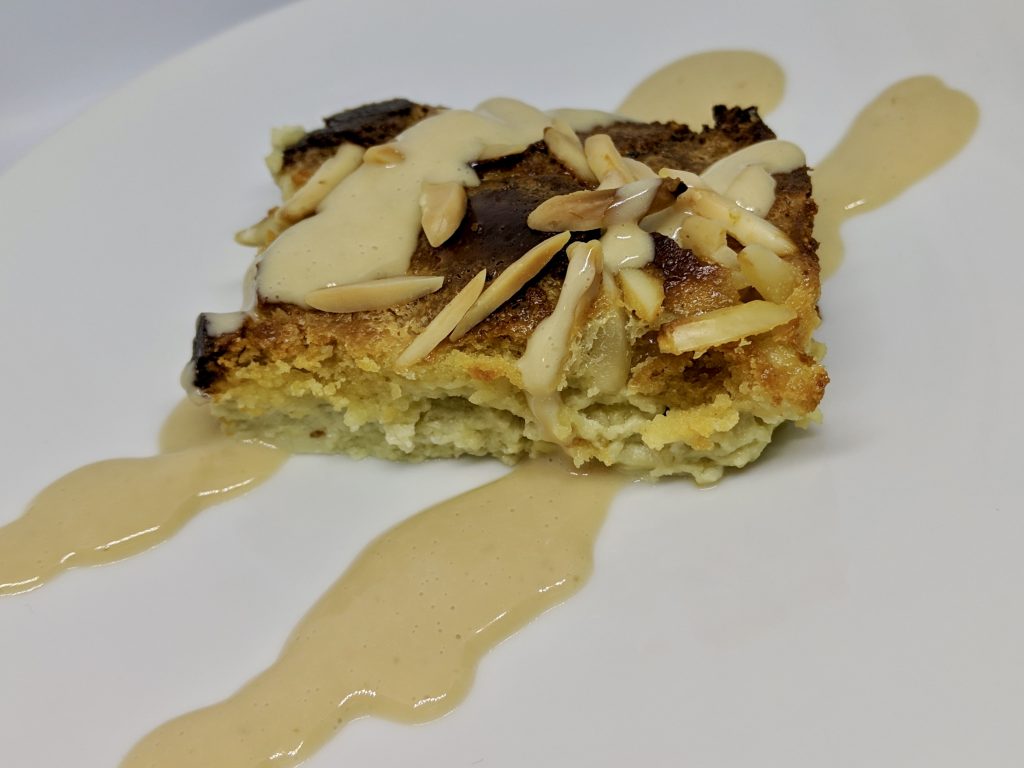 AND IN THE END, THE FOOD YOU MAKE IS EQUAL TO THE CARE YOU TAKE…
So how was Made In Marrow's meal number 45? As a reminder, our rating system is based on sticks of butter (because butter is best!), with 1 being the absolute worst and 5 being out of this world. Sticks of butter are assigned to Difficulty (how many kitchen fights were needed to complete the meal?), Tasty Goodness (was it a palate poor or did it make our mouths merry?), and Repeat Customer (how likely are we to return to the recipe?).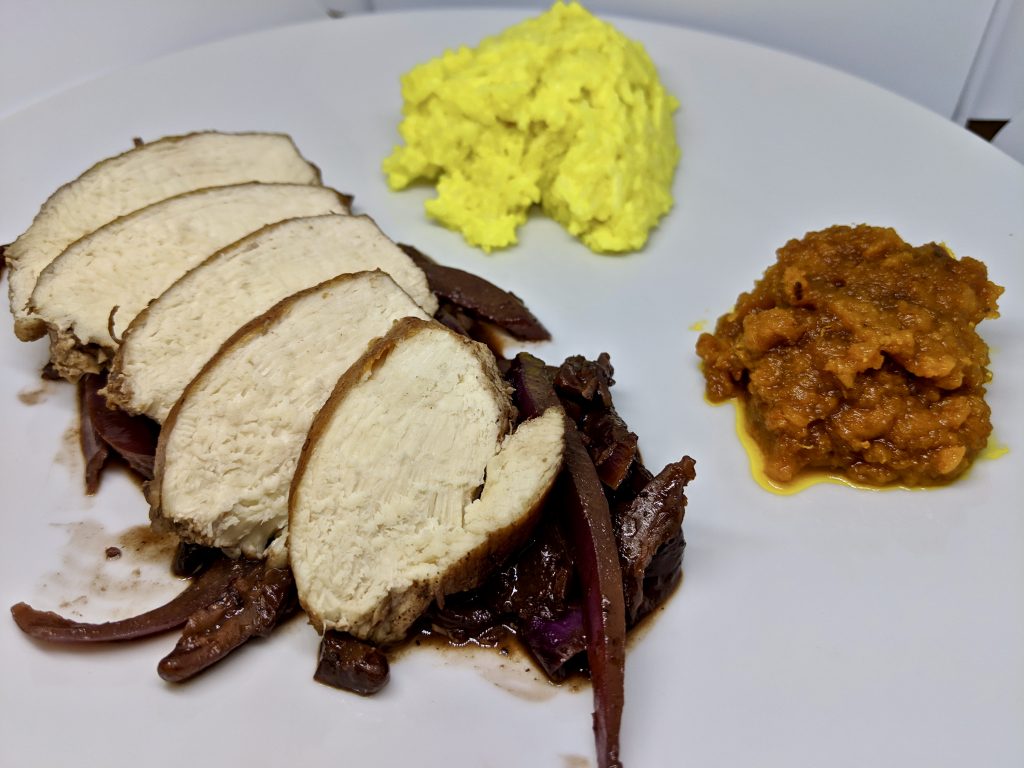 Difficulty [][][] 3/5
Tonight's meal was not too difficult, and was only a bit more complicated (read: time consuming) than necessary because I decided to make bread for the bread pudding instead of buy it.
Tasty Goodness
[][][] 3/5 Salade d'Oignons – Onion Salad with Capers – Erm…very oniony…if love onions, you'll like this salad!
[][][][] 4/5 Fesenjan – Duck with Pomegranate and Walnut Sauce – Sweet and sour and savory!
[][][][][] 5/5 Zucca Disfatta – Pumpkin Puree – Savory and pumpkin-y
[][][][] 4/5 Coconut Yellow Rice – A slightly spicy and very creamy side dish
[][][][] 4/5 Apam – Bread Pudding with Coconut Milk – A fun take on bread pudding!
Repeat Customer
[][] 2/5 Salade d'Oignons – Onion Salad with Capers – Probably not.
[][][][] 4/5 Fesenjan – Duck with Pomegranate and Walnut Sauce – Probably!
[][][][][] 5/5 Zucca Disfatta – Pumpkin Puree – Another great side!
[][][][] 4/5 Coconut Yellow Rice – A good way to liven up a side dish of rice
[][][][] 4/5 Apam – Bread Pudding with Coconut Milk – A great option for when there is no dairy to be had!
This was a great meal that truly was vibrant on the plate and palate. Both Gary and I were happy to have tried our starter of onion salad, even if we will probably not return to it in the future, as it was an interesting dish of unknown origins!
Sip, sup, and savor all you can, you curious cooks,
Elais & Gary