Just want the recipes and none of that other wordy nonsense? Click the links below!
Salade de Pommes de Terre aux Olives – Moroccan Potato Salad with Olives
Roz bil Shaghria – Rice with Vermicelli
Meal the Thirty-Seventh
Happy Sunday from Made In Marrow! After last Sundays' blog in a jar and a week in Las Vegas, we are back to our usual antics with the big Book of Jewish Food in our little kitchen in Santa Fe. This week's meal is heavy on the carbs, which Gary and I often argue about when dinner planning through the week. It is important to me that our plates are well balanced, having one starch, a green vegetable, and a protein. But one of Gary's favorite meals consists of mashed potatoes AND rice, so sometimes we are at a bit of an impasse. This week we inadvertently made dishes consisting of potatoes, rice, noodles, and more rice, so you can bet that Gary was not complaining! Despite being a bit carb/starch heavy, it was pretty tasty and very different from what we typically whip up in the kitchen. So sit back, put on your reading glasses, and enjoy this week's meal from Made In Marrow!
Gary and I both love potato salad, so we were looking forward to this recipe (me especially, since I also love olives). This dish also uses the preserved lemons that we wrote about last week, so it looked like a pretty interesting take on this traditional side.
We boiled the potatoes until tender and then dressed them with olive oil, salt, and pepper. We added our preserved lemons, chopped olives, capers, and green onions from the garden. Gary and I also both love capers, but besides knowing they come in a skinny jar usually found in the same aisle as the pickles, we did not really know much about their origins. Capers are actually the edible flower buds of the plant Capparis spinosa, the caper bush, also called Flinders rose. The plant is native to the Mediterranean and in Biblical times was thought to have aphrodisiac properties.
While not quite intoxicating, this potato salad was very good. The brininess of the capers and olives was balanced nicely with the lemonade-y brightness of the preserved lemons. The olive oil was just enough fat to make the potatoes creamy, but not enough to overwhelm it like our typically mayo-heavy and oh-so-tasty picnic side dish. This kept well in the fridge and made for a nice lunch the next day.
This Sephardic Persian dish is a bit of a cross between a sauce and a soup, which Gary had previously consumed (a lot of, by the way) in several Persian restaurants. It is exceedingly simple – mix equal amount of yogurt and sour cream along with 1 cup of cold water, salt, green onions (from the garden), and finely chopped pickles, then chill.
Don't let the simplicity of the prep fool you though, as this is a very tasty dish. The sharpness of the yogurt is balanced well with the fattiness of the sour cream and the green onions add a bit of spiciness and brightness to the mix. I love pickles in anything, so sufficed to say, the pickles in this were wonderfully briny and prevented the dish from feeling too heavy or one-noted. This paired quite well with the chicken (below) and would probably be a good accompaniment to any protein.
The below Chicken Sofrito recipe recommended Rice with Vermicelli as the side dish, so we followed Claudia Roden's instructions and cooked up this Arab rice dish. It is also often paired with yogurt based recipes and salads, so all in all, we think we grouped this meal's bunch of recipes fairly well!
Gary very, very carefully toasted the vermicelli in a dry frying pan until brown (it truly is a split second between being golden and burnt) while I stirred raw rice into hot oil in another pot. We added chicken stock to the rice, then the vermicelli with a little salt and then simmered for 18 minutes until tender, allowing it to sit off the heat but covered for another five minutes prior to serving.
This was interesting, to say the least. It was tasty, as tasty as rice boiled in broth can be, but it was the texture that was very different from what we were expecting. The rice was tender and the vermicelli was chewy and stretchy (like vermicelli should be). This resulted in a glutinous rice side that while not unpleasant, was a bit of surprise as this was a completely new dish to us.
In the Sephardi community, sofrito is a manner of cooking which involves slowly basting a protein in oil and very little water until cooked, allowing a thick sauce to form in the process. As we learned, the term "sofrito" has different meaning depending on what part of the world you are in – in Spanish cuisine, this refers to a set of aromatics, in Italy this is carrots, onions, and celery fried together, in Greece this is a slow-cooked veal steak, and in some Caribbean cuisine this refers to seasoned lard (this is by no means an exhaustive list and just a couple examples to give an idea of the varying meaning of the term).
For our Sephardic sofrito, we combined oil, lemon juice, water, turmeric, salt, pepper, and cardamom and brought it all to a boil. Gary butchered our chicken and added the pieces to our golden sauce, covering and cooking over very low heat until the chicken was tender.
This chicken dish was light and bright, with just a hint of lemon balancing out the sharpness of the cardamom pods. While the chicken was flavorful and moist at dinner, this did not re-heat well, so it appears sofrito is best eaten when fresh!
Like many of our canning recipes from last week, this dish also originates from the area of Bene Israel located in a historic region of India. Halwa is kind of like sofrito, in that it is served in a variety of manners, with a variety of ingredients, all over the world. The main ingredient of this halwa was sugar pumpkin from our garden, which was shredded and then steamed until soft. Sugar, cardamom, heavy cream, and chopped almonds were mixed in to this very orange vegetable, and it was served at room temperature.
Although not much to look at, this dessert was quite tasty and enjoyable! We ate all of the dessert in one sitting, as we greatly enjoyed the creaminess of the pumpkin, mixed with the fattiness of the cream, and the brightness of the cardamom. The chopped almonds added some texture to prevent this dish from becoming baby food, and despite what we were thinking while we were cooking it, this was one of our favorite desserts so far!
AND IN THE END, THE FOOD YOU MAKE IS EQUAL TO THE CARE YOU TAKE…
So how was Made In Marrow's meal number 37? As a reminder, our rating system is based on sticks of butter (because butter is best!), with 1 being the absolute worst and 5 being out of this world. Sticks of butter are assigned to Difficulty (how many kitchen fights were needed to complete the meal?), Tasty Goodness (was it a palate poor or did it make our mouths merry?), and Repeat Customer (how likely are we to return to the recipe?).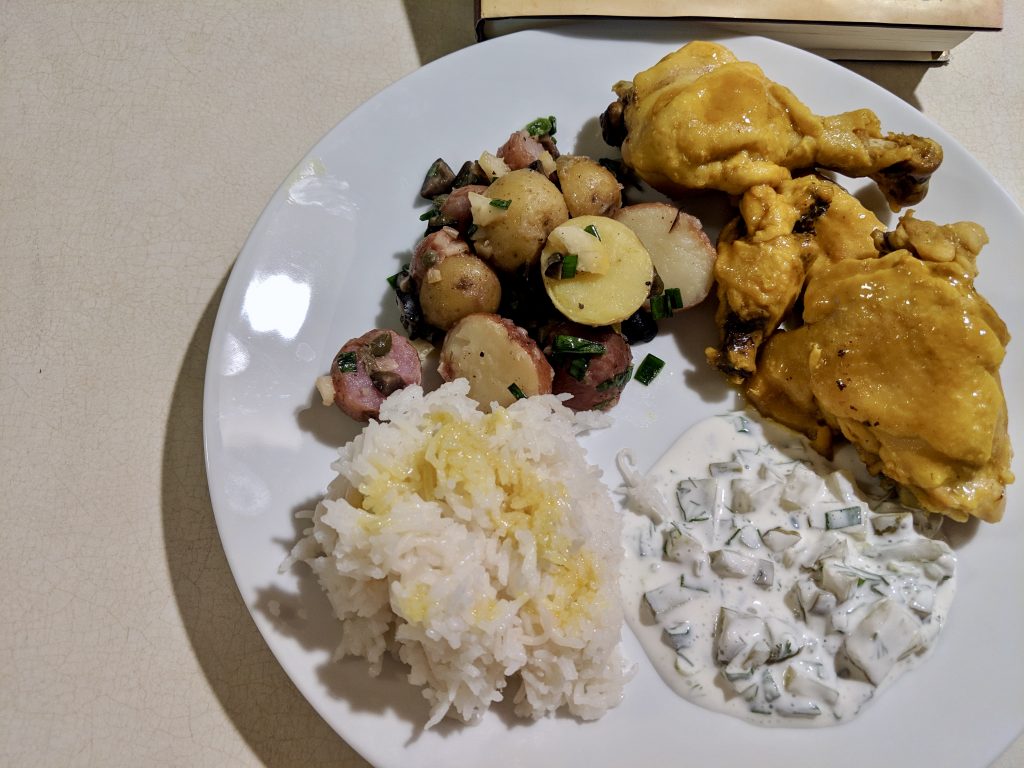 Difficulty [][] 2/5
Gary has gotten quite good at the butchery, which was the most complex part of tonight's meal, so it was a nice change from last week's intense culinary caper!
Tasty Goodness
[][][][] 4/5 Salade de Pommes de Terre aux Olives – Moroccan Potato Salad with Olives – A bit briny, a bit creamy, and a little oniony – just what every potato salad should be!
[][][][] 4/5 Dueh – Persian Yogurt Soup – Creamy and briny and sharp, wonderful!
[][][] 3/5 Roz bil Shaghria – Rice with Vermicelli – A bit odd in texture…
[][][][] 4/5 Chicken Sofrito – Golden and tasty
[][][][][] 5/5 Pumpkin Halwa – Golden and very tasty!
Repeat Customer
[][][] 3/5 Salade de Pommes de Terre aux Olives – Moroccan Potato Salad with Olives – While not our favorite potato salad so far, still a contender for a potential repeat side
[][][][][] 5/5 Dueh – Persian Yogurt Soup – Most definitely with future proteins
[][] 2/5 Roz bil Shaghria – Rice with Vermicelli – Not terrible, but probably not
[][] 2/5 Chicken Sofrito – Not our favorite chicken dish so far and a little time consuming, so probably not…
[][][][][] 5/5 Pumpkin Halwa – Time consuming but oh so tasty, so yes!
While we did not pickle anything this week, it was a great week for all things pickled, from capers to olives, to, well, pickles, so we quite enjoyed our return to our Sunday meal!
Sip, sup, and savor all you can, you curious cooks,
Elais & Gary