Just want the recipes and none of that other wordy nonsense? Click the links below!
Hummus bi Tehran – Chickpea and Tahini Dip
Babaghanouzh or Moutabal – Eggplant and Tahini Puree
Feuilles de Vigne – Yalandji Dolma – Yaprak – Warak Einab – Cold Stuffed Vine Leaves
Gâteau au Chocolat – Our Chocolate Cake
Meal the Seventy-Second
The phrase "Open, Sesame!" is originally found in the story of "Ali Baba and the Forty Thieves" in One Thousand and One Nights. As the tale goes, Ali Baba hears one of the forty thieves talking about a cave containing hordes of treasure, but it can only be accessed by saying those famous two words. In the story, Ali Baba's brother attempts to steal the treasure, but becomes trapped in the cave after he cannot remember the magic grain to get out (but does try, "open, —" insert any other grain you can think of here).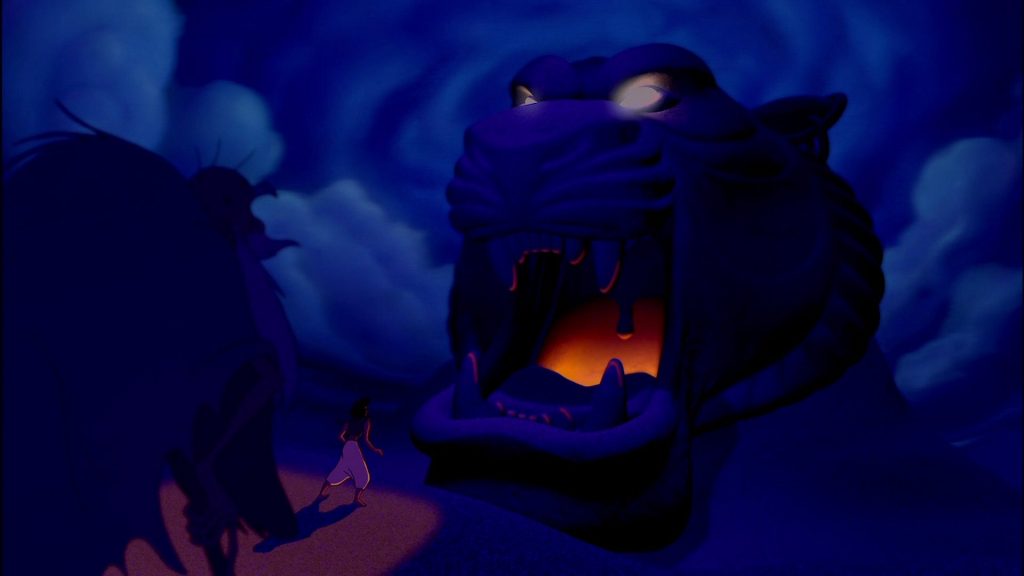 This trope, of being given a magic phrase to do something but then forgetting it, is a common one now, with even the original "Open, Sesame" story itself has been retold many times throughout popular entertainment (check out any version of Aladdin or Sinbad the Sailor or the overarching tales of Scheherazade). The tale has been expounded to be used in so many other forms, it would be impossible to mention them all, but some of our favorites are Newman's avatar in Jurassic Park taunting Samuel L. Jackson attempts to access the security system with "Ah, ah, ah – you didn't say the magic word", to that one time Gandalf tried to remember the secret word that would open the doors of Moria while his whole group waited around an ominous lake, to any other scene involving a critical moment where the magic words have been conveniently forgotten to create some much-needed tension.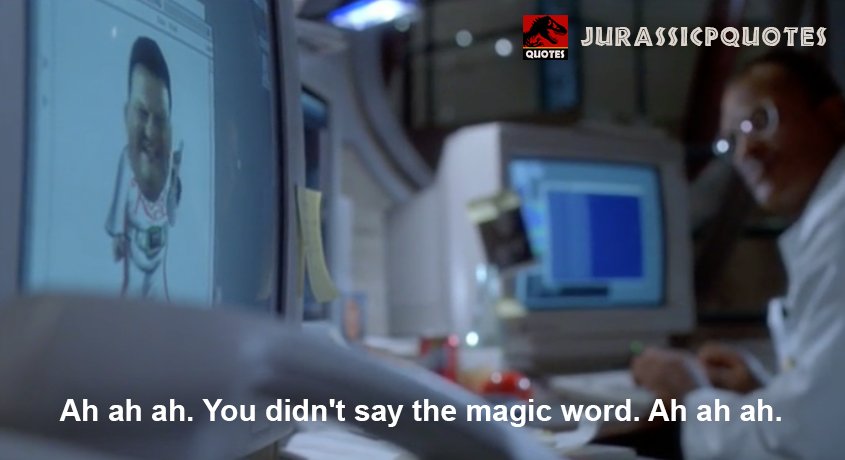 As we will talk more about tonight, sesame seeds are a small but ubiquitous ingredient (much like the "Open, Sesame" trope), as once you start to think about them, they can be found more frequently than expected. Sesame seeds and their oil are greatly valued and have been for at least 3000 years, so it only makes sense that a phrase honoring them would be created, celebrating the seed springing from its pod. So tonight we enjoy this tiny seed in all its glory and say, "Open Sesame" to our dinner of wonders!
Kahk has been found in medieval Arab manuscripts and has been depicted in ancient Egyptian artwork, as a small round biscuit topped with sesame seeds. This is the first of four recipes tonight that will feature the humble sesame seed. The sesame seed is one of the oldest oilseed crops or plants that have seeds from which oils are extracted (like soybean oil and cocoa butter), having been domesticated more than 3000 years ago.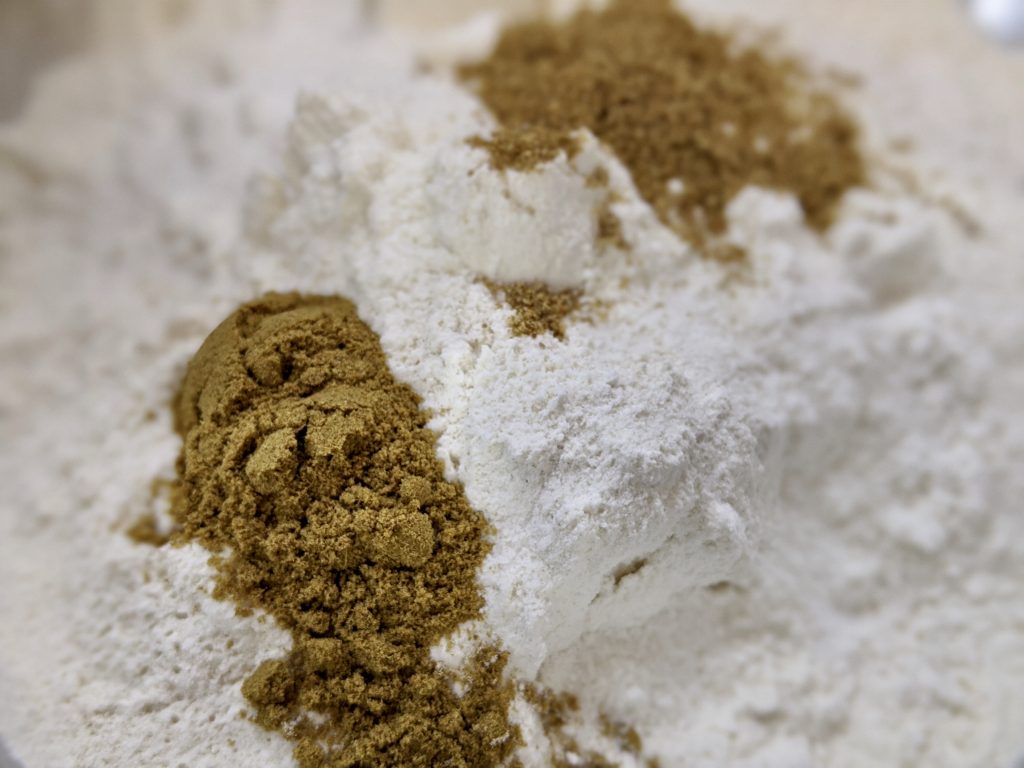 Wild sesame seeds are native to sub-Saharan Africa and parts of India, but today it is grown in parts of the Middle East, Asian, and Central America, with world production in 2016 being 6.1 million tonnes. Sesame seeds as topping ingredients seem to be favored all over the world, from these savory bracelets to hamburgers, crackers, sushi, and a variety of desserts (did you that 75% of Mexico's sesame crop is purchased by McDonald's? And that this is one of two mentions of McDonald's which will occur in this blog??).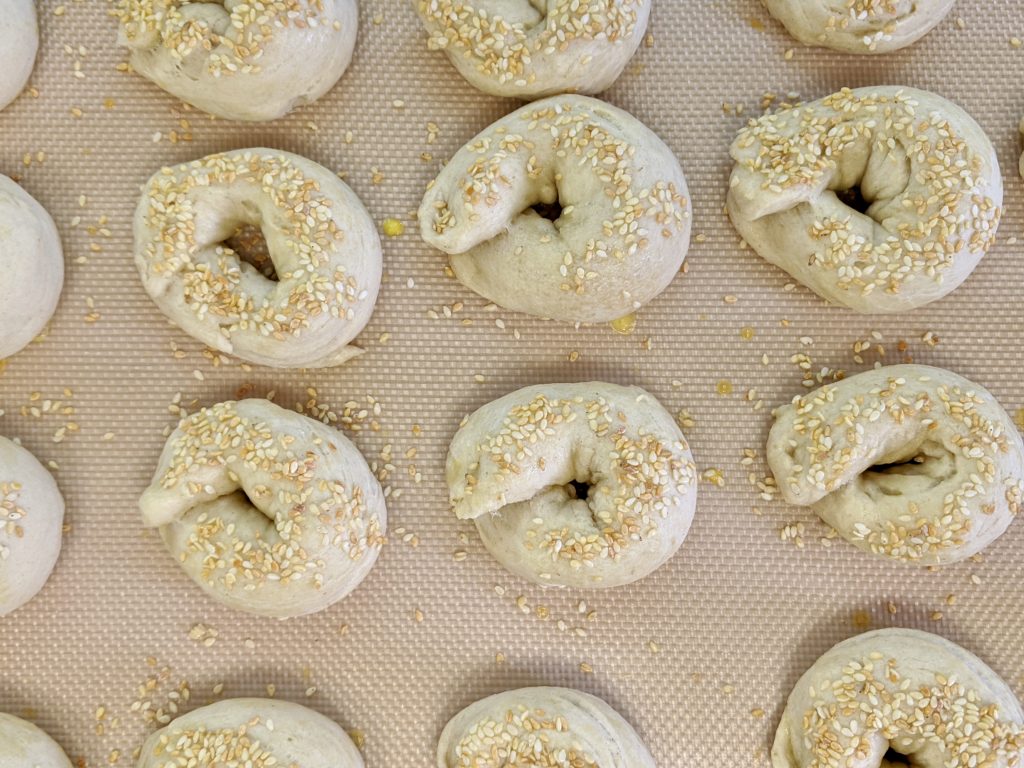 Anyways, moving beyond the tiniest component of tonight's meal, this savory bread is started by proofing yeast with warm water, a pinch of sugar, and two tablespoons of flour. As this foamed, flour was mixed salt, cumin, and coriander. Softened butter and oil were then added to the flour along with the yeast mixture and the entire mix was kneaded for ten minutes. The dough was coated with oil and given time and space to rise for an hour and a half. After this period, the dough was punched down and segmented into walnut-sized balls. Each ball was then rolled into a 4-inch rope, shaped into a circle, and then pinched shut. These were brushed with egg wash and then squished top-down into a pile of sesame seeds. The seeded-rings rested for another 20 minutes after which they went into the oven at 375 degrees for 30 minutes, and then at 225 degrees for 15 minutes.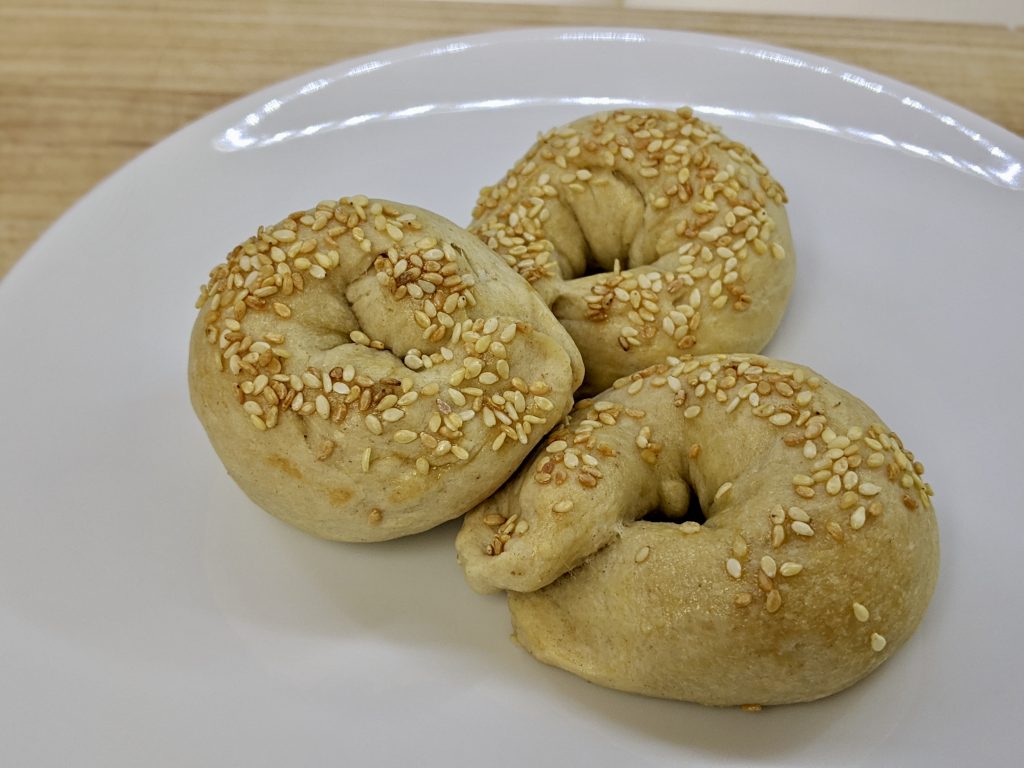 The bread was crunchy on the outside and slightly chewy on the inside. The cumin and coriander were detectable but not overwhelming and the sesame seeds added a nicely nutty, crunchy bite. This recipe made a lot of bracelets, so it could easily be halved, but we are not complaining about having a few extra bread bites around the house!
According to Claudia Roden, falafel is considered the national food of Israel, being sold from street carts with a variety of different seasonings. Falafel is thought to have originated in ancient Egypt and was made with fava beans, instead of chickpeas (which is the more common ingredient today). They are a popular dish in vegetarian cuisine and are often served in flatbread on a bed of pickled vegetables or salad with a tahini dressing (which we also made during tonight's meal). In Classical Arabic, falafel means "a little piece of food" or "small tasty thing" and not only refers to the flavorful patty, but to the sandwiches filled with them as well.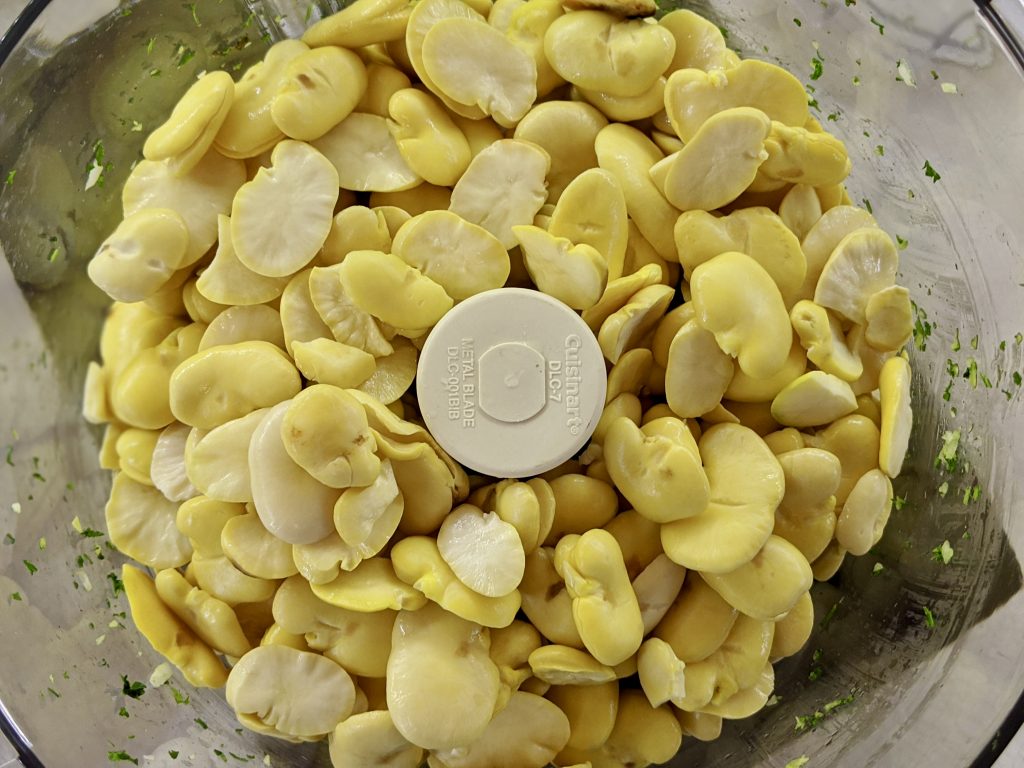 Falafel is theorized to have been invented in Alexandria, and being a port city, then traveled easily to many other areas in the Middle East. Falafel is so popular in this region that it has even been served in McDonald's in the area, as McFalafel apart of the breakfast menu. In the 1970s, falafel began to make appearances in North America and became used as a vegetarian substitute for burgers, meatballs, and meatloaf. They can be big or small, with chefs in Jordan setting a world record with a 164.4lb falafel ball (however most are typically *slightly* smaller than this behemoth).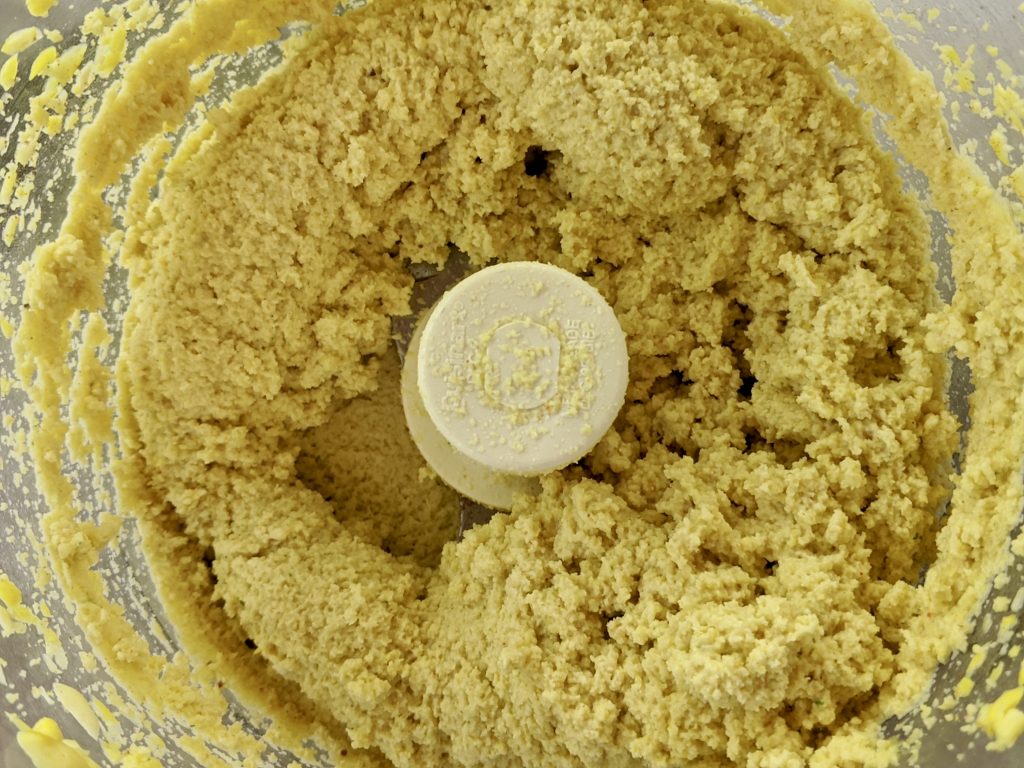 Tonight's falafel recipe stuck to its traditional origins, being made with the protein-rich fava bean (which has more than 26 grams of protein in just one 3.5 oz serving!). The fava beans were soaked for 24 hours, as they were not going to be cooked prior to being turned into patties. Following their day-long spa treatment, they were dried, which is key to preventing the paste from falling apart in the frying oil.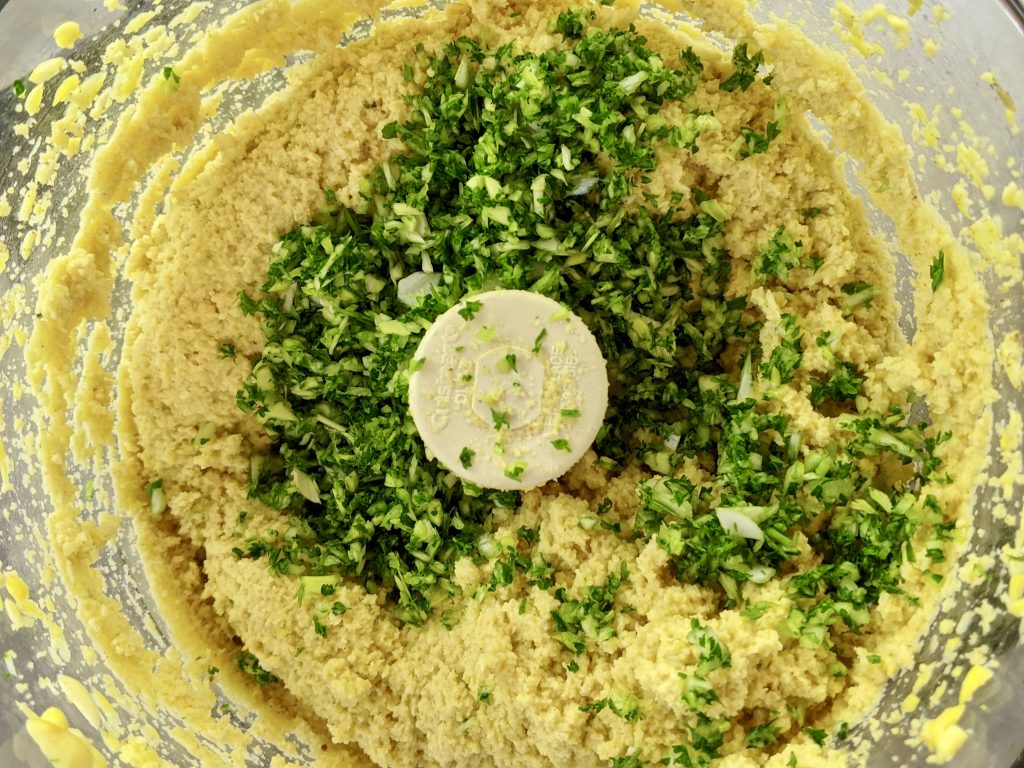 Parsley and scallions were chopped in a food processor and then set aside. Next, the fava beans were pureed to a smooth paste, after which salt, cayenne, cumin, coriander, garlic, and baking powder were added – this was again processed for several minutes to achieve the smoothest paste possible. The parsley and scallions were then added back to the processor and the entire mix was allowed to rest for one hour.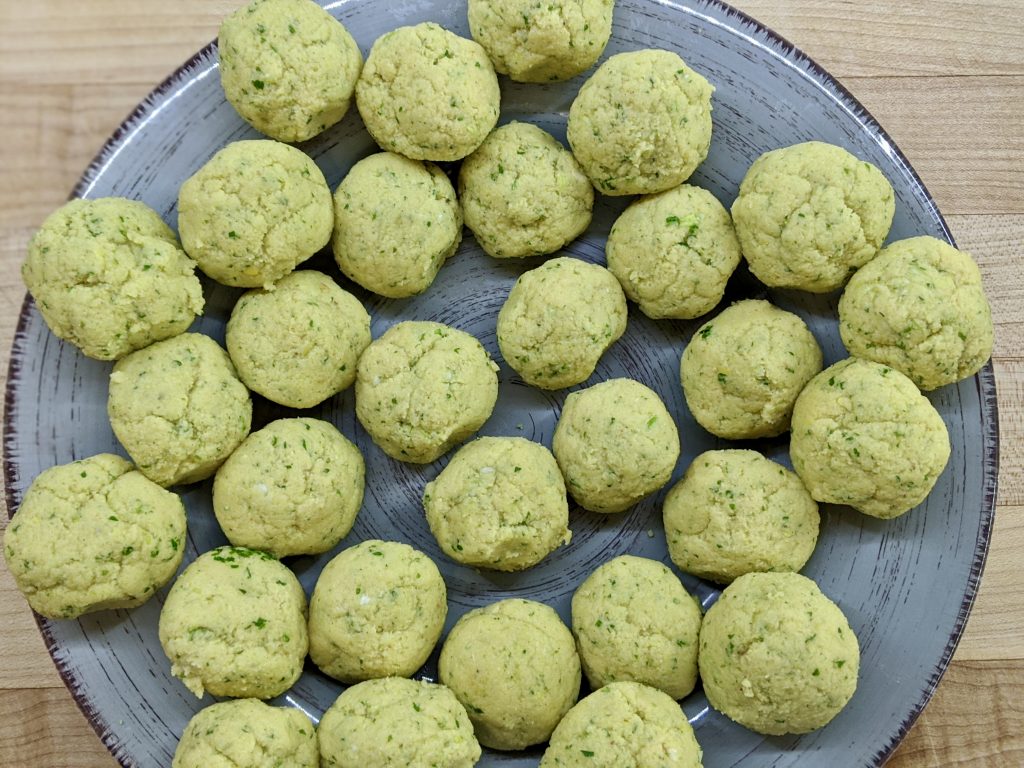 After an hour, the paste was shaped into small walnut-sized balls. Oil was heated in a shallow pan and the paste-balls were slightly flattened and then carefully dropped into the hot oil. They were fried until golden and flipped once, then drained on paper towels. We served them hot and accompanied by the three different sauces below.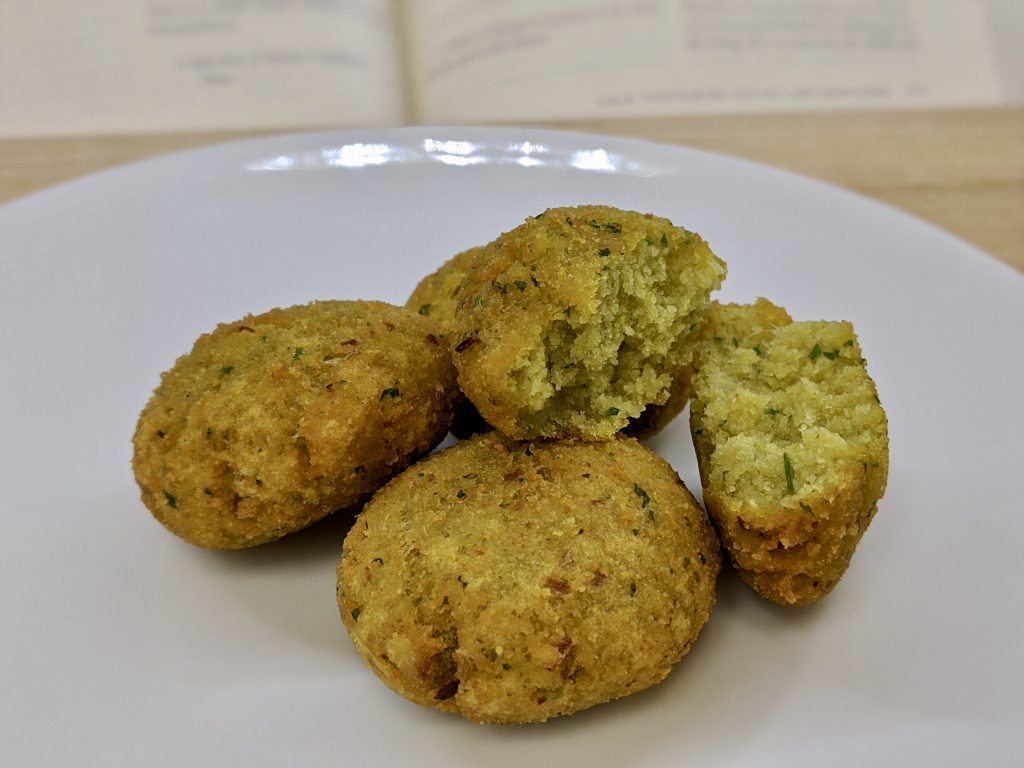 The falafel was excellent and surprisingly easy to make! They were a little bit spicy, not too salty, and just moist enough to render a good chew beyond their crispy exterior. They paired quite well with the tehina, but stood up on their own, making a great hearty course as well as a tasty snack later!
This dip is quite popular in Israel, which makes sense as it is the "go-to" accompaniment for their national dish, falafel! Its main component is tahini, which is a paste made of toasted ground hulled sesame. Tahini is used in Middle Eastern cuisines, as well as those in parts of North Africa, Chinese, and Southeast Asian cuisine. This processing of sesame is thought to have originated at least 3000 years ago, being served in the form of wine and as a source of oil. Tahini is high in protein and calcium, which, like falafel, makes it a preferred part of many vegetarian meals.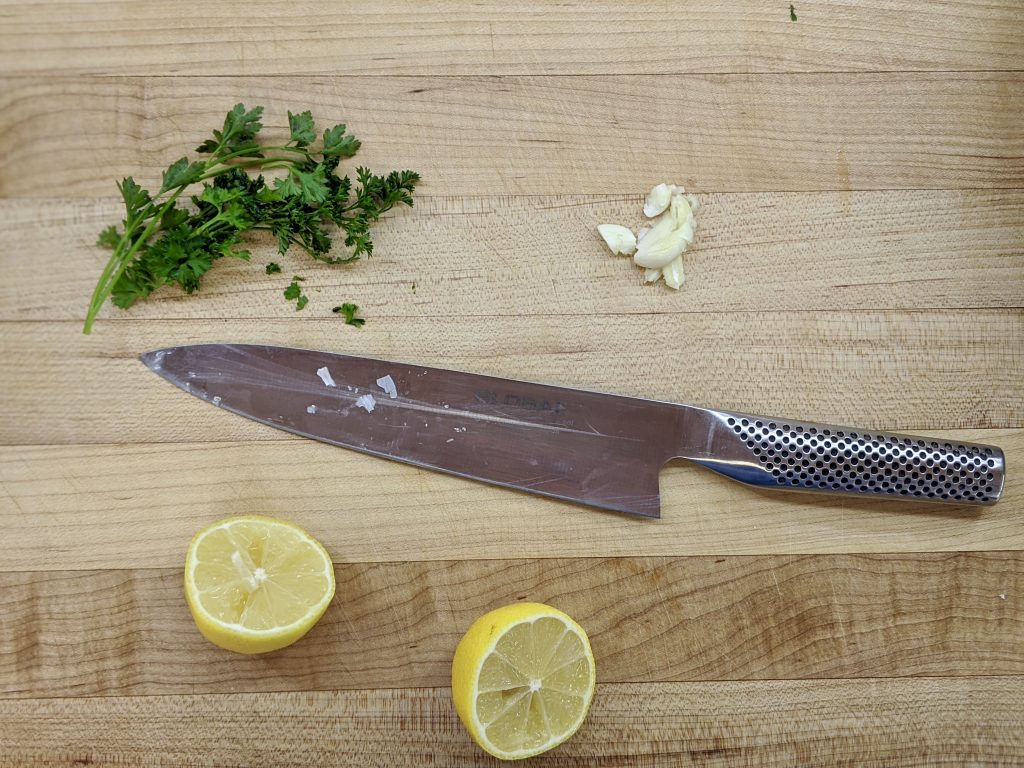 To make tehina, tahini (not confusing, we know) is beaten with lemon juice and water to make a pale, thick cream. Garlic and salt were added to taste and the sauce was garnished with paprika and parsley.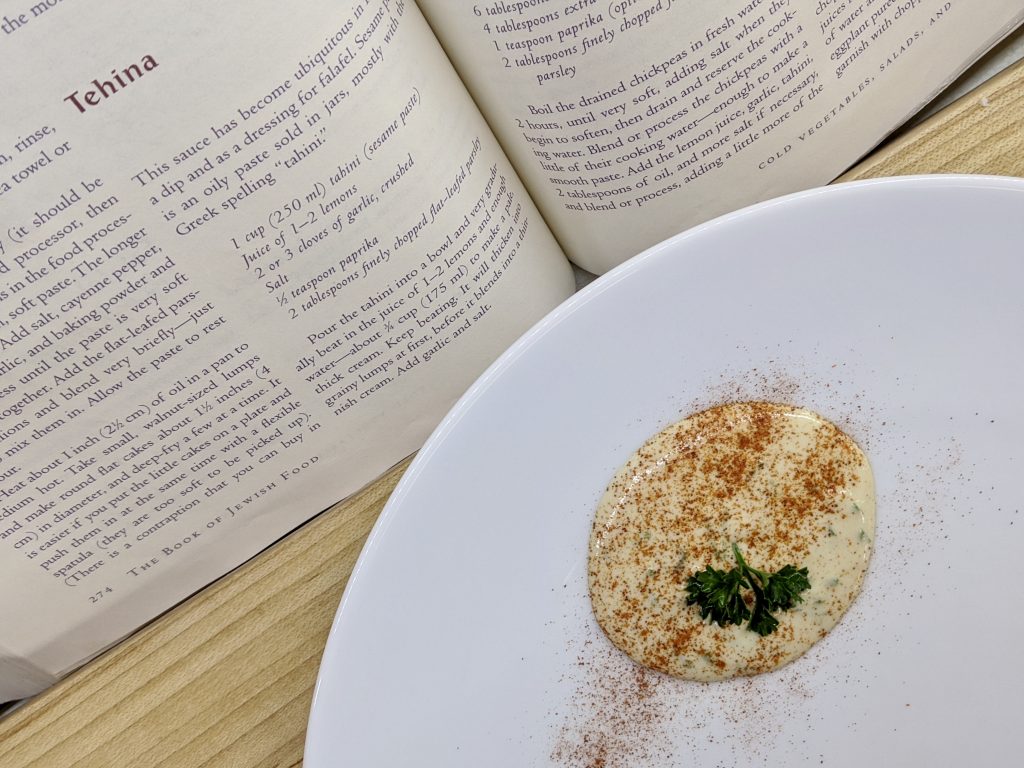 The tahina was tasty, and not too garlicky, of which we were a bit concerned. It was light and creamy and was a nicely smooth accompaniment for the falafel. It held up well in the fridge and could easily be made ahead of time as a party dip.
Hummus means chickpea in Arabic, which makes sense as it the main ingredient in this recipe! Theories of the origin of hummus are muddled, but it is clear that at some point in time, somewhere in the Middle East, this dip was invented (very specific, I know!). Regional preparations differ wildly, along with a variety of vanishes (everything from tomato to sautéed mushrooms to pickles and pine nuts is used) and it is eaten with everything from pita to crackers. As with the above two recipes, chickpeas are also high in protein, making it a great accompaniment to many vegetarian dishes.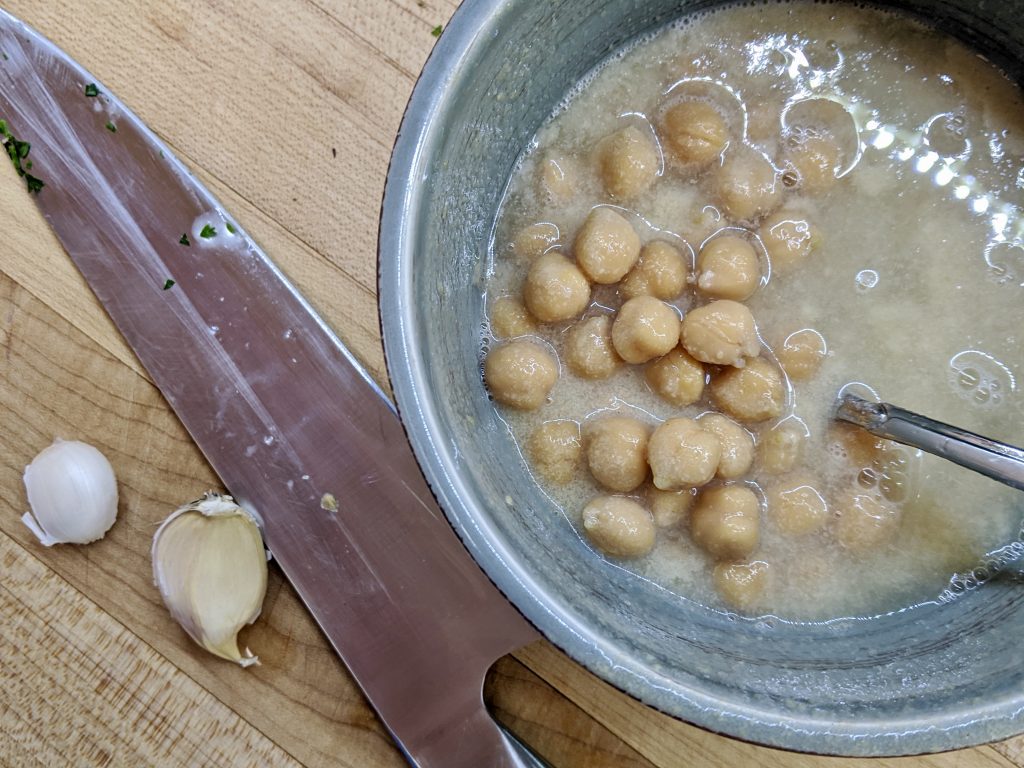 Having run out of dried chickpeas, we instead went with canned, which also allowed us to skip the soaking and boiling portion of tonight's prep work. The chickpeas were blended in their fluids until smooth, after which the tahini, lemon juice, garlic, and salt were blended into the paste. Once a creamy texture had been reached, the hummus was served garnished with parsley and paprika.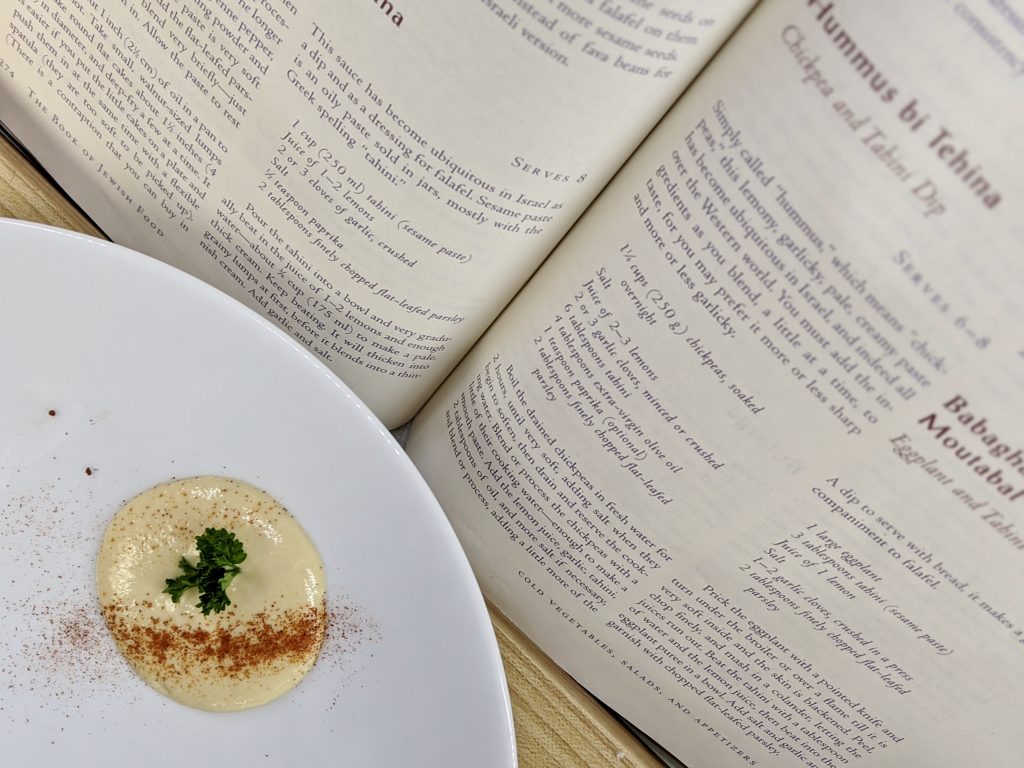 We quite liked this hummus, being very bright and light and smoother than what we typically buy at the store. It was a great accompaniment to the falafel and kept quite well in the fridge (which was was wonderful, since even after halving the recipe we ended up with two cups of it).
Our last dip of the night was this eggplant puree – where I favor hummus, Gary indulges in babghanouzh, which is reflected on our order every time we visit our favorite local Greek restaurant. It is typically served either with bread or falafel, of which we achieved both tonight!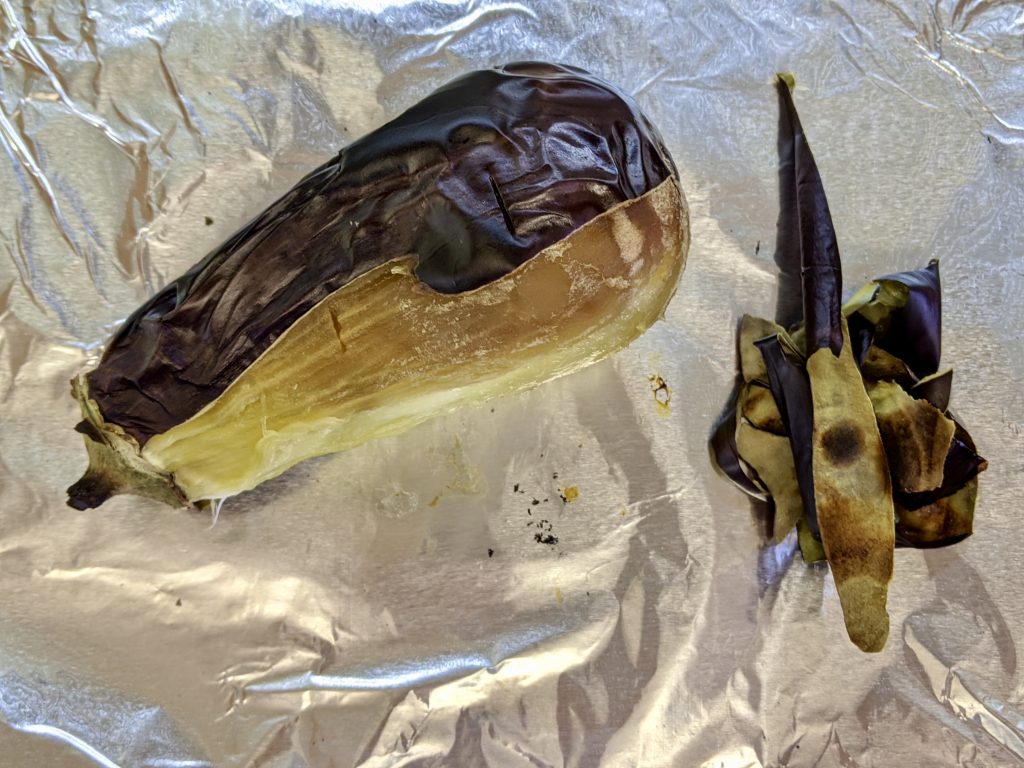 To start, an eggplant was repeatedly stabbed pricked with a knife and then turned under a broiler until the skin had blackened and the insides were soft. After the fire alarm had been set off several times, the eggplant was ready to be peeled and mashed. The mashed drained in a colander while tahini was beaten with water and lemon juice. This was mixed with the mashed and drained eggplant and seasoned with salt, garlic, and parsley.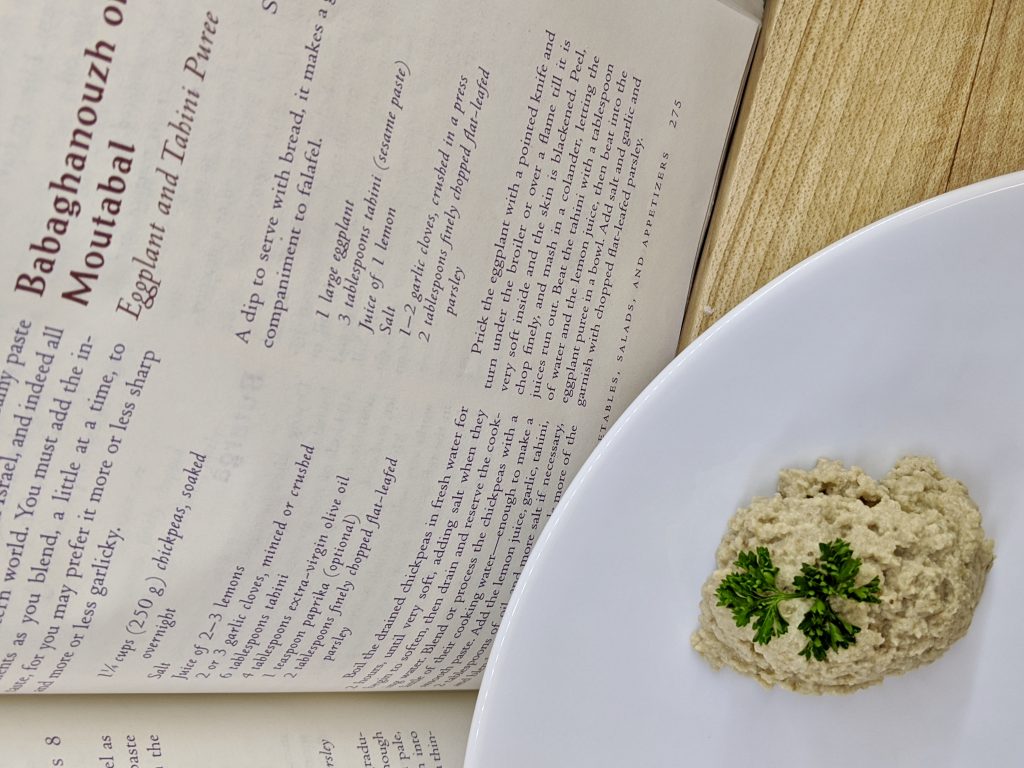 The babaghanouzh was tasty, but not as creamy as we normally eat in restaurants, perhaps due to there being no added olive oil in this recipe. Because it was a bit thicker, it held up quite well to the bread and made for some tasty leftovers later in the week.
The Jewish preparation of dolmas favors them being cold and meatless whereas Muslim preparations usually involve them being hot and filled with ground meat. Despite Gary's objections, we stuck to the Jewish recipe to make this Syrian/Turkish variation for tonight's finger-food meal. We did need to rely upon good, old Amazon for the vine/grape leaves, which arrived tightly packed and lightly brined just in time for tonight's meal.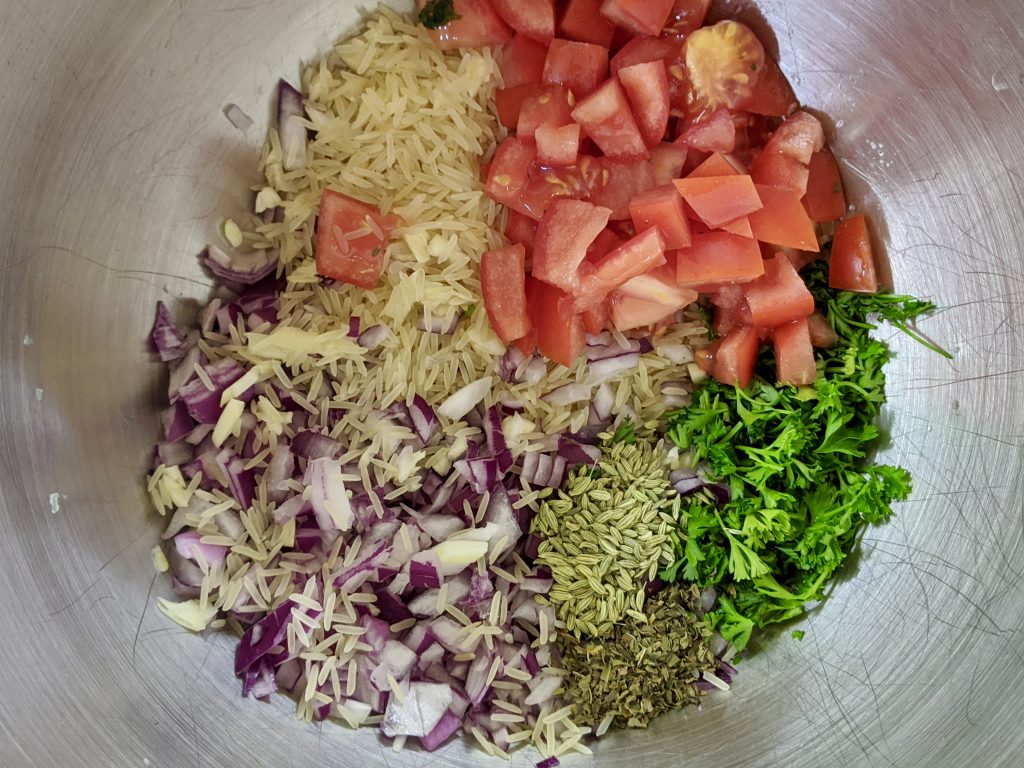 The leaves were gently unrolled and then filled with a mixture of raw basmati rice, diced tomatoes, diced onion, mint, parsley, fennel leaves, cinnamon, allspice, salt, and pepper. The leaves were then loosely rolled up like little cigars (loosely, because if packed too tightly they would burst due to the expanding rice). These were then carefully placed on a bed of lettuce leaves (to prevent burning) in a saucepan. Water was mixed with olive oil, sugar, and lemon juice, which was then poured over all of the tiny vegetable cigars. This simmered, covered for an hour until the rice was cooked through.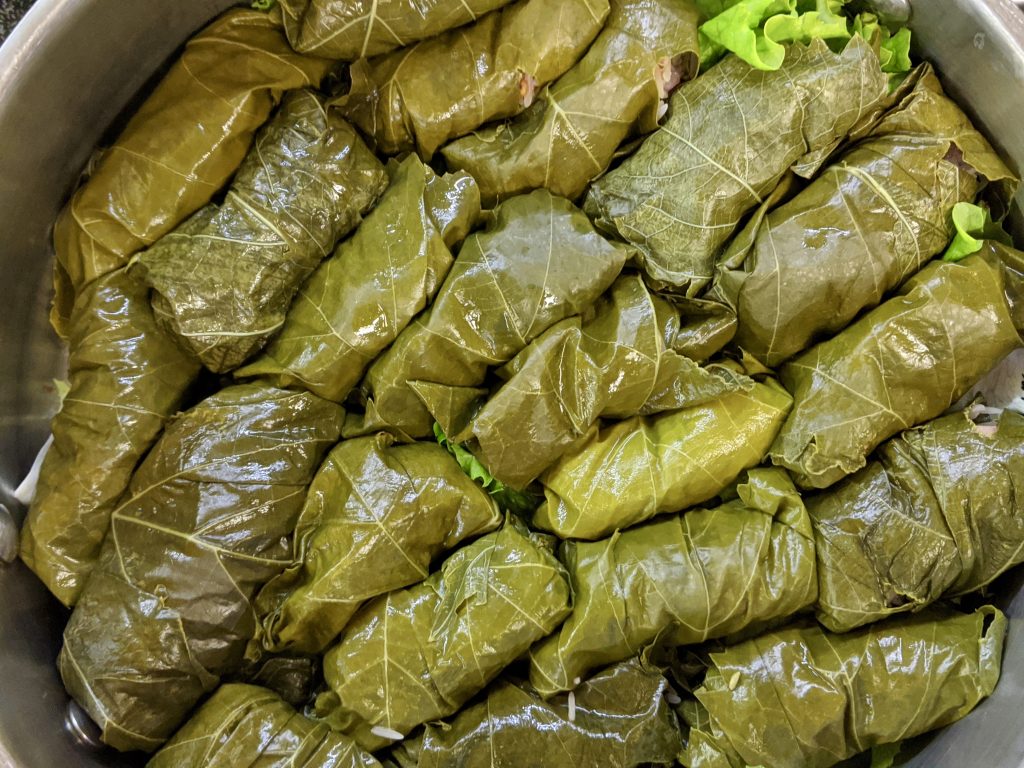 The dolmas were slightly briny, savory, and quite bright little mouthfuls. Even though Gary was disinclined to admit it, they were still quite tasty without the meat, as well as very filling. They could have used a bit more time in the pan, as the rice was still a little al dente, but overall this quite a good dish!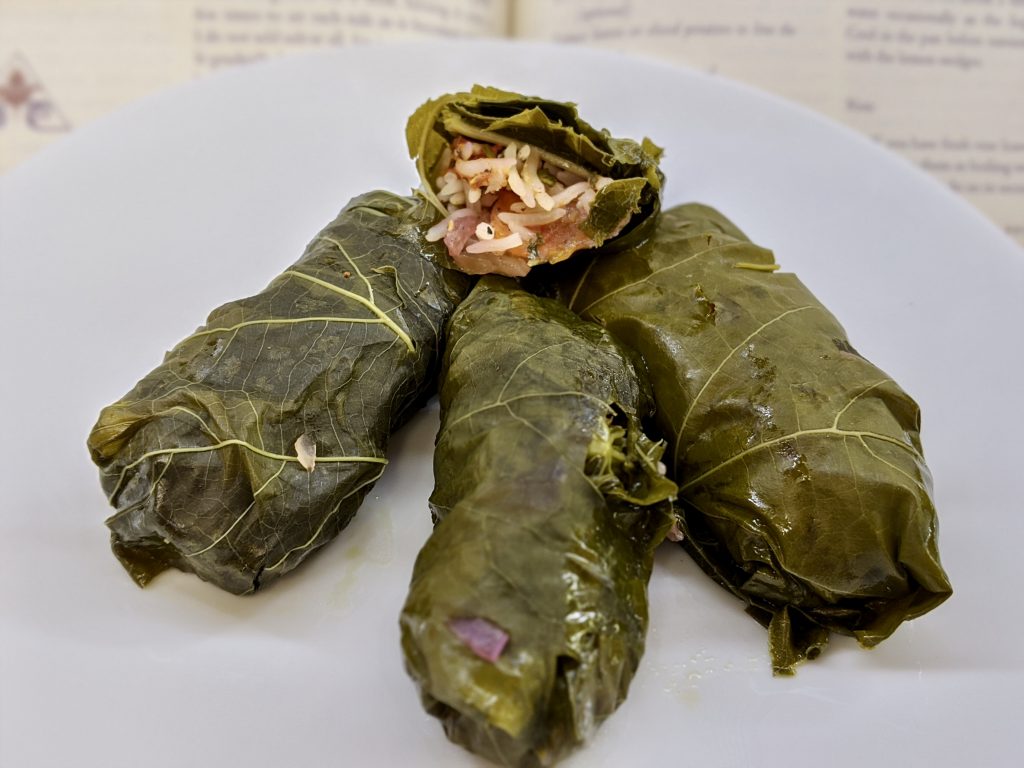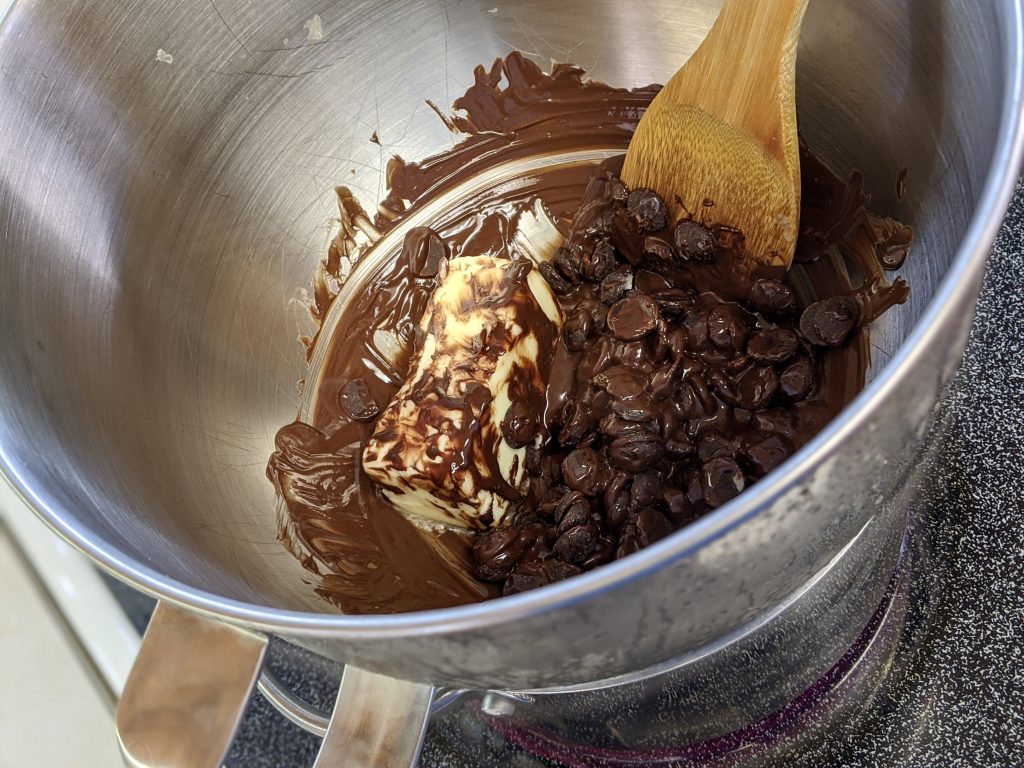 This is Claudia Roden's family chocolate cake recipe, which in addition to being found in The Book of Jewish Food, was also featured in her first Middle Eastern cookbook. To start the cake, chocolate and butter were melted together in a metal bowl placed over a pot of boiling water. This use of a double boiler is critical when cooking delicate ingredients that may seize or separate over direct heat (like chocolate!).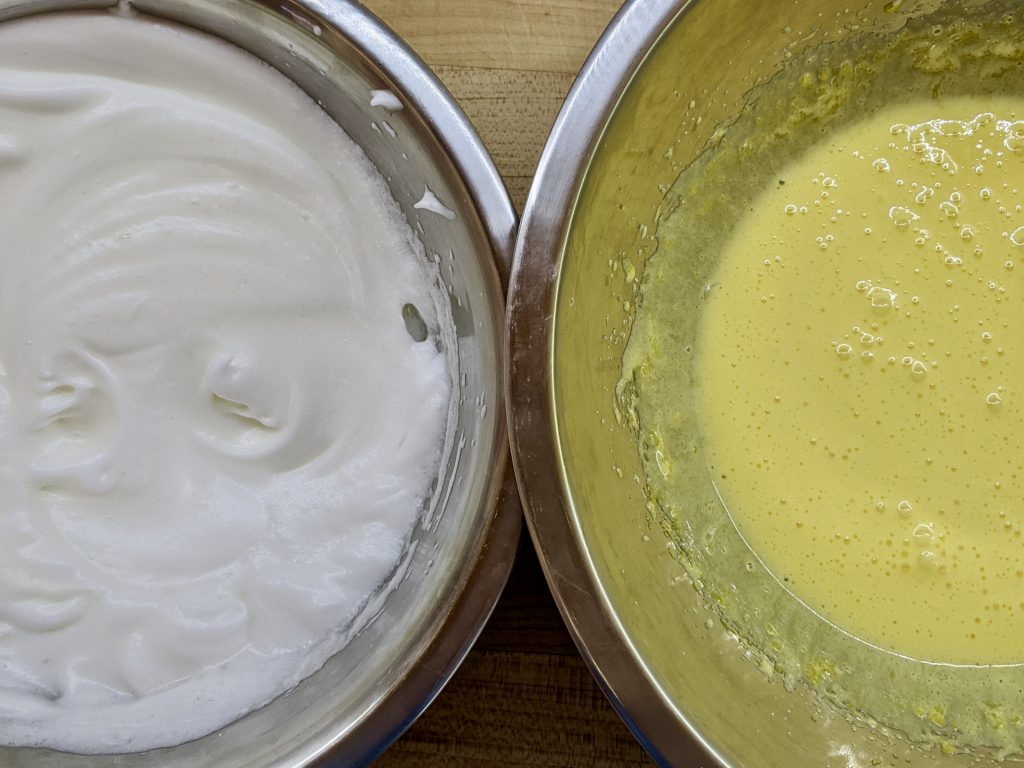 Once the chocolate was melted, egg yolks were beaten with sugar until pale and egg whites were beaten into stiff peaks. Ground almonds and the chocolate and butter mix were combined with the yolks after which the whites were folded into the main mix. This was gently poured into an oiled springform pan and baked at 350 degrees for forty minutes until firm.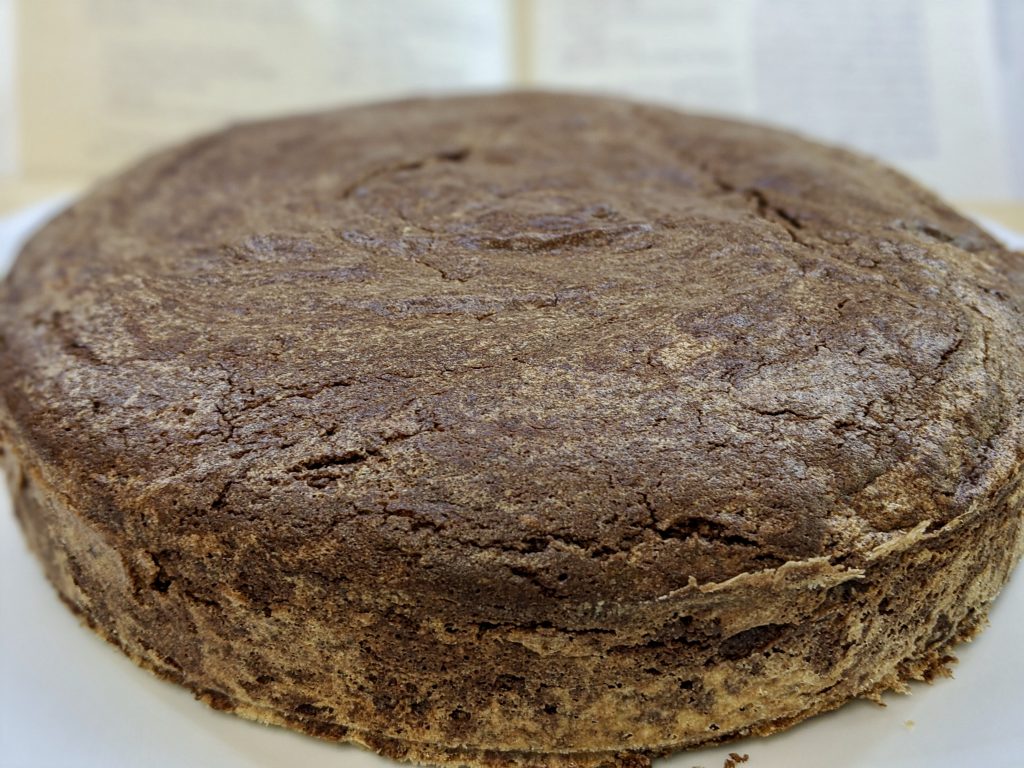 This is probably one of the best-looking cakes I have ever made – it did not fall, it did not pooch at the sides, it did dip in the middle, nor did it call me offensive names. Besides being terribly polite by doing what it was supposed to do, the cake was true to its name and very chocolatey. It was also quite dense, so our only complaint was that it was just a touch dry, but not unappetizingly so, so we would call this cake a win!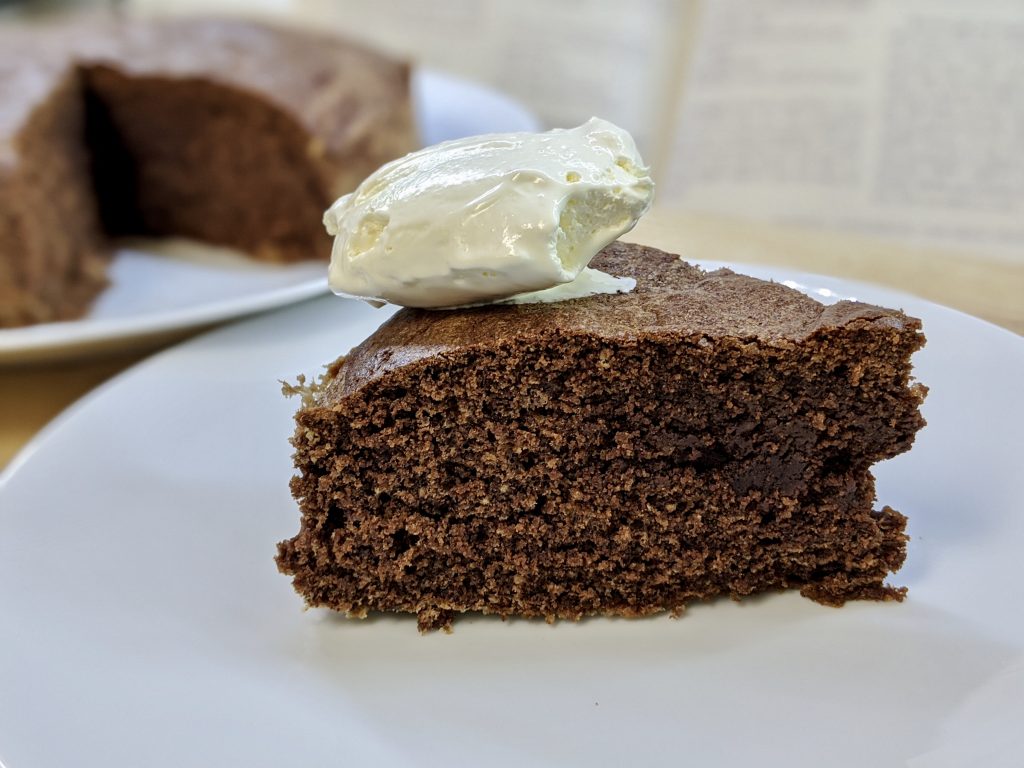 AND IN THE END, THE FOOD YOU MAKE IS EQUAL TO THE CARE YOU TAKE…
So how was Made In Marrow's meal number 72? As a reminder, our rating system is based on sticks of butter (because butter is best!), with 1 being the absolute worst and 5 being out of this world. Sticks of butter are assigned to Difficulty (how many kitchen fights were needed to complete the meal?), Tasty Goodness (was it a palate poor or did it make our mouths merry?), and Repeat Customer (how likely are we to return to the recipe?).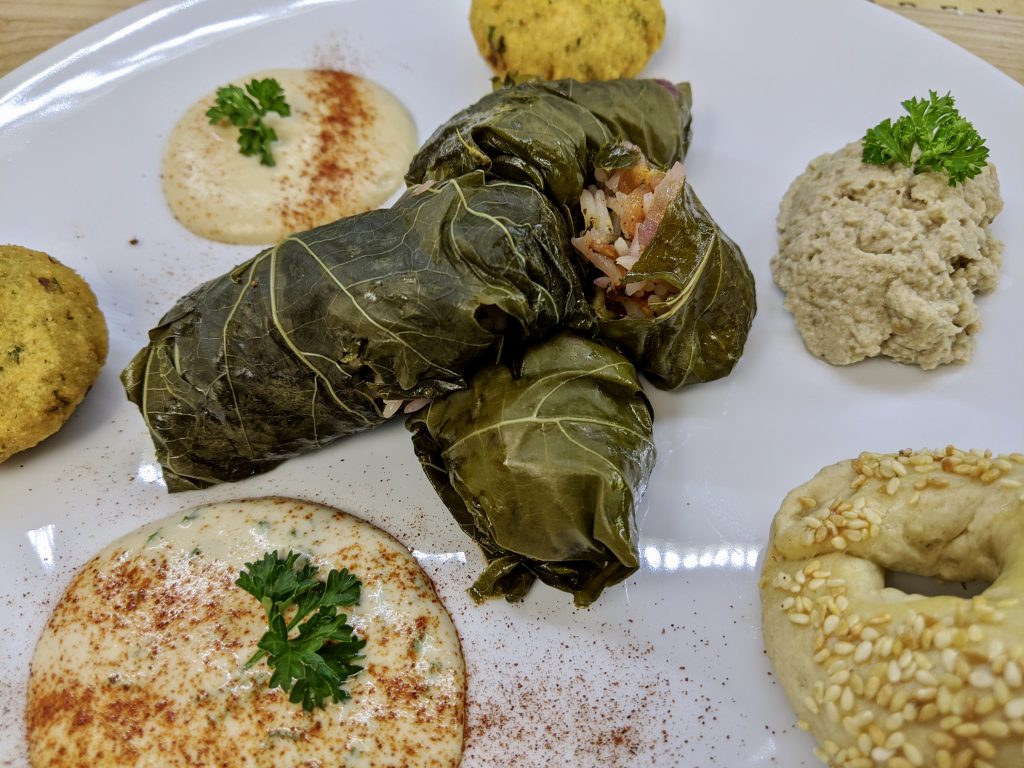 Difficulty  [][][][] 4/5
This dinner took many, many hours to make, lots of rolling and turning and shaping, and multiple oven temperatures and times, so tonight's meal was a bit challenging, to say the least.
Tasty Goodness
[][][] 3/5 Kahk – Savory Bracelets – Perhaps if they were a bit bigger they could be a bit less crunchy…
[][][][] 4/5 Falafel – Fava Bean Fritters – Had they been slightly moister, they would have gotten a perfect score!
[][][] 3/5 Tehina – Creamy and classic
[][][][] 4/5 Hummus bi Tehran – Chickpea and Tahini Dip – Bright and creamy
[][][] 3/5 Babaghanouzh or Moutabal – Eggplant and Tahini Puree – Could have been just a bit creamier
[][][][][] 5/5 Feuilles de Vigne – Yalandji Dolma – Yaprak – Warak Einab – Cold Stuffed Vine Leaves – Perfect score, even though they were meatless!!
[][][][] 4/5 Gâteau au Chocolat – Our Chocolate Cake – Could have been just a bit moister, but was quite the chocolatey delight!
Repeat Customer
[][] 2/5 Kahk – Savory Bracelets – These were quite a bit of work…
[][][][][] 5/5 Falafel – Fava Bean Fritters – Easy to make and fun to eat!
[][][] 3/5 Tehina – Elais is a hummus fan and Gary is a babaghanouzh fan, so we would prefer one of those in the future
[][][][] 4/5 Hummus bi Tehran – Chickpea and Tahini Dip – Elais quite liked this bright recipe
[][][] 3/5 Babaghanouzh or Moutabal – Eggplant and Tahini Puree – Gary would make this creamier next time
[][][][][] 5/5 Feuilles de Vigne – Yalandji Dolma – Yaprak – Warak Einab – Cold Stuffed Vine Leaves – Worth the time and effort!
[][][][] 4/5 Gâteau au Chocolat – Our Chocolate Cake – We will probably ice this next time…
Tonight's dinner was a great way to wrap up the "Appetizer" section of The Book of Jewish Food and the result was nothing short of magical – now to find a magic word opposite of "Open, Sesame" that helps to close things!
Sip, sup, and savor all you can, you curious cooks,
Elais & Gary