Just want the recipes and none of that other wordy nonsense? Click the links below!
Pastilla au Poisson – Fish Pie with Filo Pastry
Ragout de Morue – Stewed Salt Cod
Burgul bi Jibn – Cracked Wheat with Cheese
Meal the Ninetieth
Tonight's meal features two ingredients novel to our kitchen – salt cod and halumi cheese. As we have discussed in previous weeks, our local grocery selection has become a bit unpredictable, so there have been a few delays in pursuing our culinary adventures. However, we were able to finally track down these two elusive ingredients and resume our foray through The Book of Jewish Food. And with these recipes, tonight's meal puts us only 3 weeks out from the end of the "Fish" section in Claudian Roden's Jewish tome.
So pull out your fish forks and join us for tonight's seafood supper – we hope you enjoy!
Pastilla au Poisson – Fish Pie with Filo Pastry
A pastilla is a large Moroccan pie made with a thin pastry that Claudia Roden says that very few people can achieve, due to the delicacy of the dough. Her recommendation is to substitute filo for the thin pancake-like layers in this fish pie, which is what we opted for while making this fish pie.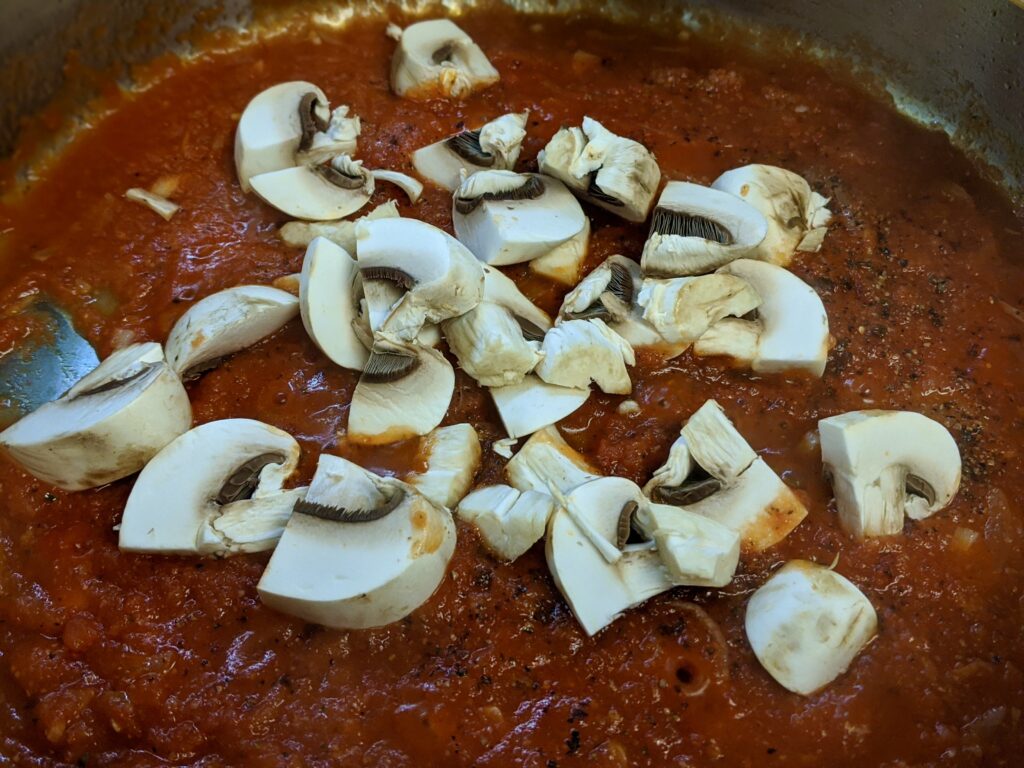 Tackling the filling was the first step – our onion was fried until soft after which garlic was added to the pan and sautéed until aromatic. Our garden tomatoes were blended until they achieved a state of liquidity and then poured into the pan. The beginnings of the sauce were seasoned with sugar, salt, pepper, and cloves, then simmered for five minutes. Our fish selection of cod was added to the pan and simmered for another five minutes until almost fully cooked.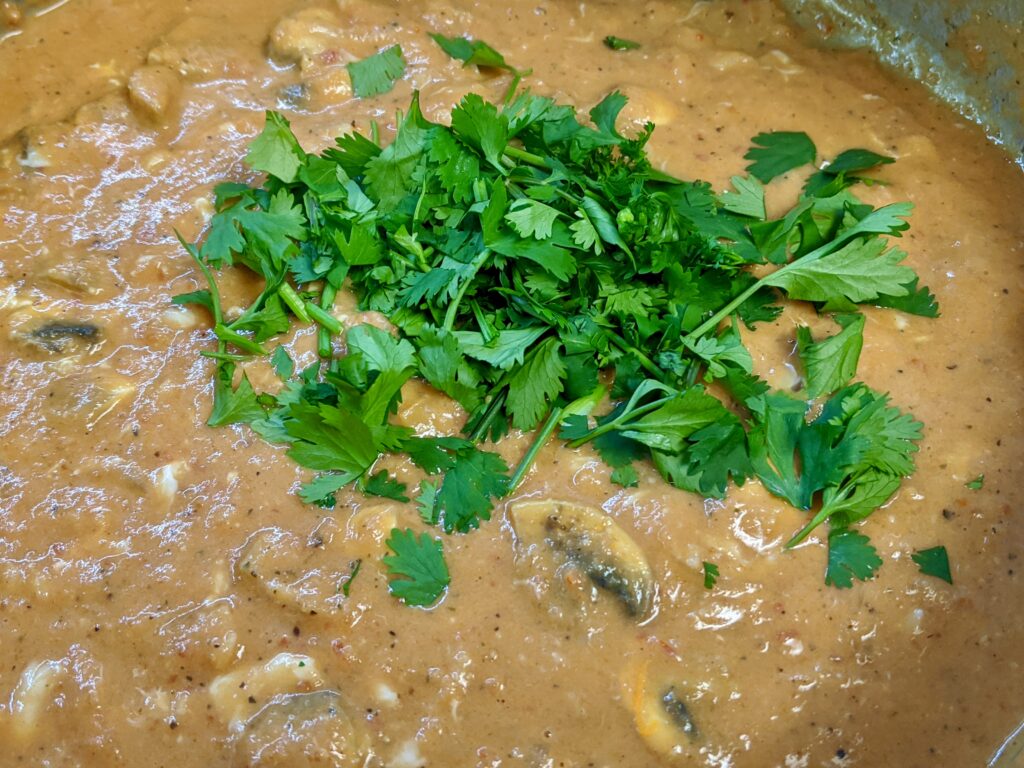 As per Roden's directions, we then removed the underdone fish from the pan and added the mushrooms, simmering them for 8 minutes. Once the mushrooms had just become tender, coriander was added to the mushroom and tomato mix, along with several lightly beaten eggs, and the sauce was constantly stirred until it thickened. The fish was then added back to the mix and broken up into small pieces and mixed into the sauce.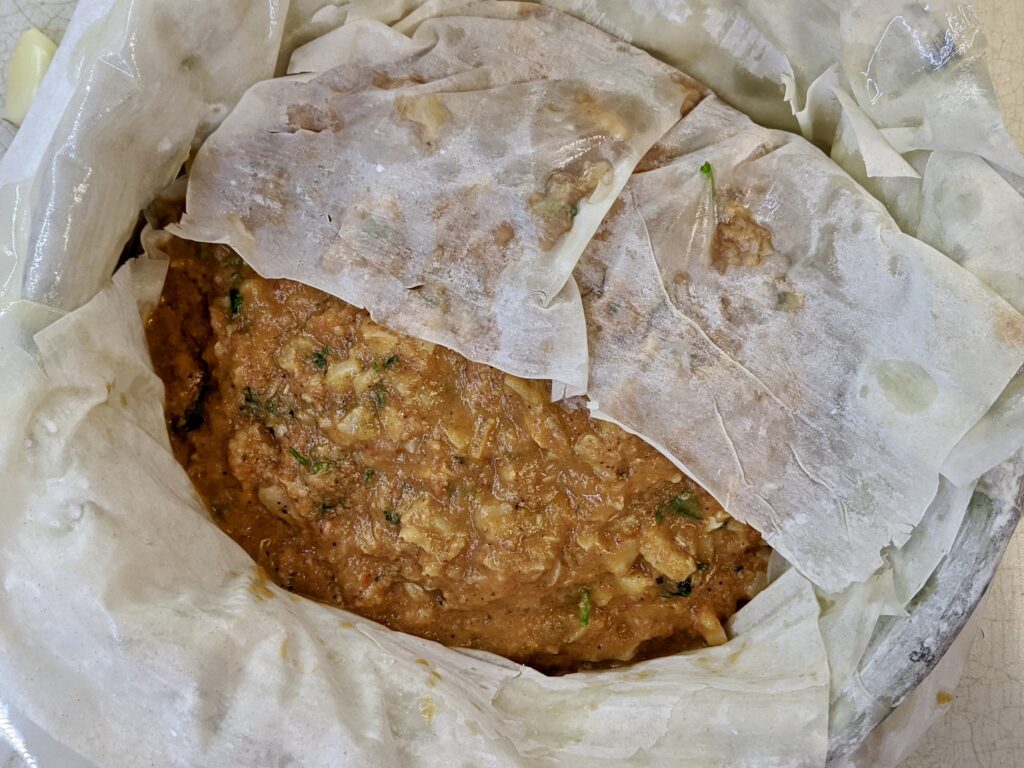 While the filling cooled for a bit, the pie was assembled. Five sheets of oiled filo were layered into a springform pan, after which the filling was carefully spooned into the baking pan. The overlapping edges of the filo were brought up over the filling and then brushed with an egg wash. The pie was baked at 375F for about 40 minutes until the top was crisp and golden.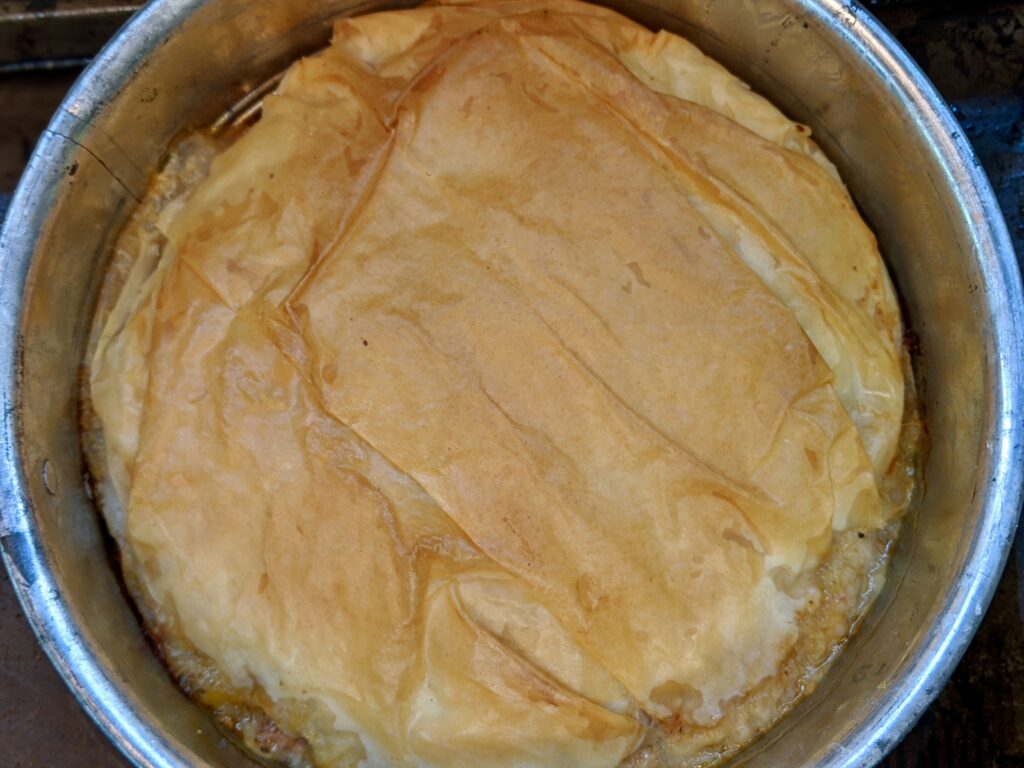 The pie was…interesting. The flavor was nice, with a good balance between the meatiness of the cod, the acidity of the tomatoes, and the earthiness of the mushrooms. However, the textures were all very soft and the sauce, although thickened, was still a sauce, which made the bottom of pie quite soggy (and no one likes a soggy bottom!). Ultimately the flavor was good but the texture was not, so we would probably not make this dish again.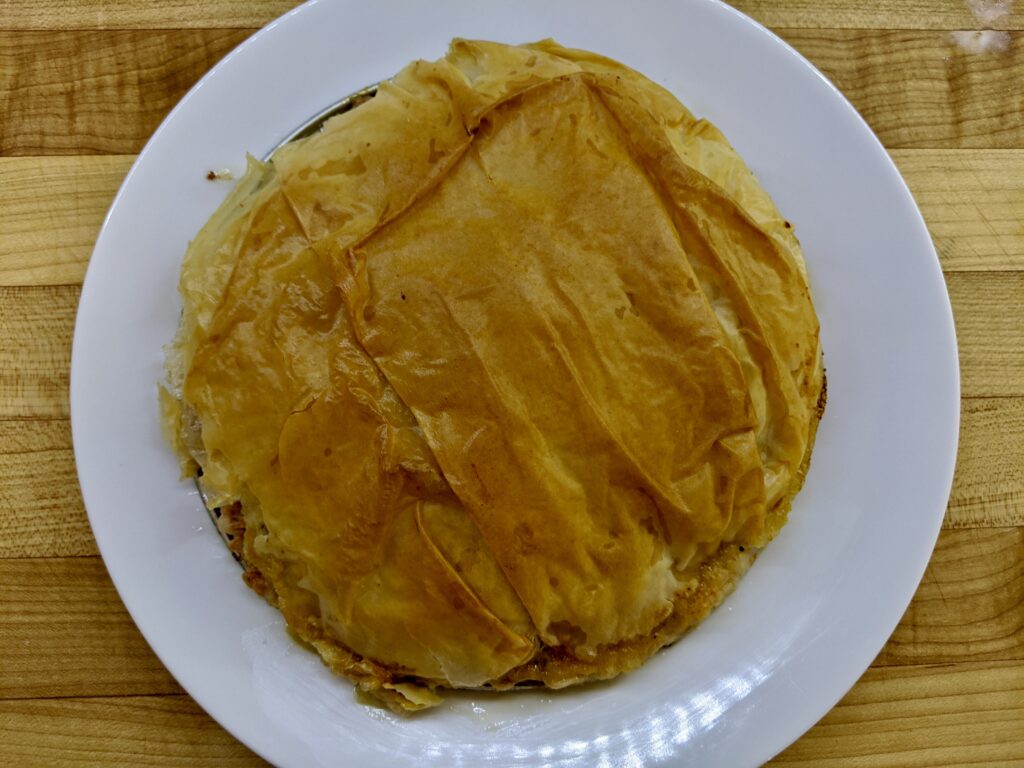 Ragout de Morue – Stewed Salt Cod
Jewish families living in the Iberian Peninsula (read: Spain and Portugal – which we are sure is a reminder which you did not require) were quite fond of salt cod, the love of which was also brought by the North African Jews to France during multiple immigrations. Interestingly enough, the production of salt cod dates back more than 1000 years to the time of the Vikings. Dried in the wind and sun along the seaside, this preserved food could last for several years, not only making it an ideal source of nourishment for long voyages but also for creating a valuable source of commerce for seafaring traders.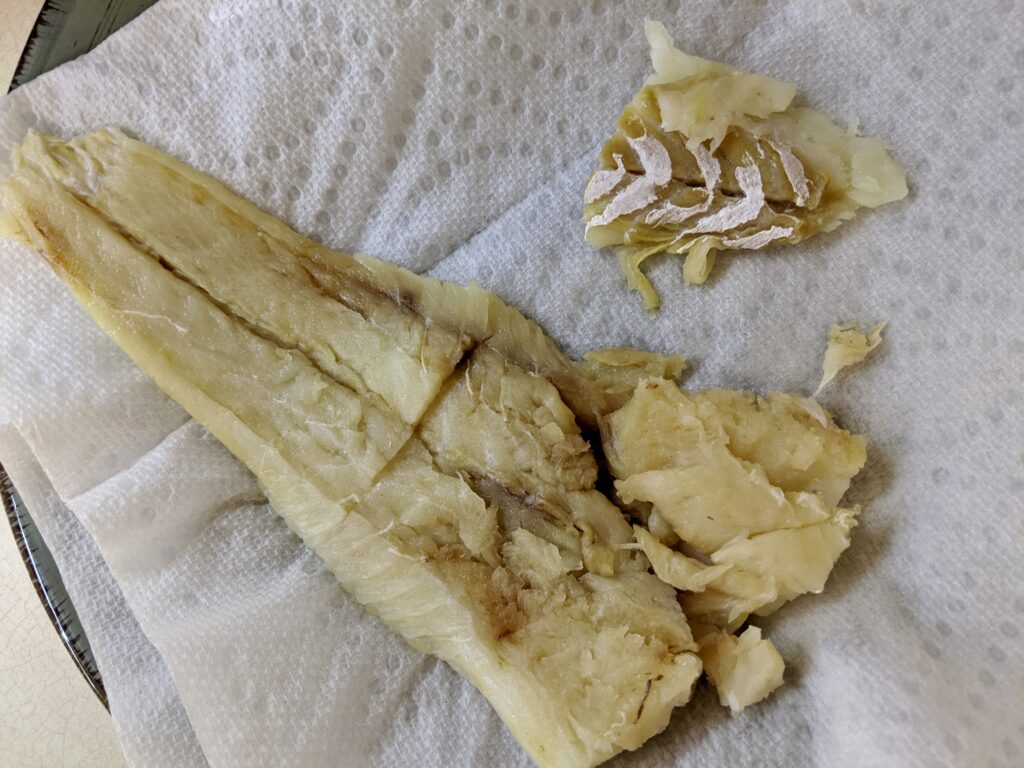 Today, as the world stocks of cod have continued to decline, a whole variety of fish are often marketed as "salt cod", which has become a generic term for any preserved white fish. We skipped over this recipe and left it until the end of the fish section of The Book of Jewish Food as we could not find salt cod, and only accidentally came upon it during an outing to an Asian market in Albuquerque. Being in short supply, we only used on fillet for tonight's meal and saved the other half for a fried rice dish that Gary had been itching to make with this elusive ingredient.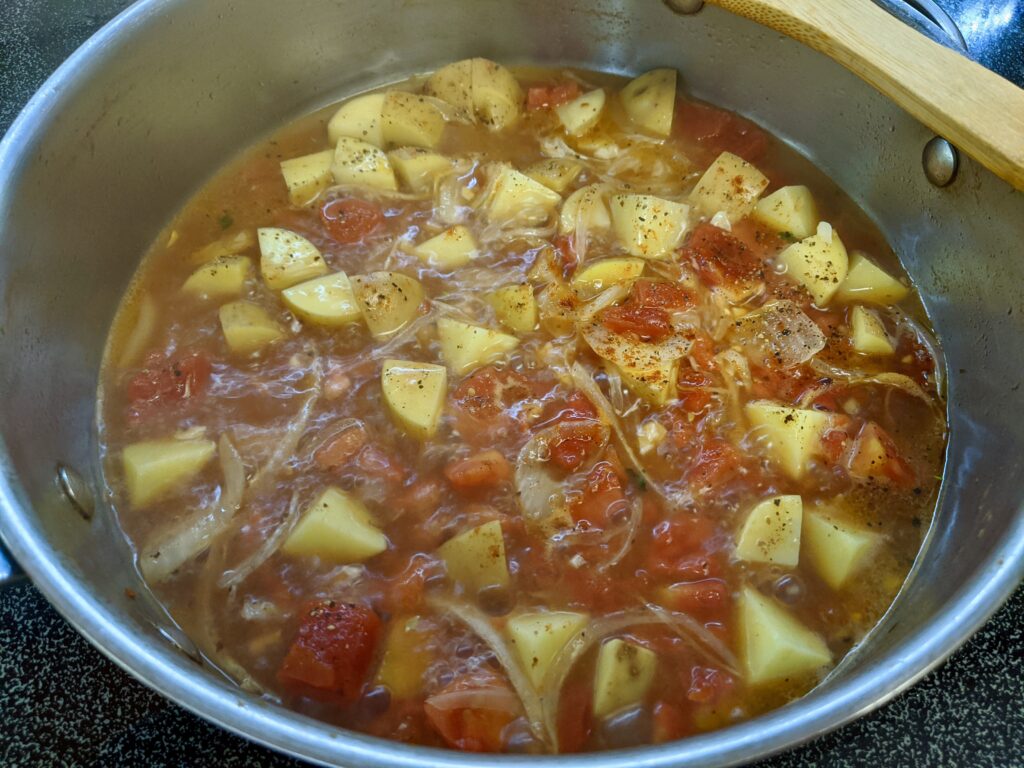 To start the dish, the salt cod was desalted by soaking in water for several hours, after which it was cut into cubes. The onion was fried until golden after which garlic was added to the pan and sautéed until aromatic. Our garden tomatoes were added to the pan, along with potatoes, chilies, bay leaves, and parsley, all of which was covered with water and simmered for 20 minutes. Once the potatoes were tender and the sauce had reduced, saffron was added to the mix along with the salt cod, all of which simmered for another 10 minutes until done.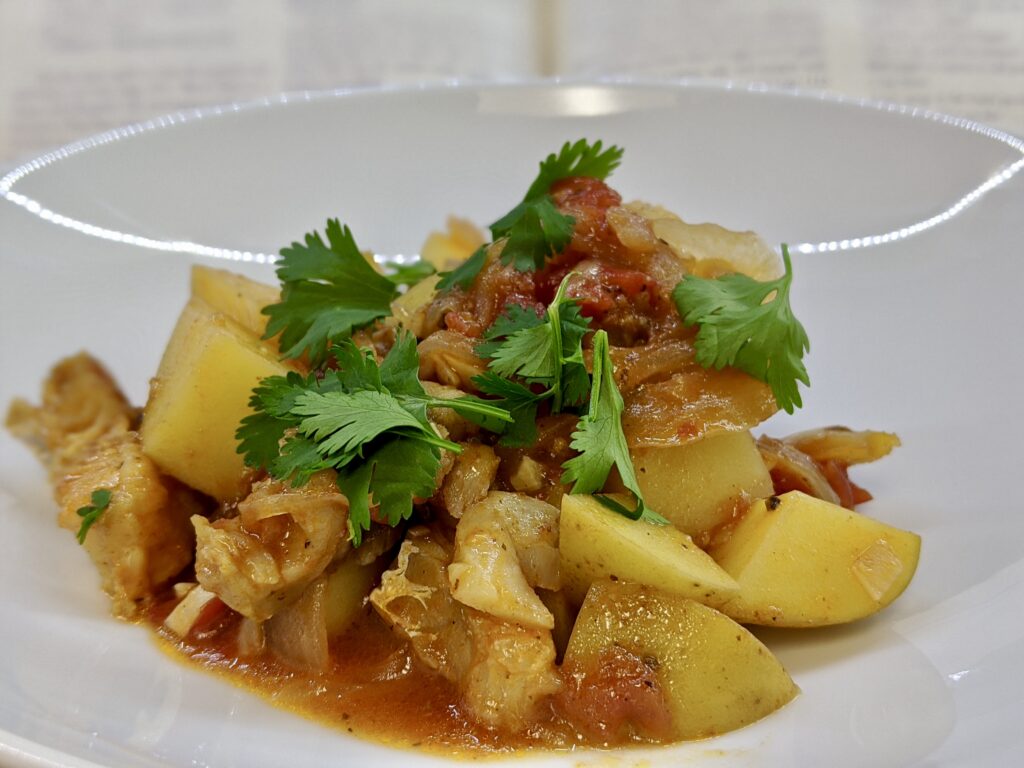 While the dish smelled good, the flavors did not quite reach the level of those pleasant aromas. Despite the fact that salt cod was the main ingredient, it actually was fairly hard to detect (as was, disappointingly, the saffron), with the dish being fairly subtle in flavor. In fact, it could have actually done with a bit more salt, as well as a spicier component to help brighten up the dish. In the end, we were not sure if salt cod would have been any different from regular cod in this recipe, so if that one ingredient is what is holding you back from making this dish, we are pretty sure that any other white fish would work!
Burgul bi Jibn – Cracked Wheat with Cheese
Our starchy side of the evening is a Thursday-night special from Aleppo and features a new cheese for us! Never ones to shy away from something new (especially if it is cheese), we were pretty excited about this recipe. And surprisingly, halumi was actually available at our local grocery store! Halumi (or halloumi) is semi-hard, brined cheese made from a mixture of goat's and sheep's milk, with early recipes dating back to the 14th century. It is much debated, but its origins are thought to lie in Cyprus and was a commonly eaten cheese in medieval Egypt. Its higher-than-normal melting point makes it ideal for grilling as it is similar to a very firm mozzarella.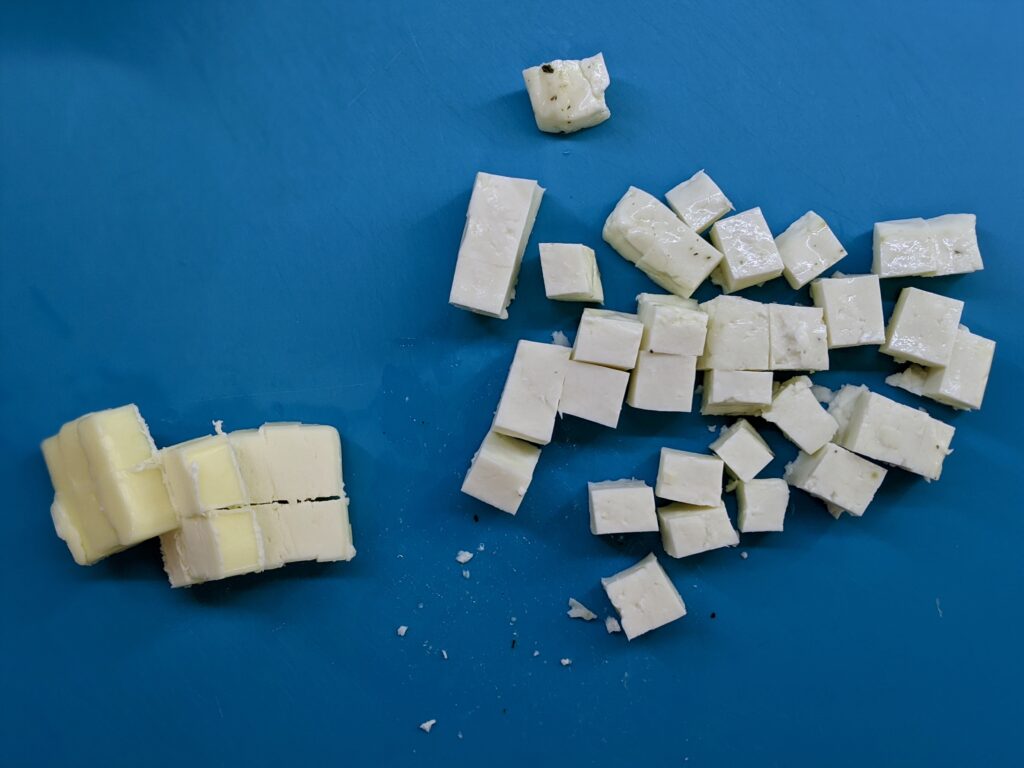 Our cheesy bulgar salad began by frying onions in oil until golden. While the onions were sizzling away, the bulgar wheat was boiled in four cups of water and seasoned with salt and pepper then simmered over very low heat for about 15 minutes until all the water was absorbed. The cubed halumi was mixed in along with a little extra butter (because butter is better) and stirred until the halumi was heated through.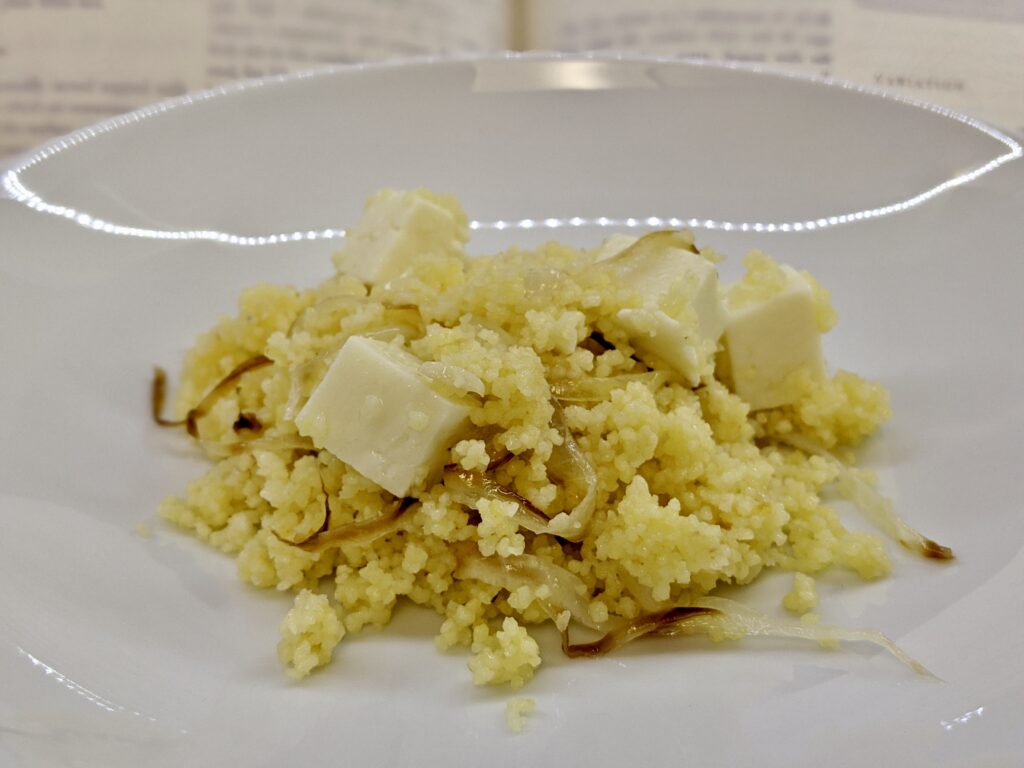 This dish was terribly tasty – but what else would you expect? Butter and cheese, who cares what else is with it? Well actually, I'm a big fan of couscous, so I care, just because it made it that much better. All in all, this recipe was a hit and we would definitely enjoy it again.
Abricotines – Apricot Balls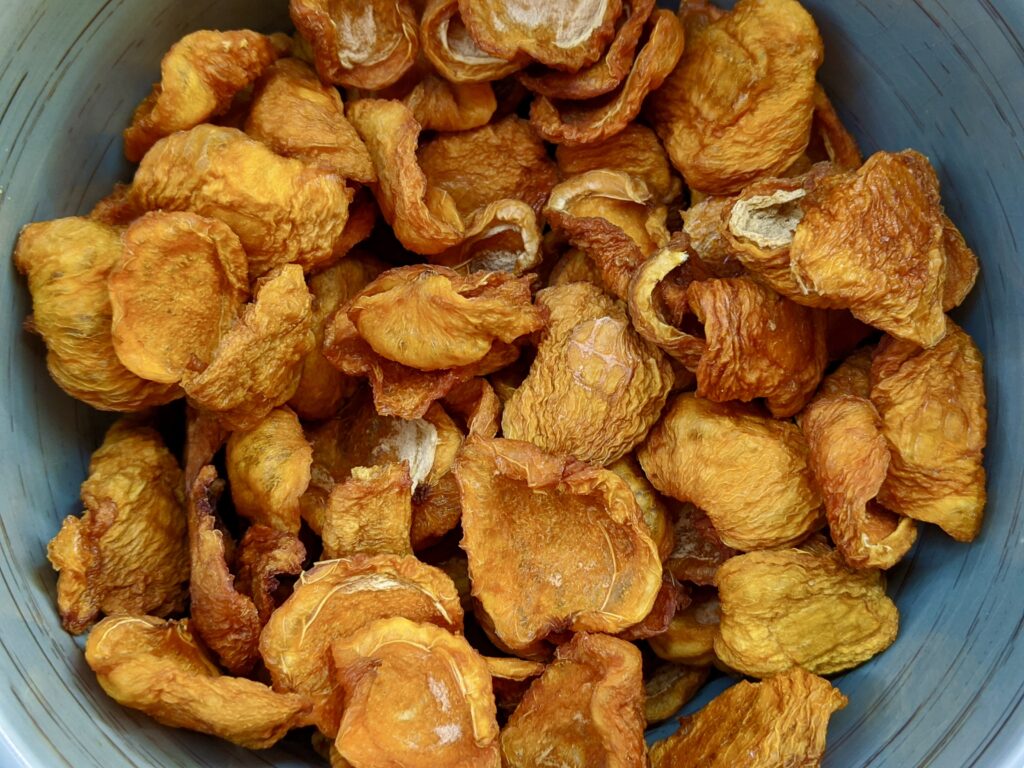 Roden tells us that these patisseries are a favorite amongst the Brooklyn Syrian community. They are fairly simple, consisting of only 3 ingredients and she recommends not to soak the apricots prior to blending them. We actually dipped into our store of dried apricots from last year's backyard harvest, of which we have been steadily eating our way through.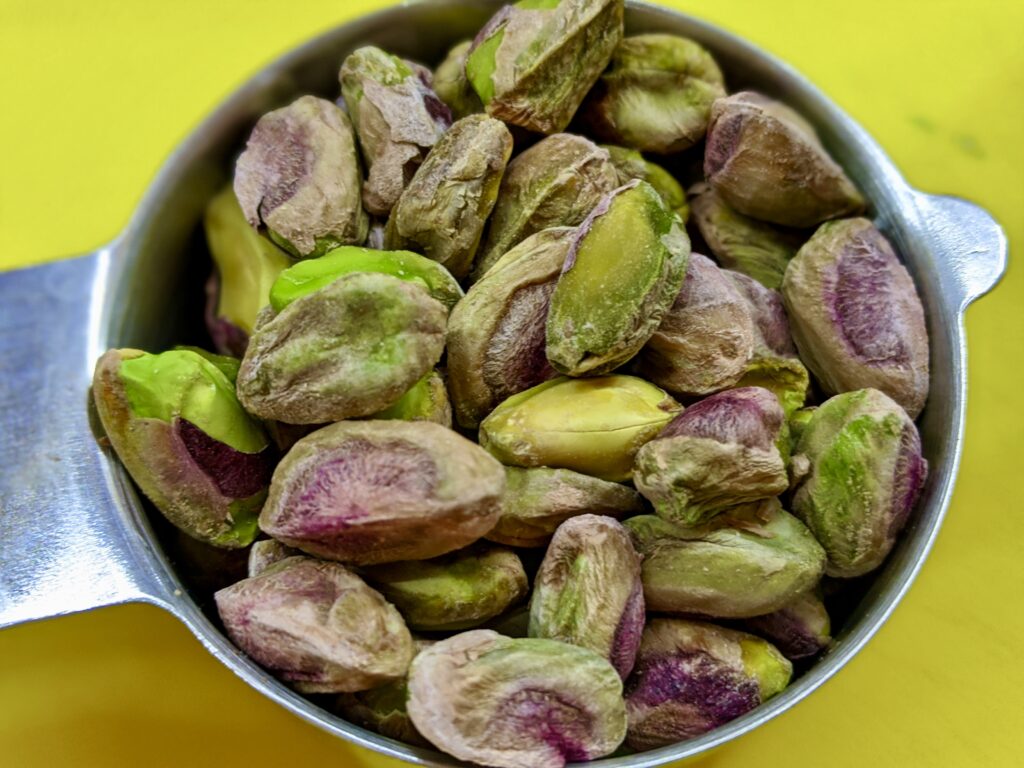 The recipe starts off by using the food processor to blend dried apricots into a smooth paste, adding as little water as necessary. Chopped pistachios were then briefly worked into the orange-colored paste then rolled into walnut-sized balls and then went for a final roll in confectioners' sugar. No baking was required and the little desserts were ready to eat!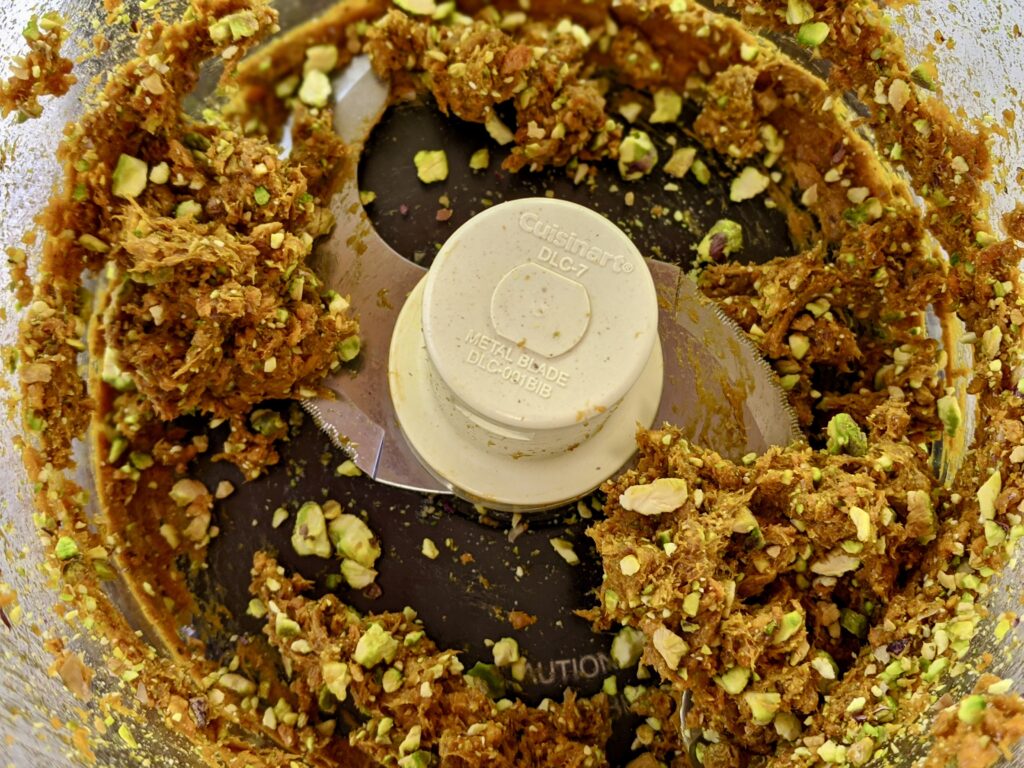 The apricot balls were pretty interesting – they had the texture of marzipan and were just so slightly sweet, both from the subtleness of the apricot as well as from the dusting of confectioners' sugar on their exterior. The pistachio added a nutty and just salty enough component to the treat, as well as a nicely different textural component. This was not our favorite dessert so far, but it was certainly very different, which we appreciated!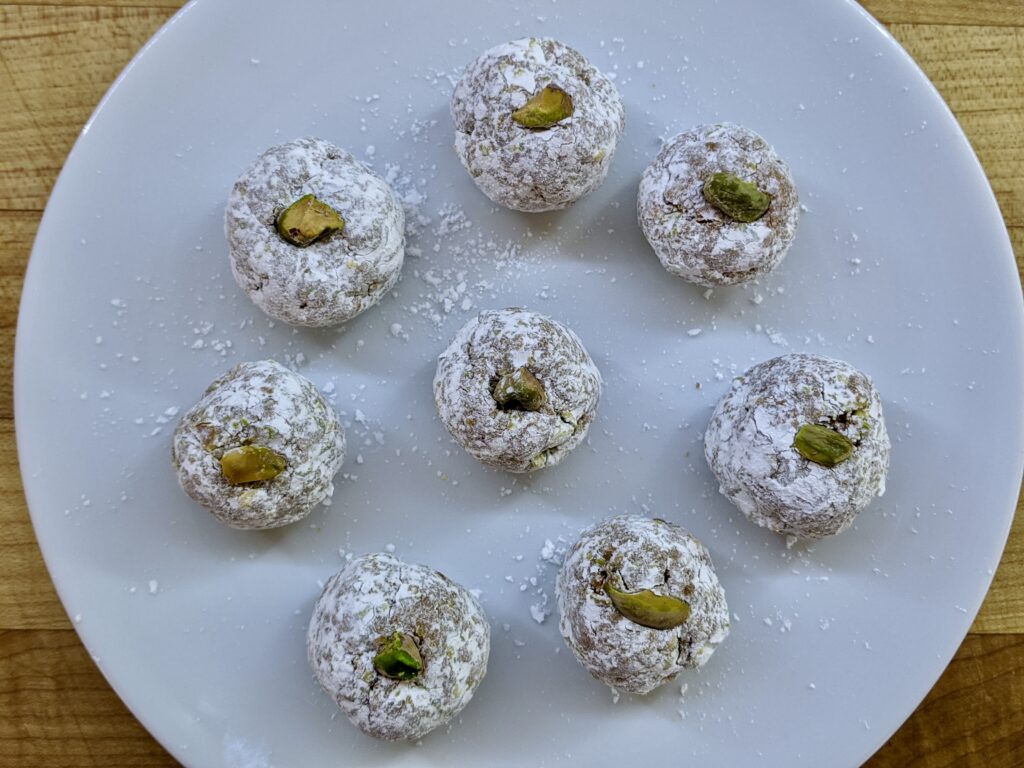 AND IN THE END, THE FOOD YOU MAKE IS EQUAL TO THE CARE YOU TAKE…
So how was Made In Marrow's meal number 90? As a reminder, our rating system is based on sticks of butter (because butter is best!), with 1 being the absolute worst and 5 being out of this world. Sticks of butter are assigned to Difficulty (how many kitchen fights were needed to complete the meal?), Tasty Goodness (was it a palate poor or did it make our mouths merry?), and Repeat Customer (how likely are we to return to the recipe?).
Difficulty [][][][] 4/5
Any time filo is involved, dinner gets a little bit more difficult, so, between layering sheets and blending dried apricots to an actual paste, tonight's meal turned out to be a bit more challenging than expected.
Tasty Goodness
[][] 2/5 Pastilla au Poisson – Fish Pie with Filo Pastry – The flavor was okay, but the texture was not
[][][] 3/5 Ragout de Morue – Stewed Salt Cod – Again, the flavor was just okay, but something was definitely needed to give this dish a little more oomph
[][][][] 4/5 Burgul bi Jibn – Cracked Wheat with Cheese – mmmmmm, cheesy buttery goodness!
[][][] 3/5 Abricotines – Apricot Balls – A tasty and different patisserie
Repeat Customer
[] 1/5 Pastilla au Poisson – Fish Pie with Filo Pastry – Definitely not again
[][] 2/5 Ragout de Morue – Stewed Salt Cod – Probably not again
[][][][][] 5/5 Burgul bi Jibn – Cracked Wheat with Cheese – Definitely again!
[][] 2/5 Abricotines – Apricot Balls – A good way to use up any spare dried apricots that you may have
While our dinner tonight was not spectacular, it was not terrible either, and we did finally get two recipes done for which we had been on the search for ingredients for some time. Onward to our second-to-last week in the "Fish" section of The Book of Jewish Food!
Sip, sup, and savor all you can, you curious cooks,
Elais & Gary