Just want the recipes and none of that other wordy nonsense? Click the links below!
Oshee Kifte – Chickpea and Tomato Soup with Chicken Quenelles
Friteches – Sfereet – Beignets de Pâques – Matzo Fritters in Syrup
Meal the Sixty-Third
This week we jump from Egypt to Uzbekistan then back to Northern Africa. I'll have to admit, when looking up exactly where Bukhara is (it is an ancient city in Uzbekistan), I was sidetracked by photos of the buildings of Bukhara. Massive shrines, fortresses, and mosques are adorned with intricate tiles and brickwork, unlike anything we have ever seen in person. It is worth the internet search, but also brings us to our little introduction point of the week – we are so privileged to be able to jump online and quickly look up anything we don't understand (like what a quenelle is – see this week's main dish), are not sure how to cook properly (see any one of our numerous proteins from the previous year – i.e. tongue and liver), or do not have easy access to in our local grocery stores (we practically turn to Amazon on a weekly basis to procure some hard to find ingredient, like mastic or ferik). 
We practically have the world at our fingertips, which is why we feel so fortunate to be able to engage in our little Made In Marrow hobby. While languages may be hard to learn (well, for me at least) and travel may be is expensive, we can still bridge the leap between Santa Fe and Samarkand with a couple of ingredients and a little time in the kitchen. And while this will never be the same as taking a jaunt down the Silk Road, it still is a step towards bringing the rest of the world a little closer to our humble home. Knowing that we are sitting down to a soup that is being enjoyed half a world away is not only a humbling feeling but also a reminder that since we are all carbon-based life-forms, we have all got to eat!
So join us for another week of food and feasting, as well as our last recipe from the "Soup" section of The Book of Jewish Food.
This Egyptian dish is served during Rosh Hashanah, and according to Claudia Roden, represents life and fecundity (don't worry, we had to look this one up too – according Google dictionary, fecundity is: the ability to produce an abundance of offspring or new growth; the ability to produce many new ideas.). However, this little legume is also seen as a lucky New Year food for those living in the Southern United States and are often cooked with a pork product for flavor and served with collard or turnip greens. It should be noted that there are many theories on where this tradition started and one of them points to the ancestry presence of the Sephardic and Ashkenazi Jews on Southern plantations.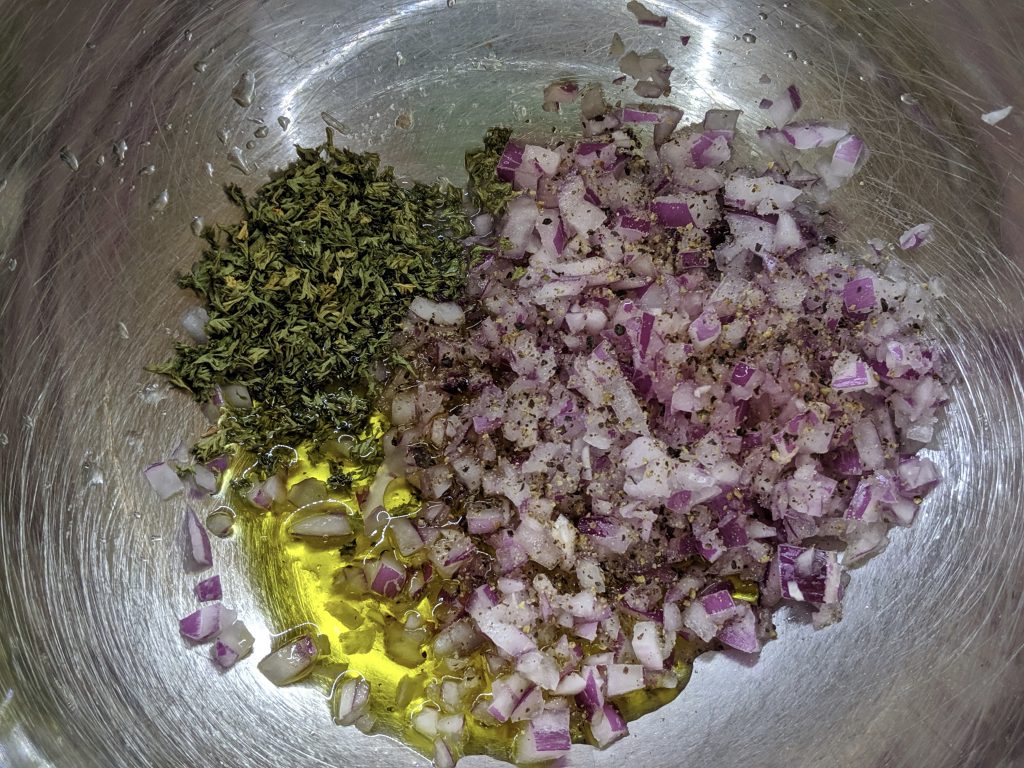 In preparation for the salad, the black-eyed peas were soaked for an hour and then boiled for 20 minutes until tender. The peas were then mixed with minced red onion, chopped parsley, lemon juice, pepper, salt, cumin, and olive oil.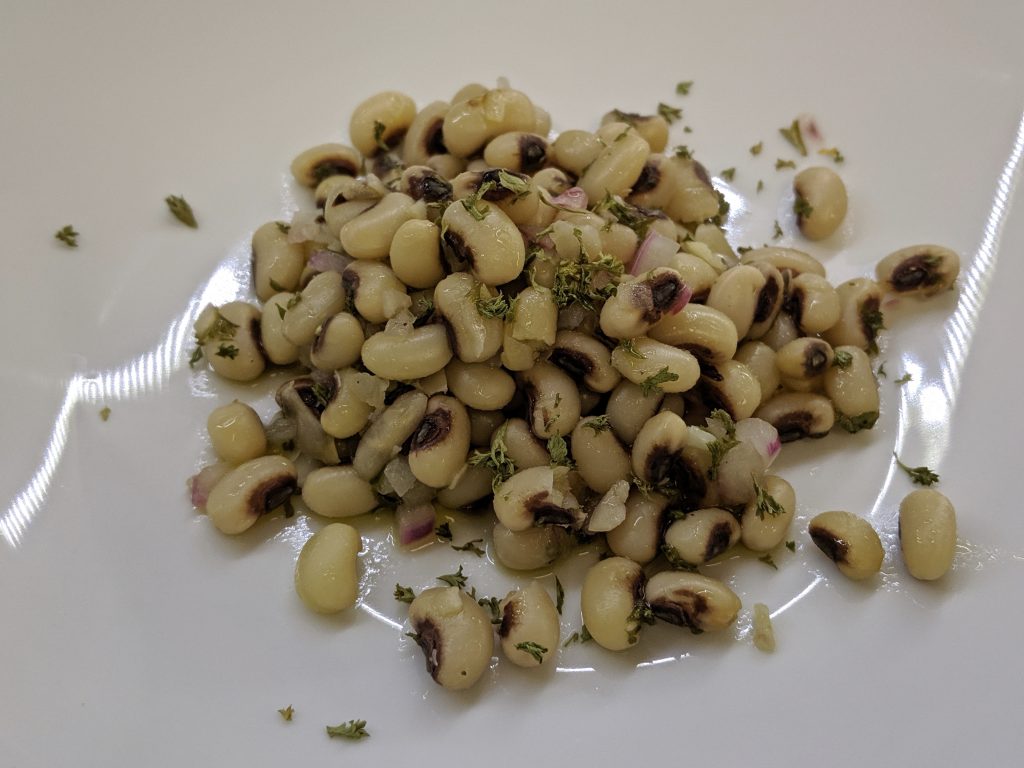 Despite being fairly simple, this salad was quite tasty and filling. Although we think that cilantro would be a better addition than parsley, the salad was bright and creamy and sumptuous. We would definitely enjoy this again and will probably integrate this into other salad dishes in the future!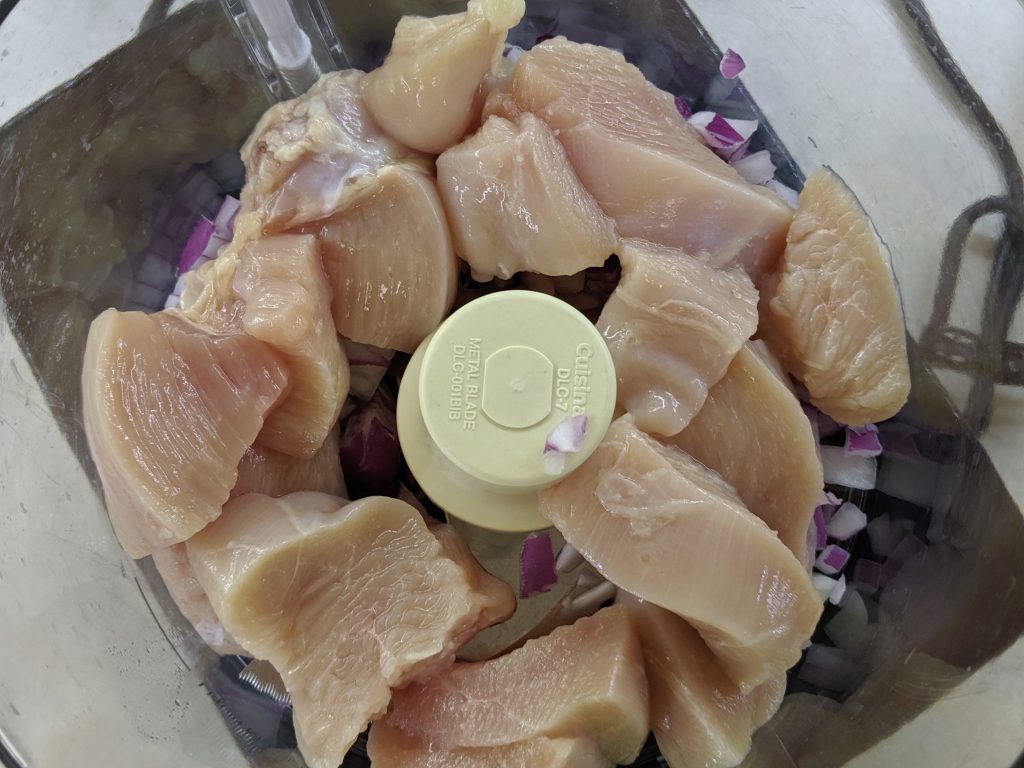 This dish marks the last recipe in the "Soup" section of The Book of Jewish Food. This soup is often served as a course during party meals and is a feature of Bukhara and Samarkand cuisine. As we learned after cooking this dish, a quenelle is a mixture of creamed fish or meat, sometimes combined with breadcrumbs, formed into an egg-like shape, and then cooked. Ours were actually shaped like meatballs because we were familiar with other kifte dishes, which were meatball shaped…hence the meatballs. But regardless of shape, they probably tasted the same, so onward to the recipe!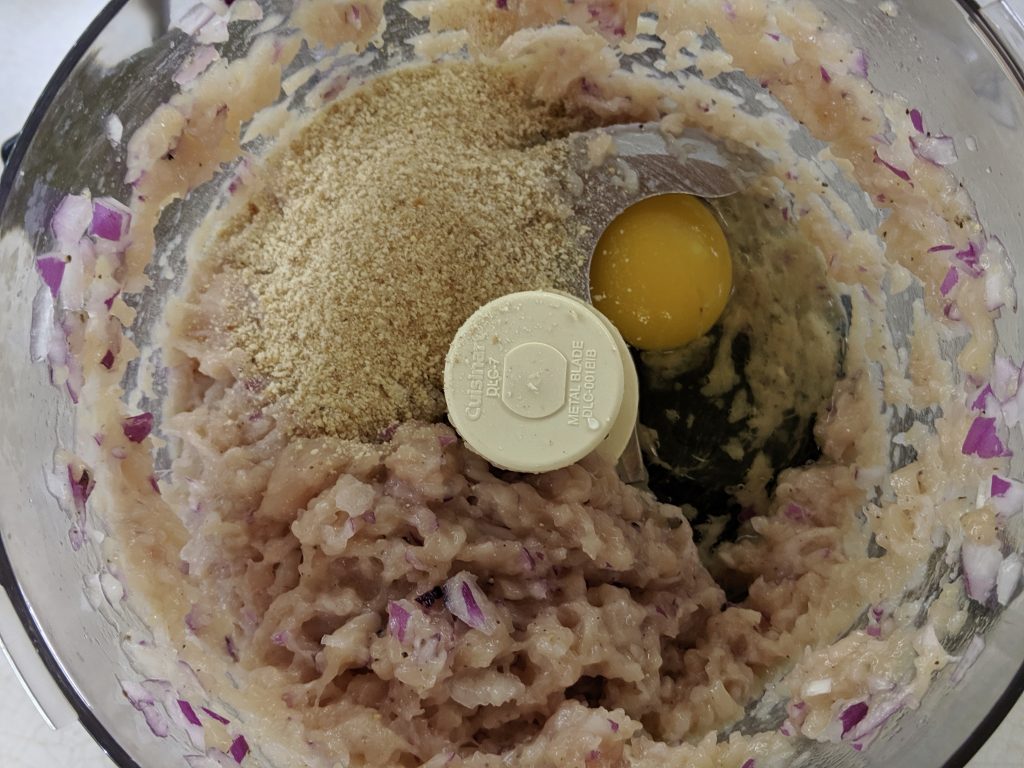 Chicken stock was combined with soaked chickpeas, chopped onion, canned tomatoes, and salt and pepper. This was simmered for an hour while we formed the meatballs. Chopped chicken breast, onion, one egg, breadcrumbs, salt, and pepper were blended in the food processor until a soft paste was formed. These were then gently rolled into chicken balls and dropped into the simmering soup, along with chopped dried apricots. Each bowl was sprinkled with chopped cilantro and served hot.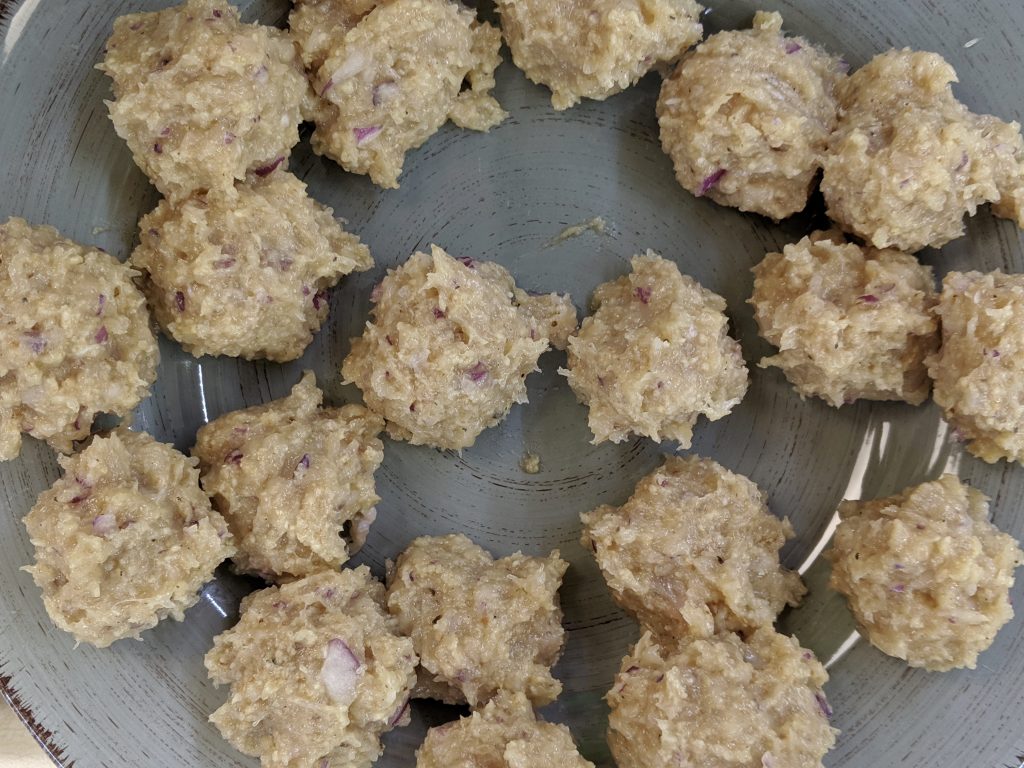 The soup was light in taste and a little tart from the apricots and tomatoes. The soup was almost like a clear tomato consommé (which is a pretty trippy dish, if you ever get the chance to try it), with a very light tomato flavor which was balanced by the heavier, yet flavorful, chicken meatballs. Gary thought this tasted very similar to a Vietnamese dish that he likes to make and thought it would be better without the chickpeas (but I really liked them).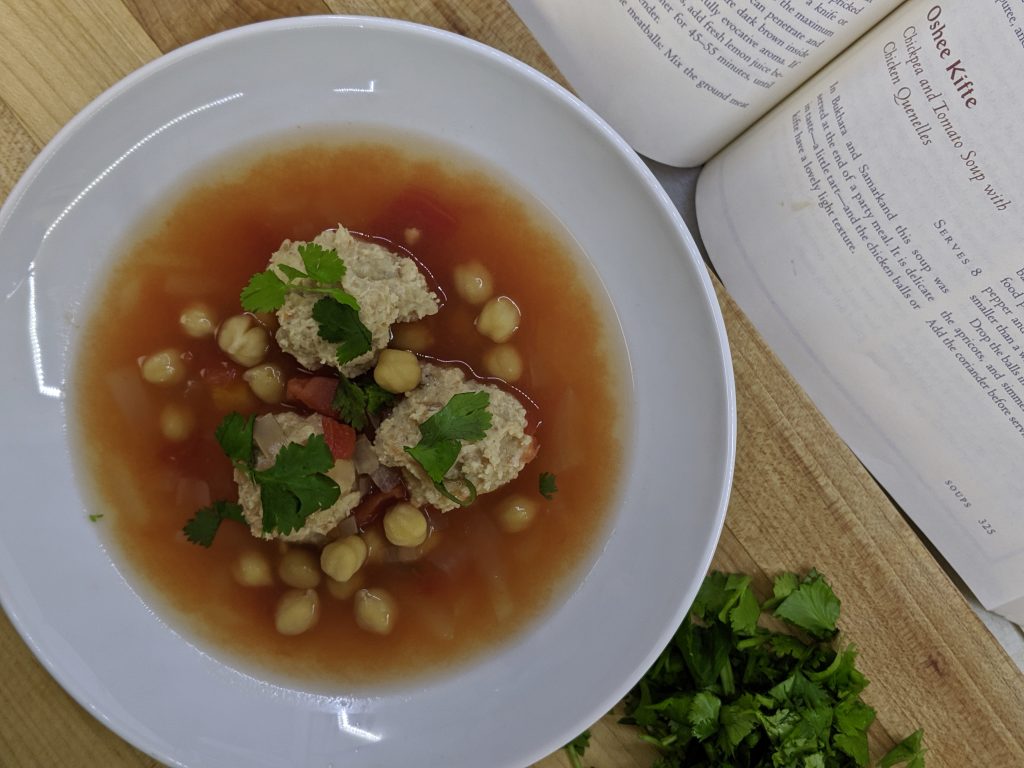 These North African fritters are served during Passover and have a very holiday-appropriate main ingredient – matzo meal. We have had several other fritters during our adventures through The Book of Jewish Food, but these are significantly different from those past pastries.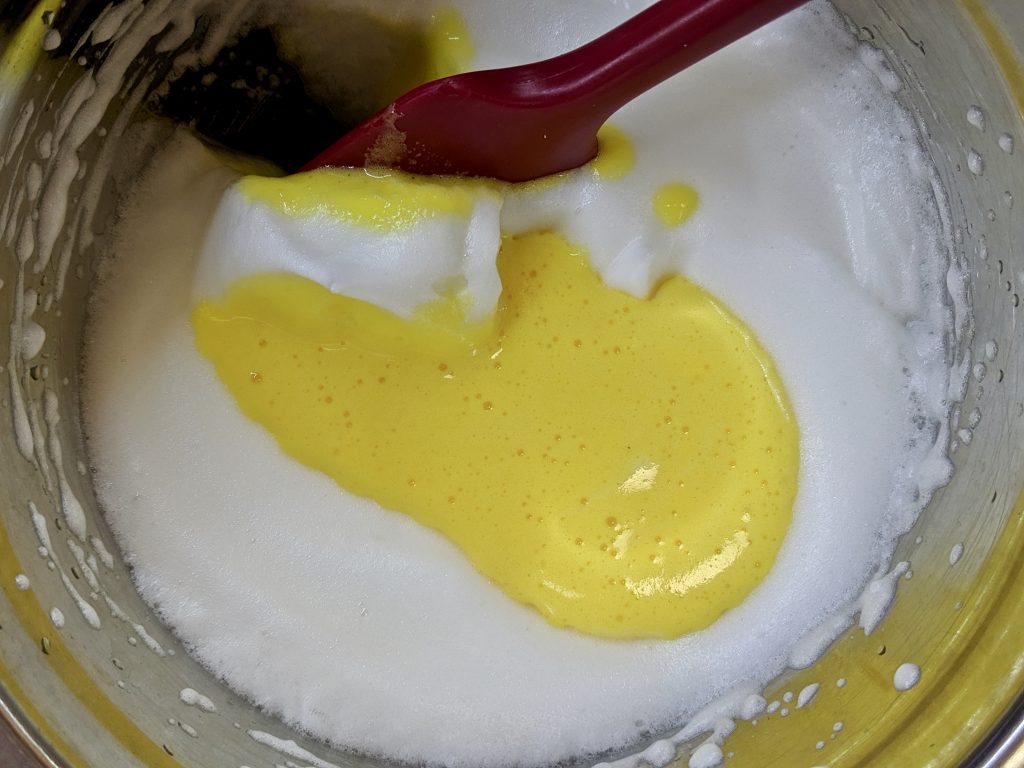 The fritter's final syrupy dressing was made first, by combining sugar, water, honey (from our beeeeees), and lemon juice in a pan and bringing it to boil. As this reduced down, we moved on to making the batter. Eggs were divided and the whites beaten into stiff peaks. Opposingly, the yolks were ever-so-lightly beaten with salt and lemon zest and then *gently* folded into the whites. As per Claudia Roden's instruction, the matzo meal was "rained" onto the egg mixture and briefly stirred in. It was a fairly small amount of matzo, so essentially the batter resembled a cloud of egg and some matzo meal, which we were not sure how it was going to stay together in the deep fryer.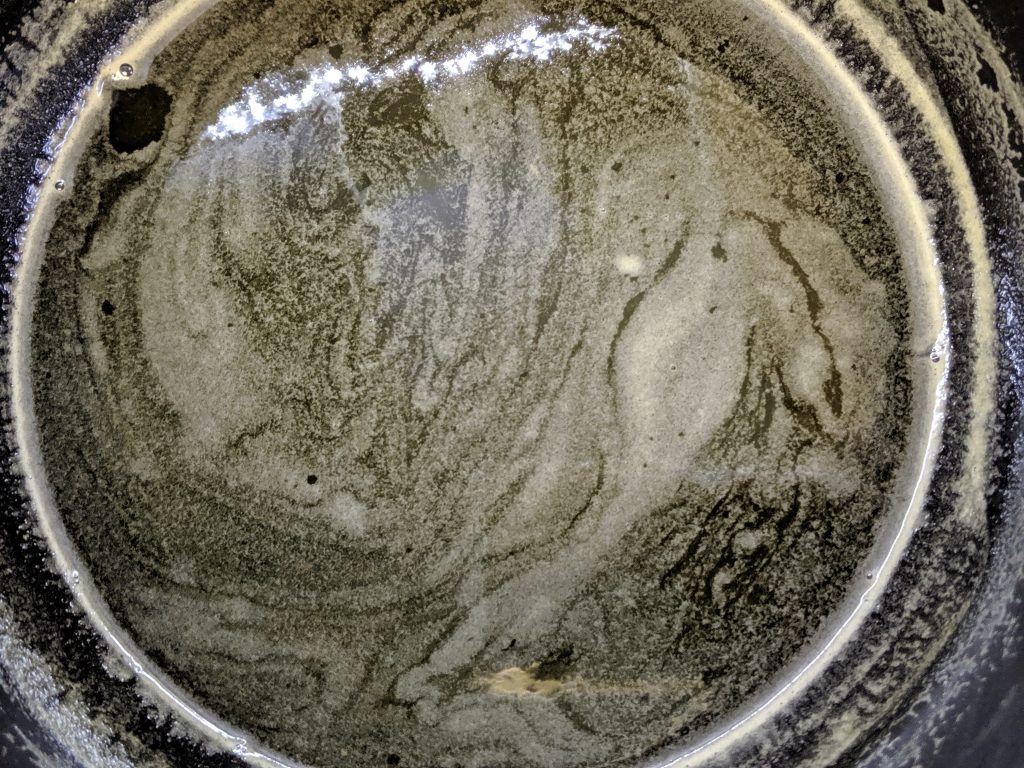 Holding our breath (and shielding our faces), we dropped tablespoons of cloud batter into the fryer. To our surprise (and relief!) the fritters held together and bounced merrily along in the oil for about five minutes until golden. The blobs were then taken out, drained on paper towels, and then sat in either the honey syrup or a cinnamon-sugar mix for 10 minutes (this is critical since they are highly absorbent).
Not being sure what to expect, we were pleasantly surprised by these fritters. They were extremely light and not too sweet. Almost like a fried sponge cake, they had a nice chew and took on their coatings well, with Gary's favorite being the cinnamon and sugar and mine being the honey. Fast to make with very few ingredients, this is a dessert that can be dressed in a variety of flavors and is sure to please a crowd!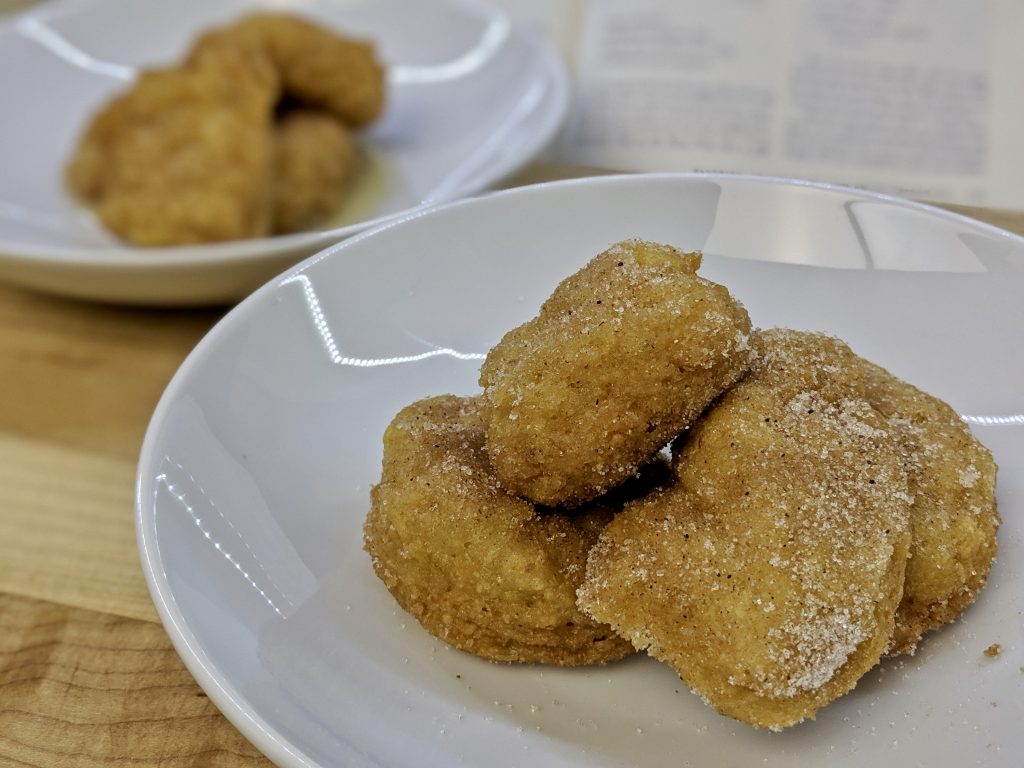 AND IN THE END, THE FOOD YOU MAKE IS EQUAL TO THE CARE YOU TAKE…
So how was Made In Marrow's meal number 63? As a reminder, our rating system is based on sticks of butter (because butter is best!), with 1 being the absolute worst and 5 being out of this world. Sticks of butter are assigned to Difficulty (how many kitchen fights were needed to complete the meal?), Tasty Goodness (was it a palate poor or did it make our mouths merry?), and Repeat Customer (how likely are we to return to the recipe?).
Difficulty  [][] 2/5
A little soaking, a little rolling, and a little frying were all needed for tonight's meal, but all in all, it was not a big deal!
Tasty Goodness
[][][][] 4/5 Loubia – Black-Eyed Pea Salad – Bright, savory, and tasty – a great little salad!
[][][][] 4/5 Oshee Kifte – Chickpea and Tomato Soup with Chicken Quenelles – A light soup that is perfect for summer fare!
[][][][] 4/5 Friteches – Sfereet – Beignets de Pâques – Matzo Fritters in Syrup – A not-too-heavy alternative to your typical fritter
Repeat Customer
[][][][][] 5/5 Loubia – Black-Eyed Pea Salad – Again, not only for good luck but for taste as well!
[][][] 3/5 Oshee Kifte – Chickpea and Tomato Soup with Chicken Quenelles – Maybe, but Gary may put a Vietnamese spin on it…
[][][][] 4/5 Friteches – Sfereet – Beignets de Pâques – Matzo Fritters in Syrup – Most likely, as we would like to try other coatings…
Each of tonight's recipes were truly novel to us, but also greatly enjoyed. The difference between foreign and known is just a mere moment of searching, so we look forward to next week's adventures into the unknown!
Sip, sup, and savor all you can, you curious cooks,
Elais & Gary