Just want the recipes and none of that other wordy nonsense? Click the links below!
Tabbouleh – Cracked Wheat Salad with Parsley and Tomatoes
Bamia bel Tamarhendi – Okra with Tamarind Syrian Style
Saluna – Iraqi Sweet-and-Sour Fish
Tishpishti – Passover Walnut Cake with Syrup
Meal the Sixty-Eighth
It is hard to believe it is the first weekend of November and that we are firmly headed into the holiday season. As the weather gets chillier and our local offerings at the grocery store begin to change, we will migrate back to the lamb and stewier portions of The Book of Jewish Food. We only have a couple of fish dishes left, which is hard to believe but are still situated in the middle of many cakes, which may give us an opportunity to test-run some desserts for the inevitable upcoming parties of winter. Tonight's dinner turned out to be fantastically Fall, both in flavor and in color (see our very brown okra dish). So pull up a chair to the table and join us for tonight's fishy feast!
Roden considers this tabbouleh recipe from the turn of the century to be more representative of this wheat salad's true form – comprised of most grain instead of the more parsley-laden modern version. Hailing from Aleppo and Damascus, this dish is traditionally eaten with Bibb lettuce leaves, so we decided to stick to this recipe's routes and served the salad as it was meant to be eaten.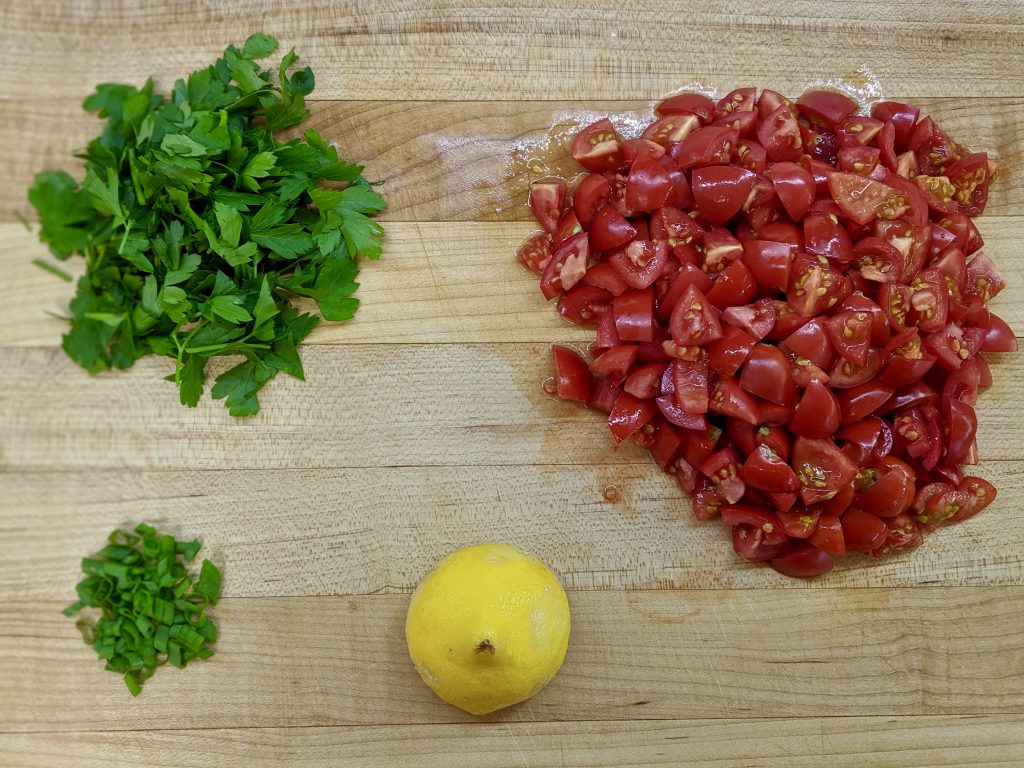 Soaked fine bulgar was mixed with diced tomatoes (which were our cherry tomatoes saved from the frost and ripened on our counter), lemon juice, scallions (from our greenhouse garden), flat-leafed parsley, mint, olive oil, and salt and pepper. This chilled in the fridge for several hours to allow some of the tomato juices to be sopped up by the grain. Sticking to the recipe's directions, we served this on leaves of Bibb lettuce (which is just a smaller and more tender version of butter lettuce).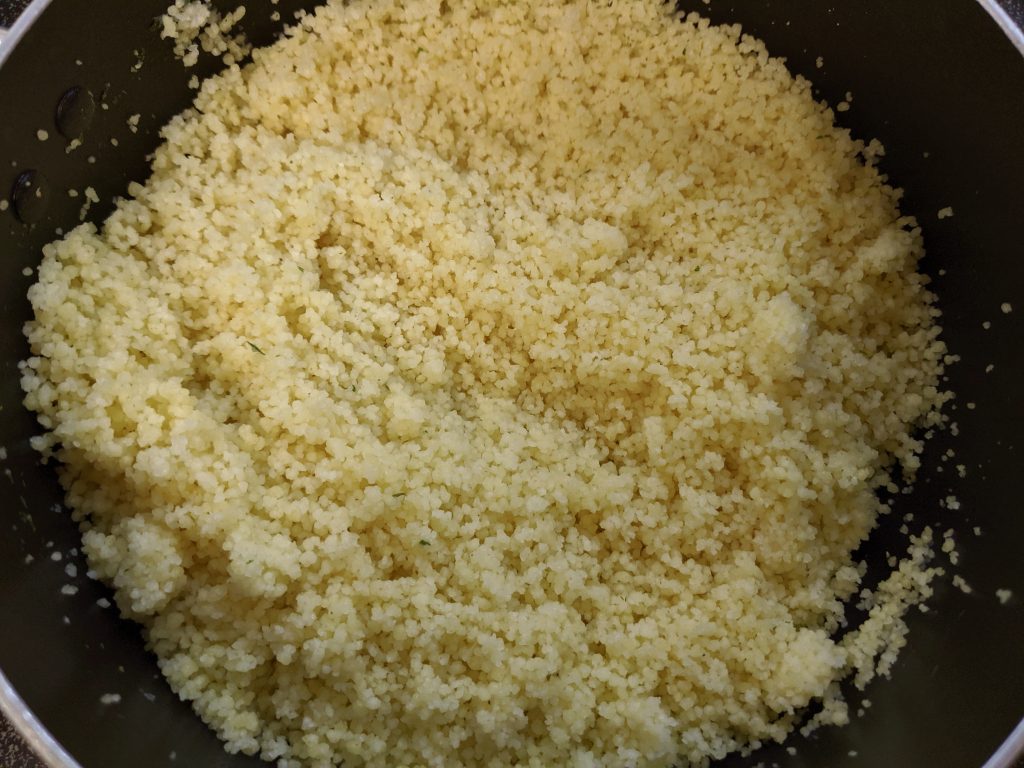 I love tabbouleh and this recipe certainly did not disappoint. The brightness of the tomatoes and lemon juice were perfectly balanced by the fattiness of the olive oil and earthiness of the parsley. While not the easiest way to consume tabbouleh, using Bibb lettuce as a serving device added another great layer of flavor and texture to the dish and something we would definitely try again in the future!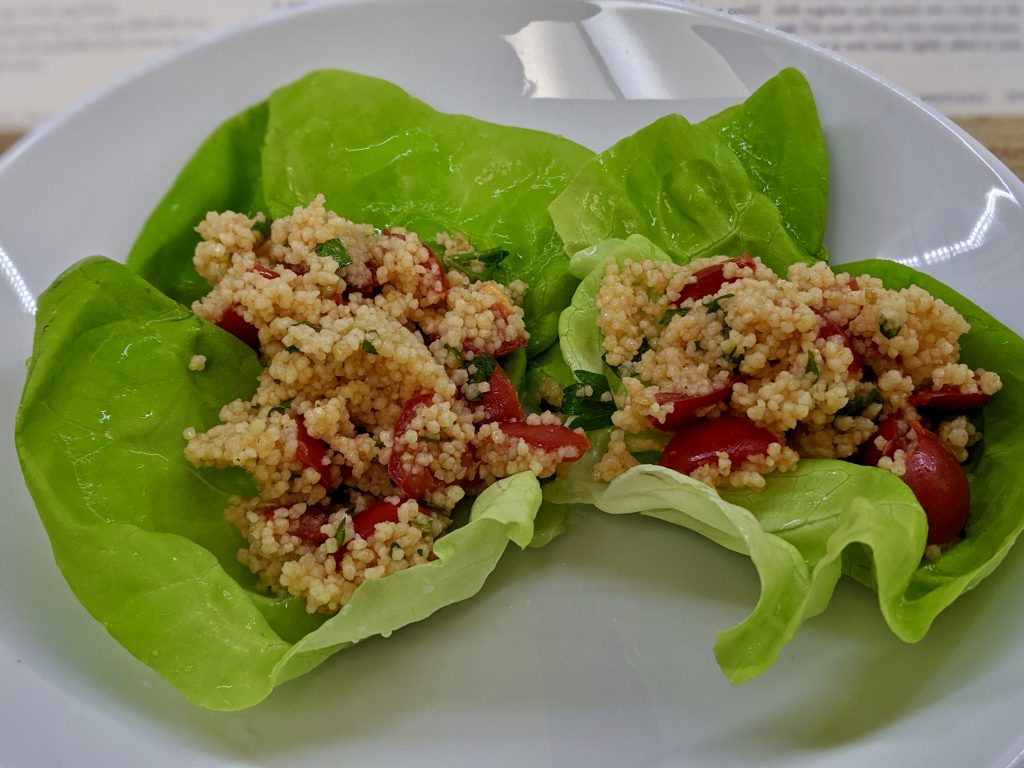 Roden warns that this dish is not pretty to look at and she is certainly right (we tried to do our best to make the photos look appetizing). This is our first dish featuring okra, a flowering plant from the mallow family, which also hosts the cotton, cacao, and durian plants. The products of the plant are mucilaginous, which is what is responsible for the vegetable slime when the seed pods are cooked (which some people, including the chef Tom Colicchio, find very off-putting). Okra is 90% water, but also high in fiber, vitamin C, and vitamin K.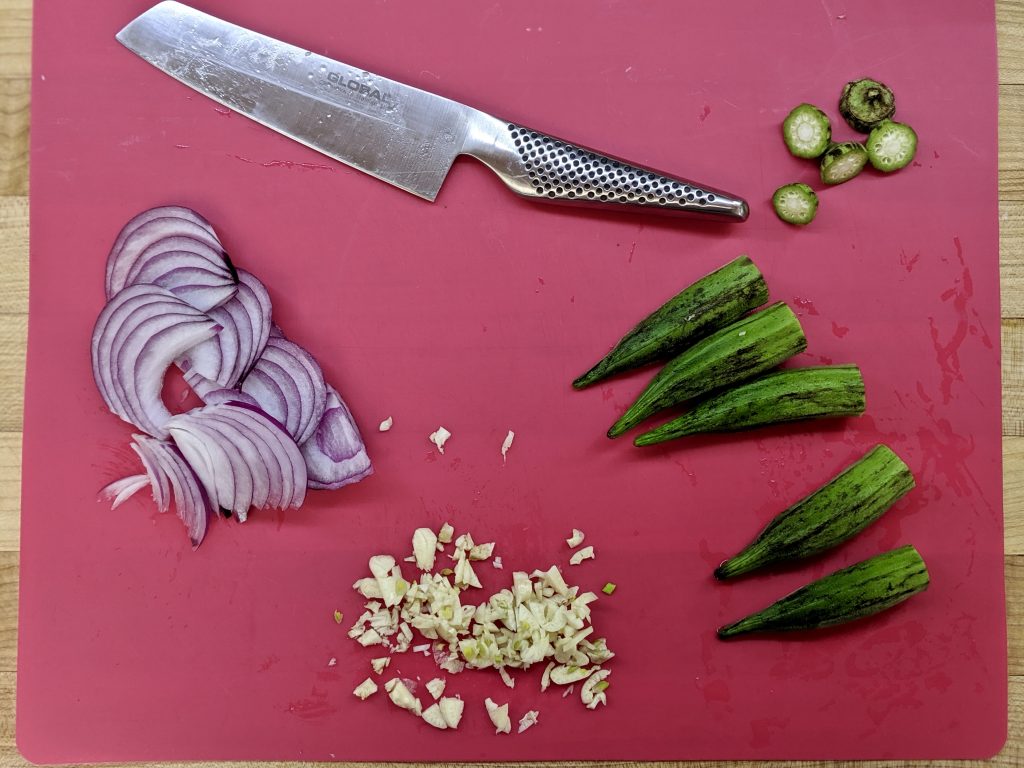 The other component of this dish is tamarind, the leguminous (which we only recently learned was a word) fruit of a tree indigenous to Africa, but now in the largest production by India. It has a sour-ish flavor that is often used as a flavoring for chutneys and curries. Tamarind is a versatile ingredient, being used from everything sweet like flavoring candies to very tangy sauces, as in the Vietnamese nuoc cham dipping sauce.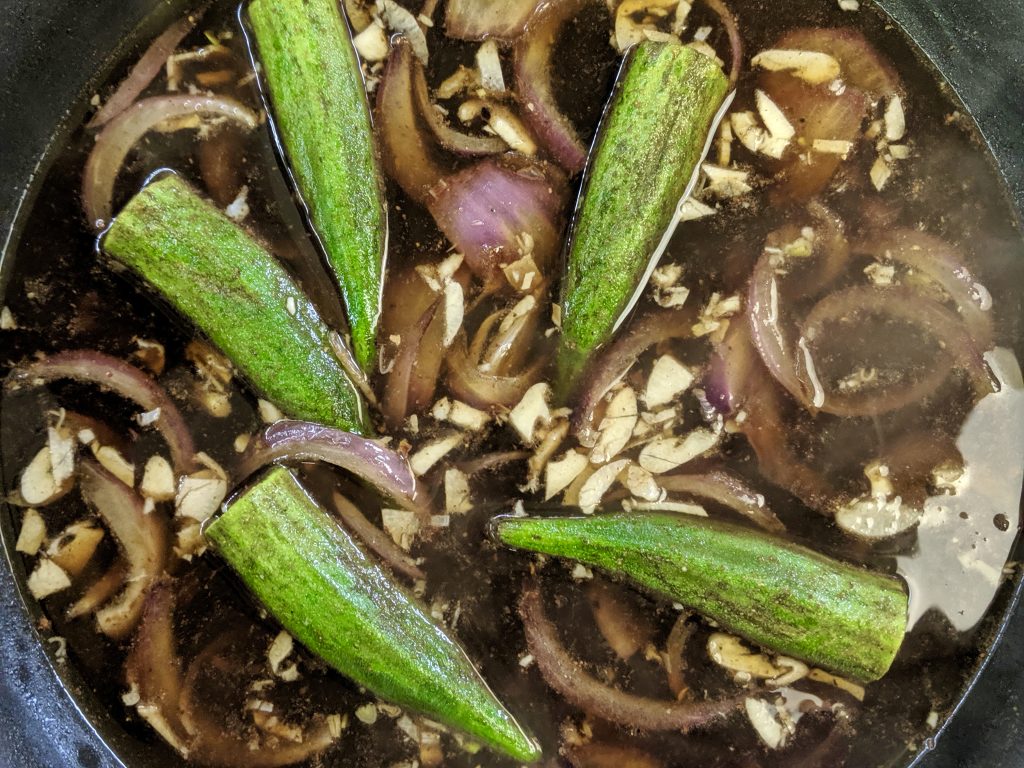 So we took our two very different main ingredients and prepared them for a fairly simple dish. Onion was fried until soft after with garlic was added to the pan. Once this was aromatic, the tamarind, sliced okra, salt, pepper, sugar, and allspice were added, along with water to cover. The concoction simmered until the okra was tender after which it was plated and chilled until dinner.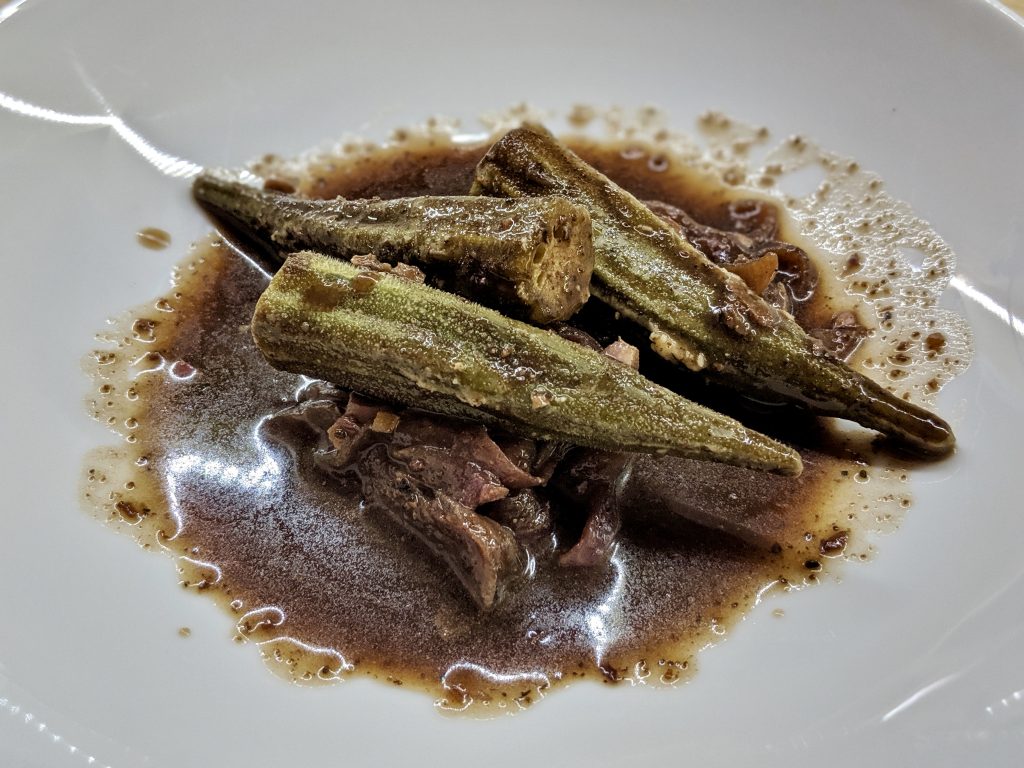 While the okra was still slightly slimy, and the dish was very, very brown, this was turned out to be an interestingly tasty plate. The texture was a bit different and the okra was a bit earthy, but the sauce was absolutely fantastic, being a little sweet and a little sour (not unlike our main course for tonight's meal!). Looks can be deceiving, so don't let the color/ingredients of this dish scare you away!
Next up in our travels through Jewish fish recipes is an Iraqi dish featuring cod (which we were sure to use the proper form of fish this week). Onions were fried in oil until soft after which our garden tomatoes were mixed in and allowed to simmer until saucy. While our tomatoes simmered, we made the sauce by heating lemon juice with sugar, salt, and tomato paste until the sugar had dissolved.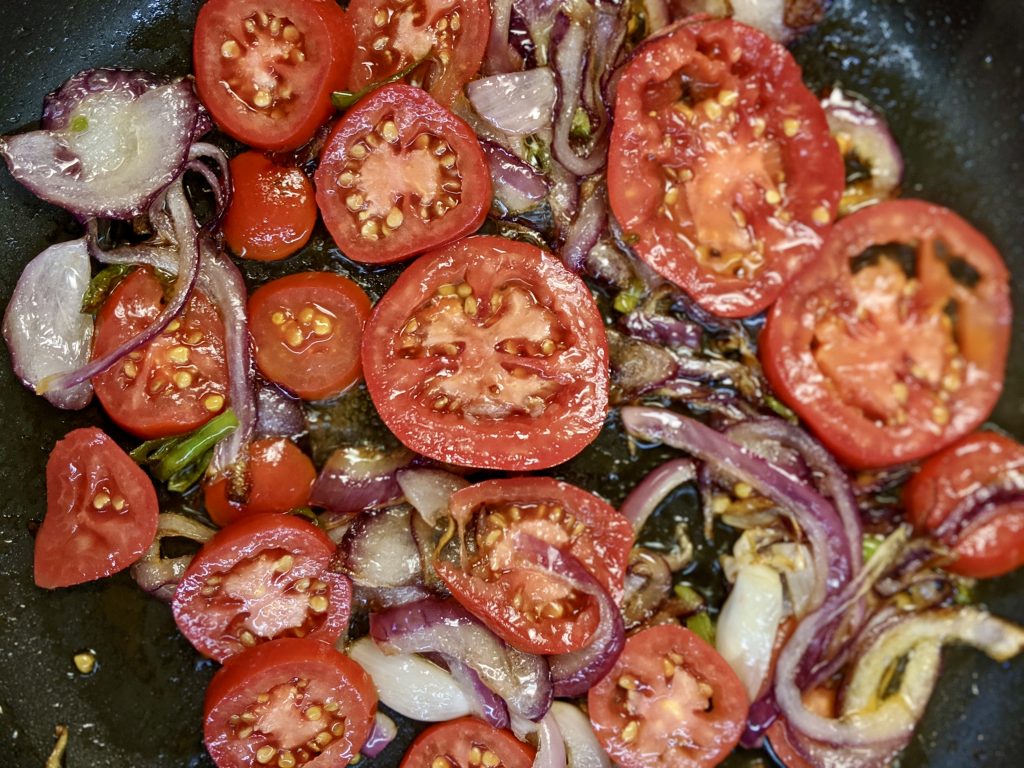 Once these two components were underway, we shallow-fried the cod in oil until almost done and then transferred them to the pan with tomatoes and onions. The lemon juice syrup was poured into this pan and the fish finished cooking with all of the components.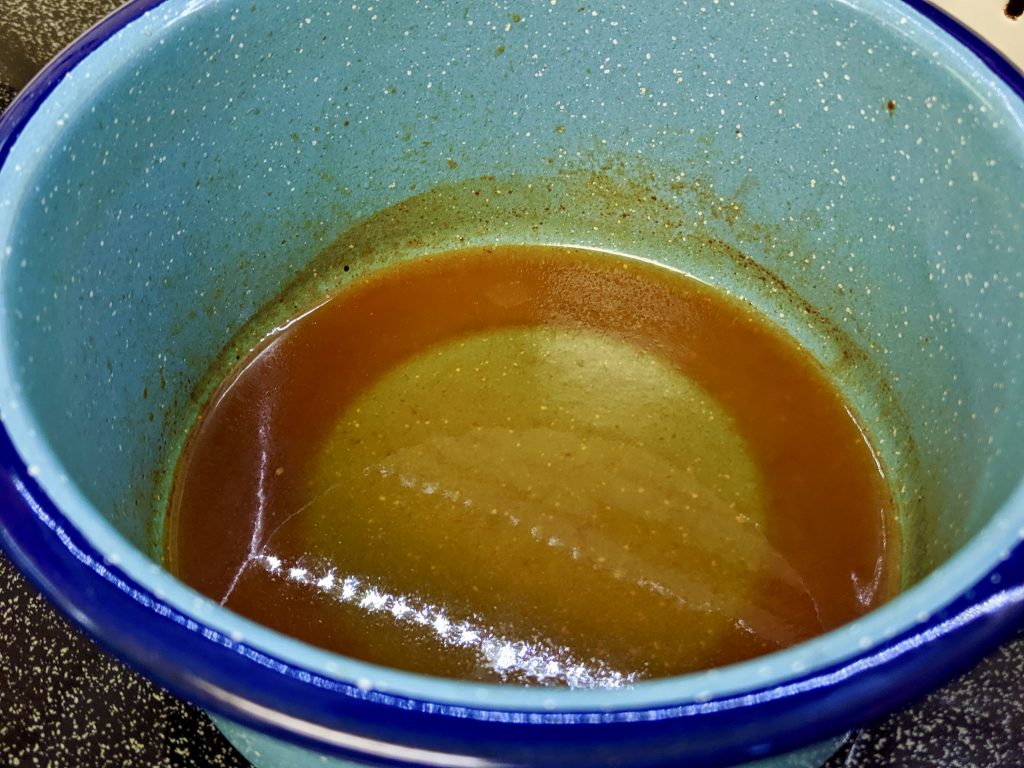 This week was a better week for main courses, most likely because we used the correct fish! The cod was tender and flakey and its light flavor was surprisingly not overwhelmed by the tasty sauce. The tomato/lemon/tomato mix was excellent and truly sweet and sour. The light sweetness was tempered by the perfect amount of acidity from the lemon juice and tomatoes – finally, a very successful fish dish!
This Turkish specialty is a dessert served during Passover and requires a bit of pre-planning to ensure that the cake has reached its full potential. The syrup must be made first so that it can chill prior to being poured over the cake. It was a simple task of boiling sugar with water, after which a small amount of lemon juice and rose water were added. This simmered for 15 minutes and then chilled for an hour in the fridge.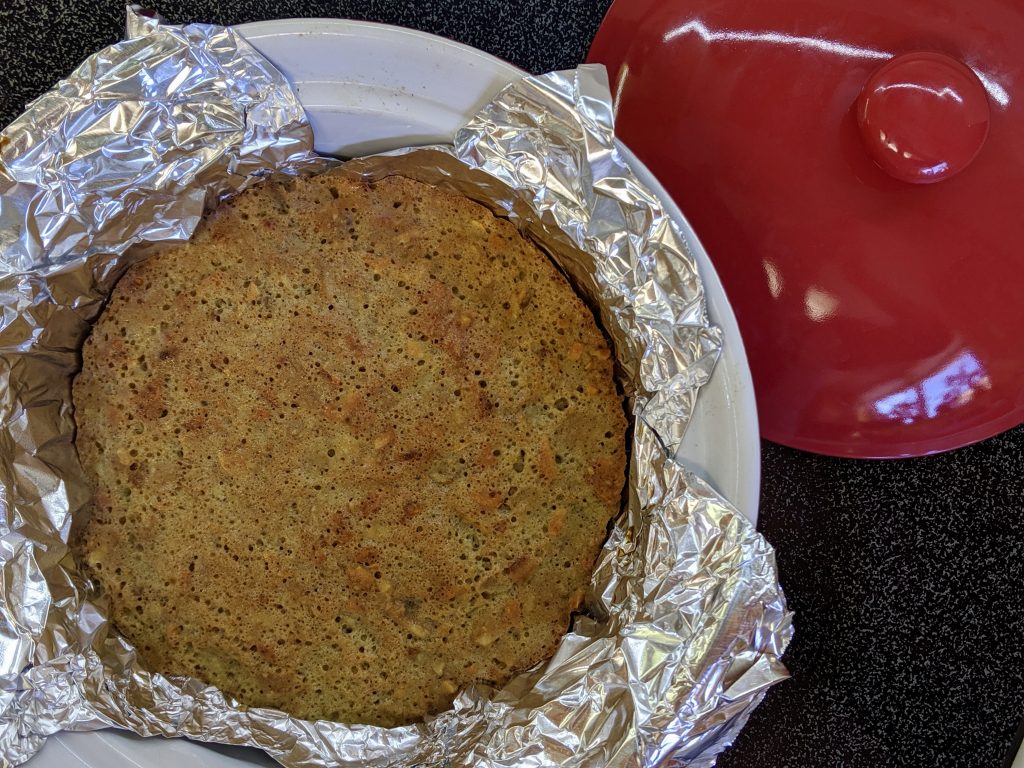 While the syrup was chilling, we made the cake by combining lightly beaten eggs with chopped walnuts, ground almonds, sugar, orange zest, and cinnamon. To say the least, I was very excited about not having to separate any eggs this week and just throw all of the batter ingredients into the mixer. This was poured into a greased pan and baked at 350 until browned. Once out of the oven, we turned out the cake immediately and then poured the syrup over its slightly domed form. This sat for several hours until it had sopped up as much sugary goodness as it could handle.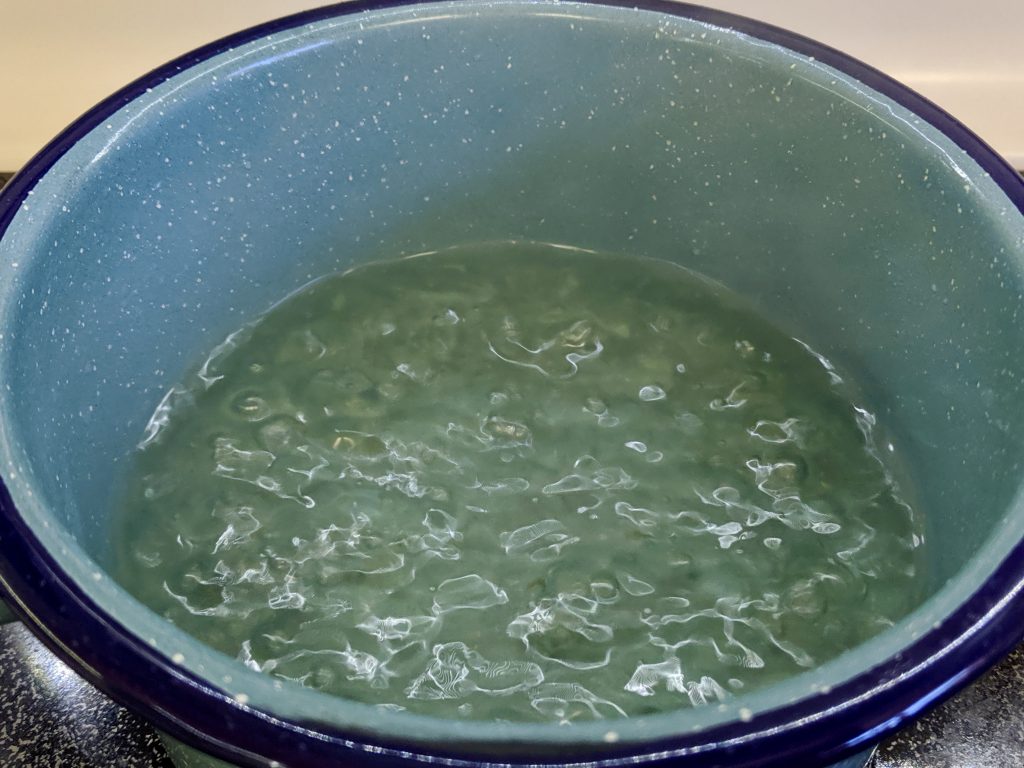 The cake came out quite dense, so it made sense to have a syrupy coating permeate a slightly tougher dough. The cake itself was excellent, with a slight taste of orange. The syrup was aromatic with just enough rose water to get a hint of flavor without being overwhelming. Together they were a great combination, but you definitely only needed a small portion to enjoy. Not only was this an easy cake to throw together, but it also did not come out looking too bad, which was an added plus!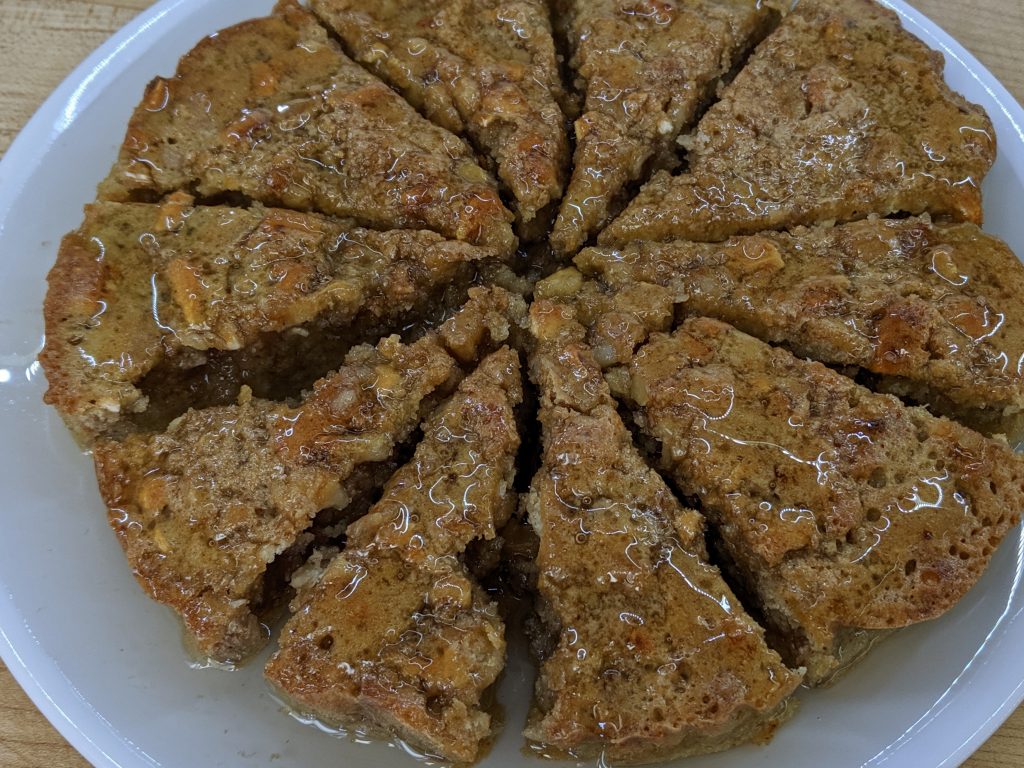 AND IN THE END, THE FOOD YOU MAKE IS EQUAL TO THE CARE YOU TAKE…
So how was Made In Marrow's meal number 68? As a reminder, our rating system is based on sticks of butter (because butter is best!), with 1 being the absolute worst and 5 being out of this world. Sticks of butter are assigned to Difficulty (how many kitchen fights were needed to complete the meal?), Tasty Goodness (was it a palate poor or did it make our mouths merry?), and Repeat Customer (how likely are we to return to the recipe?).
Difficulty  [][] 2/5
Fairly straightforward recipes and fast cook times made for one easy dinner!
Tasty Goodness
[][][][][] 5/5 Tabbouleh – Cracked Wheat Salad with Parsley and Tomatoes – A great new way to eat tabbouleh!
[][][] 3/5 Bamia bel Tamarhendi – Okra with Tamarind Syrian Style – Slightly slimy but earthy and different
[][][][] 4/5 Saluna – Iraqi Sweet-and-Sour Fish – Bright and flavorful
[][][][] 4/5 Tishpishti – Passover Walnut Cake with Syrup – "It tastes like Christmas", says Gary of this Passover cake
Repeat Customer
[][][][][] 5/5 Tabbouleh – Cracked Wheat Salad with Parsley and Tomatoes – Destined to be a fan favorite
[][][] 3/5 Bamia bel Tamarhendi – Okra with Tamarind Syrian Style – Maybe, but would be difficult to present as a party dish
[][][][] 4/5 Saluna – Iraqi Sweet-and-Sour Fish – A new way to enjoy cod
[][][][][] 5/5 Tishpishti – Passover Walnut Cake with Syrup – Easy and tasty, what else can you ask for from a cake?
Sip, sup, and savor all you can, you curious cooks,
Elais & Gary