Just want the recipes and none of that other wordy nonsense? Click the links below!
Putizza di Noci – Trieste Yeast Roll
Meal the Seventy-Fifth
Some dinners just coalesce perfectly, which was definitely true of tonight's fancy feast. Like we have said in the past, our recipes are selected by our progression through The Book of Jewish Food, which has made for some odd combinations in the past, just peruse some earlier blogs for some odd tastes! Tonight's combination was perfect though, as two of the courses required a bread-y component to sop up the sauces, which a position aptly filled by our doughy appetizer. Since our menu tonight is fairly hefty, let's get right to it!
This meaty bread is often found in bakeries in the Middle East and is popular amongst Aleppo Jews, according to Claudia Roden. It features tamarind paste, which turns everything it is combined with very dark brown (hence our very dark brown topping) and is a fruit indigenous to tropical Africa. In addition to its many savory and sweet uses in cuisines from Central America to Thailand, it also is a key component in metal polishes used primarily in Buddhist Asian countries. Its acidic components which make it useful for bringing copper, brass, and bronze to a high shine also make it a useful laxative, which is why tamarind also has a focal point in folk medicine throughout Southeast Asia.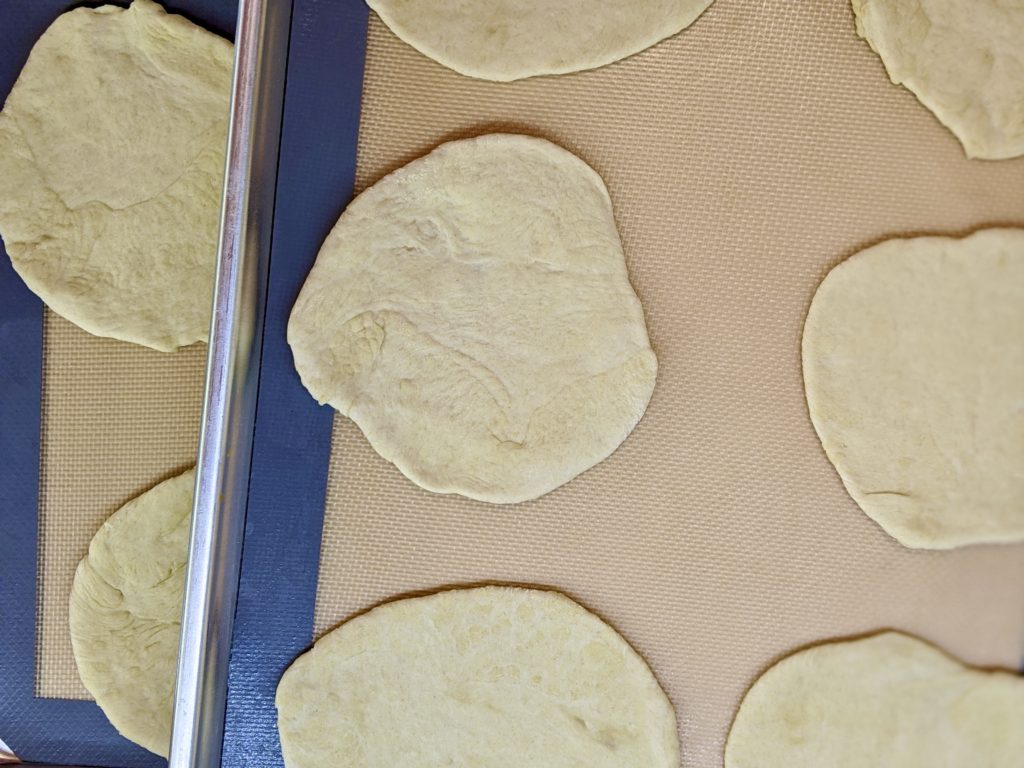 So we took our multi-use paste and mixed it with fried onions, ground lamb, a little sugar, tomato paste, salt, and cayenne. This was used to top a yeast dough that had sat for 2 hours to double in bulk and then had been divided into small rounds and rolled out into roughly round shapes. Our little pizzas were slid onto greased trays and baked at 475F for 10 minutes until the edges were golden but still pliable (keep in mind that the meat was already very dark in color due to the tamarind, so it was a poor measure of doneness). We ate these hot with the dinner below and sopped up all of our other recipes' sauces.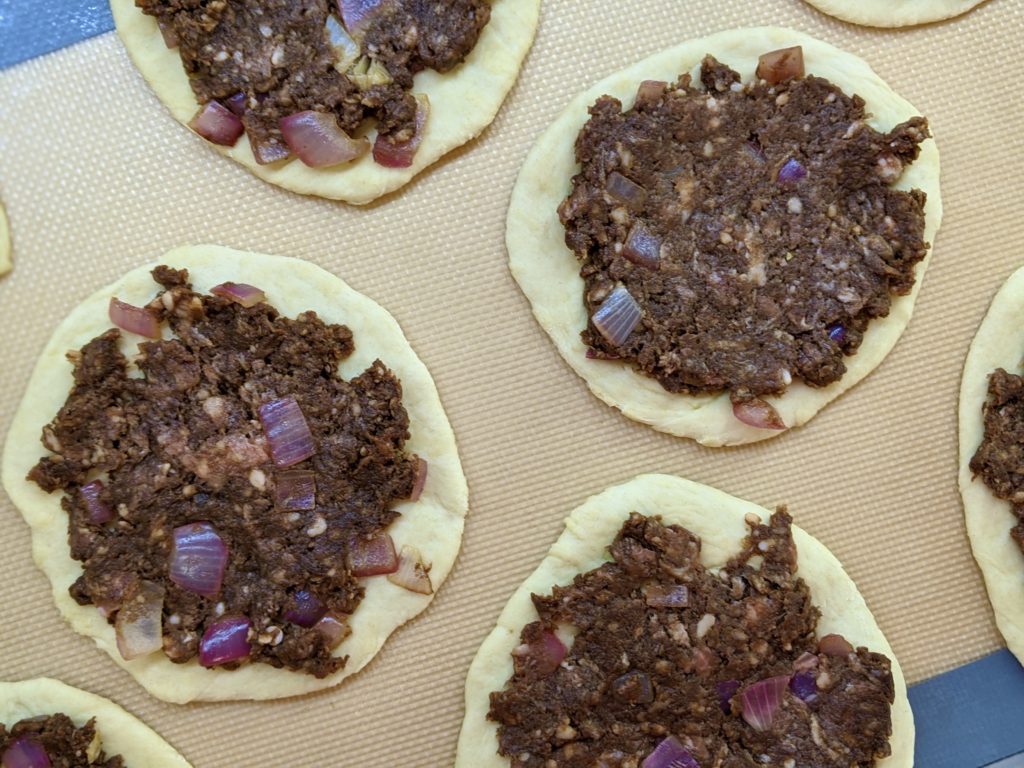 The reviews were definitely mixed on our meat pizzas. I quite enjoyed them, the tart and sour tamarind balancing out the gaminess of the lamb. Gary was not so hot about our fresh pizza, feeling that tamarind was too overpowering. We both agreed that the dough itself was excellent and these reheated quite well over the next week (we did end up making more than 20 personal pizzas, after all!).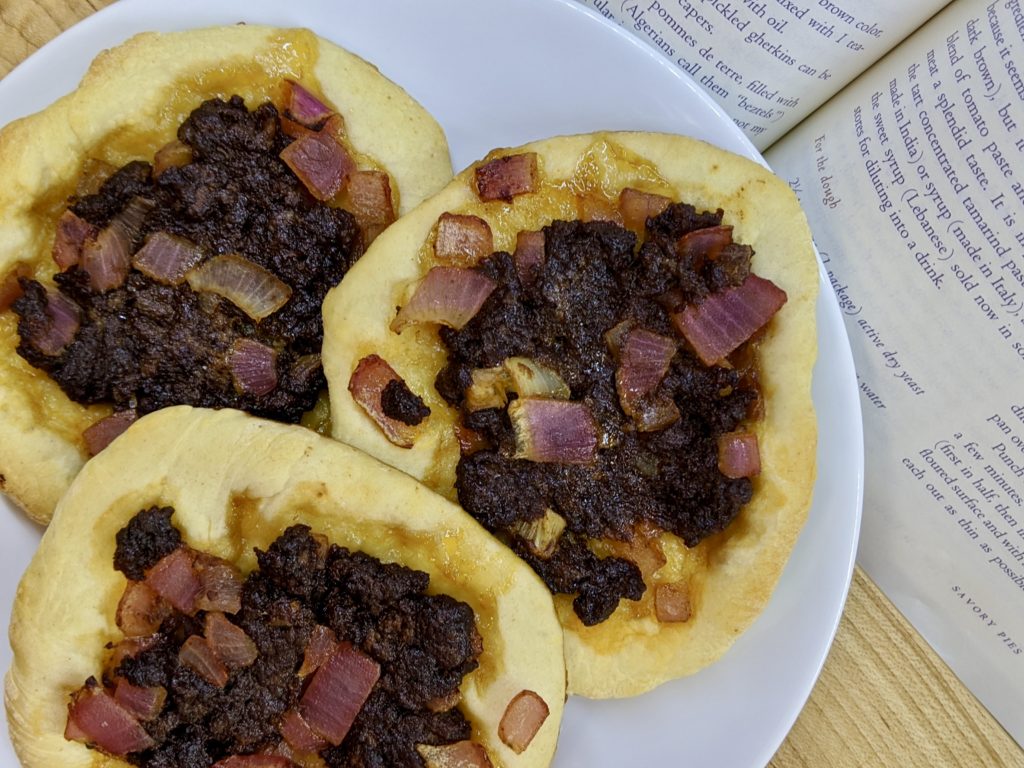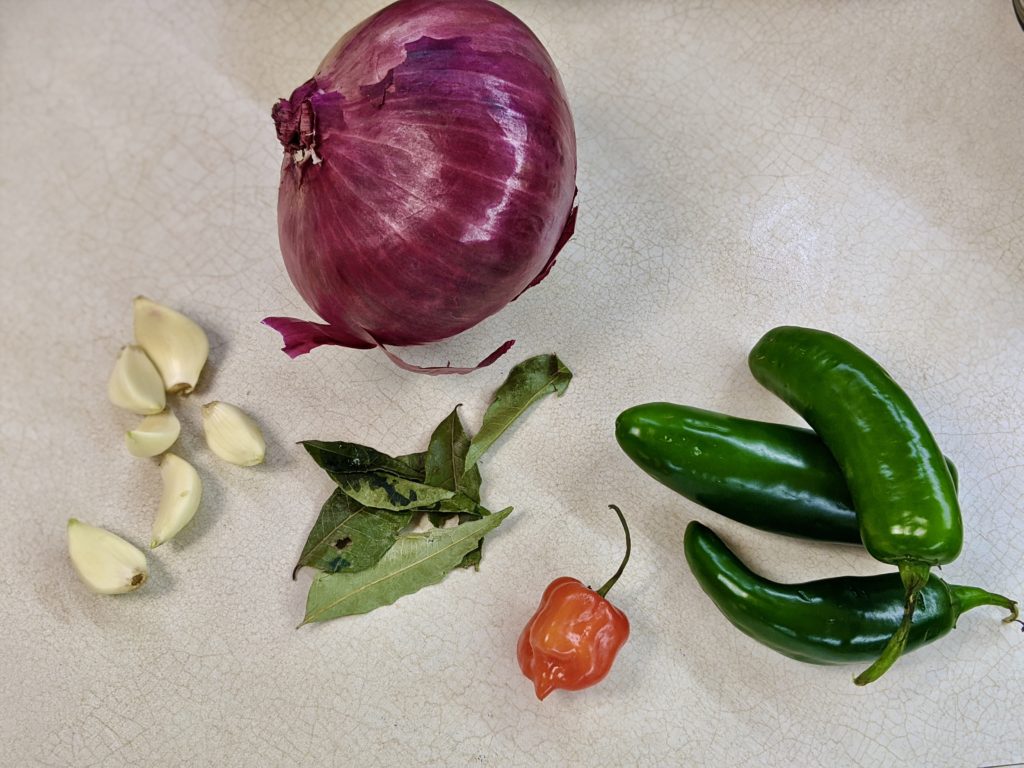 This spicy chicken hails from Cochin, a very famous spice city in India, which has been a spice-trading mecca since the 14th century. Everyone from Greece to Rome and Syria to China facilitated the tasty trade of Cochin and home to this day to the International Pepper Exchange, where pepper is globally traded. So, it only makes sense that this recipe features turmeric, cayenne, chilies, ginger, tamarind, and curry leaves. Curry leaves actually taste nothing like the "curry" powder we know in North America (which is actually a mix of turmeric, cumin, cayenne, and coriander). Curry leaves actually have slightly sweet and floral flavor, almost like a nutty lemongrass (quite possibly the least helpful descriptor ever, we know).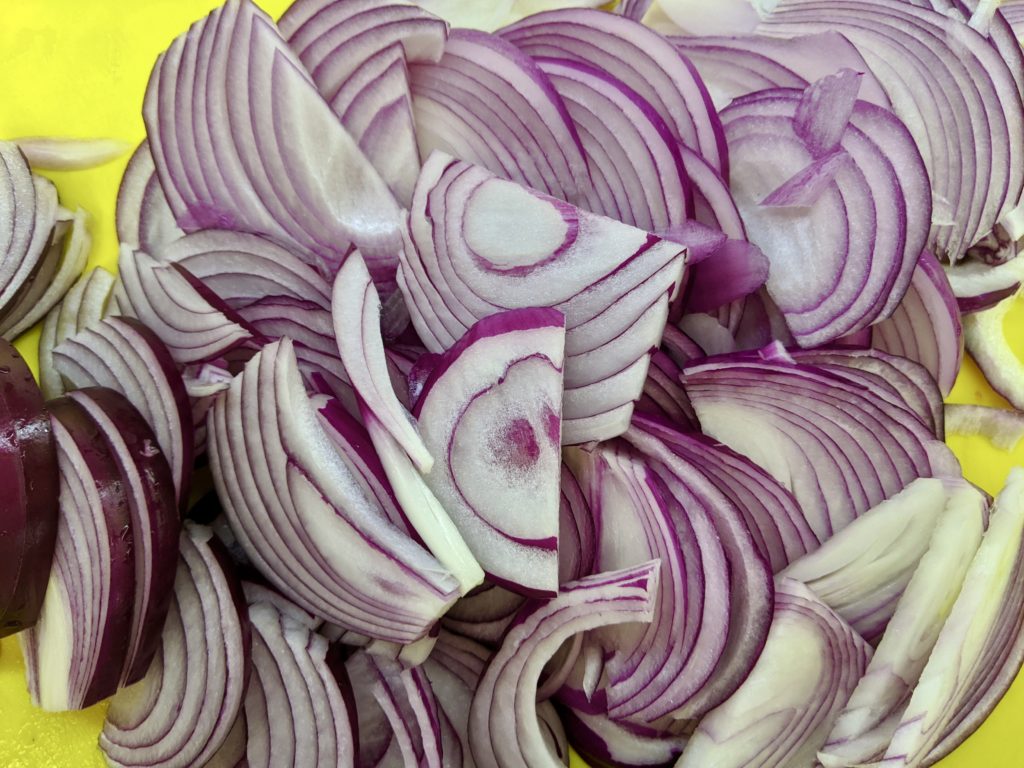 To start, onions were fried until soft after which green chilies were added along with curry leaves. Once these were nice and aromatic, turmeric, tomatoes, garlic, ginger, and cayenne were stirred into the pan and simmered for 10 minutes. The chicken pieces were added to this colorful mixture and water was poured over all until just covered. This all simmered for 30 minutes until the chicken was cooked through and the sauce had reduced.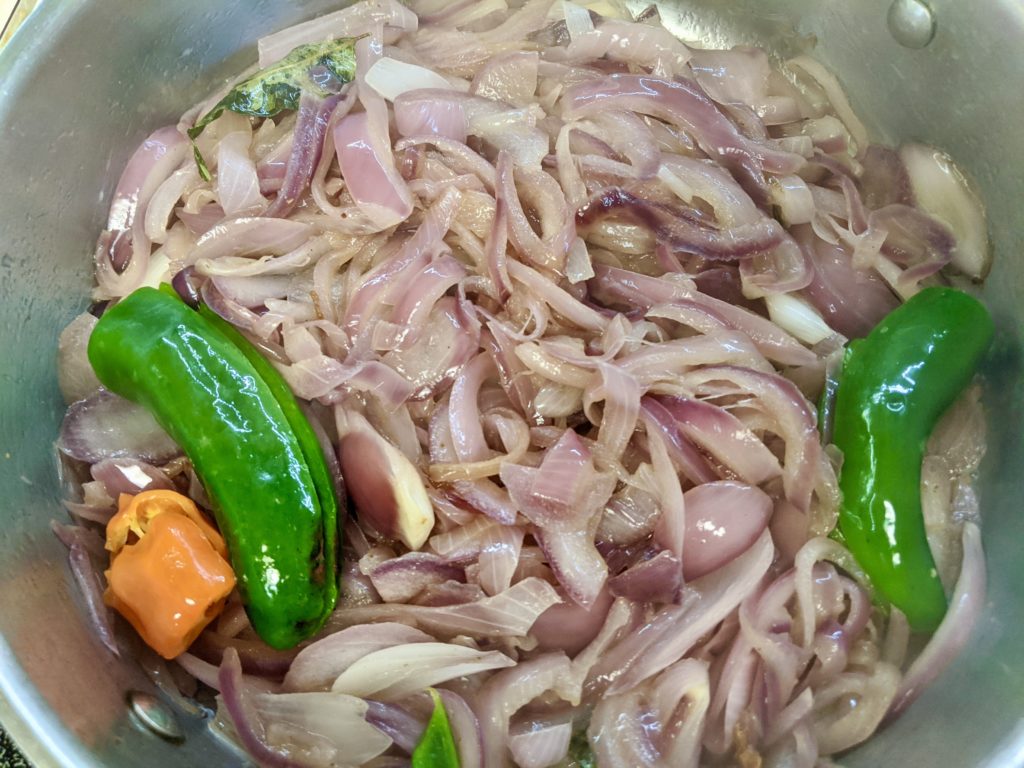 The chicken was served slathered in sauce, which was readily sopped up by our meat pizzas. The protein was tender and moist and the sauce was flavorful and a little spicy. The sauce could most readily be described as sweet and sour and spicy, but we would probably add a few more chilies the next time we make it.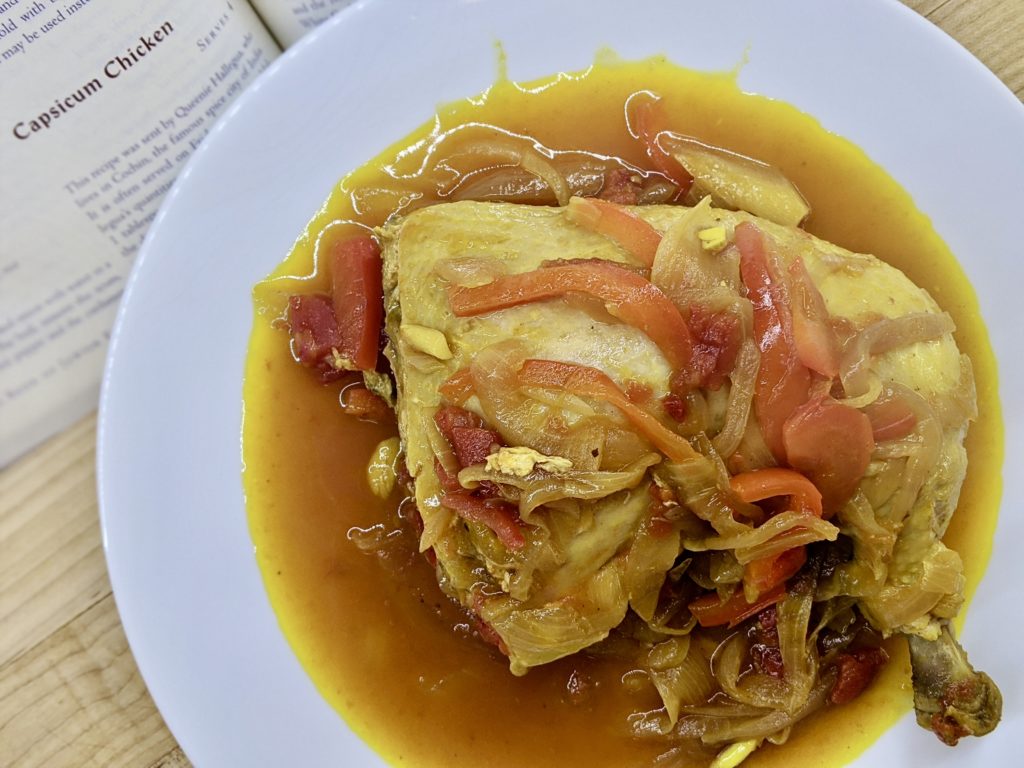 This next recipe is also from India and while it makes for a good side dish, it can also serve as a stewy main course for those of the vegetarian persuasion. IF you can still find whole pumpkins, the first step of this dish is to peel, slice, steam, and mash the cucurbit. HOWEVER, no pumpkins were to be found, so we opted for canned (which was also a bit difficult to track down), which also allowed us to skip this labor-intensive prep.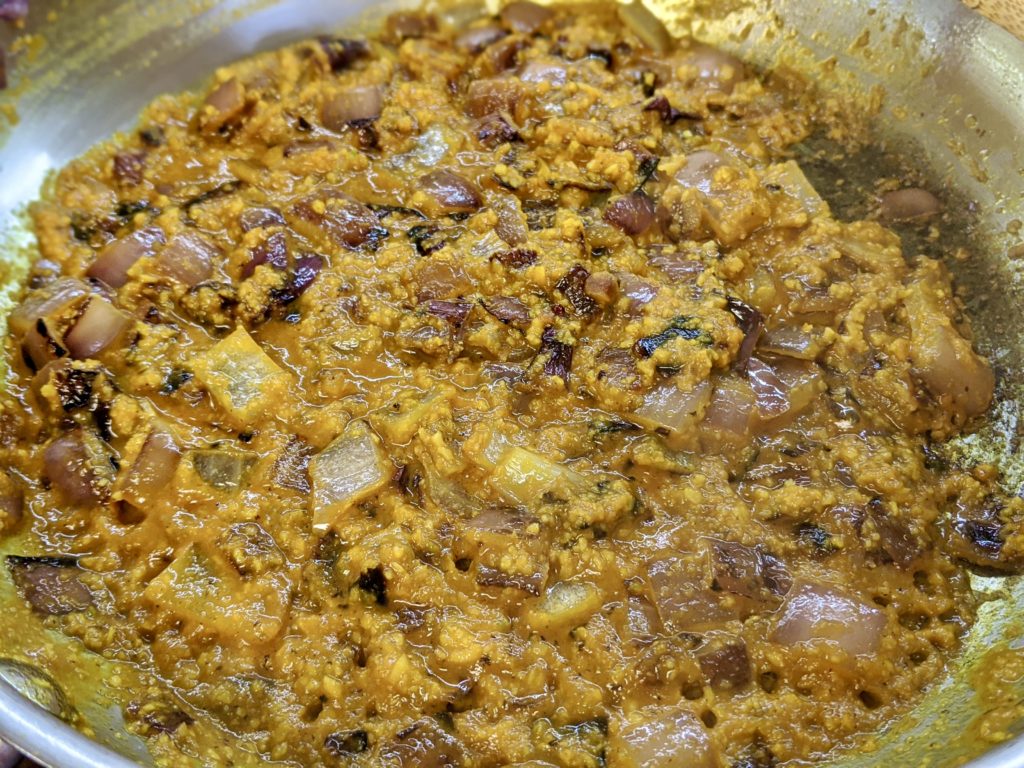 The canned pumpkin was mashed with cilantro, finely chopped green chili, garlic, ginger, salt, and chickpea flour. These were then gently shaped into walnut-sized balls while the sauce was made. The sauce consisted of cilantro, cumin, chilies, turmeric, and dried coconut blended to a paste. This joined fried onions in a pan and was heated until aromatic and beginning to brown. Canned tomatoes were added to this along with water, sugar, salt, and creamed coconut. This all simmered for 10 minutes after which our pumpkin kofta were added to the pan and cooked for about 15 minutes.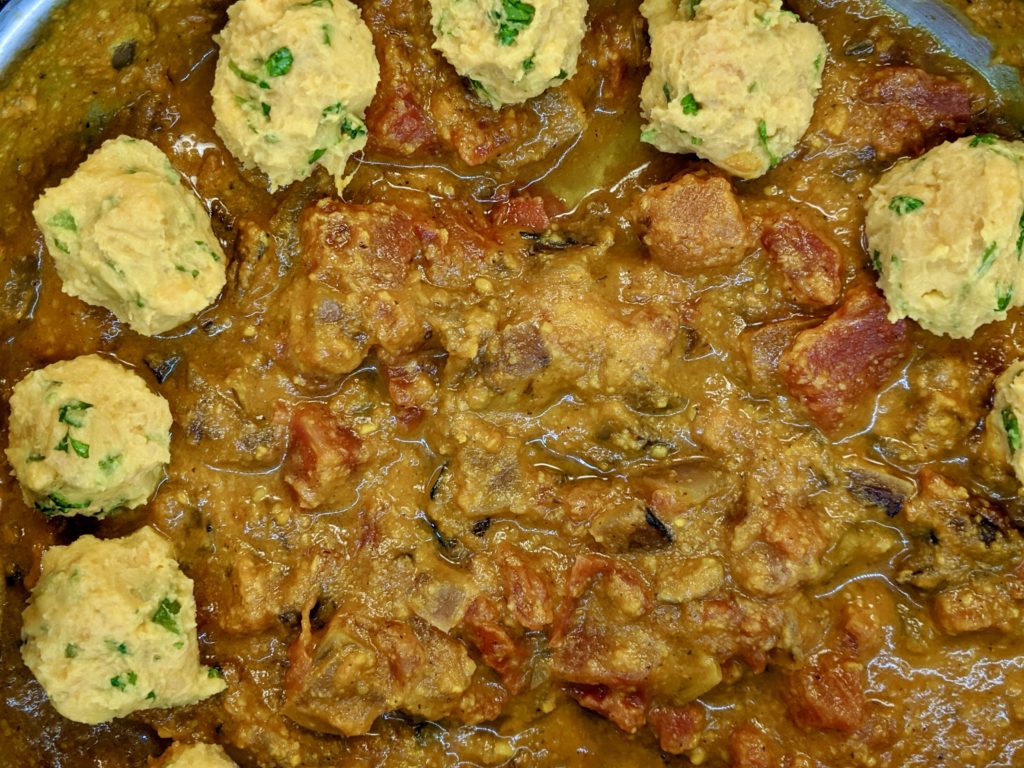 Our little kofta were extremely tasty and had a consistency similar to gnocchi. Despite looking fairly malleable, they actually held together extremely well both for tonight's serving as well as for leftover dinners later in the week. Their curry sauce was also very tasty and made yet another good accompaniment to our tamarind-y meat pizzas.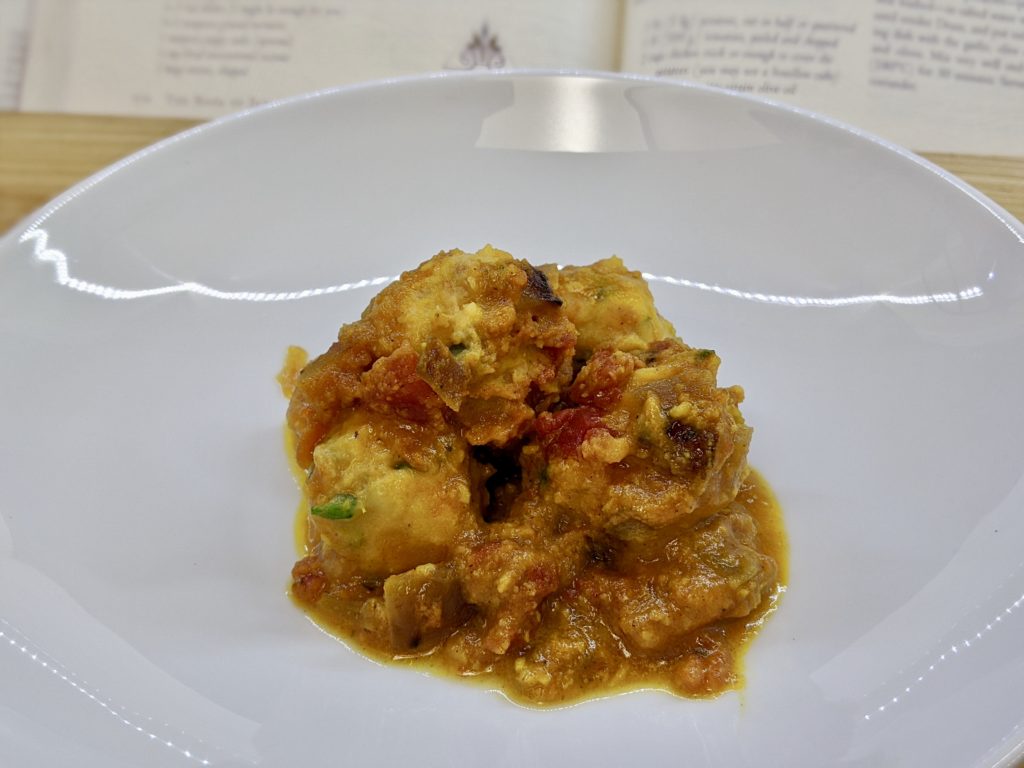 For dessert we jump back to the seaport city of Trieste located in northeastern Italy. This was a favorite of Slavic Jews who relocated to Italy and enjoyed this dessert on Rosh Hashanah and other holidays. This is a fairly labor-intensive dessert (any yeast-based cake is), which makes sense why it is relegated to special occasions.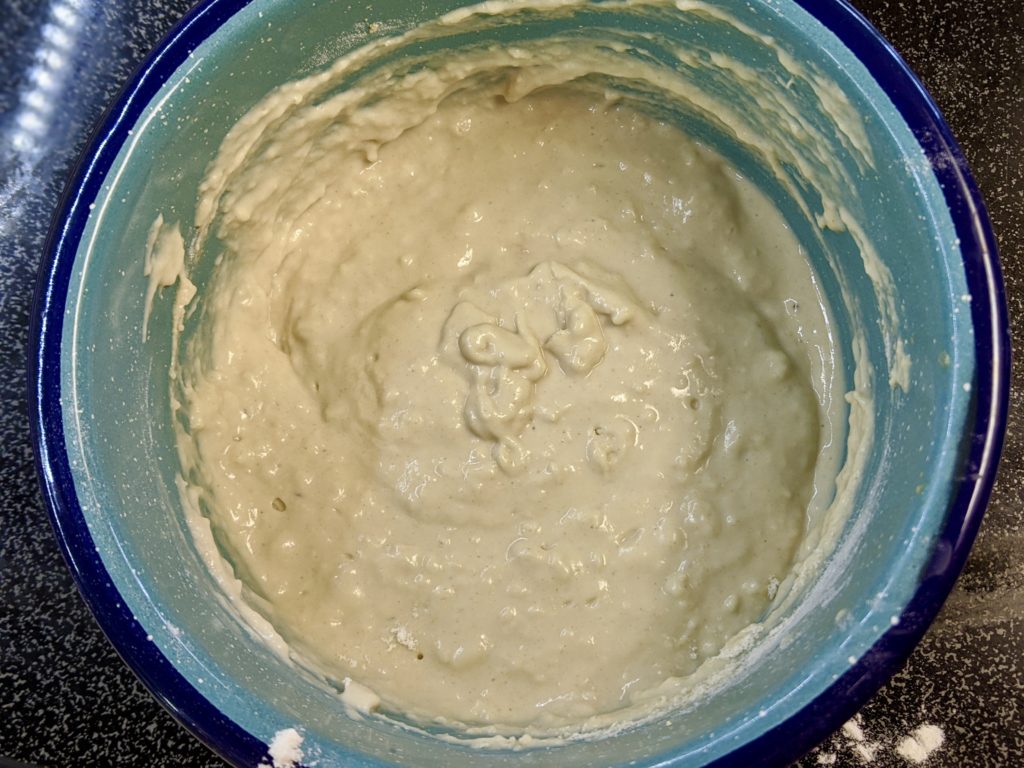 To start, yeast was dissolved in warm milk along with a little sugar and allowed to sit for about 10 minutes until it frothed. Next, a little bread flour was added to the mix to create a paste, which was then covered with plastic wrap and sat for 20 minutes until risen.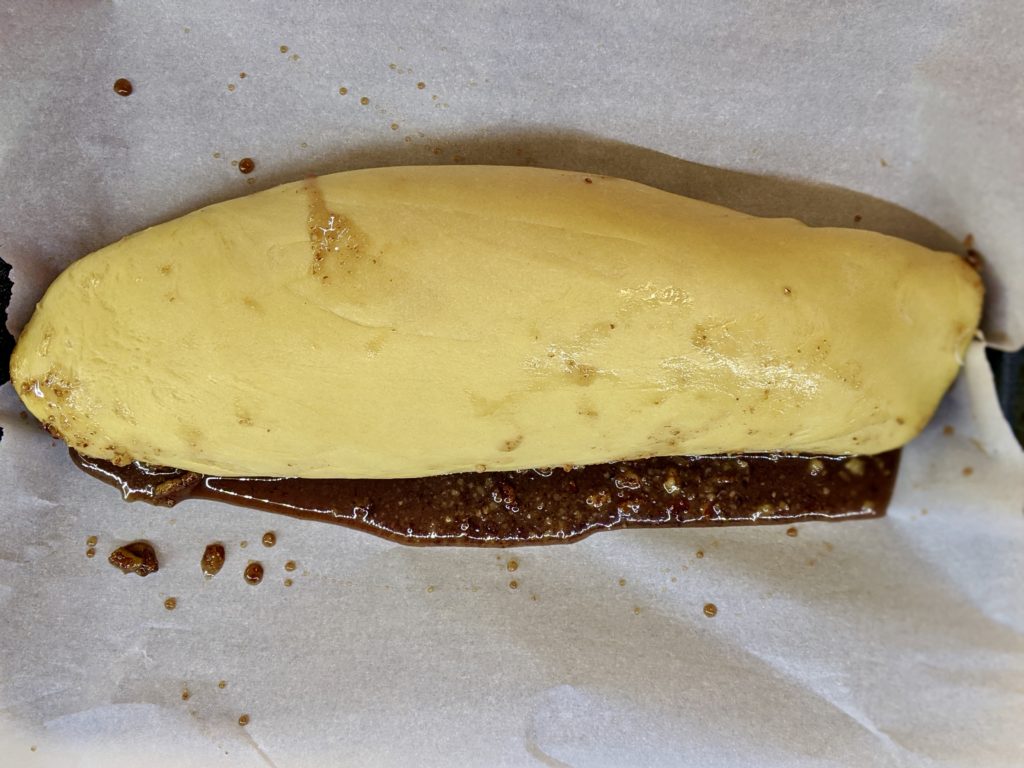 Butter, eggs, rum, lemon juice, salt, more bread flour, and sugar were added to the mini-risen dough blob and kneaded for 15 minutes until smooth and elastic. The soft dough was then coated in oil and sat in a warm spot to rise for another 2 hours. While this rested, the filling was made by boiling white wine with sugar, after which crushed walnuts and lemon zest were added to simmer for ten minutes and then left to cool.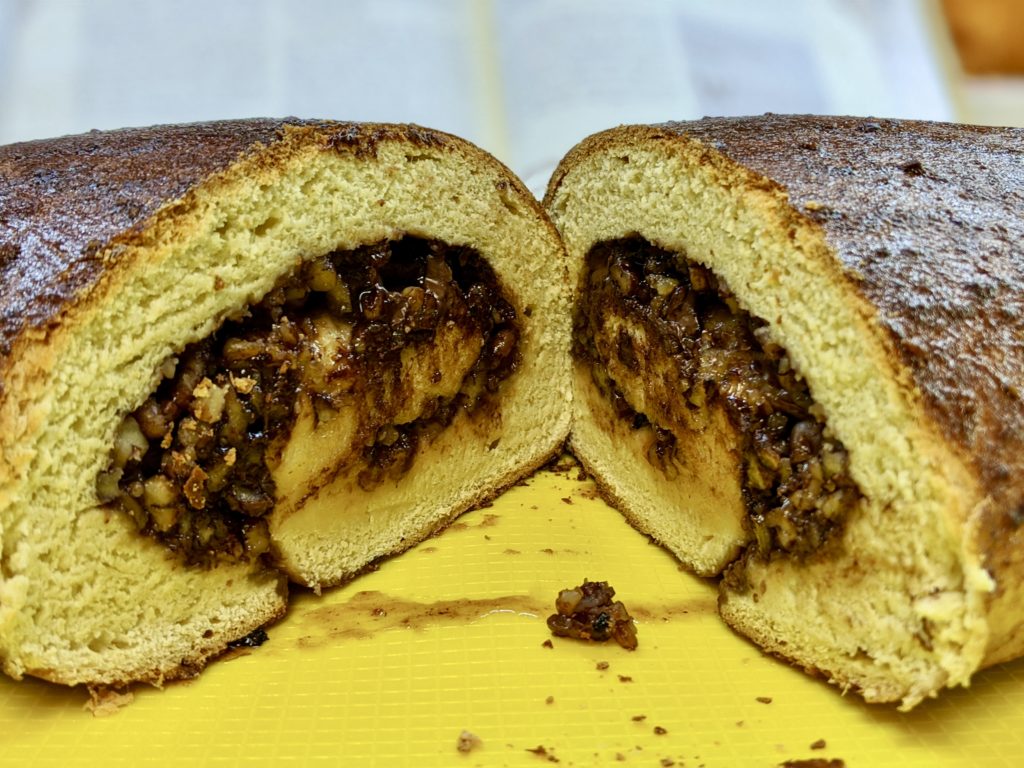 After the dough had doubled in size, it was punched down and then kneaded again for 5 minutes. This massive amount of dough was then rolled out into a rectangularish shape – it was a bit tough to roll out, telling me that it probably needed more time to rest, but we were running out of daylight! The filling was then spooned to the edges and chocolate was sprinkled over the runny walnut mix. The dough was rolled up into a long log (which was a bit messy, but I tried my best to keep as much filling inside of the dough as possible), brushed with egg yolk (and a little filling, which later caused problems), and left to rise again for another hour and a half. Once risen again, the log baked at 375F for 40 minutes until it sounded hollow.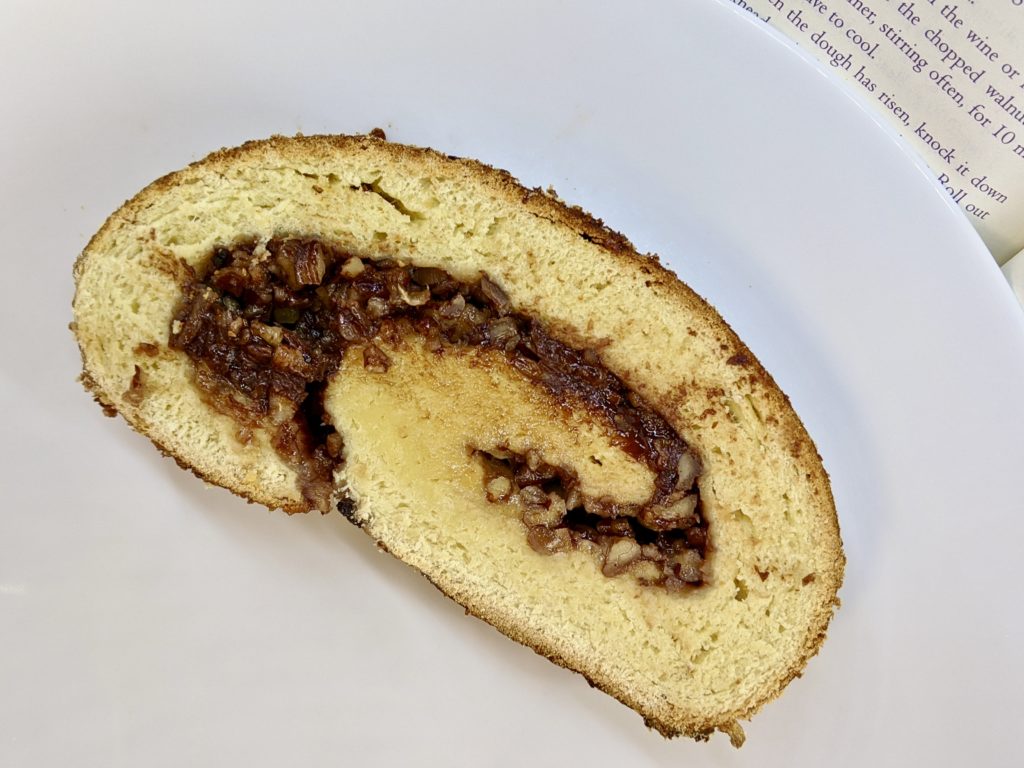 Unfortunately because some of the filling was brushed onto the outside of the roll, the outside browned a bit too quickly, making it appear burned when it definitely was not. In addition to needing a bit longer rise time, it also probably would have benefited from being baked at a slightly lower temperature for a longer period of time, as the center of the roll was *just* a touch underdone. However, despite all of these baking bothers, the roll was quite tasty – the roll itself being a bit chewy and the filling being nicely nutty and crunchy. It was good both hot and cold and we shall see how it comes back to life after being frozen, as this dessert could easily serve 15 people!
AND IN THE END, THE FOOD YOU MAKE IS EQUAL TO THE CARE YOU TAKE…
So how was Made In Marrow's meal number 75? As a reminder, our rating system is based on sticks of butter (because butter is best!), with 1 being the absolute worst and 5 being out of this world. Sticks of butter are assigned to Difficulty (how many kitchen fights were needed to complete the meal?), Tasty Goodness (was it a palate poor or did it make our mouths merry?), and Repeat Customer (how likely are we to return to the recipe?).
Difficulty [][][][] 4/5
Yikes! Multiple rise times, a tremendous amount of kneading, and a ton of simmering went into tonight's meal!
Tasty Goodness
[][][] 3/5 Lahma bi Agine – Meat Pizzas – This was split between Gary and I – if you like a tart and tangy pizza, this dish is for you!
[][][][][] 5/5 Capsicum Chicken – Spicy and saucy, a great combination
[][][][][] 5/5 Pumpkin Kofta Curry – Hearty, sweet, and savory – a home run!
[][][][] 4/5 Putizza di Noci – Trieste Yeast Roll – Sweet and nutty and chewy
Repeat Customer
[][][][] 4/5 Lahma bi Agine – Meat Pizzas – The dough is a winner, but the topping may need a few tweaks
[][][][] 4/5 Capsicum Chicken – Perhaps again, but with an extra sprinkle of spice
[][][][][] 5/5 Pumpkin Kofta Curry – Buy canned pumpkin and make this side a cinch!
[][][][] 4/5 Putizza di Noci – Trieste Yeast Roll – ONLY for special occasions…
Our tamarind and yeasty dinner turned out quite well (which is great because quite a bit of dough was turned for tonight) and we look forward to using more tamarind in future feasts!
Sip, sup, and savor all you can, you curious cooks,
Elais & Gary