Just want the recipes and none of that other wordy nonsense? Click the links below!
Ragout aux Épinards – Tunisian Meat Stew with Yellow Split Peas and Spinach
Tomates Yenas de Keso – Tomatoes Stuffed with Cheese
Sheikh el Mahshi Tamtem – Tomatoes Stuffed with Meat, Nuts, and Raisins
Meal the Ninety-Fourth
Sometimes you decide to do a thing, and then you stick to it for a while, and then life happens, and you fall out of your regular routine. You keep saying that you will get back in the habit and suddenly a week turns into two, turns into a month, and then months…which is all a very dramatic way of saying – yikes! Made In Marrow has not posted anything since November of 2020! And now, in April of 2021, we are finally getting back it, after getting through the holidays, election, and all of the chaos that the New Year brought. While we kept cooking, and cooking, and cooking, there was no writing, writing, or writing, because of work, school, life, housework, you name it, we had an excuse for it!
There's no history on this North African dish, however, this Tunisian stew stays true to its regional cuisine – very meaty, comforting, and rich with spices. To start off, onion was pan-fried until golden, after which garlic was added to the pan and stirred until aromatic. Cubed beef was added and browned after which yellow split peas were poured into the pan. Water was poured over everything and the stew was simmered until the meat and peas were tender.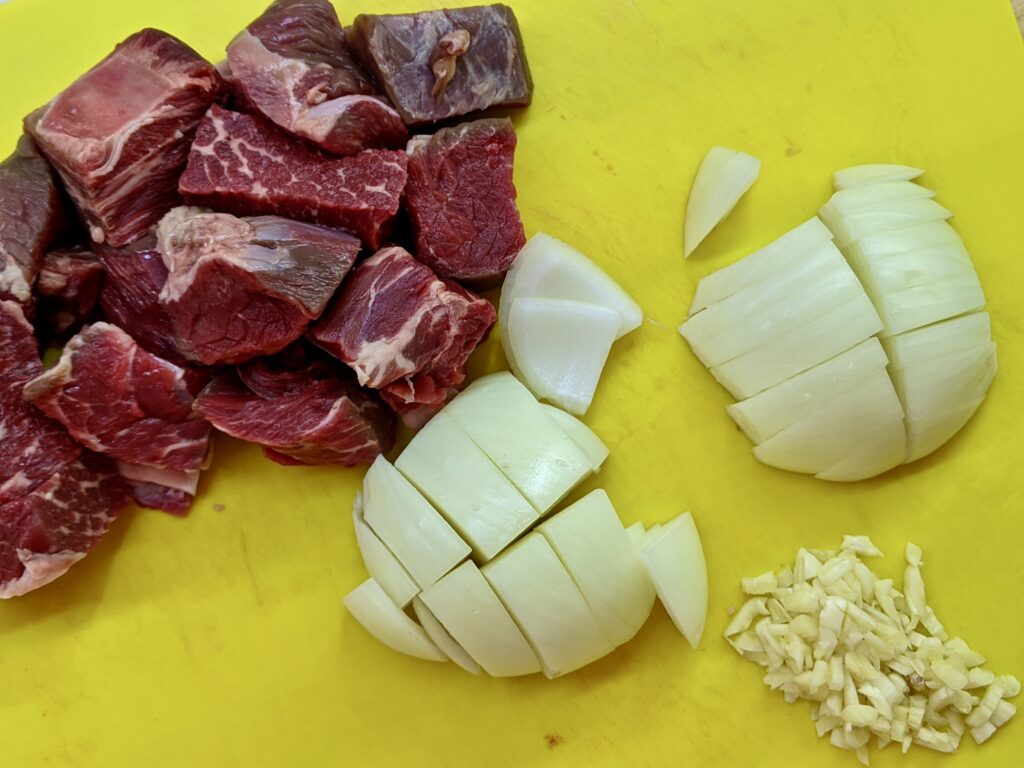 Salt, pepper, and cinnamon were stirred into the mix and the stew bubbled happily away on the stove for another 30 minutes. Once seasoned to taste, spinach was added to the pot and cooked, covered, until the greens had wilted.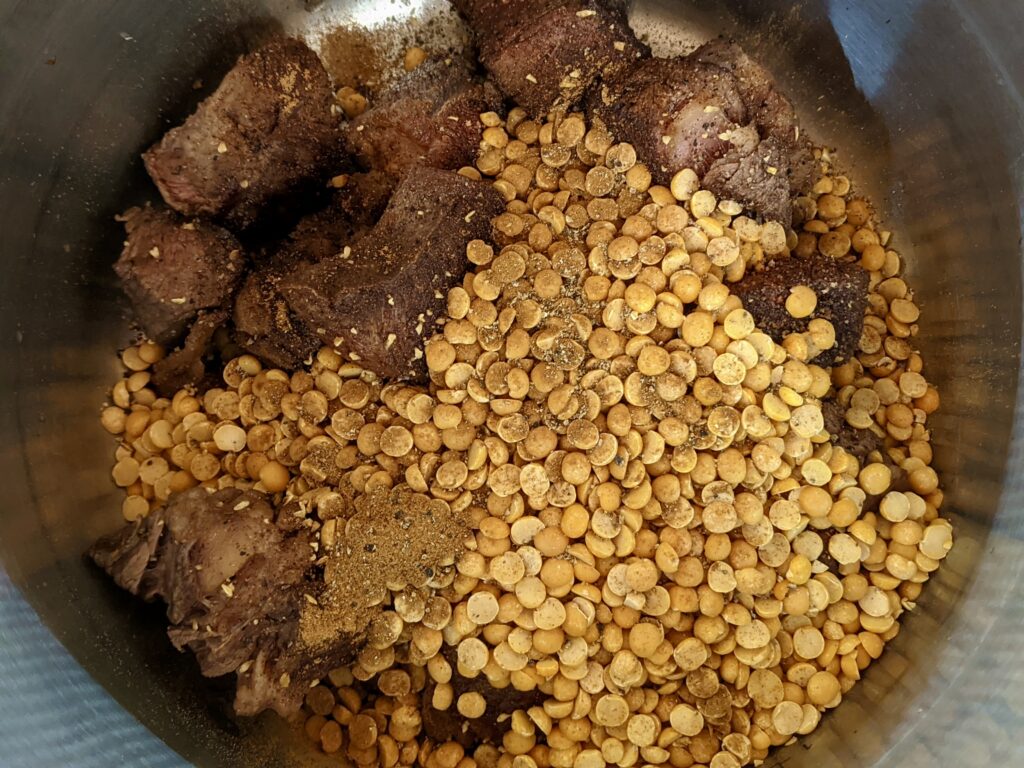 The stew was wonderfully savory and tasty heartily thick. It was a little "zingy" from the cinnamon, earthy from the spinach and velvety from the split peas which had dissolved to create an unctuous gravy. This was a great stew which made lots of leftovers which we would definitely enjoy again!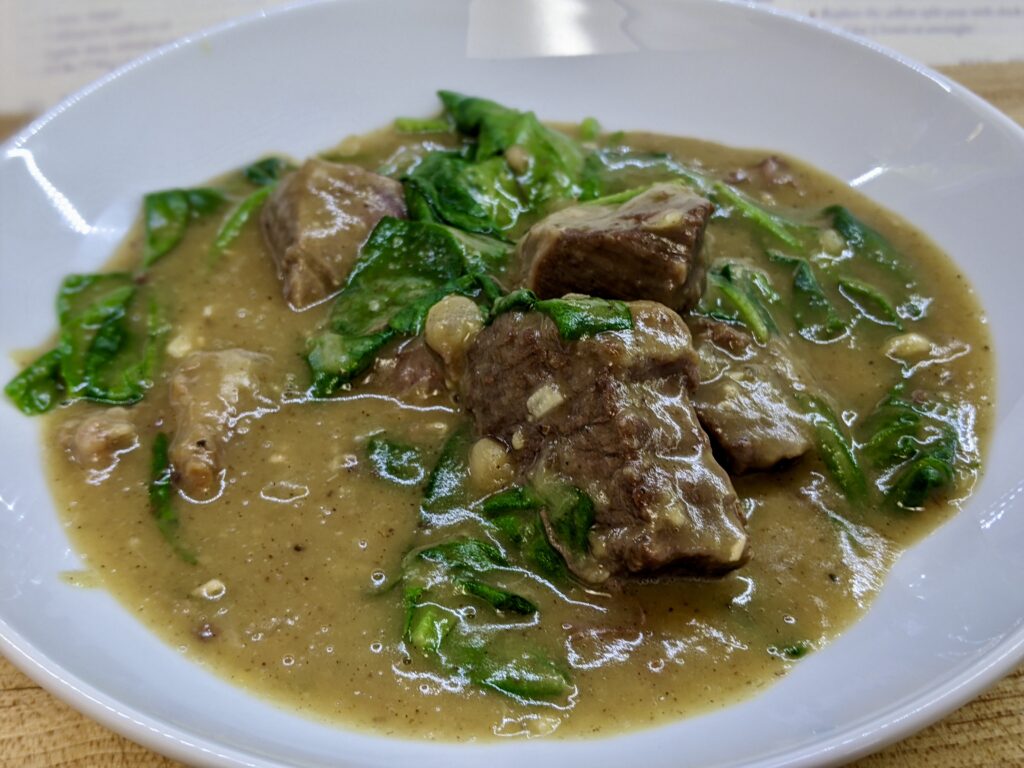 From Tunisia, we jump to Syria for this dish featuring tamarind, which is a typical Jewish sweet and sour flavor found in this region. The tamarind is a fruit-bearing tree indigenous to Africa which produces pod-like fruit that contains a pulp which is a tangy ingredient found in dishes around the world. Tamarind can be found throughout the tropics and was introduced to Mexico and Central America in the 16th century and today, India is the world's largest producer of tamarind. The fruit can be found in sweet and savory dishes, in snacks and desserts, in soups and drinks. This hard-working pulp is also found in metal polish and the tree lumber is used to make furniture and smaller trees are even grown as indoor bonsai in more temperate regions.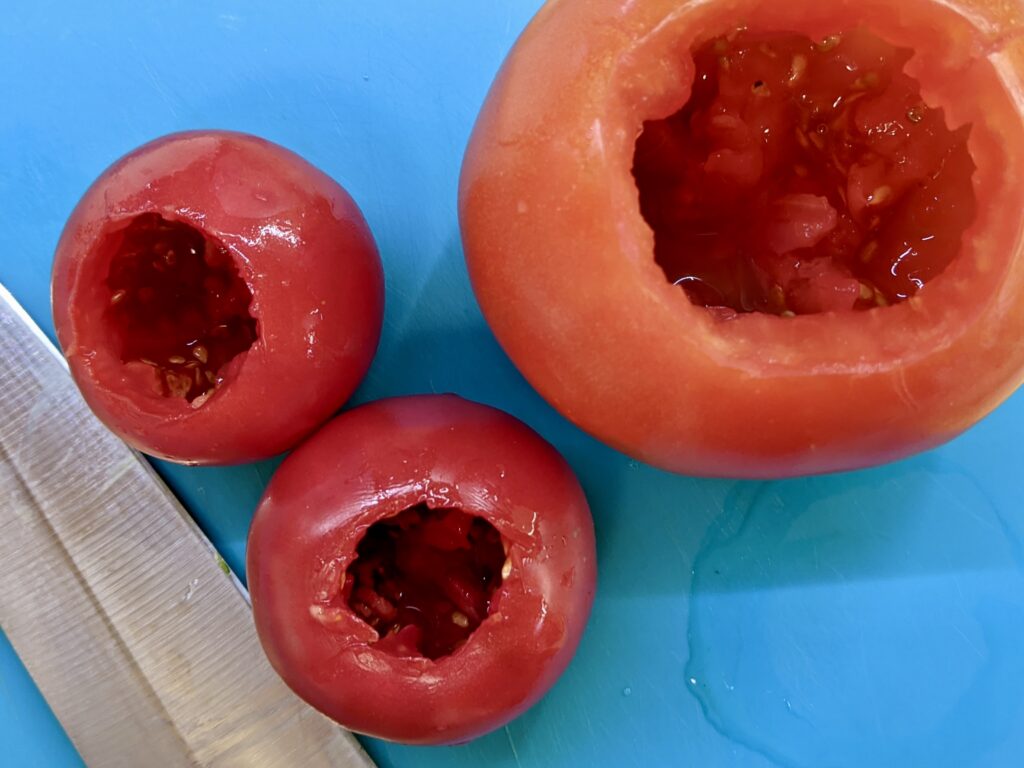 Tonight though, it is used to flavor one of our three stuffed tomato dishes. Handily available as a paste from our local Asian market, it makes for a bright seasoning used in small amounts. This tamarind tomato treat was started by frying the onion until golden, after which risotto rice was added to the pan and stirred in the oil until translucent. Water was added to the pan, along with salt, pepper, tamarind paste, and sugar, all of which was continuously stirred until the tamarind paste dissolved – this simmered for 15 minutes until the water was absorbed and mint, raisins, and pine nuts were mixed into the dish.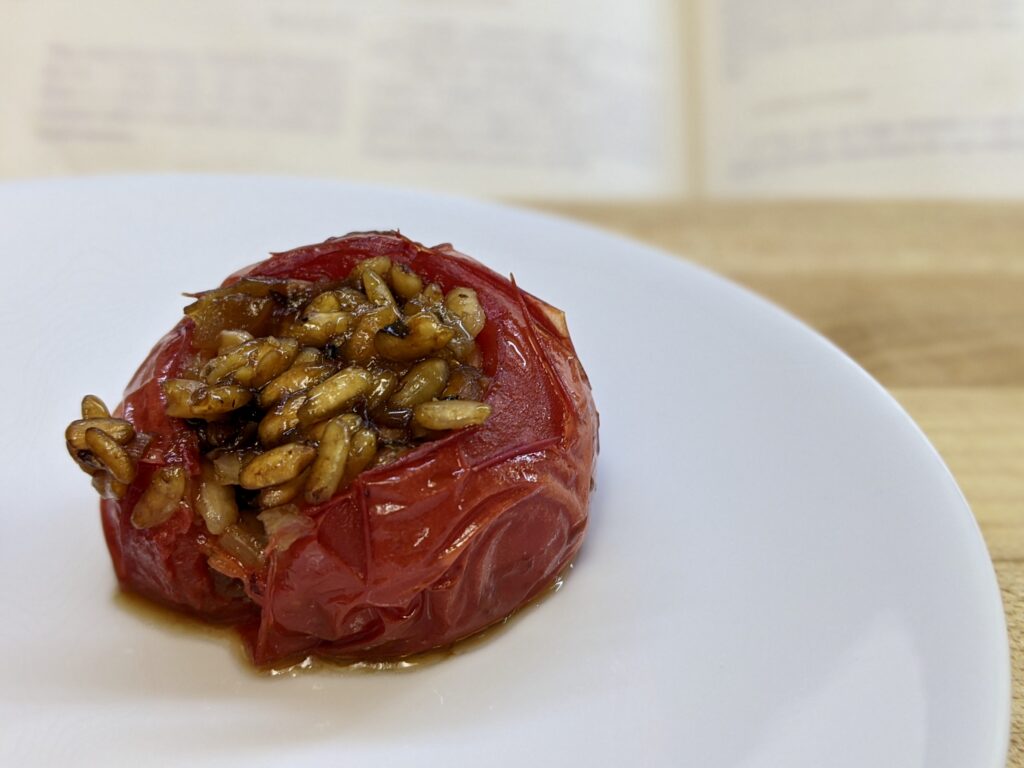 Next, the tomatoes were scooped out, reserving the caps to re-hat the tomatoes later. The filling was spooned into the scooped tomatoes, which were then arranged in a baking dish and baked at 350F for 40 minutes until the tomatoes were soft. This little bit of tart tomato was wonderfully tasty, with just enough tamarind to be notable but not mouth-puckeringly overwhelming. The golden raisins perfectly balanced the tart tamarind and the pine nuts added a nice crunchiness to the soft rice texture. This turned out to be our favorite tomato of the night, but the others were not far behind!
From Syria, we bounce back over to the Balkans for our next stuffed tomato dish. As Balkan cuisine frequently features the use of feta cheese and stuffed vegetables, this recipe would appear to be a good representation of the regional food. As with our above tomatoes, a sharp knife was used to create a little tomato hat and scoop out the insides. Meanwhile, feta cheese was mashed with cottage cheese, eggs, nutmeg, mint, and pepper. This was then carefully scooped into the tomato, which was then baked at 400F for 30 minutes until the tomato was soft.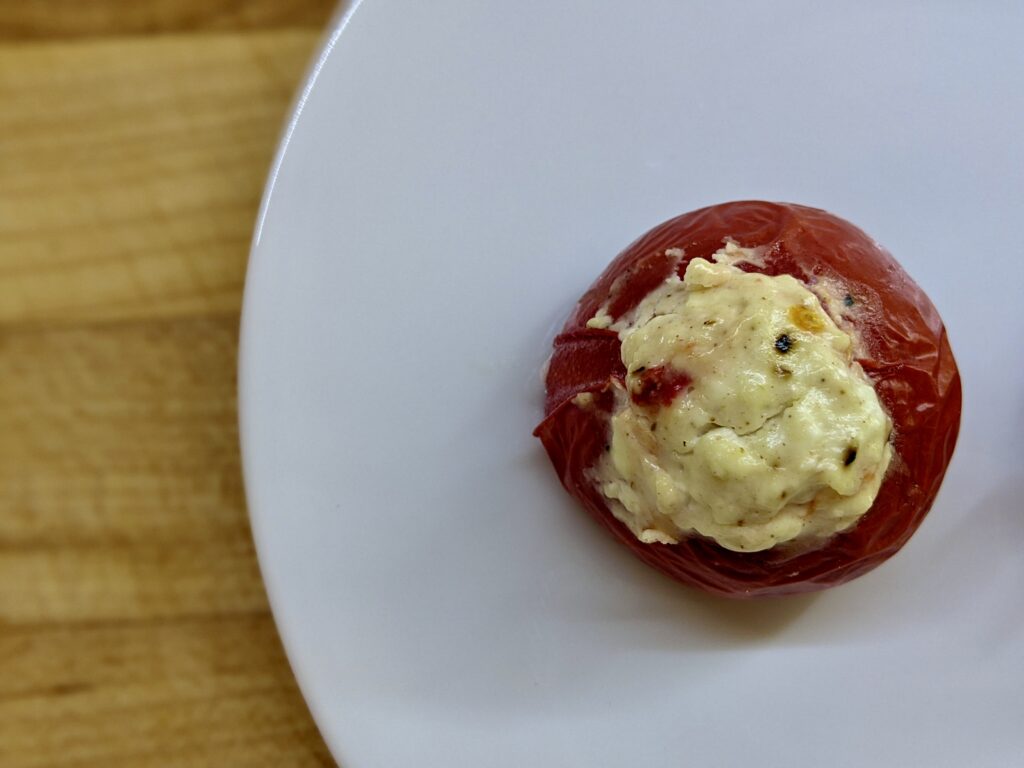 Our cheesy tomatoes could actually have used a bit more salt but were otherwise creamy and sumptuous. We actually think that the tomatoes would have been a bit better had the feta not been mashed, to add a little more texture to the tomatoes, but otherwise, these tasty treats would make for a great appetizer course.
For our last stuffed tomato dish, we return to Syria for this meat-stuffed fruit (as a friendly reminder, tomatoes are fruit ). Our tomatoes were again be-hatted and scooped, while its filling was created. The filling was started by frying onions until golden, after which ground beef was added to the pan and seasoned with salt and pepper. Chopped dates and walnuts were added to the browned meat, along with cinnamon, allspice, and parsley. The tomatoes were filled with the meat mixture and then topped with their little tomato caps. These were then baked at 350F for about 30 minutes until the tomatoes were soft.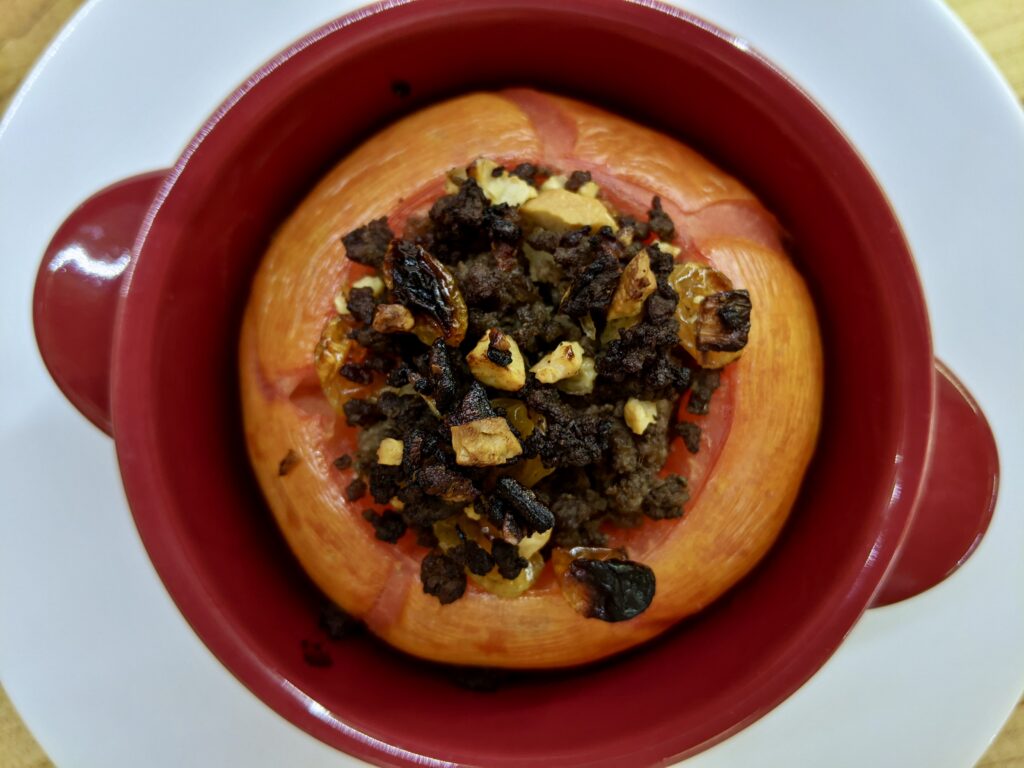 Our last meaty stuffed tomato proved to be the most savory of the night, mostly due to the heartiness of beef and walnuts. If we had used larger tomatoes, this recipe would have made for a great main course, as they turned out to be pretty filling on their own!
From Syria, we go next-door to Turkey for tonight's dessert. And if "haroset" sounds familiar, it's because we first tackled haroset in the previous section of the big Book of Jewish Food with the recipe "Ashkenazi Haroset". As a reminder, haroset is an apple mixture that symbolizes the mortar used by the slaves in Egypt. A specialty that is often featured on the Passover Seder plate, haroset can be found in several different regions in different variations (which we will cover over the next several weeks!).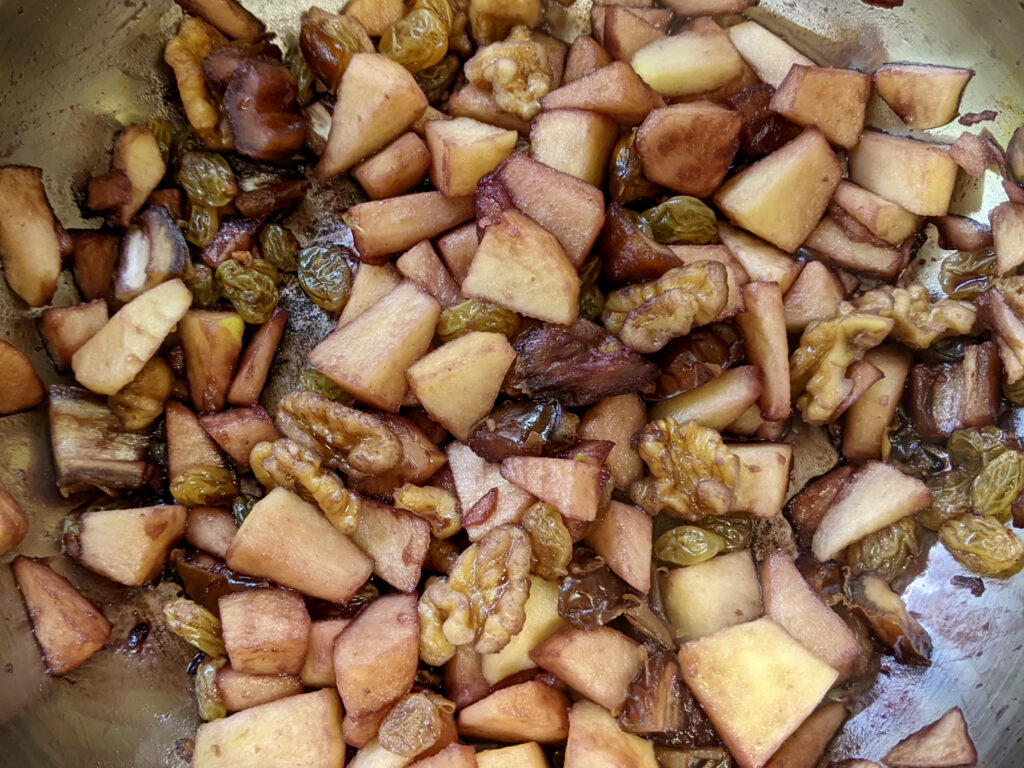 For the Turkish version, we fixed peeled and chopped apples with pitted dates, orange zest, and sweet red wine in a small saucepan. This simmered for about 45 minutes until it was "soft and mushy" (Claudia Roden's words, not ours). Sugar was then added to taste after which the entire contents of the pan were blended in the food processor. The puree was served in a bowl topped with walnuts.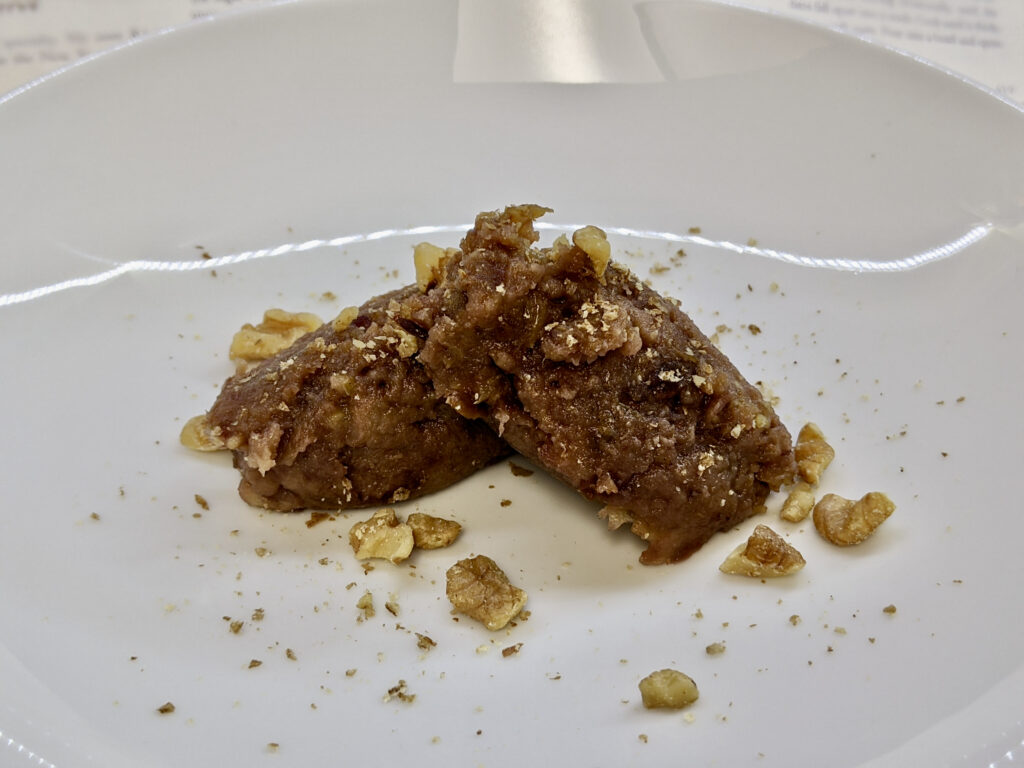 Despite this dessert proving to be difficult to photograph, it actually turned out to be pretty tasty! We could definitely taste the apples and the red wine, which offered a nicely sweet/tart flavor to the dish. The walnuts added a greatly needed textural component to the dish, but we also think it would be nicely complemented by whipped cream (but what dessert isn't???).
AND IN THE END, THE FOOD YOU MAKE IS EQUAL TO THE CARE YOU TAKE…
So how was Made In Marrow's meal number 94? As a reminder, our rating system is based on sticks of butter (because butter is best!), with 1 being the absolute worst and 5 being out of this world. Sticks of butter are assigned to Difficulty (how many kitchen fights were needed to complete the meal?), Tasty Goodness (was it a palate poor or did it make our mouths merry?), and Repeat Customer (how likely are we to return to the recipe?).
Difficulty 🧈🧈🧈 3/5
Scooping/filling vegetables is always a little time-consuming, but other than the time component, there was not anything overly difficult about tonight's dinner.
Tasty Goodness
🧈🧈🧈🧈 4/5 Ragout aux Épinards – Tunisian Meat Stew with Yellow Split Peas and Spinach
🧈🧈🧈🧈 4/5 Tomatoes Stuffed With Rice
🧈🧈🧈🧈 4/5 Tomates Yenas de Keso – Tomatoes Stuffed with Cheese
🧈🧈🧈🧈 4/5 Sheikh el Mahshi Tamtem – Tomatoes Stuffed with Meat, Nuts, and Raisins
🧈🧈🧈🧈 4/5 Haroset from Turkey
Repeat Customer
🧈🧈🧈🧈🧈 5/5 Ragout aux Épinards – Tunisian Meat Stew with Yellow Split Peas and Spinach
🧈🧈🧈🧈 4/5 Tomatoes Stuffed With Rice
🧈🧈🧈🧈 4/5 Tomates Yenas de Keso – Tomatoes Stuffed with Cheese
🧈🧈🧈🧈 4/5 Sheikh el Mahshi Tamtem – Tomatoes Stuffed with Meat, Nuts, and Raisins
🧈🧈🧈 3/5 Haroset from Turkey
After a long break, we are greatly enjoying getting back into our kitchen capers – here's to our upcoming spring cooking adventures!
Sip, sup, and savor all you can, you curious cooks,
Elais & Gary