Just want the recipes and none of that other wordy nonsense? Click the links below!
Khiar bi Laban – Yogurt and Cucumber Salad
Raita – Indian Yogurt and Cucumber Salad
Les Fila à la Viande – Little Meat Triangles
Epinards aux Pois Chiches – Spinach and Chickpeas
Gâteau à l'Orange – Orange Cake
Meal the Seventieth
Tonight is all about sauces, specifically, those that are yogurt-based. Yogurt is a wonderful milk product created by bacterial fermentation of lactose. The yogurt cultures act on milk proteins to imbue a wonderfully tart flavor and texture, which can then be eaten by itself or combined with a variety of other sweet and savory ingredients. Cow's milk is the most common milk used for yogurt, but yogurt can also be hyper-localized in the protein used, as in communities that facilitate milk from goats, buffalo, camels, ewes, or yaks (each having its own unique taste).
Yogurt was thought to have originated in Mesopotamia around 5000 BC and the word yogurt itself is Turkish in origin. The combination of yogurt and honey was considered "food of the gods", and was often attributed to longevity. Yogurt has been a staple all over Europe, Russia, India, and the Middle East, being celebrated and studied, with the average American in 2017 eating 13.7 pounds of yogurt per year.
Sephardic communities use yogurt much like Ashkenazi families use sour cream – as a part of meatless meals as a sauce, a salad, or a thinning agent for fruit compotes and jams. Yogurt was also strained to create a product similar to cream cheese (called labne) and was often eaten as an appetizer. Tonight's featured yogurt dishes are featured in the form of salads/sauces, so join us for a very cultured (get it? get it?) meal!
According to Claudia Roden, this dish is a regular side for meatless meals during Sephardic meals. A critical step in this recipe is salting the cucumber before adding it to the sour cream. Just like salting zucchini and eggplant prior to using, salting cucumber helps to draw out the excess fluid, yielding a crisp vegetable addition to any salad as well as decreasing the soupy vegetable water that may dilute dressings and make sour cream toppings (like tonight's appetizer) thin and unappealing.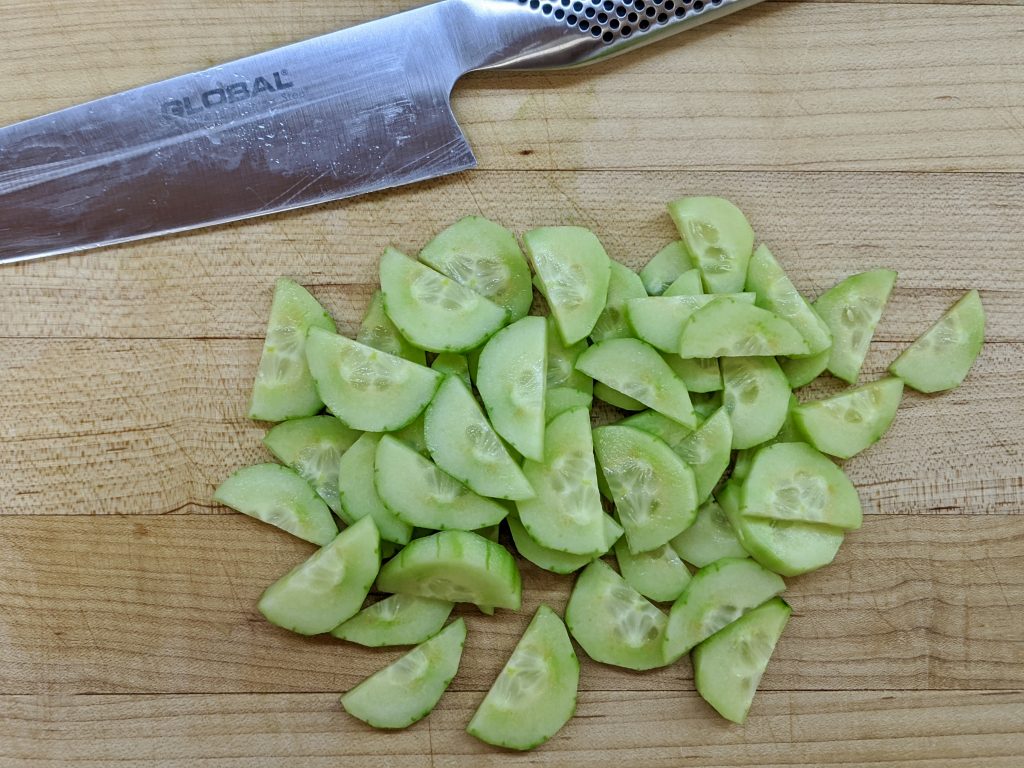 So, after peeling and slicing the cucumber, it was salted and left to sit in a colander for an hour. After this had drained, the slices were mixed into full-fat Greek yogurt, along with crushed garlic, salt, pepper, and dried mint. It easily doubled as a rich salad as well as a dipping sauce for tonight's main course and was a perfect bright complement to the meat pies. While Gary and I both enjoyed this sauce/salad, of our two yogurt dishes tonight, this one was my favorite (read on for Gary's!).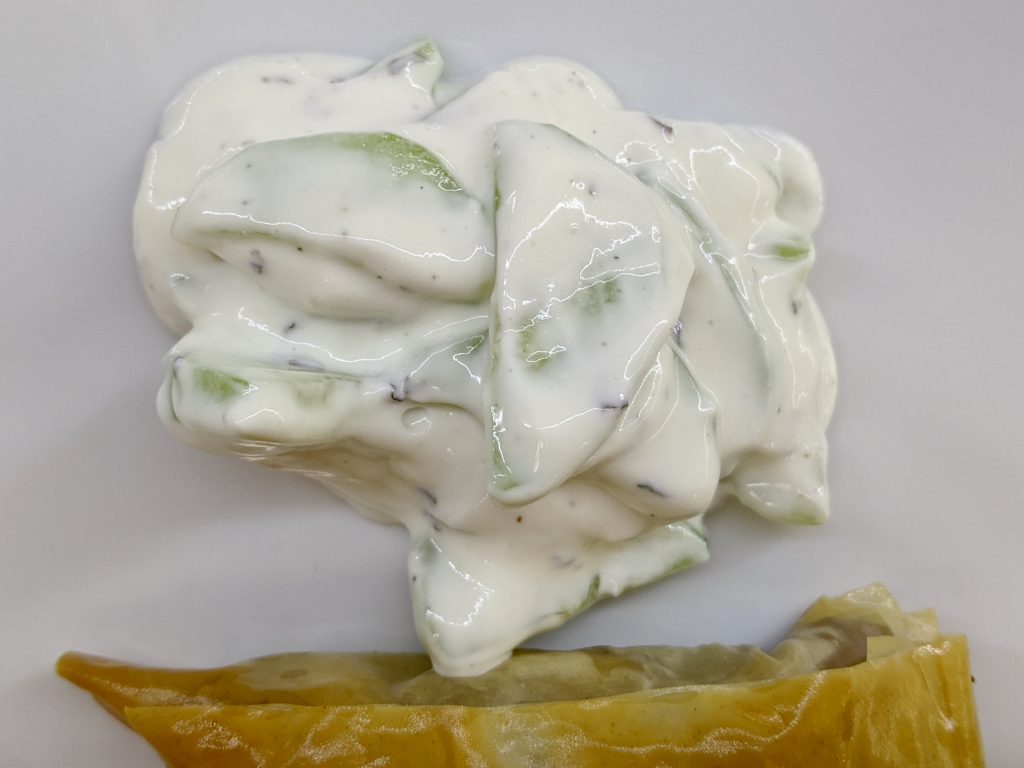 Our second yogurt salad of the night is a favorite in India and relies again on salting the cucumber as well as the grated onion, to help dissipate any unpleasant onion acridness. Peeled and grated cucumber joined grated onion in the colander to be salted and drain for two hours. After our veggies had time to rest, they were beaten into the full-fat Greek yogurt along with cayenne pepper and salt.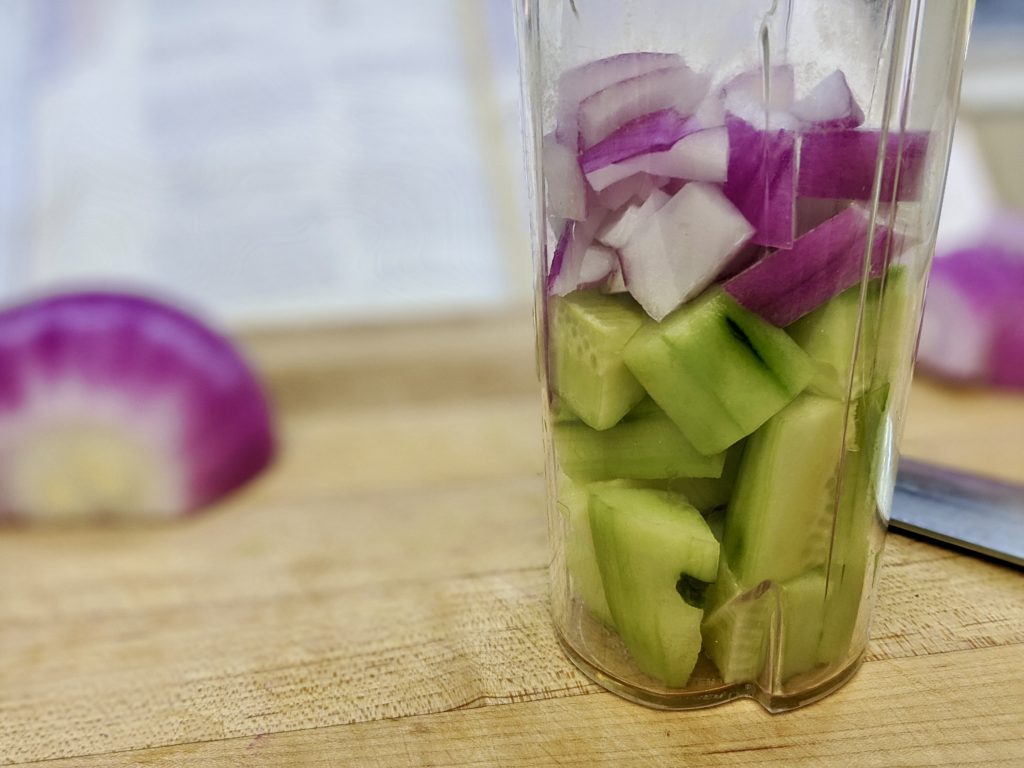 This yogurt side was a bit spicy and significantly more flavorful than the above cucumber-sliced-yogurt salad. The onion was definitely apparent but not unpleasant and paired well with the cayenne but tempered by the shredded cucumber. This also made a great flavorful accompaniment to the meat pies and did not pair too badly with breakfast burritos later in the week!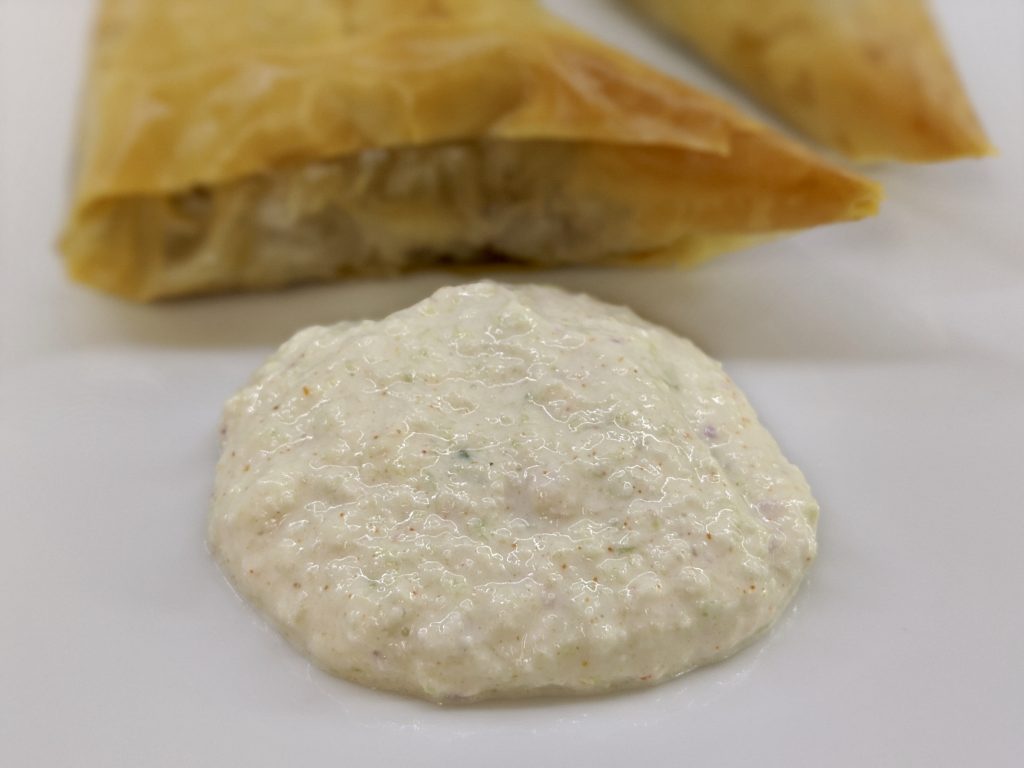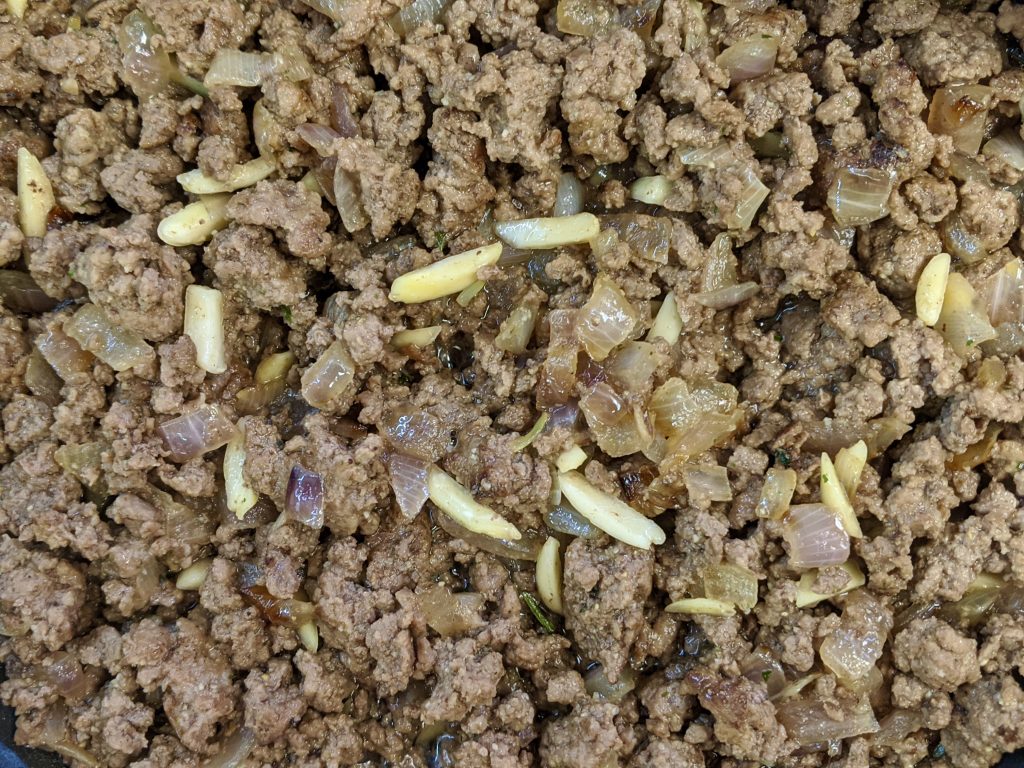 Our main course for this evening hails from Syria, Lebanon, and Egypt and is the last of our little filo triangles. For the filling, ground beef was fried with onion and seasoned with salt, pepper, cinnamon, and allspice. Lightly toasted pine nuts were thrown into the pan and the mix was allowed to cool slightly before spooning into their filo jackets.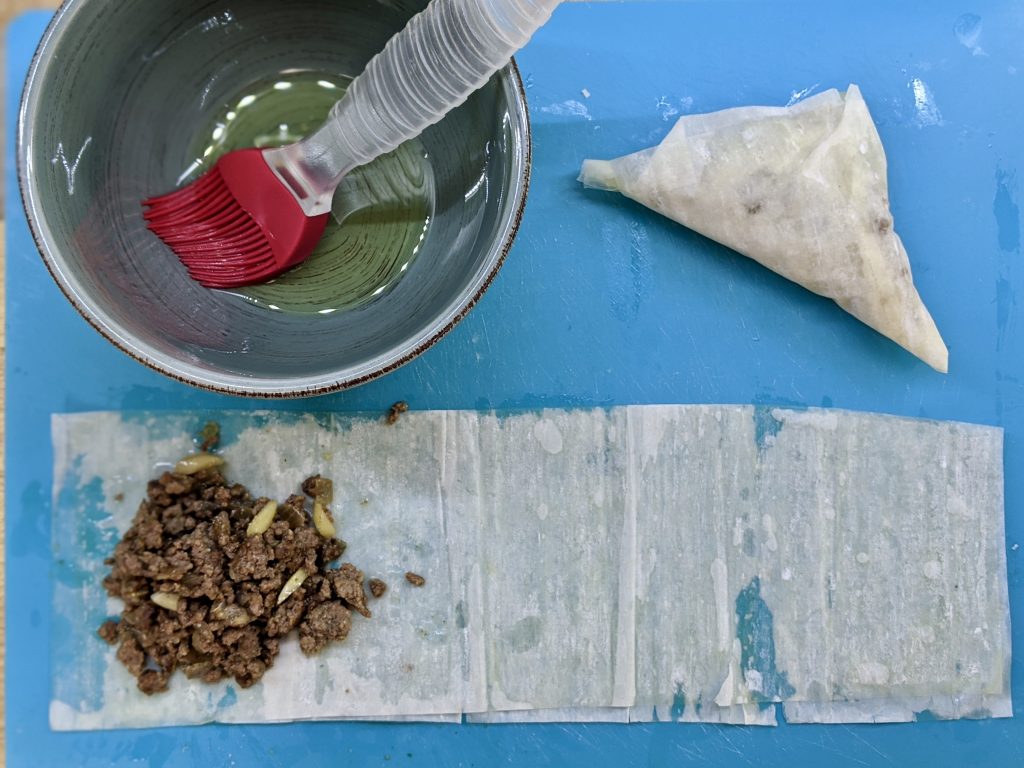 To make the triangles, filo sheets were sliced lengthwise into long rectangles, brushed with oil, and then layered two at a time to add a little strength to their structure. A tablespoon of meat mixture was placed in a far corner of filo and then oh-so-carefully turned over itself into triangles until all of the dough was folded up. These triangles were then placed on a cookie sheet and brushed with oil, baking at 350 for 30 minutes until golden.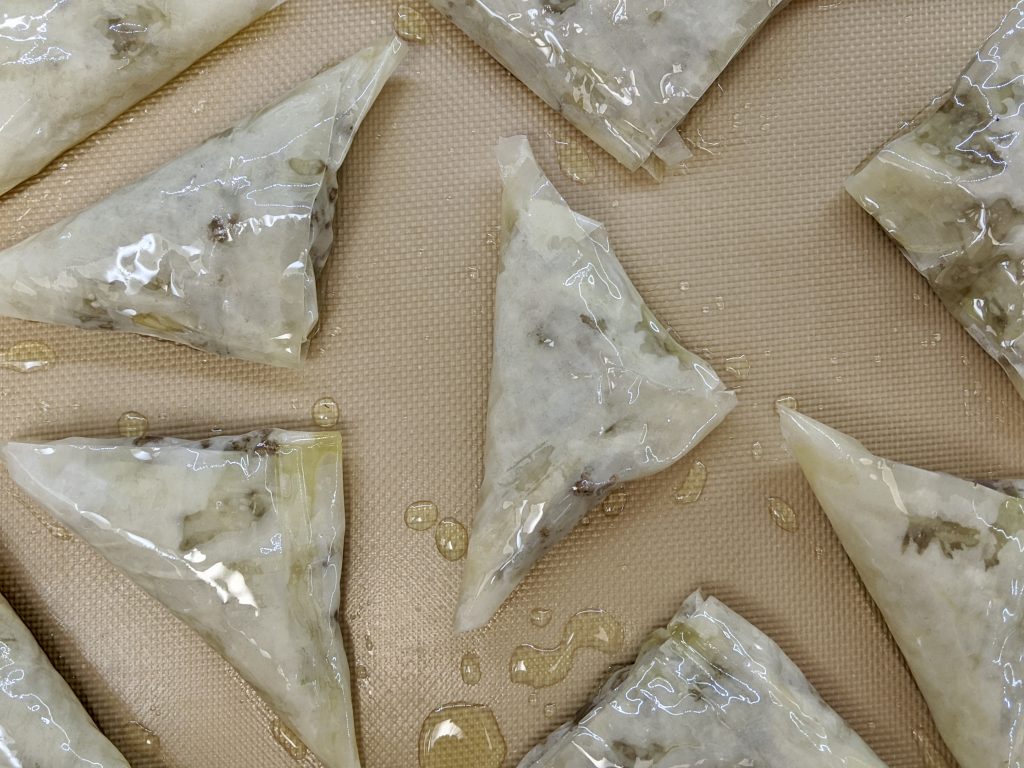 The meat pies were excellent – savory and salty and just a little spicy with a very mild taste of cinnamon. The filo was flakey and crunchy, holding up well to the above yogurt side dishes, both of which were a perfect complement to our handheld dinner!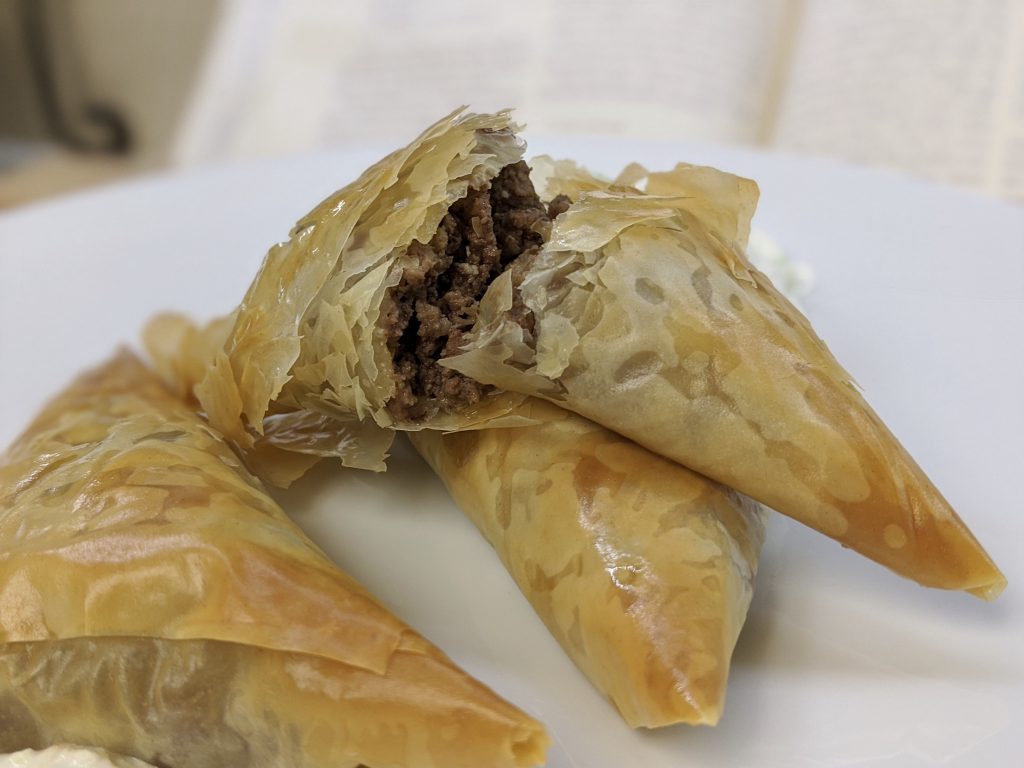 The vegetable side is often served as a Sephardic New Year's dish, with the chickpeas representing prosperity as well as well-roundedness (due to their round shape), and the spinach representing newness. The first part of this dish was to soak and par-cook the chickpeas, which for some reason took 8 hours in our house but resulted in nice, tender legumes, so it was definitely worth the effort!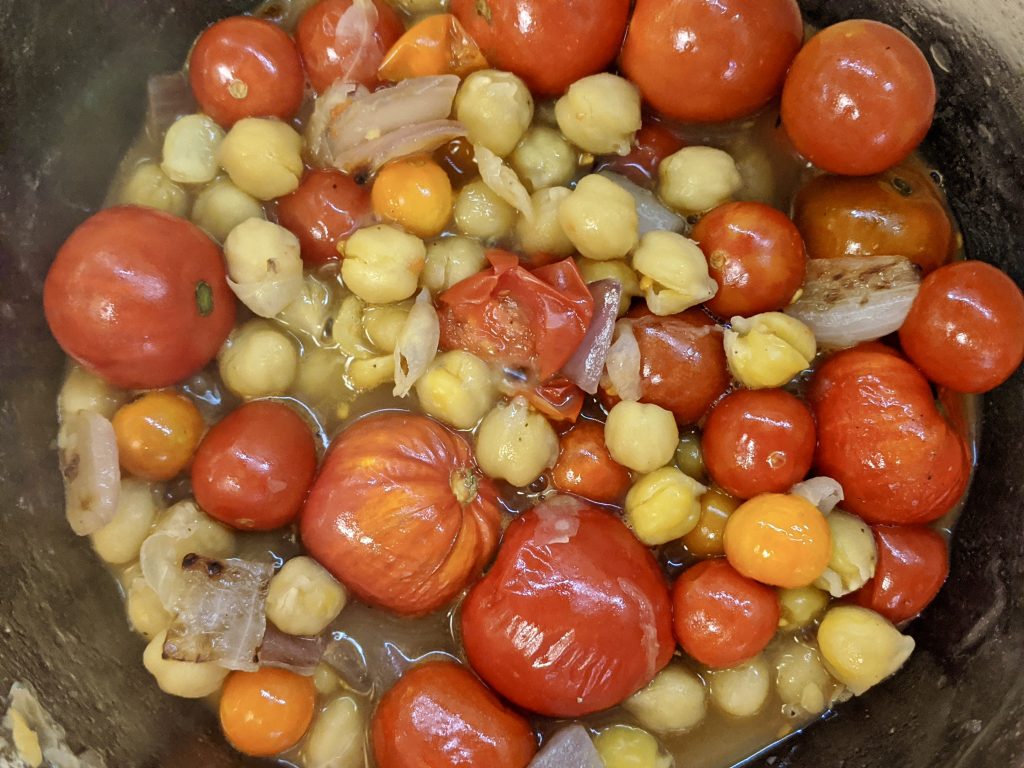 The next step was to fry chopped onion until soft, which was then added to our pot of soaked peas. This was joined by tomatoes from our summer garden, salt, and pepper, and then simmered for an hour until the juices had reduced. To finish the dish, spinach was placed on top of the chickpea and tomato mixture and a lid was put on the pot.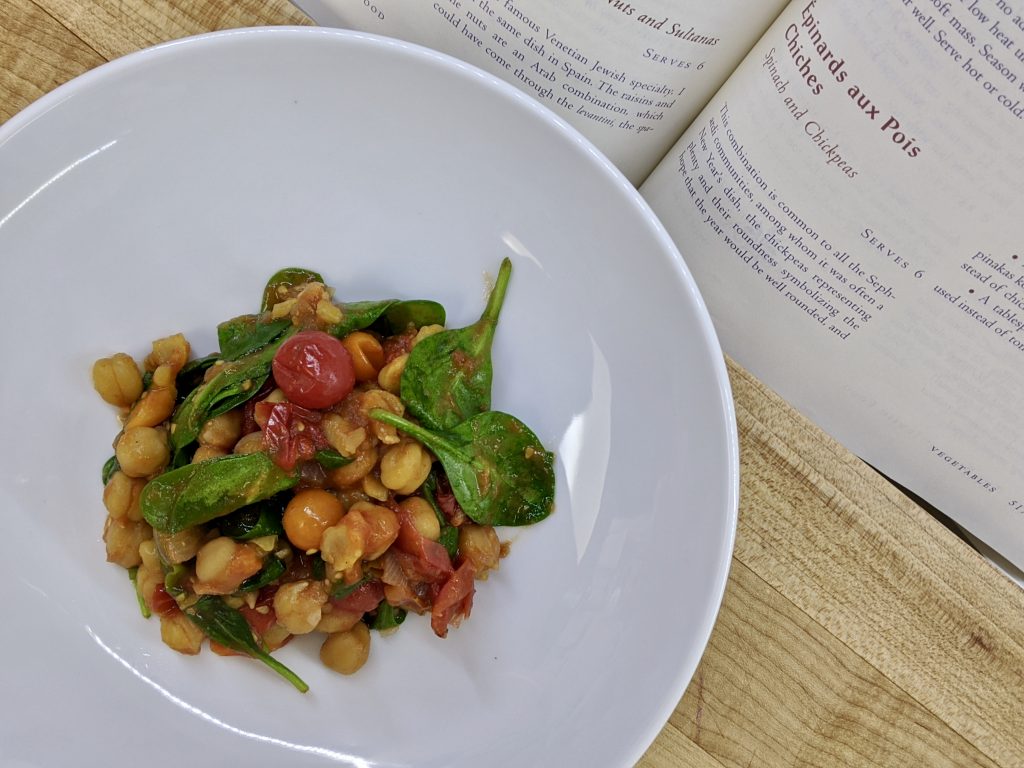 Once the spinach had wilted, the dish was ready to be served. Both Gary and I thought the recipe tasted extremely familiar, but could not place it, resulting in a bit of a dish deja vu. Despite our befuddlement, we both liked the dish, and it was a great overall pairing for our meal, being light, creamy, and a bit earthy.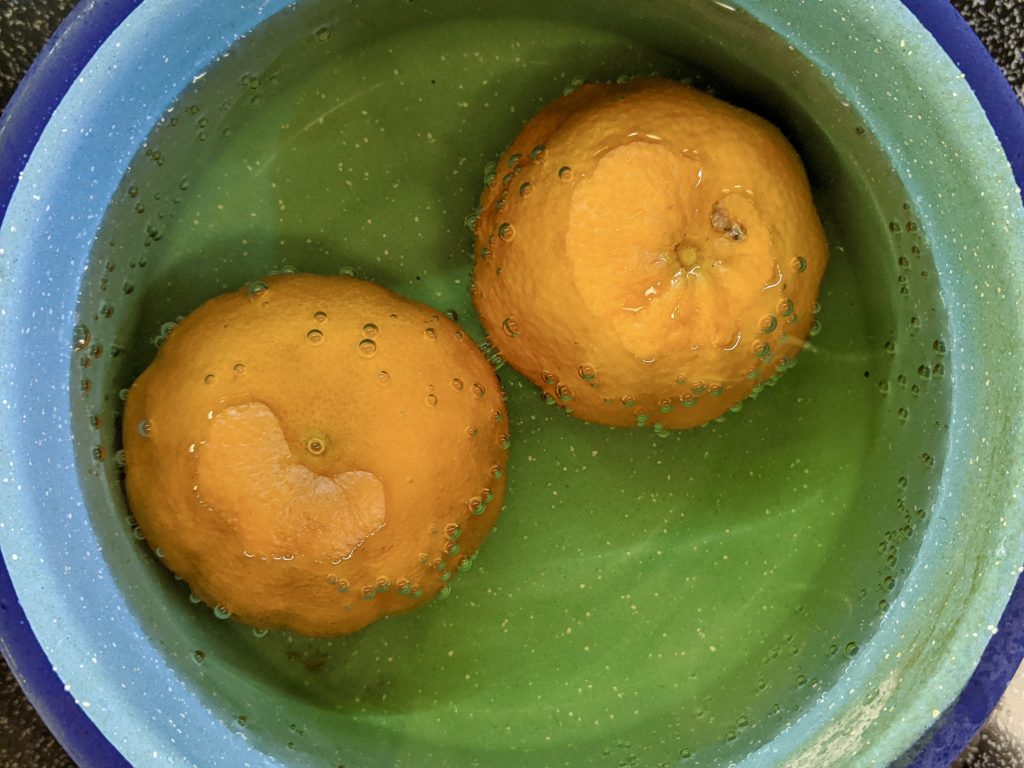 Our Judeo-Spanish dessert features a fruit typical to the Spanish and Mediterranean Jewish communities, the humble orange. The orange is featured in religious rituals, such as the Feast of Tabernacles (Sukkot) and was important during Roman times as symbols denoting the Jewish faith on coins and gravestones. After Rome fell, this citrus continued to carry importance in the Middle East, and wherever there were Jewish communities, there were also large areas of orchards and irrigation. This resulted in Jews becoming known as specialists in oranges and lemons throughout the Mediterranean, trading citrus to the rest of Europe, and developing many, many recipes involving oranges (this is actually the fifth cake including an orange that we have made from the Sephardic section of The Book of Jewish Food).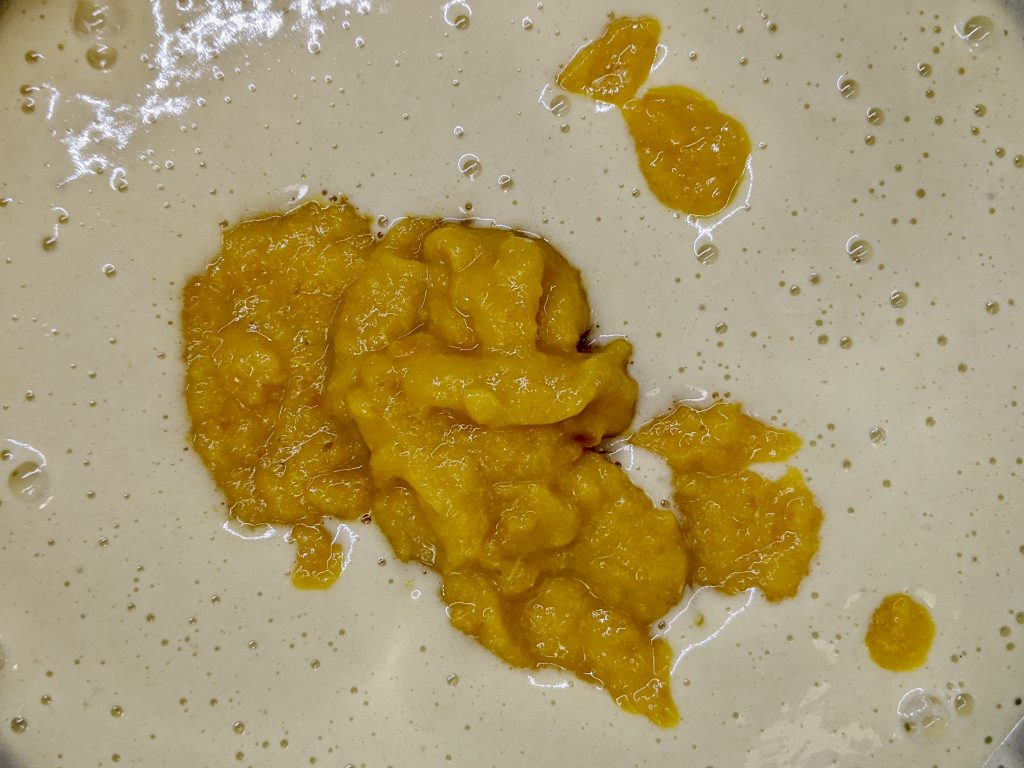 This cake is vastly different from last week's Almond Cake in Orange Syrup, as it is mostly comprised of orange (i.e. the orange, the whole orange, and nothing but the orange!). Two oranges (not peeled!) were boiled in water for two hours until very, very soft. As these cooled, eggs were beaten with sugar, orange blossom water, baking powder, and ground almonds. The whole oranges were pureed in the blender and added to the orange-y batter. This was then poured into a greased and floured springform pan and baked at 375 degrees for an hour until golden.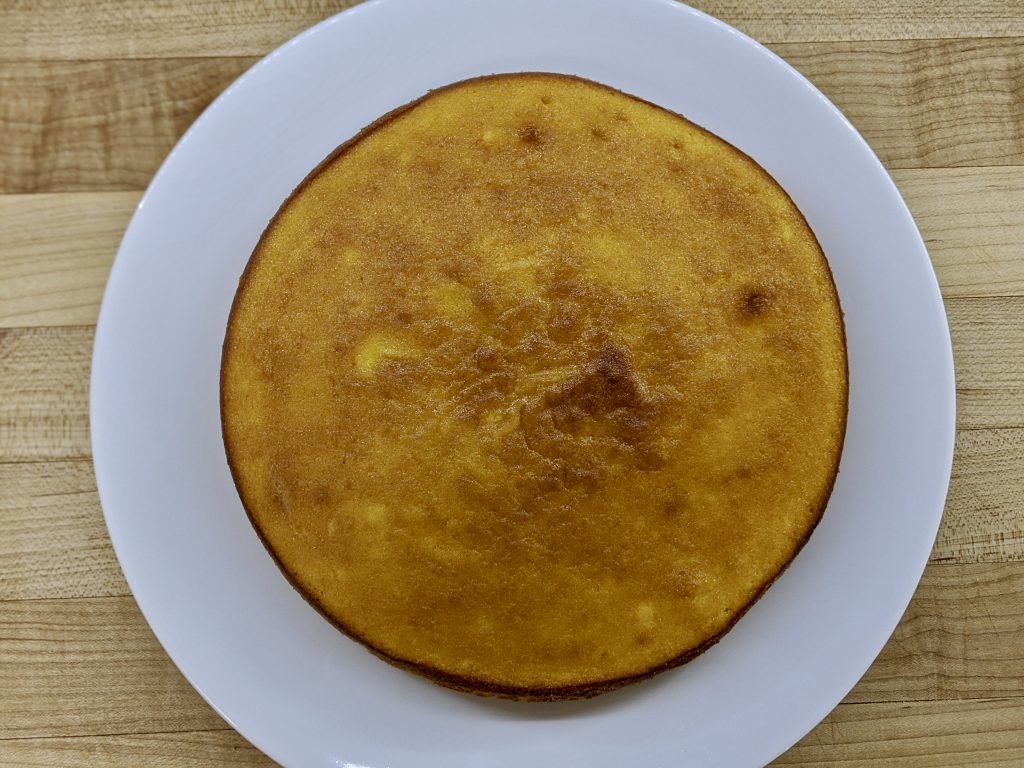 The cake turned out beautifully, gold in color and slightly rounded on top, not having fallen after coming out of the oven (very exciting for Elais!!). It also perfectly released from the pan and agreed to hold its shape while being transferred to its serving plate. But, enough about its looks – the cake was dense and moist, almost like a puddings pastry. It was quite orange-y in flavor, with the bitterness of the rind tempered by the sugar and orange blossom water. Gary managed to eat half the cake within the first day, so we say it was a hit!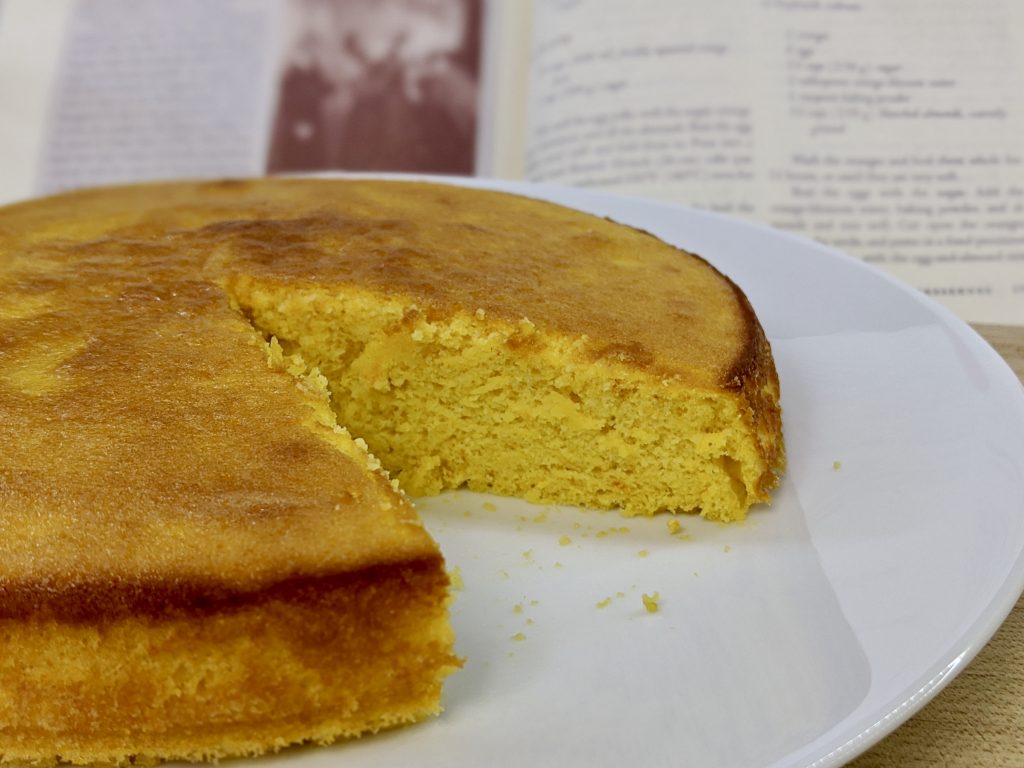 AND IN THE END, THE FOOD YOU MAKE IS EQUAL TO THE CARE YOU TAKE…
So how was Made In Marrow's meal number 70? As a reminder, our rating system is based on sticks of butter (because butter is best!), with 1 being the absolute worst and 5 being out of this world. Sticks of butter are assigned to Difficulty (how many kitchen fights were needed to complete the meal?), Tasty Goodness (was it a palate poor or did it make our mouths merry?), and Repeat Customer (how likely are we to return to the recipe?).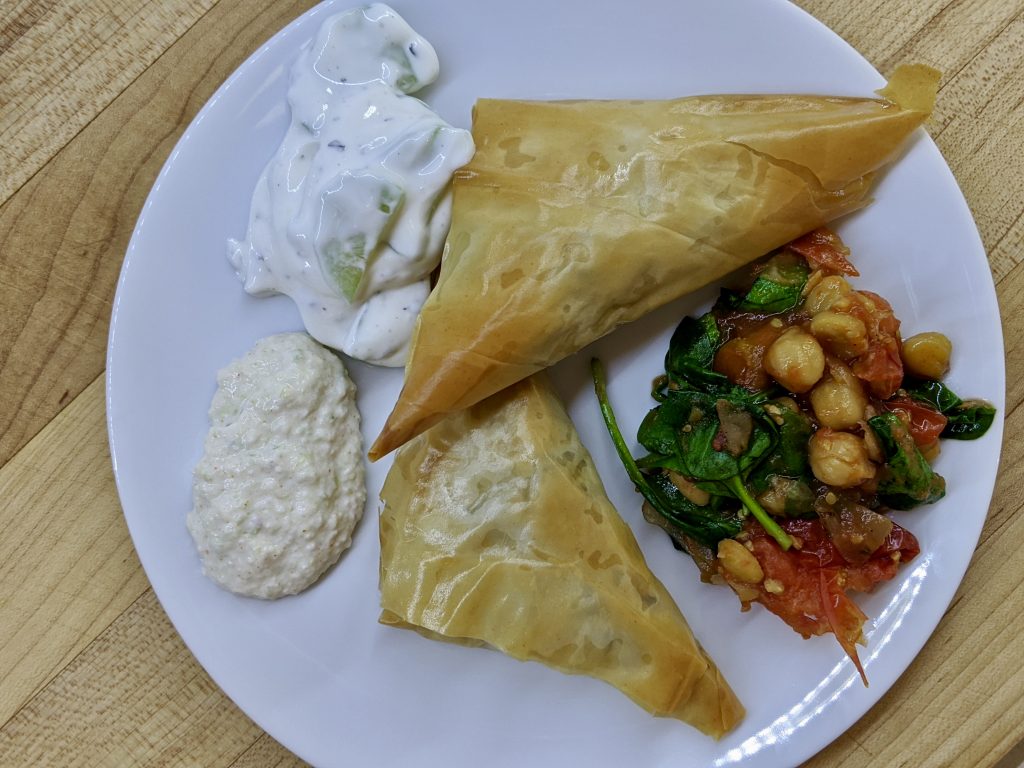 Difficulty [][][] 3/5
The yogurt dishes whipped up in a jiffy and once we got turning triangles down, the meat pies were a breeze. Time was definitely a consideration for tonight's meal – especially when it came to those pesky chickpeas!
Tasty Goodness
[][][][] 4/5 Khiar bi Laban – Yogurt and Cucumber Salad – Light and rich and fresh
[][][][] 4/5 Raita – Indian Yogurt and Cucumber Salad – Spicy and bright
[][][][][] 5/5 Les Fila à la Viande – Little Meat Triangles – Savory and scrumptious!
[][][] 3/5 Epinards aux Pois Chiches – Spinach and Chickpeas – Earthy and acidic
[][][][] 4/5 Gâteau à l'Orange – Orange Cake – Citrusy and spongey!
Repeat Customer
[][][][] 4/5 Khiar bi Laban – Yogurt and Cucumber Salad – Elais says yes!
[][][][] 4/5 Raita – Indian Yogurt and Cucumber Salad – Gary says yes!
[][][][][] 5/5 Les Fila à la Viande – Little Meat Triangles – A new Made In Marrow favorite!
[][][] 3/5 Epinards aux Pois Chiches – Spinach and Chickpeas – Tasty, but not our favorite
[][][][] 4/5 Gâteau à l'Orange – Orange Cake – A wonderfully different cake to mix things up a bit
Tonight's meal proved to be a perfect pairing and we will certainly enjoy some good gut health because of it!
Sip, sup, and savor all you can, you curious cooks,
Elais & Gary