Just want the recipes and none of that other wordy nonsense? Click the links below!
Kalavassika kon Keso – Zucchini and Cheese Gratin
Mai Birion Ovi Sir – Bukharan Fried Fish with Garlic and Coriander Sauce
Bocca di Dama – Almond Sponge Cake
Meal the Sixty-Sixth
Today marks the last day of summer, and even though today's cloudless and balmy 75-degree weather may not indicate it, soon cooler temperatures will come to Santa Fe. Milder daytime climate means we get to clear out the garden a bit and plant salad greens that normally get fried to a crisp in our unforgiving summer sun. While we had a bit of a lackluster year when it came to our garden (too hot, too little rain, and too many bugs), we still got to enjoy a small assortment of tomatoes, peppers, and one zucchini (which you will read more about below!). Despite the farming failure, our chickens continue to be productive little layers and while not necessary to have (because we can easily just buy a carton of eggs), just like the garden it is a fun little hobby. It also makes us extremely appreciative of the ability to pop down the road to the local grocery store and be able to buy whatever we need, regardless of ability to grow it in our little humble backyard garden.
With the start of Fall tomorrow, we will begin to see a slight shift in produce available at our grocery stores. But even with these changes, we still count ourselves fortunate that it is enough of a variety to make all of our recipes from The Book of Jewish Food and keep our other dinners during the week interesting. So we present to you the end of our summer bounty and a wonderful assortment of ingredients, from almonds to zucchini. We hope you enjoy! 
We cheated a little bit this week when it came to the veggie dish – instead of just going in order of recipes, we jumped ahead a bit as we had harvested one zucchini from the garden and wanted to use it before it went bad. This year was not a great year for our zucchini plants, as our garden was suddenly infested with squash bugs which inject a toxin into the plant and suck out the moisture from the vines. Carefully grown from seed, our zucchini plants were reduced to brown limp piles within a matter of three days, despite our efforts to combat the infestation. Luckily we do not solely rely on the garden for sustenance, but we were damn well sure to enjoy the literal one fruit of our labors.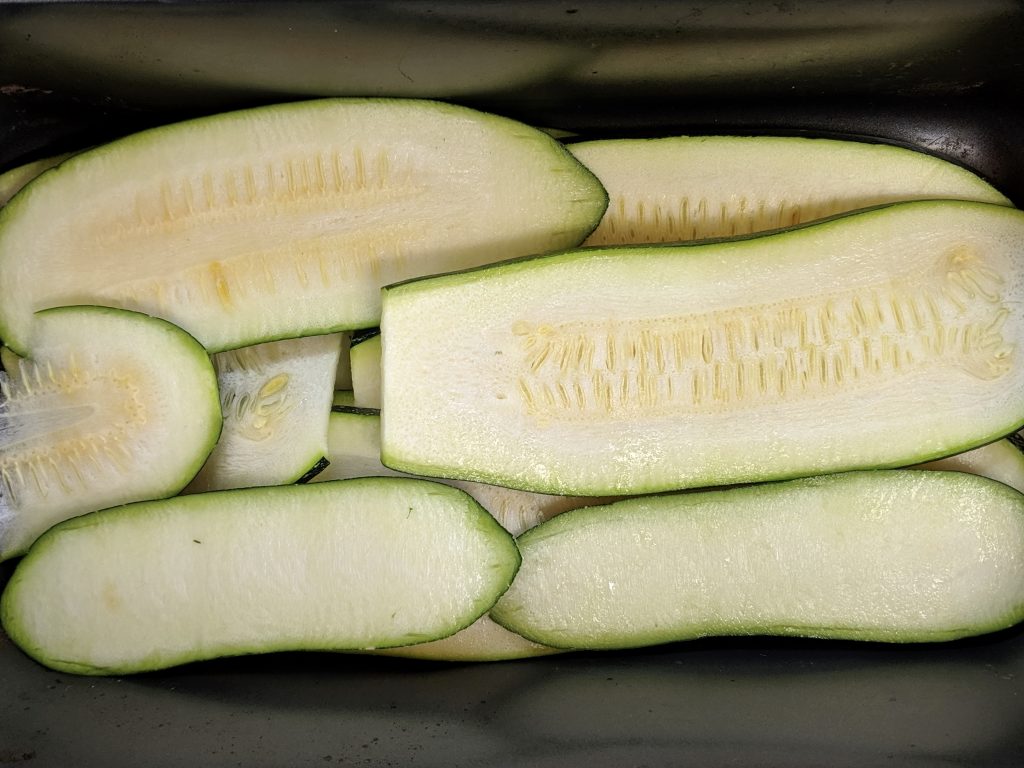 According to Claudia Roden, this Sephardic Spanish dish is one of many zucchini and cheese variations. Our one zucchini was thinly sliced lengthwise and then layered in a baking dish. We combined feta, a lightly beaten egg, pepper, nutmeg, and mint and crushed them all together to make a pseudo béchamel sauce. We poured the sauce over the layered vegetable and baked it at 350 degrees for 30 minutes until slightly browned on top.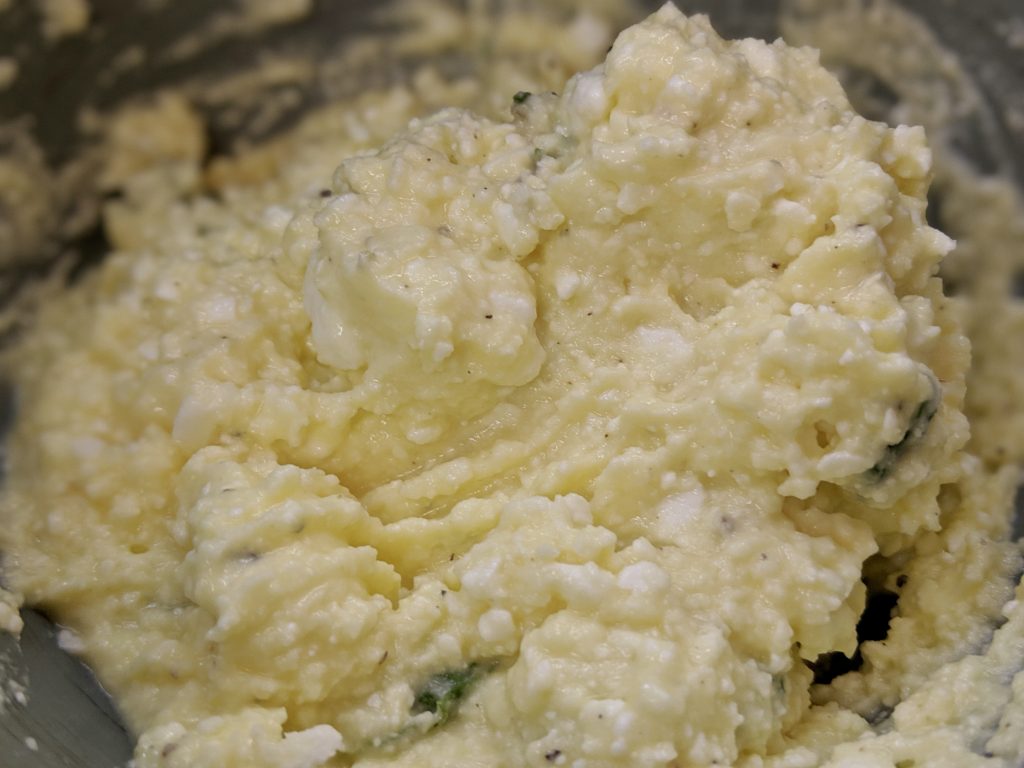 Eaten with a little dollop of Greek yogurt, this vegetable side was surprisingly light and tasty. The zucchini was still moist and tender, and the béchamel sauce had just the slightest taste of mint, which is probably what brightened up the dish. The pairing with the greek yogurt was quite nice and almost reminiscent of a tzatziki sauce, which was nicely pleasant without being too overpowering.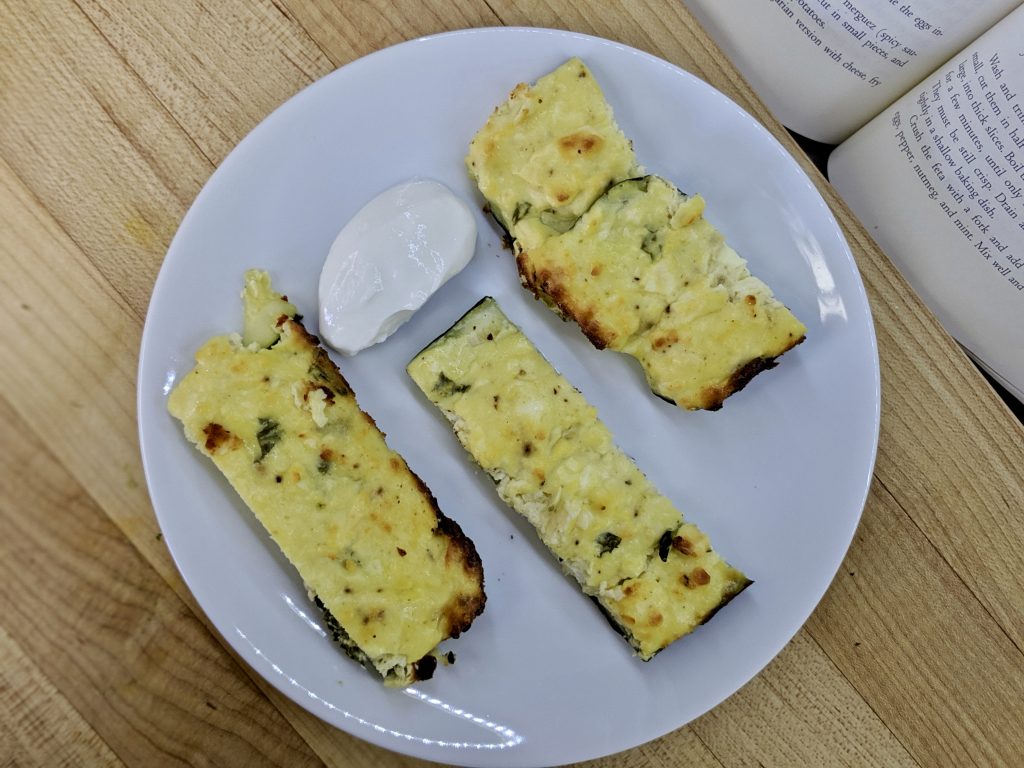 This Italian Sabbath dish features a variety of pickled and fish ingredients (which are not necessarily Gary's favorite), so I was hoping that having rice in the name would entice him to eat this salad.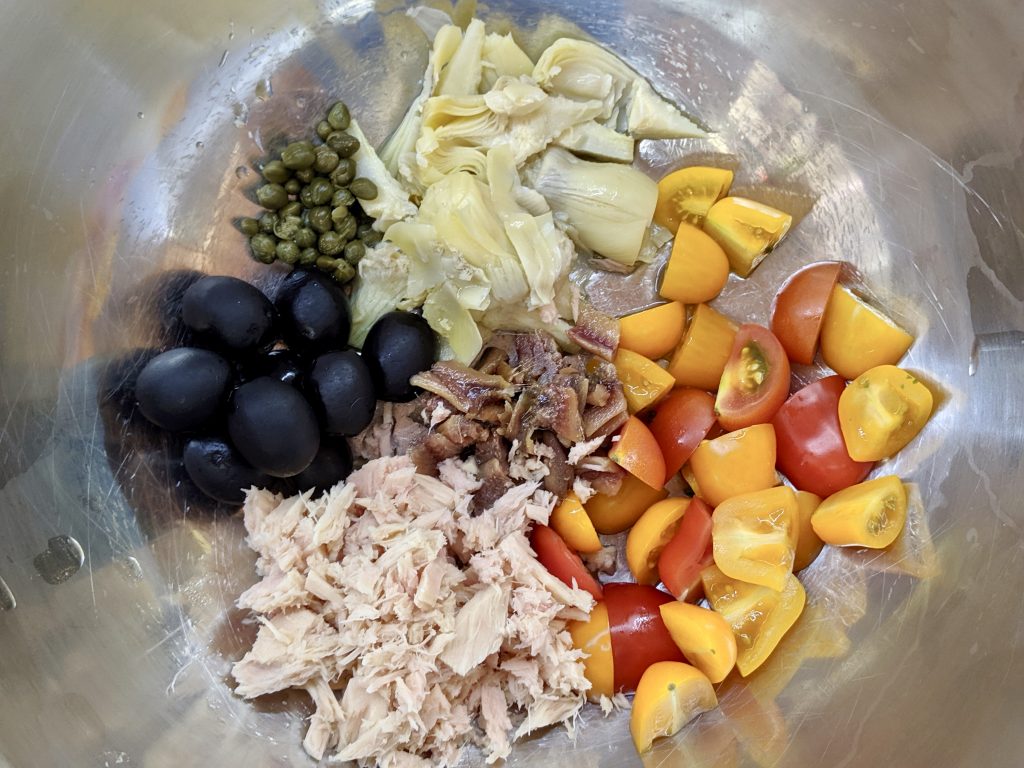 While rice simmered on the stove, black olives, capers, artichoke hearts, canned tuna, anchovy fillets, and halved cherry tomatoes were combined in a mixing bowl. This was then tossed with a combination of extra-virgin olive oil and white wine vinegar after which the cooked rice was mixed in. This sat for about 15 minutes to cool and allow the pungent flavors to intermingle with the basmati rice.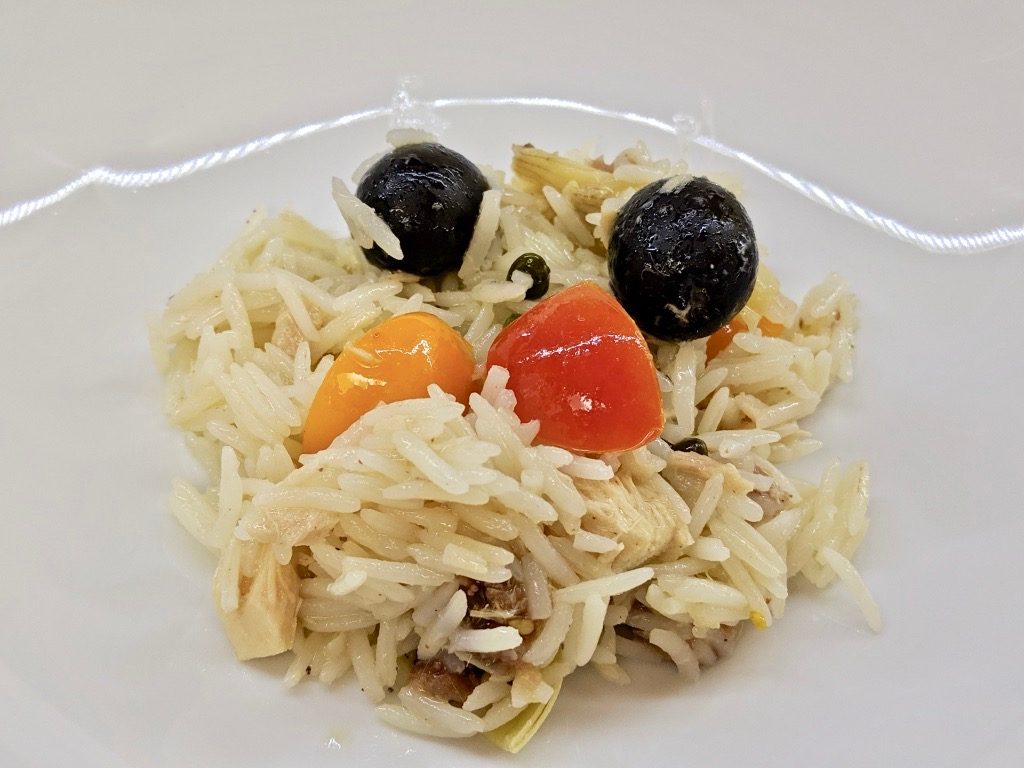 I enjoyed this dish much more than Gary did and Gary did not think it was terrible, with both of us enjoying it more the longer it sat. We both thought the flavors improved after spending the night in the fridge and this ate very well as a cold salad. Despite the amount of pickled and fish components, the dish was not too salty or too overpowering, although we thought it could have benefited from a few more cherry tomatoes for a bit more sweet acidity. This dish was a bit like a heartier tabbouleh (which we will enjoy in a couple of weeks) and I would definitely make it again!
We leave Europe and travel to Central Asia for our main course this week. Our fish dish originates in Samarkand, a city found in south-eastern Uzbekistan. It is one of the oldest continuously inhabited cities in Central Asia and is located on the Silk Road and surrounded by rivers. Because of this last point, many of the local dishes center around fresh-water fish, such as carp, but cod can also be substituted for this recipe. The phrase "Ovi Sir" in the title means "garlic water", which gave us a good hint of what was to come for our main dish.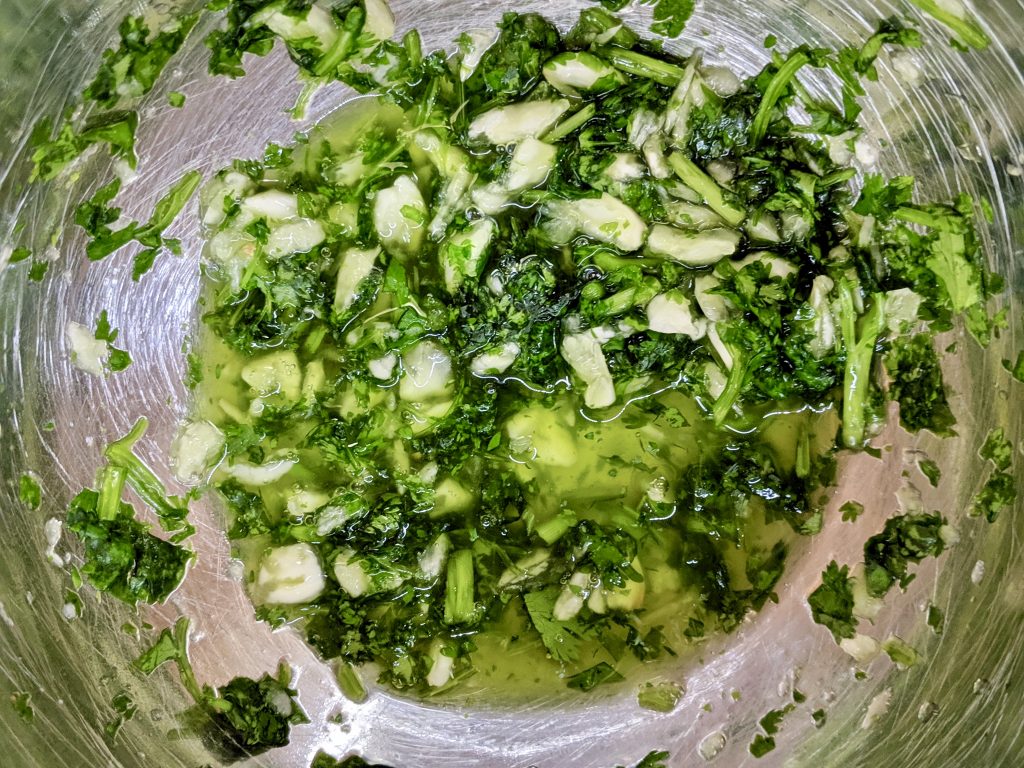 We started with the sauce, which was raw garlic pounded in a mortar with salt and chopped cilantro, after which 1 cup of water was beaten into the concoction. While the sauce rested, the cod steaks were sprinkled with salt, dusted with flour and fried until golden. While these drained on paper towels, slices of bread were fried in the oil until crispy. The fish was plated atop the fried bread, with the raw garlic sauce poured over everything.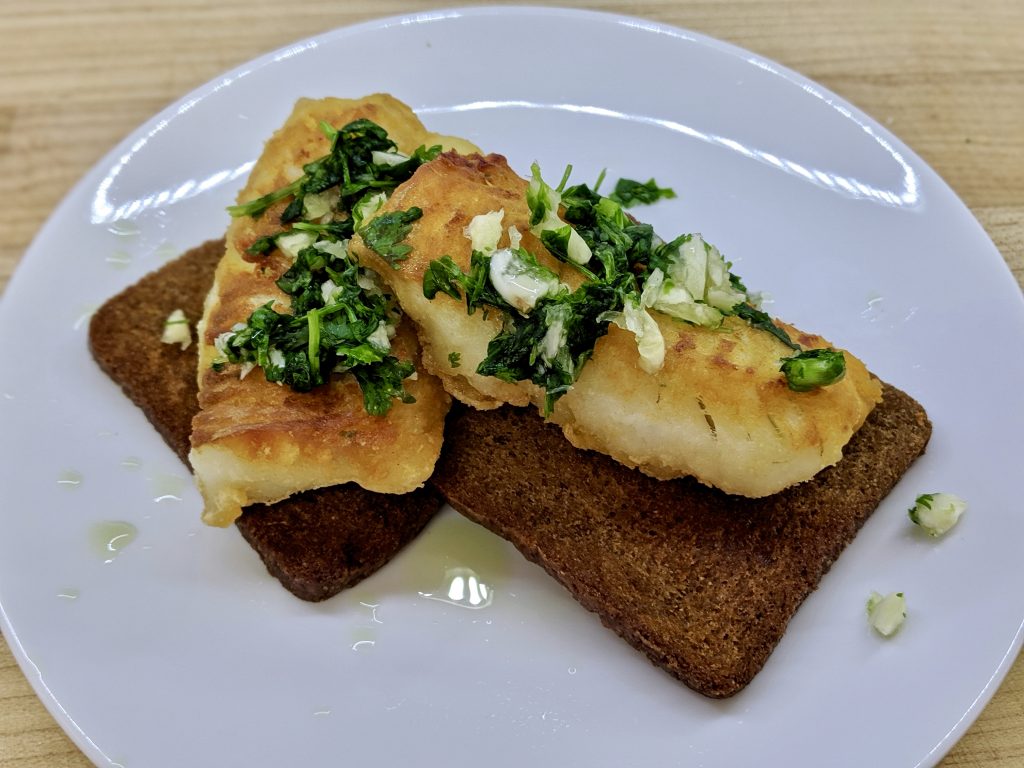 We were not sure what to expect with this dish, but grateful to be eating a warm fish dish instead of a chilled one, we dug in. The cod was light and flakey and the bread made the recipe heartier than we expected. The sauce was certainly garlicky, but not unpleasantly so, and was probably balanced out by the bread and mild fish. Although we thought it was a bit odd, it was quite tasty and we would enjoy it again!
For week two of sponge cakes, we jump back to Portugal for a dessert typically served at the end of the meal that breaks the fast of Yom Kippur. Hoping that our cake-y success from last week held, I tentatively proceeded with this week's cake, afraid that this would be the one to fall flat.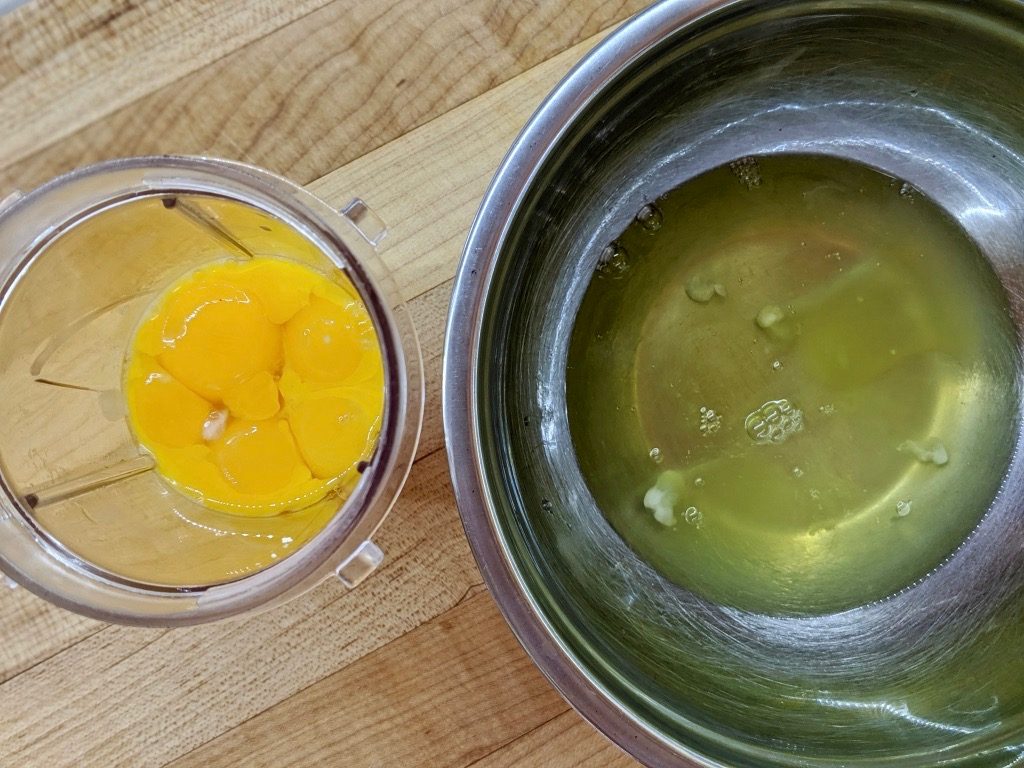 First off – holy egg consumption, Batman! Our hens got their workout this week, as this recipe required 11 eggs! Five eggs were separated and 6 just required the yolks (so Oliver dog got a tasty stew of egg whites and hoki for the rest of the week) – the whites were beaten until stiff and the yolks were combined with sugar and creamed until light yellow in color. Almonds, lemon zest, and flour were blended into this, making a very thick batter that was gently folded into the whites. This was all poured into a well-greased springform cake pan and baked at 325 degrees for 45 minutes until firm.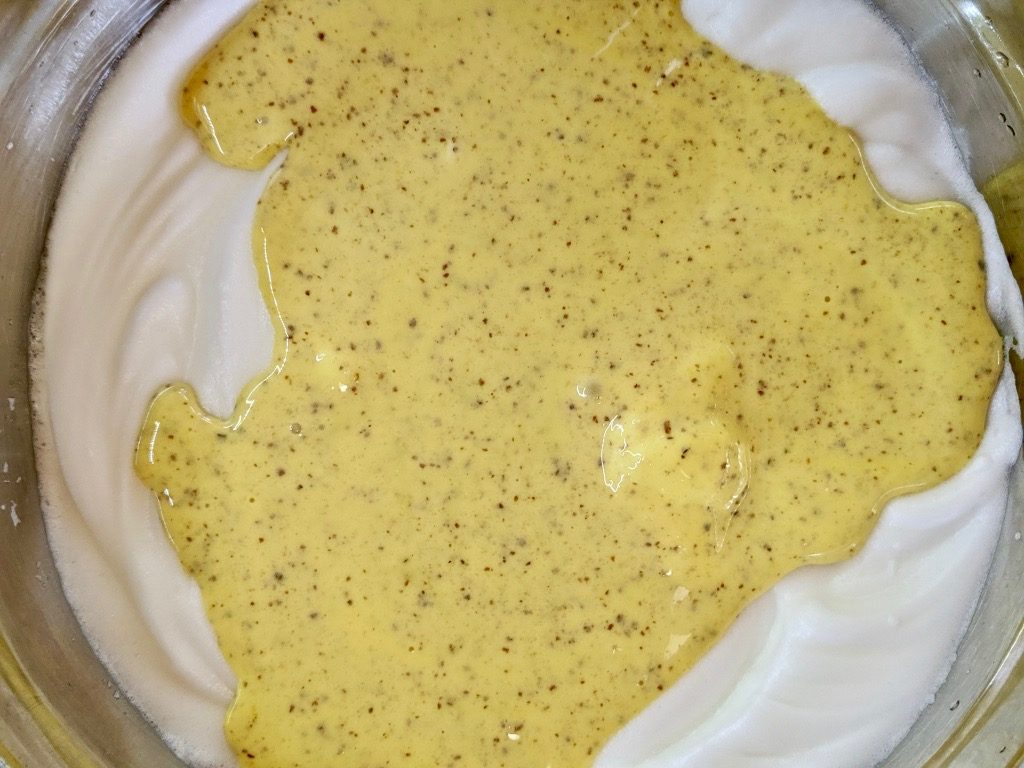 After the cake cooled completely, it was successfully released from the springform pan and portioned onto plates. This sponge cake was also a success – it fell very little during the baking process and helped to bolster my cake confidence ever so slightly. The cake itself was slightly creamy and a little nutty while still retaining its sponge-cake-qualities. It is a slightly more flavorful dessert than your typical sponge cake and would probably pair quite well with a little vanilla ice cream.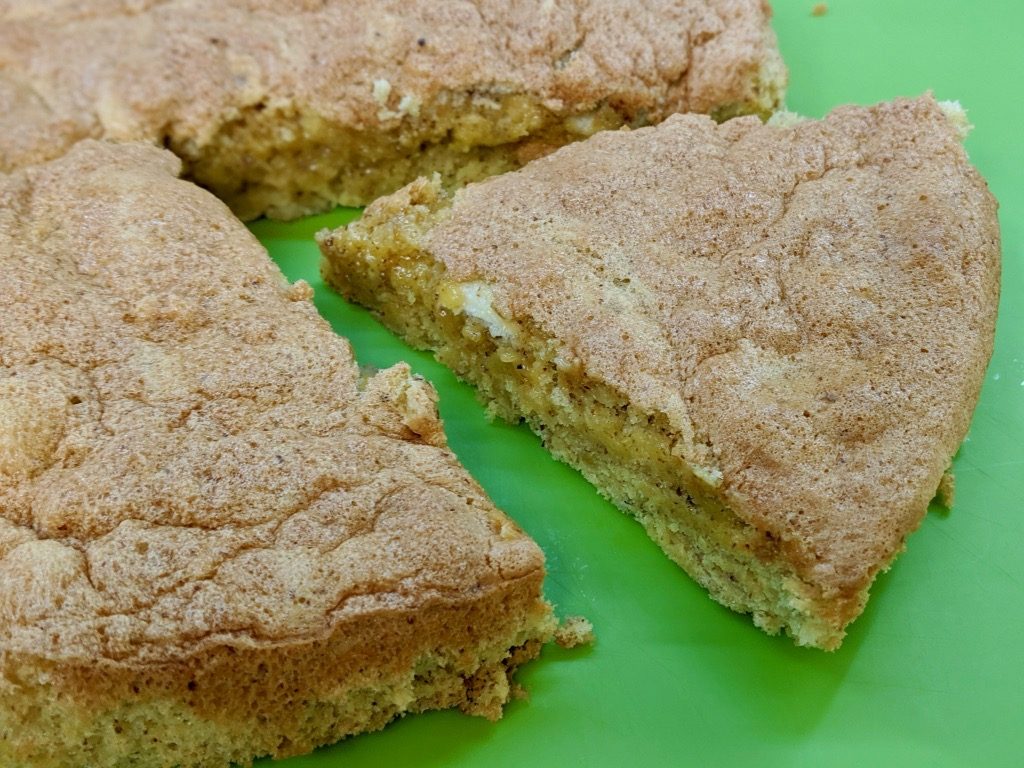 AND IN THE END, THE FOOD YOU MAKE IS EQUAL TO THE CARE YOU TAKE…
So how was Made In Marrow's meal number 66? As a reminder, our rating system is based on sticks of butter (because butter is best!), with 1 being the absolute worst and 5 being out of this world. Sticks of butter are assigned to Difficulty (how many kitchen fights were needed to complete the meal?), Tasty Goodness (was it a palate poor or did it make our mouths merry?), and Repeat Customer (how likely are we to return to the recipe?).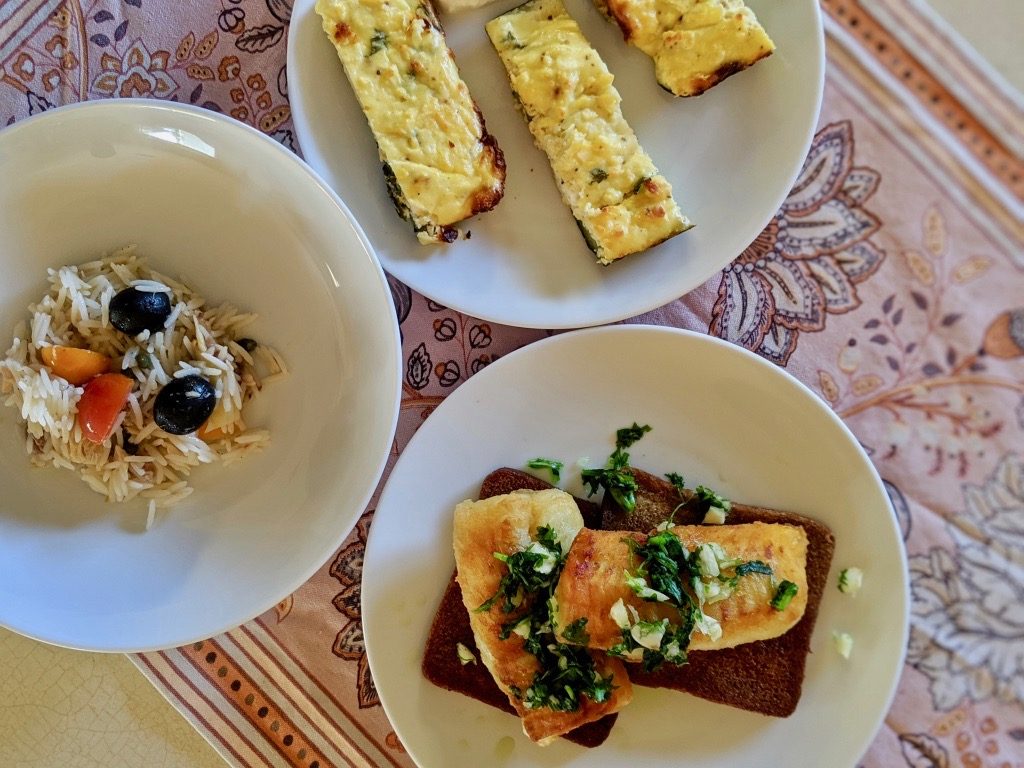 Difficulty  [][] 2/5
Since everything was eaten cold, tonight's meal just required a bit of pre-planning but was otherwise fairly simple to make.
Tasty Goodness
[][][] 3/5 Kalavassika kon Keso – Zucchini and Cheese Gratin – A tasty veggie side dish
[][][][] 4/5 Insalata di Riso – Rice Salad – Pickled, fish-filled, and rice-y, all the things that Elais and Gary love!
[][][][] 4/5 Mai Birion Ovi Sir – Bukharan Fried Fish with Garlic and Coriander Sauce – Tasty, but cooker be warned – you will scare away vampires for the next several days…
[][][][] 4/5 Bocca di Dama – Almond Sponge Cake – A nice deviation from your standard sponge
Repeat Customer
[][][] 3/5 Kalavassika kon Keso – Zucchini and Cheese Gratin – We would make this again, but include something that would add just a bit more flavor
[][][][] 4/5 Insalata di Riso – Rice Salad – Definitely again!
[][][][] 4/5 Mai Birion Ovi Sir – Bukharan Fried Fish with Garlic and Coriander Sauce – A great way to enjoy your heartier white fish
[][][][] 4/5 Bocca di Dama – Almond Sponge Cake – If a sponge cake was needed in the future, this would be the recipe that we would use!
We are sad to see the summer go, but are excited about what the Fall will bring – from stews to savory meat pies!
Sip, sup, and savor all you can, you curious cooks,
Elais & Gary