Chicken with Rice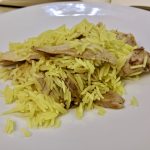 Maqlub bi Djaj
Cook Time
1
hour
30
minutes
Ingredients
1

Chicken

1

Onion

3

Cardamom pods

1 3/4

Cups

Basmatti or long grain rice

4

tbsp.

Pine nuts
Instructions
Cover chicken and onion with water in a large pot and bring to boil. Remove scum, season with salt and pepper and add cardamom pods and simmer for 45 minutes.

Lift chicken out and remove skin and bones. Break apart chicken but leave meat in large pieces. Put meat in a bowl with a bit of the stock to keep moist.

Strain stock and reduce to 2 3/4 cups. Once reduced, add rice and cover. Cook on very low heat for 20 minutes.

Sprinkle bottom of oiled shallow round mold with pine nuts.

Arrange chicken pieces on top and fill pie plate with cooked rice. Pour a few tablespoons of stock lefter over ontop of rice.

Press down with hands to pack everything firmly together. Cover with foil and bake long enough to heat through.

Turn out so that chicken and pine nuts come out on top.