We decided to pickle our own tongue as finding corned tongue was not available. The tongue was super tender, lean, and very flavorful.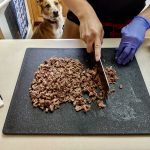 Boiled Salt or Pickled Tongue
Ingredients
1

Beef tongue

pickled

2

Onions

1

Carrot

2

Garlic cloves

Peppercorns

2

Bay Leaves
Instructions
Wash and consider soaking tongue in cold water for 24 hours if pickling has been a very long time.

Remove tongue and put in pan with cold water. Bring to boil and pour out.

Cover again with fresh water and add rest of ingrediants.

Bring to boil and reduce hit to simmer for 4-9 hours depending on size or until tender.

Let cool and peel skin off. Trim away root and bones if nessccary.