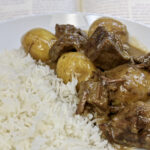 Lamb with Red Chilies and Tamarind
Cook Time
2
hours
30
minutes
Ingredients
2

lbs.

Onion

Sliced or coarsely chopped

6-8

Tbsp.

Oil

4 1/2

lbs.

Lamb shoulder and fillet of neck

6-10

Garlic cloves

crushed

1

tsp.

Cumin

2

tsp.

Ground coriander

3

tsp.

Ground cinnamon

2

tsp.

Ground cloves

8-10

Red chilies

tiny

3

lbs.

Potatoes

small

8

oz.

Coconut cream

3bsp.

Tbsp.

Tamarind paste

3

Tbsp.

Sugar
Instructions
Fry onions in 3-4 tablespoons of oil on very low heat until soft and golden, about 30-45 minutes.

Trim skin and excess fat from meat. Cut into 1 1/2 inch pieces. Brown meat all over with remaining oil.

Add garlic, cumin, coriander to onions, and cook for one minute. Add meat to pan and cover with 4 cups of water to bring to boil.

Remove scum, add cinnamon, cloves, chilies, cover, and simmer for 1 1/2 – 2 hours until meat is tender. Add potatoes and 2 1/2 cups of water, just enough to cover.

Add creamed coconut, tamarind, sugar, and simmer for 30-40 minutes, until potatoes are tender. Server with rice, chapatis, or bread.