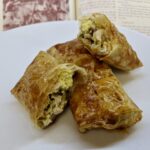 La Pastilla
Prep Time
1
hour
30
minutes
Cook Time
1
hour
30
minutes
Ingredients
2

Chickens

3

lbs.

Onions

5

Tbsp.

Oil

12

Eggs

3/4

tsp.

Ginger

2

tsp.

Cinnamon

2

Lemons

juiced

1

Cup

Coriander

finely chopped

1/2

Cup

Flat leafed parsley

finely chopped

1 3/4

Cups

Blanched almonds

25

Sheets

Filo

3

Egg yolks

Salt and pepper
Instructions
Place chickens in very large pot with water to cover. Bring to boil, remove scum, add salt, and simmer for 45 minutes until tender.

Fry onions in oil until soft and golden. Place a lid on top and stir occasionally.

Lift out chickens and remove skin, bones, and cut the meat into smallish pieces. Reduce stock.

Beat eggs lightly with 1 cup of reduced stock. Season with salt, pepper, ginger, cinnamon, lemon juice, coriander, and parsley.

Gently cook egg mixture on medium-low heat for about 10 minutes or until eggs are set to a creamy soft scramble.

Add toasted almonds and chicken pices with eggs and mix well. Let cool.

Take filo sheets out and brush top sheet lightly with oil.

Put about 3 heaping tablespoons of filling about 4 inches from short end and equidistant from the 2 long edges.

Fold short edge over filling, then the bottom long edge. Carefuly pick up filling with wrapping and fold it over to the side. Fold top edge over it. Continue to fold over until you have a package about 4 1/2 inches square or improvise and wrap your own way.

Do the same with the rest of the filling and sheets of filo.

Arrange side by side on oiled trays. Brush tops with egg yolks mixed with a tablespoon of water and bake at 350°F (180°C) for about 30 minutes, or until crisp and golden.