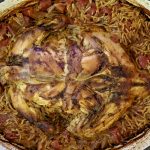 Tabyit - Chicken and Rice
Total Time
1
hour
49
minutes
Ingredients
4

Cups

Long grain rice

1

Stewing hen

1

Onion

chopped

2

Tomatoes

chopped

2

Tbls.

Tomato paste

1

tsp.

Ground cardamom

1

tsp.

Cinnamon

1/2

tsp.

Ginger powder

1/4

tsp.

Nutmeg

1/2

tsp.

Allspice

1/4

tsp.

Ground cloves

Salt and Pepper
Stuffing
1/2

Cup

Rice

take from original 4 cups

Giblets

cut into very small pieces

3

Tomatoes

chopped

1/4

tsp.

Salt

1/2

tsp.

Cinnamon

1/4

tsp.

Nutmeg

1/4

tsp.

Ground cardamom

Pinch

Ginger

Pinch

Ground cloves

Pepper
Instructions
Soak rice with boiled water, add 2 tablespoons of salt, and leave for 1 hour. Drain and rinse.

Take about 1/2 cup of drained rice for stuffing. Mix with all the stuffing ingredients. Fill chicken cavity about 3/4 full, leaving room for rice to expand. Sew opening or secure with toothpicks.

Place onions and tomatoes in a large nonstick pot. Prick chicken skin to release fat and place bird on top. Leave on low heat for about 15 minutes, turning the chicken around.

Lift chicken and cook onion and tomato in chicken fat until tomato sauce had dried out and begins to sizzle in fat. Put chicken back into the pan and add water to almost cover.

Bring to boil and remove scum. Add 1/2 teaspoon of salt and pepper, simmer, covered, for about 2 hours.

Lift chicken out and measure stock to about 7 cups. Reduce it by boiling if over 7 cups. Season with more salt and pepper if necessary. Stir in tomato paste and spices. Add the rest of the drained rice, cook, covered on very low heat for about 10 minutes or until most of water is absorbed.

Return chicken and push deep into rice. Cook in preheated 400°F (200°C) oven for 30 minutes, then reduce heat to 250°C (120°C) and cook for 2-3 hours or overnight.

Plunge pot in cold water to help loosen the bottom crust. Serve inverted or with golden crust scraped off and placed on top. Accompany with pickles, a tomato salad, a plate of radishes, and a buch of flat leafed parsley.