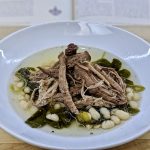 T'Fina Pkaila - Meat Stew with Beans and Spinach
Ingredients
2

lbs.

Spinach

1/3

Cup

Oil

2

lbs.

Beef breast, fore-knuckle, shoulder, or shin

2

Marrow bones

optional

8

oz.

Dried white haricot

+6

Garlic cloves

peeled

Salt and Pepper
Instructions
Wash spinach and remove stems. Put leaves in large pan with oil and cook with lid on, stirring occasionally until crumpled, soft, and turned into a dark mass.

Put meat and bones in a pot and cover with about 6 cups of water, bring to boil, and remove scum.

Add beans, garlic, salt, pepper, and spinach and bring to boil again. Remove any other scum.

Simmer on very low heat for 4-5 hours. Adjust seasoning and add more water if needed.