Just want the recipes and none of that other wordy nonsense? Click the links below!
Poisson Hraymi – Peppery Garlicky Fish
Poisson Sauce Rouge – Fish with Red Pepper Sauce
Riso coi Carciofi – Rice with Artichokes
Pizza Dolce Romana – Nut and Raisin Pastries
Meal the Eighty-Sixth
Tonight we split our time between opposing worlds, whether it is flavor, being sweet and spicy, textures, as in creamy and crunchy, and coasts, jumping from North Africa to Italy. But even though there were quite a few contrasting elements in our meal, there were just as many common threads, as the lineage of the recipes share origins across space and time. And that's what makes doing this blog so much fun – when you can take a step back from all of the recipes and have your trusty pal Google at your fingertips, you can look at maps and follow paths of trade routes, see where port cities were getting their produce, and understand how spices passed over borders and oceans. So join us tonight for a leapfrog across lands and larders – we hope you enjoy!
Claudia Roden writes in The Book of Jewish Food that this is a favorite of North African Jews, especially those from Libya. Due to an influx of Jewish immigrants during the Italian occupation which began in 1911, Tripoli has a large Jewish population. Subsequently, Libyan Jewish cooking is a mix of Italian and North African cuisines, so you can find both couscous and pasta recipes with a spicy flair. This recipe is certainly that, as it features harissa, a Tunisian hot chili pepper paste blend – Tripoli is only 100 miles from the border of Tunisia, so it is pretty clear that several cultures were blended in the making of this recipe. You can buy pre-made harissa, but we quite like Roden's mix, which is a blend of dried red hot peppers, garlic, coriander, caraway, salt, and olive oil.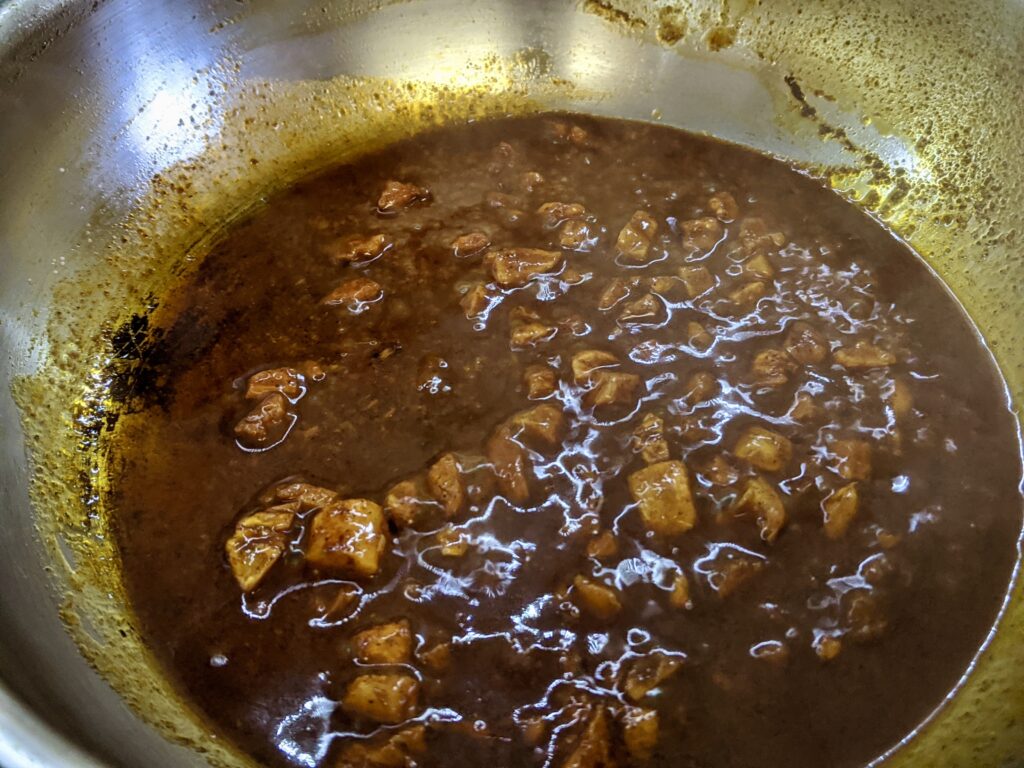 We took our homemade harissa and added it to pan-fried garlic, along with paprika, cumin, coriander, tomato paste, lemon juice, water, and salt. This simmered until fragrant after which the flounder was added and simmered for 10 minutes until cooked through. This was served hot and sprinkled with cilantro.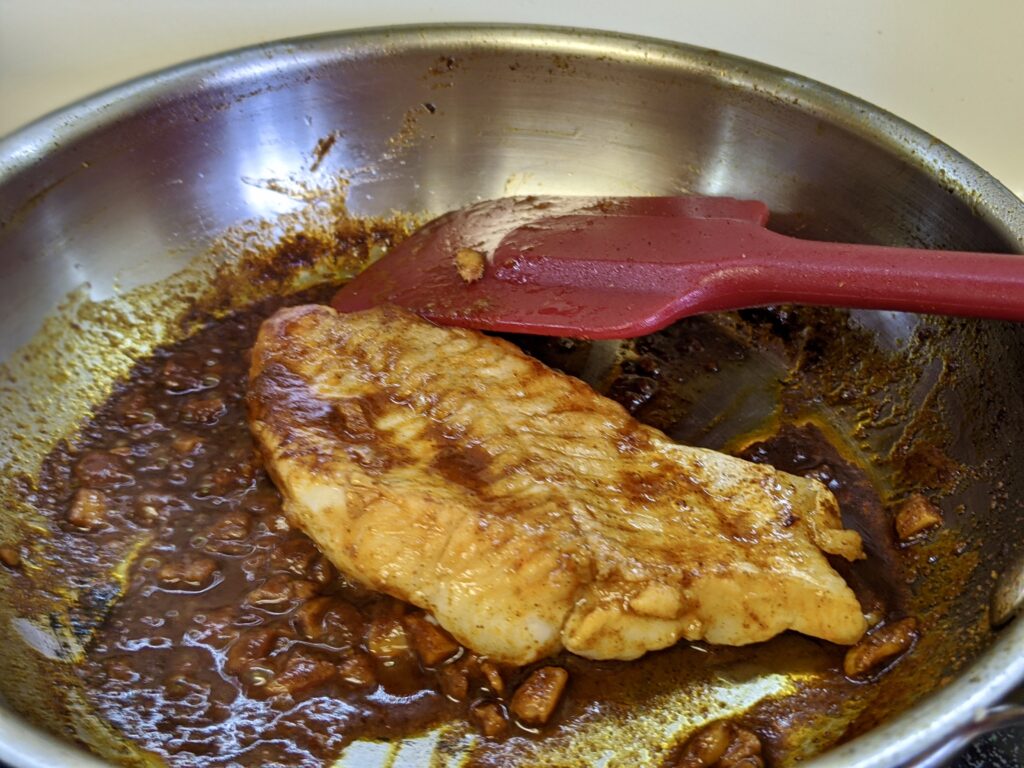 This was my (Elais) favorite fish dish of the night – it was quite spicy and just a touch acidic, with a light flavor of tomato from the tomato paste. The sauce largely had a red pepper flavor, which was nicely accented by the cilantro. The flounder was also a little crisp from frying in the pan and was a nicely flakey complement to its hot sauce.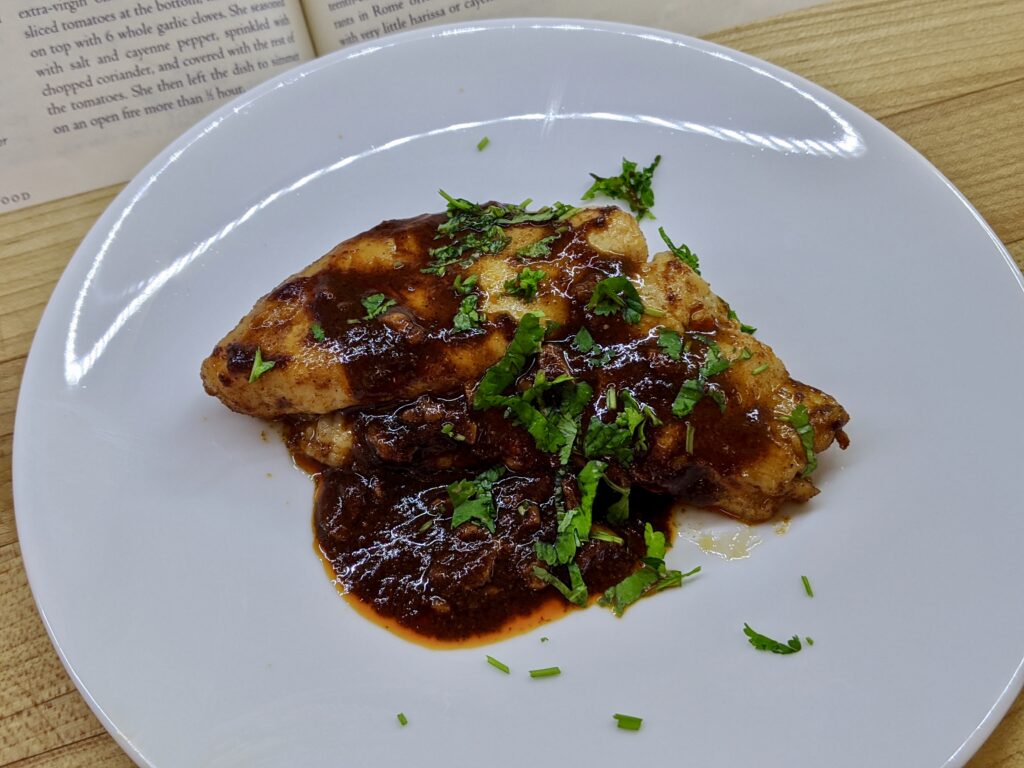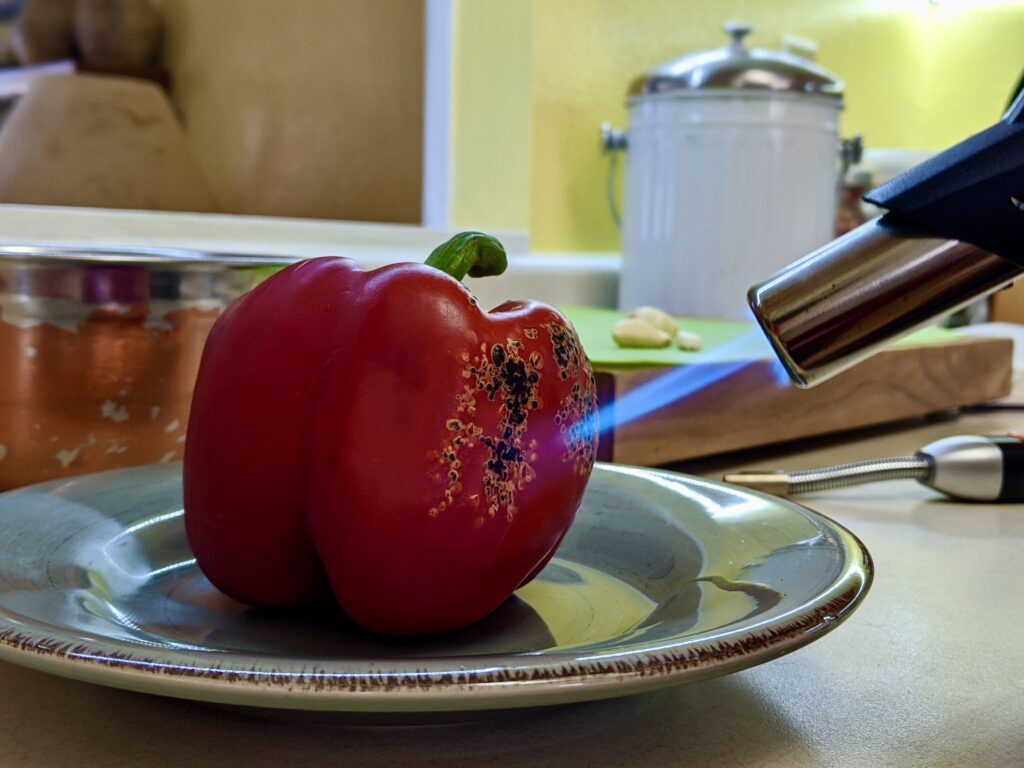 Our next fish dish of the evening is commonly served in Morocco during Passover and Sabbath. While having similar ingredients to the above recipe, it is markedly different as it is not at all spicy and actually a bit sweet instead. To start the sweetness, we roasted our red bell pepper using the hand torch, which quickly blistered the skin and allowed for easy peeling. Once peeled the pepper was blended with garlic, salt, and pepper and the resulting sauce was simmered in a saucepan until heated through.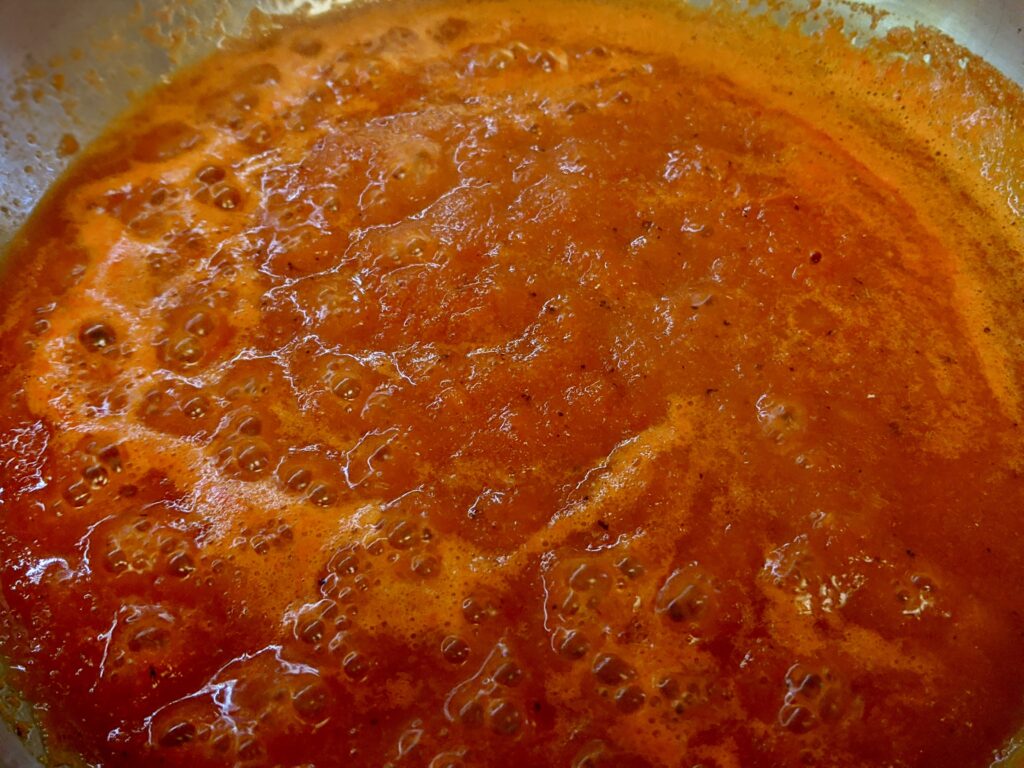 Next, the fish was sautéed in oil for 10 minutes until cooked through and was salted, peppered, and lemon juiced just before done. The fish was served with the pepper sauce served over the top of the fish along with a sprinkling of parsley.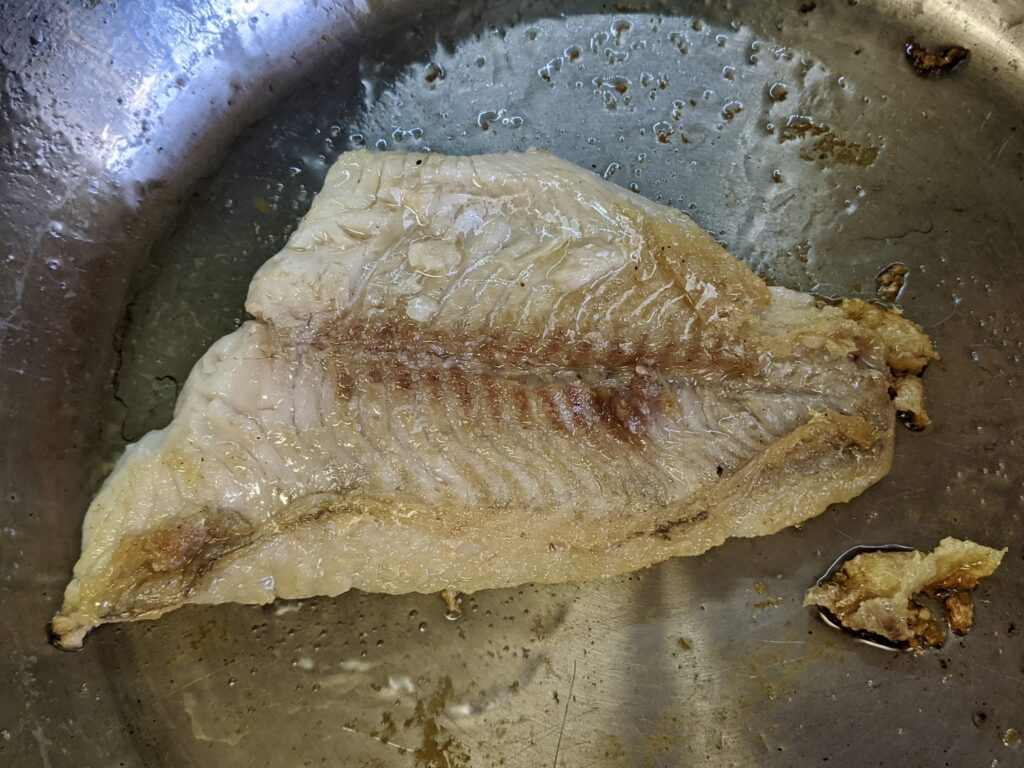 The light taste of the flounder was also nicely complemented by this sweet sauce, which was deep and rich and smokey. This recipe was Gary's favorite fish dish of the night, being a little bit more complex than the punch-in-the-face spiciness of the above recipe. All-in-all both recipes were tasty and it just came down to your personal preference for sweet or spice!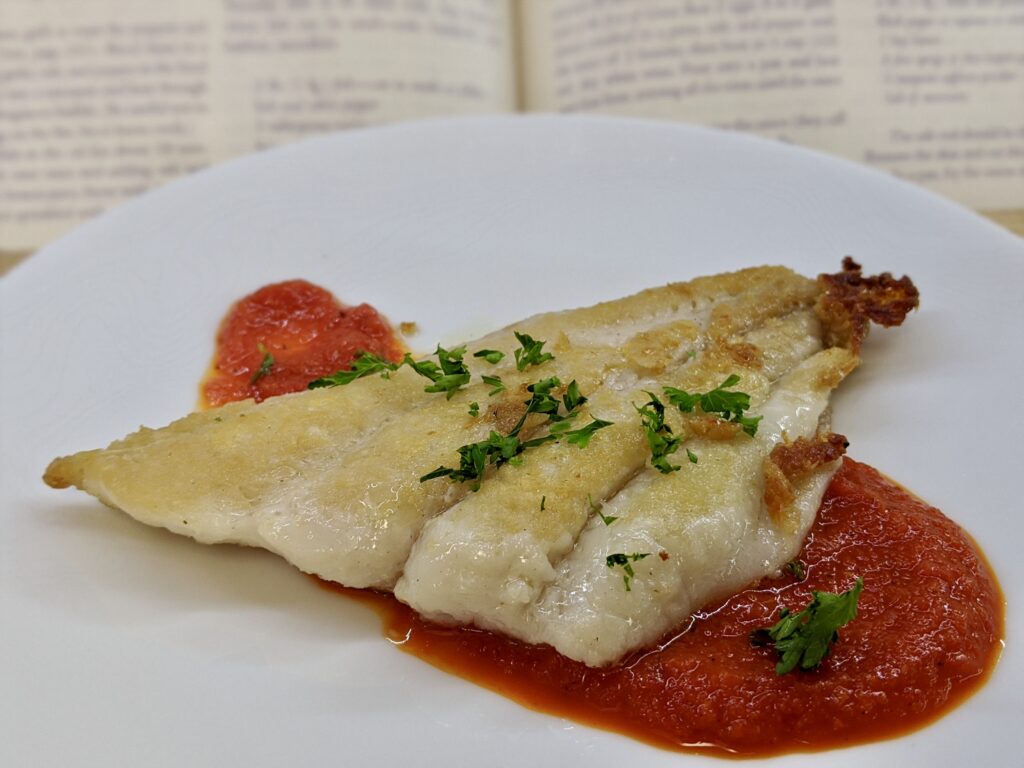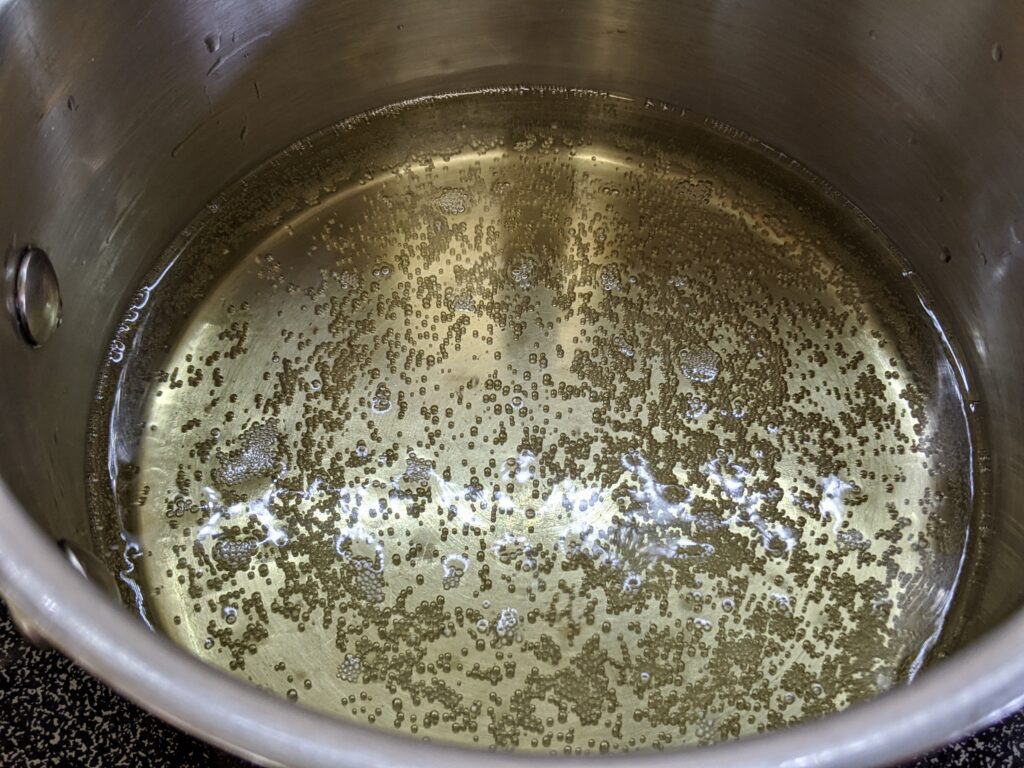 From the coast of North Africa, we jump across the Mediterranean Sea to visit the Venice Ghetto. This risotto was a specialty of Jews who had migrated from Sicily during the sixteenth century, where both rice and artichokes were grown on the island (which had been introduced from the Middle East during the tenth century – so this is a Venetian dish by route of Sicily via Arabian traders, which is just about as complex as our food journey that we are taking tonight!). This dish features Arborio rice, which is named after its city of origin, which just so happens to be Aroborio, Italy! It has a very high starch content, which is what creates its creamy and chewy end result in risotto.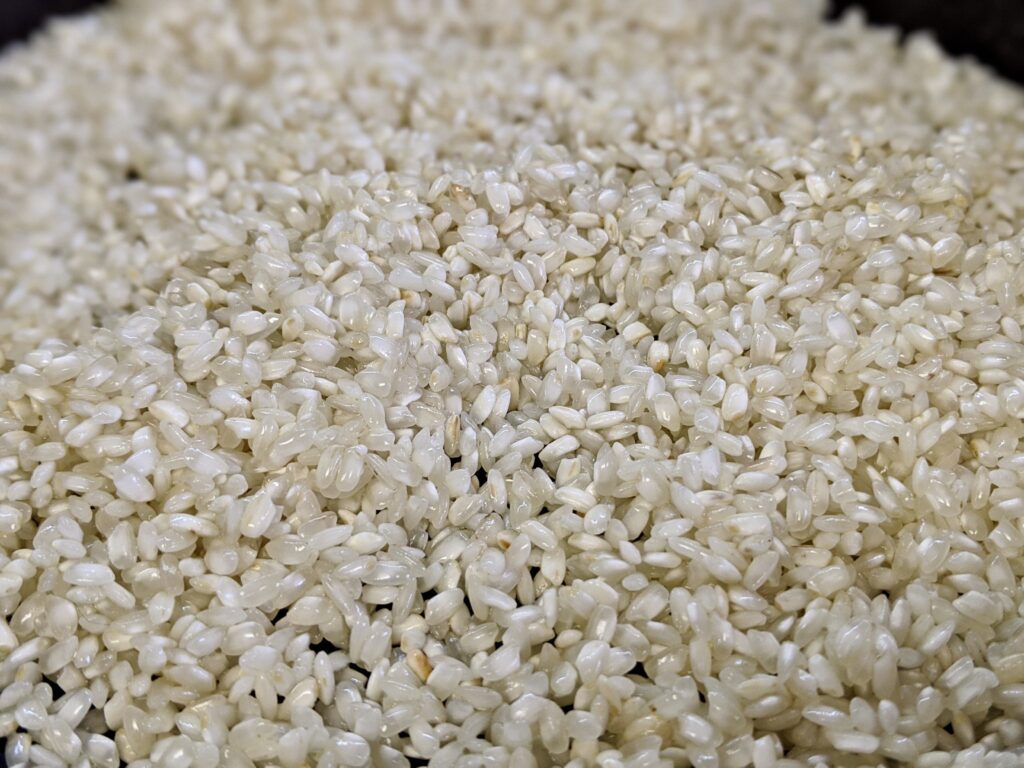 Despite that complicated cuisine genealogy, the recipe started simply enough – water and wine were brought to a boil while Arborio rice was sautéed in oil in a separate pan. Once the rice was toasted, it was added to the water and wine mix and simmered on very low heat for 20 minutes until the rice was tender and just a little fluid was left. While this simmered, artichoke hearts were fried in a pan until golden and then drained on paper towels. Once the rice was cooked the artichoke hearts were mixed into the pseudo-risotto and the rice was served hot from the pot.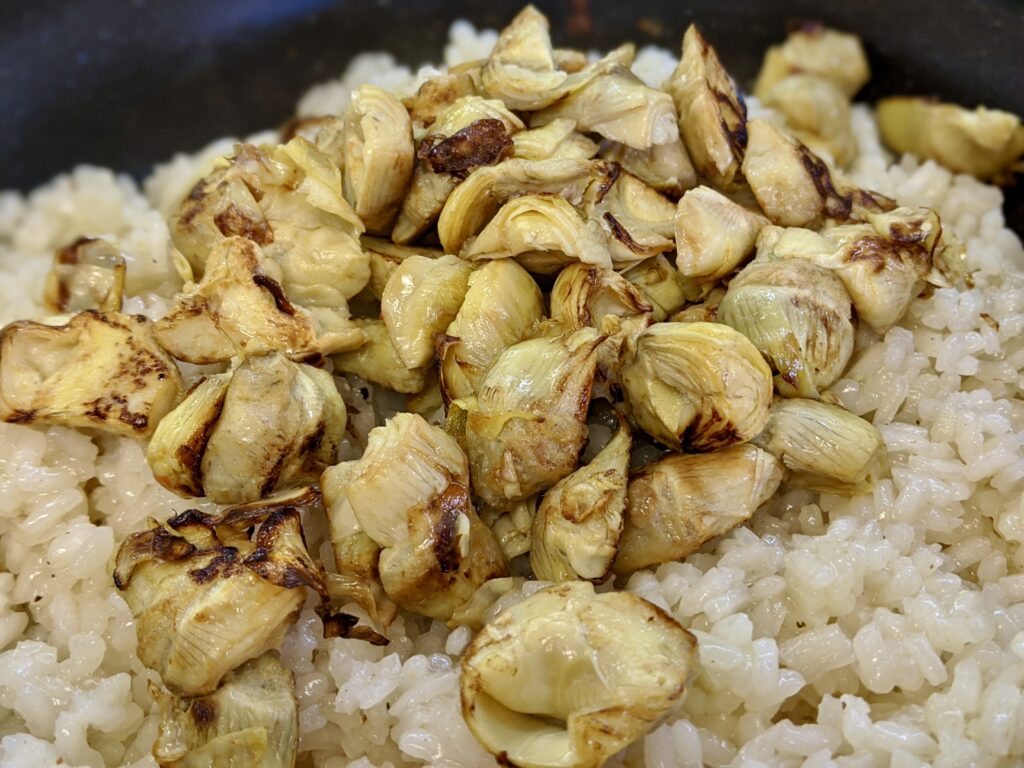 We were not sure what to expect from this recipe, as it does not follow the traditional steps of how to make a risotto. However, the end result was quite risotto-like, being creamy and chewy, and just a touch sweet from the wine. The artichokes were a little bit nutty and the whole dish was wonderfully savory and a great pairing for both of the above fish dishes.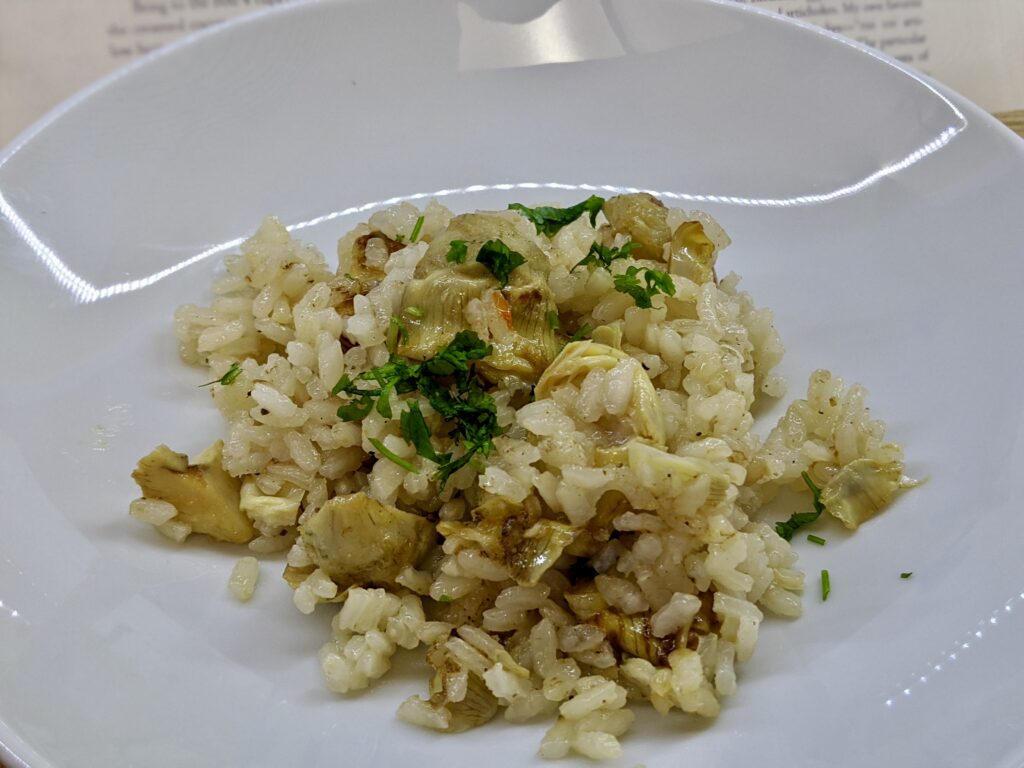 For tonight's dessert, we travel from Venice more than 300 miles south to Rome, for a pastry specialty made during the holidays and Rosh Hashanah. And yes, pizza is in the name. Which obviously required some etymological research, as how could a dessert have the word pizza in its name? Well, you came to the right place – it appears that the word "pizza" can be traced to several origins. An Italian record from 1907 titled the "Vocabolario Etimologico della Lingua Italiana" conveys that pizza is derived from the dialectal pinza "clamp", which is from Latin pinsere "to pound, stamp". It also may be connected to the Medieval Greek pitta "cake, pie" (like pita!). Yet another source claims it is derived from the Germanic source akin to Old High German bizzo, pizzo "bite, morsel". In summary, the word "pizza" does not necessarily designate a delicious pie covered with sauce and meat, but it does convey a smushed disc of goodness, which brings us to tonight's dessert, "Pizza Dolce Romana" or (loosely translated by your truly), "Sweet Roman Disc".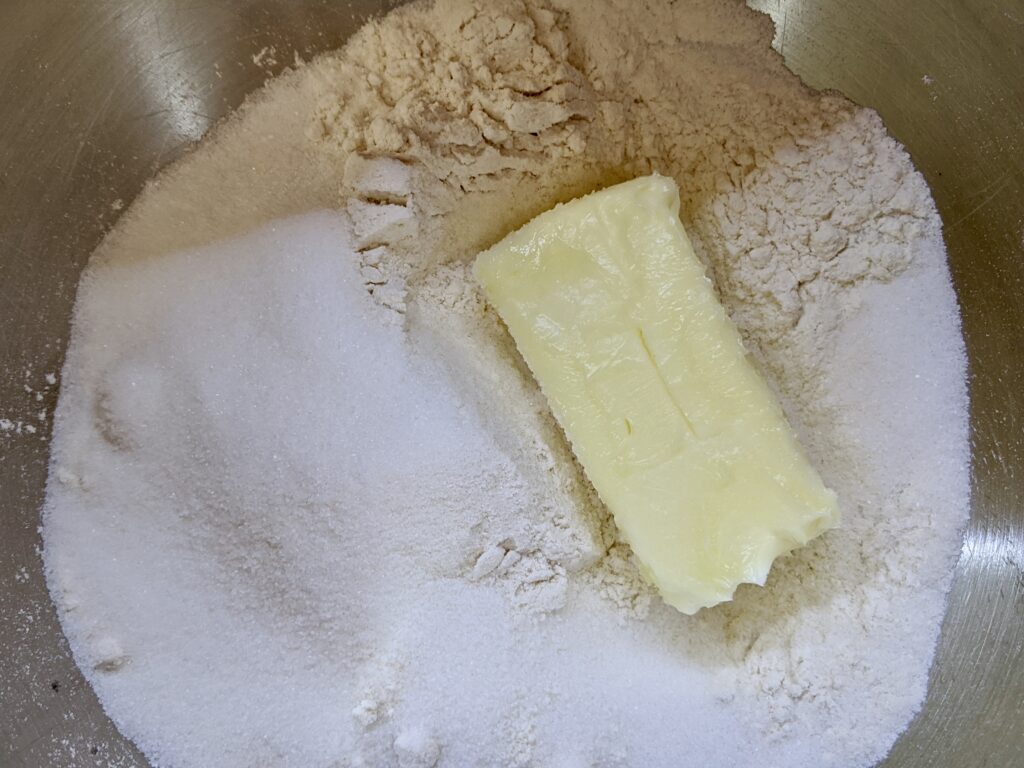 To get started, flour and sugar were combined with softened butter to create a very soft dough. Sweet white wine was then added to the mixing bowl tablespoon by tablespoon until the dough held together. Dates, almonds, and citrus peel were added and then the dough was shaped into small cakes, approximately 2 1/2 increase in diameter. These were placed on baking sheets and baked at 325F for 25 minutes until just firm. After they had finished cooling, they were sprinkled with confectioner's sugar and enjoyed in all of their cakey glory.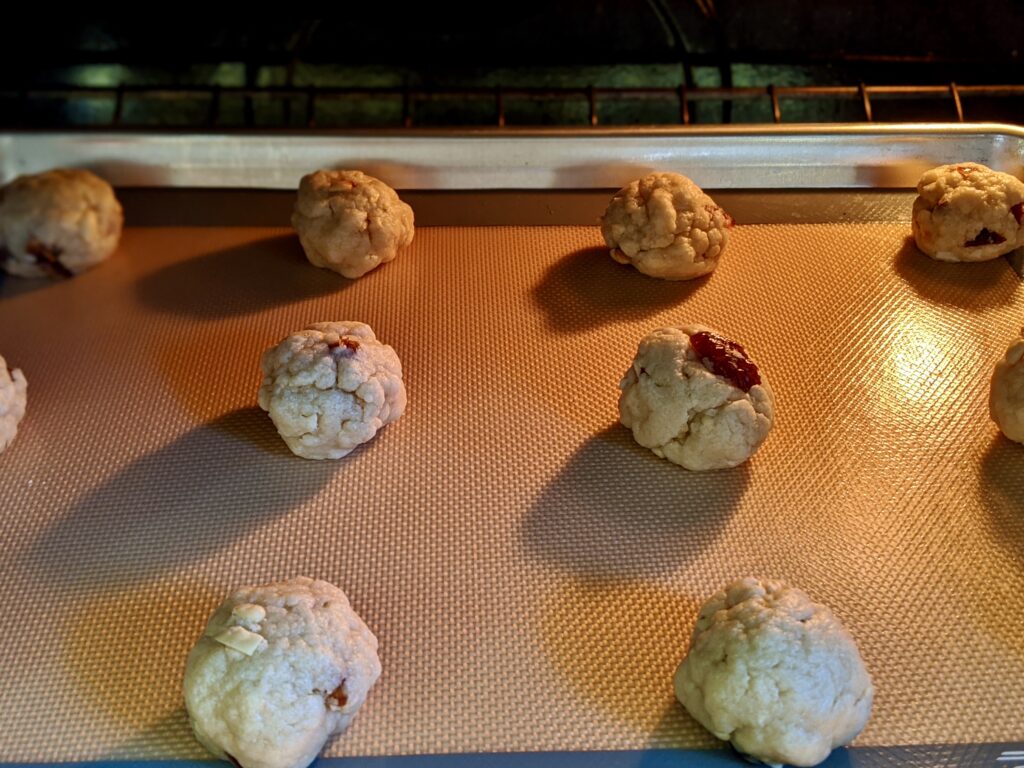 These pastries were quite tasty – not too sweet and a little chewy from the date and a little crunchy from the almond. You could just tasty the brightness from the orange peel and they almost had the texture of dense marzipan. These little pastries kept quite well, although we don't really know how long they would keep for, as they only lasted two days in our house!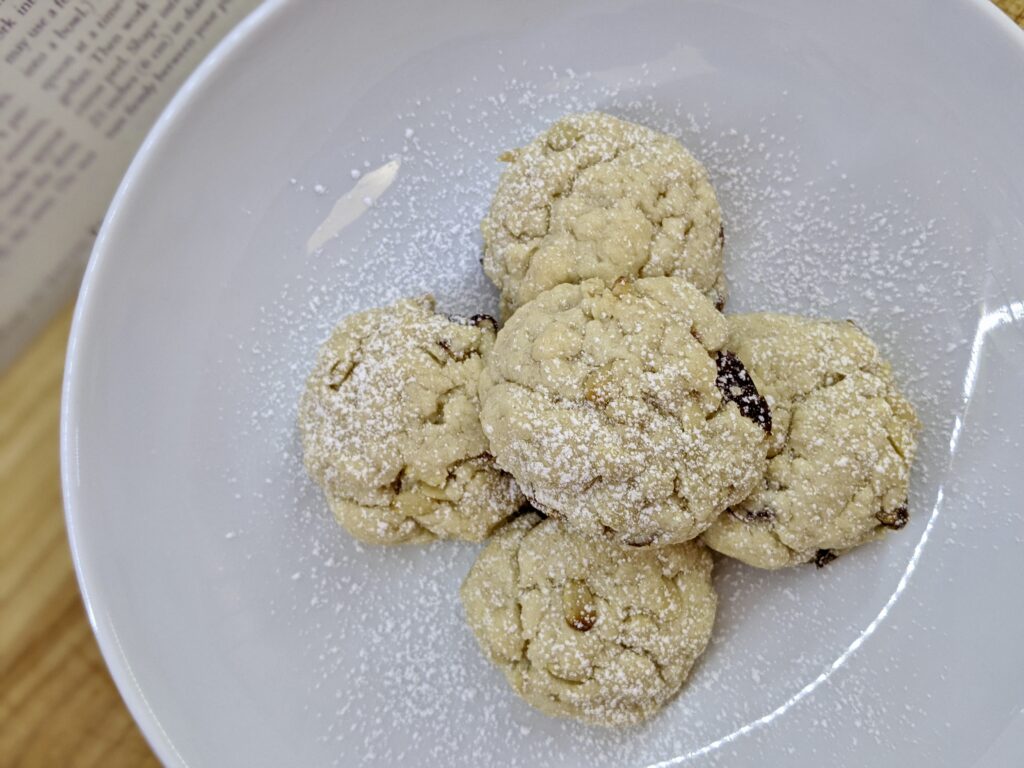 AND IN THE END, THE FOOD YOU MAKE IS EQUAL TO THE CARE YOU TAKE…
So how was Made In Marrow's meal number 86? As a reminder, our rating system is based on sticks of butter (because butter is best!), with 1 being the absolute worst and 5 being out of this world. Sticks of butter are assigned to Difficulty (how many kitchen fights were needed to complete the meal?), Tasty Goodness (was it a palate poor or did it make our mouths merry?), and Repeat Customer (how likely are we to return to the recipe?).
Difficulty [][] 2/5
Besides roasting a pepper, the rest of tonight's dinner was relatively easy and straightforward, which was a nice break from the recipe and prep-heavy dishes of previous weeks!
Tasty Goodness
[][][][] 4/5 Poisson Hraymi – Peppery Garlicky Fish – A slow build to a very spicy fish dish
[][][][] 4/5 Poisson Sauce Rouge – Fish with Red Pepper Sauce – A subtly sweet saucy fish dish
[][][][] 4/5 Riso coi Carciofi – Rice with Artichokes – An almost (but very artichoke-y) risotto
[][][][] 4/5 Pizza Dolce Romana – Nut and Raisin Pastries – A nicely subtly sweet dessert dish
Repeat Customer
[][][] 3/5 Poisson Hraymi – Peppery Garlicky Fish – Due to the spiciness of this dish, any pairing requires careful contemplation
[][][] 3/5 Poisson Sauce Rouge – Fish with Red Pepper Sauce – Roasting your own peppers requires a bit more time for this sauced fish dish
[][][] 3/5 Riso coi Carciofi – Rice with Artichokes – A quick and easy shortcut to a pseudo-risotto
[][][][] 4/5 Pizza Dolce Romana – Nut and Raisin Pastries – A simple and sweet pastry/cake
Our feast fish was just as saucy as it was successful, so we have hopes for our future fish dishes in upcoming weeks!
Sip, sup, and savor all you can, you curious cooks,
Elais & Gary