Just want the recipes and none of that other wordy nonsense? Click the links below!
Carpe à la Juive – Russian Style – Jellied Carp in White Wine
Joodse Boterkoeke – Jewish Butter Cake in Holland
Meal the Twenty-seventh
This week was a fun week, because not only did we get to work with an ingredient that we do not normally use much, we also tried a couple of dishes that were very different than anything we had ever cooked before. Because we live in the desert, whole fish is often hard to find and very expensive, so we chose to maximize the bang for our buck by using one fish to make three different recipes. When we lived in Vancouver, this certainly was not the case, especially for Gary, whose father worked as a fisherman when Gary was a child.
Off on a boat in the chilly Pacific waters near Alaska for up to six weeks at a time, Gary's dad fished for halibut on Canadian boats staffed by Vietnamese men. It was hard and dangerous work, but in addition to his pay, he would bring home coolers full of whole halibut, which the family would fry and enjoy with fish sauce. Oddly enough, those flavors are fairly similar to two of the dishes we enjoyed tonight (albeit Gary's family always enjoyed their fried fish hot, not chilled), so it never ceases to amaze us how small the world is – whether you are a Vietnamese man in Vancouver providing for your family or a Jewish mother in London taking care of your newly relocated loved ones from Portugal. Read on and enjoy!
Gary and I are big fans of mushroom soup, from using the canned Campbells version as a base for stews to our favorite miso-based-ramen-esque recipe. Every place that has a mushroom also has a soup featuring those fungi, and this Eastern European version relies on shiitake mushrooms for its earthy flavor.
For this recipe, potatoes were boiled in beef bouillon stock until soft and then mashed. The shiitake mushrooms were finely chopped in a blender (with the aid of the warm stock) and then added to the soup base, along with salt and pepper. This mixture was simmered for five minutes and a healthy handful of parsley was added just before serving. While Gary and I love mushroom soup, we did not enjoy this one, but for very different reasons. I like shiitake mushrooms but found them to be overly earthy in this variation, and Gary hates parsley, and…there was a lot of parsley in our bowls. It was too bad that the last soup of the soup section of The Book of Jewish Food fell flat, but it was an interesting take on a very old recipe.
According to Claudia Roden, white fish that has been poached, chilled, and then served in its own concealed juices is a classic style of Jewish cookery. With heritage from both Poland and Russia, this dish also borrows from French chefs who often cooked fish with white wine. Since Gary and I decided to try all of the chilled white fish dishes together, we portioned our whole Branzino (European Bass) into three sections, reserving the head and the tail for this dish.
Thinly sliced onions were placed in the bottom of a pan, after which the fish steak, head, and tail were layered on top. Lemon peel, a bay leaf, and thyme and parsley from the garden were added to the pan, and white wine was poured over all. This was brought to a boil, and simmered for 20 minutes, with the stock, wine, and herb concoction filling the kitchen with a wonderfully french smell. This was then chilled overnight and served the next evening in its jellied juices.
Of the three chilled fish dishes, this was our favorite. The delicate white fish was nicely complemented by the white wine, lemon, and thyme. Its "jellied" juices were not as strange as Gary and I expected them to be – it was not overly firm like gravy out of the fridge and definitely like a jelly, with an almost a champagne-like flavor. While we would probably not cook fish like this again, it turned out to be much better than we expected.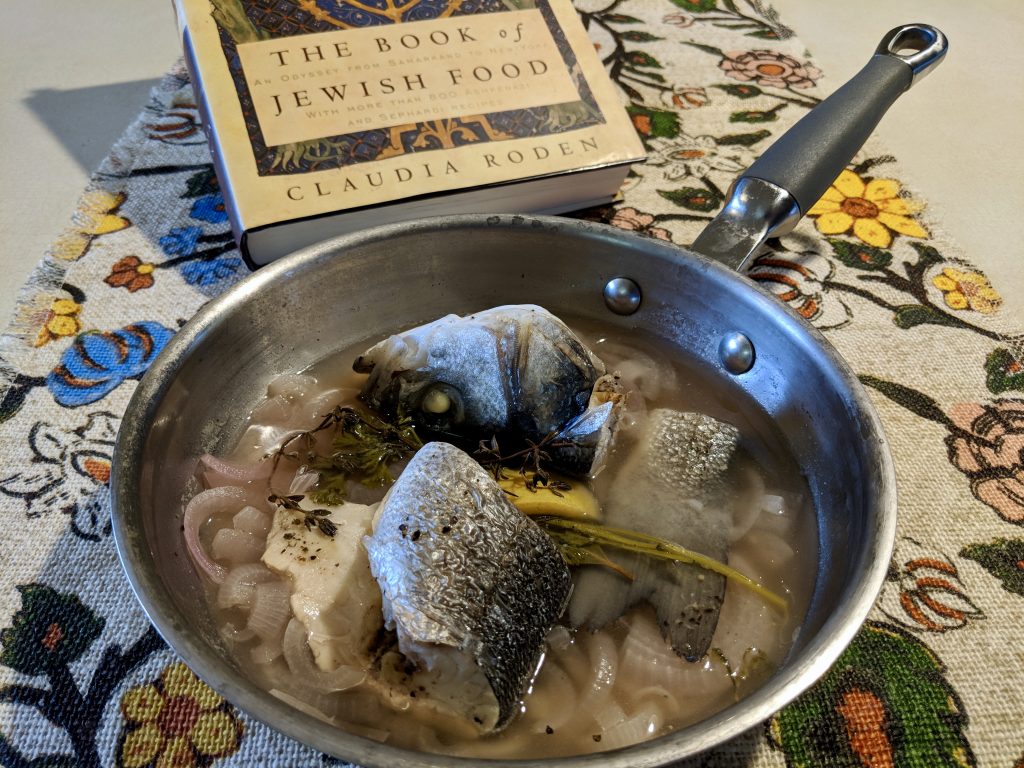 Cold fried fish was a favorite amongst Jews from Portugal who came to England in the sixteenth century. Fish was often fried on Friday and then served on the weekend, becoming popular with everyone from Brits who lived in the East End to Thomas Jefferson (who sampled it during a trip to England).
This recipe was pretty straightforward – a portion of the above Branzino was dipped in flour, followed by a lightly beaten egg, then matzo meal and deep fried on until brown on both sides. This was chilled overnight and served alongside our jellied fish.
Who doesn't like cold fried fish? Well, Gary did not really like it – but I did! And it was not like Gary did not enjoy it, it just was not his favorite way to eat fish. A small amount of crispiness still remained in the savory breading, and the fish was nice and flakey.
This recipe is suggested to be served as a snack and is just a variation of the above chilled fried fish. With our final portion of Branzino, we fried the fish as above, but before chilling, poured over it a combination of cider vinegar, sugar, bay leaves, garlic, ground ginger, peppercorns, and coriander seeds which had all been boiled together. This also chilled in the fridge overnight in preparation for our fish feast.
This dish was just a slightly more flavorful version of the above "Cold Fried Fish", but not tart or sour as we expected a pickled fish to be. It was a little tangy, but mostly had a garlic and peppery flavor, which was not unpleasant. While neither of us disliked it, much like the jellied fish, this is not our preferred method of fish cookery, but we are still glad we tried it.
This Dutch recipe perfectly represents their rich dairy roots in a very tasty bite of shortbread pastry. A staple amongst the working class Jews in Holland, this heavy cake is often served with a strong cup of coffee to cut through the richness. We actually found this cake very similar to Butter Mochi from the Lucky Peach cookbook – chewy and rich, owing its texture to mochi flour. For this recipe though, white flour, sugar, salt, and butter were mixed together and pressed into a pie plate lined with parchment paper. This was baked for 30 minutes until golden and allowed to cool, before being turned out and sliced into squares.
This was so very, very, very good. Like, too good. Like, had to stop ourselves from eating the entire cake in one sitting good. Like, we allowed visitors to have a piece, but only one piece because this was "our Precious" kind of good. Crunchy on the outside, almost gooey on the inside, and rich with a definite shortbread taste, this cake was easy to make and way too easy to eat!
AND IN THE END, THE FOOD YOU MAKE IS EQUAL TO THE CARE YOU TAKE…
So how was Made In Marrow's meal number 27? As a reminder, our rating system is based on sticks of butter (because butter is best!), with 1 being the absolute worst and 5 being out of this world. Sticks of butter are assigned to Difficulty (how many kitchen fights were needed to complete the meal?), Tasty Goodness (was it a palate poor or did it make our mouths merry?), and Repeat Customer (how likely are we to return to the recipe?).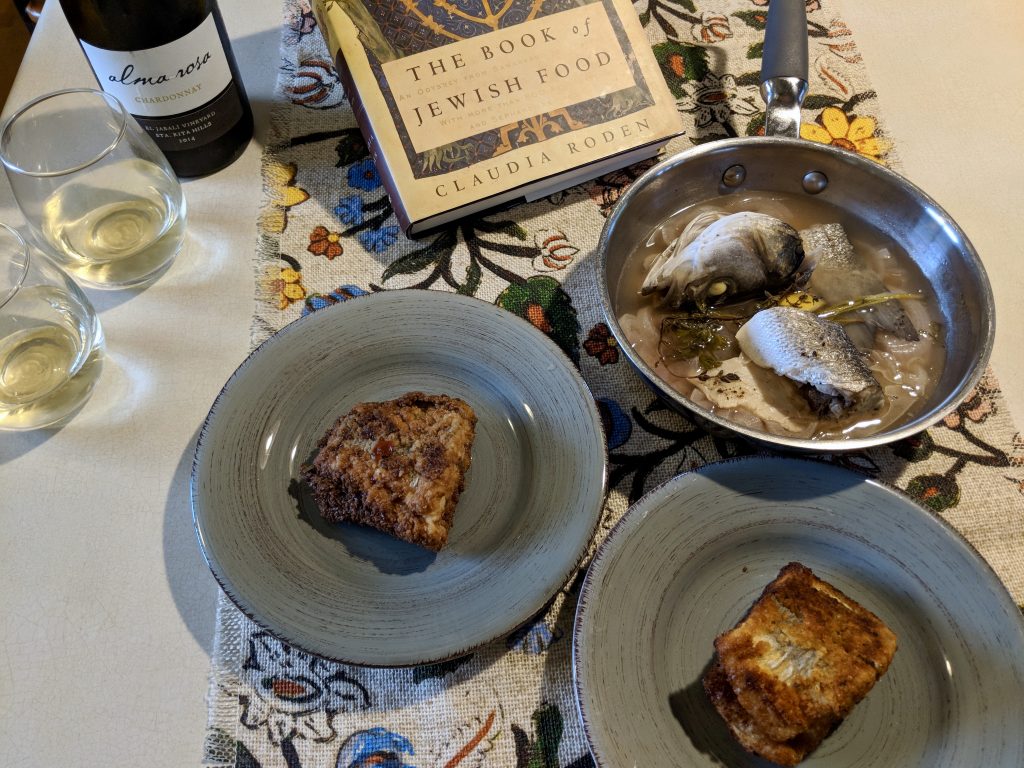 Difficulty[][] 2/5
This was a mostly easy week with the hardest part being hunting down a whole fresh white fish, so an extra point was added for multiple grocery store visits!
Tasty Goodness
[][] 2/5 Mushroom Soup – Not terrible, but not the flavor profile we enjoy in a mushroom soup.
[][][][] 4/5 Jellied Carp in White Wine – Bright and light and very different!
[][][] 3/5 Cold Fried Fish – Just like eating leftover fish from fish and chips.
[][][] 3/5 Pickled Fried Fish – Just like eating leftover fish from fish and chips that you left garlic chili sauce on overnight in the fridge (haven't we all had this experience?).
[][][][][] 5/5 Joodse Boterkoeke – Jewish Butter Cake in Holland – Chewy, sweet, and oh-so-tasty.
Repeat Customer
[] 1/5 Mushroom Soup – Definitely not.
[] 1/5 Jellied Carp in White Wine – Probably not.
[] 1/5 Cold Fried Fish – Will probably eat leftover fried fish again straight out of the fridge, so does that count?
[] 1/5 Pickled Fried Fish – Definitely not.
[][][][][] 5/5 Joodse Boterkoeke – Jewish Butter Cake in Holland – Had to stop ourselves from making it again the next week!
We have a couple of fish dishes left to go, but they focus on salmon (our favorite) in much more familiar styles of cooking. You never know what you are going to like, or what will be similar to old family recipes, and we were pleasantly surprised by this week's fare.
So sip, sup, and savor all you can, you curious cooks,
Elais & Gary