Just want the recipes and none of that other wordy nonsense? Click the links below!
Tortino di Spinaci – Spinach Cake
Kalavassika kon Keso – Zucchini and Cheese Gratin
Roz bil Ful Andar – Rice with Fresh Fava Beans
Chittarnee – Sweet-and-Sour Chicken in Onion Sauce
Mustacudos de Muez – Walnut Pastries
Meal the Eighty-Fourth
Tonight's dinner was a veritable tour of the Eastern hemisphere, featuring dishes from Italy, Spain, Egypt, Turkey, and India. And while these areas seem fairly disparate, what binds them together are their ethnic ties that stretch across space and time. While this may seem as incredible as dates and anchovies being tasty additions to spinach pies, what is equally as incredible as families traveling thousands of miles and still being able to maintain tradition in very foreign environments. But this is the amazing thing about humans, we carry with us the things that we love, and if we cannot find a close approximate to it in our new domain, we make do with the supplies and ingredients around us, as well as adopt new cuisines into our repertoires to make us feel more at home. One of the keys to survival is keeping those comforting habits and traditions alive, regardless of the places we are transplanted to or the time that has elapsed since we have left our places of origin.
This is the ongoing theme of Made In Marrow – we love to make our favorite foods in our familiar kitchen because that is what makes us feel at home. We find substitutes when we need to but also expand our palates outward, enjoying discovering what makes others feel warm and loved in their own lives. Understanding others can easily start with cuisine so join us in embracing a whole set of new recipes in tonight's meal!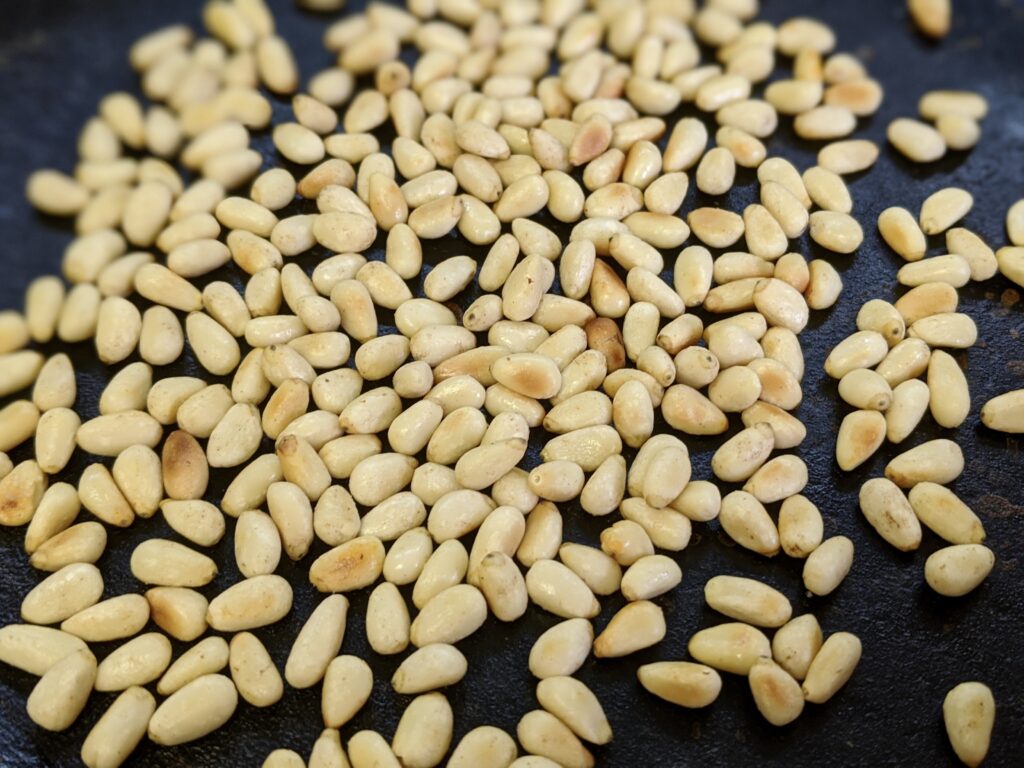 Our first vegetable dish of the evening from The Book of Jewish Food is an old Italian dish that mixes Sicilian and Middle Eastern flavors. It begins by wilting spinach in a pan while anchovies, garlic, and capers were blended to a paste.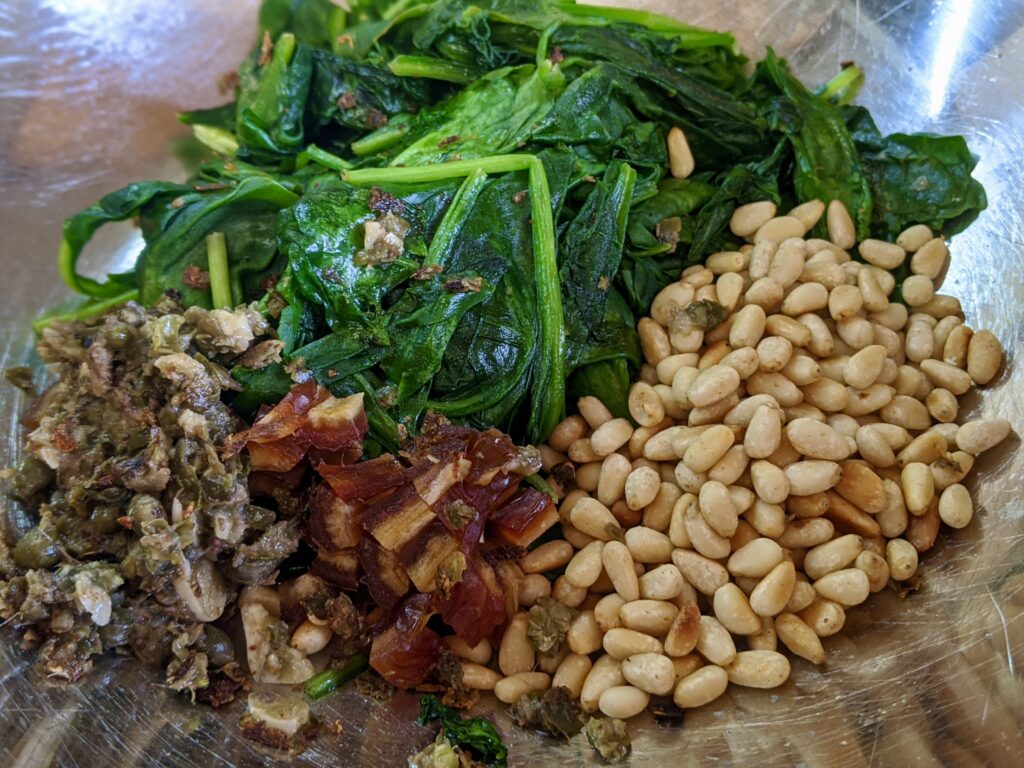 The paste was then fried in oil until aromatic after which it was mixed with the wilted spinach. This was joined by a lightly beaten egg, salt, pepper, dates, and pine nuts. The odd mixture was then poured into ramekins which had been oiled and dusted with matzo and then baked at 350F for 30 minutes until set.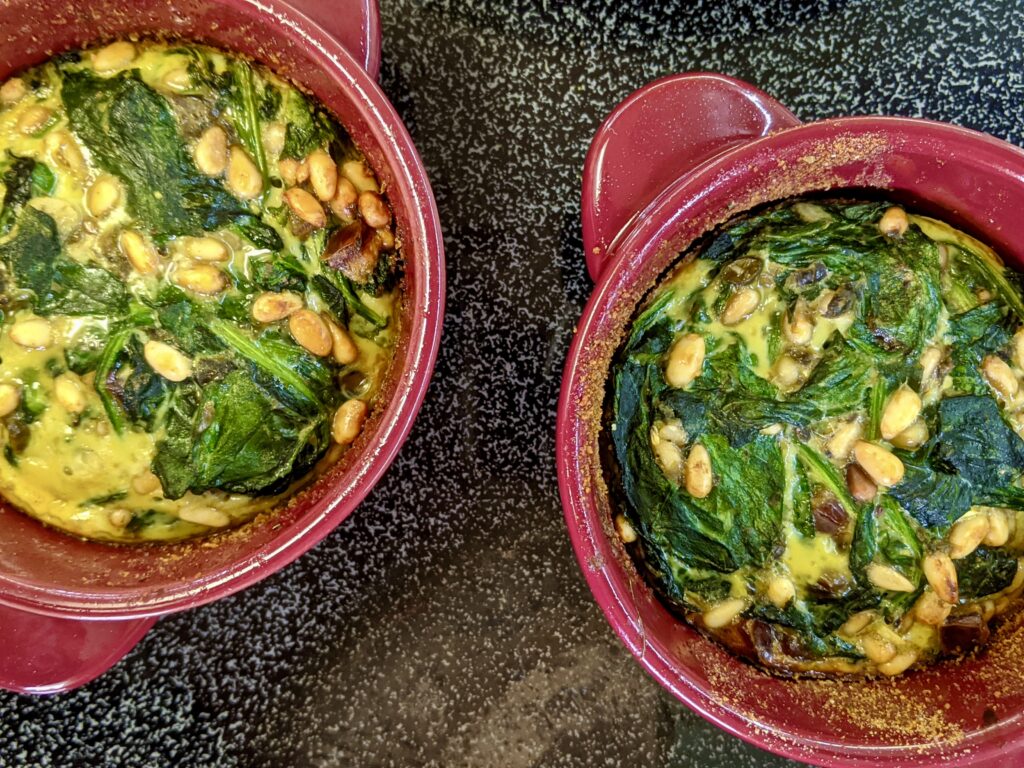 To say the least, we were not sure what to expect of this interesting mix of ingredients. But this was actually fantastic! The dates slight sweetness was nicely balanced out by the very salty anchovies. The spinach was earthy and its texture was perfectly contrasted by the crunchy pine nuts. This would make for a great little side dish for a dinner party, having a great little visual effect with the ramekins and being a very different vegetable dish.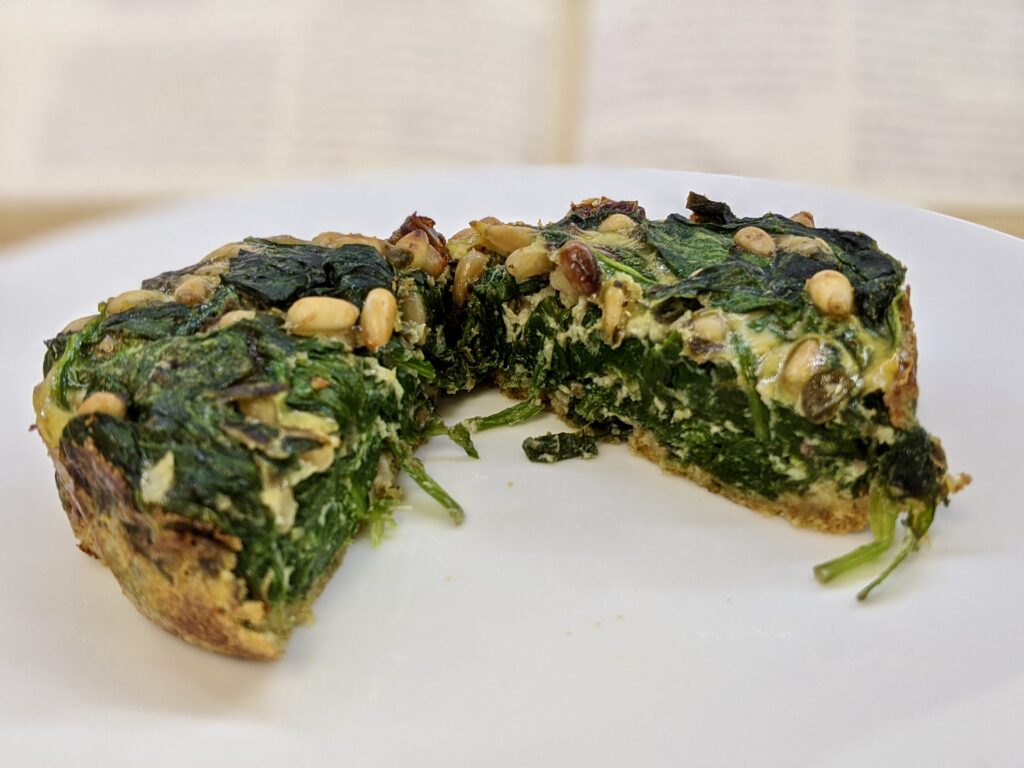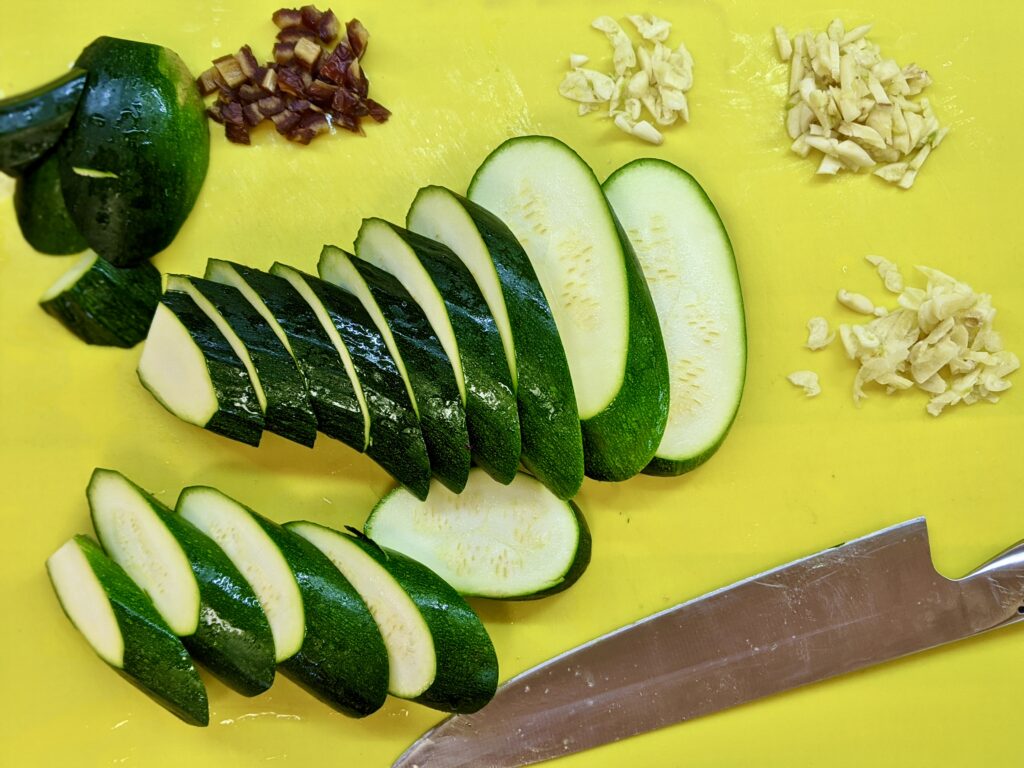 Our second vegetable dish of the night has Spanish origins as well as Syrian ties in Sephardic cuisine. Sliced zucchini was briefly blanched then layered in a baking dish. Feta was mixed with lightly beaten eggs, pepper, nutmeg, and mint. This was baked at 350F for 30 minutes until set and the top was slightly colored.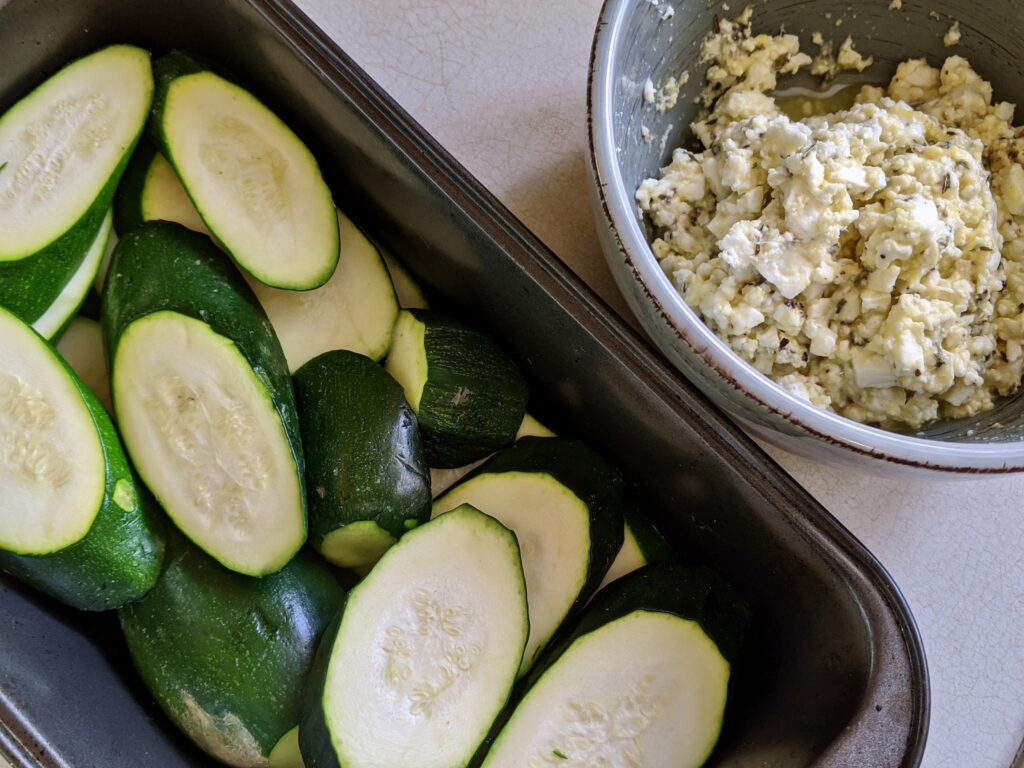 This was a wonderfully savory and slightly creamy dish. The zucchini had a nice bite to it and the combination of the eggs, feta, and mint had an almost béchamel effect on the dish. This reheated quite well the next day and made for some great leftovers.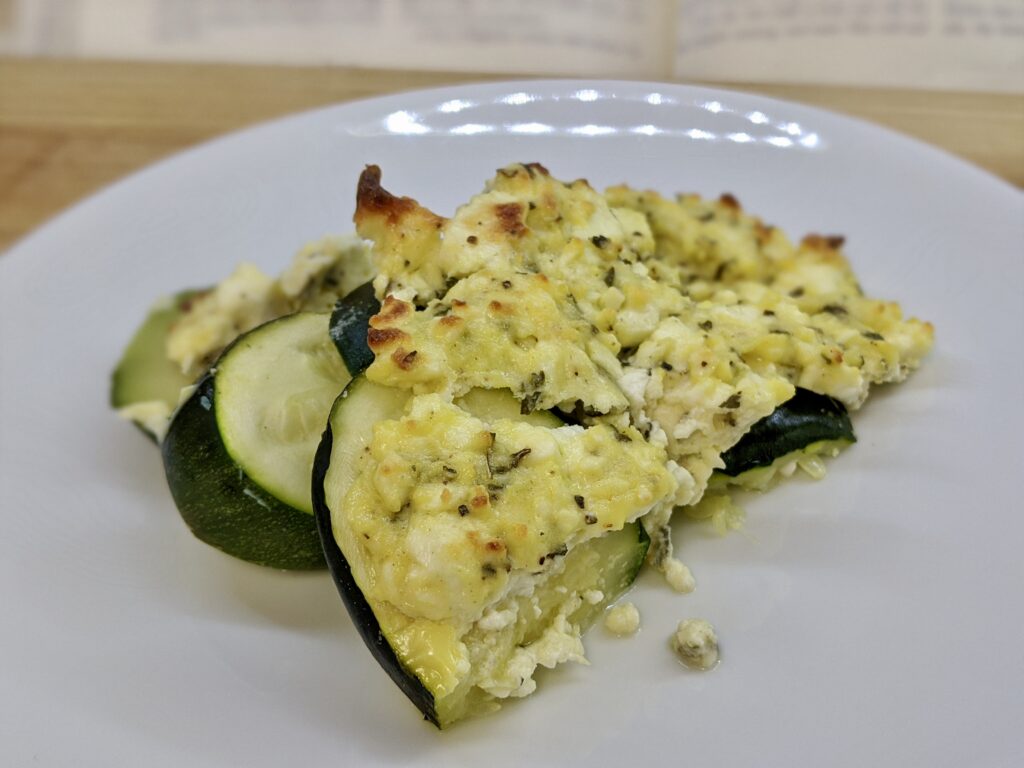 According to Claudia Roden, all sorts of dishes with fava beans are associated with Passover both because they are season around this time of year as well as they were thought to have been eaten by the Hebrews while they were enslaved in Egypt. This is one of many Sephardic variations of this dish, which can also feature artichokes and saffron in other versions.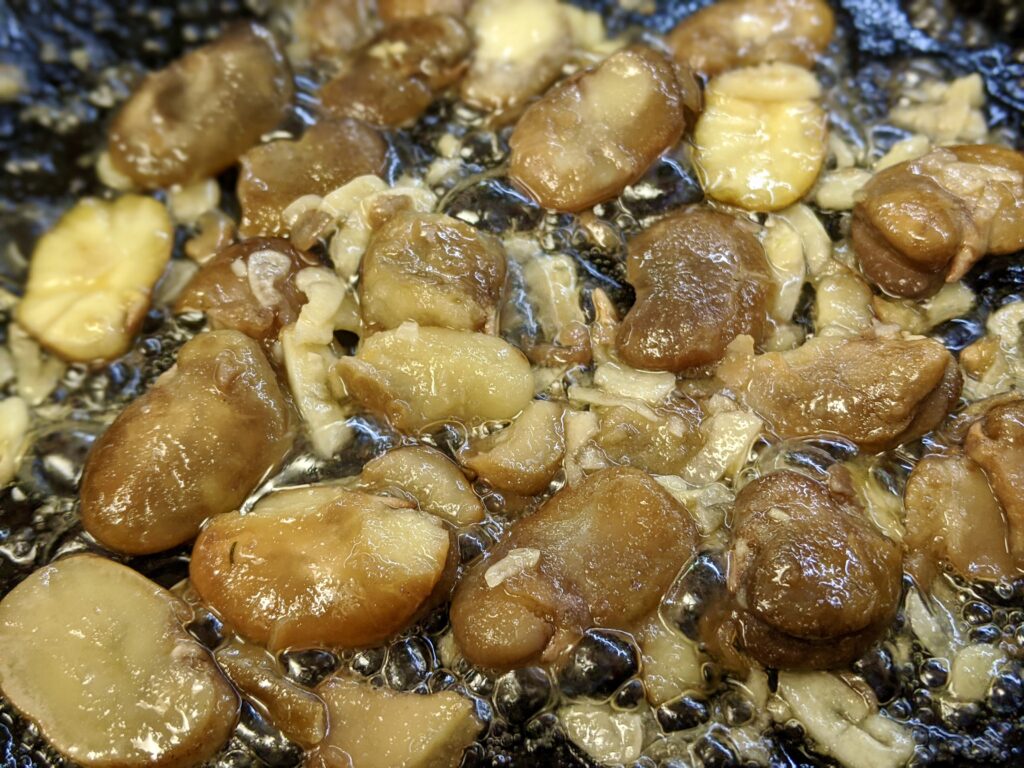 The fava beans were boiled first, as not currently being in Egypt (and it is also not April), we only had dried ones on hand and had learned from previous experience that they take a looooong time to cook. The beans boiled for several hours until tender, after which they were drained and seasoned with salt to taste. Next, garlic was fried and then was joined by lemon juice, sugar, and the fava beans. While this simmered, the rice was boiled in salted water for ten minutes. Dill was stirred into the hard-boiled rice, which was then drained, then returned to the pan along with some butter and the fava bean mix. This then steamed while covered, on very low heat for 20 minutes (which we kept a close eye on to make sure it didn't burn).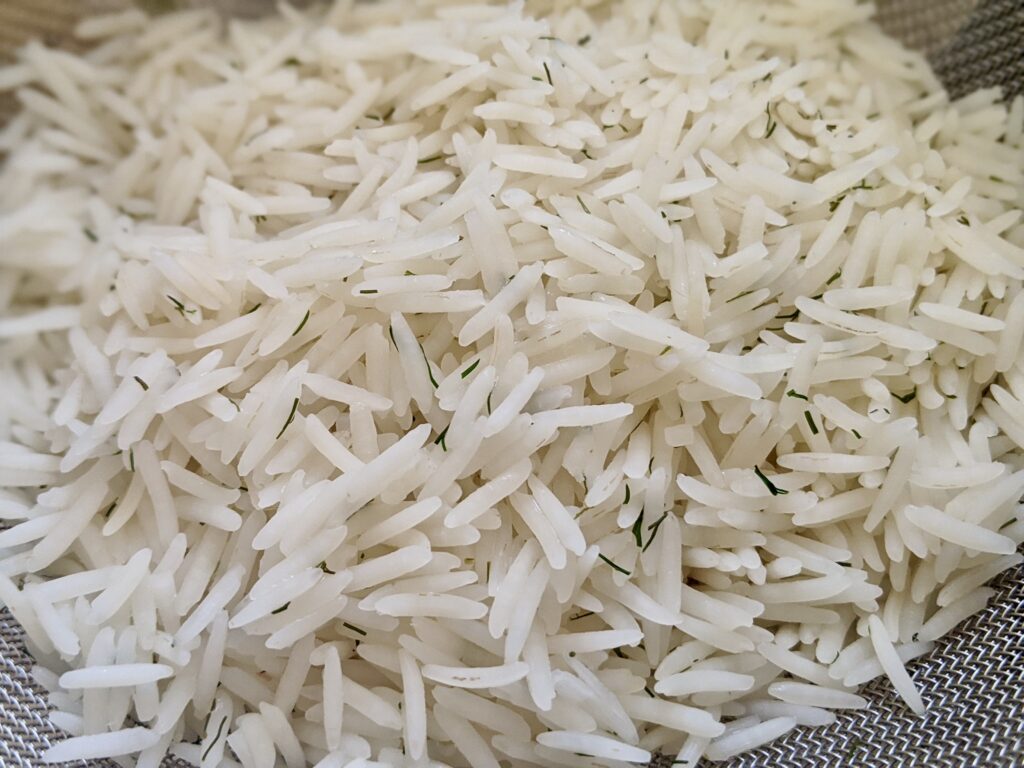 Despite looking fairly simple, this was surprisingly flavorful. The dill had a nice visual effect but was not really detectable in taste, but the lemon juice and butter were quite tasty and added sumptuousness to the dish. The fava beans were nutty and hearty and were also nicely complemented by the lemon juice. This rice dish turned out to be a great pairing with our chicken main course of the evening, but we were sure to finish all of the fava beans, as they have a tendency to toughen up in the fridge.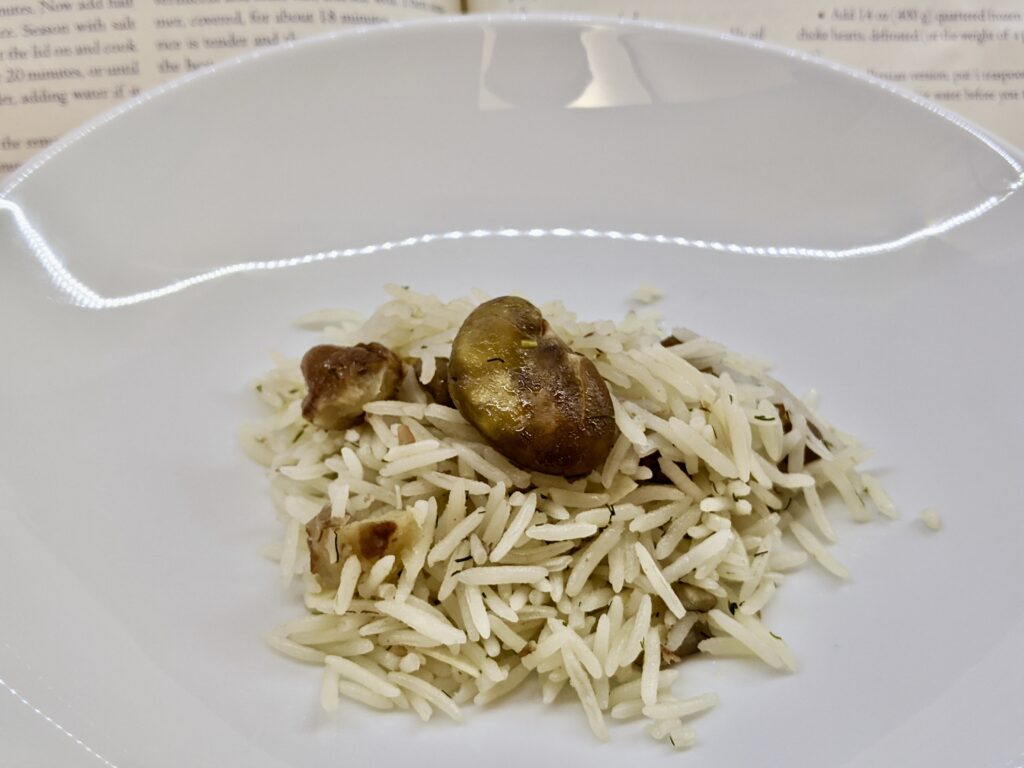 This is our third week of tasting the cuisine of the three Jewish communities of India. Tonight's chicken dish is that of the Baghdadis, who are descended from Jews from Iraq who immigrated to Bombay and Calcutta in the late 1700s. The first settlers were merchants, who traded Venetian ware, like mirrors, gold leaf, copper, coffee, and almonds. Many of these merchants had also made their wealth on the opium trade with China and went on to prosper in shipping, land deals, and later industry.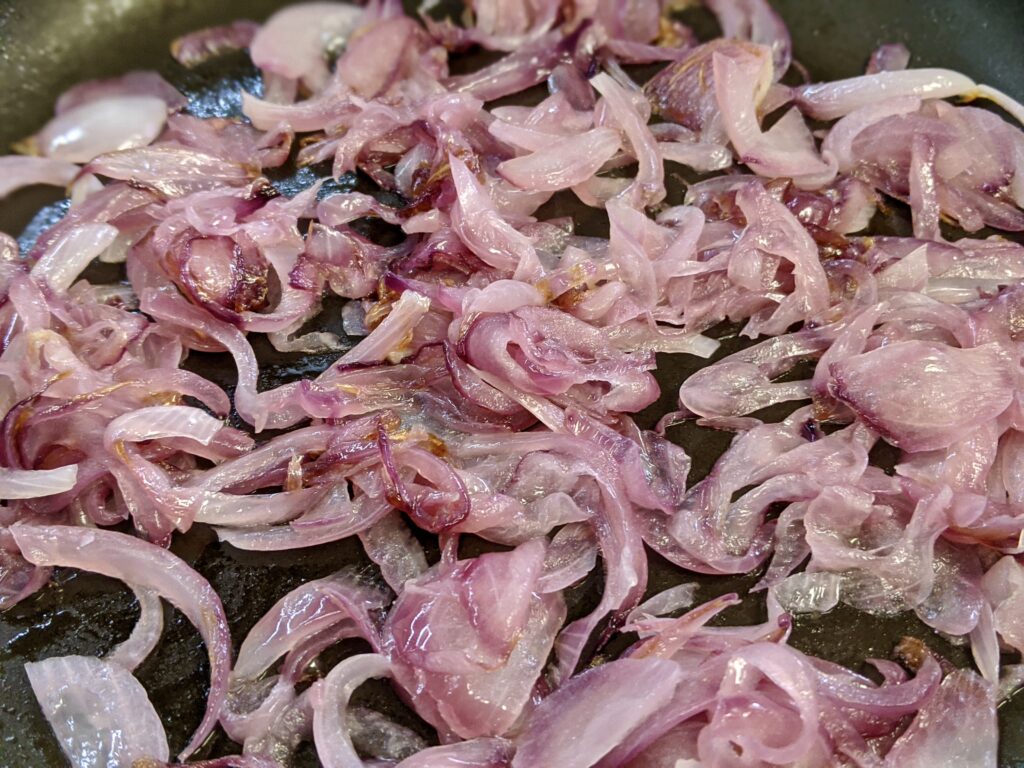 The Baghdadi communities of Bombay and Calcutta stuck mostly to themselves, not mixing with their Indian neighbors or the other two Jewish communities in India. While they flourished under the British Raj, they continued to wear traditional Middle Eastern clothing and speak Arabic until English began to become more commonly spoken around the turn of the century. However, their cooking was a hybrid of Iraqi and Syrian dishes seasoned with Indian flavors. Some foods were adopted as is by the Baghdadis, like local chutneys and chapatis, as well as British favorites like bread pudding (these are some of our favorite foods, so we were already on board with this style of cuisine!).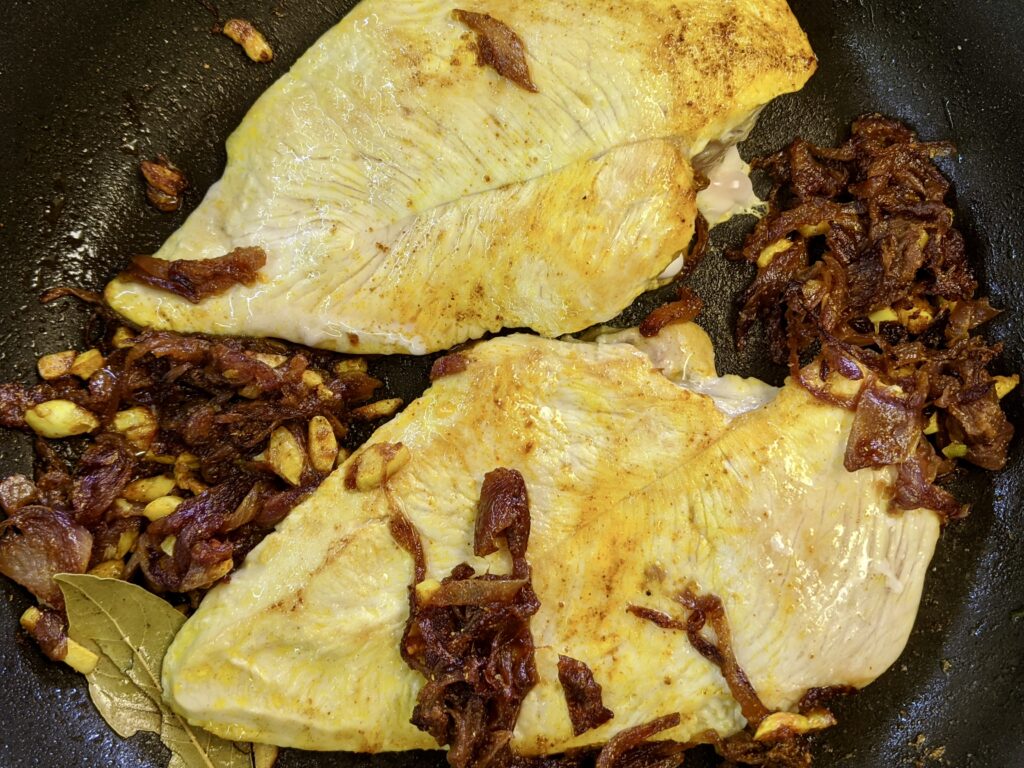 To start our heavily spiced, onion chutney dish, the sliced onions were simmered in a covered pan for about 20 minutes until they were soft and golden. Garlic, ginger, bay leaves, turmeric, cinnamon, coriander, cardamom, cayenne, salt, and pepper were added to the pile of onions, which instantly became wonderfully aromatic. The chicken was then added to the pan and browned, after which tomatoes joined the mix, and everything simmered for 30 minutes. Once the majority of the fluid had cooked down, a small amount of vinegar and sugar was added and simmered for another ten minutes more.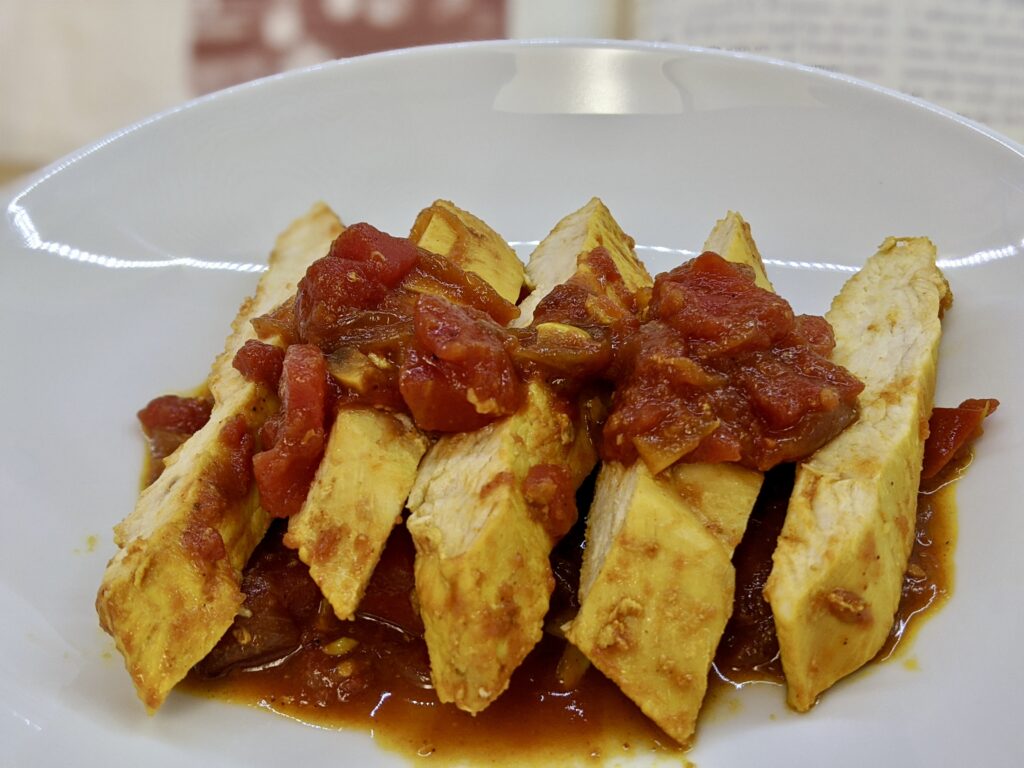 This dish was very flavorful, to say the least, and true to its sweet-and-sour name. The chicken was moist and flavorful and had just enough kick from the cayenne and ginger to balance out the sweetness and acidity of the tomatoes. The sauce had a gravy-like constancy, which was a great pairing with the rice, but also would be very tastily sopped up by some pitas from previous weeks!
Our dessert this evening is a specialty of the Jews of Turkey. It is simple and straightforward with just a couple of ingredients – in a food processor blend walnuts, sugar, and egg, orange zest, and cinnamon to a firm paste. After moistening our hands with water (the dough is very sticky), we rolled them into walnut-sized balls, placed them on a baking sheet, and baked them at 350F for 25 minutes.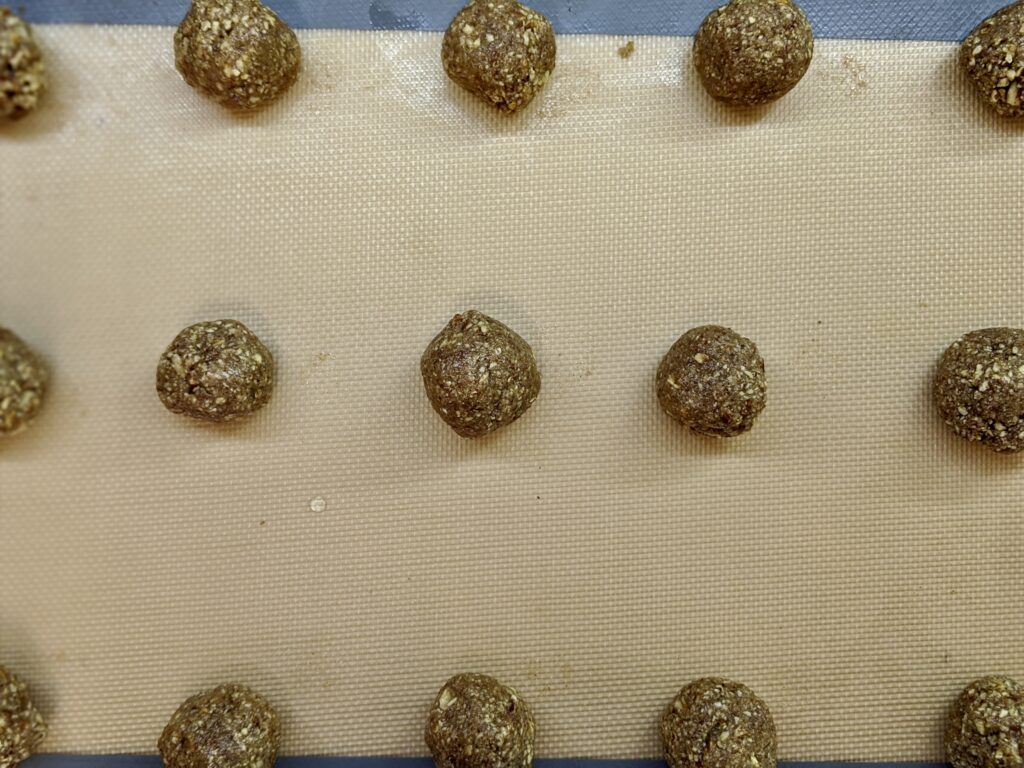 These tasted like a cake we have made in previous weeks (Tishpishti, which we also enjoyed), and what's better than a cake that is already portioned in little two-bite pieces? The cookies tasted a bit like Christmas, being a bit nutty, spicy, and zesty. We greatly enjoyed these little pastries and they kept quite well in a sealed container for the few days they lasted.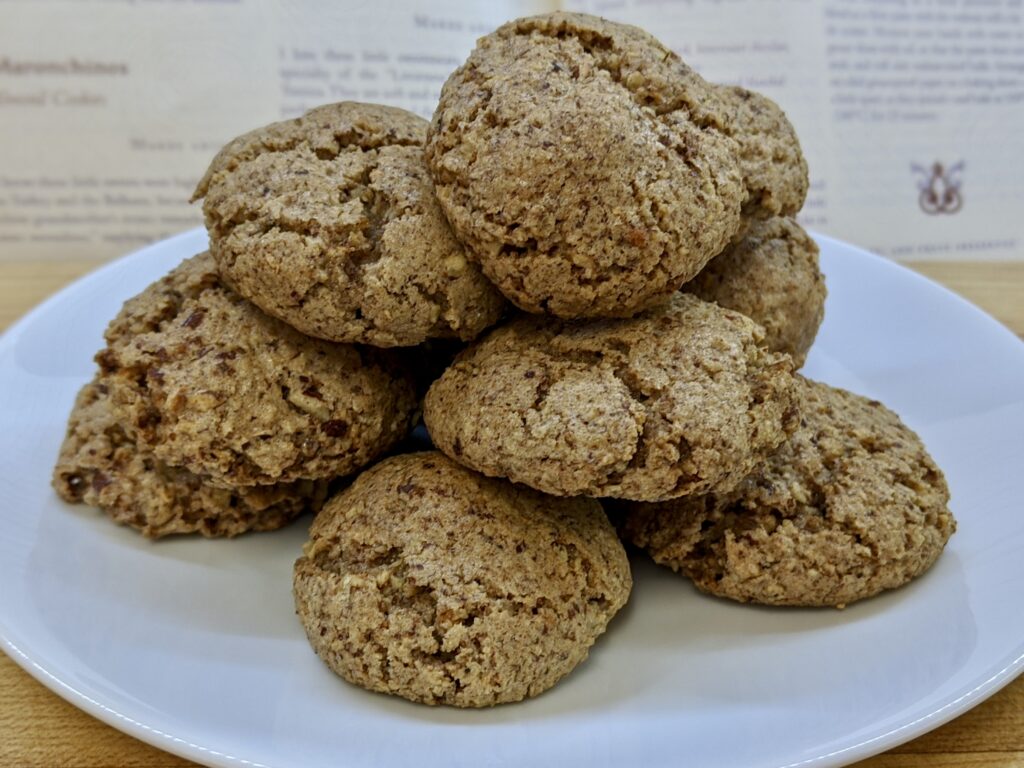 AND IN THE END, THE FOOD YOU MAKE IS EQUAL TO THE CARE YOU TAKE…
So how was Made In Marrow's meal number 84? As a reminder, our rating system is based on sticks of butter (because butter is best!), with 1 being the absolute worst and 5 being out of this world. Sticks of butter are assigned to Difficulty (how many kitchen fights were needed to complete the meal?), Tasty Goodness (was it a palate poor or did it make our mouths merry?), and Repeat Customer (how likely are we to return to the recipe?).
Difficulty  [][] 2/5
A little time management and a lot of garlic chopping went into this meal, but all of the recipes were fairly straightforward which made for a relatively stress-less meal.
Tasty Goodness
[][][][][] 5/5 Tortino di Spinaci – Spinach Cake – A sumptuous spinach side
[][][] 3/5 Kalavassika kon Keso – Zucchini and Cheese Gratin – A mildly minty bite of zucchini
[][][][] 4/5 Roz bil Ful Andar – Rice with Fresh Fava Beans – Buttery and beany!
[][][][] 4/5 Chittarnee – Sweet-and-Sour Chicken in Onion Sauce – True to its name with a velvety sauce
[][][][][] 5/5 Mustacudos de Muez – Walnut Pastries – A sweet and almost savory cookie
Repeat Customer
[][][][][] 5/5 Tortino di Spinaci – Spinach Cake – An easy and interesting side dish
[][][] 3/5 Kalavassika kon Keso – Zucchini and Cheese Gratin – A nice variation for serving zucchini 
[][][] 3/5 Roz bil Ful Andar – Rice with Fresh Fava Beans – A nice use for fava
[][][][] 4/5 Chittarnee – Sweet-and-Sour Chicken in Onion Sauce – A quick chicken dish that deserves a carby side to sop up the juices
[][][][][] 5/5 Mustacudos de Muez – Walnut Pastries – Easy with just a few ingredients – what more could you ask for?
Our five country sampling turned out to be scrumptious, so we were pretty happy with tonight's meal – on to next week's adventures!
Sip, sup, and savor all you can, you curious cooks,
Elais & Gary