Just want the recipes and none of that other wordy nonsense? Click the links below!
Peshe kon Nuez – Salonikan Fish with Walnut Sauce
Sateni – Georgian Fish with Walnut Sauce
Roz ou Hamud – Rice with a Green Vegetable Sauce
Kobeba Hamda – Ground Rice Dumplings in Hamud Sauce with Rice
Dattes Fourrées – Dates Stuffed with Almond Paste
Noix Fourrés – Walnuts Stuffed with Almond Paste
Meal the Eighty-Eighth
This week's blog reads like the plot of If You Give A Mouse A Cookie (which if you haven't read, you should, as it is quite enjoyable – essentially if you give a mouse a cookie, it will escalate into a series of demands that will rival only the most ridiculous romps of rodent requests). What that looked like for tonight's dinner was, if we are grinding up walnuts for one fish dish, why not do it for another? If we are making a soup, why not make its paired dumplings? If we are making almond paste, why not make it for two desserts? And why make a dessert without making an additional caramel sauce? And why talk about one country's history when we could write about the whole Ottoman Empire?
And so, from this rambling assortment of recipes, research, and *hopefully,* quippy commentary you will find tonight's meal. Wishing you the best of luck following through our meal of madness and we hope that you enjoy it as much as we did. 
The first fish dish of the evening hails from Salonika and has Turkish and Spanish origins by way of Italy. If you are like us, those roots needed a little bit of clarification, which is what we sought out via Google, so here is the best explanation we were able to find: The Ottomans of that oh-so-famous empire used to practice population transfers within their domain to increase border security or re-populate remote regions. After the fall of Constantinople in 1453, the Ottomans forced Jews from Anatolia (aka Turkey) to relocate to Salonika. Shortly after the Ottoman Occupation, Sephardic Jews from Spain also found themselves in Salonika, Greece after they were expelled by the Spanish Christian rulers in the late 1400s. These immigrants often stopped in Italy along the way, because, as you may have guessed, it is quite a long trip, even by today's standards – according to Google maps it is a 32-hour car drive, being slightly shy of 2000 miles.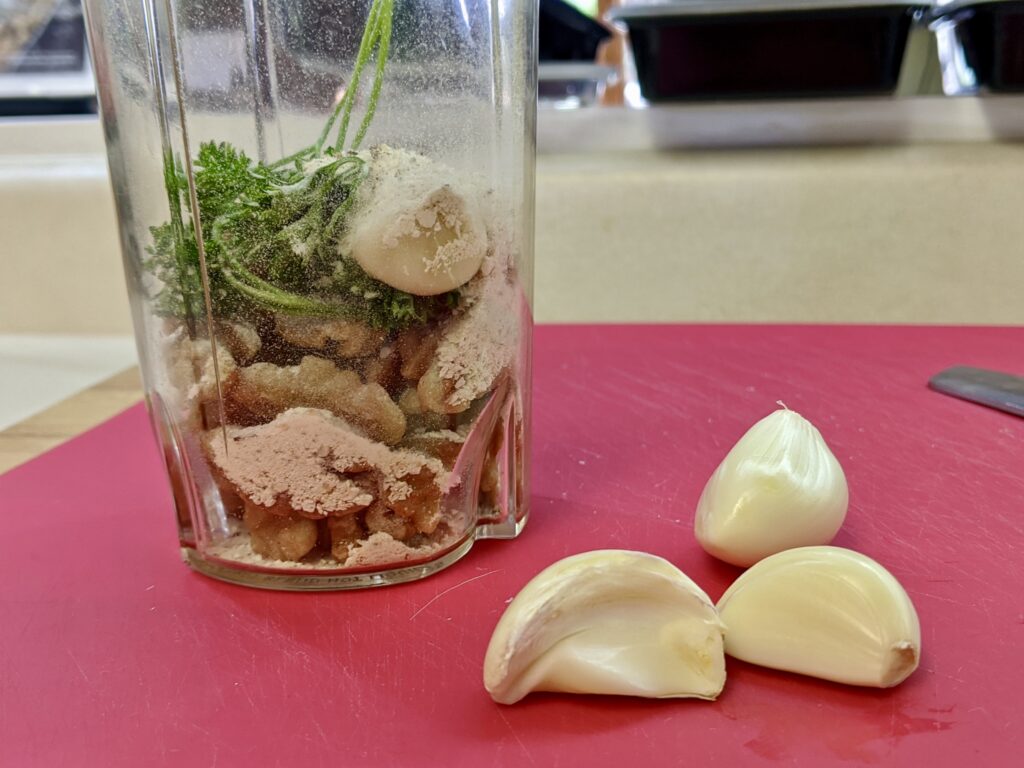 Back in 1492 that distance was nothing to laugh at, as they had neither cars nor Google maps, so whether you traveled on foot, by horse, or by ship, this was a pretty significant journey (not to mention the added stress of being kicked out of your birthplace). And, if you are anything like us, you may have wondered, it seems a little coincidental that Jews from two different places were forced to immigrate to Salonika simultaneously. Well, we are so glad you asked, because no, it was not a coincidence. The Ottomans, who as you may recall from a few alliterative sentences ago, were trying to re-populate Salonika with a Jewish community and saw that these Spanish Jews needed a new home. The Ottomans started a medieval marketing campaign and invited the displaced Jews to Greece as the Ottomans were trying to prevent Greeks from dominating their own city (why, you may ask? Because it is easier to control a recently conquered population when they are not the ethnic majority). And so, Jews with roots from Turkey and Spain by way of Italy became the majority of the population in Salonika by 1519 – hence the origins of this multicultural fish dish. TL:DR? Jews were kicked out of Spain and Turkey, the former made a pitstop in Italy, everybody ended up in Greece, which then culminated in this fish dish***.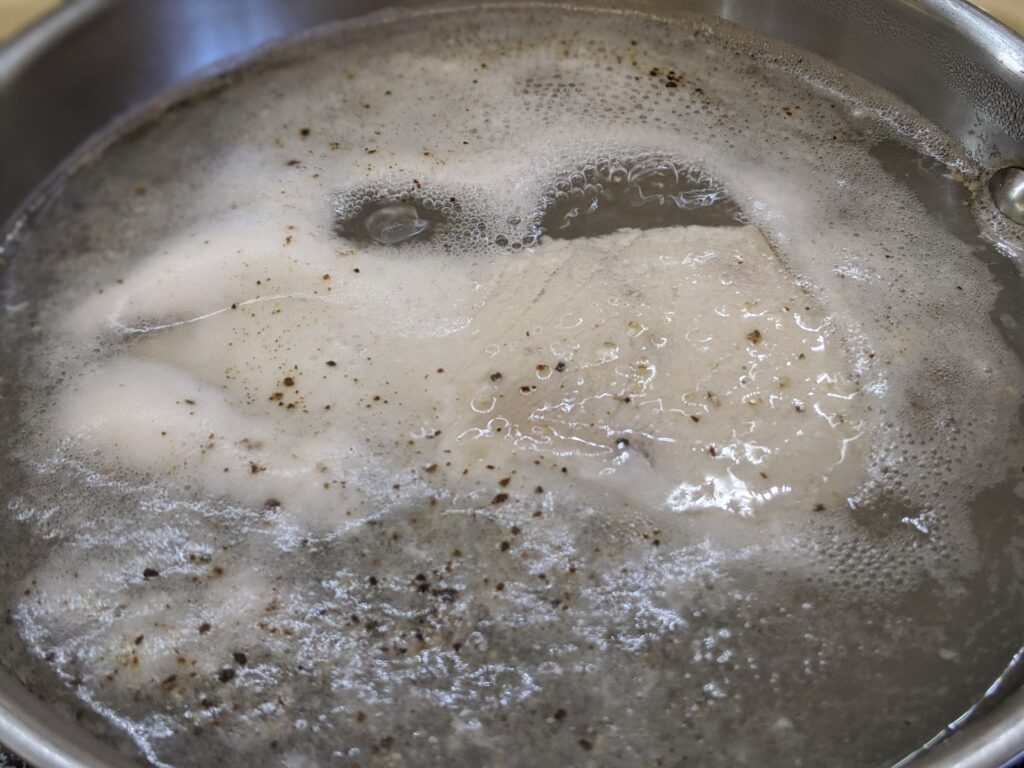 This is quite possibly the longest introduction we have ever done for a recipe that has fewer than 10 ingredients and took less than 20 minutes to cook. All of that exposition led to the fish (we chose swordfish steaks) to be poached in water and lemon juice with salt and pepper for 10 minutes until just flakey. The fish was set aside and then bread (either chopped up stale bread or bread crumbs works) was blended with walnuts, garlic, oil, and parsley along with enough of the fish's cooking water to create a thick and creamy sauce. This was poured over the fish prior to serving (which was supposed to be eaten cold but we ate the majority hot and saved a small piece to sample after it had been chilled).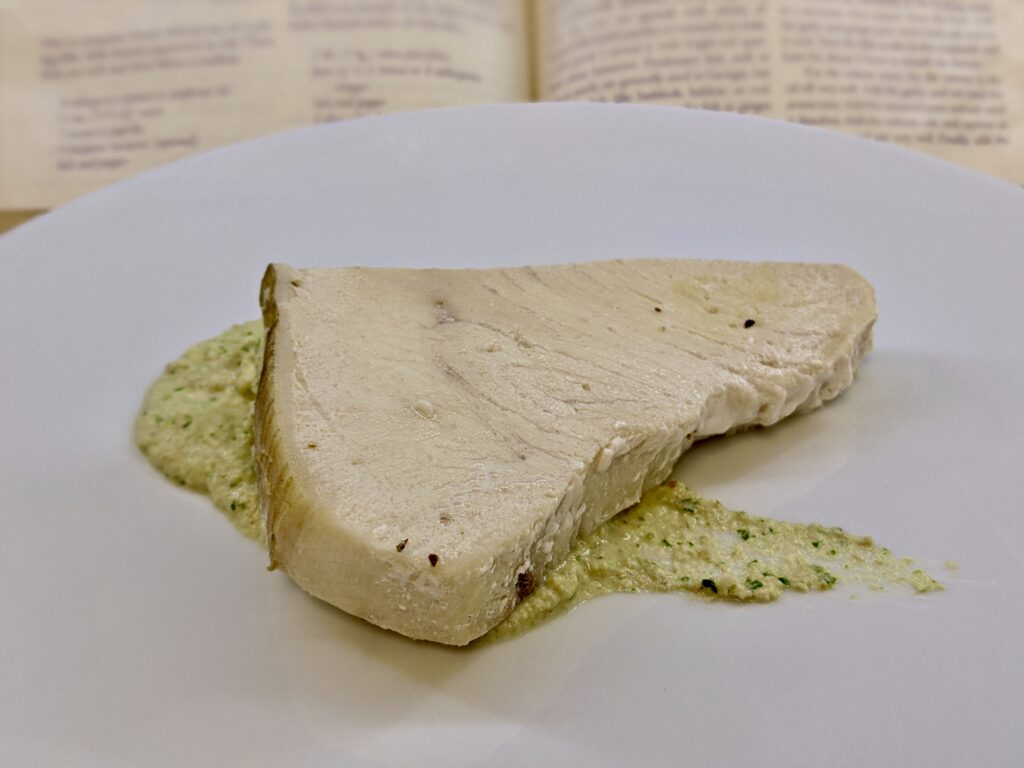 Despite being quite simple, the fish was quite good, and the steak proved to be a good pairing for the heavy sauce. The poached swordfish had a nice toothiness to it and the lemon juice in the poaching liquid added a brightness to the fish. The sauce was quite savory and rich-tasting, with the parsley balancing out the fattiness of the oils from the walnuts. We preferred the hot dish over the cold version, as the oils in the sauce congealed to make it just slightly less enjoyable. 
***As a gentle reminder, before anyone loses their mind about our madcap recap of all of history, we are *not* historians. If we get something wrong please let us know as we are just about as eager to learn as we are to eat everything we can get our hands on.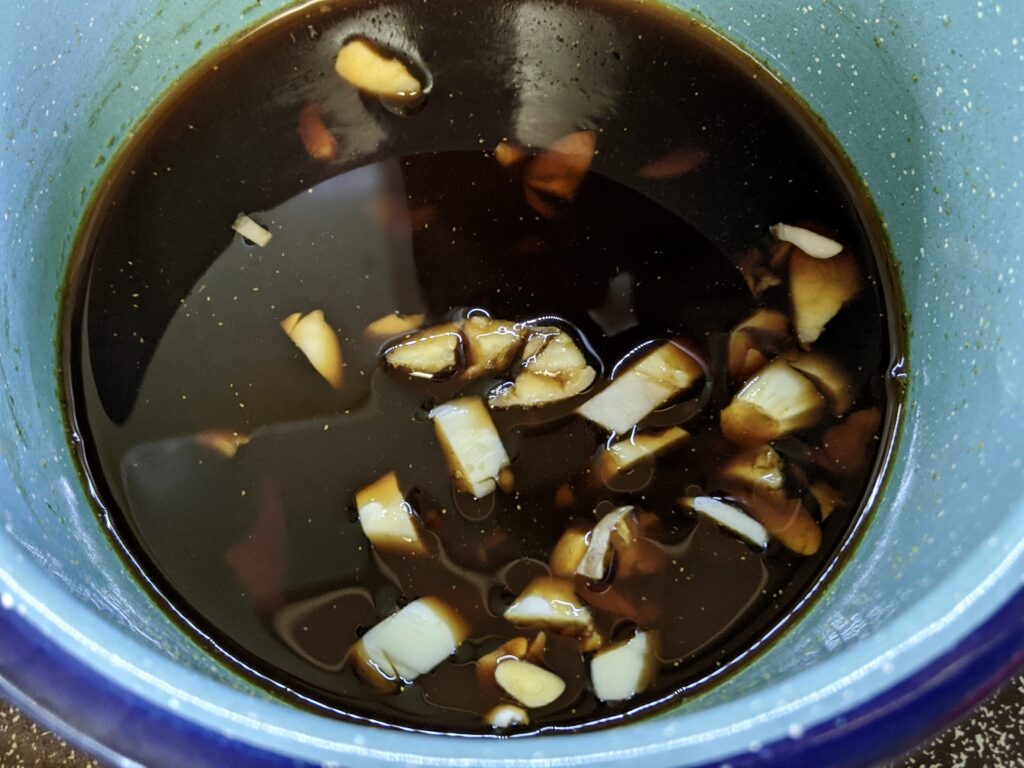 Our second walnut-sauced fish of the evening is enjoyed by Jews in Georgia on the Sabbath and during other holiday meals. While Claudia Roden tells us that Georgians prefer freshwater fish, we went with our swordfish steaks simply because that is what we had on hand and had thawed for dinner. The dish was started by dissolving tamarind paste in boiling water after which garlic, ginger, and salt was added to the pan. This crimson sauce cooled and then was used to marinate the swordfish steaks for one hour.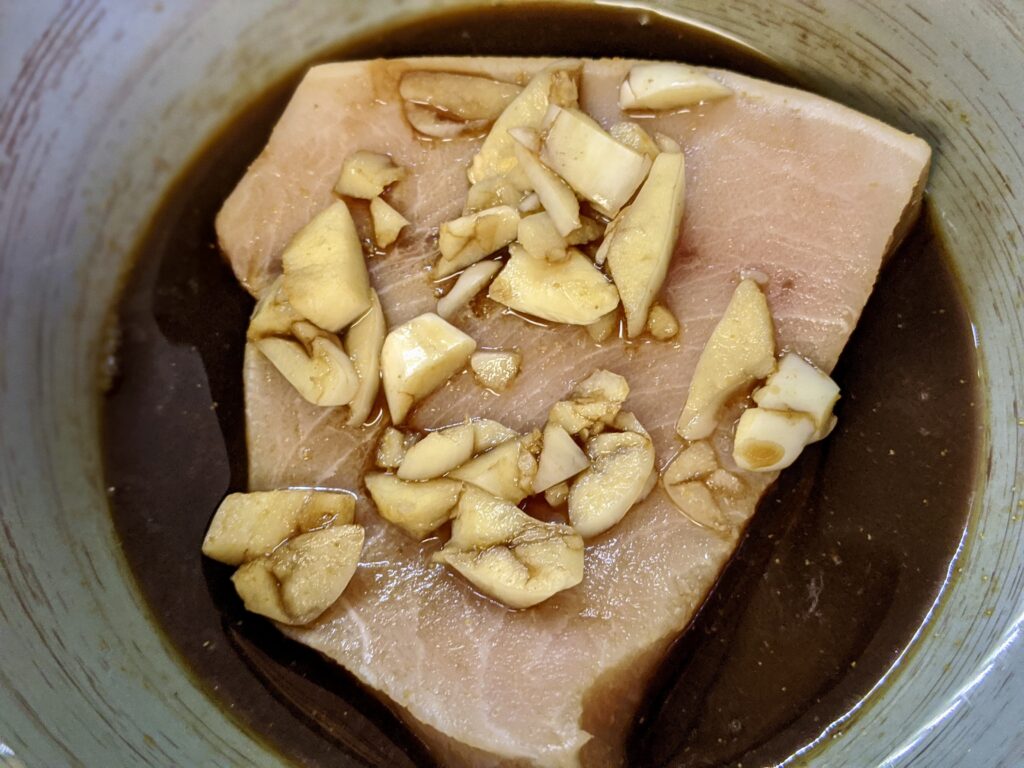 While the steaks marinated, the walnut sauce was started by frying onions until soft, after which garlic was added to the pan and sautéed until aromatic. More tamarind paste was added to this paneling with finely chopped walnuts, salt, and cayenne. Vinegar and water were stirred into this mixture and cooked until a thick sauce had formed. As the sauce simmered, the marinated fish was shallow-fried in a pan until just flakey, then served topped with the tamarind sauce.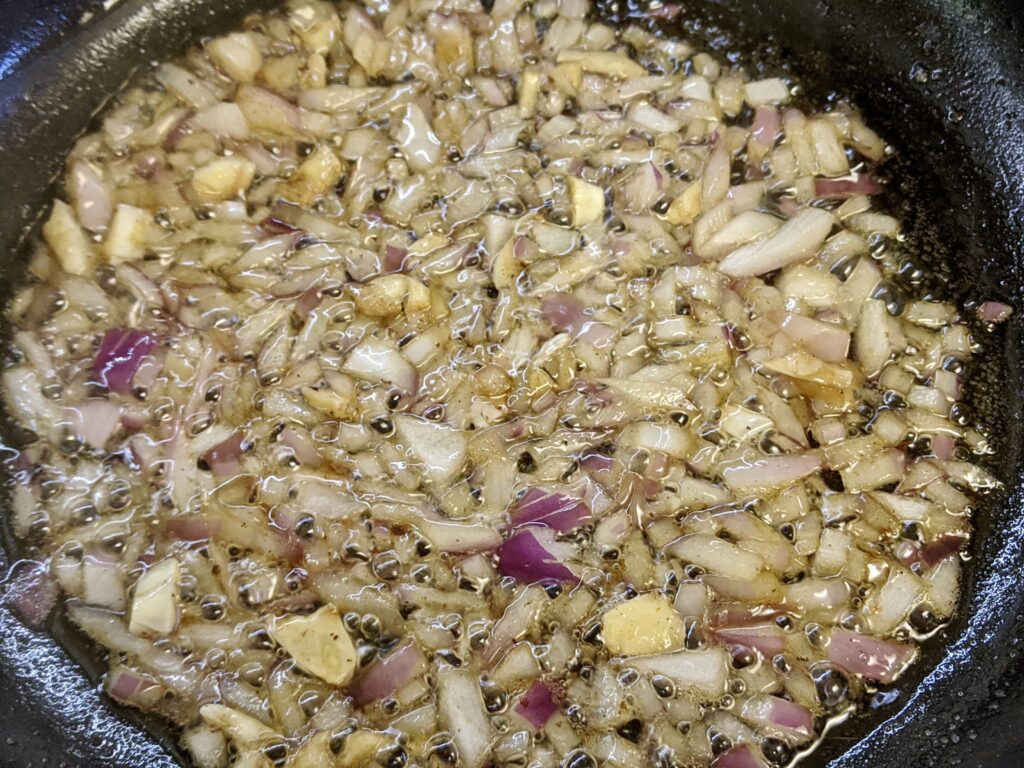 We were not sure what to expect of either of our walnut sauce dishes, other than perhaps chunky, nutty sauces. However, this dish was also quite tasty, but significantly different from our above subtle, poached fish. The Georgian style was spicy and rich, but also sweet and tangy from the tamarind. The hefty swordfish steak stood up well to these strong flavors as a thinner cut and more delicate fish would have most certainly been lost in the powerful sauce.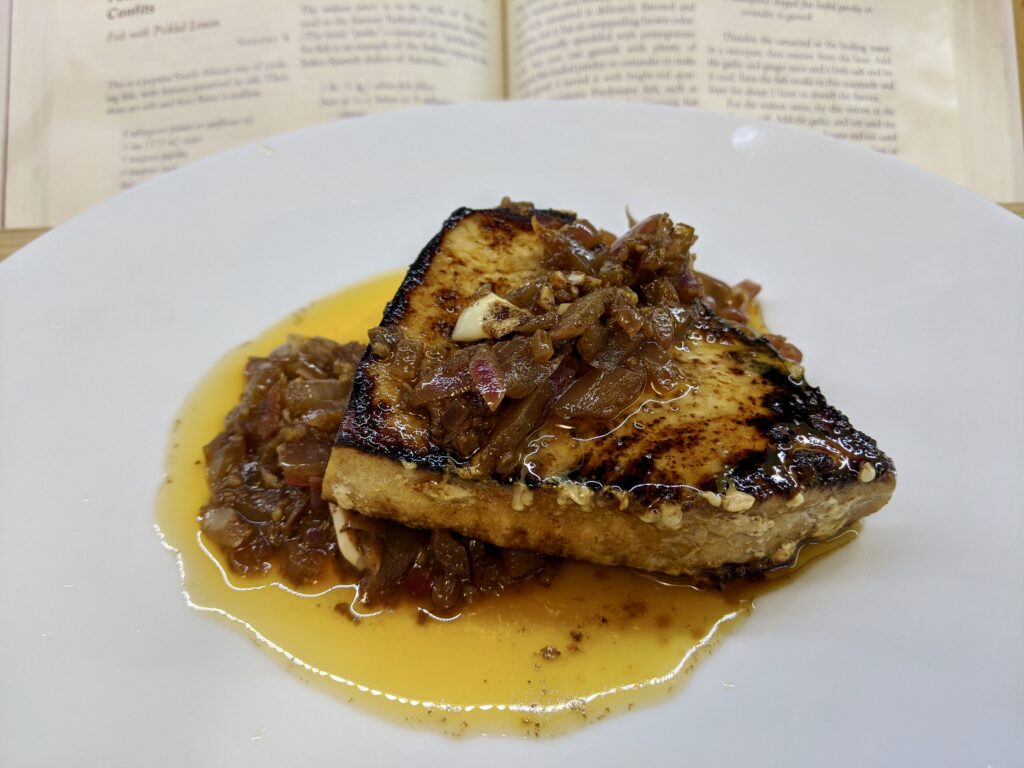 To be as clear as possible (which The Book of Jewish Food was not) this recipe as well as the one below (Kobeba Hamda) belong together. I.E. Kobeba Hamda is served with Roz ou Hamud. Clear? This should not be two separate recipes as they are supposed to be served together. Which is not clear. In The Book of Jewish Food. So now you know. Which we obviously did not realize, but while we were making this recipe saw a tiny note that ground rice dumplings are supposed to be served in it, so then we obviously had to make the next recipe, which turned out to be a whole big deal, which is why this week's blog is so recipe heavy. And no, you are *not* detecting any frustration in this paragraph. We're just saying…the two recipes need to be made together…which is nice to know ahead of time. Anyways…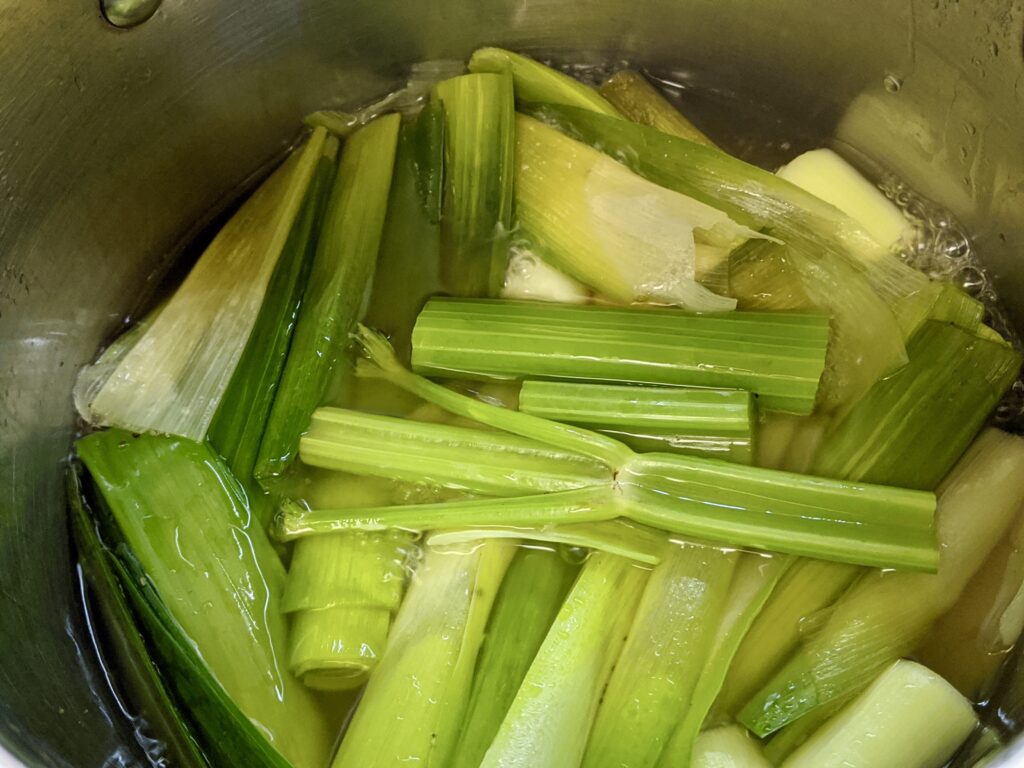 This is a Sabbath favorite in Egypt and is quite a hearty dish, so be prepared for leftovers. This recipe is begun by making a chicken stock, which can be done by either boiling a chicken carcass or visiting the soup aisle of your local grocery store. Once your stock of choice is boiling, add leeks, celery, salt, pepper, garlic, lemon juice, and sugar to the pot, which then needs to simmer for 30 minutes (excuse us while we now switch tenses).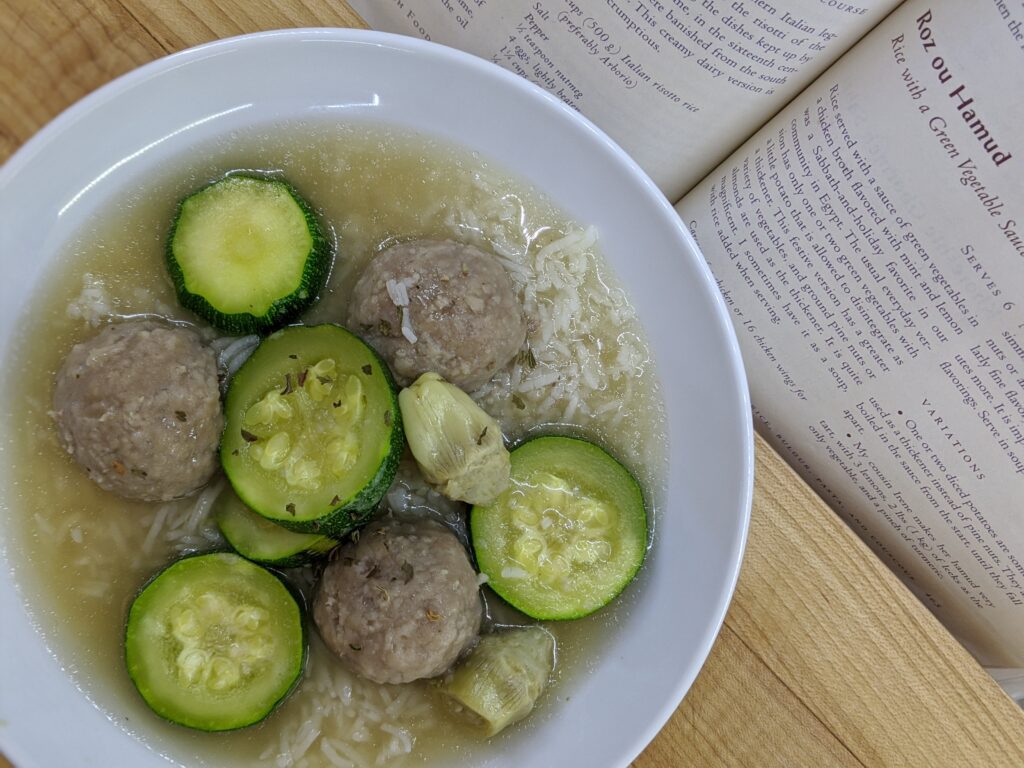 After the stock simmered, we strained out the boiled vegetables (it was not clear to do this in the recipe, but Gary hates celery, so out it went) and zucchini and artichoke hearts were added to the clear broth. After this simmered for 15 minutes, ground pine nuts and mint were added to the soup, which cooked for another 5 minutes. The broth was served in soup bowls over hot rice (WITH THE DUMPLINGS FOUND BELOW).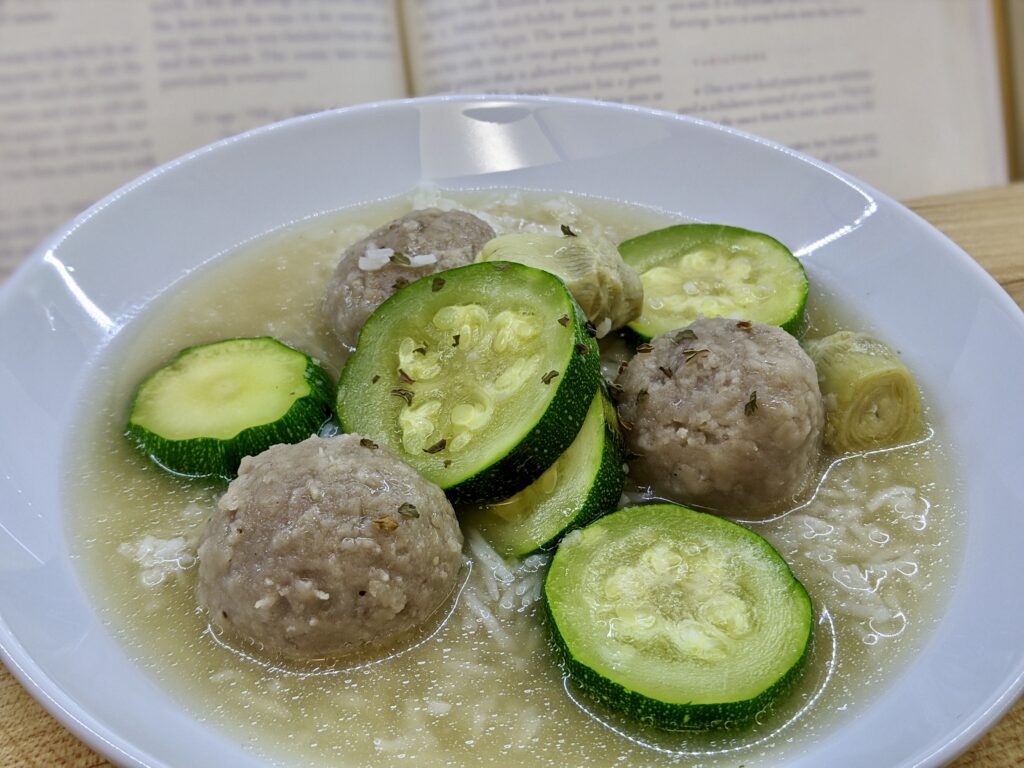 We would definitely call this more of a soup than a sauce, so if you can get beyond the translation, the recipe is quite good. The stock is light and bright, with the zucchini and artichoke adding a bit of tanginess to the broth. There is a slight piney flavor (from the pine nuts), which is not unpleasant, but certainly different. The rice (and the dumplings) add a needed heartiness to the dish, and true to any stock, the soup is even better when served as leftovers.
This recipe, which needs to be served in the above broth, is a favorite amongst Syrian Jews in Egypt and often served during Passover. Roden notes that one must "sit down and apply yourself" to making these dumplings, which is not a very encouraging way to start a recipe, but we forged ahead anyway.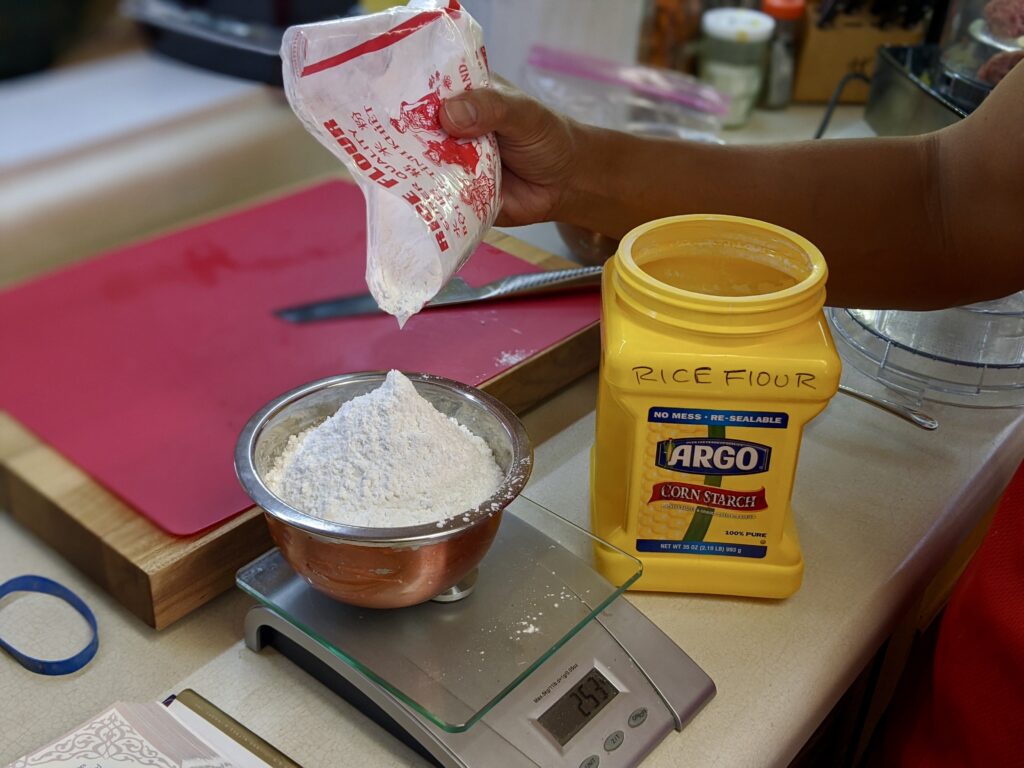 The filling was first on the list, which was made by mixing a third of our ground beef with parsley, salt, pepper, and allspice. For the filling's shell, the remaining amount of ground beef was put in a food processor along with rice flour, salt, and pepper. A small amount of water was added while blending to create a soft but firm dough.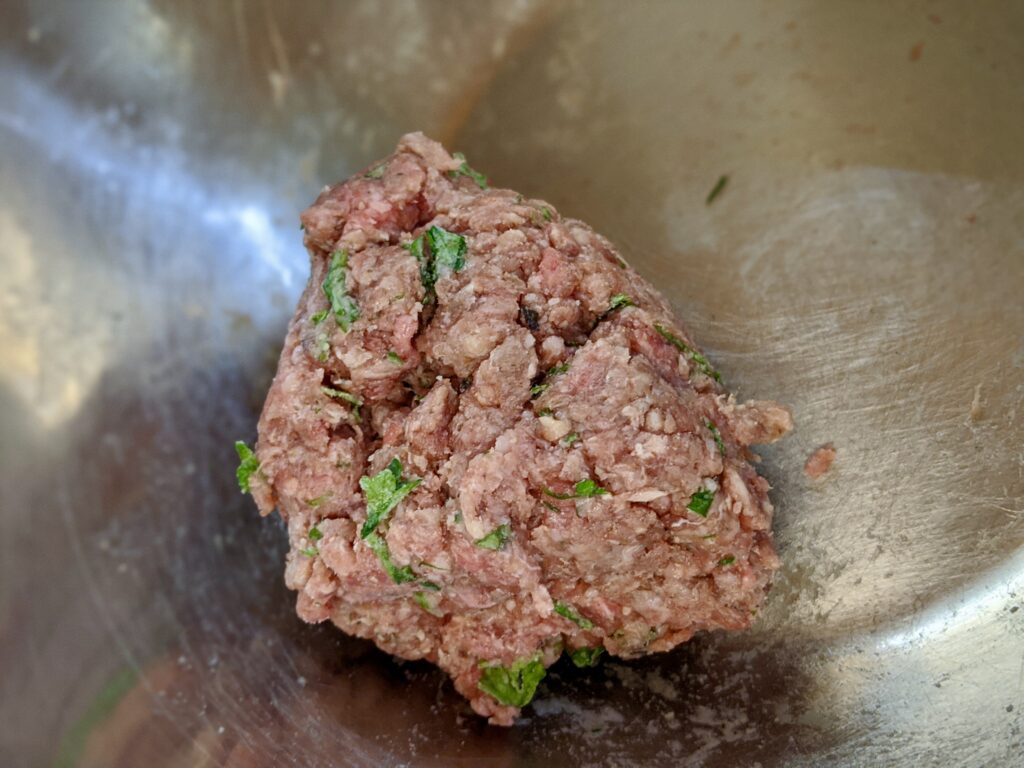 To create the meat wrapped in meat dumplings, the dough was rolled into walnut-sized balls, then hollowed out into a shell as thin as possible. This was a bit difficult as the dough first stuck then began to dry out quite fast. Working quickly, we shaped the shells, filled them with the meat mixture, and then rolled them closed into a small ball. Once the dumplings were completed, they were dropped into the above boiling broth and cooked for about 15 minutes until done.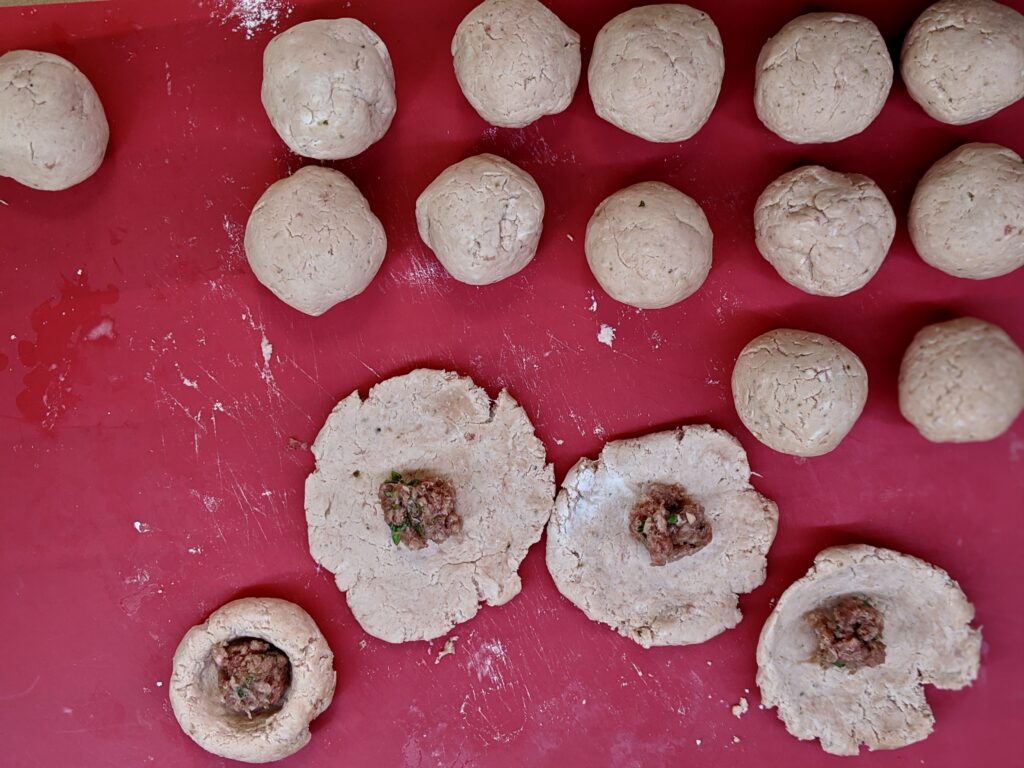 The dumplings were…interesting. They were quite meaty and savory, since they were meatballs wrapped in a meat shell, but could have used an additional spice or herb beyond salt, pepper, and parsley. The texture was odd, being a paste made out of ground meat and rice flour – it was quite smooth and had puffed up ever-so-slightly. It was not bad, it was just not a texture that we eat very often, and perhaps had the soup had some sort of toothier or crunchy component we would not have noted the texture of the dumplings as being so different. Or, perhaps, we did not apply ourselves enough (as Claudia Roden had said we must do), so maybe it was us that was lacking, and not the dumplings.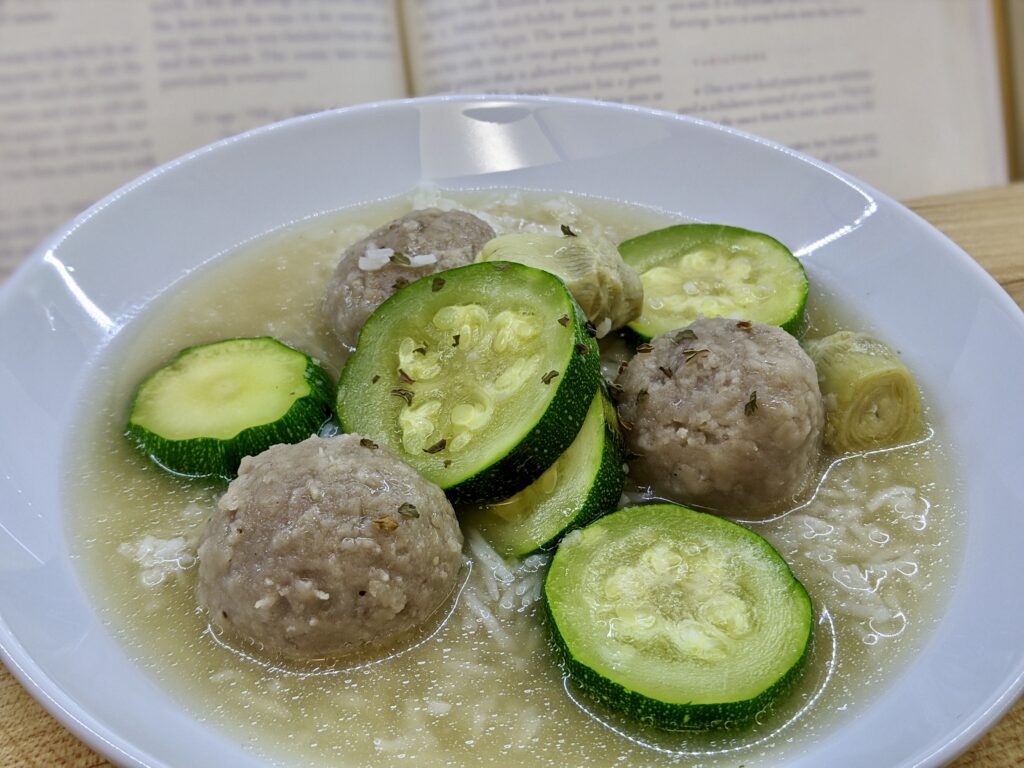 Why are sweetmeats a sweetmeat and not a sweetbread? And why are sweetbreads not sweetmeats? (These are just some of the questions we ask ourselves as we write the weekly blog.) Perhaps, as some quick research has taught us, sweetbreads are known as such because "bread" may have come from an Old English word for roasted meat and the term "sweetmeats" was already a commonly used phrase for confectionary items. What, if any, does this have to do with tonight's desserts? Well, Roden calls both of these recipes "sweetmeats" in The Book of Jewish Food and these were quite the favorite treat of Sephardic Jews from Italy to North Africa.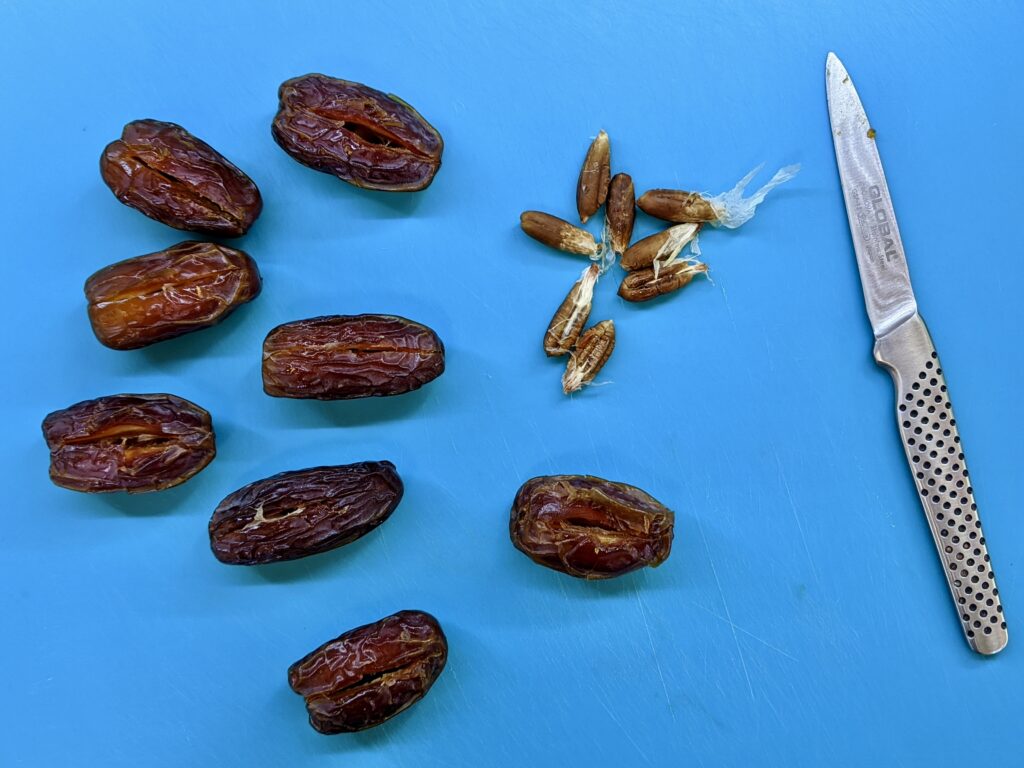 We chose to make both sweetmeat recipes as they both begin with the almond paste recipe used to make Marzipan (which we made ever so many weeks ago). We mixed our ground almonds with sugar and water over low heat until a thick paste had formed and then allowed it to cool slightly before assembling its exteriors. To make the dates, a slit was very carefully cut into each date, which was large enough to remove the pit. Once pitted, a teaspoon amount of almond paste was stuffed into the date.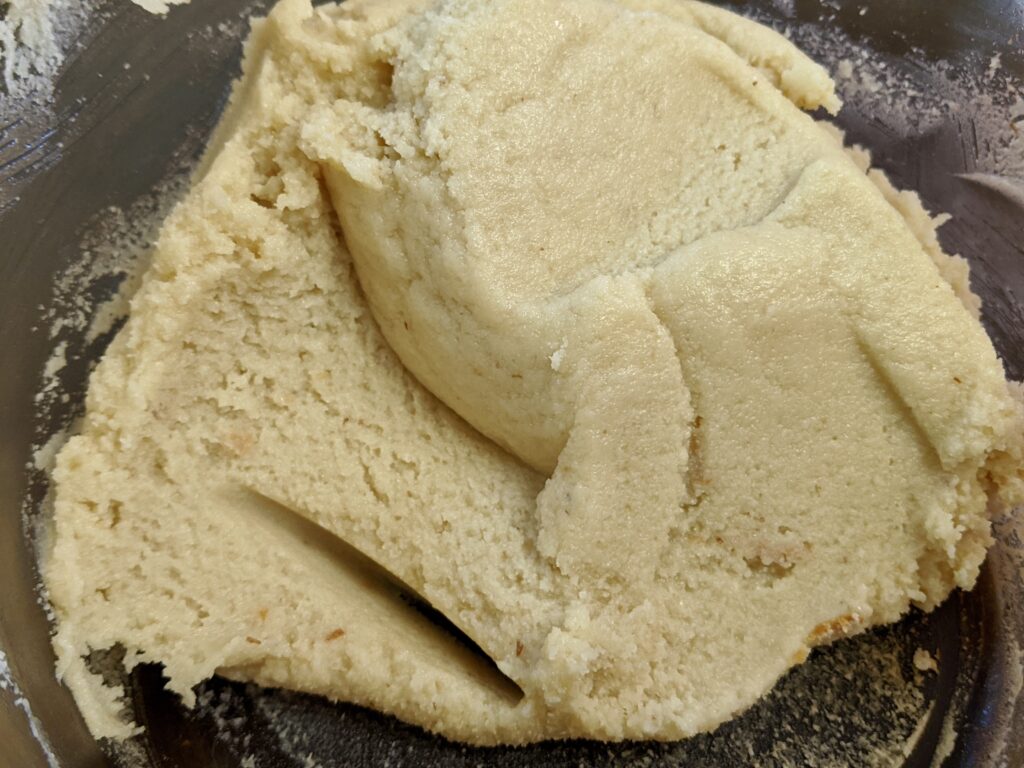 Because I was feeling fancy and confident (a feeling which passed fairly quickly), I chose to go with a variation recommendation by Roden: we created a caramel by simmering water and sugar with a bit of lemon juice until it had thickened and darkened. I then dipped each of the dates into the caramel, which proved to be quite tricky (but not as tricky as dipping walnuts, which I would soon find out!). The dates cooled and set prior to eating, which did not take very long.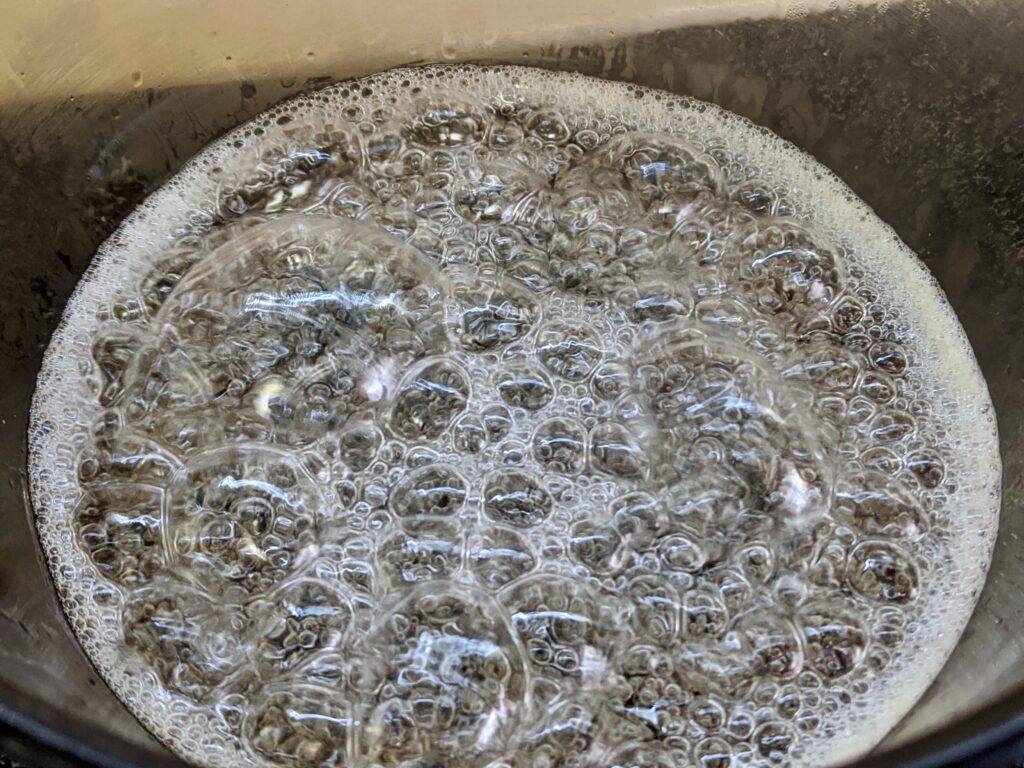 The dates were wonderful and sumptuous and sweet. The caramel was a nicely bitter and tangy component to the nutty and sugary confectionary and due to the toothiness of each bite, we can say that these certainly deserve the name of "sweetmeats".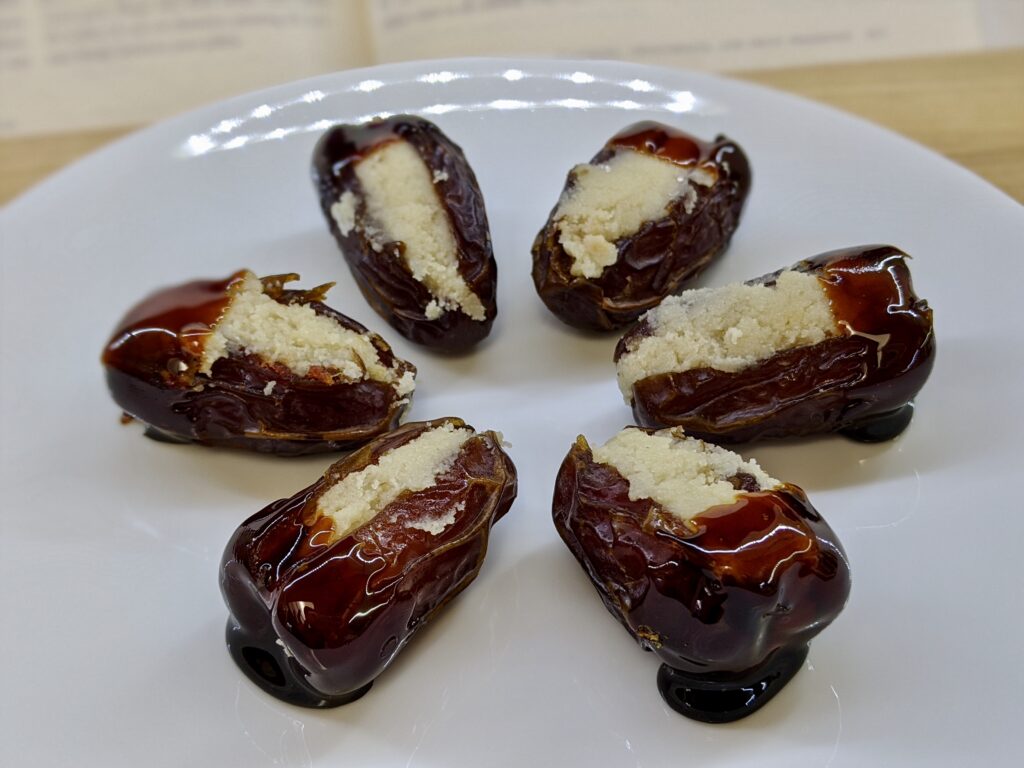 This recipe is simply the above almond paste, rolled into balls and pressed between two walnut halves. I also dipped these in caramel, which turned out to be more difficult than the already tricky date dipping as these are smaller and harder to hold onto when trying to be lightly dipped into boiling sugar (fingerprints are overrated anyway).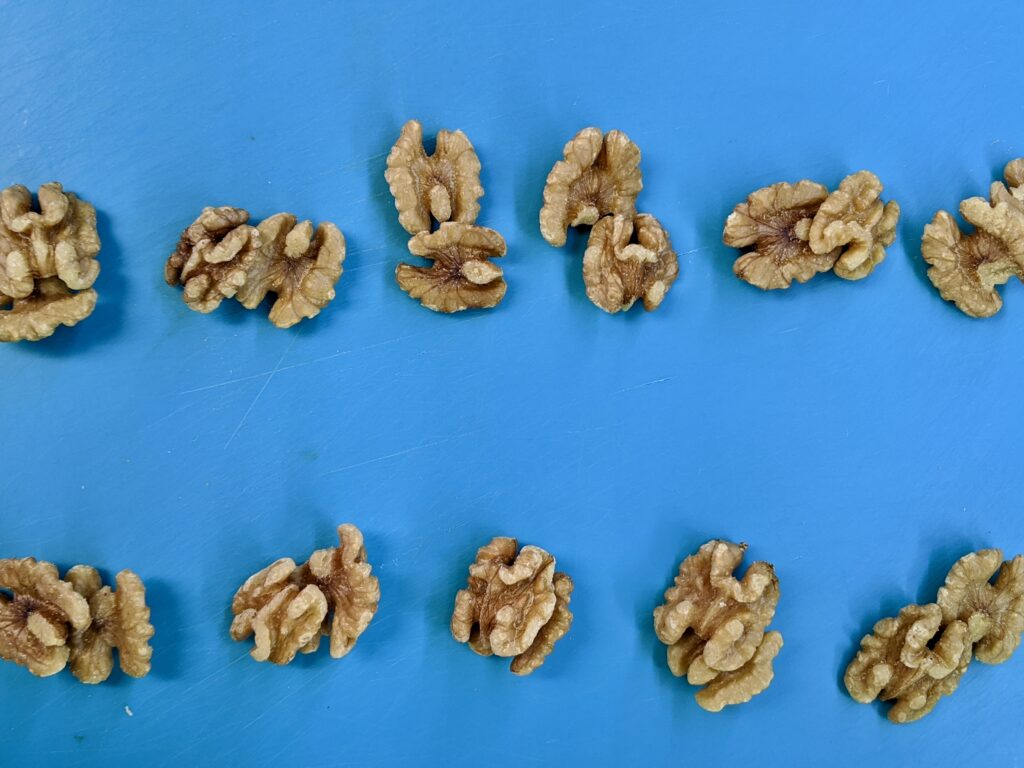 Just like the above dates, these were also quite enjoyable but far less sweet. The walnuts added a nice savoriness to the dessert, which we also thought earned the name "sweetmeats", but these were a bit dangerous as it was quite easy to indulge in these caramel-dipped delights.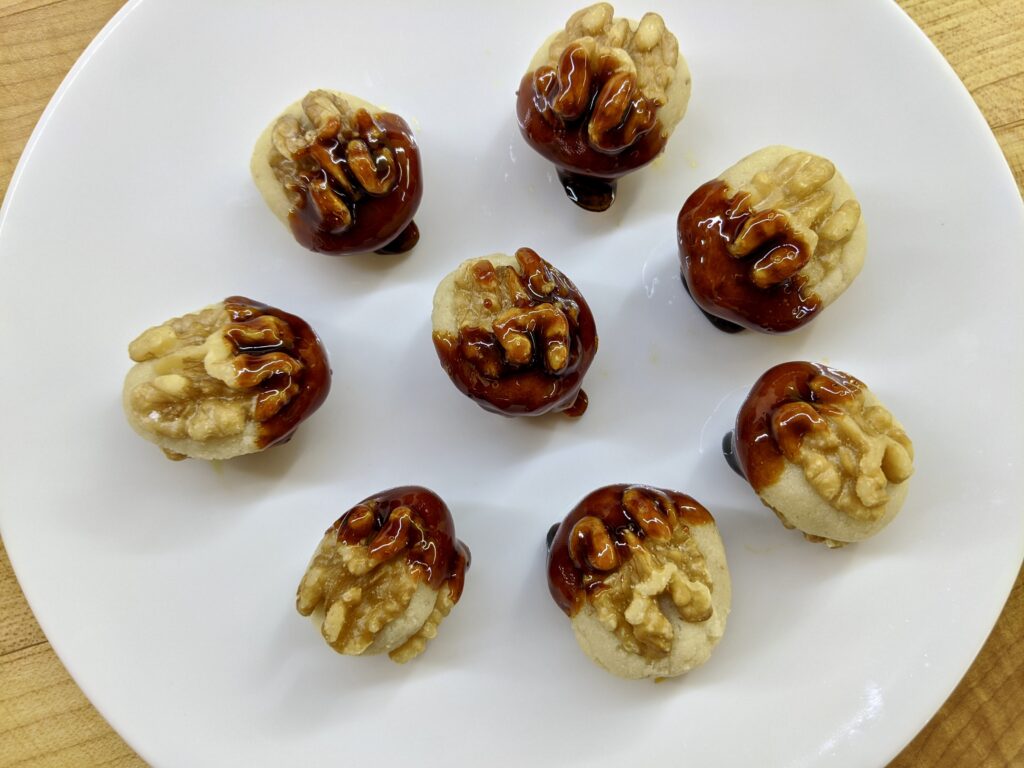 AND IN THE END, THE FOOD YOU MAKE IS EQUAL TO THE CARE YOU TAKE…
So how was Made In Marrow's meal number 88? As a reminder, our rating system is based on sticks of butter (because butter is best!), with 1 being the absolute worst and 5 being out of this world. Sticks of butter are assigned to Difficulty (how many kitchen fights were needed to complete the meal?), Tasty Goodness (was it a palate poor or did it make our mouths merry?), and Repeat Customer (how likely are we to return to the recipe?).
Difficulty  [][][][] 4/5
Tonight featured more recipes than we usually tackle, as well as a dumpling that was a bit challenging to create, and some third-degree confectionary-related burns, so we would say this dinner ranks fairly high on the difficulty-o-meter.
Tasty Goodness
[][][] 3/5 Peshe kon Nuez – Salonikan Fish with Walnut Sauce – A light, yet flavorful fish dish
[][][][] 4/5 Sateni – Georgian Fish with Walnut Sauce – A terrifically tangy and spicy fish steak
[][][][] 4/5 Roz ou Hamud – Rice with a Green Vegetable Sauce – A wonderfully light chicken soup
[][][] 3/5 Kobeba Hamda – Ground Rice Dumplings in Hamud Sauce with Rice – The flavor and texture could have been a bit better
[][][][] 4/5 Dattes Fourrées – Dates Stuffed with Almond Paste – Some sumptuous sweetmeats
[][][][] 4/5 Noix Fourrés – Walnuts Stuffed with Almond Paste – Some marvelous sweetmeats
Repeat Customer
[][][] 3/5 Peshe kon Nuez – Salonikan Fish with Walnut Sauce – This is a nice option for a quick poached fish
[][][] 3/5 Sateni – Georgian Fish with Walnut Sauce – A great way to combine that extra tamarind sauce you have hanging around with a white fish
[][][] 3/5 Roz ou Hamud – Rice with a Green Vegetable Sauce – A light yet flavorful soup
[][] 2/5 Kobeba Hamda – Ground Rice Dumplings in Hamud Sauce with Rice – Most likely we would not make these again, but would love to try them when made by someone who has really applied themselves to the task
[][][][] 4/5 Dattes Fourrées – Dates Stuffed with Almond Paste – A dessert sure to impress your guests
[][][][] 4/5 Noix Fourrés – Walnuts Stuffed with Almond Paste – Another dessert that looks like a fancy bakeshop treat
Congratulations – you made it to the end of this week's wild and winding adventure in the kitchen! Now we will spend some time regrowing our fingerprints as we anxiously await next week's food foray!
Sip, sup, and savor all you can, you curious cooks,
Elais & Gary