Just want the recipes and none of that other wordy nonsense? Click the links below!
Bohatcha – Creamy Cheese Flan with Filo
Cigares à la  Viande – Moroccan Meat "Cigars"
Cigares au Thon – Moroccan Cigars with Tuna
Maqlub bi Djaj – Chicken with Rice
Piselli al Ebraica – Peas Jewish Style
Cochini Festive Cake – Spicy Semolina Cake
Meal the Seventy-Fourth
Tonight's dinner is all about how you follow/perceive directions. On one hand, we have our "cigars", which we rolled according to the directions but did not turn out the way they should have (they ended up looking like candy wrappers instead of cigars). On the other hand, we had a description of how our main course was supposed to turn out, but our chicken and rice was a mess (which was also reflected by a number of other recipe results online!). Our meal was not unlike that exercise you do in school, where you blindly direct someone how to make a sandwich but forget the critical steps, like to untwist the twist-tie, so they just rip open the bag instead.
This is a pretty good description of the following meal – we followed one set of instructions too literally, which ended up looking not quite right, and followed another just about as directed, which ended up in a mess, but that was supposed to be how it looked. Sufficed to say, tonight was a bit chaotic, but it was still tasty, so read along as we have Fun with Filo!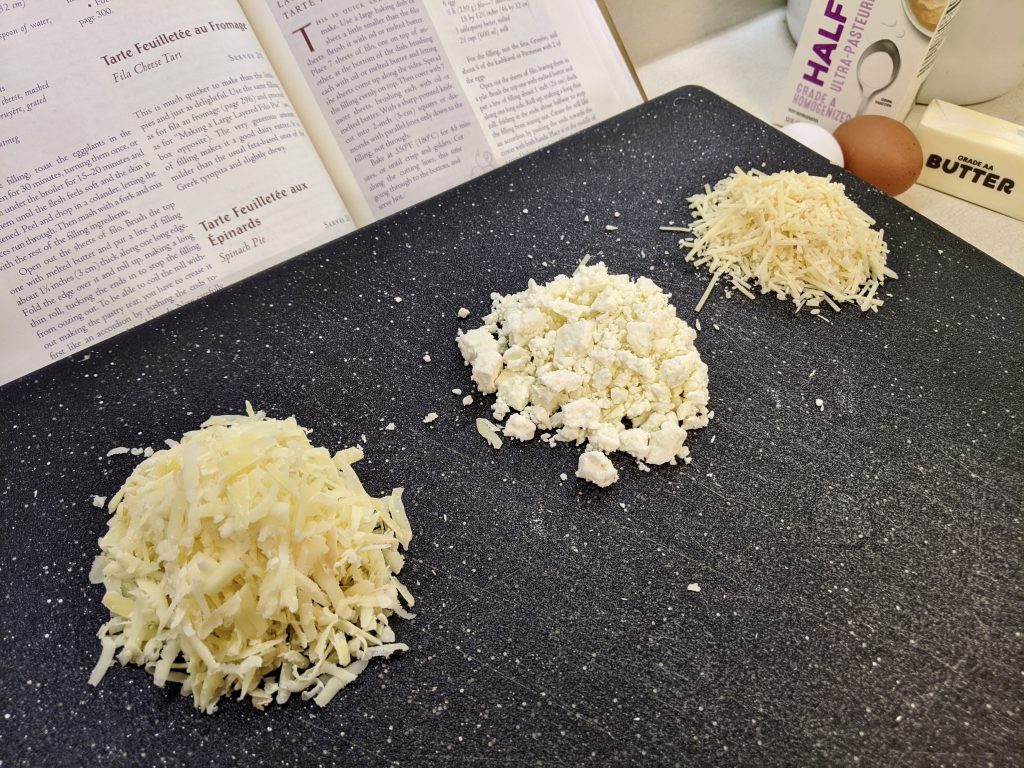 According to Claudia Roden this Judeo-Spanish dish is a little known filo pastry pie whose name translates to "drunkard", perhaps due to the massive amount of dairy products used for ingredients. Sufficed to say, Gary and I were pretty excited about this recipe, never having said no to any type of cheese. To make the filling, feta, Gruyère, and Parmesan cheeses were mixed together along with 3 beaten eggs.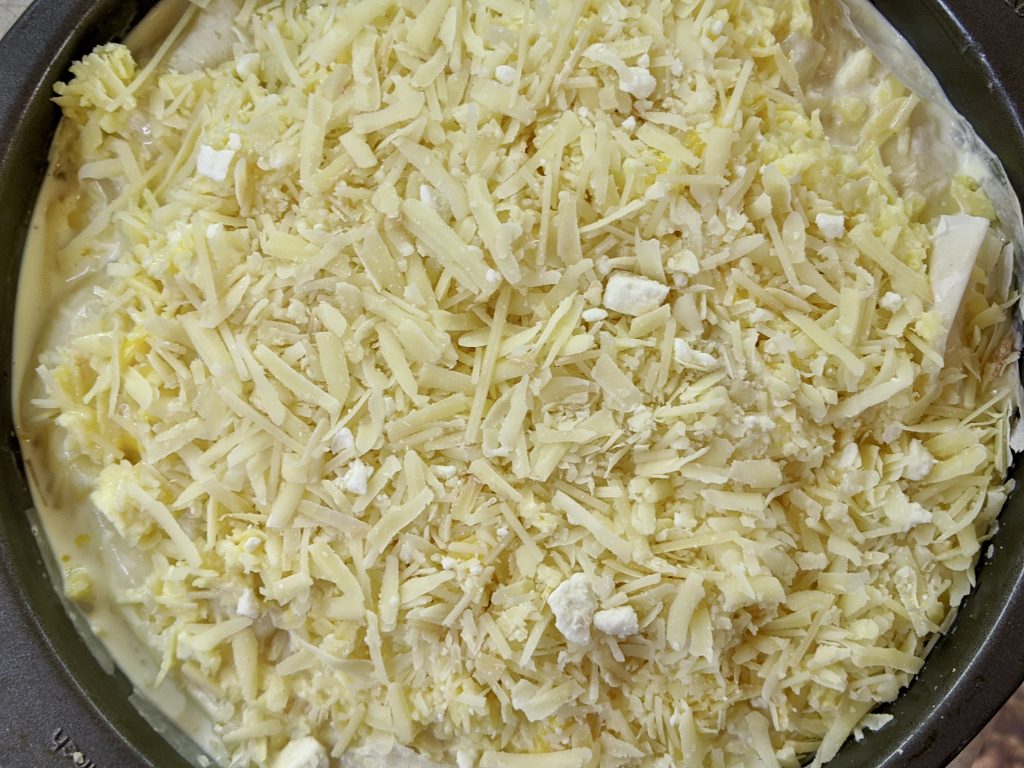 The filo was then laid out, brushed with melted butter and the filling was placed on the long side then rolled up into a long, thin, cheese filo snake. This was then smooshed a bit to create some accordion-like bends to accommodate for the curve of the pan and the cheese-snake was then placed in a round baking dish. The subsequent cheese-snakes were placed end to end to form a spiral in the baking dish until all the filling had been used. Two more eggs were beaten with milk and then poured over the cheese coil, the top of which was sprinkled with more Parmesan cheese. The dish was baked at 350F for one hour until set in all its cheesy goodness.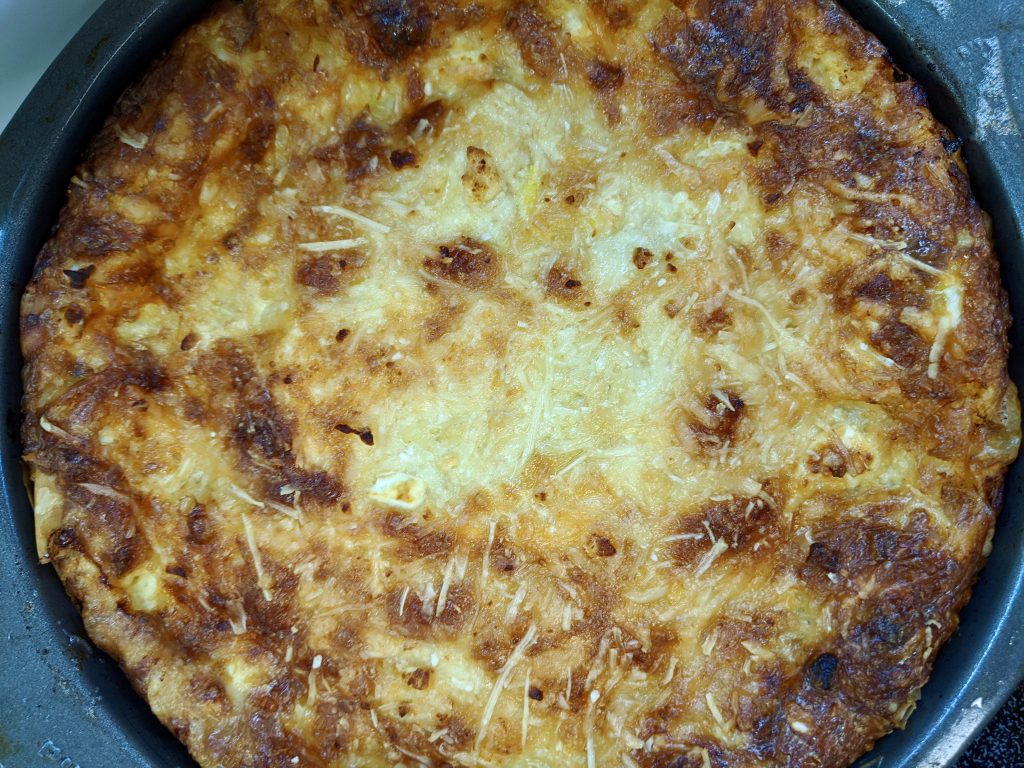 This was kind of like a flan, in the manner in which it set, as it was creamy yet solid, but a bit more formed than a flan, due to the baked filo. It was not as salty as we expected it to be, however, it was extremely rich, so we really only needed small pieces. Even with the small slices, we still felt pretty cheese-drunk after, which was probably the intended effect.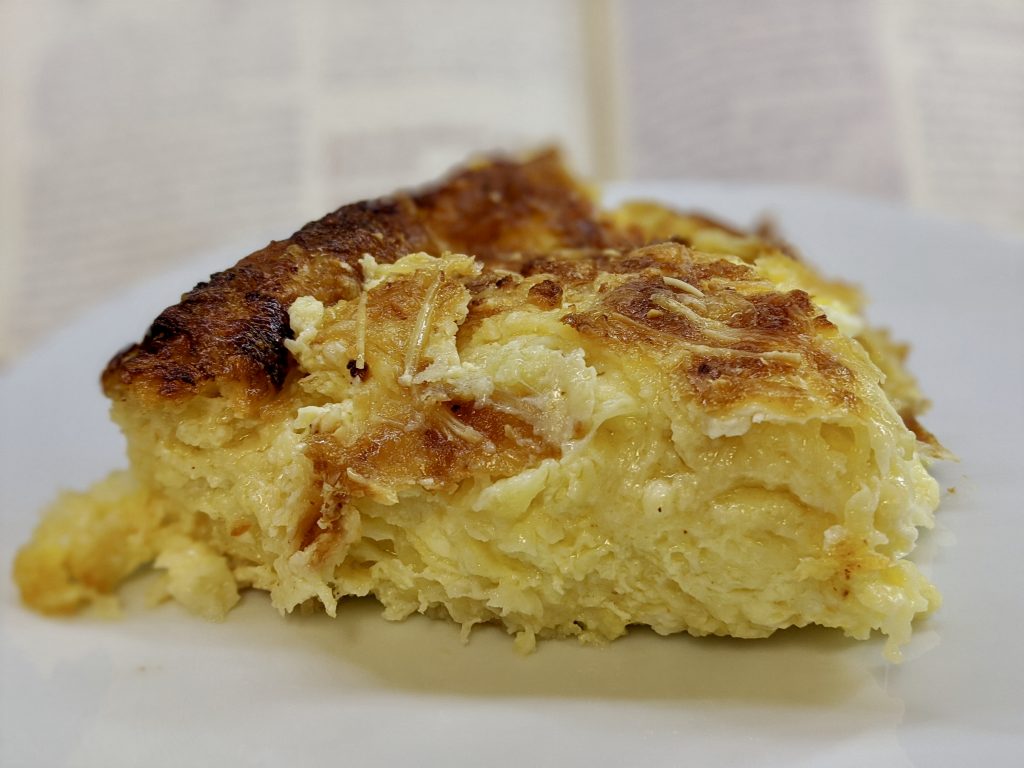 Next up in The Book of Jewish Food are meat cigars, which is standard fare on celebratory menus in France and Israel, being found everywhere from weddings to bar mitzvahs. The filling is typically made of blended and spiced meat, known as "miga" and they can be either baked or deep-fried. The filling consisted of onion, which had been sautéed until soft, after which ground beef was added and fried until brown. The meat was seasoned with salt and pepper, cinnamon, ginger, nutmeg, cayenne, and lemon juice, then simmered with 1 cup of water for thirty minutes until the meat was tender. This mixture was then blended with parsley in a food processor in a soft paste.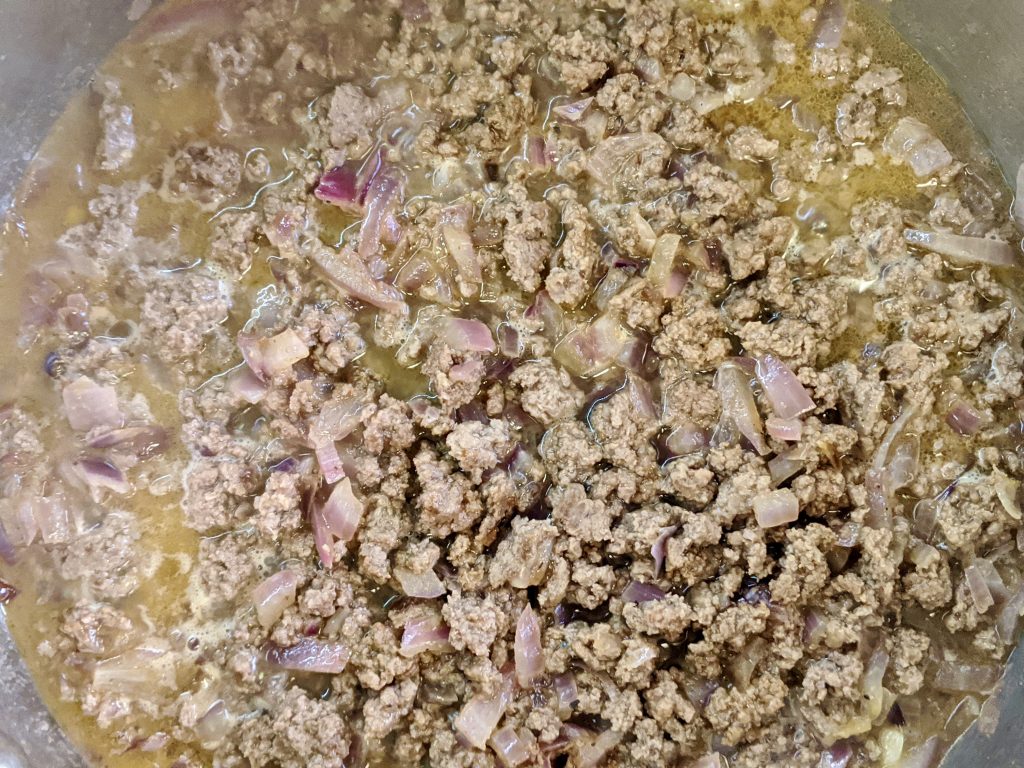 The cigars were constructed by brushing a sheet of filo with butter, adding a walnut-sized lump of meat to the filo and rolling into a long, cigar-like shape. This was done until the filling was gone and the baking sheets full of meat cigars were baked at 325F for half an hour until crisp and golden.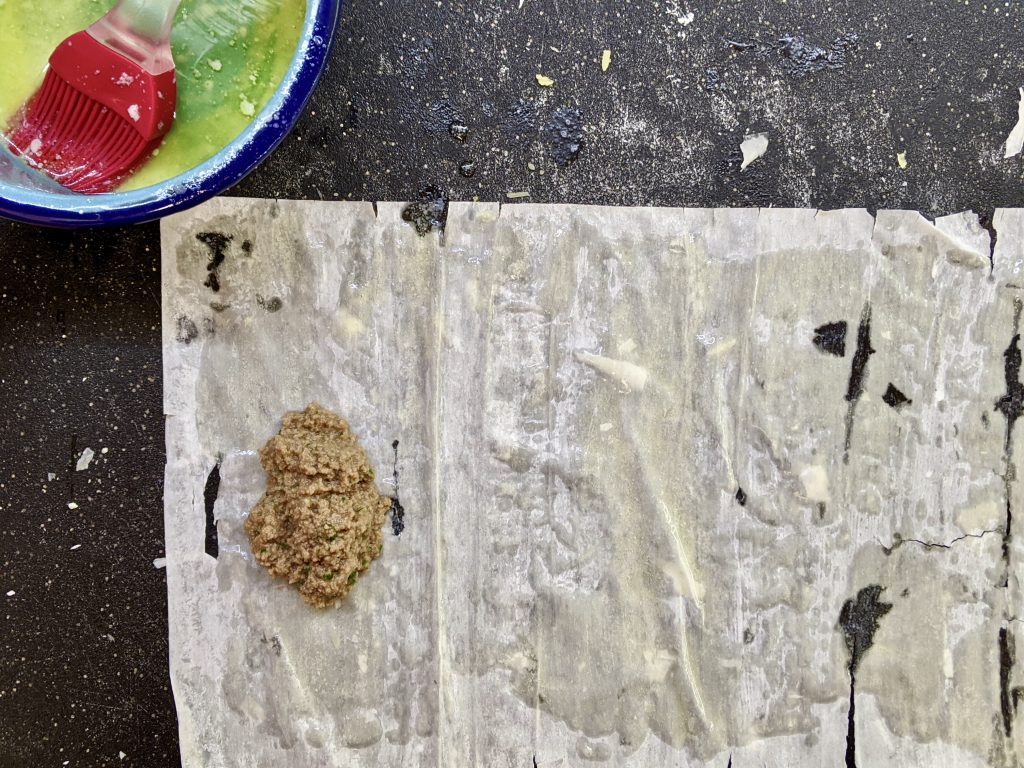 The cigars were crunchy and meaty and spicy, albeit a bit too crispy on the ends as they spent just 30 seconds too long in the oven (note: always watch filo very carefully!). While the meat was tasty, both Gary and I agreed that not pureeing the meat would have probably led to a better texture. Regardless, they were still enjoyable and re-heated quite well for a couple of leftover-dinners later in the week!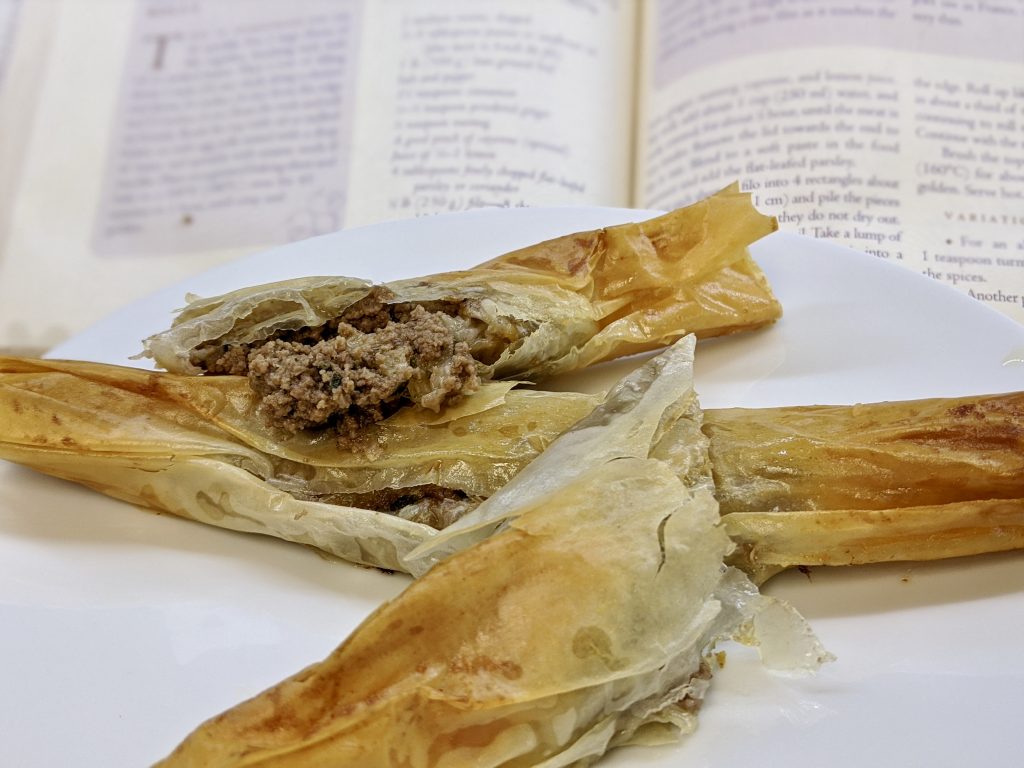 Our other cigar recipe of the night was a tuna filled filo, which we chose to do simply because we already had the filo thawed and prepped. The fillings for these appetizers was canned tuna mixed with cilantro, lemon juice, cumin, cayenne, capers, black olives, and a beaten egg.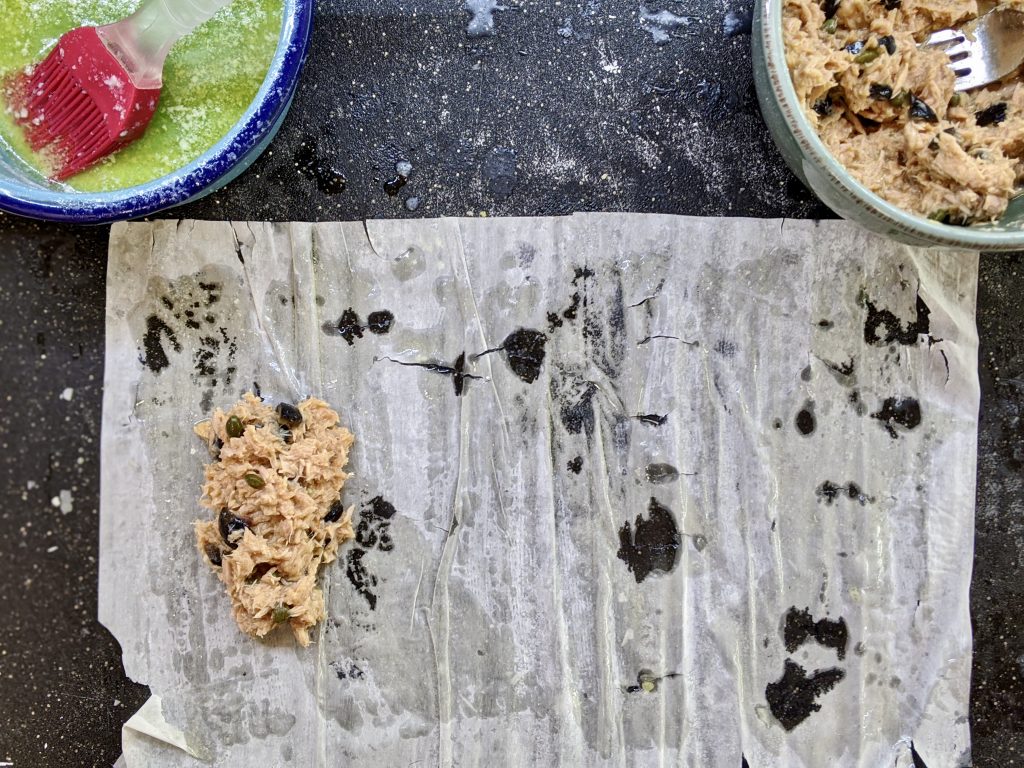 The cigars were rolled in the same manner as the above meat cigars, brushing the filo with butter, putting a blob of tuna on the short end, and rolling into a cigar-like shape. These fished-filled filo rolls were baked at 325F for thirty minutes until golden brown and crunchy.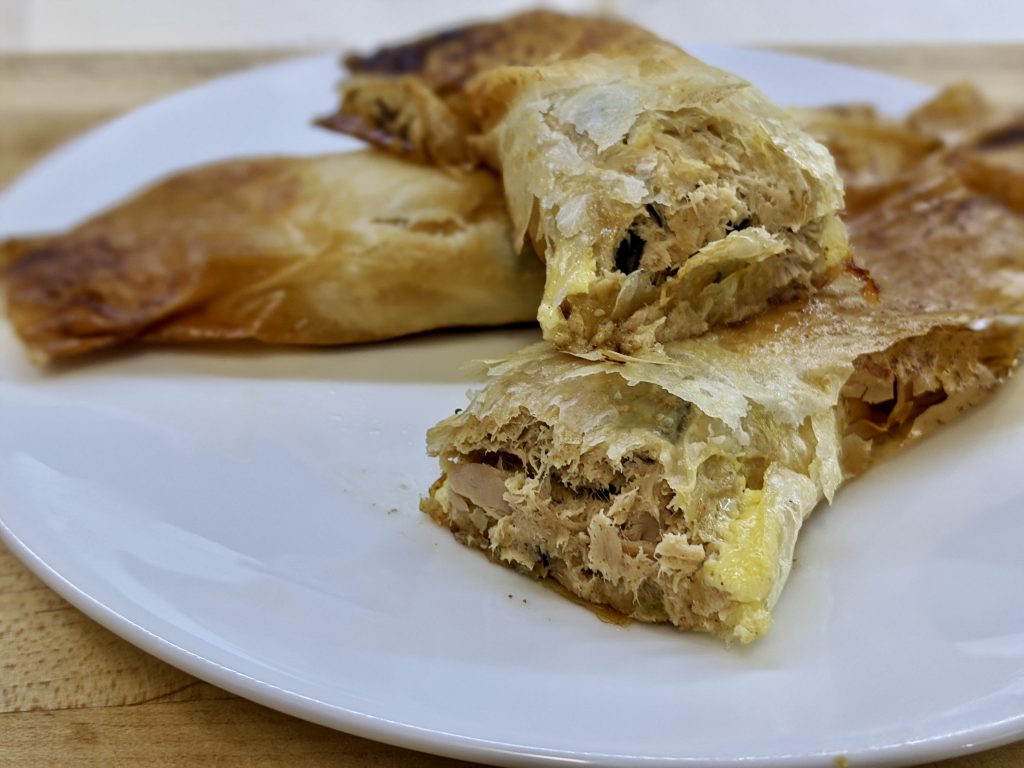 While these were pretty pungent, they were also pretty tasty. The acidic olives and capers nicely highlighted the tuna and while sharp in flavor, was actually pretty enjoyable. These also reheated quite well and even though they were a bit smelly, still continued to make for some great crunchy bites later in the week.
Claudia Roden's only note for this recipe is that it is an "attractive way of presenting homely food on Friday night in Oriental Jewish homes". Not entirely sure of what this meant, we did a quick Google search and found that it is commonly served in Syrian and Iraqi homes and is tasty but not attractive, which made us feel a bit better about how this recipe ultimately turned out.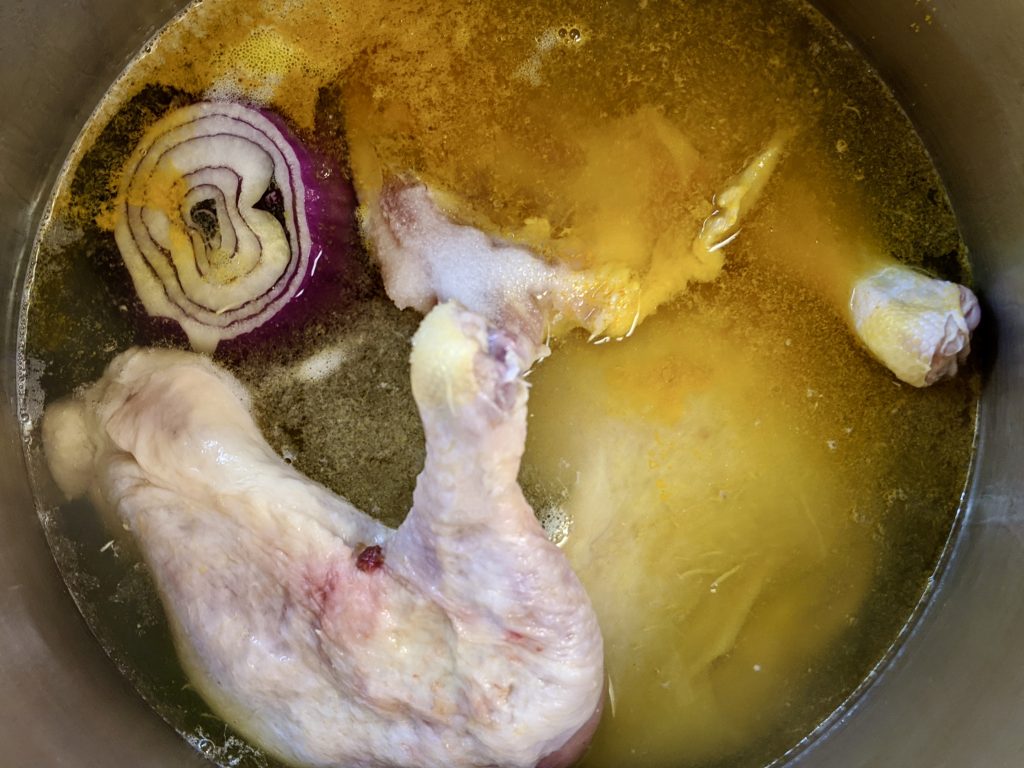 A whole chicken was boiled with onion in a large pot full of water. The water was de-scummed after which salt, pepper, cardamom, and turmeric were added to the pot. The chicken was simmered for 45 minutes until tend, then removed from the stock, de-skinned, and sectioned into large pieces. The stock was then strained and boiled down until only 2 cups remained. The long-grain rice was added to the remaining fluid and simmered until the rice was cooked and the golden liquid was absorbed.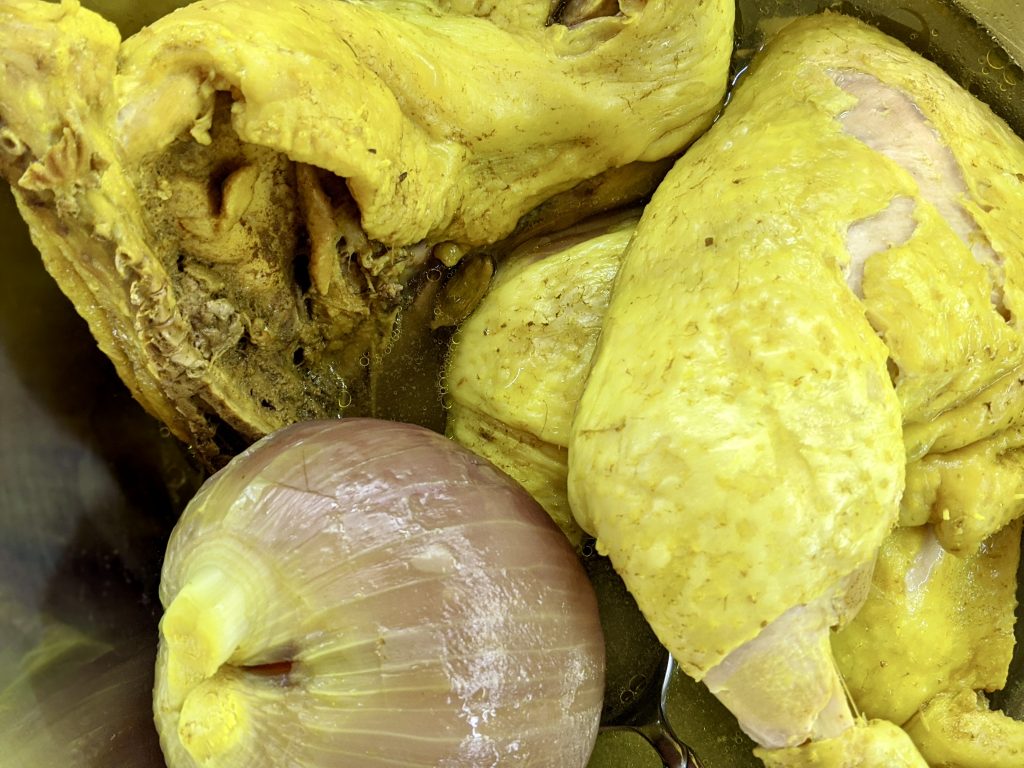 After the chicken had been portioned and the rice had been cooked, a springform pan was greased and prepared for the final step of cooking. Pine nuts were sprinkled into the bottom of the pan, after which the chicken pieces were layered on top, and then the rice was pressed down over the chicken and nuts. This was broiled on high until the contents were heated through.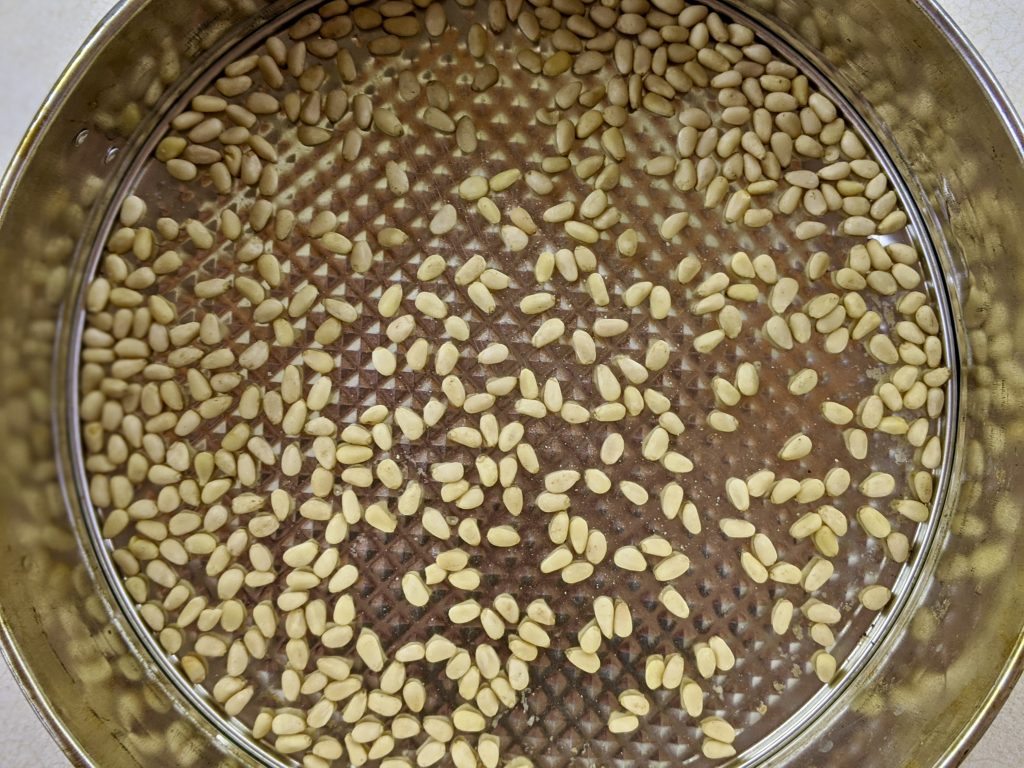 Serving this dish was interesting because the dish was supposed to be flipped over and turned out in an appealing manner…it was definitely flipped over, but unfortunately yellow turmeric rice, cardamom chicken, and baked pine nuts flew all over the counter. After we had cleaned up and calmed down a touch, the chicken and rice was arranged on a plate, in a slightly less than constructed manner. The dish was okay, it could have used a bit more spice and a bit more cook time, as it seemed to be a bit overly moist. It was a lot of work to just achieve chicken and rice and while not terrible, it was definitely not our favorite chicken dish in the Sephardic section so far.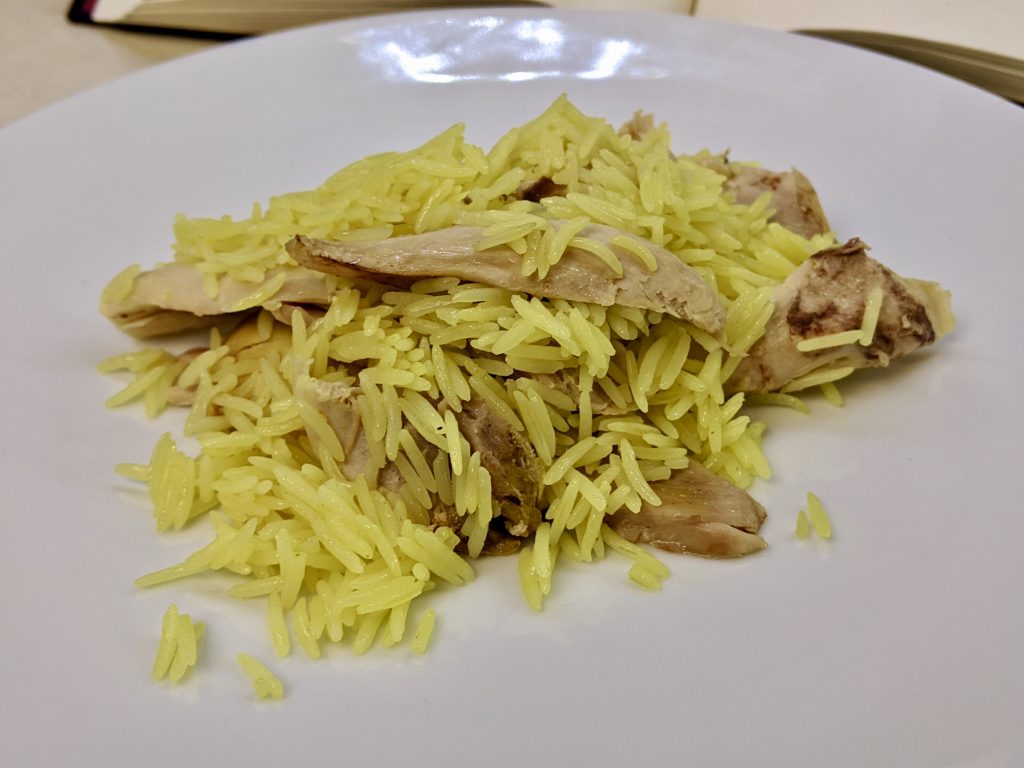 This Italian side dish is simple but tasty, one of our favorite types of recipes! Onions were fried until soft after which thinly sliced lettuce and peas were added to the pan. This was seasoned with white wine, salt, pepper, and a small amount of sugar and then left to simmer for five minutes.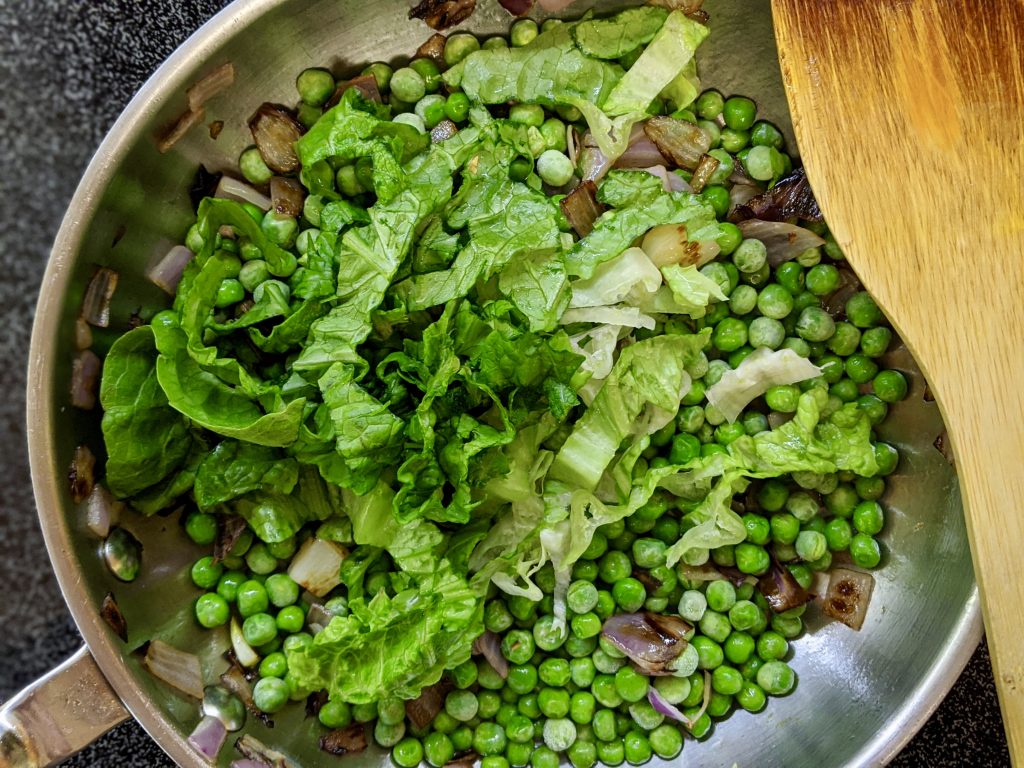 We thought that simmering lettuce was a bit odd and were worried that this would just result in a squishy green mass of vegetables, but were pleasantly surprised! While the lettuce was not as crunchy as it would have been in its pre-simmered state, it still retained a bit of texture, which was pleasantly complemented by the small sweet pops of peas. Overall this was a great little side dish that we will probably make again.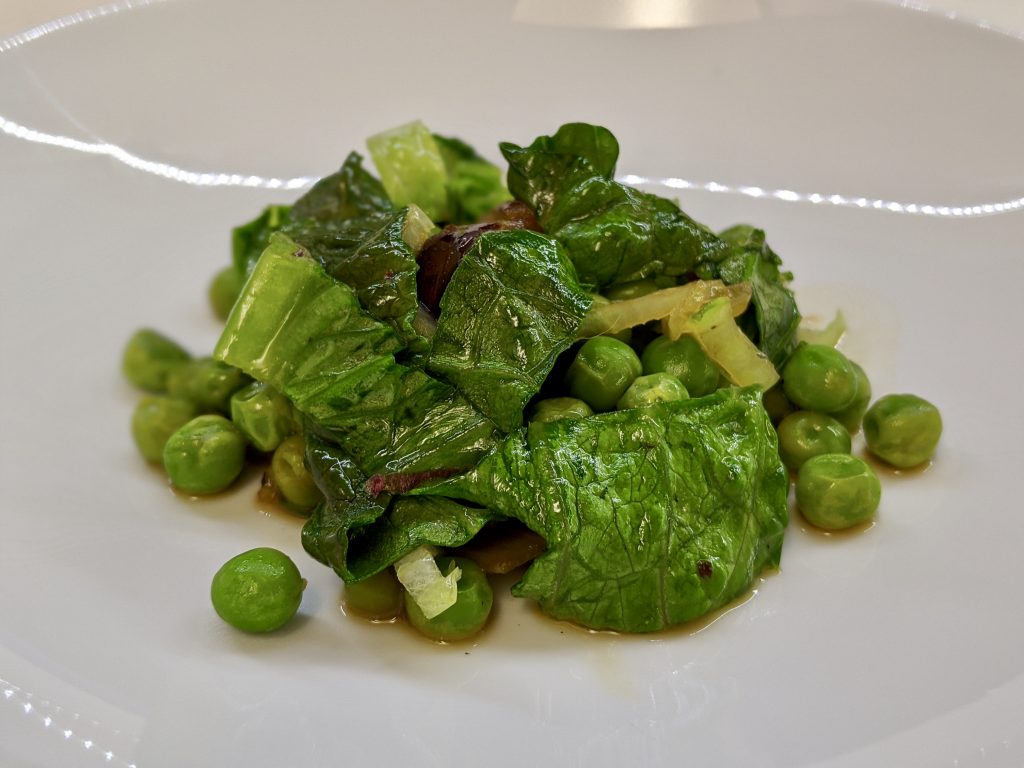 We travel to India for our final dish of the night, whose main component is semolina. Semolina is the coarse, purified wheat middlings of durum wheat mainly used in making pasta and couscous. It is rough, so it can be used as an alternative to corn meal, but when excess fluid is added does not hold its shape very well, so it creates very soft pastries and doughs.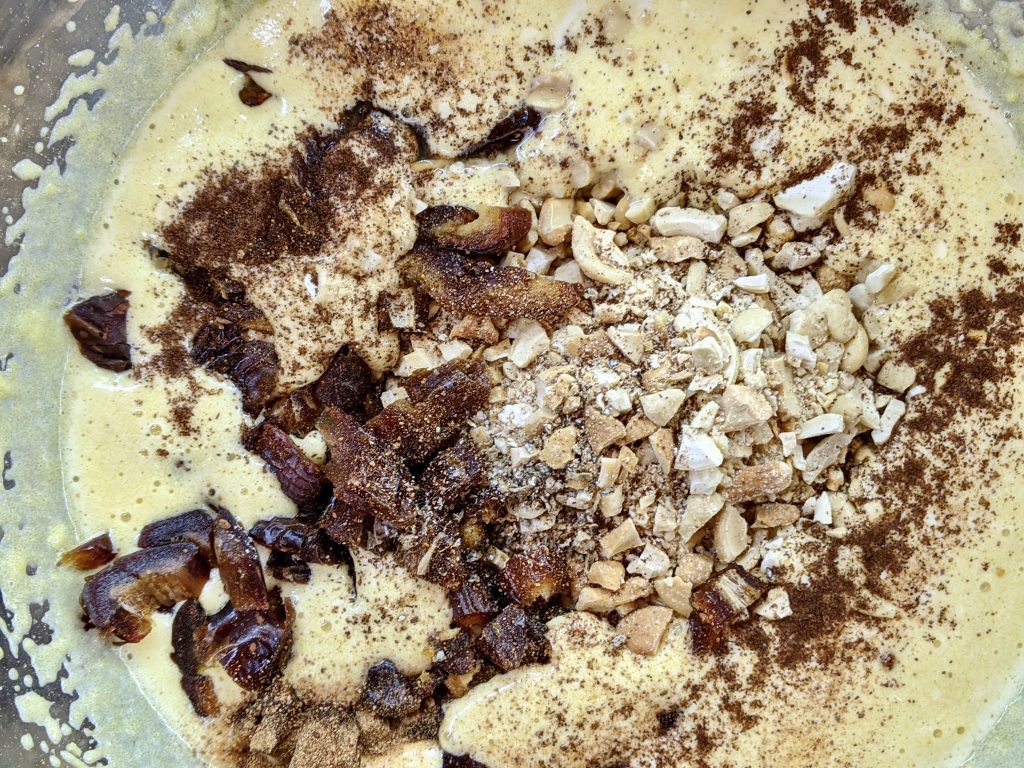 The cake was created by beating eggs and sugar together to form a thick cream after which the semolina was added. Chopped cashews and dates were added to this mix, along with nutmeg, cardamom, cloves, rum, and melted butter. The heavenly smelling batter then sat for two hours until the semolina had a chance to sop up all of the spicy, rummy, buttery goodness. This was poured into a springform pan and baked at 350F for 45 minutes until browned and firm.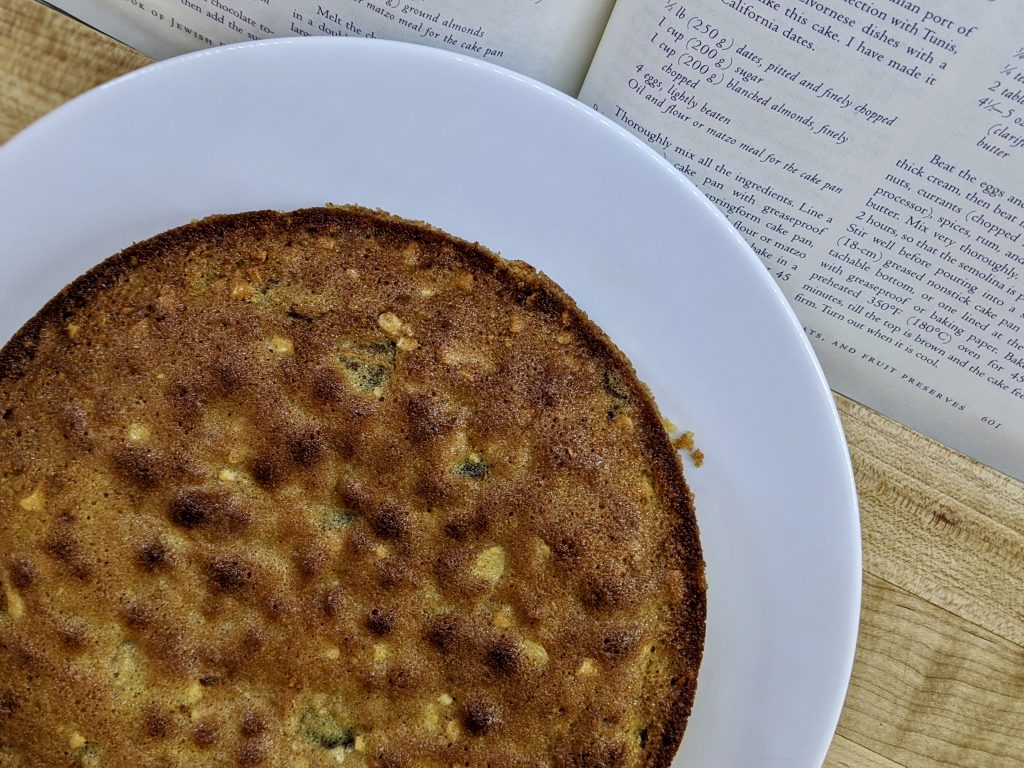 This cake was dense and almost like a raisin bread loaf in flavor and texture. The nuts and fruit were wonderfully contrasting components and the spices made the cake both earthy and bright. This would make a great winter cake, as it evoked feelings of Christmas, both in flavor and in scent!
AND IN THE END, THE FOOD YOU MAKE IS EQUAL TO THE CARE YOU TAKE…
So how was Made In Marrow's meal number 74? As a reminder, our rating system is based on sticks of butter (because butter is best!), with 1 being the absolute worst and 5 being out of this world. Sticks of butter are assigned to Difficulty (how many kitchen fights were needed to complete the meal?), Tasty Goodness (was it a palate poor or did it make our mouths merry?), and Repeat Customer (how likely are we to return to the recipe?).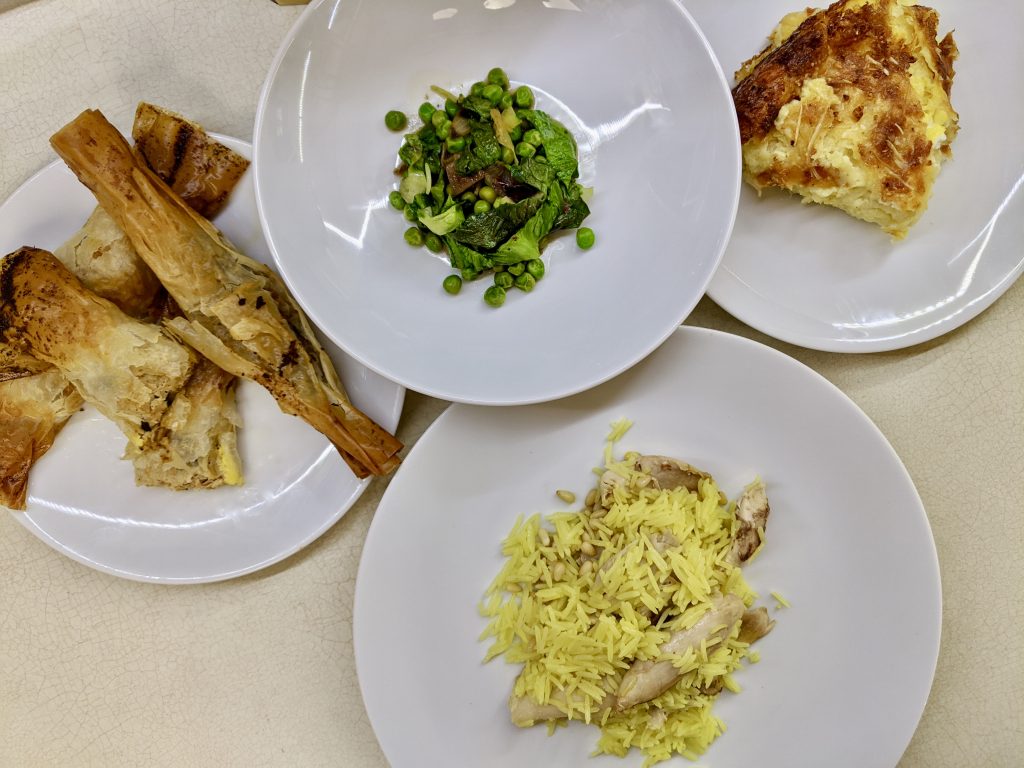 Difficulty  [][][][] 4/5
Messy and tasty, but the leftovers were worth all of the work!
Tasty Goodness
[][][][] 4/5 Bohatcha – Creamy Cheese Flan with Filo – Cheese-drunk is a great type of drunk to be.
[][][] 3/5 Cigares à la  Viande – Moroccan Meat "Cigars" – Spicy, meaty, and crispy
[][][][] 4/5 Cigares au Thon – Moroccan Cigars with Tuna – Fish filled saltiness
[][][] 3/5 Maqlub bi Djaj – Chicken with Rice – A little bit more salt and spice would elevate this dish a bit
[][][][] 4/5 Piselli al Ebraica – Peas Jewish Style – A little bit sweet and a lot of green
[][][][] 4/5 Cochini Festive Cake – Spicy Semolina Cake – Continuing with tonight's theme, a little sweet and a little spicy
Repeat Customer
[][][][] 4/5 Bohatcha – Creamy Cheese Flan with Filo – Definitely again!
[][][][] 4/5 Cigares à la  Viande – Moroccan Meat "Cigars" – We would have this again, but not blended
[][][] 3/5 Cigares au Thon – Moroccan Cigars with Tuna – Surprisingly again!
[][][][] 4/5 Maqlub bi Djaj – Chicken with Rice – Yes, but with more spice
[][][][] 4/5 Piselli al Ebraica – Peas Jewish Style – A great future side dish
[][][][] 4/5 Cochini Festive Cake – Spicy Semolina Cake – A different and easy cake
As they say, appearances are not what they seem or all they are cracked up to be, so despite not being the prettiest meal, tonight's dinner was a palatable success!
Sip, sup, and savor all you can, you curious cooks,
Elais & Gary