Just want the recipes and none of that other wordy nonsense? Click the links below!
Aubergines Medias – Eggplant Halves with Cheese
Rulos de Berengena – Eggplant Rolls Stuffed with Meat
Stuffed Brinjal – Indian Stuffed Eggplants
Sheikh el Mahshi Betingan – Eggplants stuffed with Ground Meat and Pine Nuts
La Pastilla – Individual Chicken Pies
Terfas aux Noix – Walnut and Almond Pastries
Meal the Eighty-Fifth
Anytime that you are presented with a stuffed dish, whether it is a dough-wrapped package, a vegetable, or a protein, you know that a lot of work went into the final product. This why stuffed dishes are typically reserved for special occasions and celebration, as they are time-consuming and take an extra level of kitchen skill. As Claudia Roden writes in The Book of Jewish Food, stuffed vegetables are an important part of Sephardic cuisine and represent a "complete" food, as they consist of a veggie vessel filled with a protein, cheese, fruit, or nut component (or sometimes all 4!). Tonight we serve four "stuffed" eggplant dishes – quotations are used here as we do not typically consider a topping stuffing, but who are we to re-define food? Our main course is a filo dough stuffed with chicken and our dessert is cupcake papers stuffed with pastry…this last course may definitely be a stretch when it comes to our "stuffed" definition…
Regardless of what you consider stuffing to be, tonight's dinner is chock full of filling, so let's get to it – we hope you enjoy as much as we did!
Our first eggplant dish of the evening traveled from Spain to Syria and can either be topped with cottage cheese or feta. Having feta in the house, we opted for this brined curd goat cheese, which was mixed with a lightly beaten egg, pepper, mint, and nutmeg. All of our eggplants for this evening were prepped in the same manner: sliced (according to the recipe – this one was cut into thick slices), sprinkled with salt and left to sit for an hour to draw out the water. They were then rinsed and dried then browned under the broiler, now ready for the next step in each of the following recipes. These particular eggplant slices were topped with the feta mixture and then baked at 250F for 30 minutes until the cheese had set and was slightly browned on top.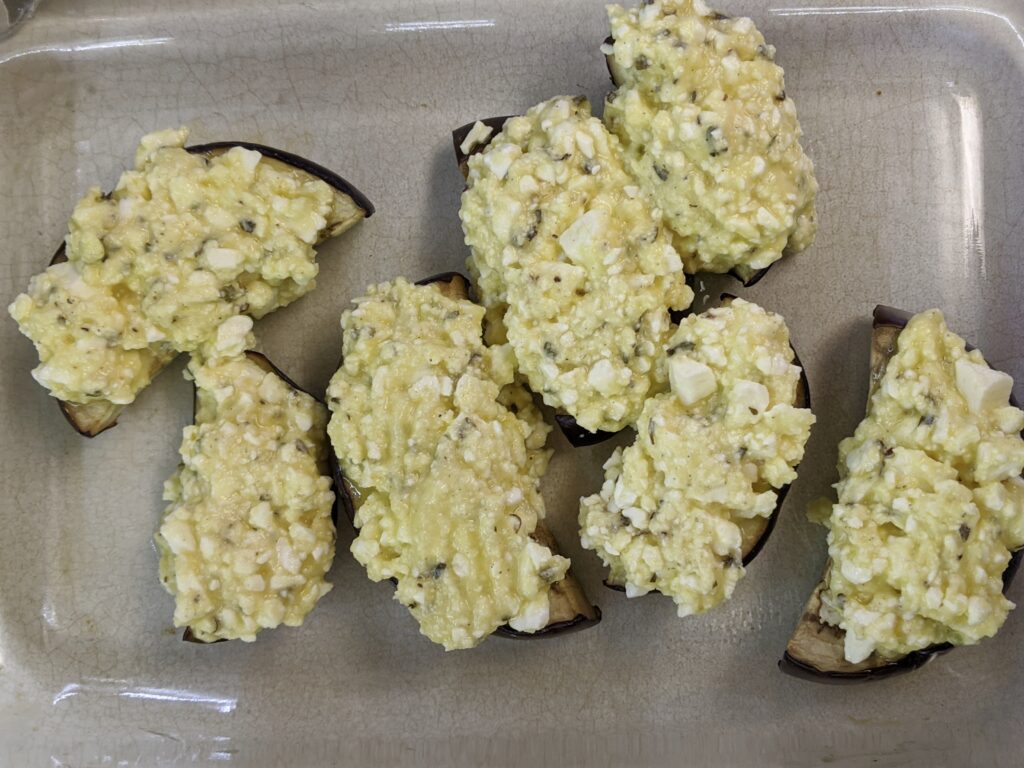 The eggplant still had a bit of bite to them and the feta was a salty and creamy complement to the aubergine's slight bitterness. This recipe tasted a bit like the beginnings of a lasagna, but unfortunately, something was missing (perhaps cilantro or parsley would have rounded out this dish a bit?). While not unpleasant, this was certainly not our favorite eggplant dish of the evening.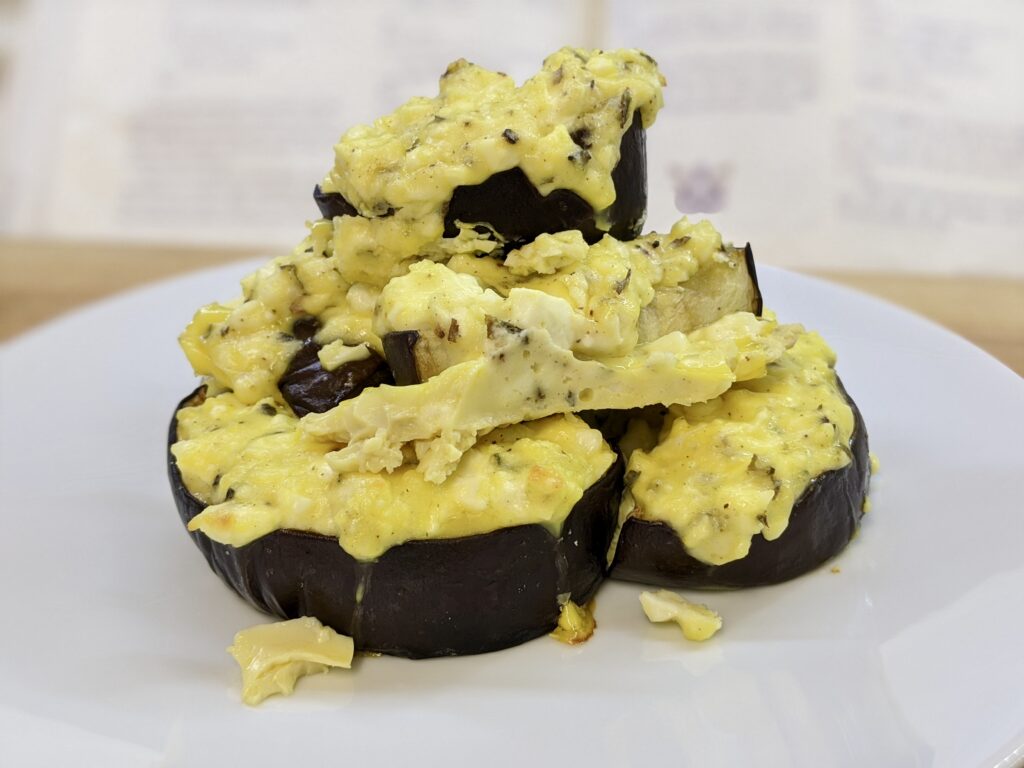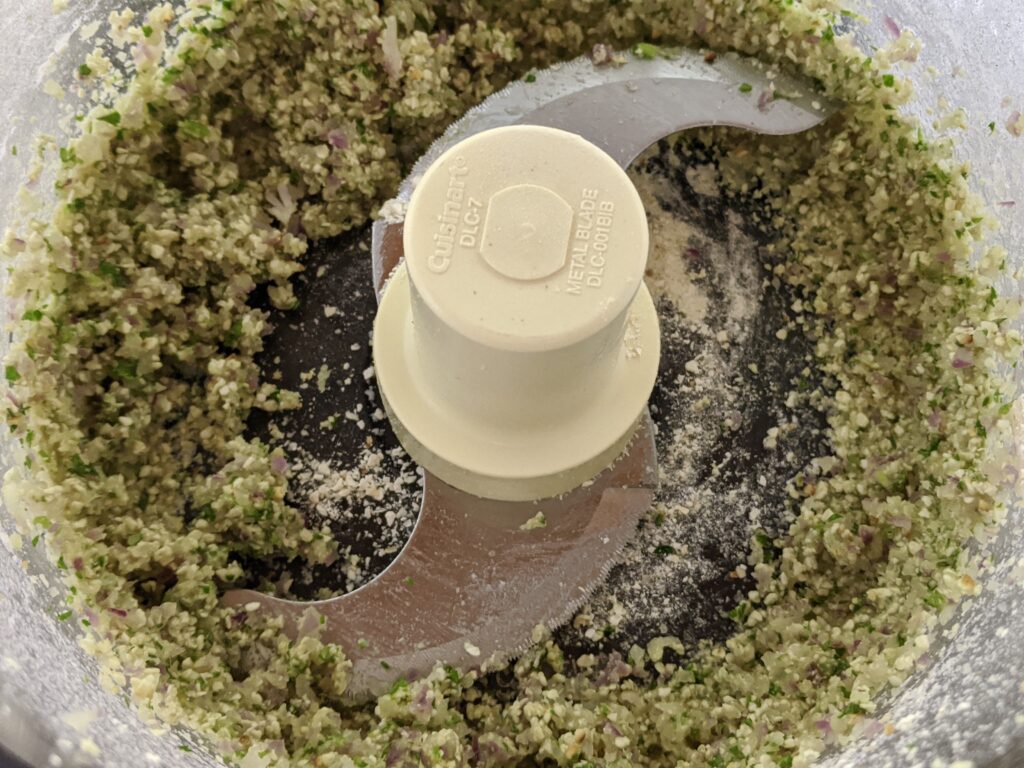 This Turkish party favorite is considered a "mock" stuffed vegetable, as the eggplant is cut into strips and wrapped around meatballs. Our strips of eggplant were salted, drained, and broiled as described above while we started the tomato sauce and created the meatballs. The tomato sauce was a simple mix of tomatoes, sugar, salt, and pepper, which simmered for 20 minutes until smooth.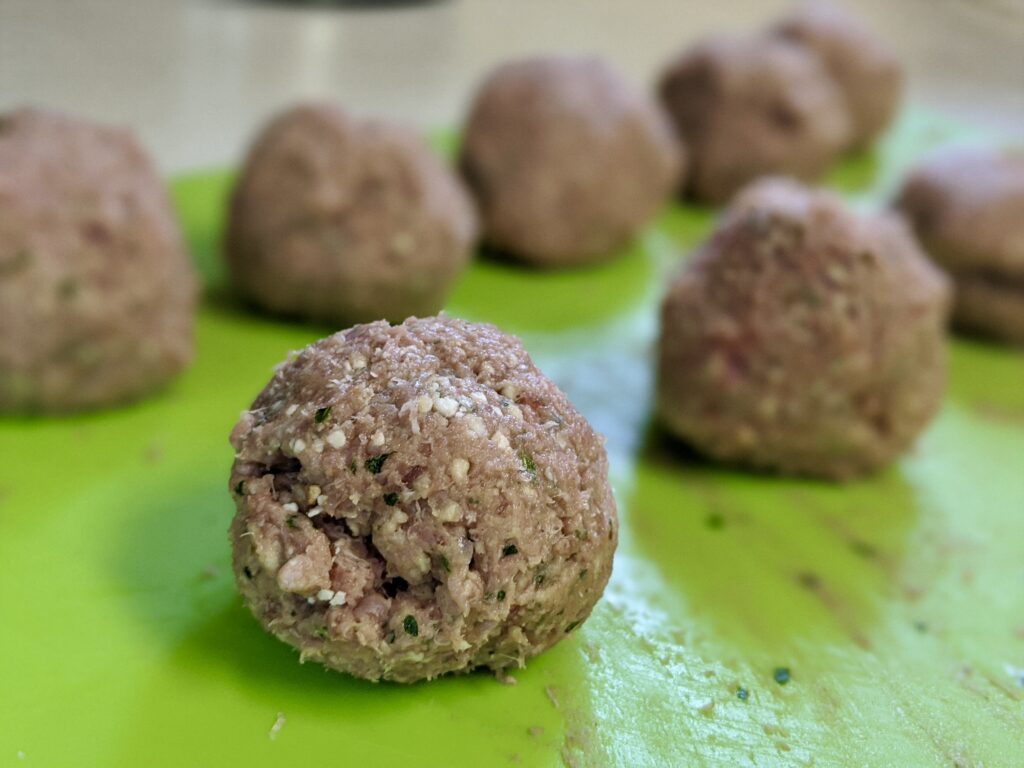 The meatballs were created in the food processor by blending parsley with onions, breadcrumbs, ground beef, salt, pepper, and allspice. Once a smooth paste had formed and the eggplant was broiled, the "mock" stuffed eggplant was ready to begin! Walnut sized portions of the meat paste were wrapped in an eggplant slice and run through with a toothpick to keep the vegetable in place. The pseudo stuffed aubergines were then simmered in the tomato sauce for 25 minutes until the meatballs were cooked through.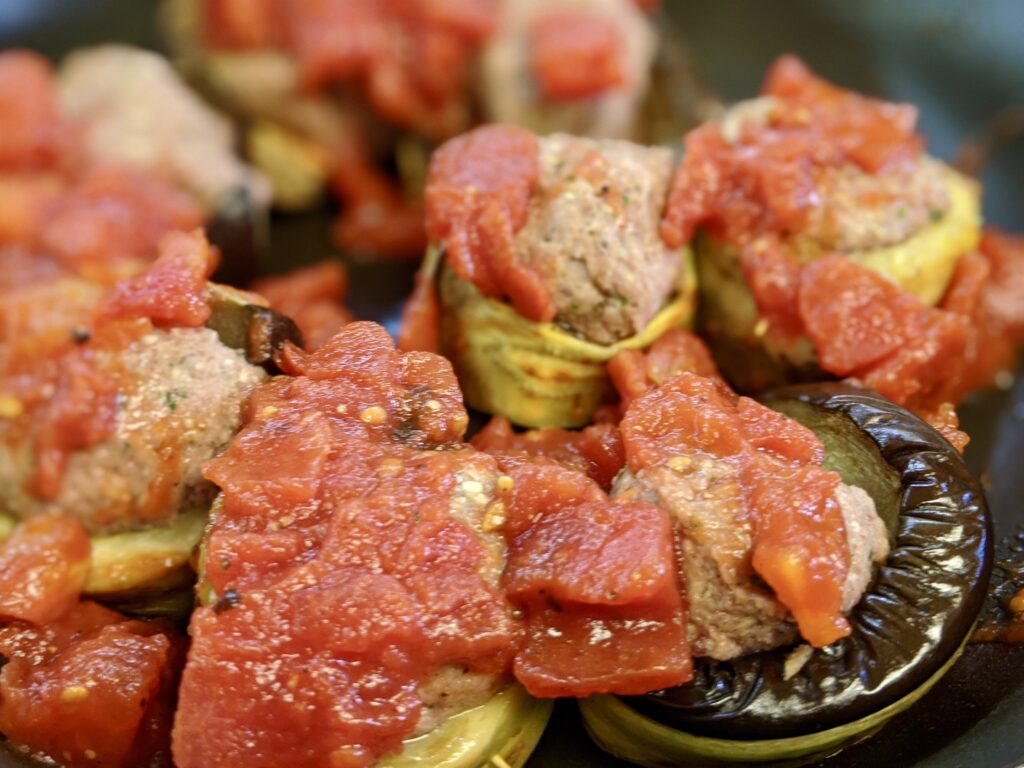 The veggie meatballs were tasty, being savory and sweet, but probably would have benefited from not being blended so thoroughly. The textures between the meatballs and eggplant were smooth on smooth, so just having the ground beef in its usual state would have added a much needed different texture to the dish. Like the above dish, this was not terrible, but would definitely benefit from a couple of tweaks for future preparations.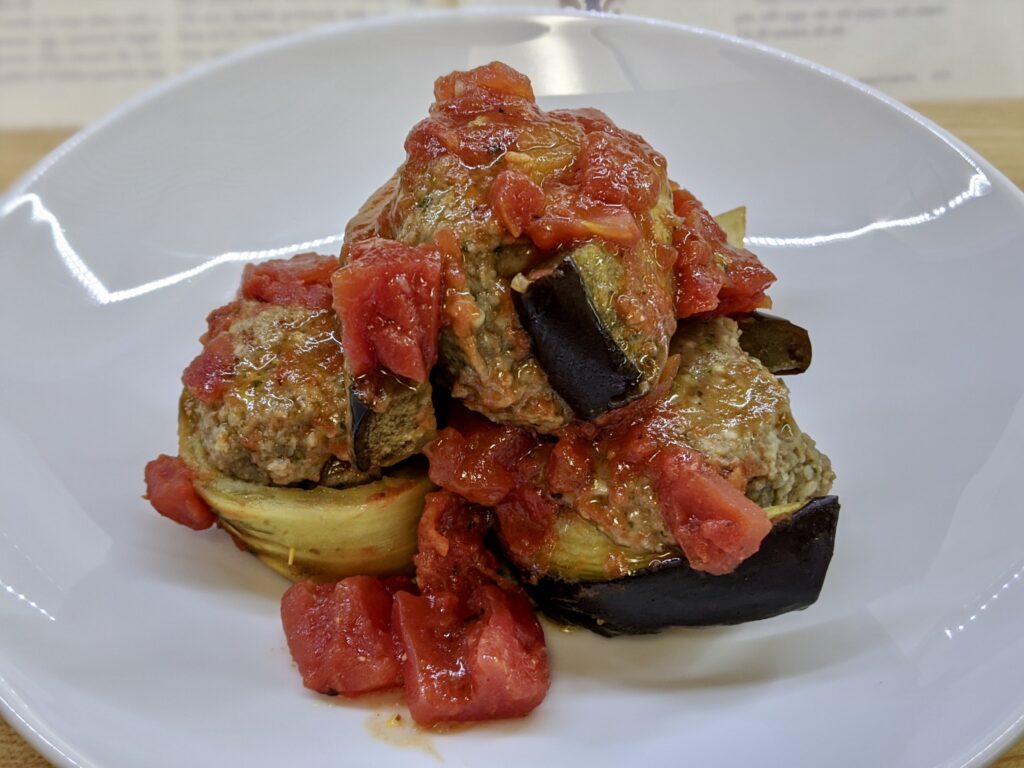 Claudia Roden starts off this recipe by stating, "They do not look very appetizing, but they are absolutely scrumptious"…she was absolutely right, but given that introduction, we can't say we would have made this recipe were we not making our way through The Book of Jewish Food. This dish is Bene Israel in origin and its overall flavor is that of a highly spiced curry, which was very enjoyable.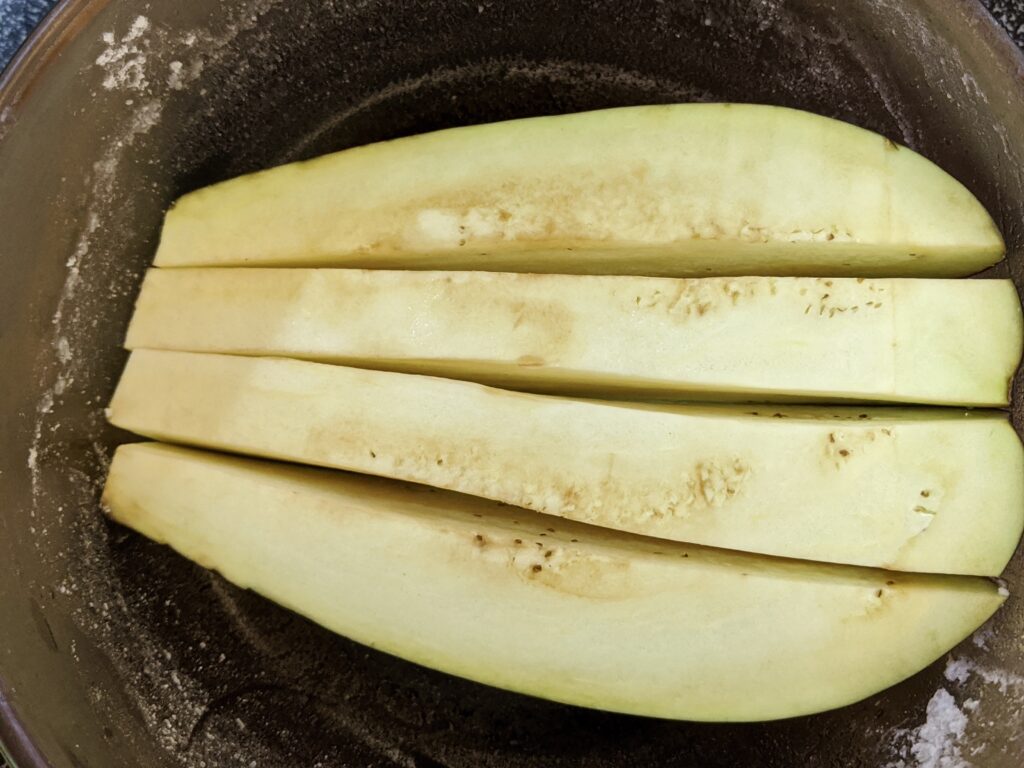 While our eggplants were eggplanting, we created the filling, which started by frying onion until golden, after which it was joined by garlic, grated coconut, tamarind paste, and brown sugar. A little water was added to create a paste, which was then further seasoned by coriander, cumin, salt, cayenne, ginger, and cilantro. This crimson paste was then spooned into our sliced eggplant, which was then submerged in a fluid made by combining creamed coconut with salted water. This all simmered for an hour until the eggplant was tender.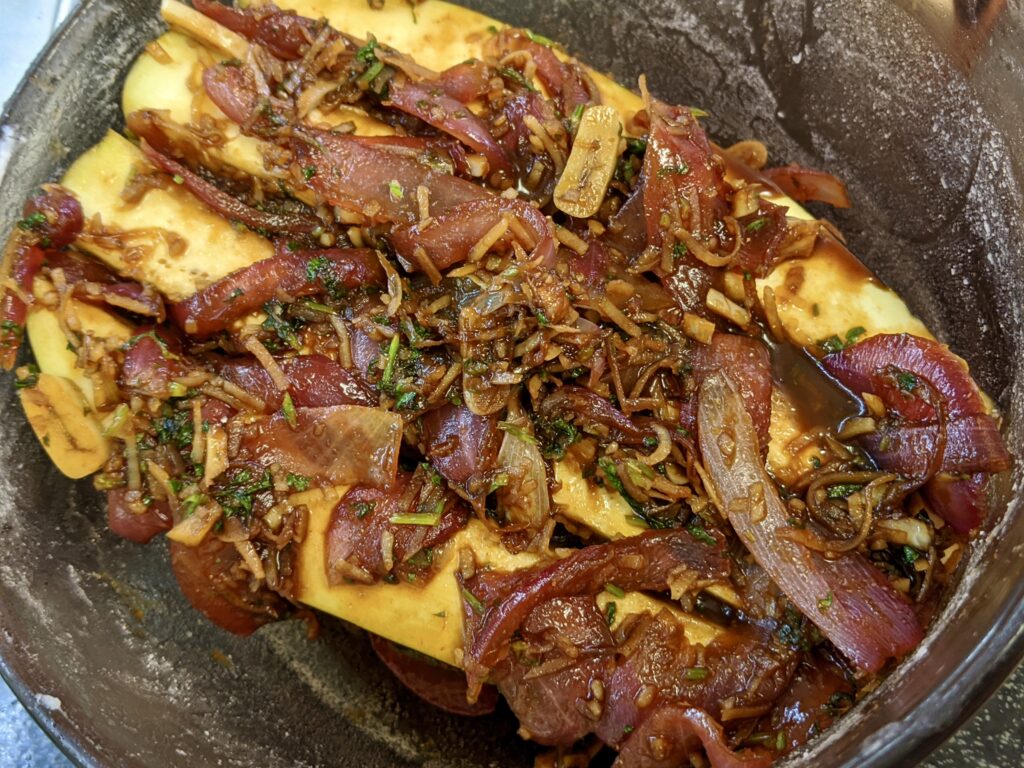 This was my favorite eggplant side dish of the night, as it was wonderfully spiced and had a great (but not overwhelming) flavor of tamarind. It was like a sweet and sour eggplant stew, and if a little protein was added this would definitely pass for a main course. HOWEVER, Roden was definitely right – this was tasty but ugly, as the grated coconut that floated in the fluid was not very attractive to look at…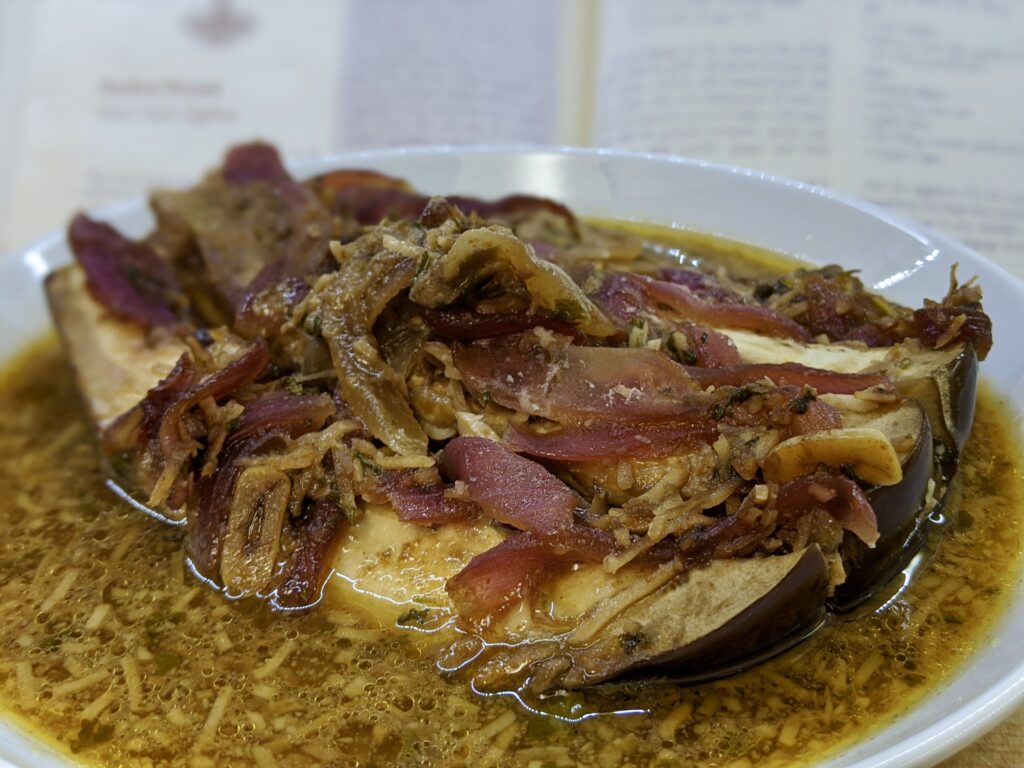 Our final eggplant dish for tonight's dinner comes to us from Lebanon and according to Roden, has "sheikh" in the name because the recipe is so grand! This dish's eggplants were cut into slices and then prepped as discussed above. While they were busy draining, the filling was prepared by frying the onion until golden. Ground beef was then added to the pan and seasoned with salt, pepper, and allspice. After the beef was browned, toasted pine nuts were added to the mix, and then the pan was set aside while its sauce was created.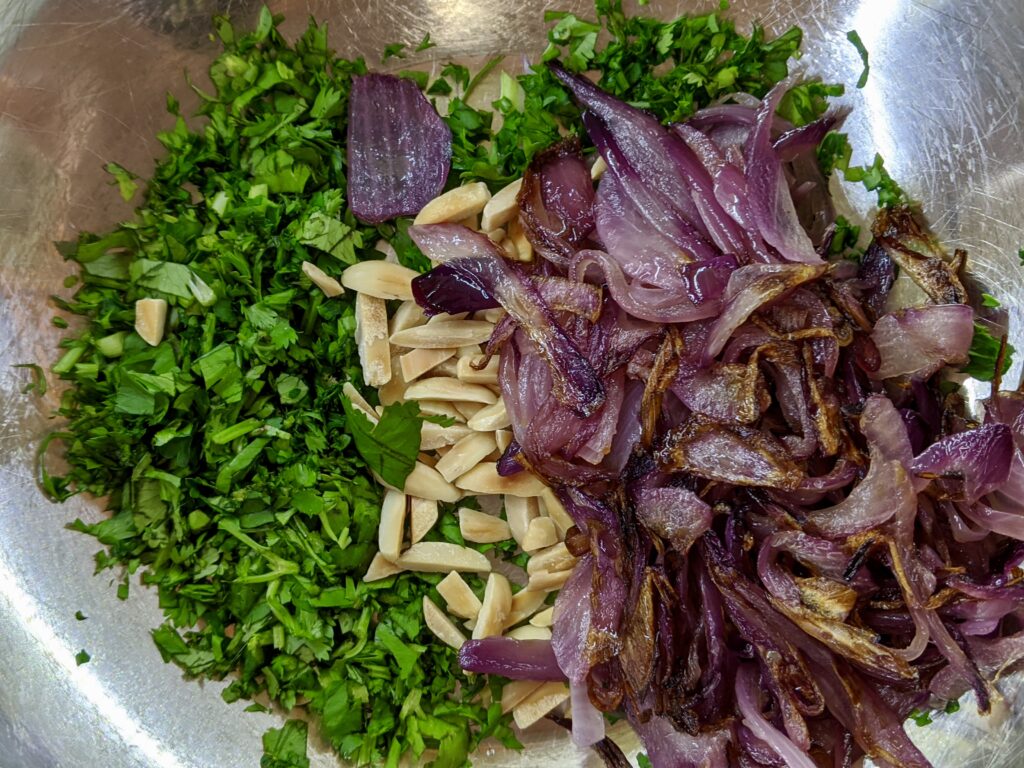 The tomato sauce was simple – garlic was fried until it began to color slightly after which tomatoes, salt, pepper, and sugar were added and allowed to simmer for 15 minutes until slightly thickened. The stuffed eggplants were now ready for assembly – slices of eggplant were placed in an oven dish then topped with spoonfuls of the meat mixture after which the tomato sauce was ladled over everything. These baked at 350F for 30 minutes until heated through.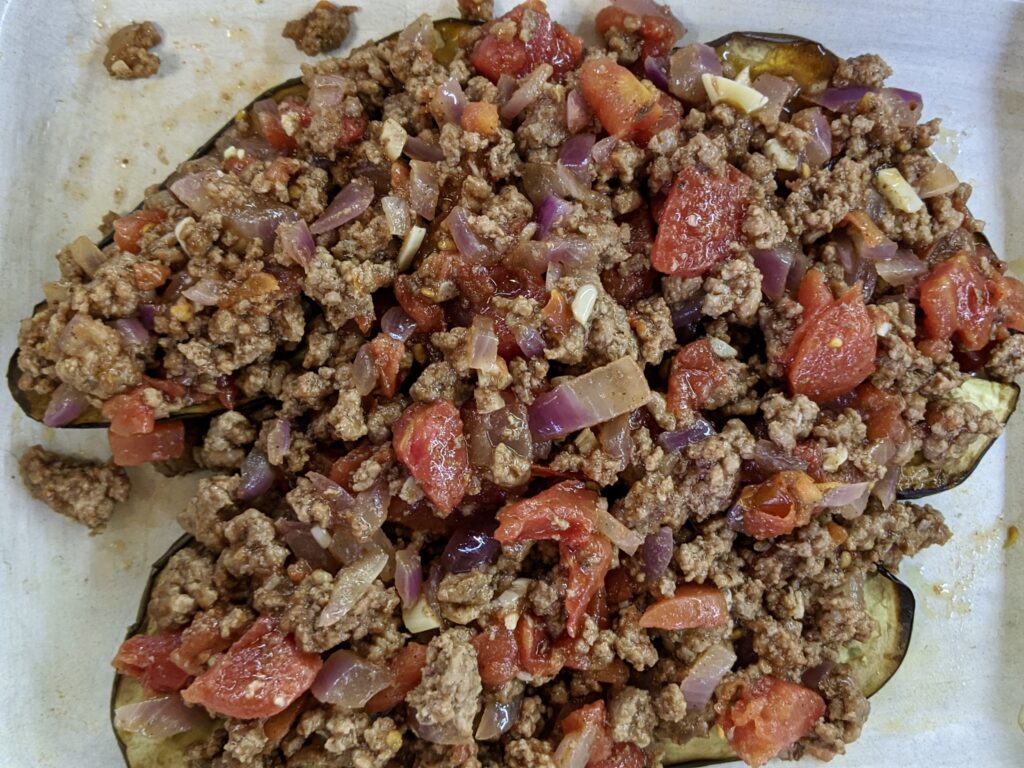 We thought that this was also a "mock" stuffed veggie dish, as the final product was of an eggplant bruschetta than a true stuffed eggplant. Nonetheless, this was still a wonderfully tasty dish, being bright and acidic and earthy and savory. This was Gary's favorite eggplant dish of the evening and was definitely the most balanced when it came to seasonings of all of our side dishes. This also warmed up quite well for leftovers and managed to not lose its textures over the next several days.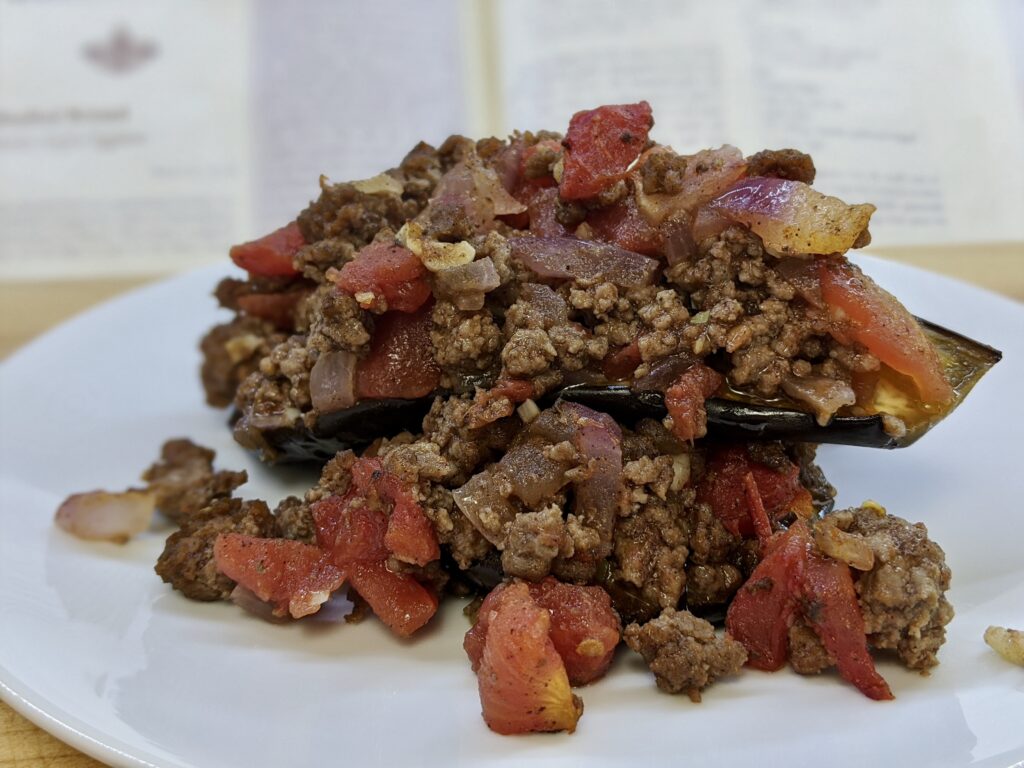 This Moroccan hand pie is thought to have been brought over the Strait of Gibraltar from Southern Spain by Jewish immigrants. According to Claudia Roden, it is a party favorite and can be made ahead of time so that it just needs to be reheated until crisp for your party guests. It has even become a Parisian favorite for weddings, albeit in slightly smaller packages. We opted for the Tétouan variation, which is quite bright and lemon forward, however you can also choose to make the Fez version, which tops this savory pastry with cinnamon and sugar (which we thought was a bit odd for a main course, but hey, when in Morocco…).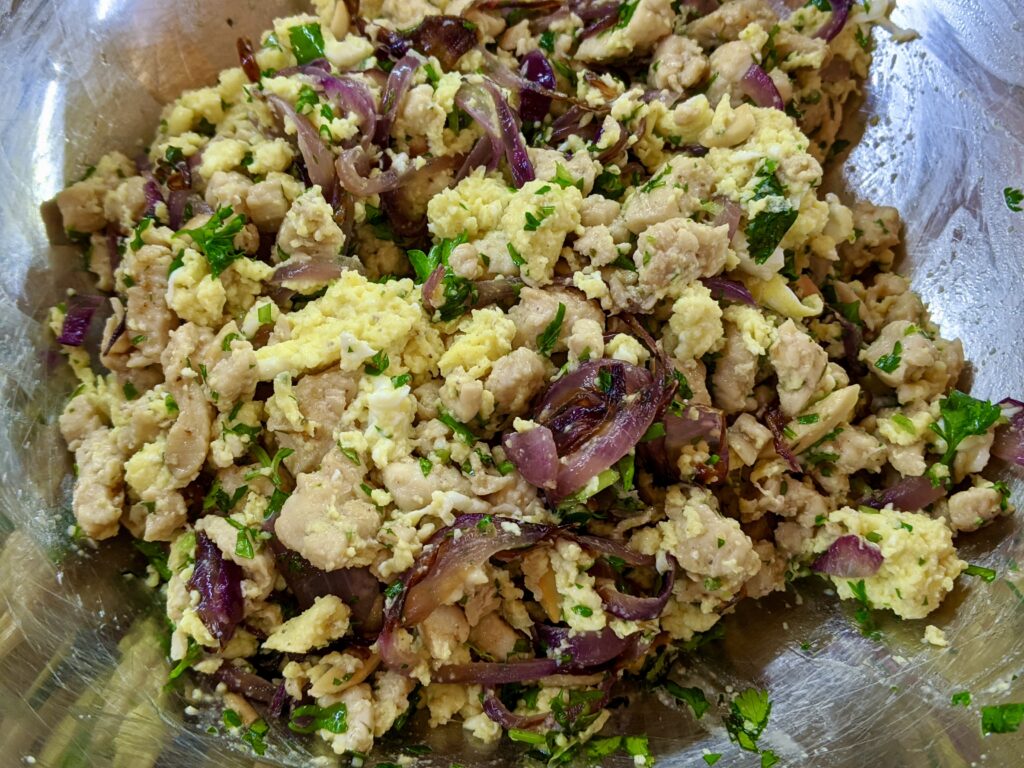 Since we were not making pies for a party, we opted to just use one chicken breast instead of 2 whole chickens as The Book of Jewish Food directed. We browned our chicken pieces in a pan with sliced onions and simmered this until the chicken was cooked through. While this was sizzling away, we beat several eggs into chicken stock then added salt, pepper, ginger, cinnamon, lemon juice, coriander, and parsley. This sauce was stirred over medium-low heat until the eggs were softly scrambled. This was mixed into the chicken and onions along with toasted onions and the filling sat to cool before creating the pies.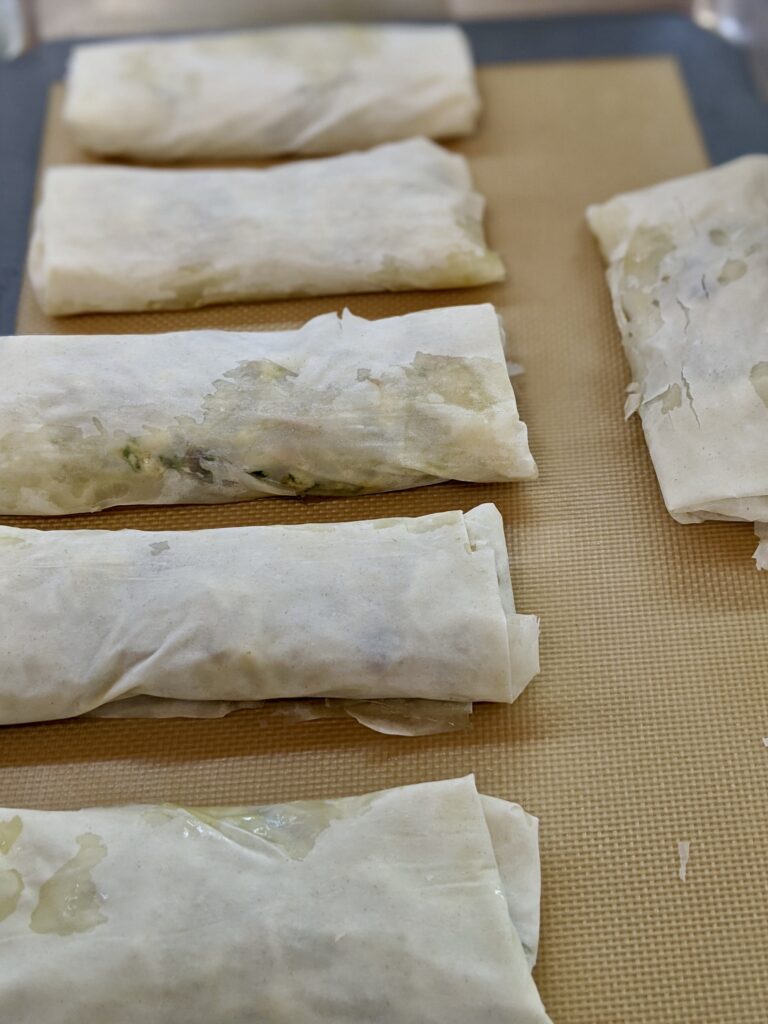 Once the chicken filling had cooled adequately, the filo sheets were laid out and lightly brushed with oil. The filling was piled on the shorter side of the rectangle, folded over once in an equal amount to the filling, then the bottom was folded up, then the side was folded over again, then the top was folded down, and then the side was folded over again until the entire package was wrapped (and if you thought that was confusing, try following the directions in the cookbook!). Each of the little packages was placed on a baking sheet, brushed with oil, and then baked at 350F for about 30 minutes until crisp and brown.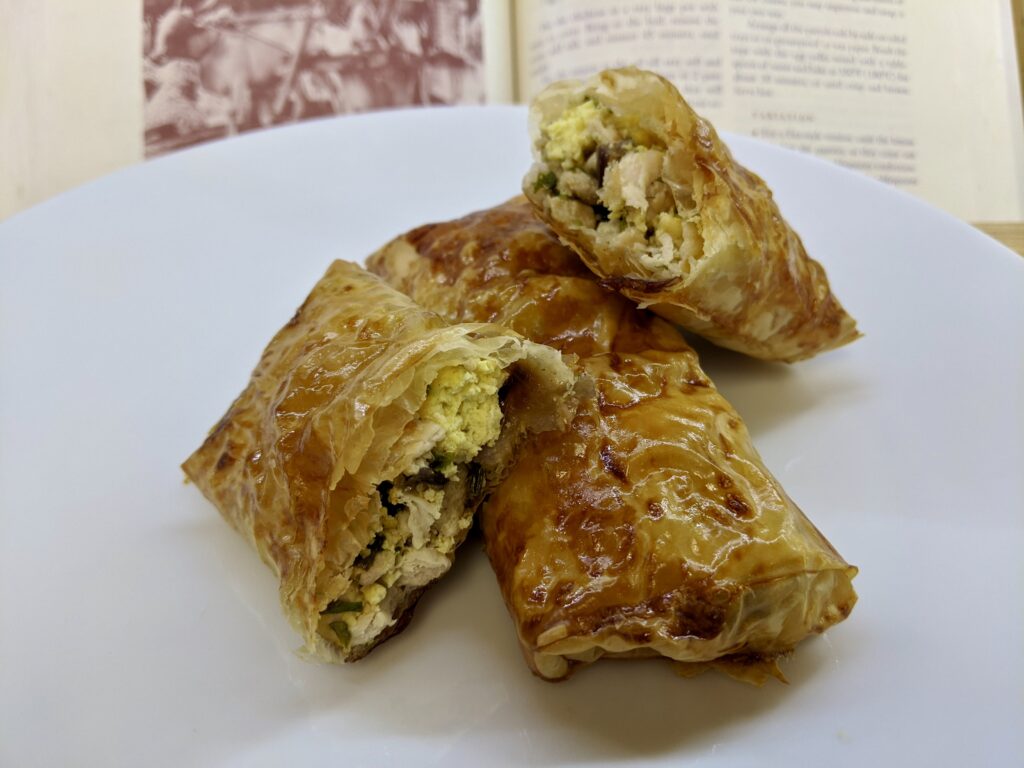 Having eaten many Sephardic meat pies in the last several months, we were pleasantly surprised by these and these definitely are our favorite pies so far. They were light and bright, with the chicken being savory and moist. The touch of cinnamon added an earthiness that was nicely complemented by the parsley and coriander and the almonds added a nice buttery bite to the hand pies. Even after cutting this recipe down significantly we still ended up with quite a few leftovers but true to Roden's word, they reheated quite nicely for the next several dinners.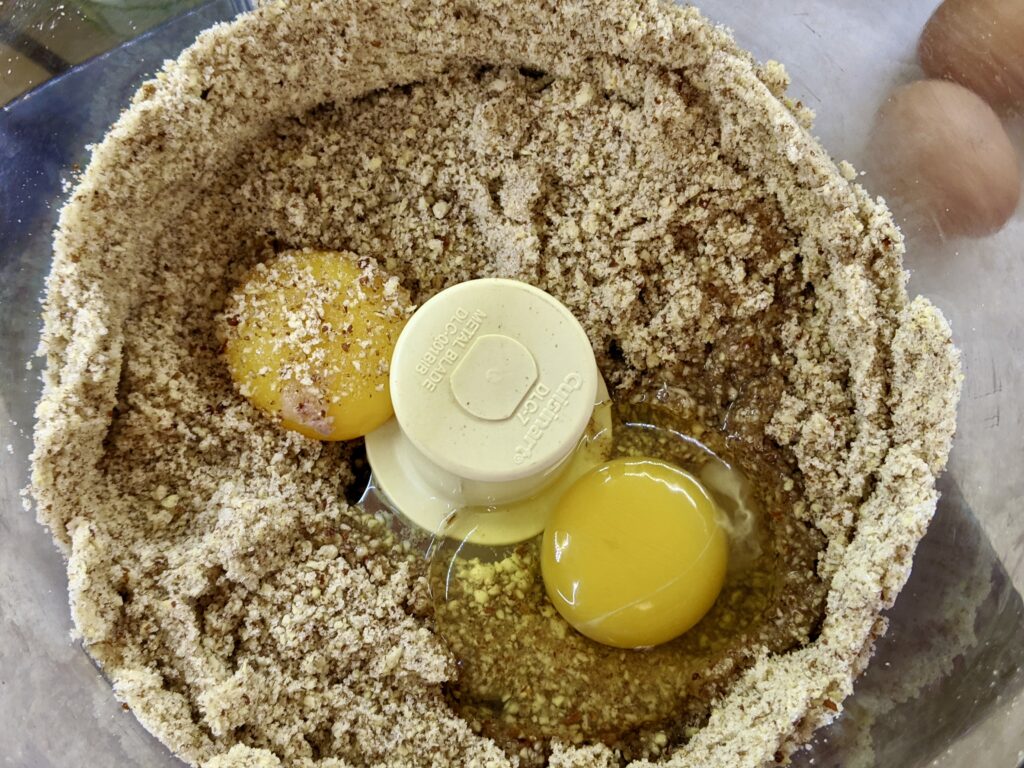 Like our chicken hand pies, our dessert for this evening is also Moroccan and a specialty during Passover and often served with after-dinner coffee. After all of the preparation that went into tonight's dinner, these were fairly easy to make and the food processor helped to hurry everything along. Almonds and walnuts were finely ground in the food processor along with sugar, one egg, and one egg yolk. The mixture was left to rest in the fridge for 2 hours to allow for the nuts to absorb some of the egg fluid and for their oils to intermingle.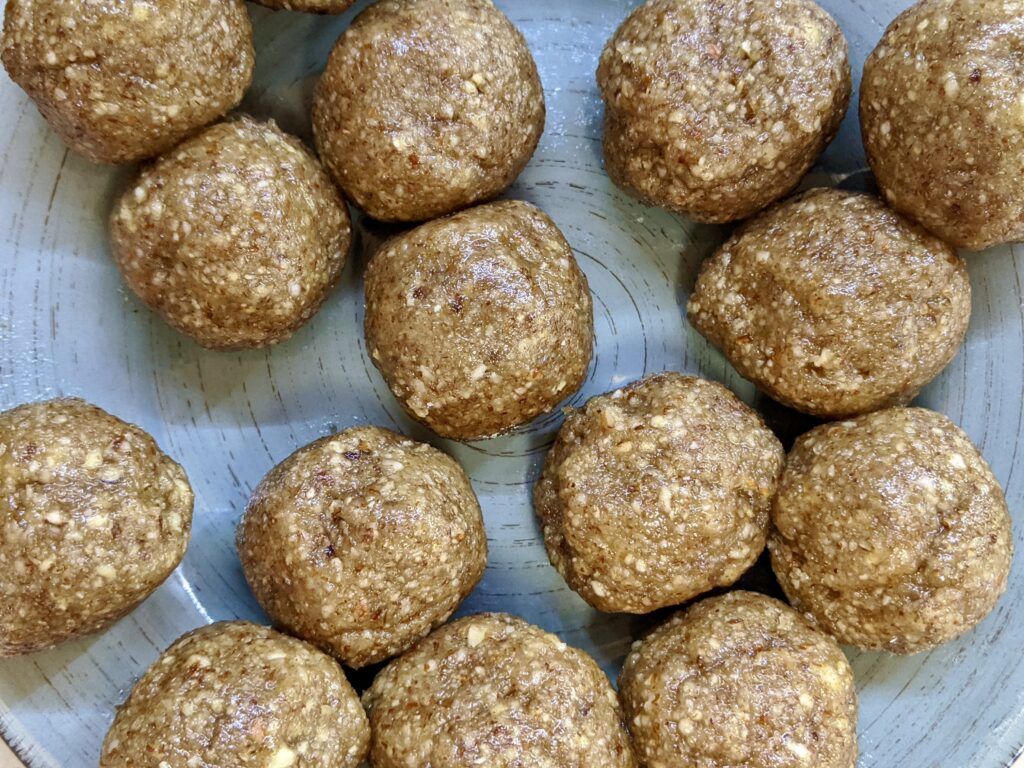 Once the dough was done resting, it was rolled into walnut-sized balls and rolled in confectioner's sugar. These were placed into mini-cupcake liners and baked at 325 for 20 minutes until the tops were slightly colored and a little cracked. The oven was then turned off and they cooled with the door open (which unfortunately warmed our already warm house quite a bit). Even after this period they had to be cooled even more as they would not free themselves from their paper wrappers until the next day.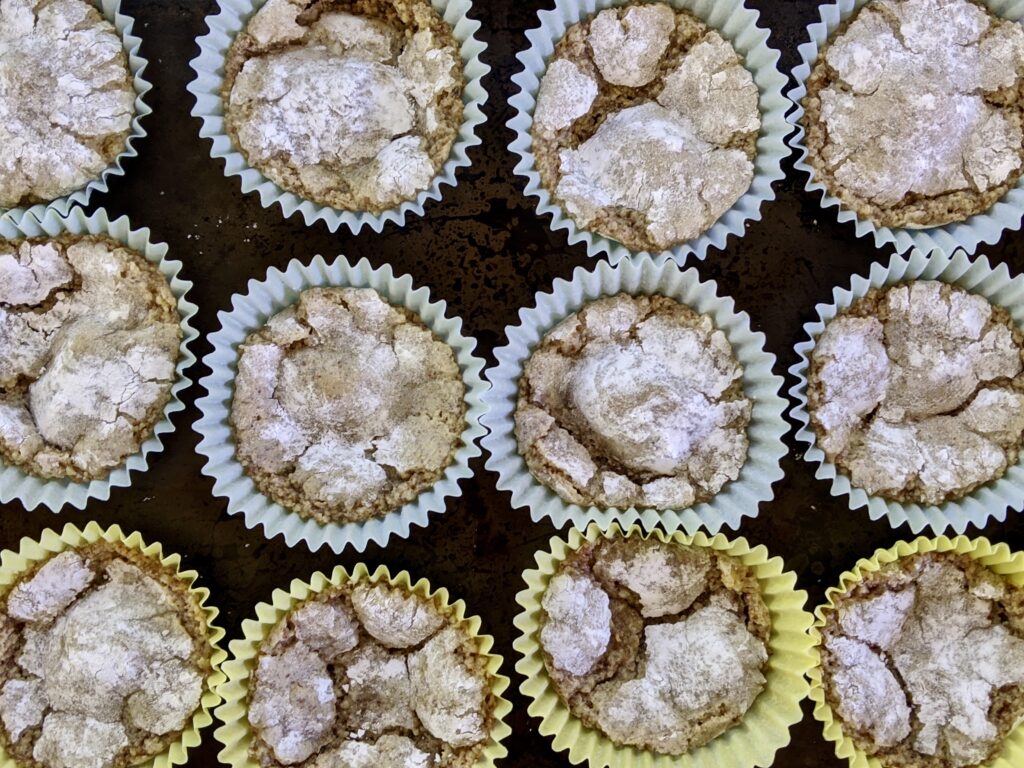 These were creamy and sweet, almost like a marzipan cupcake. They also lasted quite well over the next week, as one little cupcake was definitely more than enough. The pastries were a nice little after-dinner treat, but also paired quite well with morning coffee over the next several days!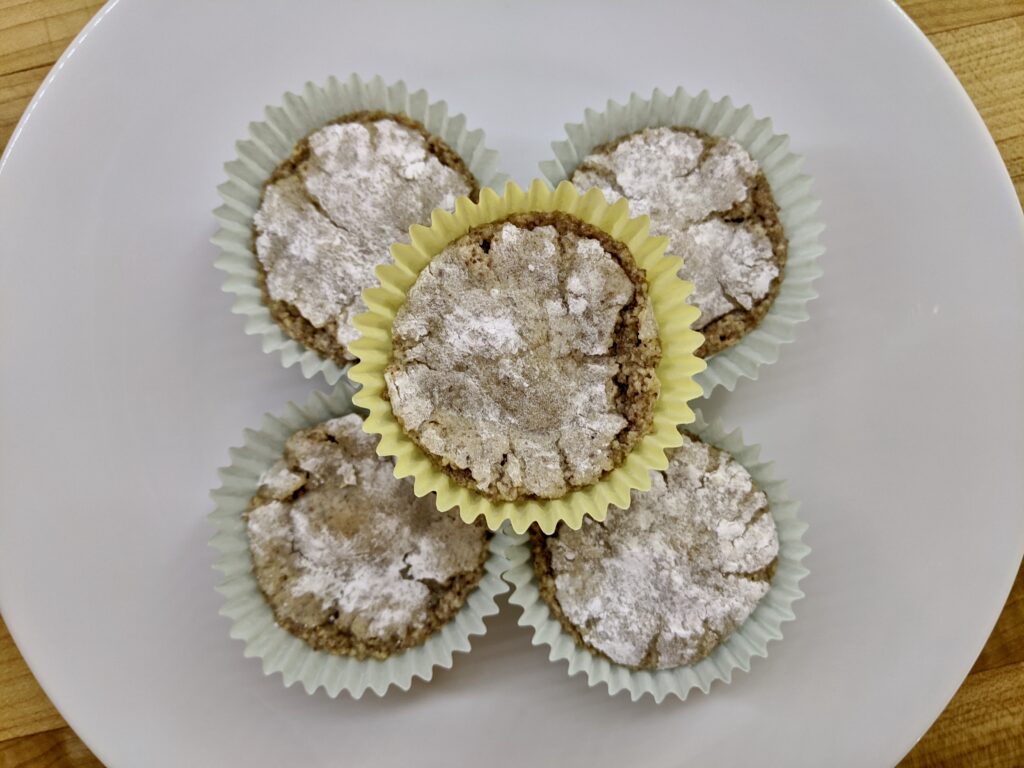 AND IN THE END, THE FOOD YOU MAKE IS EQUAL TO THE CARE YOU TAKE…
So how was Made In Marrow's meal number 85? As a reminder, our rating system is based on sticks of butter (because butter is best!), with 1 being the absolute worst and 5 being out of this world. Sticks of butter are assigned to Difficulty (how many kitchen fights were needed to complete the meal?), Tasty Goodness (was it a palate poor or did it make our mouths merry?), and Repeat Customer (how likely are we to return to the recipe?).
Difficulty  [][][][] 4/5
Tonight's dinner was truly exhausting, but this was a bit of our own making. Prepping, cooking, and timing 4 different eggplant dishes turned out to be fairly challenging in addition to folding hand pies and making dessert, but we made it to the end without any major mishaps.
Tasty Goodness
[][][] 3/5 Aubergines Medias – Eggplant Halves with Cheese – Unfortunately the dill just was not a perfect fit with the feta
[][][][] 4/5 Rulos de Berengena – Eggplant Rolls Stuffed with Meat – Like a savory bruschetta
[][][][] 4/5 Stuffed Brinjal – Indian Stuffed Eggplants – A soupy "stuffed" eggplant
[][][] 3/5 Sheikh el Mahshi Betingan – Eggplants stuffed with Ground Meat and Pine Nuts – This would have gotten higher points if the ground meat was not blended, as this resulted in an odd texture
[][][][][] 5/5 La Pastilla – Individual Chicken Pies – Perfect hand pies!
[][][] 3/5 Terfas aux Noix – Walnut and Almond Pastries – Not terrible in taste, but the final product was a bit difficult to eat
Repeat Customer
[][] 2/5 Aubergines Medias – Eggplant Halves with Cheese – Perhaps with different herbs
[][][] 3/5 Rulos de Berengena – Eggplant Rolls Stuffed with Meat – A bread-less alternative to bruschetta
[][][][] 4/5 Stuffed Brinjal – Indian Stuffed Eggplants – An addition of a protein would make this a complete meal!
[][][] 3/5 Sheikh el Mahshi Betingan – Eggplants stuffed with Ground Meat and Pine Nuts – Perhaps again, but without the use of the food processor
[][][][][] 5/5 La Pastilla – Individual Chicken Pies – Definitely worth the effort and time!
[][] 2/5 Terfas aux Noix – Walnut and Almond Pastries – Not our favorite nut dessert that we have made so far…
After such a hearty meal of stuffed recipes, we can confidently say that we are stuffed ourselves!
Sip, sup, and savor all you can, you curious cooks,
Elais & Gary