Just want the recipes and none of that other wordy nonsense? Click the links below!
Salade du Shabbat – Boiled Vegetable Salad
Buricche di Fegatini – Chicken Liver Filling for Italian Pie
Poulet aux Coings – Chicken with Quinces
Risotto Giallo del Shabbat – Saffron Risotto
Kheer – Coconut Creamed Rice Pudding
Meal the Forty-Third
Happy New Year from Made In Marrow! It is hard to believe that this is also our one-year anniversary with the blog, and we thank everyone that has stuck with us through the learning process, from terrible photos to ingredient substitution failures. Gary and I have learned a lot over the past year, not only about Jewish cooking and tradition (of which our knowledge was woefully lacking), but also about ingredients, cooking techniques, and all the things that it takes to create a food blog!
We start off the year with a recipe-heavy meal (in stark contrast with our one-pot meal which ended 2018). As we continue to cook our way through the Sephardi section of The Book of Jewish Food, we look forward to the next year's worth of lessons in the kitchen, as well as all of our faithful reader's insights and feedback. Join us as we kick off the year with a new culinary caper!
"One cannot think well, love well, sleep well, if one has not dined well." – Virginia Woolf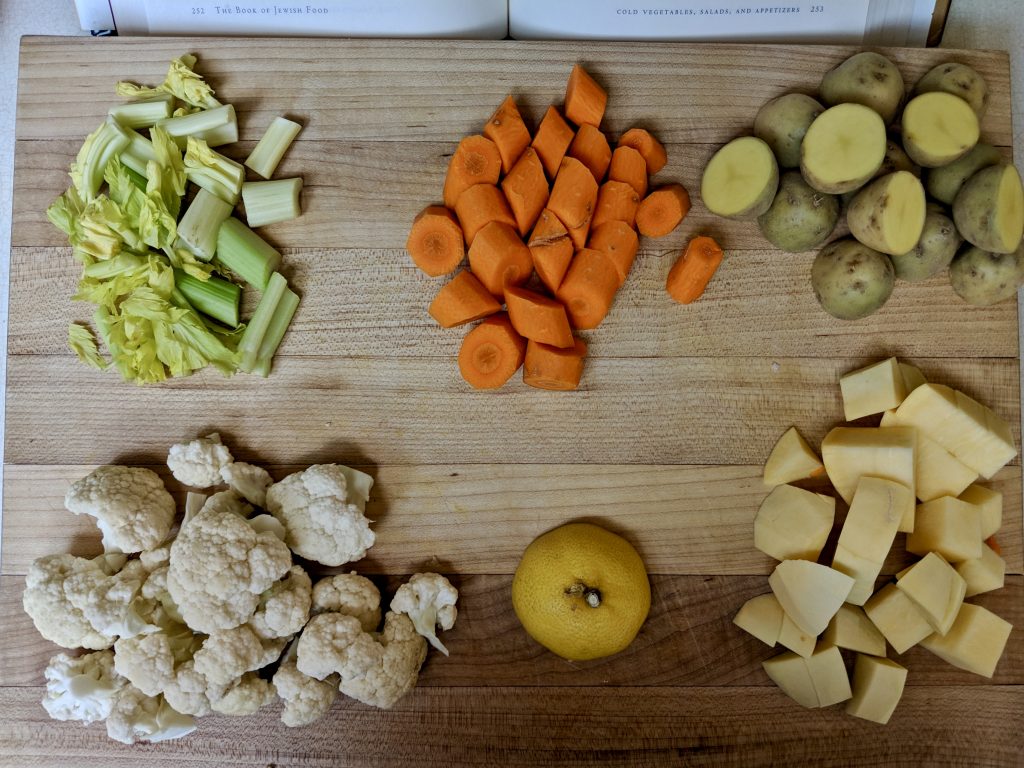 This mixed vegetable salad is a special side dish often featured on Tunisian Friday night dinner tables. It is very straight-forward: boil chopped carrots, turnips, cauliflower, celery, and potatoes until tender. Drain, then toss with lemon juice, paprika, cayenne, and ground coriander.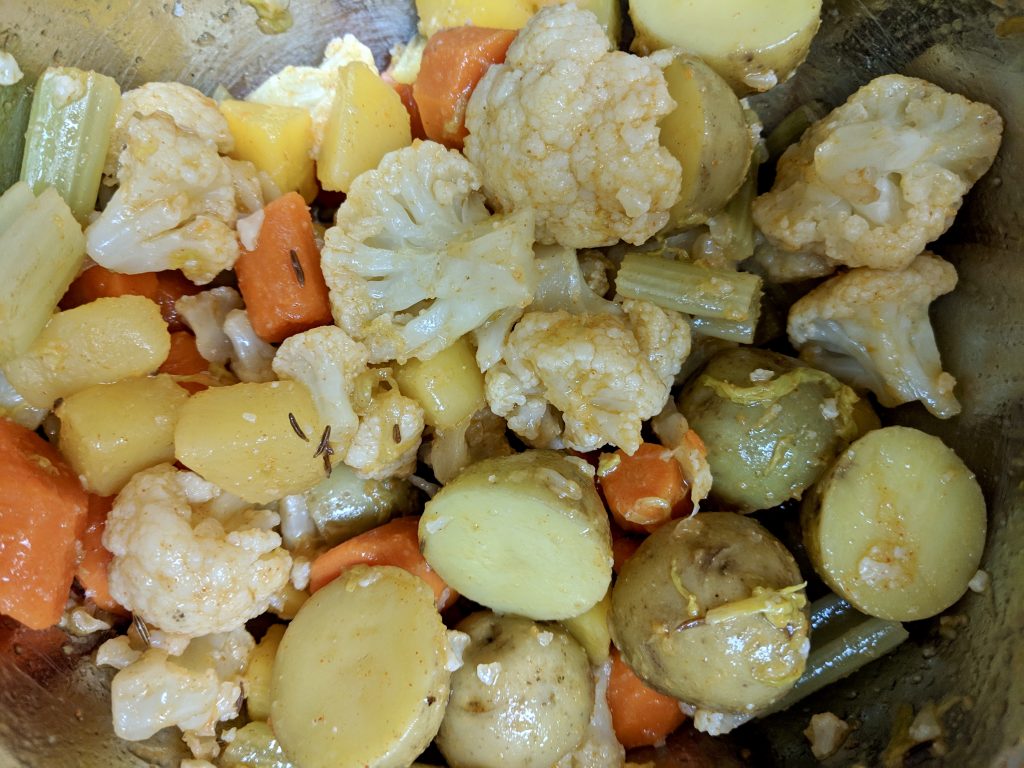 While it was quite the mish-mash of flavors and textures, the salad was better than we expected. It was bright from the citrus juice and little spicy from the paprika and cayenne. While it was not bad, we probably would not have it again, especially since Gary is not a fan of boiled celery (read: our wonderful experience with celery earlier last month).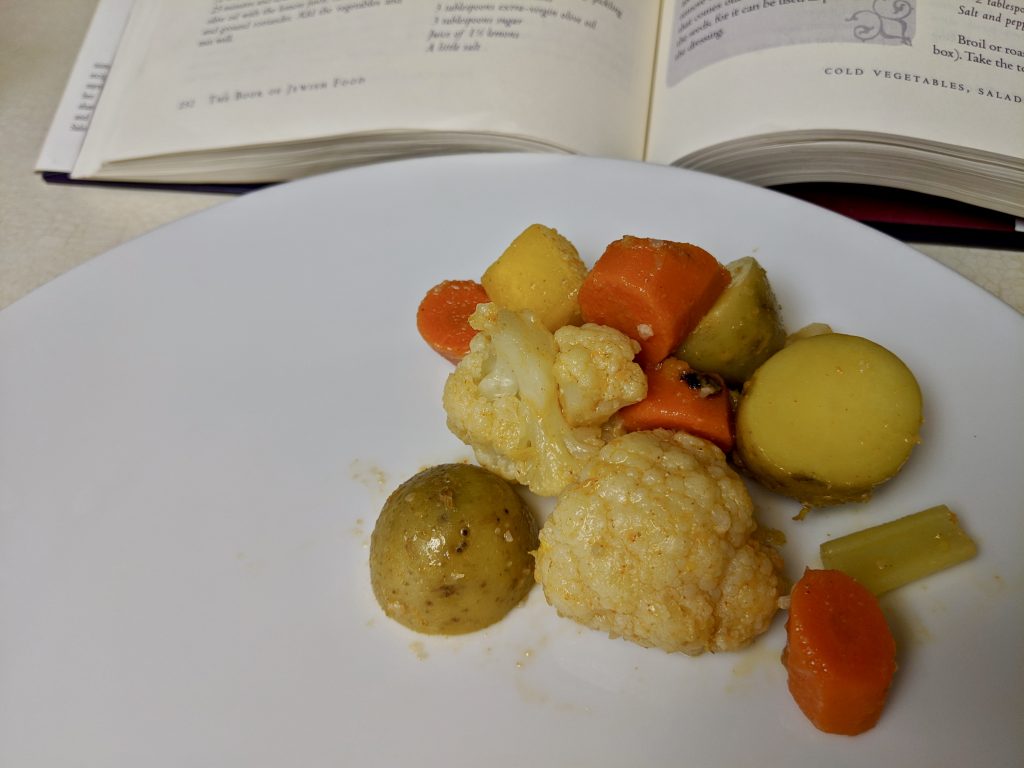 Like our Tuna Pie last month, this chicken liver filled hand pie originates from German Jews who settled in Italy. Luckily we had some frozen chicken livers left over from the Ashkenazi section earlier this year, so we put the remaining organs to good use.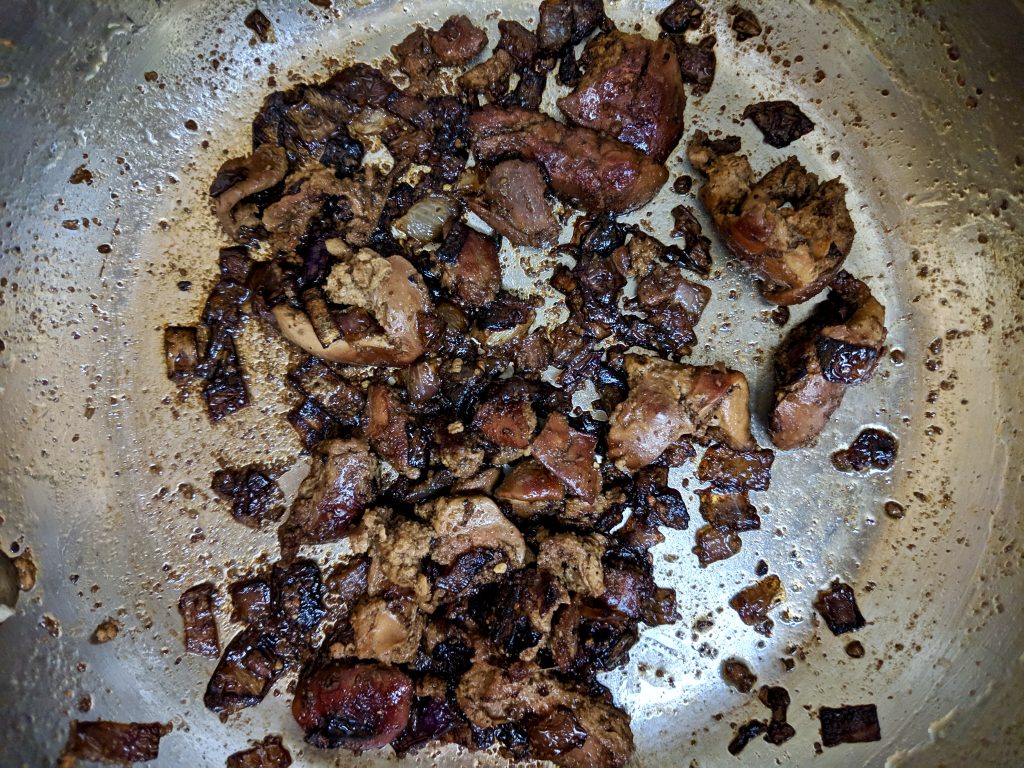 Diced onion was fried until golden, after which seared chicken livers were added, along with white wine, salt, pepper, and allspice. While this all simmered, an egg was hard-boiled then peeled and chopped. All of the ingredients were then blended to a paste and carefully spooned into our previously made dough (which was equal parts oil and water, with just enough flour to create a soft dough). Baked at 350 degrees for 30 minutes until golden, the chicken liver pies were eaten hot out of the oven.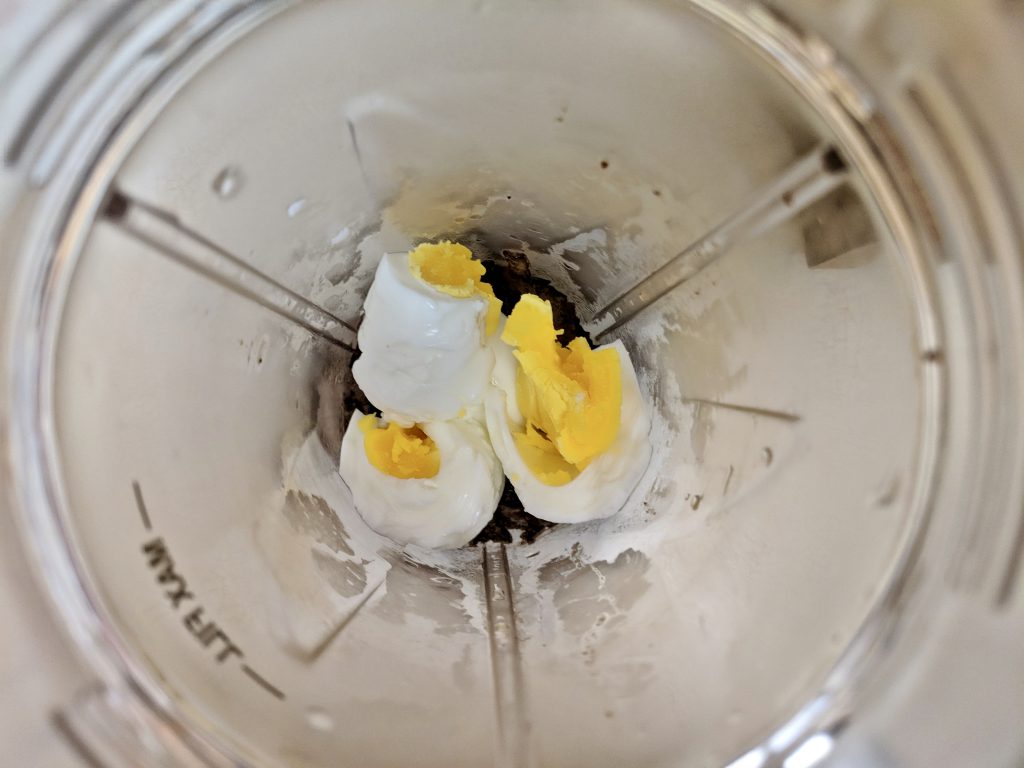 Now leery about liver (read: our wonderful experience with liver and onions last year), we hesitantly bit into our browned hand-pies. The dough was crusty on the outside and nice and chewy on the inside – which was great, because we had frozen it the previous week, so it kept well and thawed quite nicely. The organ-y innards were also quite tasty – not too liver-y, but still savory and meaty, the pie was not as heavy as we expected. Like the above recipe, this did not make for some bad bites, but probably not something we would have again.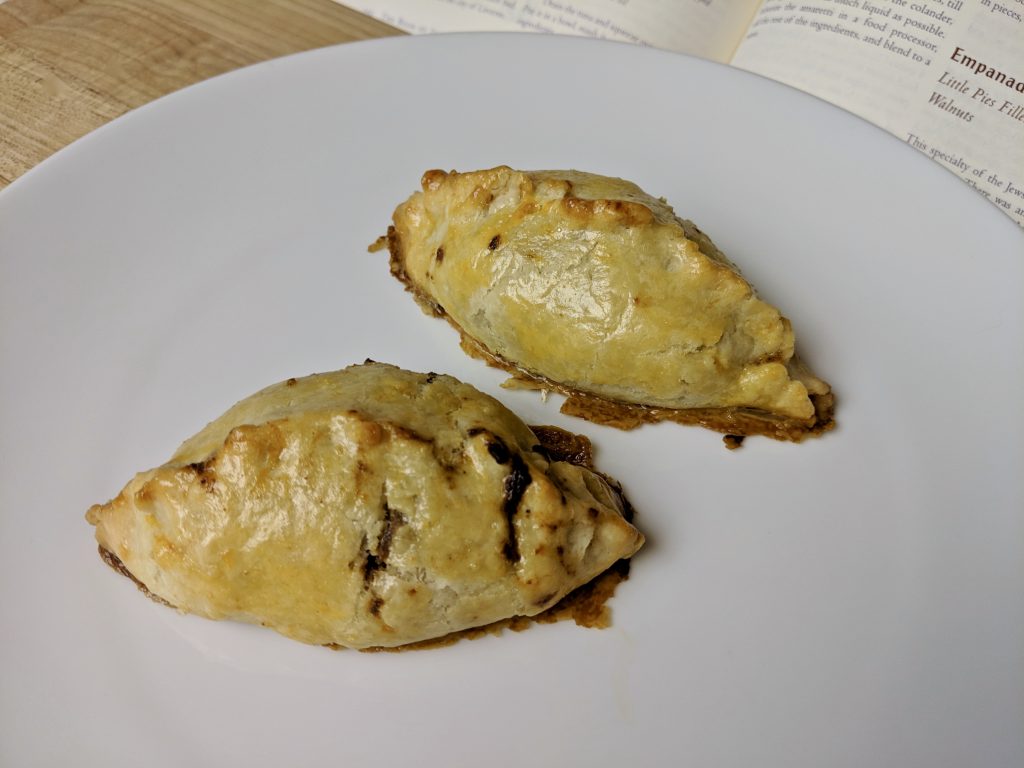 Roden writes that Jews of the Venice Ghetto had as many variations of risotto as there were vegetables that could be found in their marketplace (which was quite a lot). Risotto was often served as a side dish or first course on the Sabbath and if there was no meat in the meal, butter and parmesan would be added (we chose to go with this option, even though we were having a chicken dish tonight). Gary and I love risotto, so we were pretty excited to add this 200-year-old dish to tonight's menu.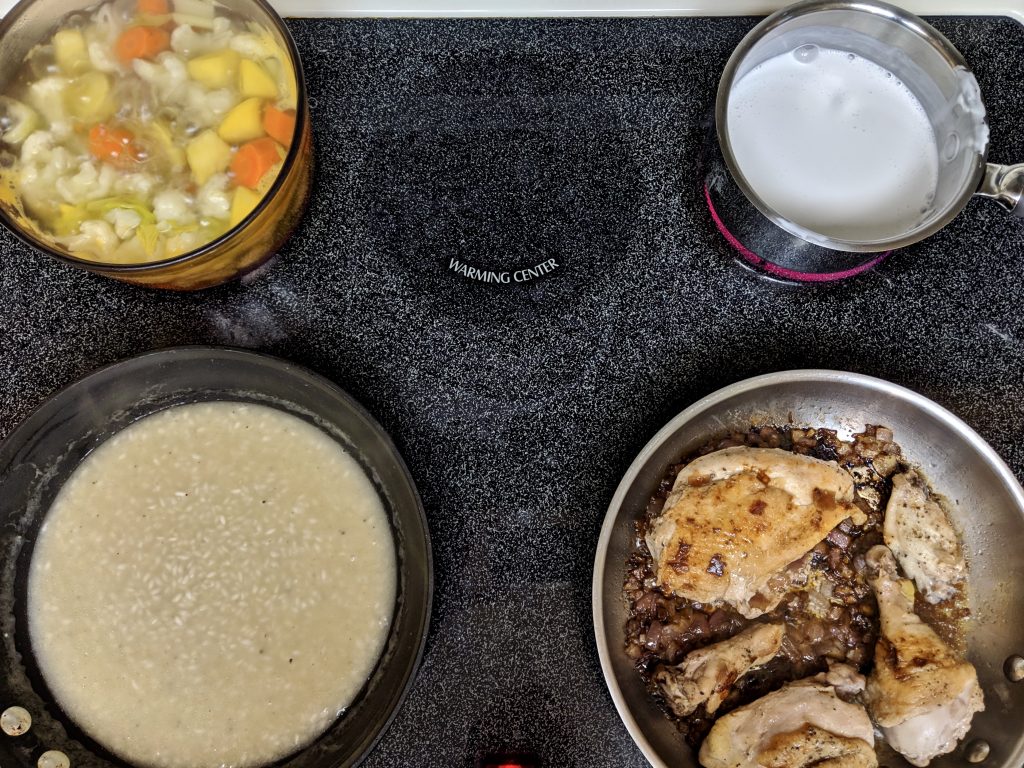 Arborio rice was stirred in a pan along with hot oil until it became translucent. Boiling chicken stock and white wine were added and then simmered for about twenty minutes until the rice was al dente. A little salt, some saffron, a pat of butter, and grated parmesan cheese was added towards the end of cooking and creamy dollops of risotto were plopped onto our plates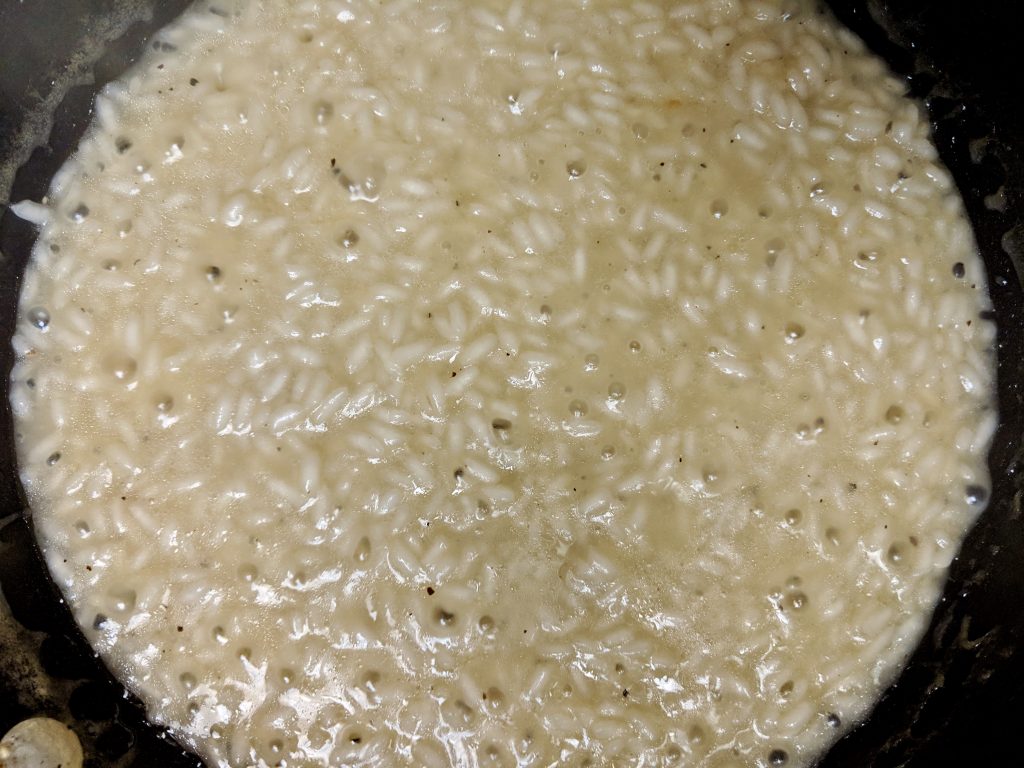 Like I said earlier, Gary and I love risotto and this recipe was no exception. Creamy, velvety, and bright, this rice dish was a good balance of flavor and richness, even with the light touch of saffron. This spice made a nice change from our usual risotto, so we will probably have this again in the future, especially if we are feeling fancy!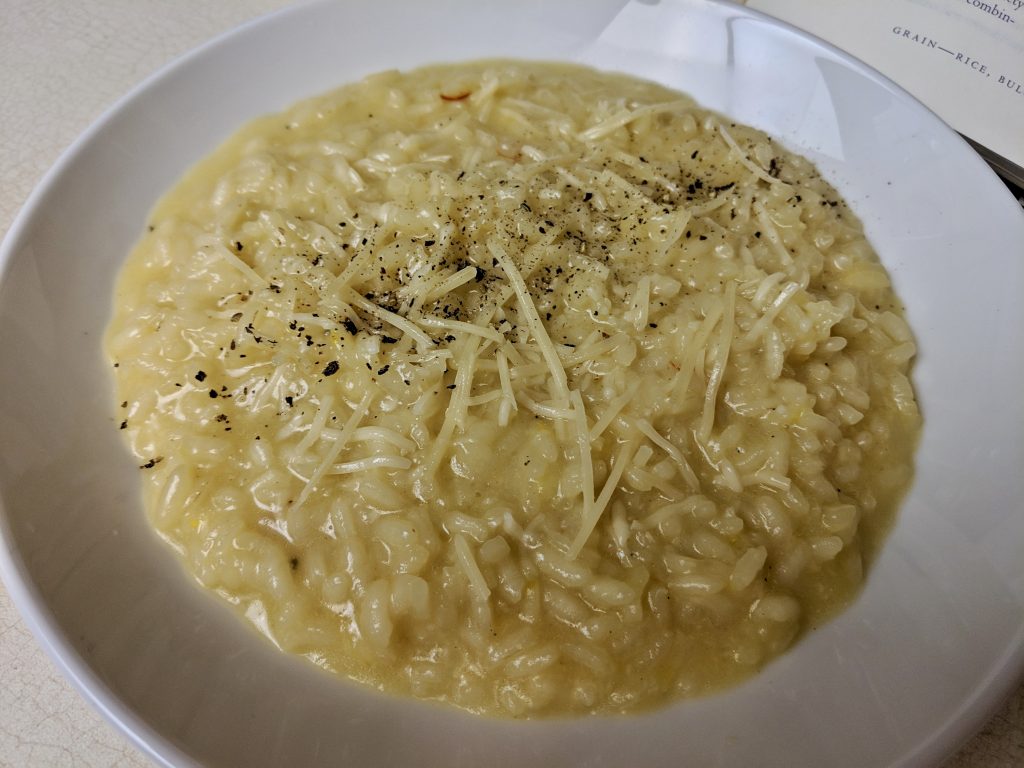 While quite popular on Yom Kippur among the wealthier families in the Algiers, many Jews around the world have a take on this fruit-based dish. Claudia Roden features a Moroccan version which was commonly prepared around the holidays when quinces were in season. A quince looks like a cross between an apple and a pear, tastes like a cross between an apple and a pear, so being short on quinces in Santa Fe, we chose to use apple pears for this dish! Historically, quinces have flourished in the Mediterranean area and are actually the original basis for marmalade, being derived from marmelo, the Portuguese word for this fruit.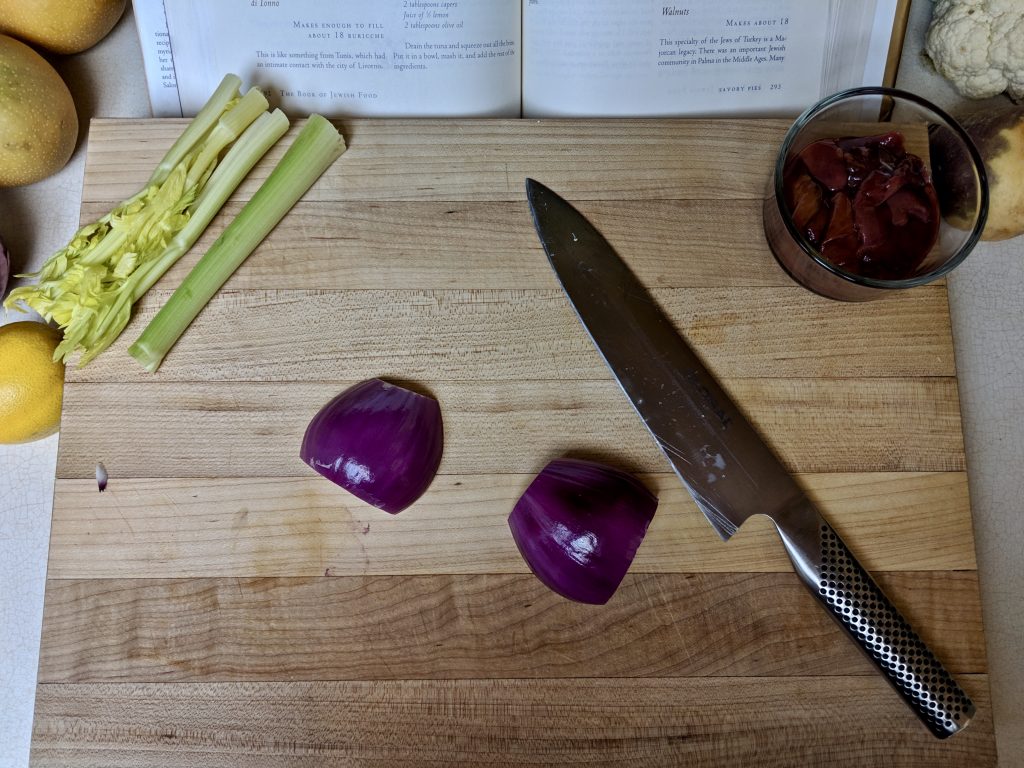 Because quince is a harder fruit than apple pears, we decided to cut back the cook time a bit on the quinces, so that they did not overcook and become mushy. But before the fruit could make it to the pan, we fried onions in oil with cinnamon and ginger. Our chicken pieces were laid across this and cooked until golden. The chicken was then removed and the slices of apple pears were added to the pan and allowed to caramelize. The chicken was added back to the pan and a little honey and lemon juice was added to create a sauce, in which everything simmered for thirty minutes.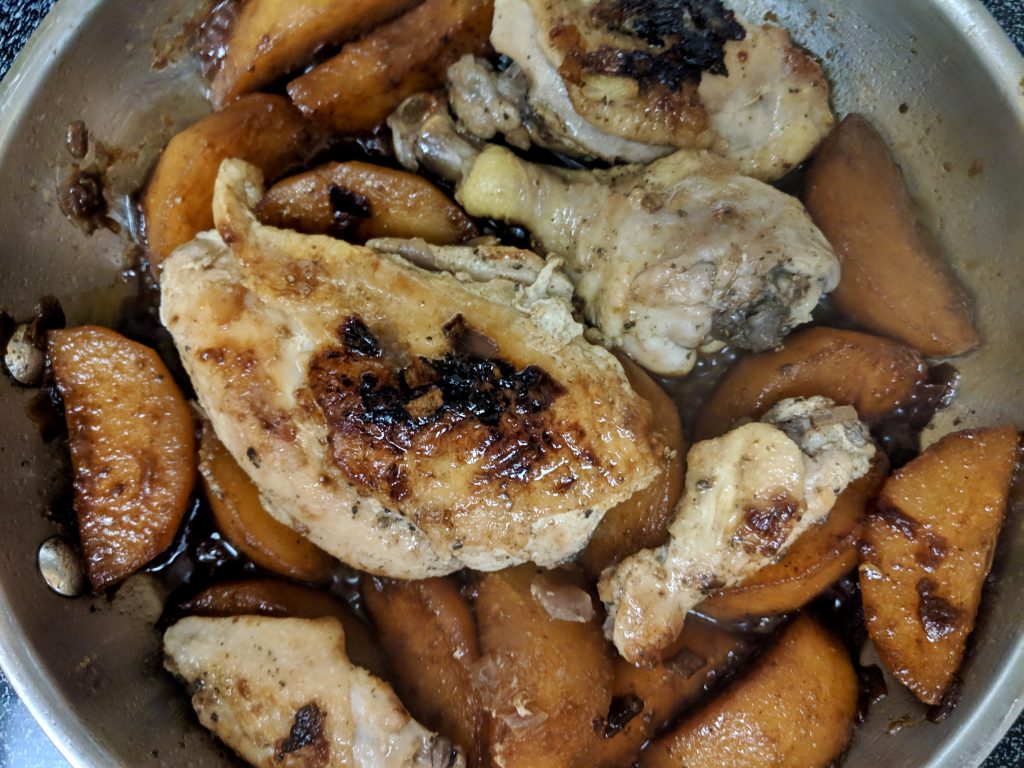 Our pan of fruit and poultry smelled amazing, so we were pretty excited when it hit the plate. The chicken was tender and the apple pears were just toothy enough to add an extra texture to the dish. The apple pears were not overly sweet, and the chicken broth/apple pear/lemon juice sauce was thick and sumptuous. Sufficed to say, we quite enjoyed this dish!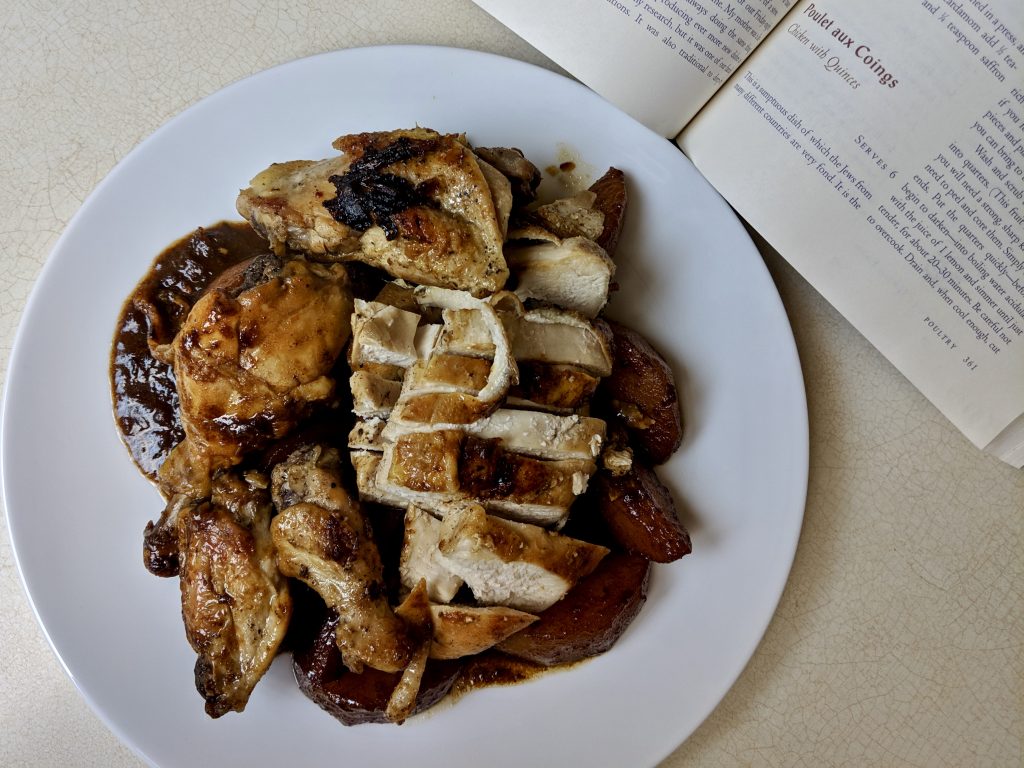 The small group of Jews in the Bene Israel Community in India enjoy this dessert after the fast Gedaliah which commemorates the assassination of Gedaliah Ben Achikam, the Governor of Israel during the days of Nebuchadnetzar King of Babylonia, resulting in the Jews fleeing to Egypt. It is quite heavy and not unlike that of a Vietnamese tapioca dessert, of which Gary is quite fond.
Coconut milk was brought to a boil after which rice flour was mixed in and allowed to thicken (while carefully stirring the entire time). Cardamom pods were then added, and the pudding simmered messily for about 20 minutes (when pudding simmers, it "blops", blopping all over the stove and anything nearby). Sugar was added towards the end of the simmer time and the pudding was poured into ramekins and chilled until it was time for dessert. This mix was topped with almonds prior to serving.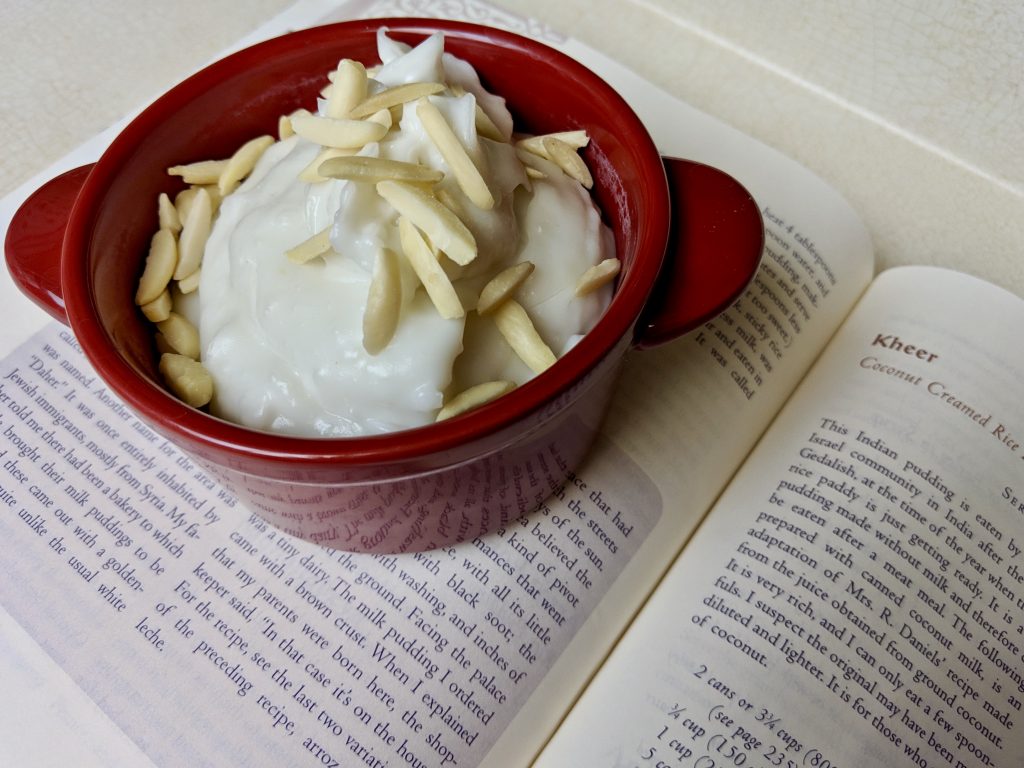 The pudding was excellent – creamy (as pudding should be) and just sweet enough with a light coconut flavor. The almonds were a perfect textural addition and complimented the coconut pudding. This was a great dessert, but a fairly heavy way to end a heavy meal.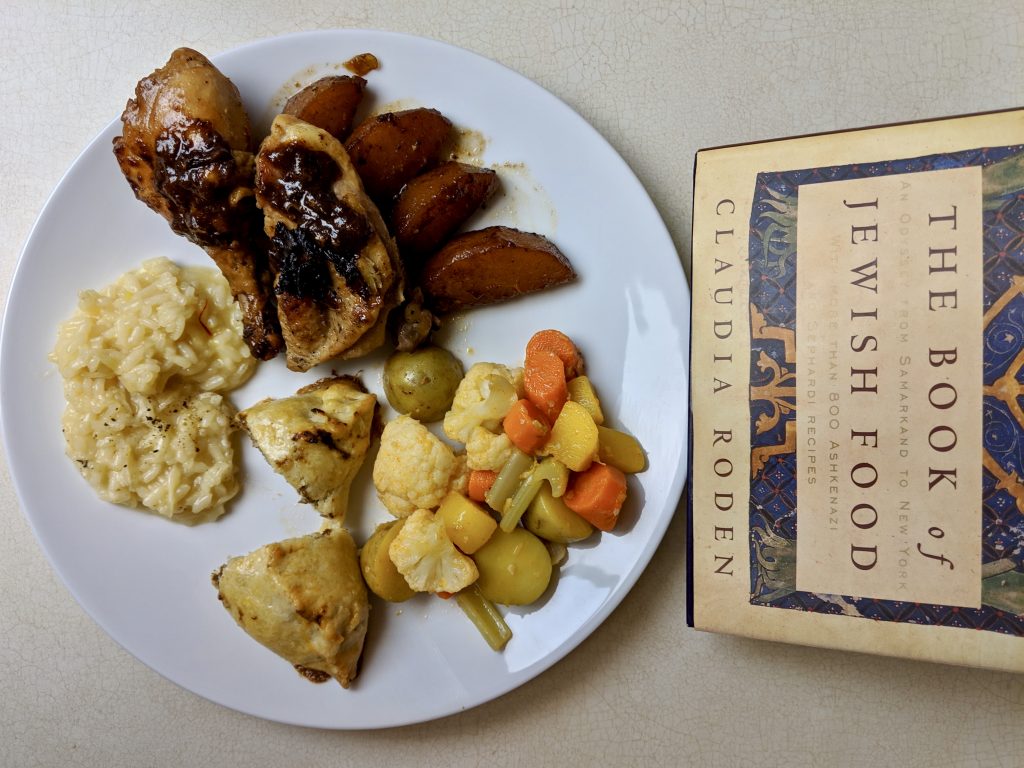 AND IN THE END, THE FOOD YOU MAKE IS EQUAL TO THE CARE YOU TAKE…
So how was Made In Marrow's meal number 43? As a reminder, our rating system is based on sticks of butter (because butter is best!), with 1 being the absolute worst and 5 being out of this world. Sticks of butter are assigned to Difficulty (how many kitchen fights were needed to complete the meal?), Tasty Goodness (was it a palate poor or did it make our mouths merry?), and Repeat Customer (how likely are we to return to the recipe?).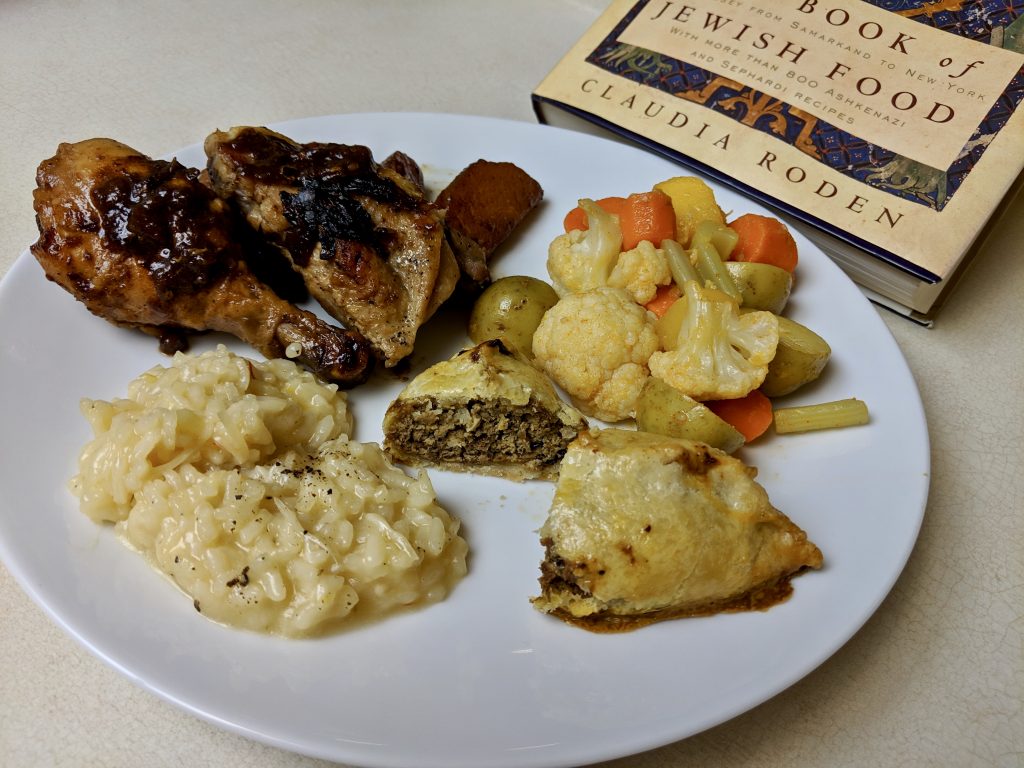 Difficulty 3/5
Tonight's meal was fairly time-consuming with a lot of attention heavy aspects (dough, risotto, pudding) including some harder to find ingredients.
Tasty Goodness
3/5 Salade du Shabbat – Boiled Vegetable Salad – Tastier than we thought (sorry, that is the best description we can come up with!)
3/5 Buricche di Fegatini – Chicken Liver Filling for Italian Pie – Savory, but a slightly odd texture
4/5 Poulet aux Coings – Chicken with Quinces – Sweet, savory, and saucy goodness
5/5 Risotto Giallo del Shabbat – Saffron Risotto – A velvety version of our dearest dish
4/5 Kheer – Coconut Creamed Rice Pudding – Sweet, tasty, but heavy
Repeat Customer
2/5 Salade du Shabbat – Boiled Vegetable Salad – Intersting, but probably not
2/5 Buricche di Fegatini – Chicken Liver Filling for Italian Pie – A liver-y texture that we most likely will not be revisiting
4/5 Poulet aux Coings – Chicken with Quinces – The apple pears were good, but we would love to try it with quinces in the future!
5/5 Risotto Giallo del Shabbat – Saffron Risotto – Most definitely!
3/5 Kheer – Coconut Creamed Rice Pudding – We would make this again, but probably alongside a lighter meal
Our first meal of the year was heavy on the flavor (and probably on the hips as well!). We look forward to our next year of culinary adventures!
Sip, sup, and savor all you can, you curious cooks,
Elais & Gary